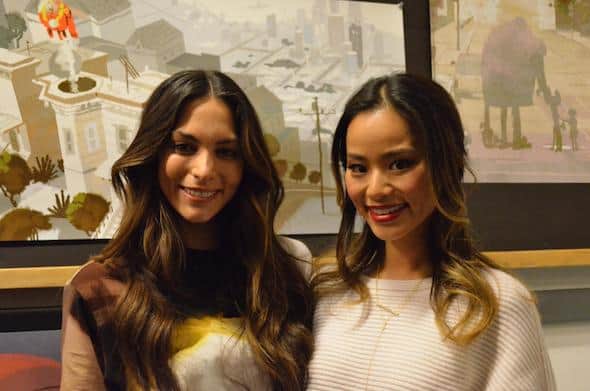 When I found out we were going to interview Jamie Chung and Genesis Rodriguez during the Disney Big Hero 6 press trip I had to do some research–I didn't know much about either of these actresses!
Here are some fun facts about both of them:
Jamie Chung is the voice of Go Go Tomago in Disney's Big Hero 6. Her movie credits include Grown Ups, The Hangover Part II, The Hangover Part III. She also has a varied and successful television career, appearing in Once Upon a Time, Grey's Anatomy, Castle, Greek and many others.
Genesis Rodriguez is the voice of Honey Lemon in Disney's Big Hero 6. She's appeared in movies like What to Expect When You're Expecting and Identity Thief. She's also had several television roles, notably on Entourage, Days of Our Lives and various Telmundo telenovelas.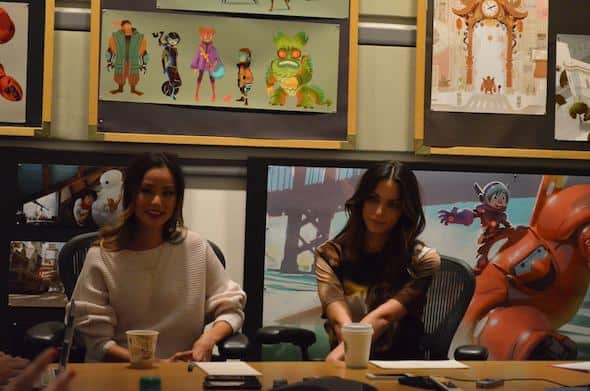 By the time I sat down to interview these ladies, I had already seen Big Hero 6 twice.  I was happy to be familiar with the super-smart and strong characters they had voiced, and I was eager to hear more about how Go Go Tomago and Honey Lemon fit into their personalities.
Highlights of my interview with Genesis Rodriguez and Jamie Chung:
What was your favorite part about the character you played?
JC: Go Go doesn't say a lot at the beginning of the film. But when she does say something, it's very on point, it's quite sassy. She was described to me as the "Clint Eastwood of the group". It was just fun to sass it up. 
GR: It really is the biggest blessing to have this cast of characters, because you'll never get to play that kind of part in a live action thing.
To be honest, I can speak for both of us, we've been huge Disney fans all of our lives. We've been princesses! I literally would comb my hair in restaurants as Ariel.
It's like a dream come true to be able to play these strong female characters and bring that down to future generations. 
Did you like having that strong female lead in the movie? 
JC: Absolutely. What I love about this film is that there are no stereotypes. It kind of breaks all those boundaries in terms of being a nerd. This is the absolute opposite of that.
In terms of strong female characters, Honey Lemon and Go Go are so different from each other and they both represent strength in their own way.
Disney is great for not putting out a cookie cutter example of a "strong woman" They come in different shapes, sizes and shades. That's what I love about this.
What did you wear when voicing the character? 
GR: What's weird is that I did the audition exactly like Honey Lemon and I hadn't seen the character at all. I made a very bold fashion choice: I did socks in heels and a shirt with a dress over it. I don't do that at all [usually].
I don't know why I went like that, and then I saw Honey Lemon and the way she dressed and thought it was freaky. I couldn't have planned it better. 
Did you add your own personality to the characters?
JC: I think the interesting thing when you add a voice to it, personality to it, the character really does come alive.
If you look at each character and compare them to the person that's playing them, they embody that character. To me, Genesis is Honey Lemon. It's her own personal attributes are what gives the character life.
I think that's what they did with casting. They wanted the characters to represent the actors who were playing them. 
I'm also an adrenaline junkie, and I feel like I embody that characteristic. 
What's your favorite scene with your character? 
GR: Jamie has the best line in the movie: "Woman up." 
JG: I think the most interesting scene was when they all have their new gear and they're testing it out.
Do you think the movie changed your perspective on anything? Does it make you want to be better at anything?
JC: Big Hero 6 is a superhero movie but it stresses the importance of education and science. I love that the message it sends is that intelligence is not sex-biased no more than it is race-biased. Everyone's equal, and everyone has the same opportunity to reach that milestone in education. 
I think it's cool to be a part of that and that 10, 20, 30 years from now Big Hero 6 will still be relevant. 
GR: I was so excited for a movie to talk about robots and technology. I was into robotics and I'm an official nerd. 
To have a movie that's making girls want to be in technology and be smart, I hope girls especially will be wanting that after this movie. I hope they'll be the first ones to raise their hands in class and realize that being smart is empowering. Robotics is cool. Science is cool.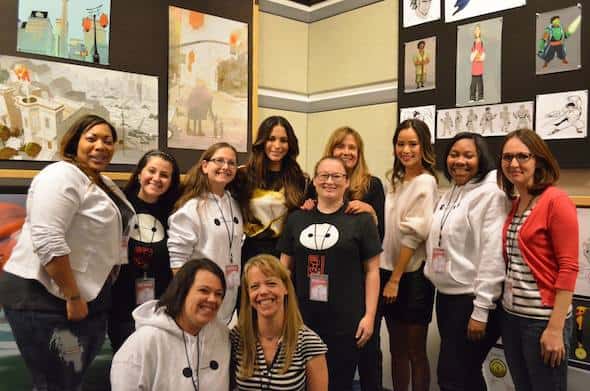 At the end of the movie Jamie Chung and Genesis Rodriguez were kind enough to pose for a picture with our group of mom bloggers.
Jamie Chung and Genesis Rodriguez are beautiful both inside and out! Disney's Big Hero 6 is showing in theaters everywhere. Get your tickets today so you can check out Honey Lemon, Go Go Tomago and the rest of this amazing movie!
Check out the rest of my Big Hero 6 posts:
See all my Entertainment news or just the Disney updates. 
Disclosure: Travel and expenses were provided by Disney to participate in this press trip. All opinions are my own, and all experiences were real.