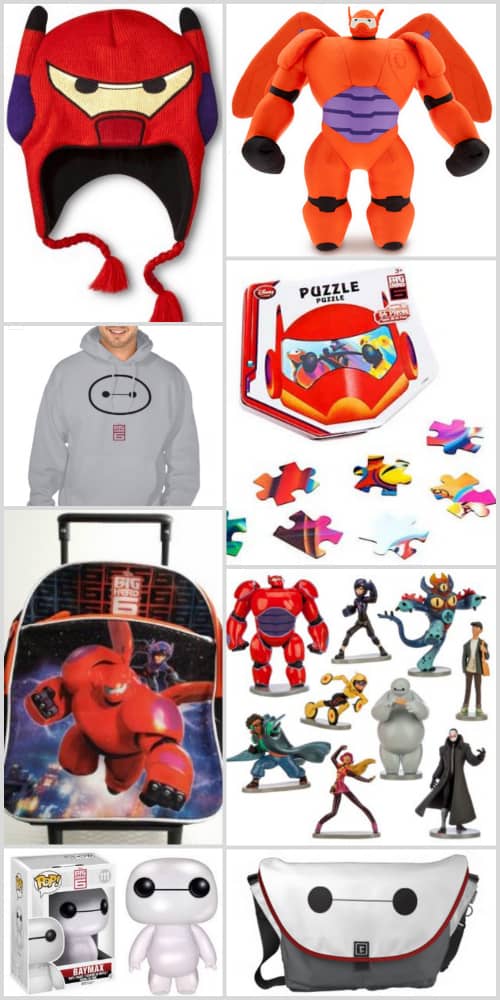 Earlier this month I wrote the Top 10 Big Hero 6 gifts for all ages. I still love everything on that list.
Now, after my Disney press trip and all sorts of amazing Big Hero 6 swag, I have even more Big Hero 6 gift ideas to share!
It's only been a few weeks since I posted the first list of Big Hero 6 gifts, and I'm surprised that a lot of of those items are out of stock or no longer available online. If you see something you like, especially if you're planning on buying one of these items for a holiday gift, buy it while it's available!
10 More Big Hero 6 Gifts: 
1. Big Hero 6 Baymax Pop! Vinyl Figure by Funko
2. Baymax Face Hooded Pullover
3. Big Hero 6: Hiro and Tadashi
4. Big Hero 6 Baymax Mech Plush
5. Disney's Big Hero 6 3-D Jigsaw Puzzle
6. Big Hero 6 Baymax Winter Hat
7. Disney's Big Hero 6 Baymax Rolling Backpack
8. Disney's Big Hero 6 soundtrack on cd
9. Disney's Big Hero 6 Deluxe 9-Figure Play Set
10. Big Hero 6 Customizable Baymax Messenger Bag

Have you seen Big Hero 6? Which one of these products is your favorite?
Be sure to check out my post all about Disney INFINITY 2.0 and the brand new Big Hero 6 figures for the game!
Disclosure: Disney flew me out to LA to for a Big Hero 6 press trip experience. All opinions are honest and my own.