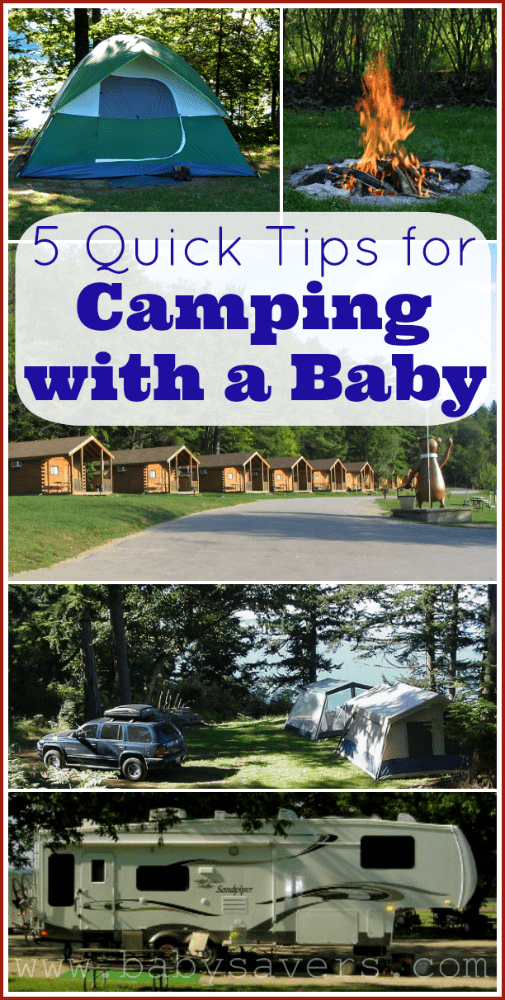 'Camping with a Baby: 5 Tips to Make it Fun' is brought to you by Kelly from Minneapolis. Kelly runs a full house with 5 kids and loves family adventures.
A well-planned trip into the great outdoors can easily be spoiled by an unhappy baby. Trust me, my husband and I cover all the bases when it comes to camping, including camping with a baby and kids (we have 5)!
Camping has been a wonderful source of family bonding and entertainment and it can be a fantastically cheap family vacation, as long as everyone remains in good spirits! Instead of spending your time trying to console the little one, try these 5 tips to make camping with a baby fun.
Camping with a Baby: 5 Tips to Make it Fun
1. Location Matters
First, you will want to pick a baby-friendly campground. Look for playgrounds, beaches, bike paths or even a petting zoo on site. We were surprised to find a campground with a petting zoo last year, and was one of the best weekend trips of our summer!
You might want to stay closer to home, too, especially for your first few trips with baby. Being familiar with the area and knowing that home isn't too far away can ease many of your concerns.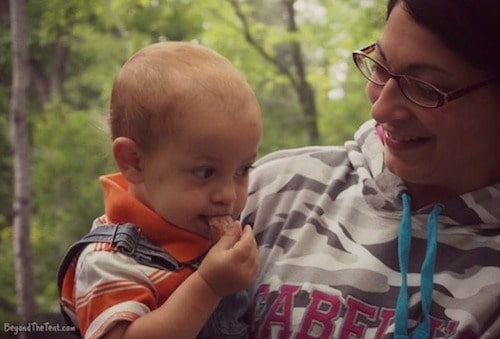 2. Simple Meals Are Best
Make mealtime easier with simple recipes. The more time you can spare for one-on-one time with your kids the happier everyone will be. Some fun recipes to go along with your meals could include pre-made ants on a log, pancake teddy bears or skewers full of bananas, grapes, berries and a mini marshmallows.
Just don't sweat over all the details; I've never heard of Martha Stewart being spotted in the woods! We've been known to be that family who orders pizza to the campground, and it only made the entire trip more fun.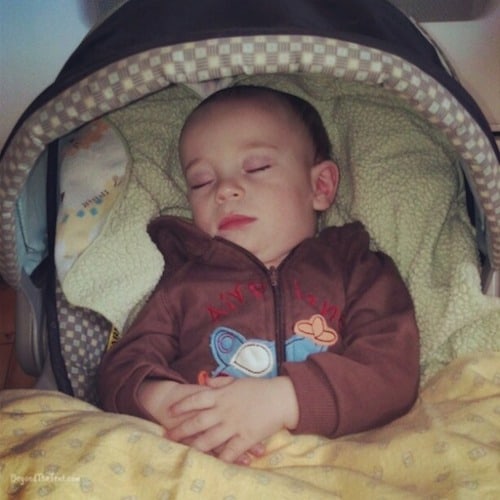 3. Pack and Schedule For Baby
Camping doesn't mean you have to rough it. It's supposed to be fun with plenty of memory-making opportunities!  Make sure you have a few of your baby's favorite toys on hand and a large ground blanket to lay out for crawling.
If your little one is used to nap time, don't skip it. Keep the same routine during your trip to help calm your baby's nerves. When we were camping with our youngest baby I made sure to pack his portable rocker. It didn't take up much room and he loved having a comfortable little piece of home with us.
If you happen to have a Space Saver high chair that reclines for newborn stages I  highly suggest packing that handy piece of equipment with you. If not, use your infant car seat!
Nursing moms will want to make sure to have a comfortable space made up in the tent or camper to feed. Bring your favorite nursing pillow, blanket, or anything else that will make you feel most at home.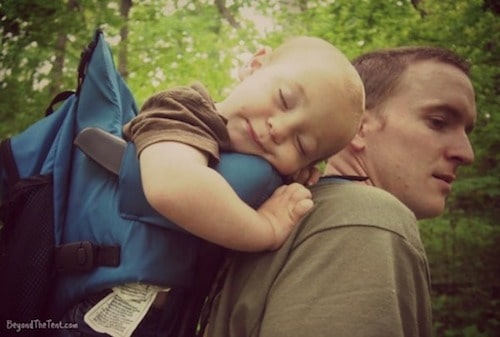 4. Have an Adventure With Baby
State parks have some of the most amazing space I have ever been to in my life, and the hiking paths often offer the best way to enjoy it. Babies almost always love being outside in the warm summer, so pack her up and take her on a hike!
It's a ton of fun placing the baby in the baby carrier and taking in the beauty that surrounds your campsite. Believe it or not, babies are easier to take on hiking trips than toddlers and little kids. Kids who want to walk just get worn out faster and tend to want to stop before you even get far enough to call it a hike!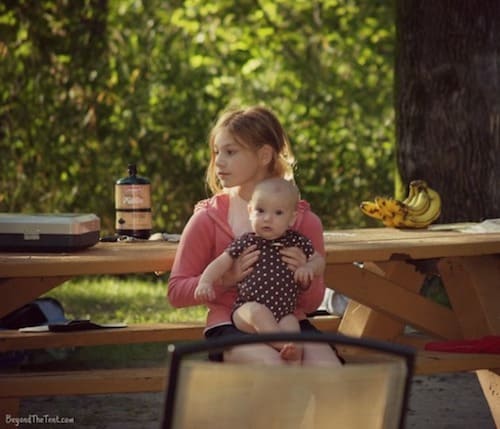 5. Remember "Dirt Don't Hurt"
It is completely fine if your baby loses her pacifier in the dirt. Nobody died from getting grass stains, either. Enjoying camping with a baby is all about letting go of your natural environment and living in a survivor-style setting with all the extra comforts you packed from home.
In all reality camping has become a chic modern day vacation. The supplies and products for basic family campers have grown into a business of luxury. No more sleeping on the ground, food cooked out of a tin can or bugs ruling over your campsite.
You can have a ton of fun camping with your baby without the stress. For our family, camping has been a useful way of teaching our kids the benefits of the great outdoors. Start them young and get ready for a great summer of camping with your little ones!
Do you have any tips for camping with a baby?