Looking for ways to introduce your kids to helping out around the house? These chores for kids cover ideas for all ages, from toddlers to teenagers! You're sure to find some great chore ideas that are perfect for your child at any age.
My mom has always said she had one goal in parenting: to raise good citizens. That means she wanted her kids to grow up to be responsible, law-abiding adults who cared for themselves, their people, family and the world around them.
It didn't really hit home for me until I became a parent myself, but I love that philosophy. It's always in the back of my mind.
It's also something that very few people can find fault around. Who doesn't want to see their little one grow up to be a generally good person?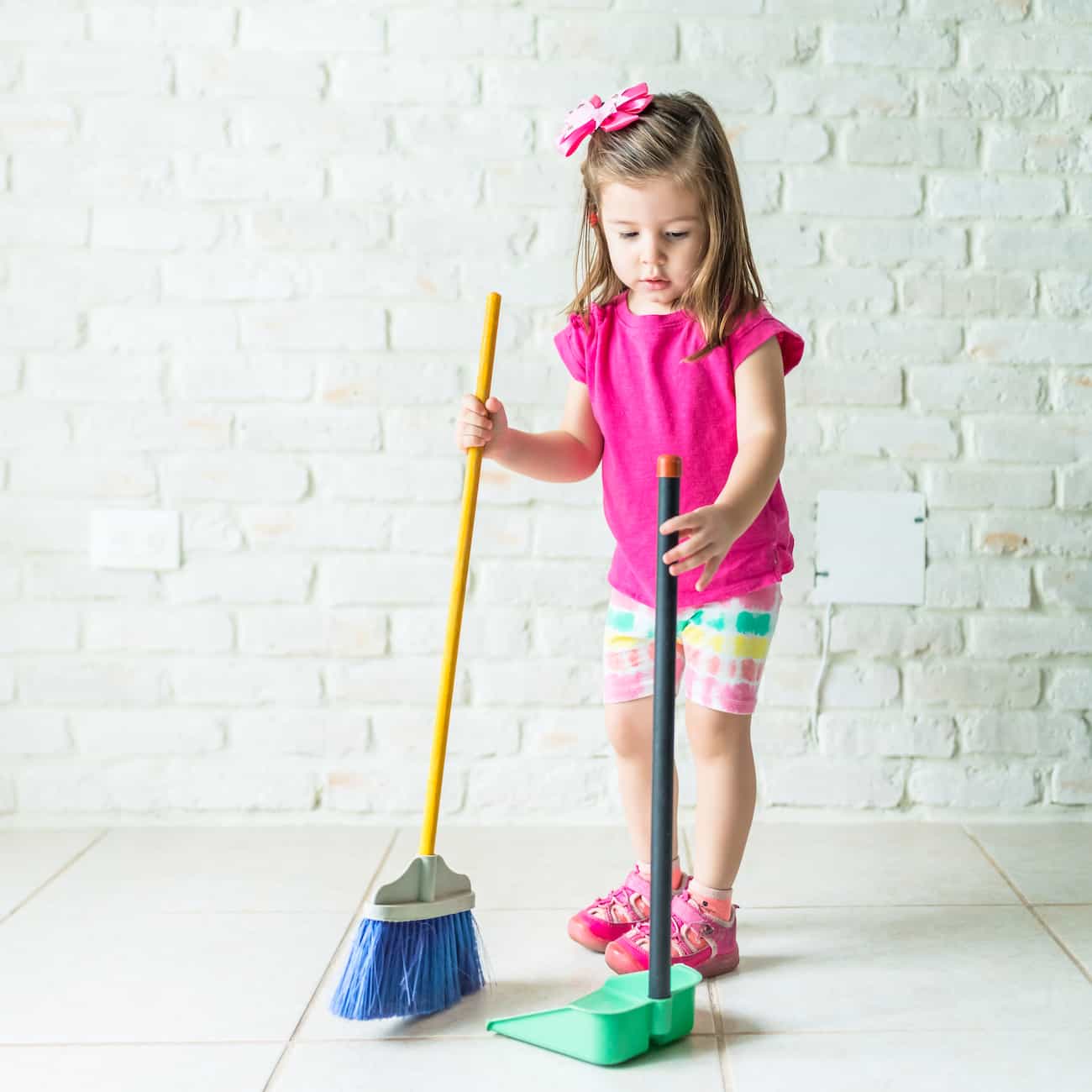 One really great way to start building on the idea of goodness in kids? Get them used to doing household chores from a young age.
In addition to doing a share of the work at home, my kids have also done chores at school as a part of their daily responsibilities. Sweeping, cleaning, mopping, laundry…they've learned to do so much there. Why? It's a traditional Montessori school, and part of their education is taking care of their classroom and the things they use.
As an observer, it's pretty fantastic to see younger kids embrace and enjoy the jobs they do to care for their classroom!. As a parent, it's been really nice to have my kids help with laundry and know what they're doing!
Benefits of having kids do chores
To paraphrase the Montessori ideals, having chores as a part of a daily routine is important for developing independence, fostering a sense of belonging and learning practical life skills.
This applies to a young child all the way through young adults, and there's truly something for every age.
Developing independence
Teaching kids to do things for themselves is important for their development. They need that empowered feeling that comes from mastering a skill and completing a job without any help.
Further, the younger child is actively looking for things they can do independently. Chores are a great way to help them discover the things they can accomplish on their own.
Developing a sense of belonging
The right chores give kids a meaningful way to contribute to their family and thier home, the space where they eat, sleep, play and live. When they know they're contributing, they know they're a valued and important member of the family.
They also take ownership and pride in the things they see as theirs. Having them help with cleaning and maintaining their home reinforces that they should care for their surroundings.
Learning practical life skills
Everyone needs to know how to tidy up, wash dishes, do laundry and keep surfaces clean. Each life skill learned as a child is a building block for becoming a successful adult.
Sometimes it seems like people are born with those skills, but they must be taught and developed. Teaching children how to do everyday household jobs as they grow up helps set them up to be future productive adults.
How to start having kids do chores
1. Start small
Did you know that a child as young as two years old can start learning basic kids' chores?
There are a few things to remember when you start having kids of any age start contributing to the jobs that need to be done at home.
Of course, if you're working with a 2 or 3 year old child, you want to give them an easy, tiny household task that you know they can complete. But the same goes for your older kid if they're not used to
work.
Start with short jobs that will only take a few minutes. You can build up from there, but you'll have far less resistance if the job is done before they get tired of it.
2. Be specific
Telling any young kid to do a non-specific task is setting them up for failure. Make your expectations clear when you tell them the age appropriate chore so they know when they're done with the job.
Instead of saying, pick up toys, you could say, pick up all the blocks and put them back in the bucket. Older kids could be told, pick up all the toys and put them in the toy bin.
Letting the child know exactly what you expect them to do when you identify the chore makes it easier for both of you.
As kids get older, you'll also find yourself asking them to do bigger chores,
You may also find yourself asking these kids to do bigger chores, which is great! I suggest making a list that identifies the smaller jobs within the overall chore, to (again) make sure kids know what you're expecting.
Example: if you want them to vacuum, make a chore card with the following items:
Pick up the floor in the family room, hallway and your bedroom.
Vacuum the living room, hallway and your bedroom
Empty the dust canister
Wind up the vacuum cord
Put the vacuum away
Tip: you don't have to do this every time you ask your kids to vacuum. Save the list as a chore chart so you can pull it out every time they need to do it. Trust me, they won't remember every step without the list!
You can also make a printable chore list for every job and keep them saved so you can quickly change them if you need to.
3. Always praise your kids for doing the chore
Toddlers and preschoolers respond very well to clapping, cheering and overall adoration for anything they do. Do this when they finish a job and they'll associate praise with finishing a job.
Older kids also need to be acknowledged. Even if the work they do isn't up to your high standards, you should always praise them for taking the time to do the chore.
4. Reward good work
This is slightly controversial. Some people believe that chores are a contribution to the home and rewards shouldn't be given for them. Others believe that positive reinforcement is the way to foster good attitudes and hard work.
I believe both of these philosophies. In general, I think hard work should be appreciated, but I don't think my kids should be doing chores because they'll get something out of it at the end.
As a way to make these two believes work together, I try to surprise my kids here and there with a treat or other reward (like a little bit of pocket money) after they do a chore and do it well.
5. Set a good example
Parenting experts agree that modeling behavior is real, and setting a good example is a great way to encourage good behavior.
Not only should you also show kids that you do jobs around the house and that you enjoy doing them, you should also participate in family chores.
Things like cleaning up after family dinner and sorting old clothes for donations can involve everyone and show that you're a team.
Do you need a chore chart?
Believe it or not, this is a highly debated question! It all comes down to personal preference.
If you want your child to do the same job on a regular basis, a chore chart is the way to go. It's a great way to assign chores.
If you want to change up the tasks, an editable, printable chore chart could also work for you.
If you're of the mind that you just want some kids chores ideas to get help around the house, then a chart might not be necessary.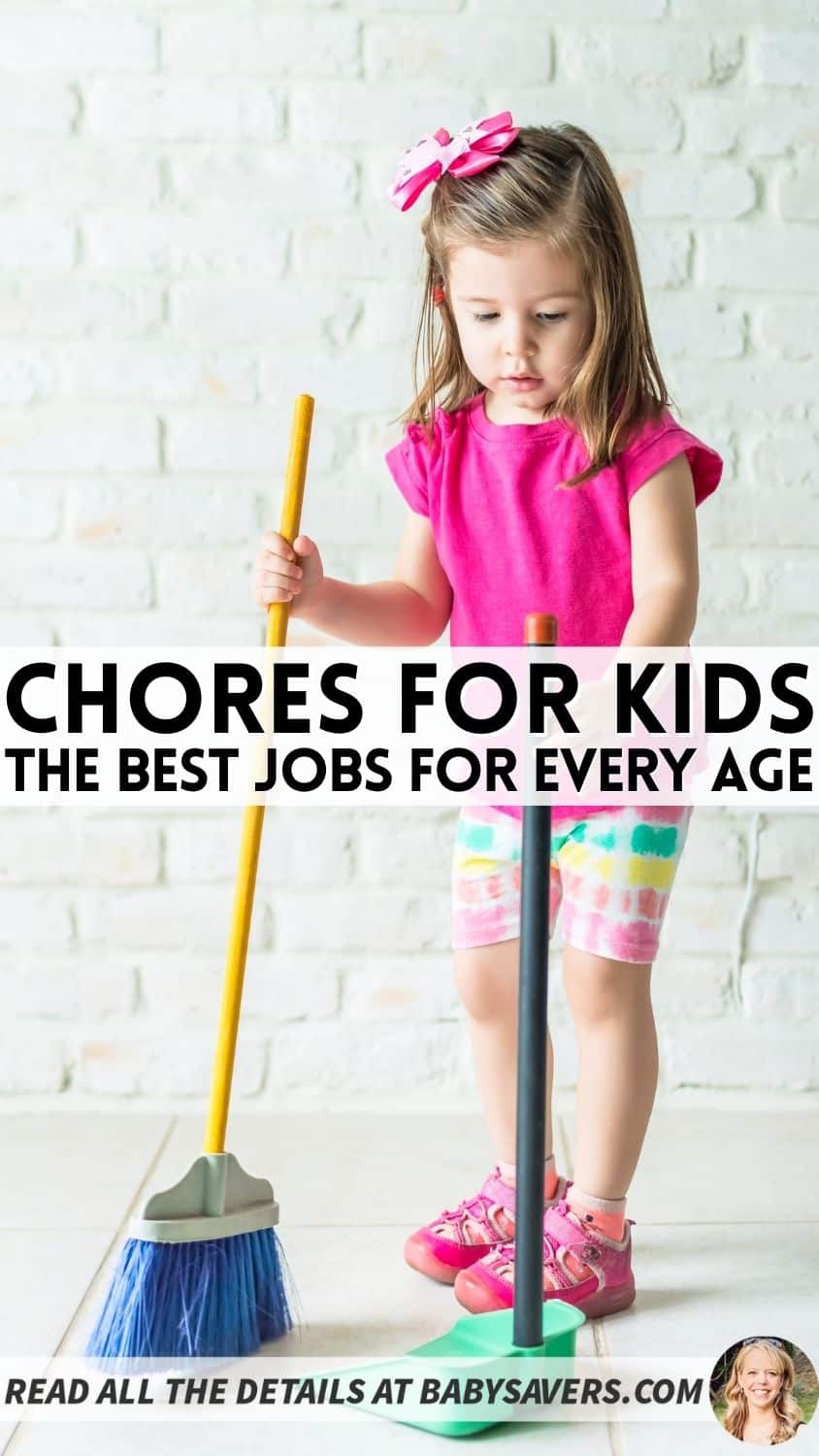 Chores for kids by age group
There are definitely limitations on what every kid is capable of when it comes to chores, and the kids age definitely plays a big part in that. Keep in mind that this isn't a one size fits all list!
Use your judgement to make sure you're giving your children what they can handle, and also make sure they can succeed.
Chores for toddlers
Toddlers love doing chores, and this is by far the best age to have a willing participant. The biggest trick to to make sure the chore only takes a few minutes and can easily be done.
If you're looking for small jobs a 2, 3 or 4 year old can do, here are some ideas for toddler chores:
Pick up toys and put them away in a specific box or basket.
Help set the table
Bus dishes (scrape off food into the garbage and put dishes in the sink)
Put dirty clothes in the hamper
Take clean clothes out of the dryer and put them in a laundry basket
As your toddler becomes a preschooler, you can expand this list to add another step onto a job they already know how to do. Young kids are extremely capable, so don't doubt what they can do!
Chores for 5 – 7 year olds
5, 6 and 7 year olds will easily get distracted, so they need fast tasks that have a defined end. Instead of put away dishes, try put away all the clean silverware from the dishwasher.
Other chores for 5 to 7 year old kids:
Set the table
Clear the table
Sweep small areas
Empty trash baskets
Put away small piles of laundry, like just socks or underwear
Feed pets
I do have to encourage you to keep your expectations low as you ask your kids to do some of these things. If he or she is going to sweep, it's not going to be perfect and that's ok. Resist the urge to nitpick and make sure you know you appreciate their hard work.
Chores for 8 – 10 year olds
Chores for 8, 9 and 10 year olds can start to get a little more generalized, but it's still smart to identify the outcome you're looking for if you can. Making a list with all the jobs within bigger chores is another smart way to communicate what you're really looking for.
Here are some great chore ideas for 8 year olds, nine year olds and ten year olds:
Strip dirty sheets off beds and put on fresh bedding
Dust specific areas of the house
Vacuum specific areas
Put away their laundry
Bring groceries into the house
Make bagged lunches
Take the dog out and walk near your home
Shovel snow off the sidewalk or 2-3 steps
Simple yard work (raking or pulling weeds)
Wash dishes
Chores for 11 – 14 year olds
At this age, kids are capable of of just about any tasks you can come up with. Just be sure to keep the jobs manageable – they'll be much more willing to help if they know you respect their need for balance.
Chores for kids eleven and up are many of the same things you do. Examples include:
Clean bathrooms
Mop floors
Wash dirty laundry (make DIY laundry detergent tabs and they won't waste detergent!)
Fold clean laundry
Put family groceries away
Simple meal prep
Electric weed trimming
Help an adult shovel snow
Chores for 15 year olds and older
15 year old kids can learn how to drive and work real jobs, so there's no reason to think your teenager isn't able to do pretty much anything around the house.
At this point, you can ask them to do detail-oriented chores like:
Dust baseboards
Cook full meals for the family
Mow the lawn
Snowblow driveways and walkways
If they're able to drive on their own, you can give them chores like:
The older child can drive a younger sibling to extra-curricular activities
Pick up grocery orders
Drop off or pick up dry cleaning