DIY laundry detergent is an easy and effective way to wash clothes while saving a lot of money!
Effective in regular and HE washing machines, this homemade laundry soap recipe can easily be portioned out into tabs or pods so you can use one tab per load.
I've tried making DIY laundry detergent several times over the years. We've made smaller batches that will fit in pretty jars, and I once made so much detergent that I had to store it in a huge bucket.
In my various trials, I've made it in both powder and liquid form.
Believe me, I'm a veteran at this stuff. I've just had such mixed results with it every single time. I honestly never felt like making the same recipe more than once.
Side note: I have, however, had amazing success making DIY color catcher sheets and using various laundry hacks! You can also see how I cleaned the mess when I accidentally washed a diaper!
I think the problem with making your own detergent is that it can vary so much among people who make it, people who share the recipe and people who use it.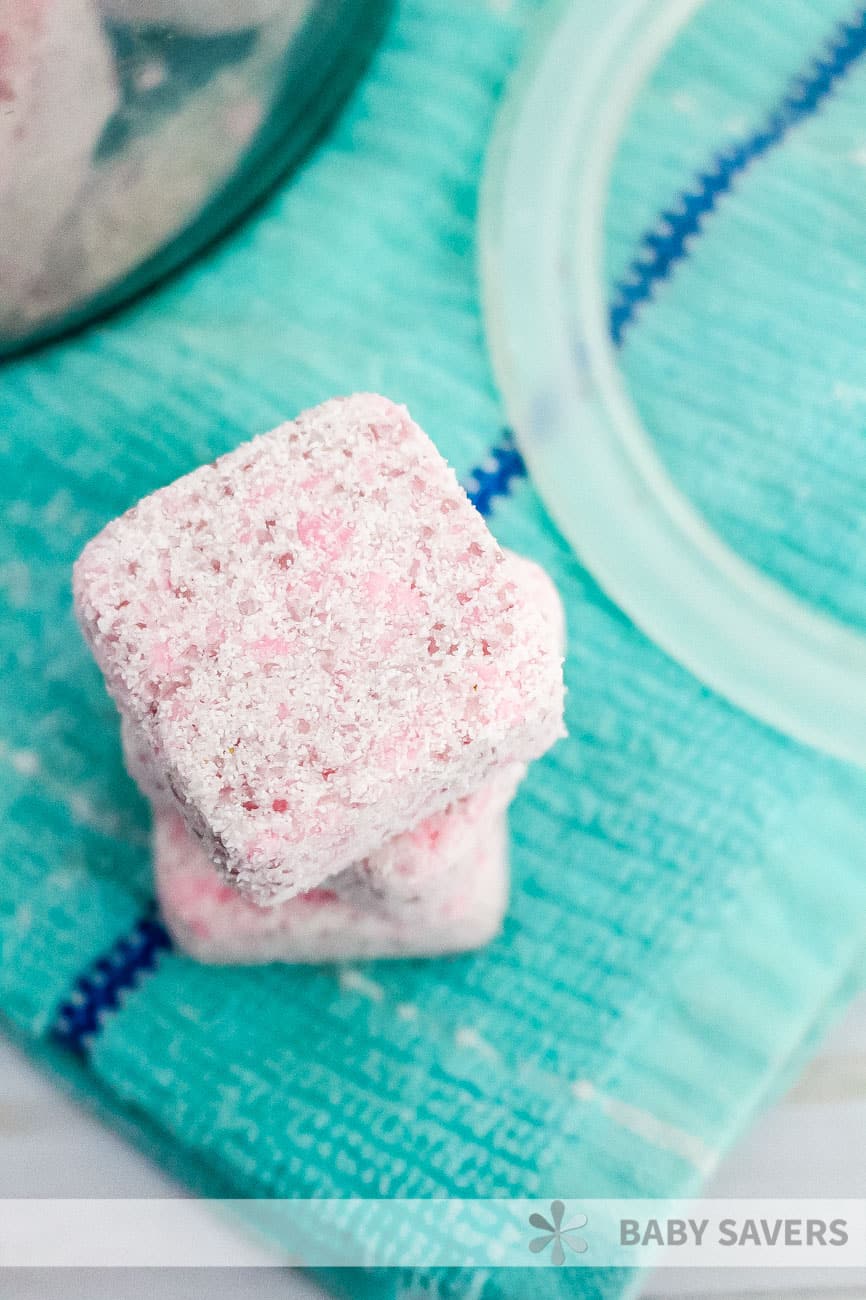 Whether you're using homemade or store-bought soap, there are just so many outside factors that can affect how clean your clothes get.
Here are just a few of the factors:
Hard or soft water
Types of stains and soiling
Types of fabric
Water temperature
High efficiency or standard washing machine use
After I realized all of that, that conditions had to be perfect in order for it to work, I took a break from making detergent at home.
But recently my underarm eczema has been flaring up and my scalp has also been super irritated.
It struck me that moving away from the chemicals and fragrances in my usual products might help my skin. So I decided to give making my own laundry detergent another go.
DIY laundry detergent ingredients
Since I was making it this time around to help my sensitive skin, I really looked at the ingredients to make sure I was comfortable with everything I was putting into the recipe.
Zote soap: Ingredients in Zote soap are sodium tallowate, sodium cocoate, fragrance, optical brightener and violet 10.
I know I said I wanted to move away from fragrances, but I've used Zote in various ways for a long time with no problems. It's known to be one of the few soaps that are actually effective for stain removal, so I went with it.
Washing soda: Arm & Hammer Super Washing Soda is 100% sodium carbonate and not irritating to skin.
Baking soda: Baking soda is sodium bicarbonate, which is also known to be agreeable for people with sensitive skin.
Borax: Borax is a naturally occurring compound that's refined into a powder for easy use.
Epsom salts: Epsom salts are magnesium sulfate, a naturally occurring mineral.
White vinegar: While we pretty much all know that vinegar is safe, I did look it up to see exactly what in it. Vinegar is acetic acid and sometimes water is added to it.
DIY laundry detergent tabs
I think my favorite thing about this homemade laundry detergent is that you can portion it out into your own tabs. Some people also call them detergent pods.
My second favorite thing about this recipe is that you can use it for presoaking or pretreating stained clothes.
I stain plenty of my own garments, but my daughter is in a league of her own when it comes to spills. Presoaking is an absolute necessity in our house!
Note: If I were washing baby clothing I would still presoak with the best baby stain remover I've ever used: Oxiclean! Now that they're older, my kids are great at helping with laundry.
Instructions for how to use this formula for both laundry and presoaking can be found at the end of this article.
What mold should I use for making laundry tabs?
I used a mold like this one to make my detergent tabs into 1-inch cubes. You can also scoop them out onto a tray with a 1-tablespoon cookie scoop.
You'll see in the directions that you use 1 tab for small loads and 3 tabs for large loads.
If you only do large loads, you could form your detergent tabs into portions containing 3 tablespoons of the soap mixture. This 3-tablespoon cookie scoop would work perfectly for that.
Elbee Silicone Cube Molds, Purple

OXO Good Grips Small Cookie Scoop, 1 tablespoon

OXO Good Grips Large Cookie Scoop, 3 tablespoons

I did search for square molds with a 3-tablespoon capacity, but I didn't see any. If you do find them, they would work great for making your laundry tabs for large loads.
If you choose to make bigger DIY laundry tabs, just be sure you give them extra time to dry and set. Otherwise, they'll still be damp in the middle and they'll crumble.
Can I add fragrance?
Absolutely! As I mentioned earlier, I'm trying to avoid scents where I can, but that doesn't mean you need to!
There are two ways you can add scent to your homemade detergent without affecting the chemistry of the rest of the ingredients.
Essential oils. 3-6 drops of your favorite essential oil will add just the right amount of fragrance to your detergent. Start with 3 drops, because sometimes those scents can be very potent!

In-wash scent boosters. Those little beads that you can add to your load of dirty clothes can also be added right to this recipe for built in scent! I recommend adding about 1 cup of scented crystals or pearls to your batch for a pleasant scent.
Here are some highly-rated suggestions for essential oils and scents to add to your recipe:
PURE AROMA Top 6 Essential Oils kit – Eucalyptus, Lavender, Lemongrass, Orange, Peppermint, Tea Tree

ArtNaturals Aromatherapy 100% Pure Essential Oil Set – Peppermint, Tea Tree, Lavender, Eucalyptus

Lagunamoon Essential Oils Top 6 Gift Set

Downy Unstopables In-Wash Scent Booster Beads, FRESH

Dreft Blissfuls In-Wash Scent Booster Beads, Baby Fresh

Gain Fireworks In-Wash Scent Booster, Original

DIY laundry detergent ingredients
1⁄2 bar of Zote Soap
3 cups washing soda
1 1⁄2 cups baking soda
1⁄3 cup borax
2 tablespoons epsom salts
1⁄3 cup white vinegar
Instructions
1. Use a cheese grater to shred the Zote soap into a large bowl.
2. Add the washing soda, baking soda, borax and epsom salts to the bowl and mix well with a wooden spoon.
3. Slowly pour the vinegar into the mixture and stir until everything is evenly mixed.
4. Press the wet mixture into a silicone mold. You can also scoop them onto a tray lined with wax paper.
5. Allow shaped detergent to dry at least overnight. Longer for bigger portions.
How to use laundry detergent tabs
These directions assume you've made your pods into 1 inch tabs. That's about 1 tablespoon of detergent for each tablet.
How many tabs should you use in a load?
Here's a quick guide for how much of this recipe you should use when you wash clothes:
Use one tab for a small load of laundry.
Use three homemade detergent tablets for a large load.
How to pretreat or presoak stained garments
Dissolve one tablet in 1/2 to 1 gallon of hot water. Add your stained clothing and let soak for at least an hour. Launder as usual.
High Efficiency or HE washing machine directions
Many people assume that all HE washers are front-loading (like my Whirlpool washing machine), but that's just not true! Top-loaders can be high-efficiency, too.
The best way to use this recipe in both front load and top load machines is to put them on top of the dry clothes before you start the washer. Don't use the detergent dispenser.
In other words:
Add dry, soiled items to your washing machine.
Put your detergent tablet on top of the clothes. Ignore your detergent dispenser.
Start your preferred washing cycle.
Dry your clothes as usual when the cycle ends.
Do you hang everything out to dry? You can still get super soft line dried clothes!
Standard Washing Machine Directions
Most standard washing machines have an agitator, which moves clothes around and usually moves them up and down the basket. That means you want your detergent to be at the bottom of the load.
When I'm using a standard washing machine I like to start filling the machine as I'm adding my clothes. Most machines will keep filling when the lid is open, but pause when the cycle is ready to start.
If your machine doesn't continue to fill when the lid is open, don't worry. Still follow the directions below.
Start your cycle so your washing machine begins filling and leave the lid open, if you can.
Drop your detergent tab(s) into the washing machine.
Add your dry, dirty clothes to the washer.
Close the lid and allow the cycle to run.
Dry your clothes as usual when your machine is done running.