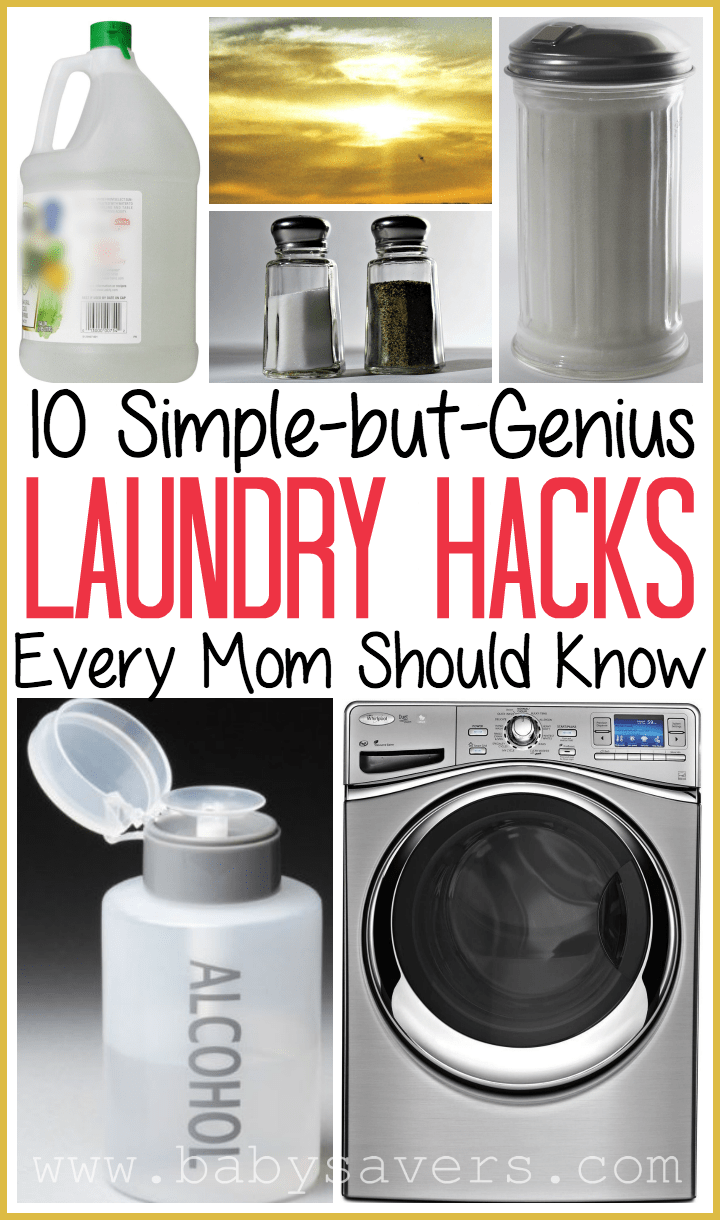 I love my washing machine, but even if it can clean up the mess of a washed disposable diaper, it's not a miracle worker.
While I've already shared 5 Tips to Keep Kids Clothing Stain Free there are plenty of other top laundry hacks every mom should know about!
Top Laundry Hacks
1. The sun:
It's your secret weapon against so many stains.
I never really believed this until just a few weeks ago. I had found a box of baby clothes to give to my sister for her foster baby. To my dismay, a lot of the baby formula stains that were gone when I packed up the clothes had come back.
It was a super-hot day, so I just dumped all the clothes in a bucket and doused them with water. Then I laid them outside, stain side up, on a picnic table. They dried and the stains faded away to nothing!
2. Chalk for grease stains
Rub a piece of white chalk on your grease stains. It will draw the oil out of the fabric. Toss the chalked clothing in the washing machine and the whole mess will wash away.
3. Sugar for grass stains
Sugar breaks down chlorophyll, which is the green stuff that causes grass stains.
Mix 2 tablespoons of sugar with enough warm water to make a paste. Cover the grass stain with the sugar paste and let it sit for about 30 minutes. Wash as usual.
4. Rubbing alcohol for grass stains
Rubbing alcohol is another substance that breaks down chlorophyll.
Put a clean rag under the stain and blot it generously with rubbing alcohol until the grass stain disappears.
5. Pepper
Pepper can keep your clothing bright. Add a tablespoon of ground black pepper to your load and the colors won't fade.
6. Vinegar
Use white vinegar to soften and fluff your clothes instead of using liquid fabric softener. Put about 1/2 a cup in with your rinse cycle or pour it right into your dispenser.
7. Cold water
The truth is, we don't need to wash most things with warm or hot water. Plus, switching to cold water for laundry will save you about $60 a year in energy costs!
If you're used to washing almost everything on a warm cycle, try switching to cold. I bet you won't even notice a difference!
I do know that I have to wash my towels and rags in hot water to get the smells out, but that's the only load I wash in hot.
8. Containers
Keep your laundry area neat by placing containers in your laundry area. Label them for the following items:
Garbage
Recycling
Lost and found items
Odd socks
Money
9. A Dry Erase Marker or Clipboard and Pen 
Use the dry erase marker to write reminders about the load in your wash directly on your washing machine, like Don't dry two pairs of jeans.
If you don't want to take a marker to your appliance, keep a clipboard with a pen attached and put it on top of your washer if you need a reminder for the current load.
10. Detergent
Of course, using an effective detergent in a functional washing machine is the best laundry hack there is!
In addition to the convenience of being in a single use, quick-dissolving Pak I just learned that this detergent costs 50% less per load than the leading single use brand*.
*According to information provided by Arm & Hammer™'s PR company.
Readers: I'd love to know: What are your favorite top laundry hacks?
This is a sponsored conversation written by me on behalf of Arm & Hammer. The opinions and text are all mine.