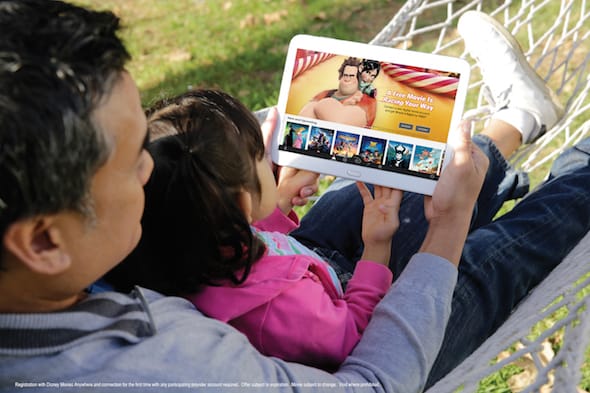 When I became a #VZWBuzz blogger I became a mobile Android user. After my Verizon phone and number were established, I gave up my iPhone that ran off of a different carrier's subpar service and started using a Samsung Galaxy phone and tablet.
All in all, I thought the switch from an iPhone to an Android phone was seamless. There wasn't anything I had used on iOS before that I couldn't continue to use on my newer phones and tablets.
Then I tried to use Disney Movies Anywhere to download a few digital copies of Disney movies in prep for our family travels to Florida in September 2014. Until that point, I hadn't realized Disney Movies Anywhere only had a mobile app for iOS devices. I was so sad!
Last week on the Big Hero 6/ABC TV press trip Disney Home Entertainment threw a small cocktail party to share the good news: Disney Movies Anywhere is now available in the Google Play store for all Android devices! 
A significant portion of our group did something similar to this:
Even better, Disney Movies Anywhere for Android is an all-new product that aims to provide an actual experience for users. While the app provides the ability to watch all of a user's Disney Marvel and Pixar digital movies in one place, there are plenty of perks even if you don't own any digital movies.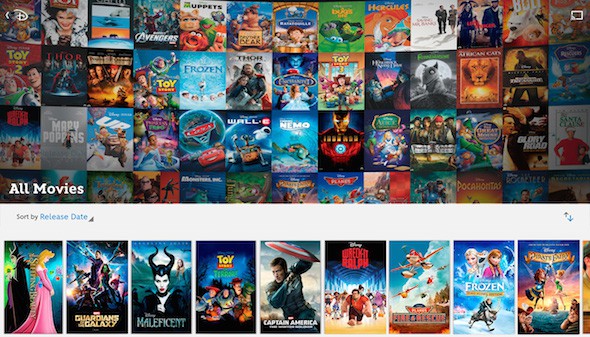 Any Disney fan can download and use the Disney Movies Anywhere app (Disney Movies Anywhere iOS link for Apple users) and do the following:
Explore Disney's library of over 400 active digital titles from Disney, Pixar and Marvel
Preview upcoming offerings
Enjoy hours of FREE short-form content
Be the first to view short videos exclusively available to Disney Movies Anywhere users
Redeem Digital Copy codes found in specially-marked Blu-Rays and DVDs
Add Disney Movie Rewards codes to accounts
I've saved the most exciting news for last: Anyone who connects their Disney Movie Rewards account to their Google Play account will get Wreck-It Ralph FREE. To keep. Forever!

How to get your FREE copy of Wreck-it Ralph:
Download the FREE Disney Movies Anywhere App from Google Play for Android devices or from iTunes for Apple products.
Sign in or register for your Disney Movies Anywhere account (if you already have a Disney Movie Rewards account use that information to sign in)
Click the Get Connected button and choose Google Play.
Wreck-It Ralph will automatically appear in your account for free!
Note: If you don't have a smartphone or tablet you can follow steps 2-4 on the Disney Movies Anywhere site.