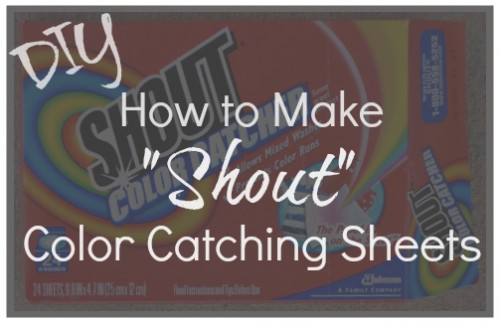 I don't know what's inside Shout Color Catchers, but I used to think those laundry sheets were a genius creation. I still do, but now I've learned that it doesn't really take a genius to make them.
Making your own Shout Color Catchers is actually a very simple DIY project with just one piece of fabric, water and one ingredient!
How to make Shout Color Catching Laundry Sheets:
10-12 white washcloths OR 12 squares of white felt OR a yard of white fabric
1 cup of water
1 tablespoon of washing soda (see below for resources)
Directions for making your own color catchers:
If you're using washcloths or felt squares cut each in half so they're roughly 6″ by 12″
Heat the water in a big bowl (a big Pyrex glass measuring cup worked great for this!) for about a minute in the microwave. Stir in the washing soda until it's fully dissolved.
Toss the fabric in and stir it up with a wooden spoon until all the pieces are soaked. They should all be just a bit moist, not dripping wet. If you need to, add a few more pieces of fabric to soak up the rest of the water.
Hang the pieces to dry. Stack and store the dry fabric pieces near your washing machine.
How to use your homemade Shout color catchers sheets:
Add one of your homemade color catcher sheets to any mixed laundry load. Be sure to use your regular detergent and any other additives like Oxiclean or fabric softener.
If any dye from the clothes your washing bleeds into the water, your homemade color catcher will "trap" the dye molecules and keep them from bleeding on to the lighter fabrics!
How do homemade color catcher sheets work?
I don't know what Shout's Color Catchers are made of, but I do know that washing soda (also known as soda ash) is used in the tie-dying process to keep the various dyes from bleeding onto one another. It's well-known among professional textile artists that washing soda and absorbant fabric captures stray dye particles.
Where can I find washing soda or soda ash?
Washing soda and soda ash are the same thing: pure sodium carbonate. You can find Arm & Hammer washing soda at most grocery stores–that's usually the most inexpensive place to buy it. You can also find sodium carbonate at pool supply stores.
Amazon is also an excellent source for washing soda. Here are options with prices:
All these items currently ship free with Amazon Prime or with a total purchase of $25 or more.
At those prices you can spend just a few dollars and end up with color catching sheets for a long, long time!
After your clothes are done in the washing machine, get the softest line-dried clothes! Then be sure to see how I've had my kids helping with laundry since they were toddlers!
Are you going to make your own color catching sheets? If you do, please tell me if you like them!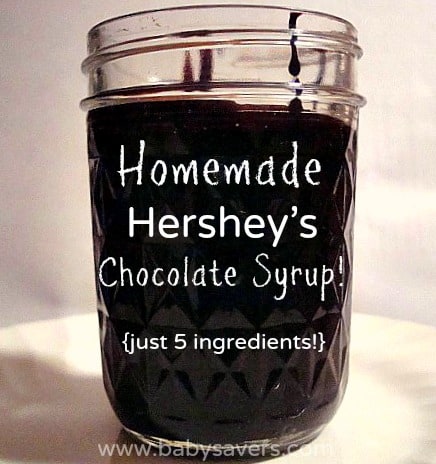 Like this tutorial? Learn how you can make your own homemade Hershey's syrup with just 5 ingredients! It's simple, cheap, delicious AND it's not made with any of those crazy chemicals and preservatives.