Just last week Sony flew me to LA for a special Ghostbusters press junket. They scheduled three days full of Ghostbusters amazingness for us, including an amazing press junket with Leslie Jones, Melissa McCarthy, Paul Feig, Katie Dippold and Kate McKinnon and a fabulous Ghost Corps tour!
Ghostbusters is in theaters everywhere NOW. Get your tickets now! 
I was so lucky to attend an early screening of the new Ghostbusters movie while out in LA.  We arrived to the theater and all of the employees there were dressed in jumpsuits which helped set the mood.  I grabbed my popcorn, put on my 3D glasses, and then… spent nearly two hours jumping out of my seat and laughing!
Let me clear things up right off the bat – the new Ghostbusters is is NOT a remake of the original.  It does have similar plot of four Ghostbusters catching ghosts and saving the city, but that is about where the similarities end.
The cast of the movie has incredible on screen chemistry.  I laughed so hard during this entire movie!  You can't go wrong when you combine Kristin Wiig, Melissa McCarthy, Kate McKinnon, and Leslie Jones in a movie in my opinion.  Chris Hemsworth is hilarious in this movie too!
The ghosts are a little scary (especially if you're watching in 3D) so I wouldn't bring young children who are easily scared, but just use your judgement.  Aside from the ghosts, it really is a pretty family friendly film.
By the way, if you're a fan of the original Ghostbusters movie, keep your eyes peeled for some cameos from some familiar faces.
I have two pieces of advice going into Ghostbusters' opening night tonight:
GO SEE THE MOVIE.  Seriously, don't be skeptical and just go give it a try. Get tickets here 🙂
Stay all the way through until the very last name on the credits has rolled. If you don't, you'll miss out on some pretty funny bonus footage!
Follow along with our coverage of the new Ghostbusters movie by searching for the hashtags #Ghostbloggers and #Ghostbusters on social media!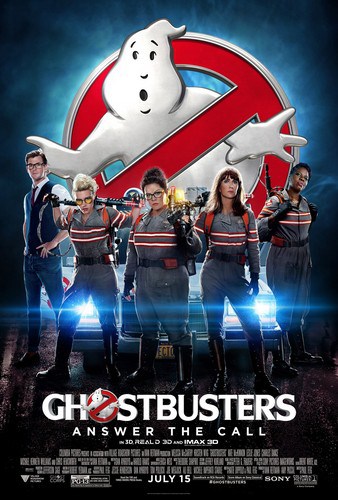 Ghostbusters is in theaters everywhere on Friday, July 15th. See theater showtimes and get your tickets now!