Shopping for gifts for 1 -2 year olds can be challenging! There are few things more disappointing than giving a little one a present they're just not into. Keep reading for the best gift ideas for 1 year olds and 2 year olds!
Buying toys for babies and toddlers can be tricky because they don't understand what they actually want yet. It's even harder if you don't know the little one that well!
Presents for 1-2 year olds: What to consider
When you look for presents for 1-2 year olds, there are a few things you can consider to make sure you find the best gift possible.
1. Make sure it's age-appropriate.
This is usually super easy, because most items made for babies, toddlers and children have intended ages printed on them. This is obvious for toys, but even things like stroller accessories, car seat attachments, blankets and non-toy baby items have ages on them.
2. Think about what catches the toddler's attention.
If you're lucky, you'll know what your 1-2 year old likes, which makes it easy to zero into the toys and things they'll be drawn to.
For example, we knew from a very young age that my son loved vehicles. He wasn't old enough for Matchbox cars and traditional Thomas the Tank Engine train cars, but he, like most toddlers, wasn't picky. If it had wheels and he could push it around, he was happy.
3. Learn about the things most toddlers (and parents of little kids) love!
Chances are you're here because you don't know exactly what the toddler you're buying for is interested in. In that case, you'll want to move on to the next section for 3 tips on what toddlers and parents love.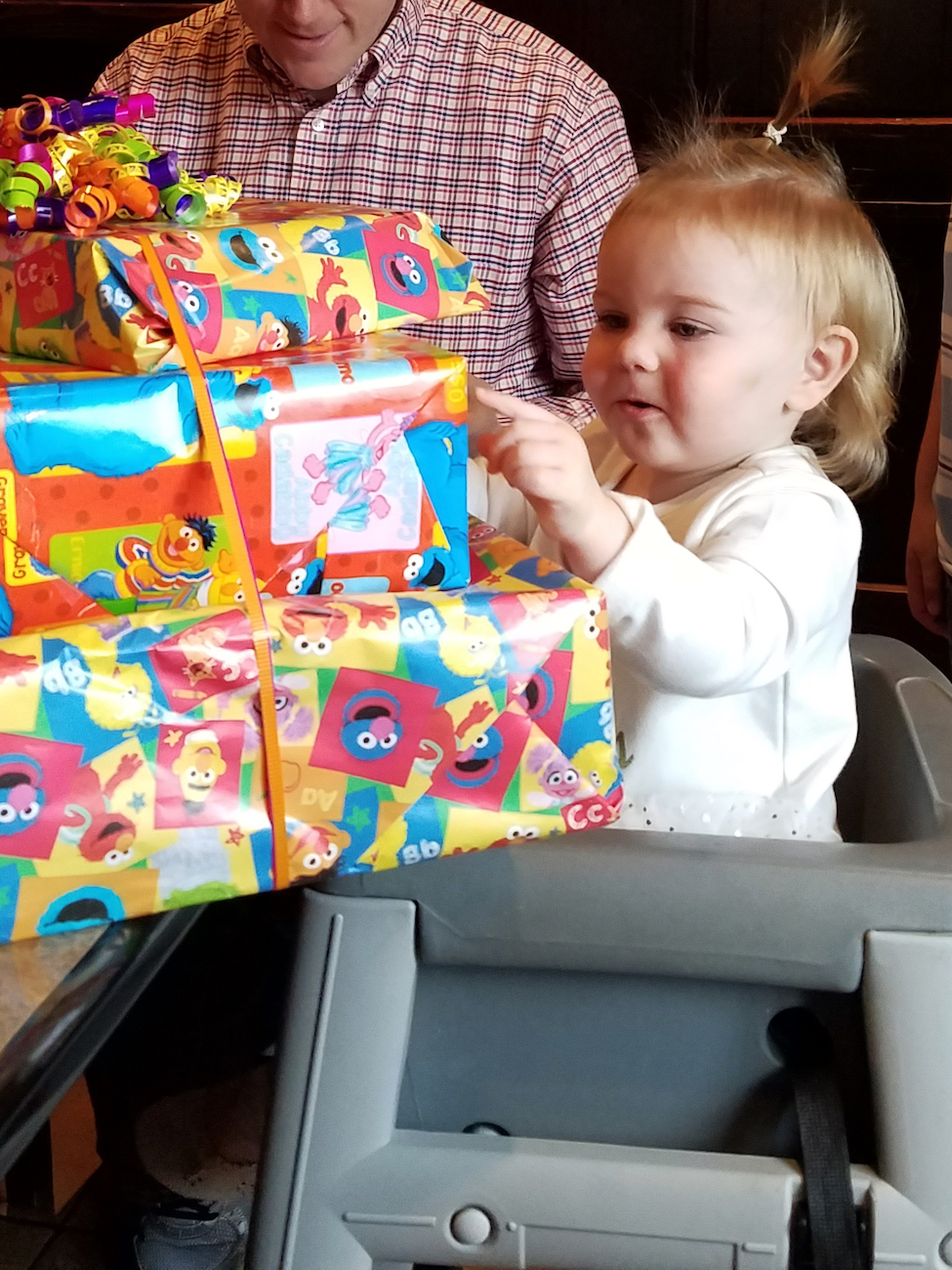 How to find the best toddler gift ideas (even if you don't know the child)
1. Go with what interests most 1-2 year olds.
Toys that light up and make noises are almost always a winner for toddler gifts.
Brands like Fisher-Price, Vtech Baby and Baby Einstein specialize in making toys that little ones will love. Tried and true toys have longevity for a reason!
Classic wooden toys, a simple musical instrument, dolls, building blocks and play sets are the most fun ways to encourage an independent, imaginative play skill for toddlers!
2. Go with educational toddler toys.
I always love age-appropriate toys that help little brains grow and develop. My favorite brand for this is Lovevery, because they make learning toys that are clearly intended for different ages. I'm including my favorite of their items in the list of toddler gift ideas below, but you really should see what they're all about.
Related: Lovevery Black Friday: All the Details!
I also have a whole list of STEM toys for babies and toddlers that will make shopping easier for you!
3. Go with something that helps out mom and dad.
If I can be blunt for a moment, the 1 year old or 2 year old won't remember what he or she received for this birthday. Sure, if it's particularly memorable or long-lasting, their parents might remind him or her of who gave it to them. Maybe.
Then again, life with a toddler is hectic, and it doesn't get less crazy for parent as their baby gets older. It's nice and generous to give a gift, even if mom and dad might not remember who it came from!
Keeping that in mind, you can also give presents to the 1-2 year old child that will ultimately help out mom and dad. Consumable goods like diapers, wipes, toddler snacks and baby food squeeze packs are absolutely lovely to receive.
Other great gift ideas that benefit both parents and baby are:
Kids bedroom decorations
Bedding for a toddler bed
Tear-free shampoo or body wash
Local children's museum tickets or memberships
Now that you have some ideas of what to look for, it's time to share my suggestions for the best gift ideas for 1-2 year olds!
Best gifts for 1-2 year olds
Top Gifts for 1-2 Year Olds : 21 Great Presents to Give
When it comes to buying gifts for 1-2 year olds, there are few things worse than getting them a present they don't really want. That's why it's important to find something these growing babies and toddlers absolutely love! Check out the best gift ideas for 1 year olds and 2 year olds!
As an Amazon Associate and member of other affiliate programs, I earn from qualifying purchases.