This is one of the few Hello Fresh reviews on the internet that's not sponsored. Nothing was received from the company, and I'm excited to share my 100% honest opinion about my family's Hello Fresh experience!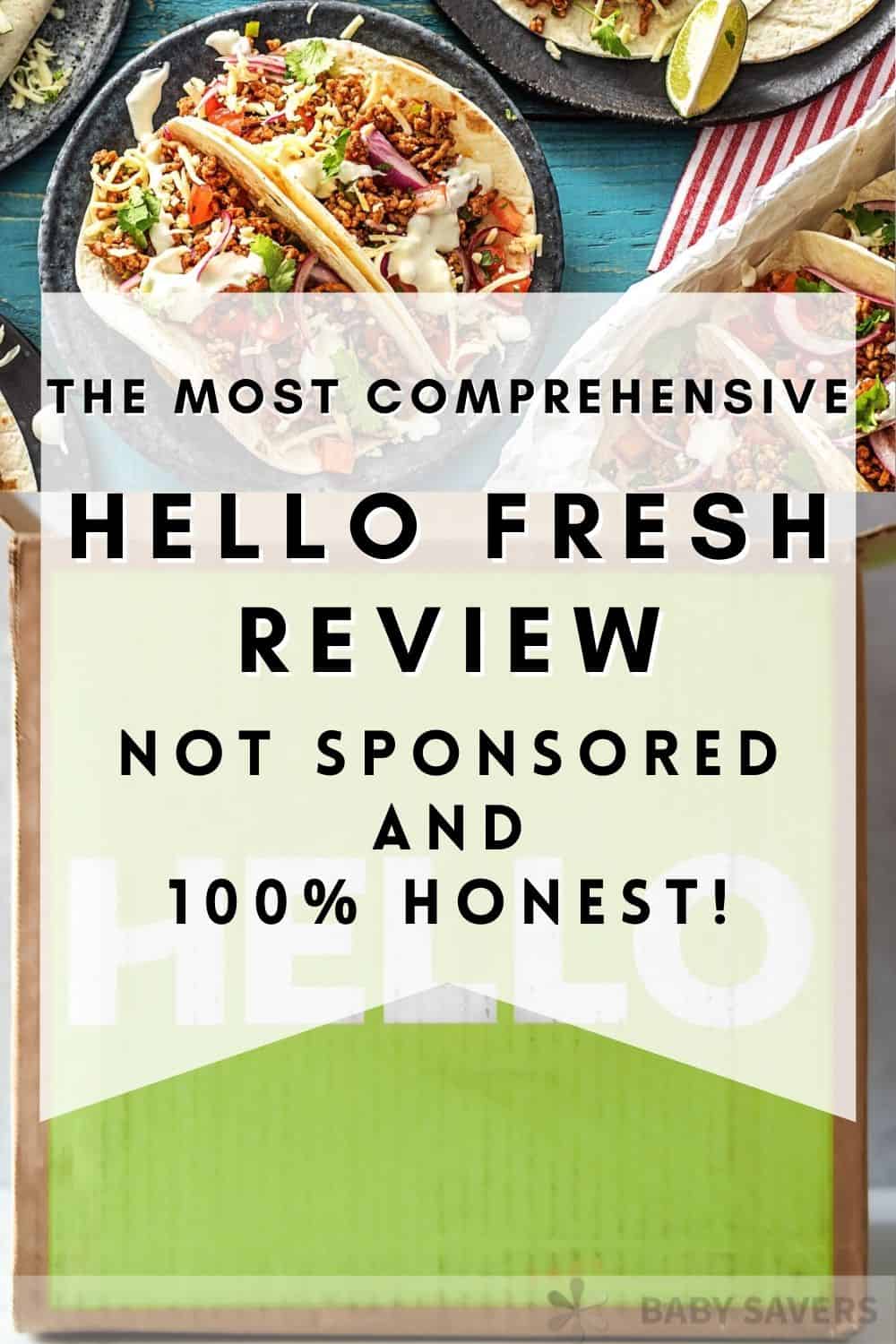 I want to start with complete honesty: I wasn't planning on writing about a meal kit delivery service, and I certainly had no intention to write any Hello Fresh reviews. I had no plans of trying Blue Apron, Sun Basket, Home Chef or anything of the sort.
But then three full Hello Fresh meals unexpectedly landed in my kitchen.
Let's start with what everyone is wondering:
Is Hellofresh Worth it?
In short, YES! Before accidentally receiving my own kit, I didn't look favorably upon meal services. Now, Hellofresh is worth it (especially with those free meals!) because of meal planning, reducing food waste, saving time and more reasons listed below.
You're probably wondering How I was able to accidentally receive and try three free Hello Fresh meals without getting them sponsored or otherwise working with the company.
The answer is: it's because of my luck and my neighbor's forgetfulness.
As it happened, our neighbor had ordered his own box from Hello Fresh, then forgot and went out of town for several days. He wouldn't be around before the shipment spoiled, so he told my husband to grab it and use it instead of letting it go to waste.
See? Luck + forgetfulness = a free meal service for my family!
Hello Fresh Coupon
If you're here looking for a Hello Fresh promo code or deal, I have one! Get up to 41 FREE MEALS with free shipping and three free gifts when you shop through this link or click the button below!
No coupon code or promo is needed for this offer. Click the link and it will be automatically applied!
Why I thought I'd hate Hello Fresh
I always thought that a meal kit company wouldn't work for us. My assumption was that they were expensive and that they wouldn't provide enough food for my family of four. I also was pretty certain that they couldn't possibly offer any meal options that would please all four of us.
Because my husband eats a lot at dinnertime. He has a physical job and does intermittent fasting, so dinner is his biggest meal of the day by far.
On top of that, I have two growing kids, and one is a picky eater. If they like what we're having, they'll eat a lot. If my picky one doesn't like it, neither one of us is happy.
With all of those factors, I was convinced a service like Hello Fresh would be wasted on my family.
Even with all that, I admit that the idea of a meal delivery service 100% appealed to me. There's nothing special about me – I'm a typically busy mom, and I admit I have my struggles. I have a lot going on AND I have ADHD. My brain finds planning dinner for all of us every. single. day. an ongoing challenge.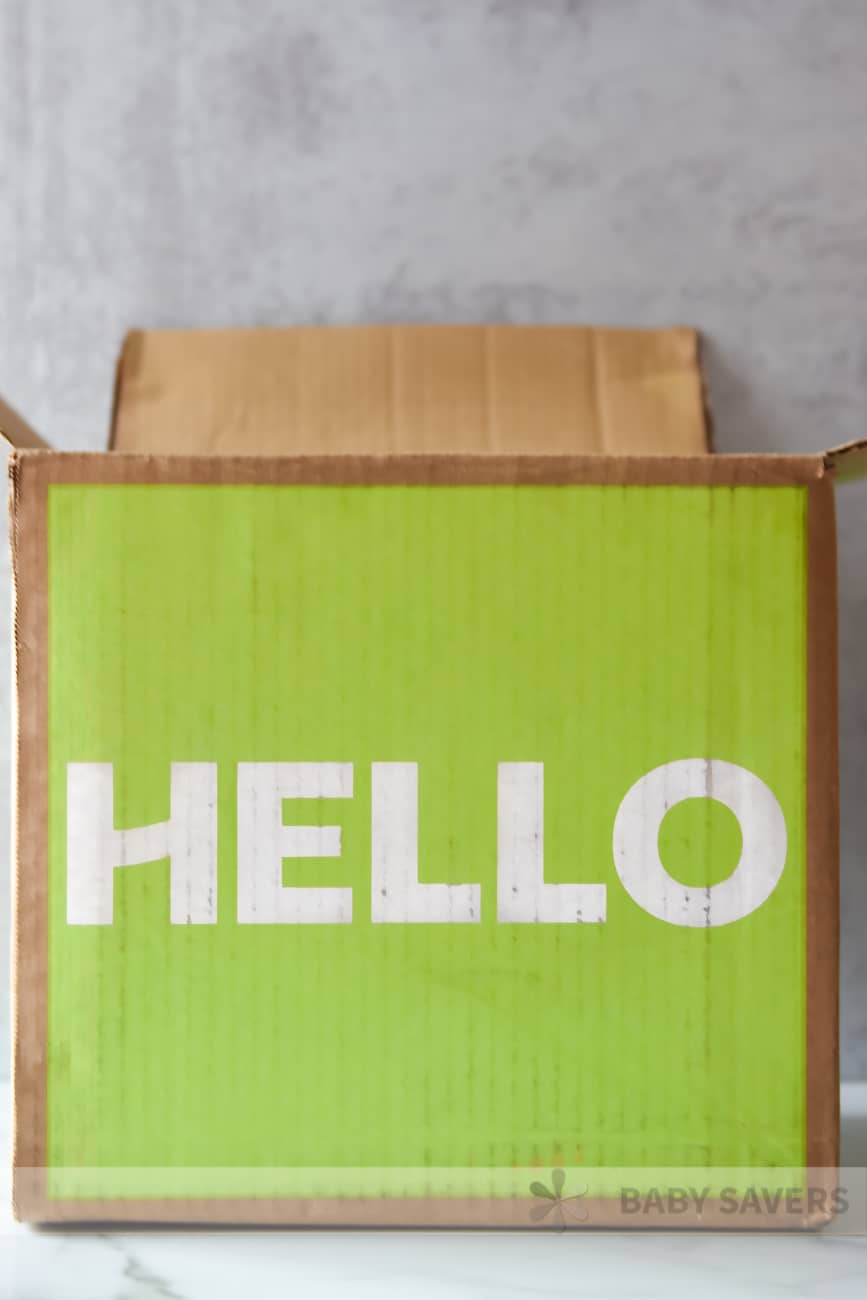 Easy meal planning and scaling back grocery shopping while trying a different, delicious recipe or two sounded absolutely fantastic. I also loved the thought of easily introducing my kids to new tastes and flavors.
So when that HelloFresh box landed in my lap, I was super excited to have the chance to try it out!
I wouldn't waste any money, we could cook some new foods with fresh ingredients and I'd test my opinions on this meal kit delivery service.
What is Hello Fresh?
HelloFresh.com is a meal kit delivery service that provides all the ingredients needed for a meal, plus the easy-to-follow recipes to go with them.
In a nutshell, Hello Fresh gives you a recipe card, complete with step-by-step pictures and written instructions, and then lets you skip the grocery shopping by bringing you the whole package of prepared, pre portioned ingredients for the recipe.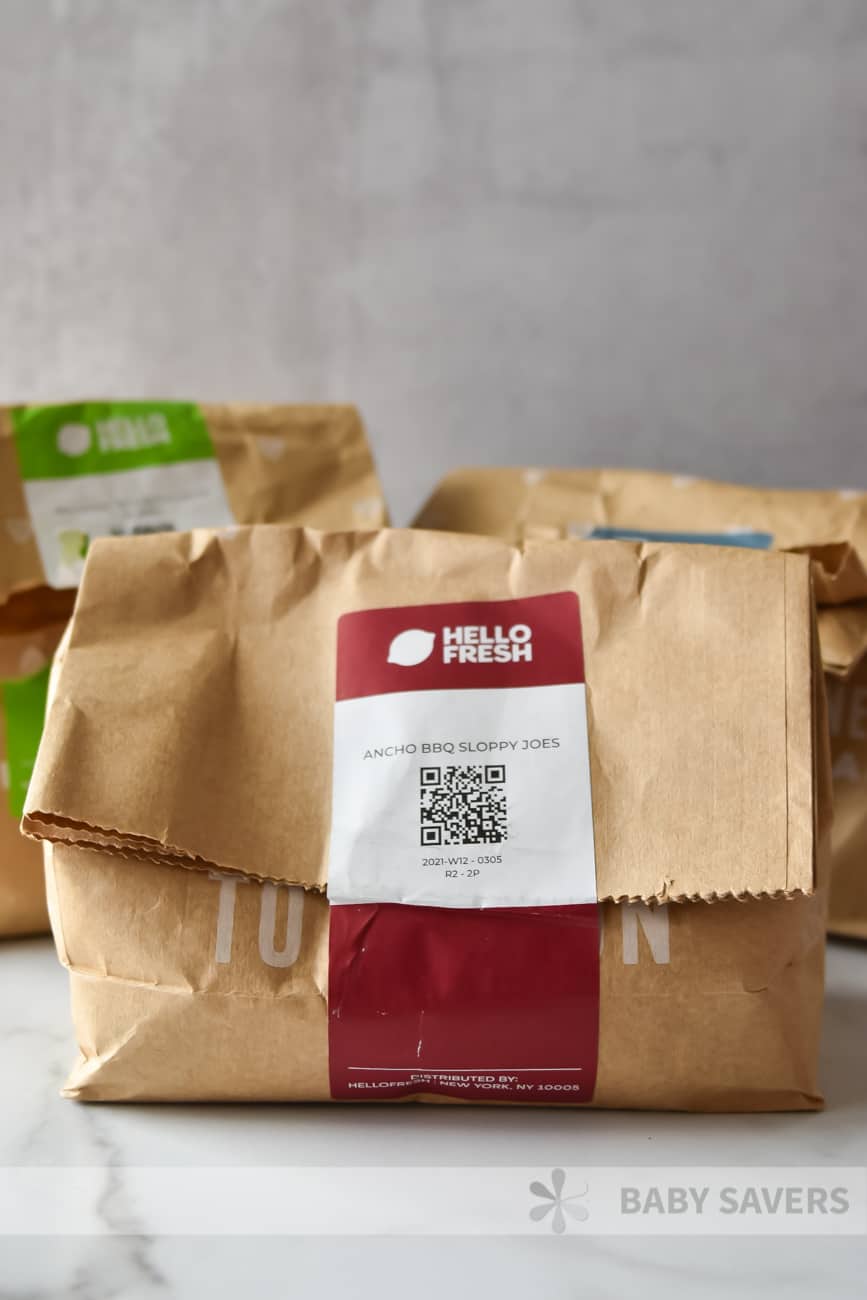 Recipes usually take about 30-40 minutes to make, and you get to choose from a selection of almost 30 different recipes that change from week to week. (hooray for 30 minute meals!)
You place one order for all your weekly meals, then all the groceries for the week are delivered in a single shipment.
Hello Fresh Reviews – everything you need to know
This Hello Fresh review will cover everything you need to know about this particular meal planning and delivery service.
I'll start it by saying: I was lucky our neighbors gave us the chance to try Hellofresh for free. But here's the truth:
I've already signed up with Hello Fresh for our own weekly meal kits. Because they're SO. GOOD.
My personal review starts with the actual ingredient delivery. While I didn't choose the meals we received, I'll be sure to go over how the ordering process works a bit later so you get all the details.
The Hello Fresh delivery
I have to say, I was immediately impressed when I inspected both the Hello Fresh box and packaging. As I said earlier, the shipment was intended for our neighbor.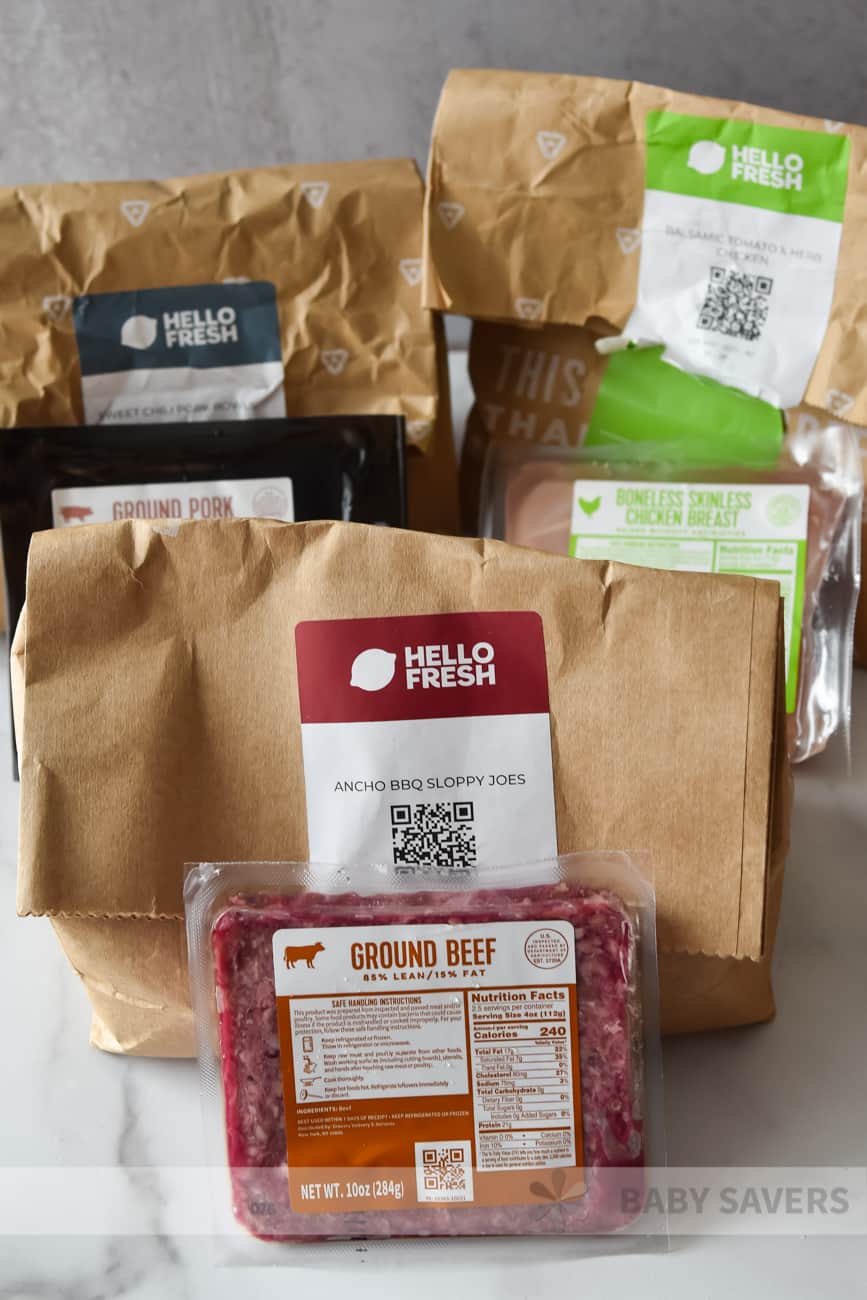 What I didn't say was that we're in Minnesota, and the box had sat on their porch in sleet and snow for at least 12 hours before we went and got it.
The cardboard box was pretty wet, but the contents were very protected, thanks to great packaging. It turns out that that the exterior condition of the box didn't making a difference!
The box was fully lined with an insulated, waterproof bubble wrap that kept all the ingredients from getting too cold. It would also keep everything from getting too warm, if you happen to live in a more pleasant climate than mine.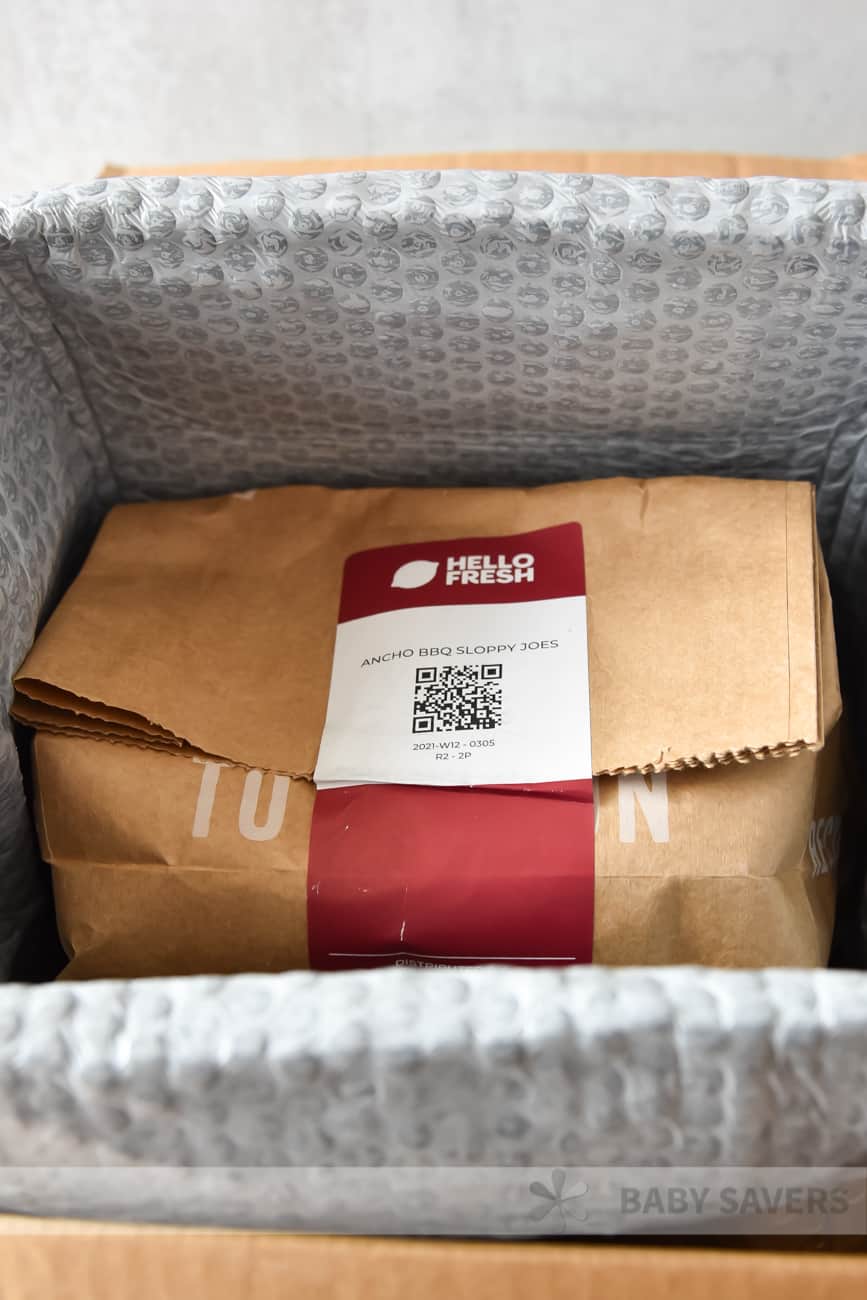 The insulated box contained three labeled paper bags that identified their meals. Three corresponding recipe cards had been inserted down the side of the box.
After taking the bags out of the box, there was a cardboard divider with cute text stating, "Don't forget about ingredients, which may be hiding under the ice."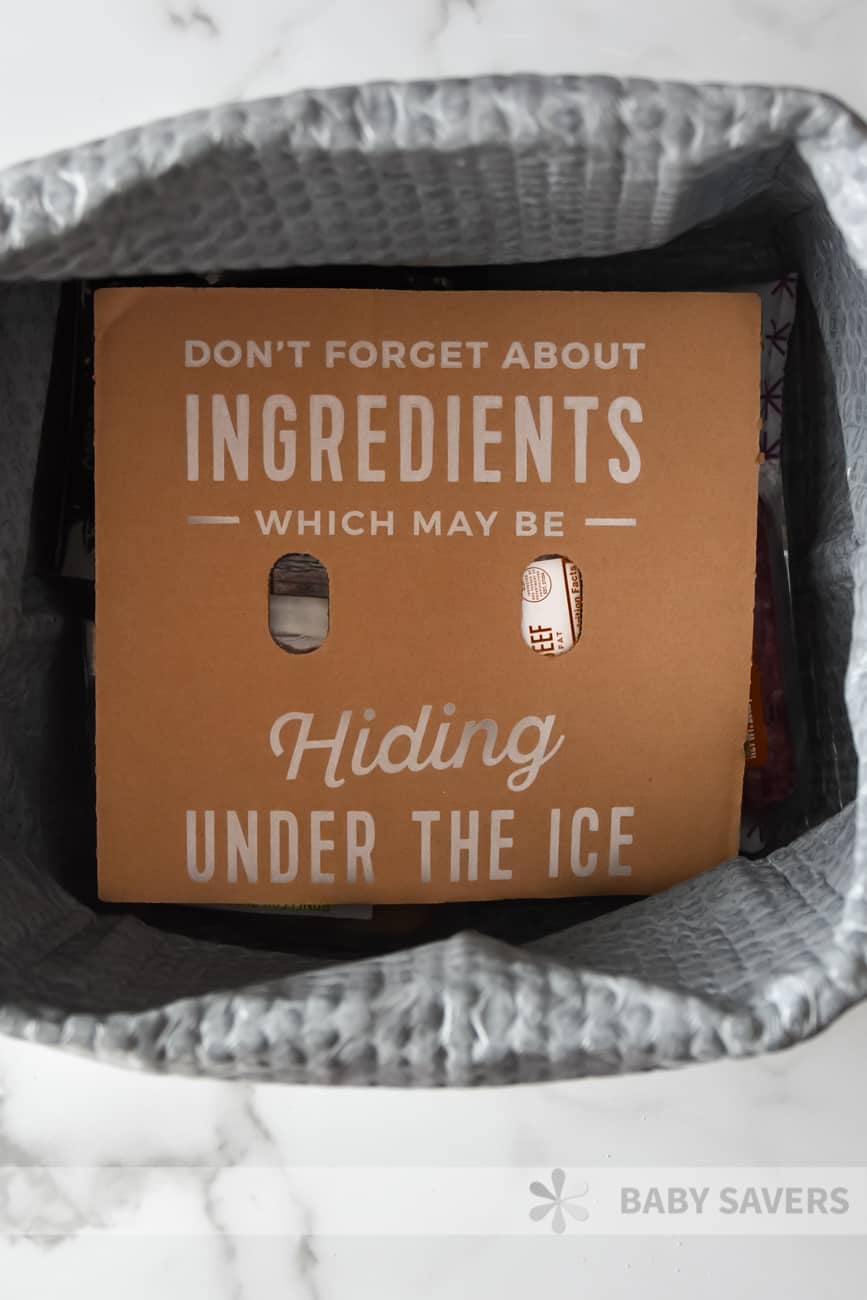 Under the divider I found recyclable ice packets, plus vacuum sealed fresh meat for all three of the meals. There were boneless skinless chicken breasts for the balsamic tomato and herb chicken, ground beef for the Ancho BBQ sloppy joes and ground pork for the sweet chili pork bowls.
I appreciate that the meat was vacuum sealed AND separated from the rest of the groceries by several layers. I loved that I could be 100% confident that no meat came in contact with any part of the other groceries.
Hello Fresh meals
Each of the three Hello Fresh meals I received came packaged in its own labeled bag. These are the meals that were delivered:
Sweet Chili Pork Bowls
Balsamic Tomato and Herb Chicken
Ancho BBQ Sloppy Joes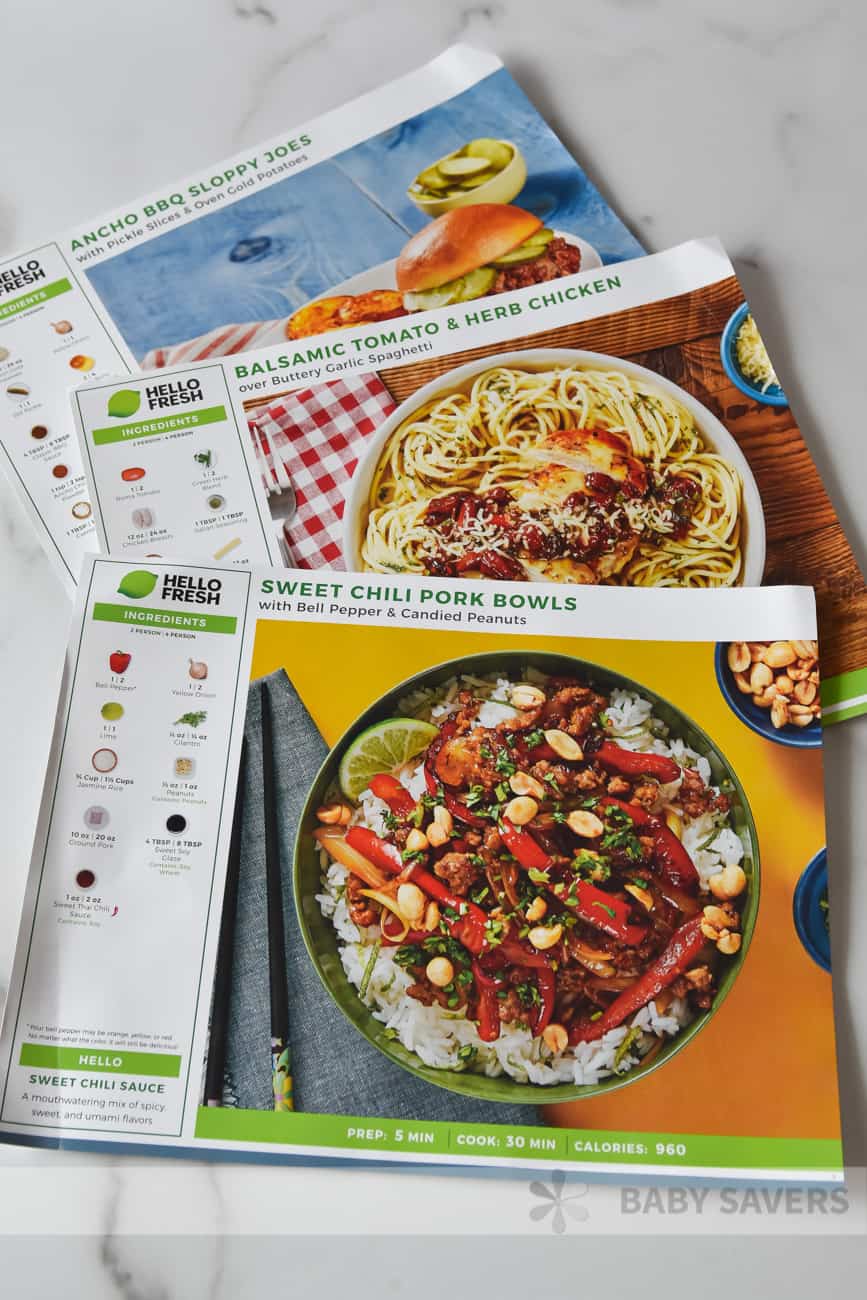 The recipe cards that came with each of the meals were clear and honestly left very little room for error. Each one detailed the ingredients that were included with the shipment, and then indicated if additional ingredients were needed.
Hello Fresh ingredients
The only ingredients I needed to supply for any of our recipes were oil, salt and pepper. The oil was even included In one of the recipes.
Fresh produce
The vegetables provided for each meal were absolutely beautiful. This was most obvious with both the chicken and pork dishes. The tomatoes and peppers were bright, perfectly ripe and flavorful.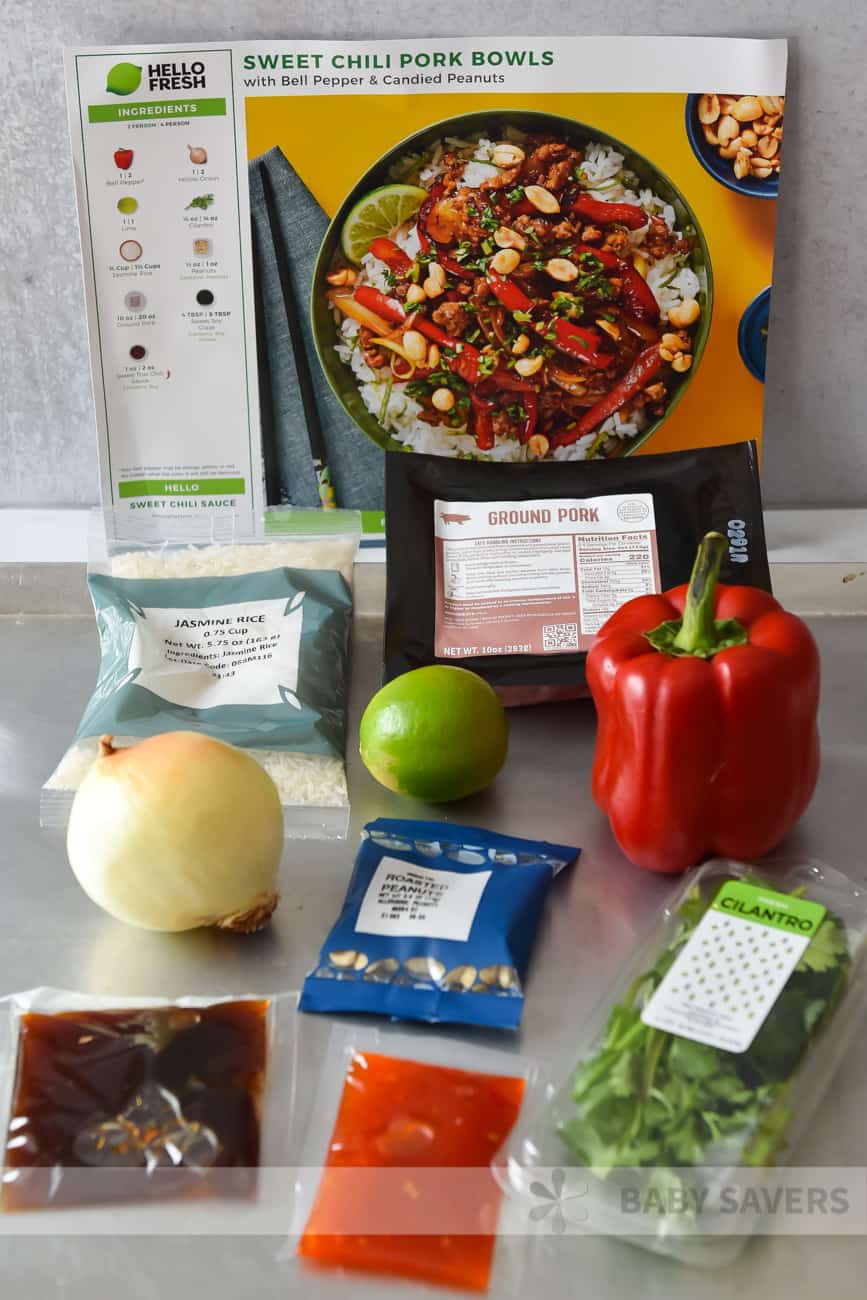 Another fun ingredient included with the meals was fresh herbs. They arrived in perfect condition, packaged in a way that prevented any sort of wilting or rotting.
Fresh beef, pork and chicken
We don't have a vegetarian or vegan diet, and I was happy to see such a generous amount of meat included for each different meal.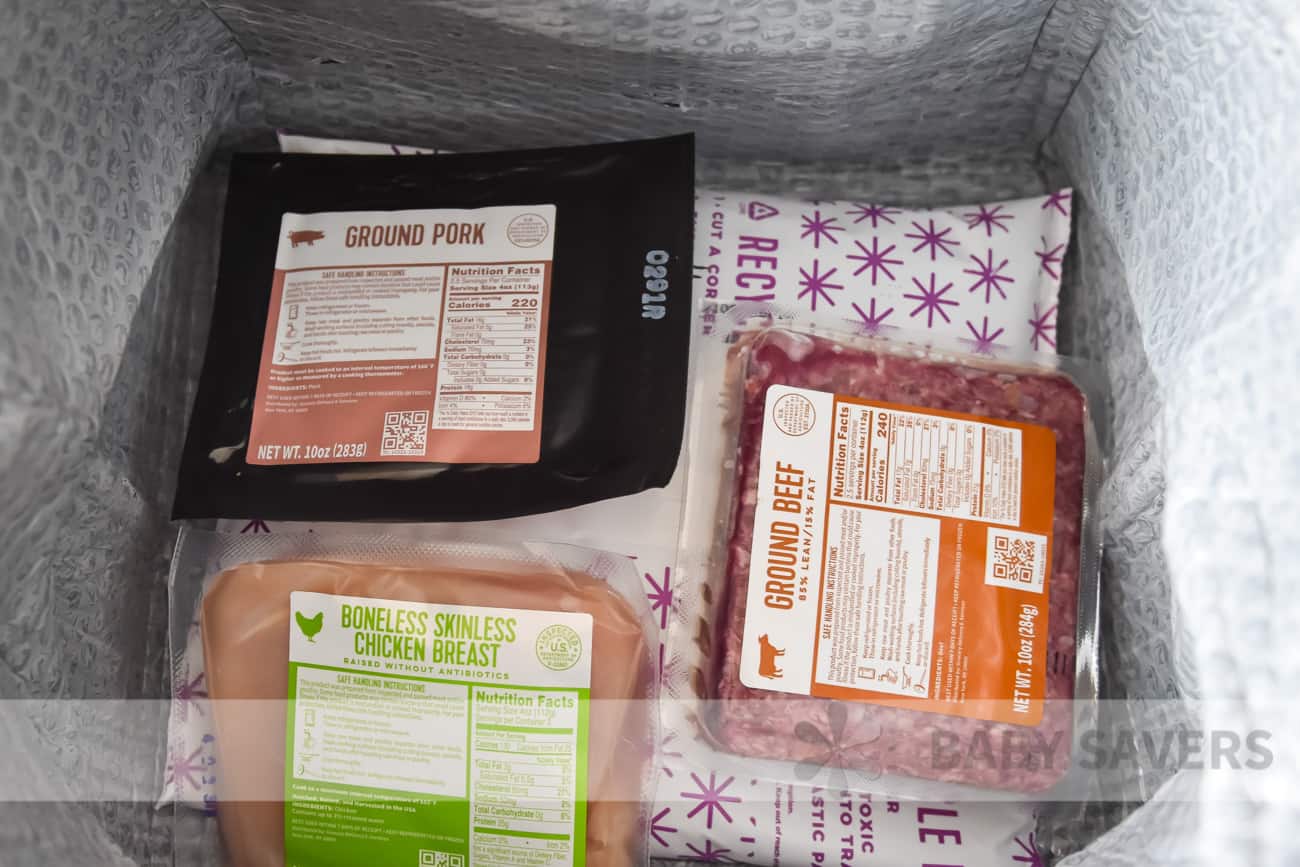 The meals were intended for two people, but there was over a half pound of meat for each two-person recipe. I generally use about a pound of meat when cooking for four people, so to see that much protein included for two servings was pretty surprising (in a good way!).
Hello Fresh Meal reviews
I'm going to get right to it: Every one of the Hello Fresh meals we received was absolutely delicious. So much so that my daughter begged me to at least try to replicate the pork dish the following week!
I'm not a stranger to cooking, and I consider myself a fairly good cook. I can follow a recipe and I rarely screw things up. Yet there was something especially amazing these Hello Fresh meals.
I think a big part of it was the fresh ingredients and unique seasonings they included for the meals. In my list of grocery priorities, I'd say that budget is often more important than quality. I don't buy bad ingredients, but I always gravitate toward the less expensive option.
Since Hello Fresh did the grocery shopping for me, they likely chose better ingredients than I'd be inclined to buy on my own. And that made a huge difference!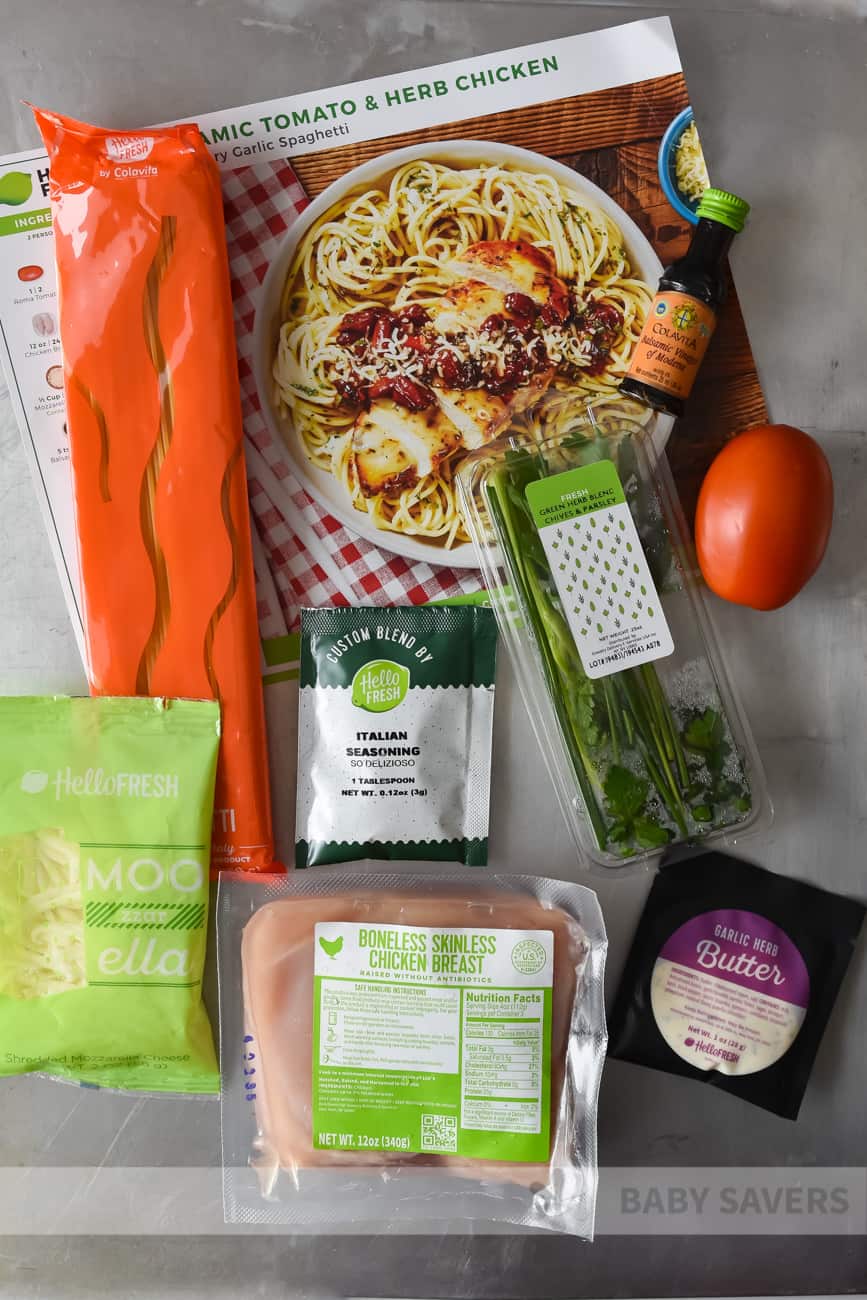 Hello Fresh recipes review
Another part of Hello Fresh that influenced how fantastic the entire meal ended up were the clear and detailed instructions and techniques on the recipe cards.
Following the recipe card instructions led to perfectly fluffy rice for the sweet chili pork bowls.
The method for slicing and cooking the balsamic tomato and herb chicken led to the most tender chicken breasts I've ever cooked on a stovetop.
Finally, the oven gold potatoes served with the Ancho BBQ sloppy joes were out-of-this-world amazing. I didn't even know it was possible to cook potatoes like that at home. Seriously. They were incredible.
My favorite Hello Fresh meal
When I first opened the box and looked at the three meals we'd be eating, I was pretty sure everyone in my family would love the chicken dish most.
Instead, I was astounded when my daughter, my picky eater, declared that the Sweet Chili Pork Bowls were not only the best meal of the three, but possibly one of her favorite meals ever.
As it turns out, my son, my husband and I all agreed with her. It was a meal so full of fresh flavors, bright lime juice and just a hint of heat. Serving it on top of the most perfect rice I've ever managed to make was just a bonus!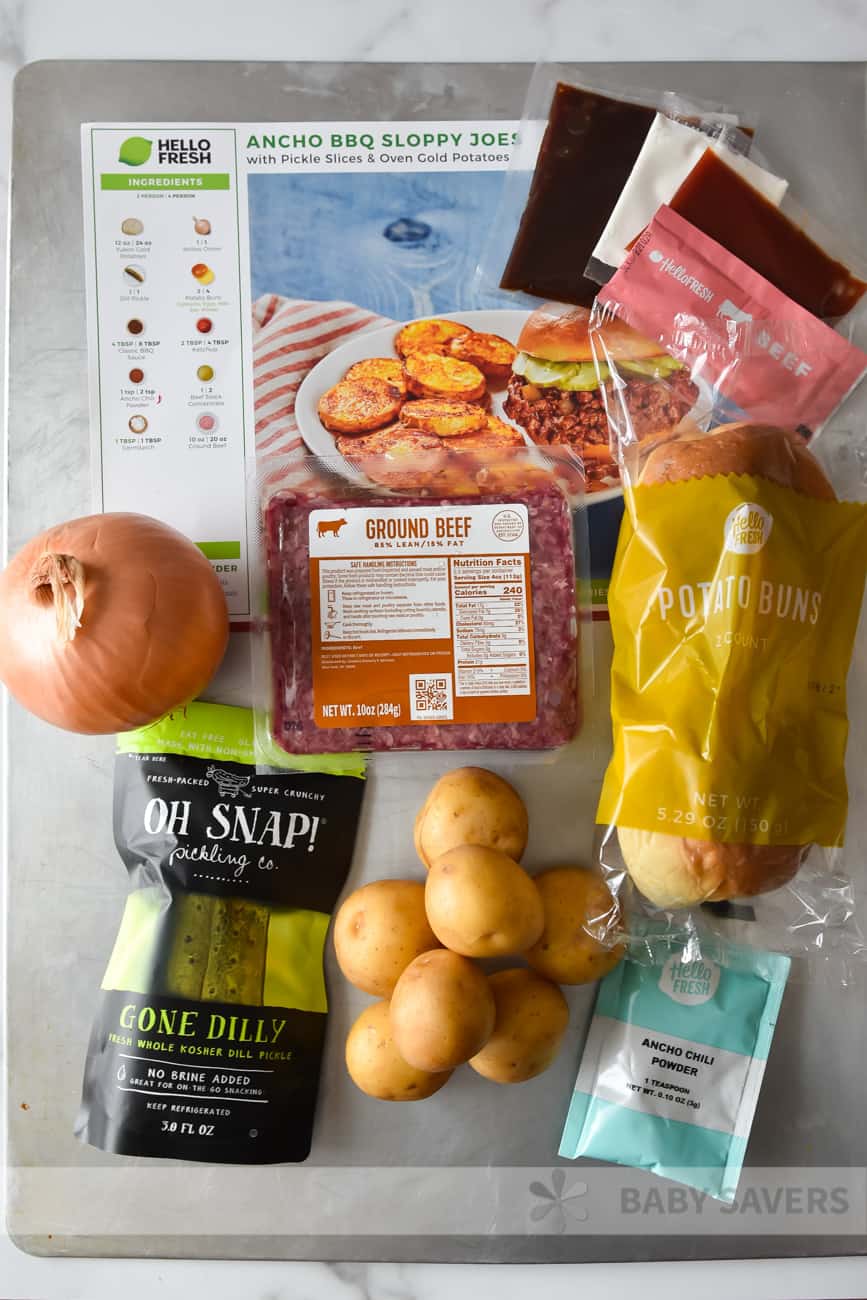 Even though we had a clear favorite, the other two meals were close runner-ups to the pork dish. The balsamic chicken was perfect, and the barbecue sloppy joes were a delicious kid favorite that the grown-ups liked, too!
Honest answers to frequently asked questions
There are some very valid questions a lot of people are asking about Hello Fresh, and I'm pretty sure I have the answers! From nutrition to different kinds of meals to how expensive it is, you'll find out all the important stuff here.
Is Hello Fresh worth it?
The big question that everyone looking for Hello Fresh reviews wants answered:
Is HelloFresh worth the money?
In short, yes! But you do have to keep a few things in mind.
Hello Fresh would be expensive if you used it for every dinner, every day of the week. But that's not how most people use the meal kit service, and I'd never use it that way, either.
Hello Fresh is worth it for several reasons:
Trying new recipes
Introducing new flavors
Having someone else shop for you
Learning to cook different items
No searching and shopping for special ingredients
Meal planning. If your meal plan skills are lacking, you're going to love how helpful this service is.
Including healthy, fresh ingredients in your meals
Minimizing food waste (especially fresh produce, which always seems to rot too quickly!)
Hello fresh is worth it especially if you take advantage of the big savings offered on your first box!
This offer of 21 free meals with free shipping is great, even if you only want one week of deliveries to try HelloFresh out. Because the first week has the biggest discount.
In fact, if you use the promotion below, your cost is about $4.48 per person, per meal! That cost also goes down if you order more servings.
For our family of four, that's just under $18 for a delicious dinner where I don't have to grocery shop or do a bunch of meal prep work! My answer to the question Is HelloFresh worth it? YES.
It's far healthier than eating out and it's much easier than meal planning, shopping, and using produce before it goes bad.
How the Hello Fresh free meals promotion works
Explaining the discounts is a challenge, because the numbers change depending on how many people you're cooking for and how many recipes you want delivered each week. Plus, the 21 free meals is distributed across five weeks of deliveries.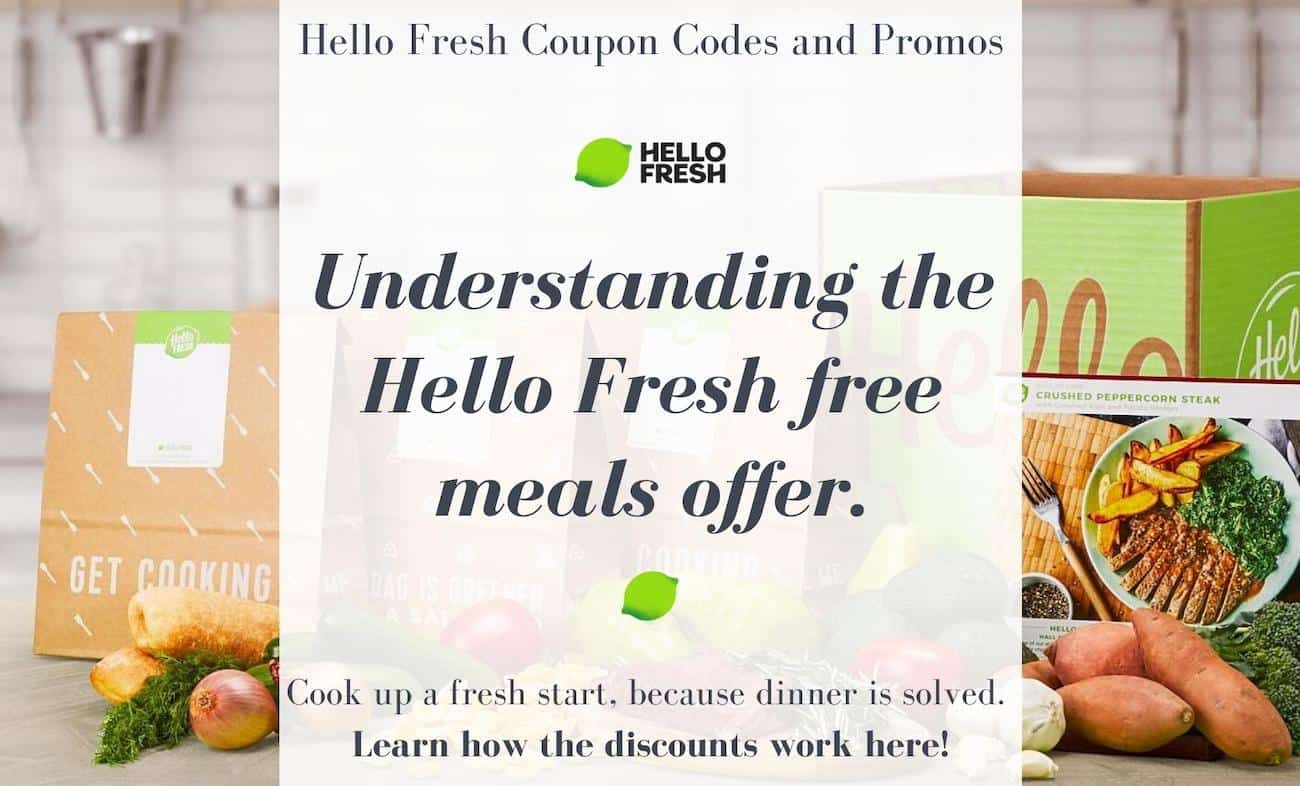 So I'll explain the Hello Fresh promo code offer with an example of ordering two meals a week for four people. A total of eight servings a week.
With this selection, the deal gives you 14 free meals, free shipping and three surprise gifts. We're off to a good start!
If you choose to subscribe for five weeks, you'll save a total of $130, which equals 14 free meals.
The good news for you is that the discount starts off big for the first week, then declines for future weeks.
These are the weekly savings in our example:
Week 1: save $46
Week 2: save $30
Week 3: save $18
Week 4: save $18
Week 5: save $18
Remember, these are the discounts for eight total servings per week. The savings increase if you order more servings. If you order 24 servings a week you'll get 41 free meals. If you order 4 servings a week you'll get 7 free hellofresh meal kits.
So you can try out the service while getting the first week discount, capturing the biggest savings! Once you try Hello Fresh for yourself, you can decide if you want to continue receiving the weekly meal kits. If you do, you'll still have four more weeks of discounts!
Is Hello Fresh worth it for a family?
I think Hello Fresh can absolutely be worth the money for families, even without coupons, discounts or promo codes.
If you're relying heavily on takeout or unhealthy frozen foods to make food for your family, I think a meal kit service would do you a lot of good.
Yes, it's more expensive than grocery shopping. But chances are that you're spending way more on restaurants than on useable groceries right now. If you can get away from ordering in and steer your family towards really great, healthy meal option with fresh ingredients, I think it's more than a fair trade.
Is Hello Fresh healthy?
Yes, it's healthy depending on your own choices.
First, every meal option includes full nutritional details. Just click into each recipe and you'll see the calorie content at the top. Then you can scroll down for the full chart that includes carbohydrates, sugar, fat content and more.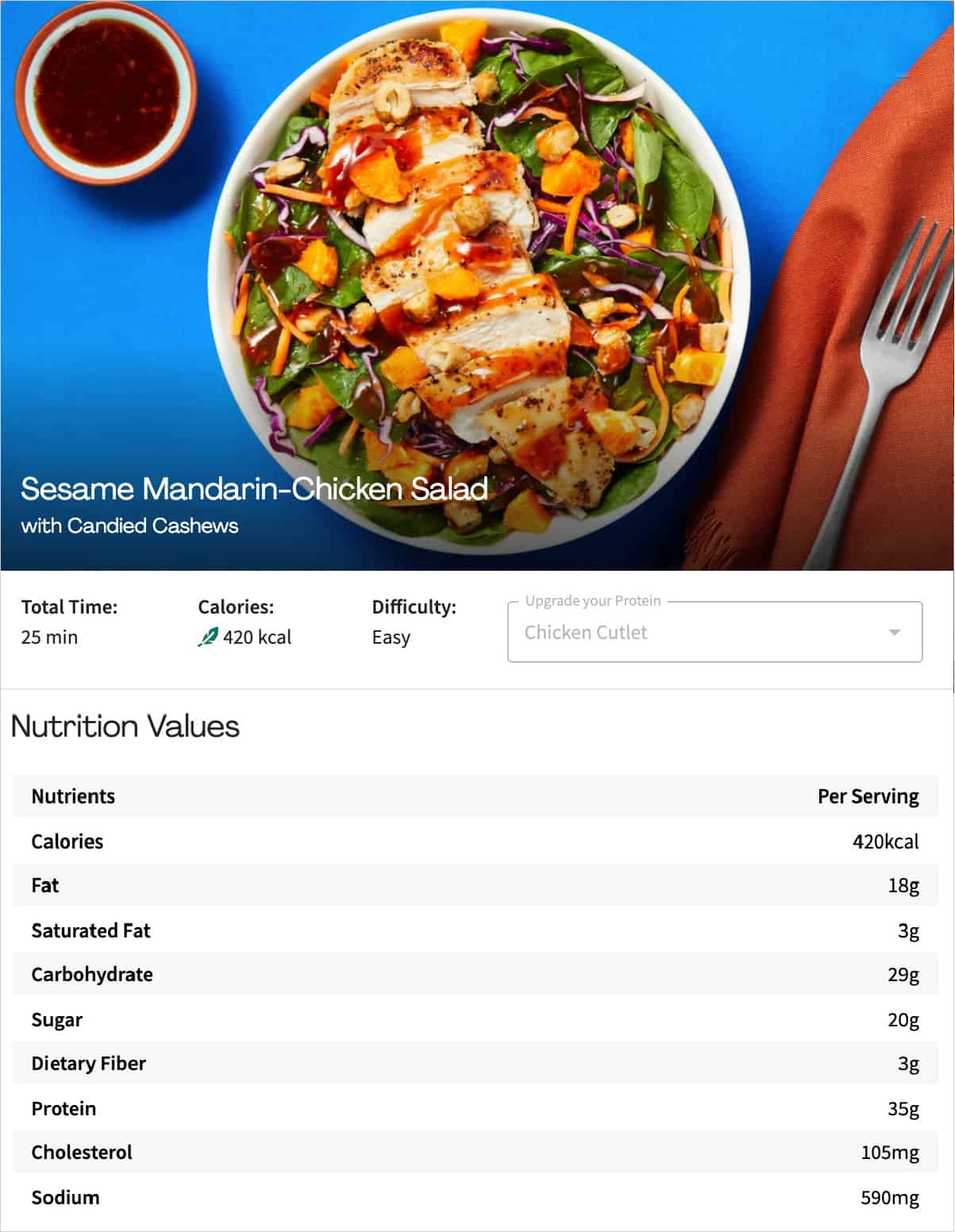 You get to choose from 25 different meal plans each week. Of those, there are 5-8 low calorie meal kits that are designated as Calorie Smart. That means you could choose a low calorie dinner option for every single meal choice.
There are also Carb Smart meals. Let's find out what Calorie Smart and Carb Smart mean!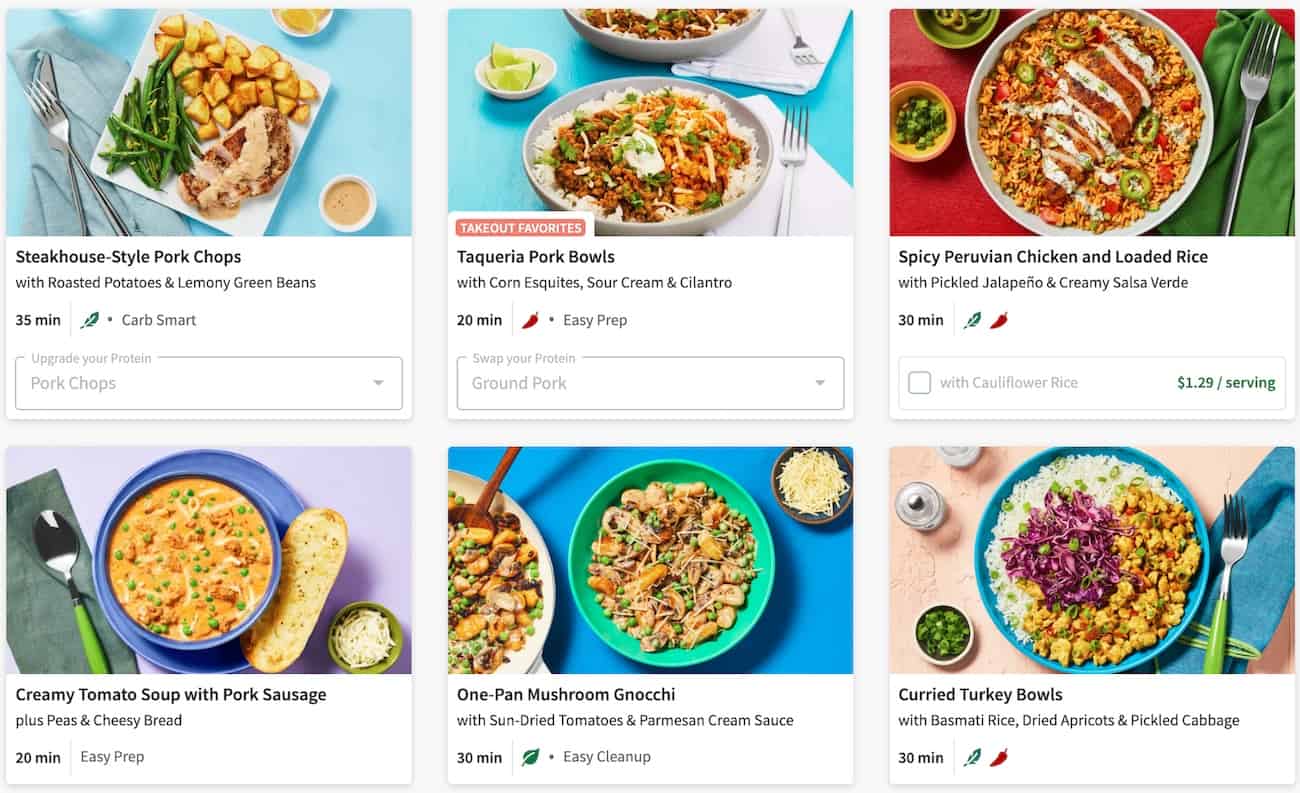 Hello Fresh Calorie Smart Meals
Even better, Hello Fresh's tasty and healthy calorie smart recipes are designed to be exciting, not boring. Choosing the healthy option means you're still getting delicious flavors, different textures and interesting recipes!
If you've ever tried to eat healthy, you might have noticed that it gets pretty repetitive, pretty quickly. Because we have our healthy go-to foods in our arsenal, and we tend to fall back on them over and over again. Grilled chicken breasts, brown rice made with broth and roasted broccoli or asparagus make a regular appearance at our dinner table. It's delicious, but it's not exciting.
Choosing from a lineup of Hello Fresh Calorie Smart meals like Curried Turkey Bowls, Steakhouse-Style Pork Chops and Creamy Dill Chicken makes healthy dinners easy and interesting!
Every Calorie Smart meal delivery option is easily identified by the narrow leaf under the recipe name and description.
Hello Fresh Carb Smart meals
Carb Smart options have 50 grams or less of carbohydrates per serving.
In my limited experience, I don't think these meals qualify as "low carb". So if you're on a plan where you're doing some extreme carb cutting, this likely isn't going to work for you.
If you're watching what you eat and that includes being aware of the carbohydrates you're consuming, the Carb Smart meal could be great for you.
Easily find Every Carb Smart meal – they all have the words "carb smart" under the recipe name.
Is Hello Fresh good for weight loss?
Yes. In my experience I think Hello Fresh is good for weight loss.
First, because it makes portion control easy. Unless you pay more for extra servings, your delicious meal made with fresh food provides exactly enough the number of servings you planned on when ordering.
The servings are generous, but you really can't plan on any extras or leftovers with this service.
Second, it makes tracking calories, carbs, fat and other nutritional information super easy.
Every recipe card has the calories for the full meal printed on it. You can also look at each one online to see lots of nutritional information.
Further, you'll also be able to look at each individual recipe before you choose it to decide if it fits into your healthy eating plans.
Is Hello Fresh good for vegetarians
Yes, there are plenty of vegetarian meal options available. My kids have never been big meat eaters, so I'm using our meal delivery kit plan to keep giving them various meats. If I wanted to cut back on meat, Hello Fresh would be the way to go!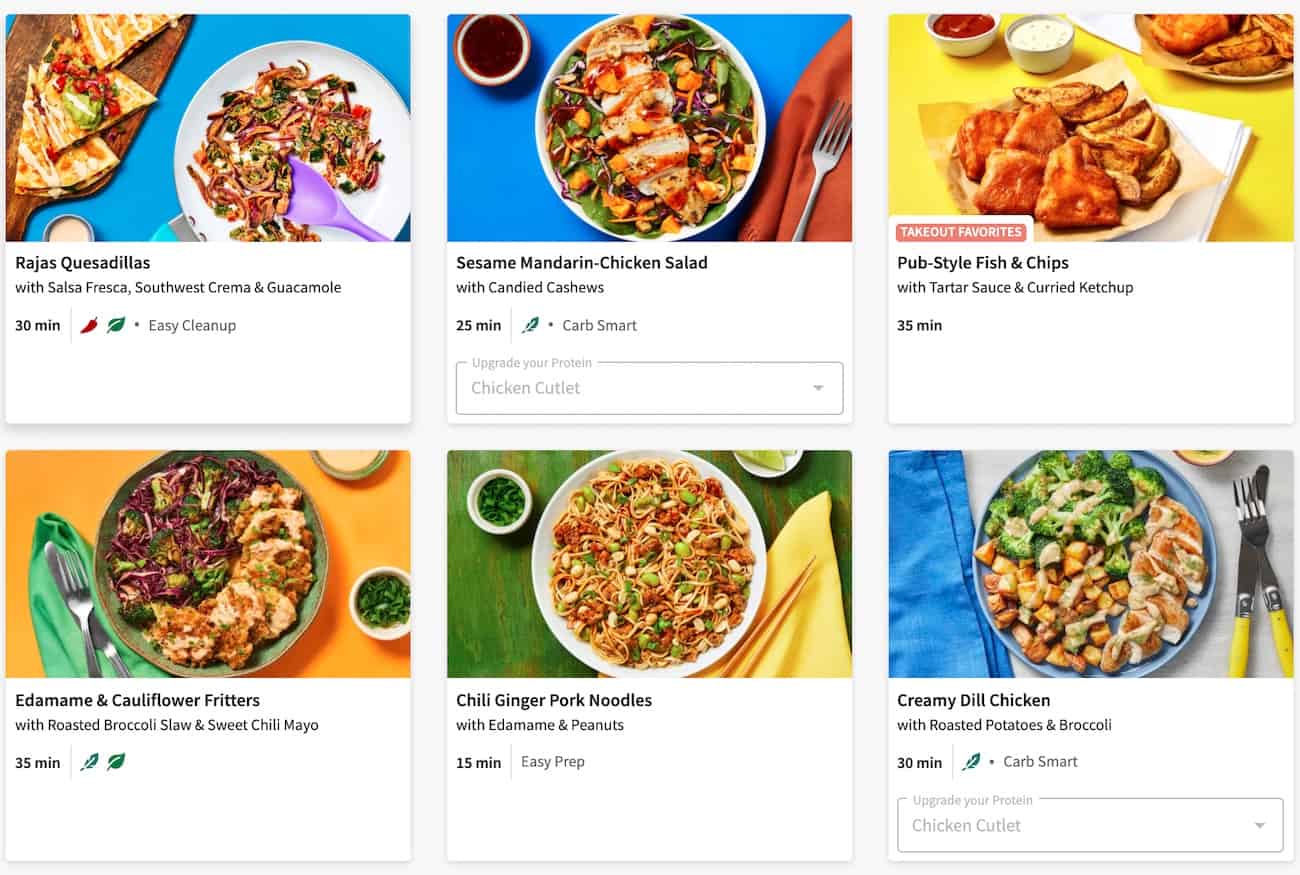 From my review of the menu for each of 5 weeks, you can choose from 4-7 vegetarian meals that differ on a weekly basis. There's a ton of variety, with the veggie plan protein coming from beans, chickpeas, cheese and nuts. There are even some plant-based meals available for vegan diets.
Every available vegetarian meal is easy to find. They're all noted with the wide green leaf next to the cooking time.
Note: While there are a handful of plant-based meals available right now, I don't think there's enough variety for vegans who are looking for a meal delivery service. For that, I'd take a look at Green Chef or Splendid Spoon. Marley Spoon might also be a good option for vegan eaters.
Hello Fresh review: Final thoughts
My wonderful HelloFresh experience was a very happy surprise. As I said above, I've already signed up for the service, and I can't wait to see what we get to try!
Sign up HERE for your own Hello Fresh meal delivery service and get up to 41 free meals!