Can you do prolonged fasting with food? Yes! This Prolon review covers everything included in the famous Fasting Mimicking Diet kit. Read on to see if the Prolon diet kit is right for you!
Living through a pandemic hasn't been kind to my body, and I have no one to blame but myself. It's been super easy for me to use the excuse of "I shouldn't go anywhere" to bring my attempts at exercise down to…well, never.
I've also eaten way more junk food in 2021 to treat myself and make myself feel better about, well, a global health crisis. In short, I've been eating too much candy, too many cookies and not nearly enough plants.
It's been in the back of my mind lately that I should make an effort to be healthier, so when Prolon reached out to me to offer their 5-day Fasting Mimicking Diet (affiliate link), I did some research.
After reading a ton of details on their website, and then finding a few Prolon reviews online, I was pretty sure it was the easiest fasting diet. It also looked to be exactly what I needed to help get my body back where I wanted it to be.
Once I learned about the benefits the Prolon fasting program offered, I couldn't wait to receive my kit! Keep reading for my full Prolon diet review!
Before I start this Prolon review of their fasting mimicking diet, here's what you need to know: First, the Prolon reviews team sent me the 5 day fasting kit so I could try it out. Second, I may collect a share of sales from the links here. Finally, I'm not a doctor and this isn't medical advice. Please ask your doctor if you have questions.
What is the Prolon Diet?
The FMD (Fasting Mimicking Diet) is a kit developed by Prolon and their parent company, L-Nutra, with 5 days of plant-based meals, snacks, bars, drinks, teas and supplements. This exact blend of foods, drinks and supplements maximizes the effects of fasting while providing vitamins, minerals and essential nutrition.
It's a precise blend of micronutrients and macronutrients that makes your body think it's fasting, while giving you the nourishment to keep up your energy and keep your body metabolizing what you do eat.
That means you'll have stamina to fight cravings and rejuvenate you from the inside out!
The kit contains absolutely everything you can and should consume for five full days. It has strict instructions to eat and drink the food as instructed for five continuous days without consuming any other food.
It also notes that water and herbal tea can be added to what's provided, and one cup of black coffee per day is also allowed.
All in all, the FMD is known as one of the best ways to experience fasting!
Is the Prolon FMD strict? Yes. But there are huge benefits for a 5 day commitment.
What are the benefits of the FMD?
There are both cosmetic benefits and health benefits to this diet plan. These are the primary effects:
Healthy Aging Effects
Prolon's diet is the first and only meal program that has gone through clinical trials at USC and has been patented for its healthy-aging effects.
To put it simply, this type of fasting promotes cellular renewal. It triggers autophagy (see definition below) to help your body rejuvenate.
Metabolic health
Research has shown that the FMD may help you maintain healthy systolic blood pressure.
Enhanced clarity and performance
People who have done this 5 day FMD report feeling greater focus, clarity and energy after doing the fast for a few days.
Weight loss
Do you lose weight on ProLon? Yes. A fasting mimicking diet can kickstart weight loss, and can especially target belly fat for fat loss.
How much weight can you lose? On average, users have lost 5 pounds from the Prolon fast.
"In a clinical study, ProLon was shown over three cycles to help individuals lose an average of 5.7 pounds and 1.6 inches off their waist circumference." Source
Portion control
Following a regimented diet for five full days may help your brain reset the portion sizes you're used to eating versus the sizes you should eat.
What comes in the Prolon fasting mimicking diet kit?
When you order the 5-day fasting package a big box will be delivered to your doorstep. Here's what's in the box:
1 water bottle
5 boxes of food, snacks, teas, supplements and anything else you need for each day of the fast.
1 Meal program card
Instructions
What's in each daily box?
Each daily box looks pretty small, but they're packed full. Surprisingly full!
Here's everything that was in the Day 1 box:
L-Bar Nut-based
Spearmint tea
Algal Oil (2 packets)
Tomato soup
NR-1 (2 packets)
Kale crackers
Olives with sea salt
Tea
L-Bar Nut Based
Minestrone soup
L-Bar Choco Crisp
The other days of the fast mimicking diet are very similar, but they include L-Drink and may have minestrone & quinoa soup or hibiscus tea instead of the listed soup and tea.
What is the L drink in the Prolon FMD?
I was curious about this, and I found the answer on the brand's Facebook page. L-Drink is a vegetable-based energy drink that's formulated to provide nutritional support during your fasting diet.
The L-Drink provides you with glycerol (derived from plants), which protects amino acids and promotes hydration when your body is in fasting mode. (source)
What is a typical Prolon meal plan?
There are repeats of many of the packets in each box, but the meal plan differs from day to day.
For example, breakfast on the Prolon fasting mimicking diet includes the L-Bar nut-based and tea each day. But some days it also includes two packets of Algal oil.
Here's what the food from the Prolon meal kit looked like for breakfast on Day 1:
Lunches have similar variances. It's always a soup (either tomato soup, mushroom soup, vegetable soup, minestrone soup or minestrone quinoa soup) and one packet of NR-1, but some days you'll get olives and other days you'll get kale crackers.
Dinners are one of the minestrone soups, and 3 out of the 5 days also include a Choco Crisp L-Bar.
It's pretty clear that this is a calorie restricting diet, but again, it's only for 5 days.
Prolon and calorie intake
I need to be up front with you – you're probably going to feel hungry when you start this kind of diet. Because there's a pretty obvious calorie restriction to this diet.
But there's a reason why the meals are portioned the way they are.
Your calorie intake will be about 1150 calories on day 1, and about 800 calories on day 2-5.
Since it is a low-calorie diet, you the Prolon FMD is not for you if you're:
Breastfeeding or pregnant.
You have dietary restrictions, a fever, cough, diarrhea or signs of infections.
You're malnourished, have protein deficiency or if you're clinically underweght.
What happens during each day of the fasting plan?
Each day of the diet brings your body to a different stage of fasting and triggers different reactions. Here's the general science behind what happens each of the five days.
Day 1: Your body is transforming to a fasting state
Your body transitions to a fasting mode in fat-burning mode. It also begins preparation for cellular clean up.
Day 2: Fat burning and ketogenesis
Your body's burning of fat ramps up, which helps send your body into ketogenesis. Ketogenesis is the production of ketones. Ketosis may occur by the end of day 2.
Day 3: Autophagy clean up state
Autophagy, or cellular clean-up, begins. Fat burning and keto production, as well as utilization, continues and increases.
Day 4: Cellular rejuvenation
Cellular cleaning and renewal continues. Fat burning also continues.
Day 5: Renewal and change
With the fast completed, cellular renewal continues beyond day 5.
Is the Prolon Diet legit?
In short, yes, it's a legitimate diet backed by research and science. I was very happy and surprised to see Prolon was specifically noted as an experimental FMD in this peer-reviewed FMD study.
L-Nutra, the company that owns Prolon, has been around since 2009, and the meal programs have been developed over 20 years of research and discoveries made at the University of Southern California.
The research done to make Prolon into the product it is today has been sponsored by the US National Institute for Aging and the National Cancer Institute of the National Institute for Health.
How is a Fasting Mimicking Diet different from Intermittent Fasting?
My husband is a big fan of intermittent fasting, and it's been a successful weight loss tool for him. I've tried it, but I couldn't find the right time frames that worked for me. I've also done a keto egg fast, but that's a totally different way of eating!
Intermittent fasting is a method of scheduling your meals in an effort to speed up metabolism, burn visceral fat and maximze weight loss. People who practice intermittent fasting claim that it's easier to follow and keep your body at a healthy level than traditional diets.
But Prolon fasting mimicking diet offers a prolonged fast with powerful and effective benefits.
Prolonged fasts of 3 days or more trigger autophagy, and using Prolon instead of only consuming water for water fasts for those days lets you get the benefits of a prolonged fast without giving up food.
What do you do after the fasting mimicking diet?
Prolon includes full instructions for their plan to transition your body out of fasting mode. Here are the details of the transition diet:
Follow the fasting mimicking plan through the end of day 5.
For the first 12 hours of day 6, keep your meals light and small.
Starting with day 6, gradually start up your regular healthy diet. Begin with liquid foods (soups and 100% fruit juice), follow that with light meals with rice, pasta and small portions of protein.
You can go fully back to your regular healthy diet on day 7.
Prolon also recommends discussing your transition diet with your doctor to find the right plan.
How much does the Prolon Fasting Mimicking Diet cost?
The 5 day kit costs $250, and it includes everything you need to eat for five full days.
Prolon coupon code
Before you get too worried about the price tag, I have good news! I have an exclusive 2021 Prolon coupon code!
You can save 15% on your order and get free shipping when you shop through this link and use Prolon promo code BABYSAVERS15.
If you've already used that code or if it doesn't work, you can save 10% on your total purchase with Prolon coupon code GETPROLON. Click here to use that code.
More Discounts and promotions
There are also other offers that might be available along with the above discount code.
For example, at the time of writing this, you can get all of these offers on a single order:
$50 off your fasting mimicking diet kit
A free 20 count Fast Bar pack with your ProLon purchase
Additional 15% off your Prolon kit (when you use my exclusive 2021 discount code: BABYSAVERS15)
Free shipping
All those discounts bring your total down to just $169.15, and you'll get 20 free bars with it!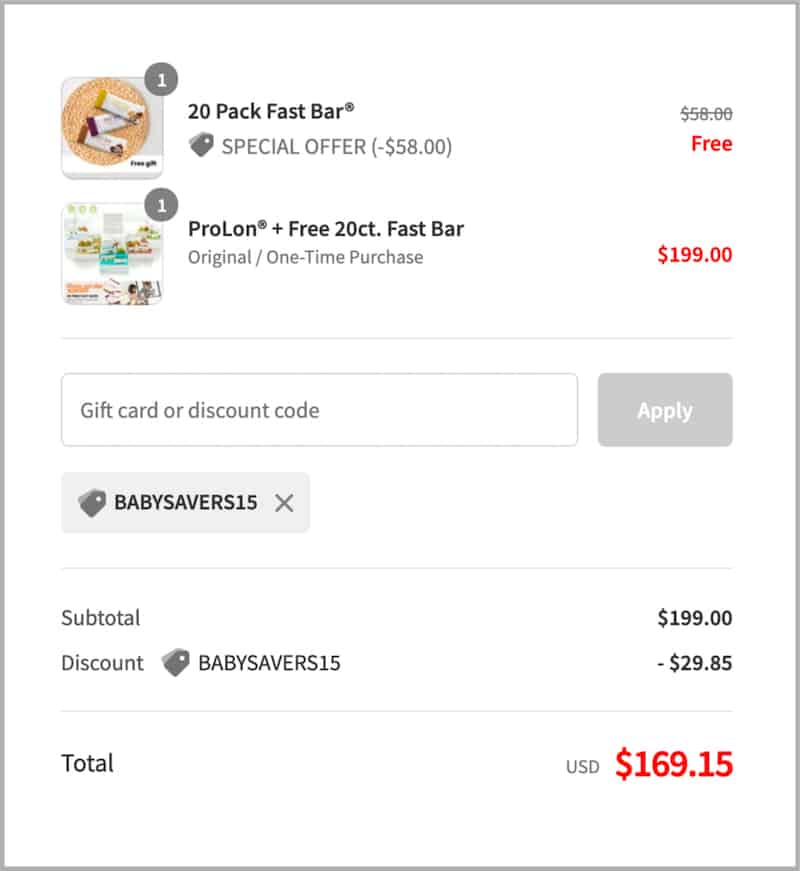 Other offers, freebies and promotions may be available at other times.
Is the Prolon diet worth it?
I really do think the Prolon fast diet is worth the money for a few different reasons.
The first reason is that spending money commits us to the plan. Personally speaking, If I spend $250 on something I'm going to use it. I might not love it and I may not use it for the rest of my life, but I will absolutely use it for five days.
Taking that point further, if I spend $250 to kick start a change to my body — a change that only takes 5 days AND includes everything I need to make it happen? I'd be a fool to waste that.
I'm not going to lie – the first few days eating only what's in the provided kits aren't easy. But it's still so much better than a traditional water fast. And those challenging days are so worth it.
Are there side effects to the Prolon Fasting Mimicking Diet?
This fasting method has been clinically studied and documented for the benefits as well as the adverse effects.
I want to emphasize that you should consult your doctor before starting any new diet. Fasting diets, including this fasting mimicking diet, can be a pretty extreme change for your body to adjust to.
One of the side effects to this plan is caffeine-withdrawal headaches.
Since one of the biggest questions people have is: Can I drink coffee on the Prolon FMD? I want you to know that you can have one cup of black coffee each day. If you're used to having caffeine every day, make sure you don't skip that coffee.
The same study (with peer reviews) I brought up about earlier reported that the most common adverse effects dieters experienced were mild to moderate feelings of:
Fatigue
Weakness
Headache
Prolon also notes in the instructions that possible medical side effects could include low blood sugar, constipation and fainting.
If you have any concerns about these or any other potential adverse effects please contact Prolon or your doctor before starting the diet.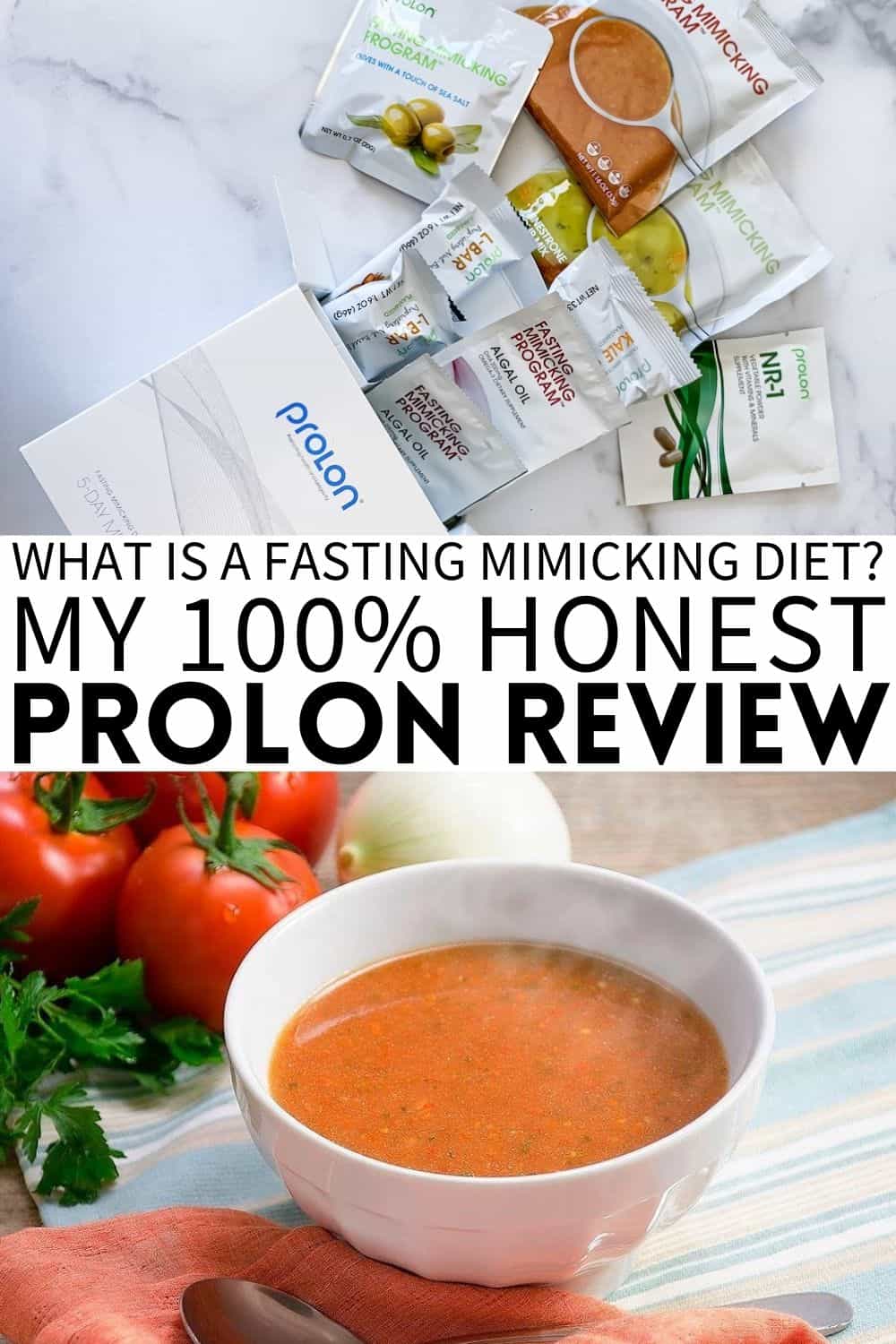 When you're reading other Prolon reviews, be sure to note if they have information about the adverse effects. They're very important!