Keep reading for my Cricut Explore Air 2 review
I've also included some great information from other Cricut Explore Air 2 reviews. Let's jump right in!
A few weeks ago a tiny piece of my life changed. I became a first-time owner of an electronic craft cutting machine. Not just any crafting cutting machine. I became the owner of a Cricut Explore Air 2, an amazingly fast and multi-featured cutting machine.
Do you need an introduction to cutting machines before reading any Cricut reviews? Read: What is a Cricut machine and What Does it Do?
I'm entirely new to the world of smart cutting machines, so my Cricut Explore Air 2 review has a ton of information in it. Keep reading and I promise you'll find everything you need to know to decide if you need one for yourself!
If you're asking yourself any of these questions: What are the key features of the Cricut Explore Air 2? or How does the new Cricut perform? or Do I really need a Cricut Explore Air 2? I was asking myself all of the same questions. Now I have the answers for everyone!
Don't miss out! The Cricut Black Friday deals are hot, and you can see the Cricut Cyber Monday deals, too! I also have a page for Cricut Maker deals!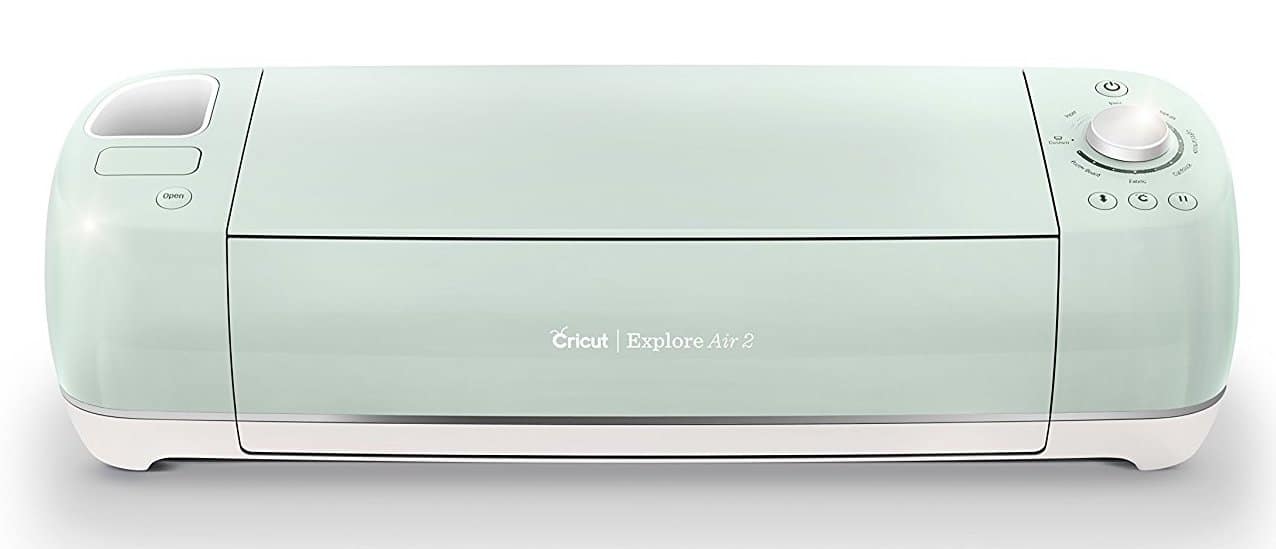 Ready to shop? You can buy the machine by itself or save a bunch on various materials by buying a Cricut Explore Air 2 bundle!
Buy the Cricut Explore Air 2 machine:
I received a custom bundle with my Cricut Explore Air 2 and I'm so happy I did. It would be a bit frustrating to get an exciting machine like this one, and then have to go out and buy all the materials separately.
Plus, the bundles are a bargain! The sets that they sell on their own website gives you way more products, tools and accessories than you'd get if you spend that money on your own supplies.
Check out the bundles to save a lot on the Cricut Explore Air 2 and the materials you'll definitely want after buying the machine: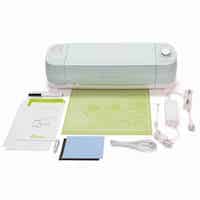 Explore Air 2BUY NOW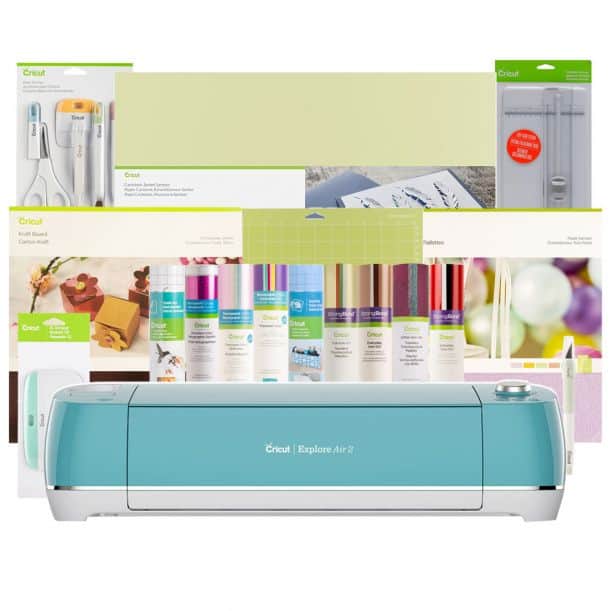 Explore Air 2 :: Everything BundleBUY NOW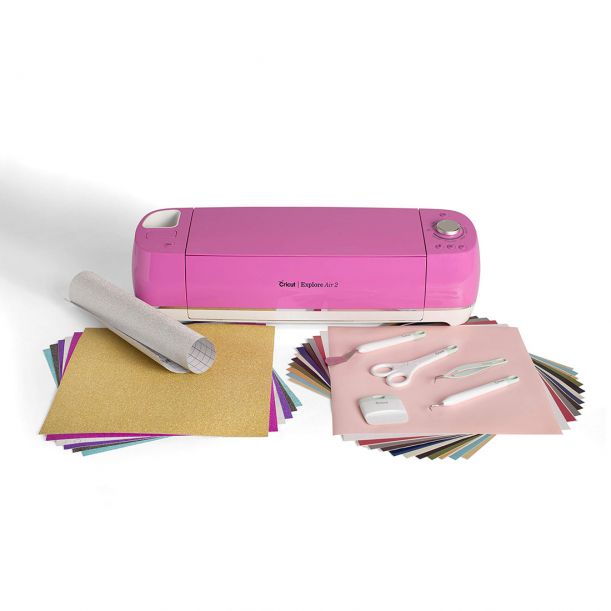 Explore Air 2 :: Basic BundleBUY NOW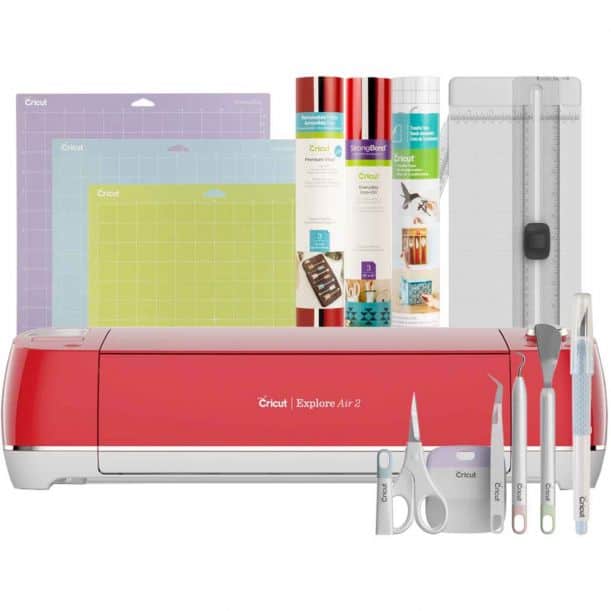 Explore Air 2 :: Essentials BundleBUY NOW
I'm being 100% honest when I say I'm new to machines like this one. I had certainly heard of the this brand and other cutting machines in the past. At the same time, I didn't even know what it did until a reader asked me about Cricut Explore Air 2 Cyber Monday prices. I wrote that post for her and I was amazed at everything the machine could do!
A note on how the brand names their machines:
Before I get into the actual article, I know a lot of people are looking for Cricut reviews and Cricut machine reviews with various names, including:
Cricut Air Explore 2 reviews
Cricut Air 2 reviews
Cricut Explore 2 reviews
Cricut Explore Air™ 2 Sky machine review
Cricut Explore Air™ 2 Black machine review
Cricut Mint Explore Air 2 review
Explore Air 2 reviews
Cricut Air 2 review
I can assure you that all of these terms are referring to reviews for Cricut Explore Air 2 that I'm featuring in this article.
If you have questions about the specific model or if it just doesn't seem like the same one, please leave a comment and I'll do my best to get you the details or you're looking for. Now, let's get to all the details and the actual review!
Cricut Explore Air 2 Review
Now that I have a Cricut Explore Air 2 of my own I have to admit: I don't know if I'm worthy of it! I have a lot of learning ahead of me, but thankfully, I also got hooked up with all the supplies I need for more than a few projects.
The Explore Air 2: What's in the Box
Believe me, I felt more than a little spoiled after I opened the package with the cutting machine in it, then opened the second box with everything else sent so I could start using the machine!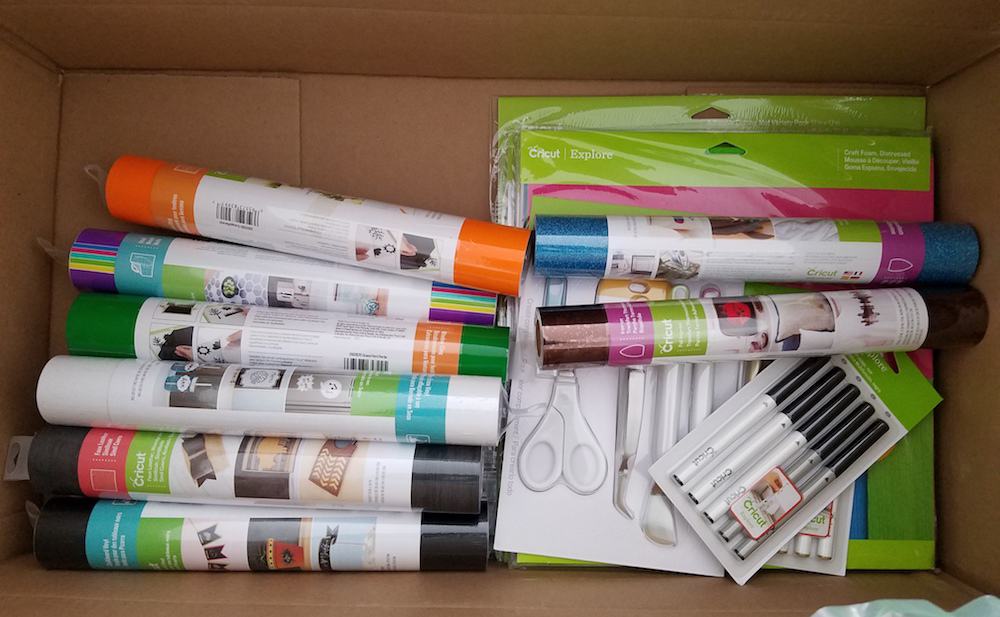 In addition to the Cricut Explore Air 2, here's a selection of other items I received:
Basic Tools Set
Cutting Mat Variety 3-Pack
Portable Trimmer Tool
Deep Cut Blade
Explore Multi-Pen Set, Gold
Explore Multi Point Pens, Black
Scoring Stylus
Premium German Carbide Replacement Blade
Window Cling material
Premium Outdoor Glossy Vinyl
Brights Sampler, Vellum
Printable Iron On, Blue Glitter
Vinyl Sampler, Brights
Dry Erase Vinyl
Metallic Poster Board Sampler
Faux Leather Pebbled Patina
Washi Sheets in Anna's Pretty Prints
Chalkboard Vinyl
I was feeling a bit overwhelmed while I was taking all that in. Then I opened the box for just the Cricut Explore Air 2 machine to see everything that was inside.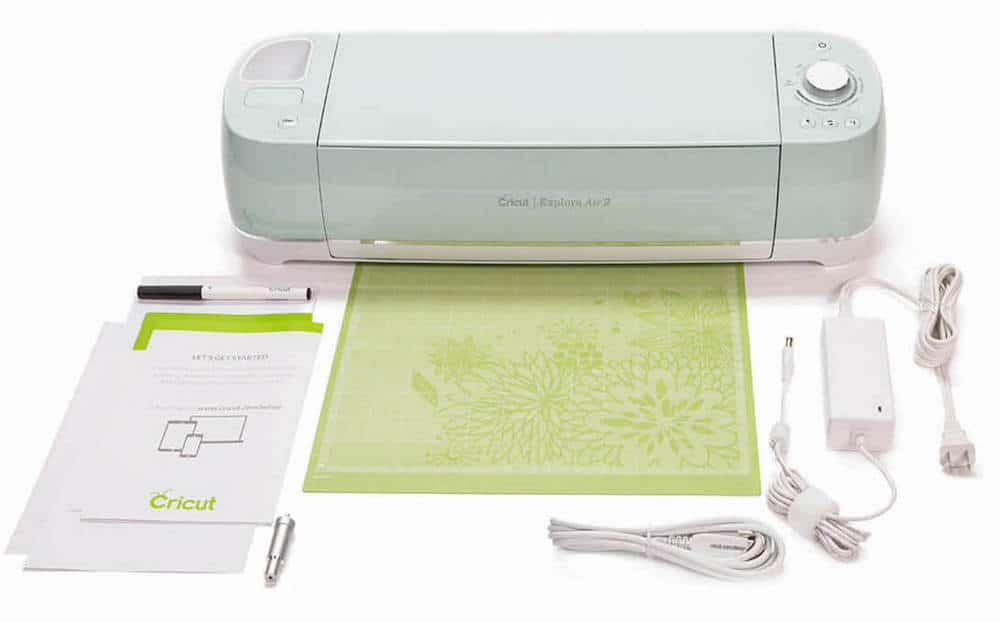 I was so happy when the contents of the box were so simple and straightforward! Here's what comes with the standard Cricut Explore Air 2:
The Cricut Explore Air 2 machine
German carbide premium blade
USB cord and power cord
Pen
Cardstock sample
12×12 inch Standard Grip cutting mat
The blade, pen and card stock sample are exactly what you need to create your first project. I love that I could try it out without diving into any other materials!
Even though the machine comes with a pen, card stock and blade, I still highly recommend a bundle like the Cricut Explore Air 2 Machine + Everything Bundle Set to ensure you have all the tools you need to start using your new machine right away. It's a great starter set!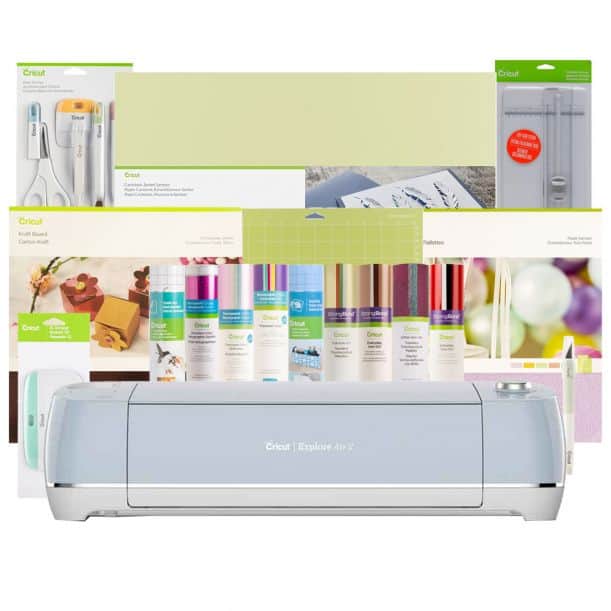 Explore Air 2 Blue :: Everything Bundle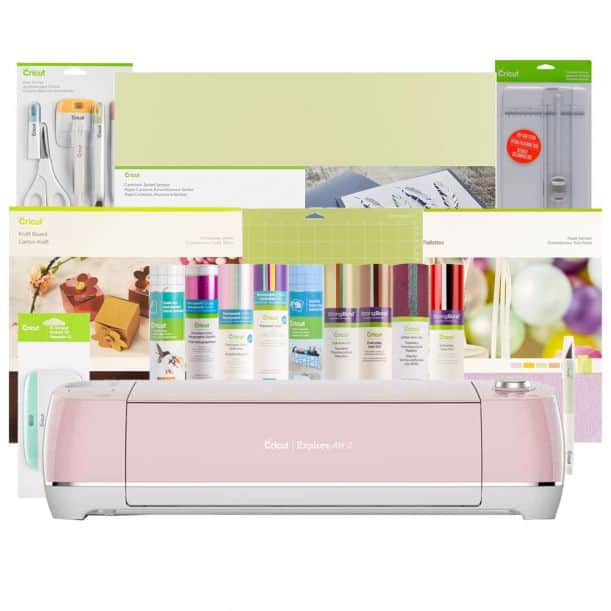 Explore Air 2 Rose :: Everything Starter Set

Cricut Explore Air 2 Review: How it Looks
I received the mint green model of the Cricut Explore Air 2 – it's gorgeous! It's also been shown in pale blue and pale pink, but those aren't available right now. Still, both are beautiful and I'd love to see these colors in person.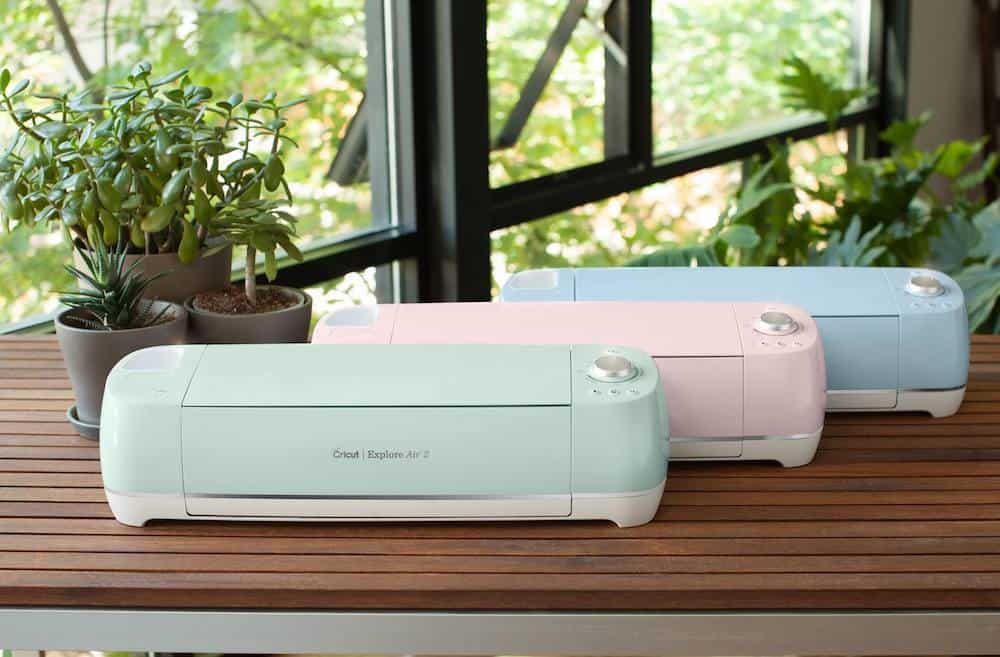 There are two different colors of Cricut Explore Air 2 models that are available. You can check out the Cricut Explore Air 2 in black (I love that matte finish!) and in sky blue below: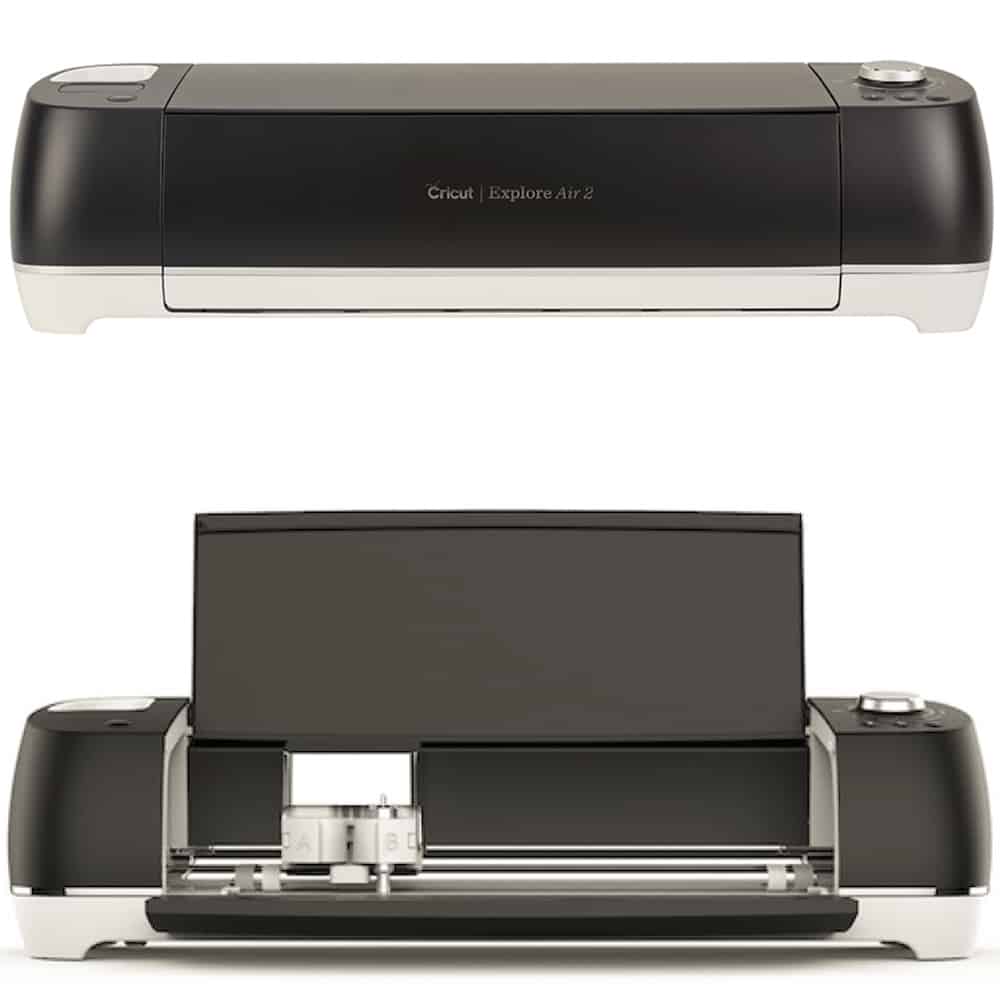 Explore Air 2, Black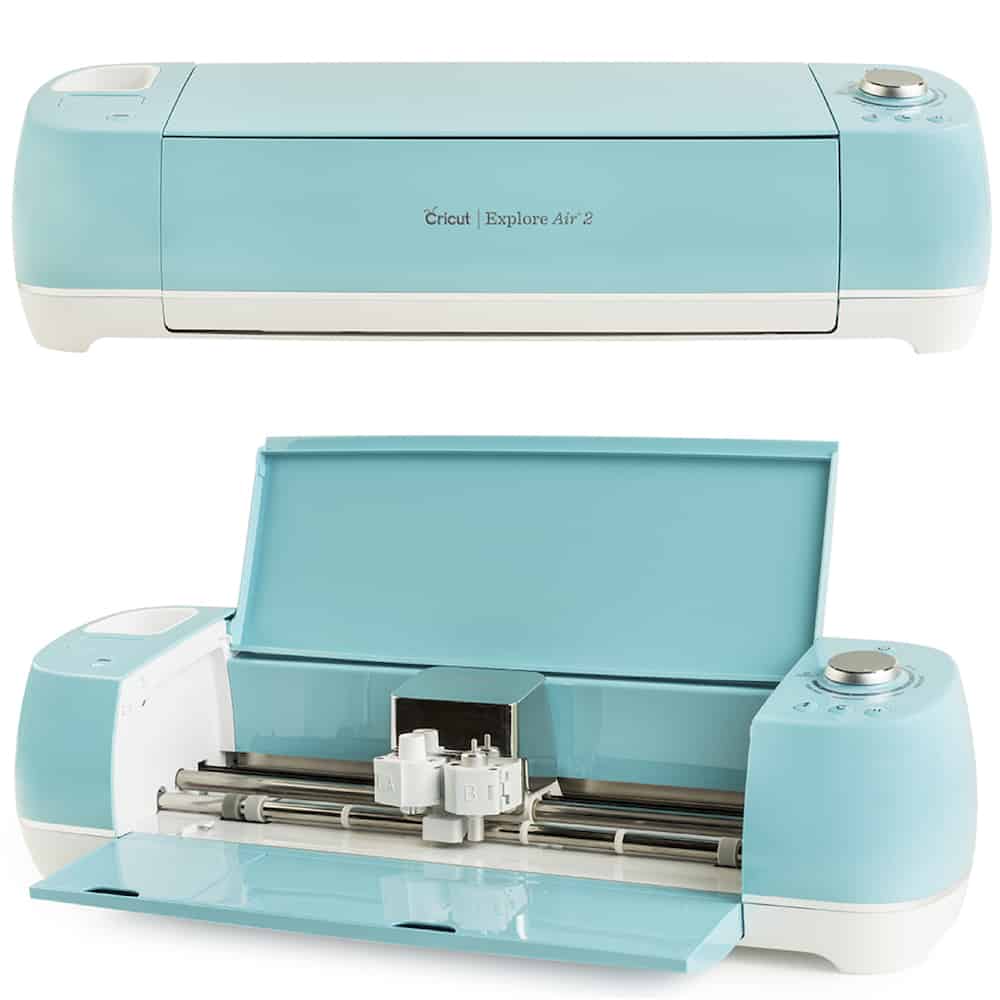 Explore Air 2, Sky

This Cricut has also been available in GOLD. I'm drooling…but I'm not feeling too envious.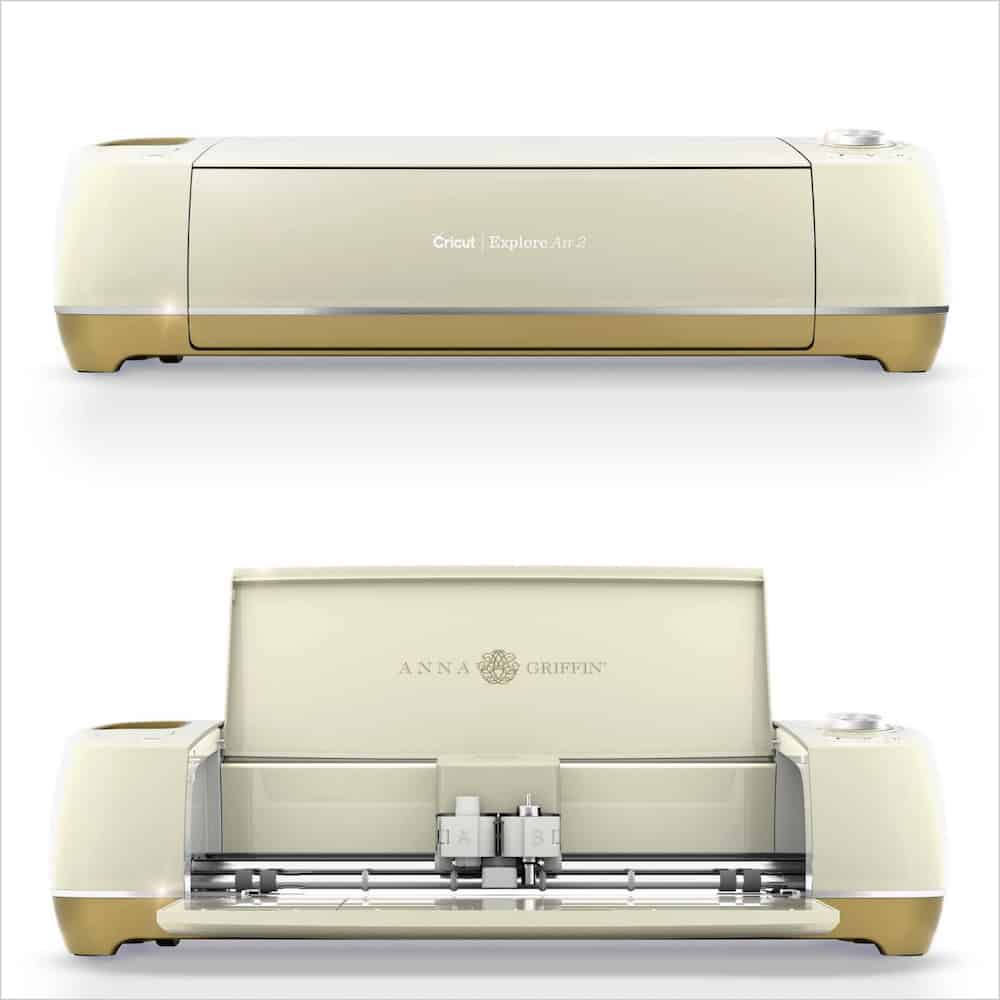 First, the Gold Cricut Explore Air 2 is identical to the one I have (aside from color). Second, it's not even available right now. There's no need to care about something I can't even have!
Here's what my Cricut Explore Air 2 looked like once it was out of the box and hooked up: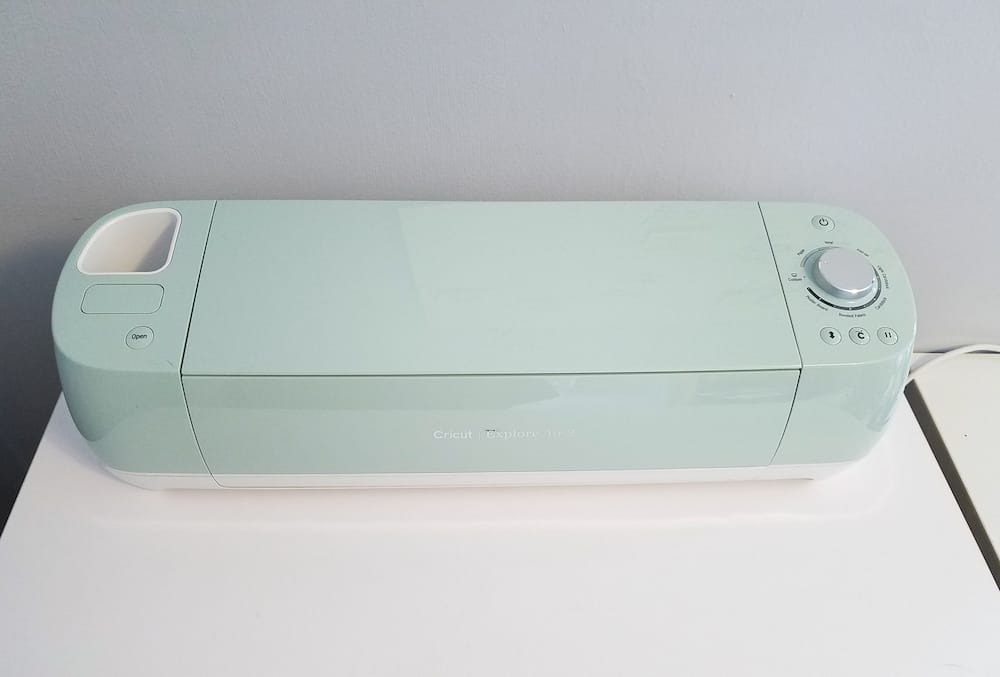 I really wanted to get to know my cutting machine before using it, so I pushed the buttons and lifted the levers to take in all the Cricut Explore Air 2's physical features.
The control panel is on the outer right side of the machine. The control panel has a power button and Smart Set Dial, plus the Load, Go and Pause buttons.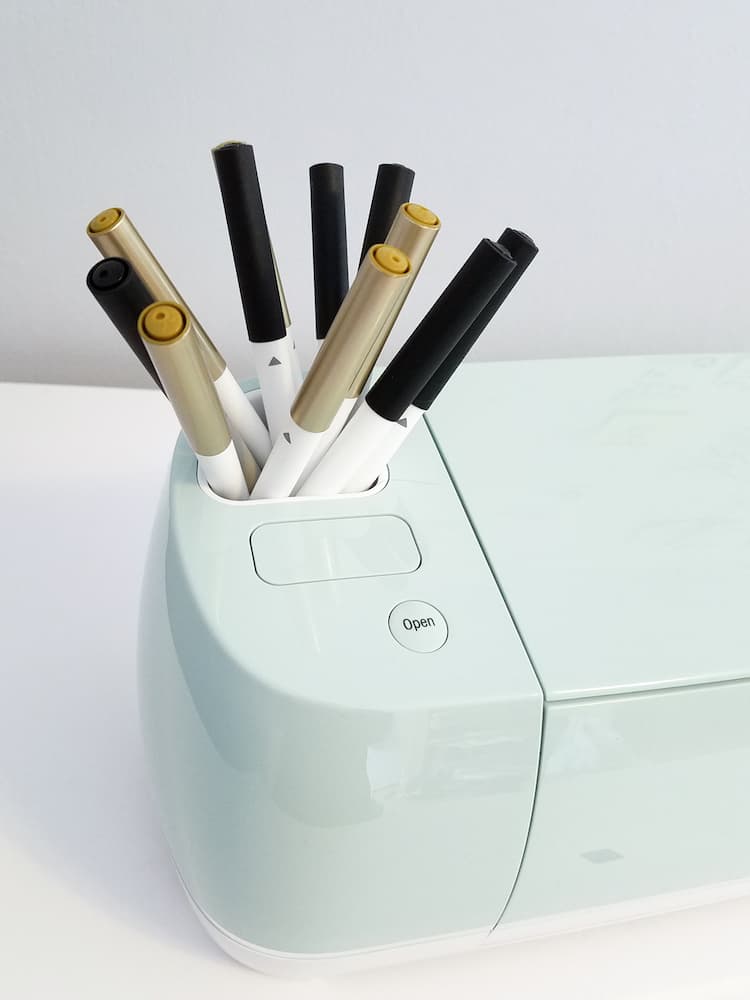 The outer left side has a small tool cup, cartridge port and the Open button.
Take a look inside the Cricut Explore Air 2. It's bright, shiny and surprisingly simple: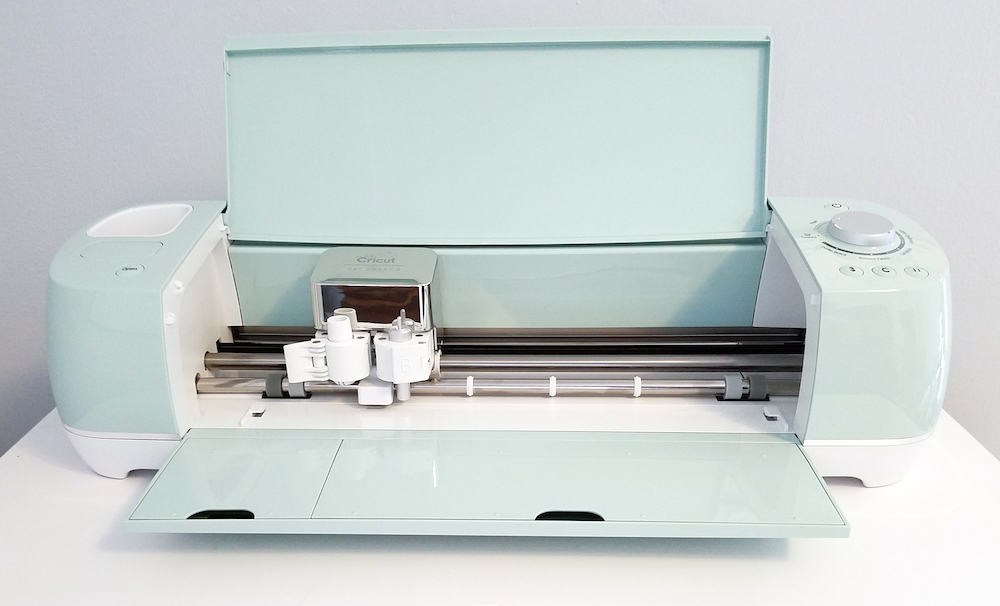 I love how clean and shiny all the mechanical components are in there!
If you take a closer look at the slider on the inside you can see it has two round compartments.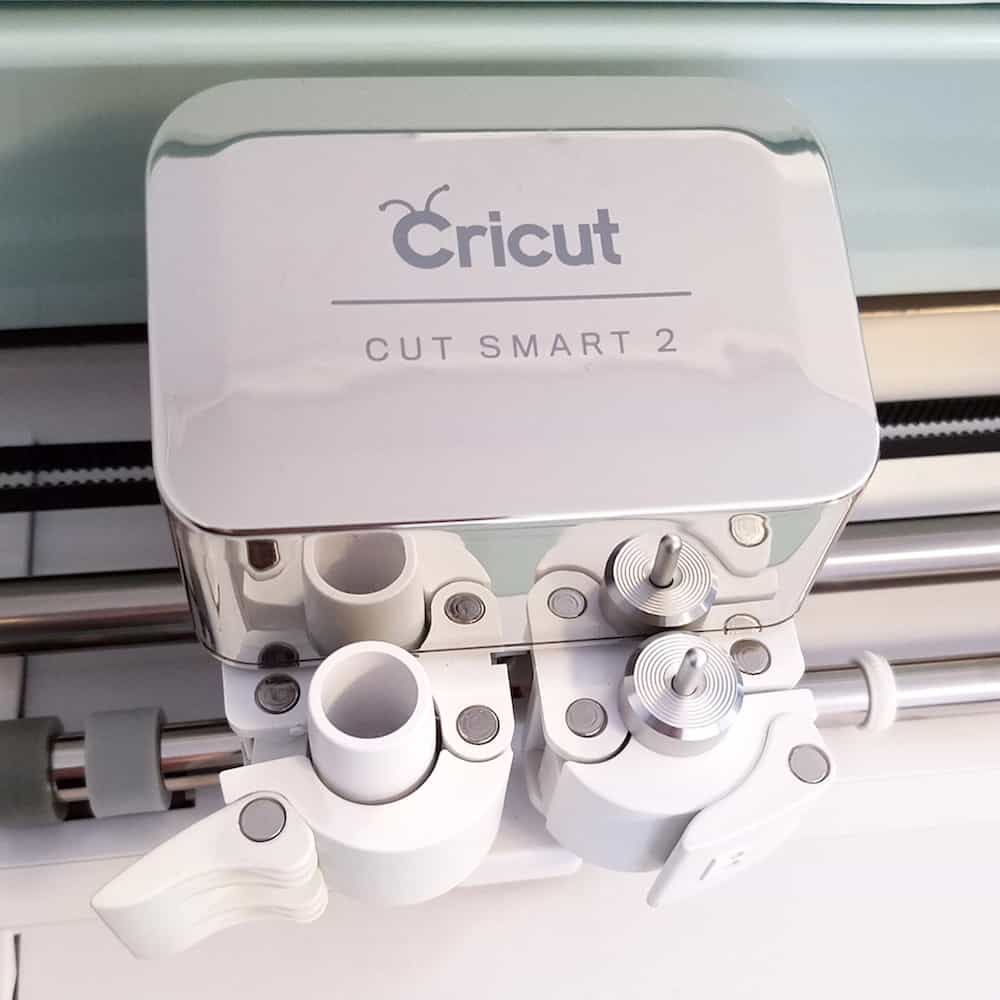 One of the clamps holds a blade that comes pre-installed. The one on the left is open and it doesn't need to be used. It's for optional accessories like pens and the Scoring tool.
I had one little surprise when I was poking around the machine. The front door that lowers to open the machine doubles as a storage compartment!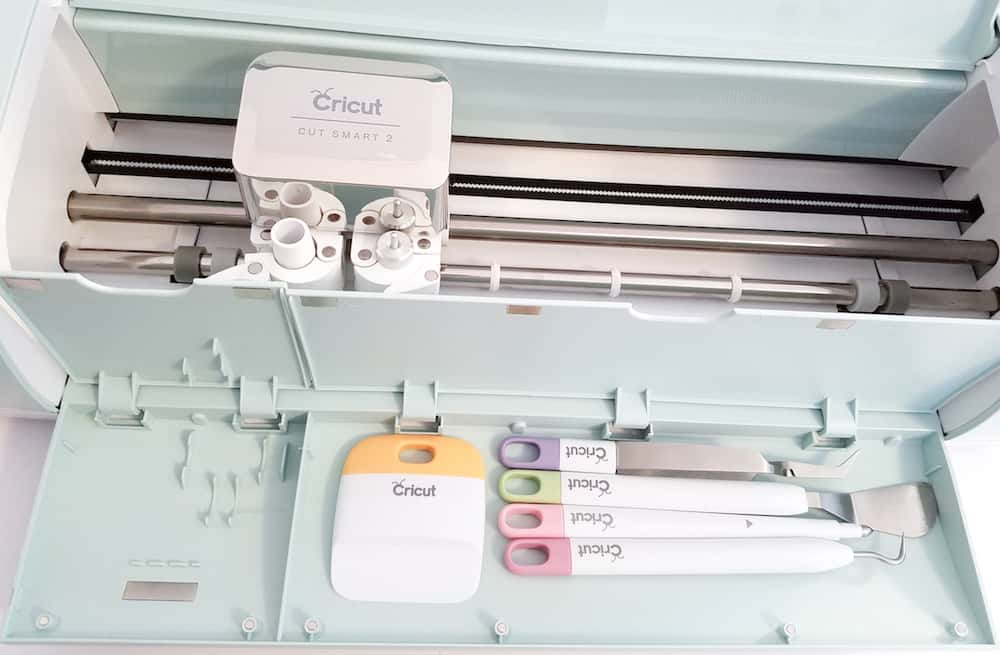 It's not huge, but the build-in storage perfect for stashing the essential tools you'll want to have right there when you're using it.
Cricut Explore Air 2 Review: How it Works
I know this is the big question, especially for a papercrafting newbie: how does the Cricut Explore Air 2 work?
The answer: I'm pretty sure the Cricut Explore Air 2 is MAGIC.
As someone who's never been characterized as crafty or creative, I swear, my mouth was hanging open the first time I used it to create my first card.
My niece was with me, and we were practically squealing with delight as we watched it cut, write and score for the first time. Check out our Cricut Explore Air 2 video review below:

One thing I love about the Cricut Explore Air 2 is that it's fast. Granted, I don't have a different machine to compare it to but I was really surprised that the machine flew through the writing and cutting for the first card I made.
If that speed isn't fast enough for your project, there's actually a Fast Mode that can be used with the most popular materials.
You can get the same precise cuts at an even speedier rate on vinyl, iron-ons and card stock when you set the machine to Fast Mode!
Cutting with the Cricut Explore Air 2
Something else that surprised me when I was learning all about the machine is all the different materials that can be cut with the Cricut Explore Air 2.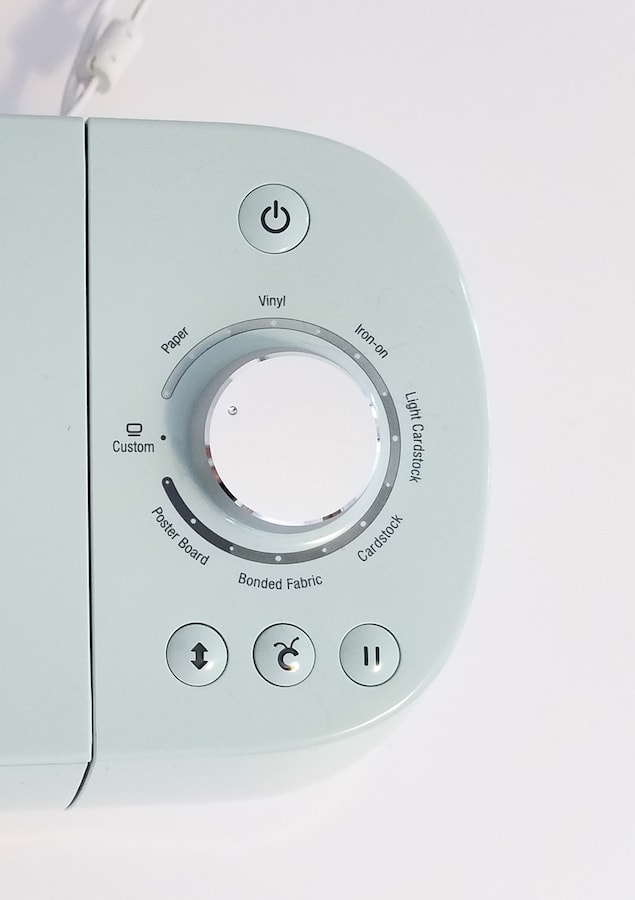 The Smart Set Dial lets you choose the material you're working with , and it's used to indicate the thickness of the material you're going to be cutting.
Poster Board is the thickest material you can select on the dial, but I couldn't stop wondering What's the thickest material a Cricut can cut?
I'm fairly certain the thickest material a Cricut can cut is wood in the form of chipboard or birch wood. That's right. The Cricut Explore Air 2 can cut wood!
I learned about this and over 100 other materials the Cricut Explore Air 2 can cut on this official page. Other surprising items that can be cut include:
Tissue paper
Silk
Cotton
Corkboard
Clay
Aluminium
Foil
Leather
Burlap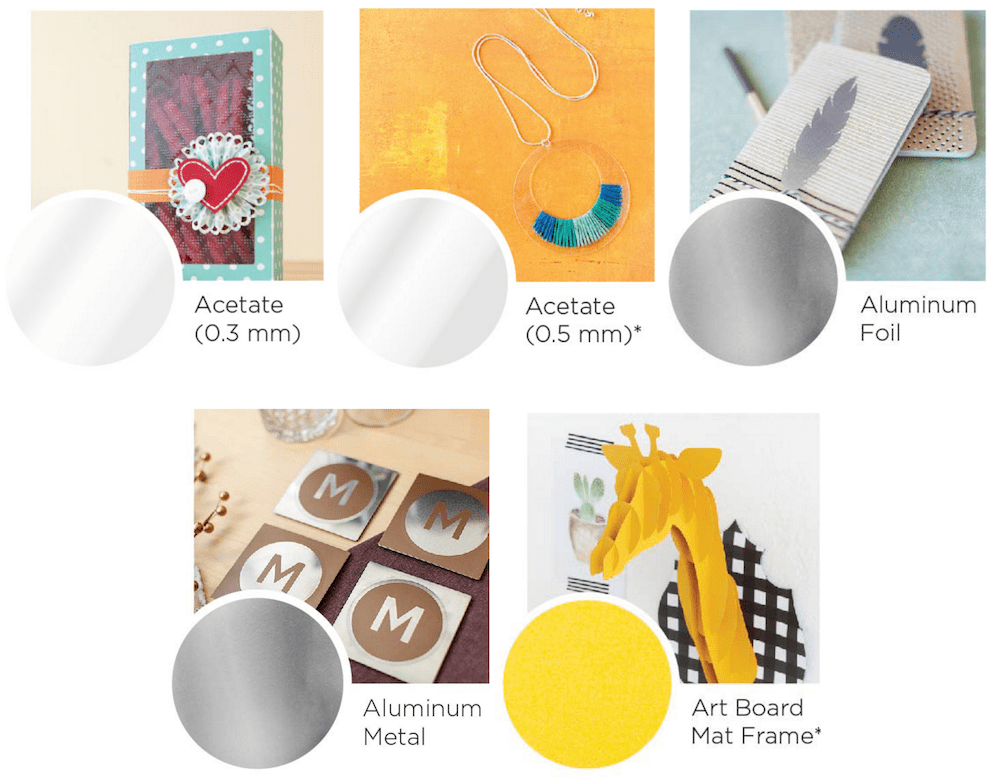 Knowing that all of those things and more can be cut with my very own cutting machine opens up even more possibilities for potential projects!
Designs and Designing with the Cricut Explore Air 2
Part of setting up my new Cricut Explore Air 2 included installing Cricut Design Space software. I installed it on my Macbook, and there's the same program for Windows. The software cost is free. There's no charge to use it on your computer or on either of the apps.
If you live a mobile life you can also use one of the Cricut Design Space apps, which are available for Apple (iOS) and Android devices. The apps are compatible with both phones and tablets, so there are plenty of options for getting the program in front of you.
Once Design Space is installed you have everything you need to create anything you need for your most crafty projects.
I've found Design Space very easy to use. It's sort of like a user-friendly Photoshop (people take classes to learn Photoshop!). Design Space allows you to search through thousands of designs and load the one you'd like to make.
While the software itself is free, most of the Design Space projects cost money (starting at $0.99). There are two ways figure out how you should pay for these projects:
If you think you'll only pay for designs once or twice a month and you have great fonts on your computer, then you can pay for your designs as you need them.
If you find yourself making more than 2 or 3 projects in a month Cricut Access will be well worth the monthly cost of $7.99. This membership lets you use over 370 fonts and 30,000 images, including exclusive images.
How to Use the Cricut Explore Air 2 Without Paying for Cricut Access
Before I tell you how to use the Cricut Explore Air 2 without paying for Cricut Access I have to say one thing:
Access is super awesome. It's extra user-friendly. It also makes using your Cricut Explore Air 2 as easy as possible.
That being said, if you consider yourself a quick learner and you're open to learning new technology, then you'll love learning how to use your cutting machine without paying for the subscription.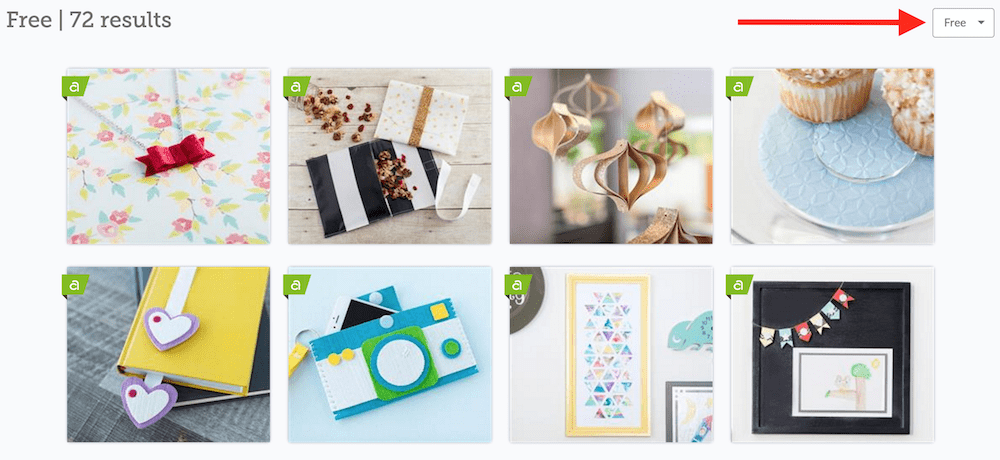 First, Design Space offers lots of free cuts straight from the brand. They can change at any time, but you just need to look for Free in the drop down categories within Design Space to find them.
You can use all the fonts that are already on your computer (and you can install beautiful free fonts from Creative Market and Pixel Buddha. The selections change every week, so check back weekly!).
In addition to fonts, you'll also need images to use in Design Space. You need to use SVG images (not jpg or png). There are plenty of places online that offer free SVG downloads and Creative Market also offers free SVG graphics that change every week – just like their fonts!
Cricut Explore Air 2 Review: The Negatives
It's hard for me to not rave about the Cricut Explore Air 2. I said it before – it actually seems magical when I'm watching it work!
But there are definitely a few downsides to using Cricut Explore Air 2. Here's what I'd like to see changed:
The Cricut Design Space App for Android needs improvement. To their credit, the app is in beta. On the other hand, the iOS app has been available since 2015. They needs to get the Android app perfected and released as a solid piece of software.
I didn't know the machine would feed the cutting mat out the back of the machine as it was working. I foolishly set it up against a wall. The crunching and crinkling freaked me out a bit, but I can't complain; nothing was broken or ruined when it happened.
Bluetooth: I was only prompted to connect my machine to my computer via USB, but I wish I would have been prompted to connect via Bluetooth. Now, I haven't figured out how to do it manually. It's not necessary, but I also can't review the Bluetooth connection process.
Cricut Access: It simply bothers me that, after spending $250 on a machine, users still need to pay for a monthly membership. I do appreciate the free designs, but I don't love that there's an ongoing cost to use most of the brand's own library.
Other Cricut Explore Air 2 Reviews
If you're seriously considering buying one (and you should!) you probably want to read more than my review. Here are some other reviews for Cricut Explore Air 2 I found around the web.
I checked out the Cricut Explore Air 2 reviews at Joann.com and they're overwhelmingly positive! Here's the Cricut Air 2 review summary: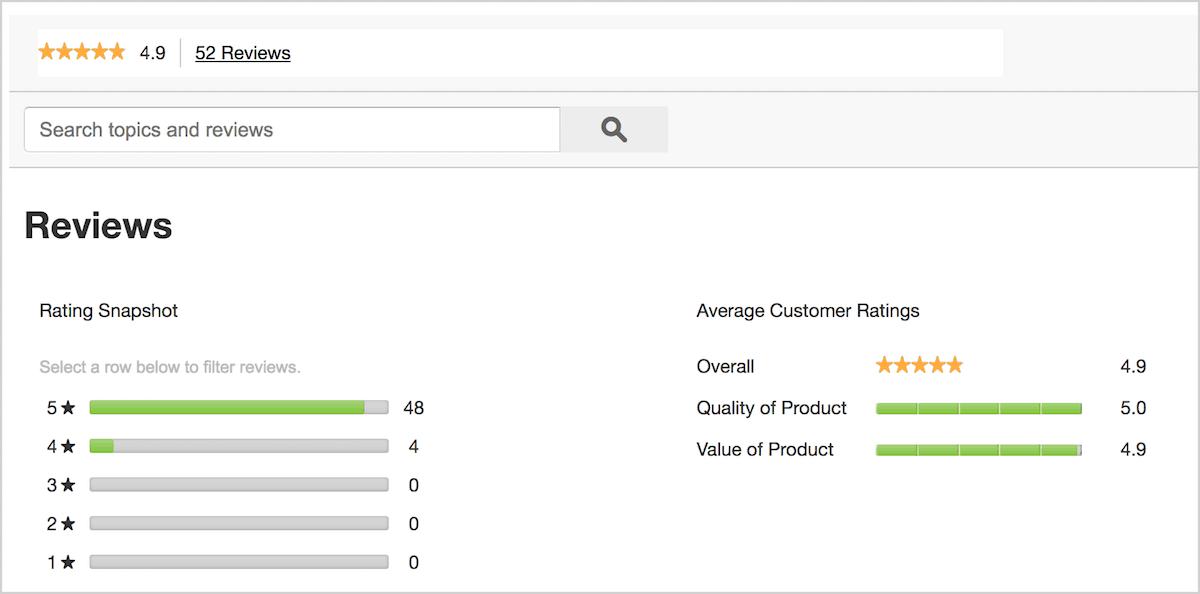 As you can see, there are NO negative Cricut Explore Air 2 machine reviews on that site. Here are highlights from some of the most descriptive reviews:
Misty's Cricut Air 2 Review:
I bought this 3 days ago and am obsessed! I am going to buy more supplies right now to keep going because there is literally NOTHING you can't do with this! It's totally worth every penny! The list of people who want to come over and check it out is crazy!
–Misty
Casey's Cricut Expression vs. Cricut Explore Air 2 review:
I had previously used the Expression and let me just say… This has been a major upgrade. I am challenged when it comes to crafting and this breaks things down for me in great detail. Also, I don't get much free time to do projects so the fact that this machine is SPEEDY gives it five stars.
–Critter Casey
I had never used a one before and now that I have I can't figure out what took me so long! The machine functions beautifully right out of the box, the app has so many great designs and is so easy to use that I spent hours making all kinds of things, from iron ons (my favorite) to cards and banners.
I have been impressed with the quality of the materials and the machine itself. I have access to a laser cutter but I would honestly prefer to use this because it is so user friendly.
–Nicolle, First Time Cricut User
That's just a sample of the reviews on Cricut Explore Air 2 from one craft supply site. After all that, you also have my personal opinion to go on. Want to know if the Cricut Explore Air 2 is worth it? Read my conclusion below.
Cricut Explore Air 2 Review: The Conclusion
While I really do wish the negatives I listed in my Cricut Explore Air 2 review would be changed, it's pretty obvious that the three things I don't love aren't deal-breakers at all.
What can you do with a Cricut Explore Air 2? Take a look!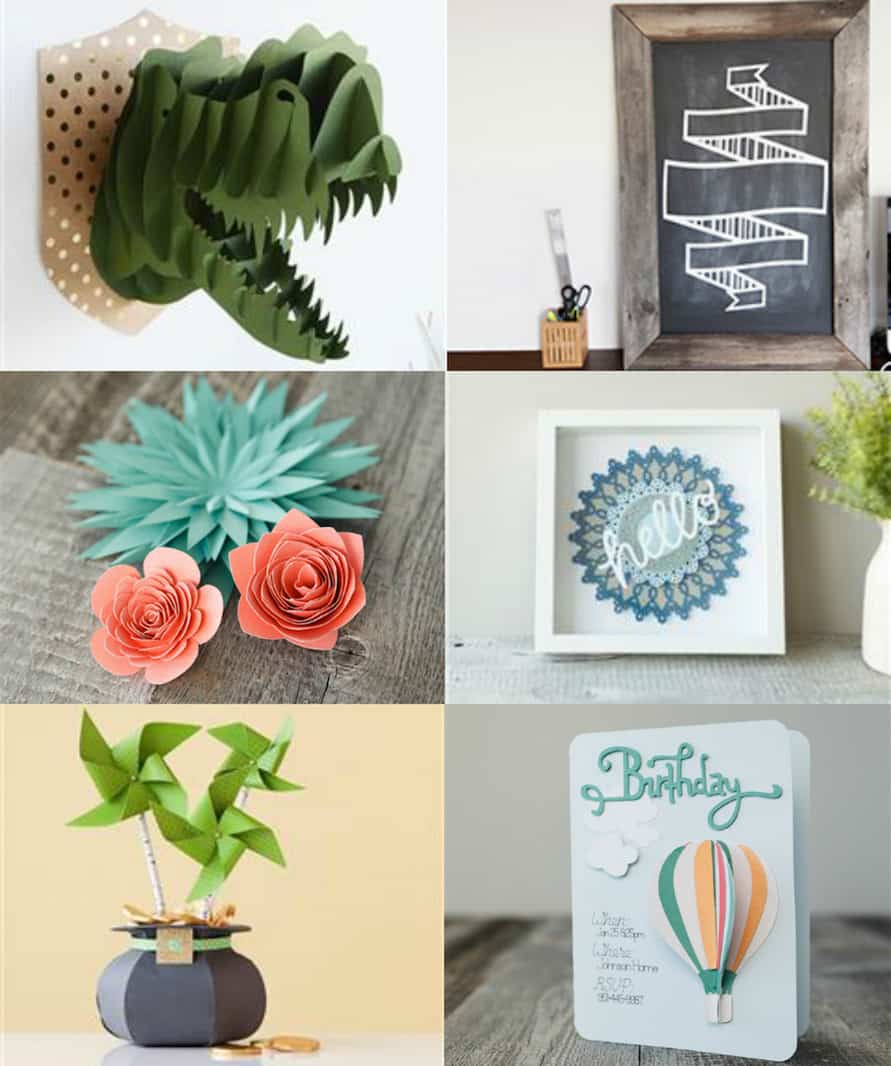 I no longer have to wonder what can the Cricut Explore Air 2 do…Now I can't wait to make projects like all of those in that picture!
I never thought I would be capable of doing crafts like that. Now I'm able to do so much more than I ever thought possible!
In summary, if you're wondering, Is the Cricut Explore Air 2 worth it? or Should I buy a Cricut? My answer is Yes. Definitely yes!
Want to start crafting with me? Buy a Cricut Explore Air 2 and show me what you're going to make!

This Cricut Explore 2 review was written with thanks to the brand, who sent me my machine to facilitate this post.
If you're waiting for a deal on a Cricut, accessories or other products, you'll want to pay attention during the Christmas season, including Black Friday (and pre-Black Friday), Cyber Monday and Cyber Week!