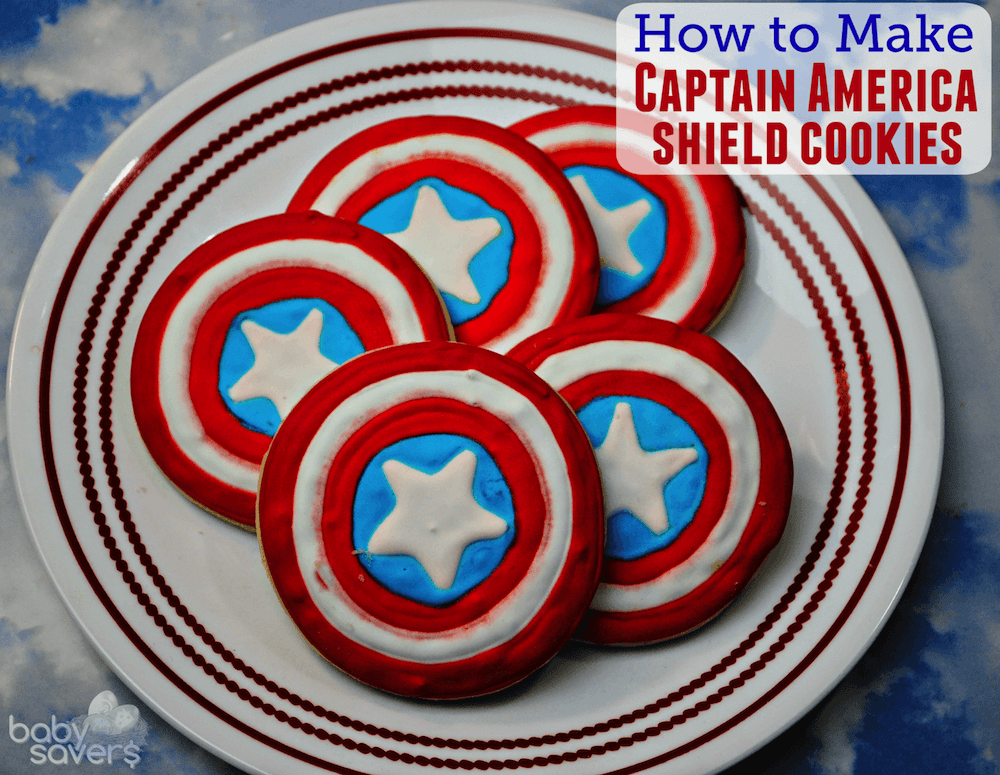 Last week when I shared the Captain America snack mix recipe I said I was torn between the whole #TeamIronMan or #TeamCap thing.
Well, I've finally decided which side I stand on for the upcoming Captain America: Civil War movie. While I'm a huge Iron Man fan, I also watch Marvel's Agents of Shield every week. I get that this fight is about so much more than Captain America's best friend.
So, it's decided. I'm officially Team Cap. In honor of my decision and the soon-to-be released Captain America: Civil War I have a fun recipe to share with you!
It's pretty intimidating to think about using icing to decorate a cookie like Captain America's shield. Perfect circles and a perfect star are really hard to freehand! Instead, I have an easy method to make Captain America Shield cookies. Keep reading to learn how to do it.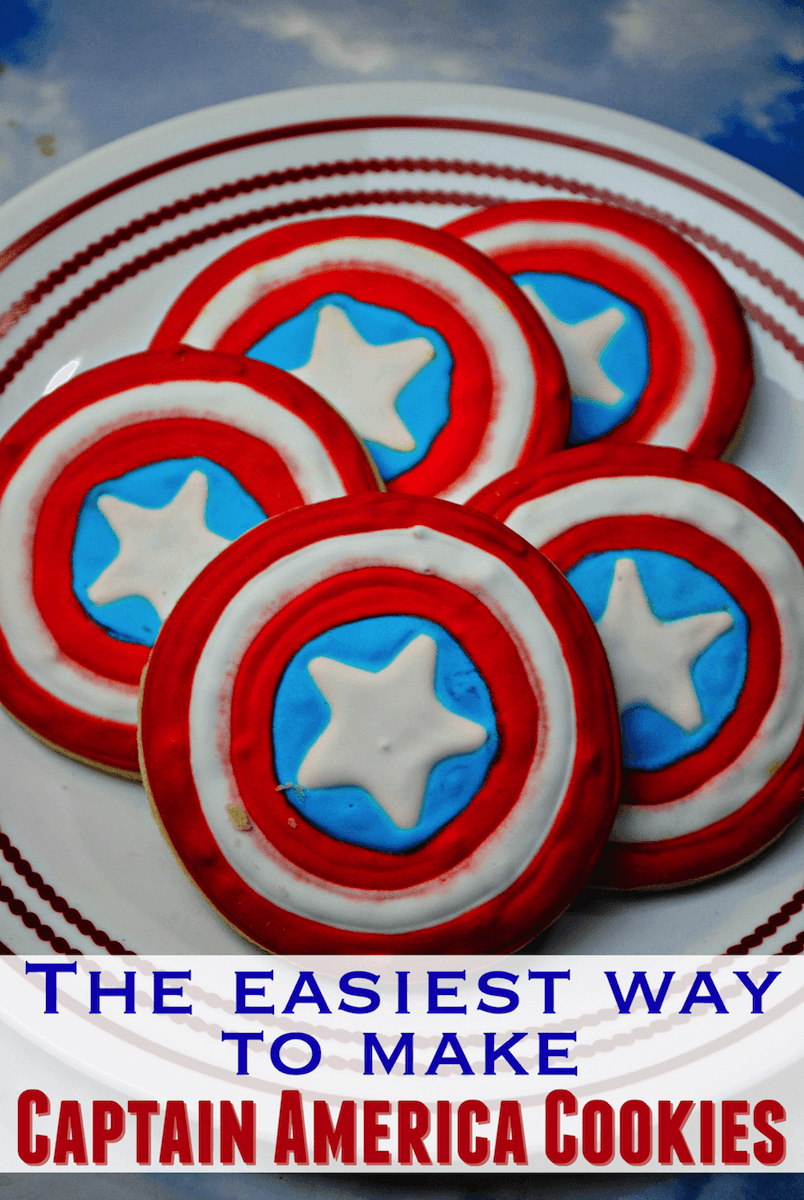 How to Make Captain America Shield Cookies
Equipment needed to make Captain America Shield Cookies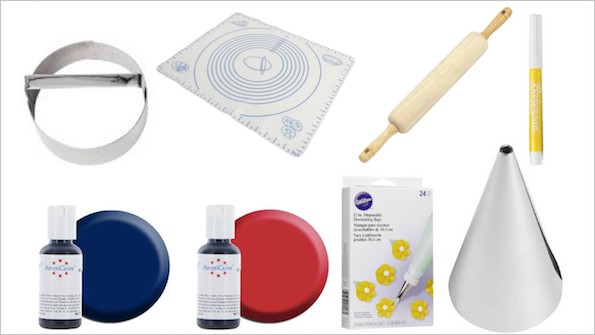 4-inch Circle cookie cutter
Rolling pin
Pastry mat
Parchment paper
Wire cooling rack
Gel food coloring (do not use liquid food dye like this. The colors won't be vibrant enough)
Disposable decorating bags
3 #2 pastry tips
Wilton couplers
Edible marker in a light color
Captain America Shield Cookies Ingredients
1 1/2 cups unsalted butter, softened
2 cups granulated sugar
4 eggs
1 teaspoon vanilla extract
5 cups flour
2 teaspoons baking powder
1 teaspoon salt
Captain America Shield Cookies Directions
Cream the softened butter with the sugar on medium speed until fluffy, then add eggs one at a time and vanilla extract.
Continue mixing until well combined. Set mixer to low or use a wooden spoon to mix in the flour, baking powder and salt.
Roll all the dough into one ball, wrap the ball of dough completely in plastic wrap, then refrigerate for at least 6 hours, up to overnight.
Preheat oven to 325 degrees.
Drop the dough onto a floured surface and roll it out to 1/2 inch thick.
Use the circle cookie cutter to cut circles out of the dough.
Place cookies 1 inch apart on parchment-lined baking sheets.
Bake at 325 degrees for 8 minutes or until done.
Transfer to a wire cooling rack and let cool for about 10 minutes.
Captain America Shield Cookies Icing Recipe
4 egg whites or equivalent in pasturized egg white powder
2 cups powdered sugar
1/2 teaspoon cream of tartar
1/2 teaspoon vanilla extract
Red and blue gel food coloring
Captain America Shield Cookies Icing Directions

Combine the egg whites, cream of tarter, powdered sugar and vanilla in a bowl and mix on low or medium speed for 5-10 minutes until stiff peaks form.
Divide the icing equally into 3 different bowls. Keep the first bowl white.
Add 3-5 drops of red food coloring to the second bowl and mix in thoroughly. Add more food coloring 1 drop at a time if the icing should be more red.
Repeat step 3 with the third bowl and blue food coloring.
Put each icing color into it's own decorating bag.
How to Easily Decorate Captain America Shield Cookies
Use an edible marker to draw circles and a star on all the cookies like the below example.
Use the white icing to fill in the star and one of the rings on all the cookies like like this example:
Wait 10 minutes, then use the red icing to fill in the ring on the outside and the inside of the white ring.
Wait 10 minutes and fill in the area around the star with blue icing.

I know all the steps make it seems like a lot of work, but I swear this method for making Captain America Shield cookies is so much easier than freehanding it!
You can print the recipe for Captain America Shield cookies below, then read on for more about the movie.