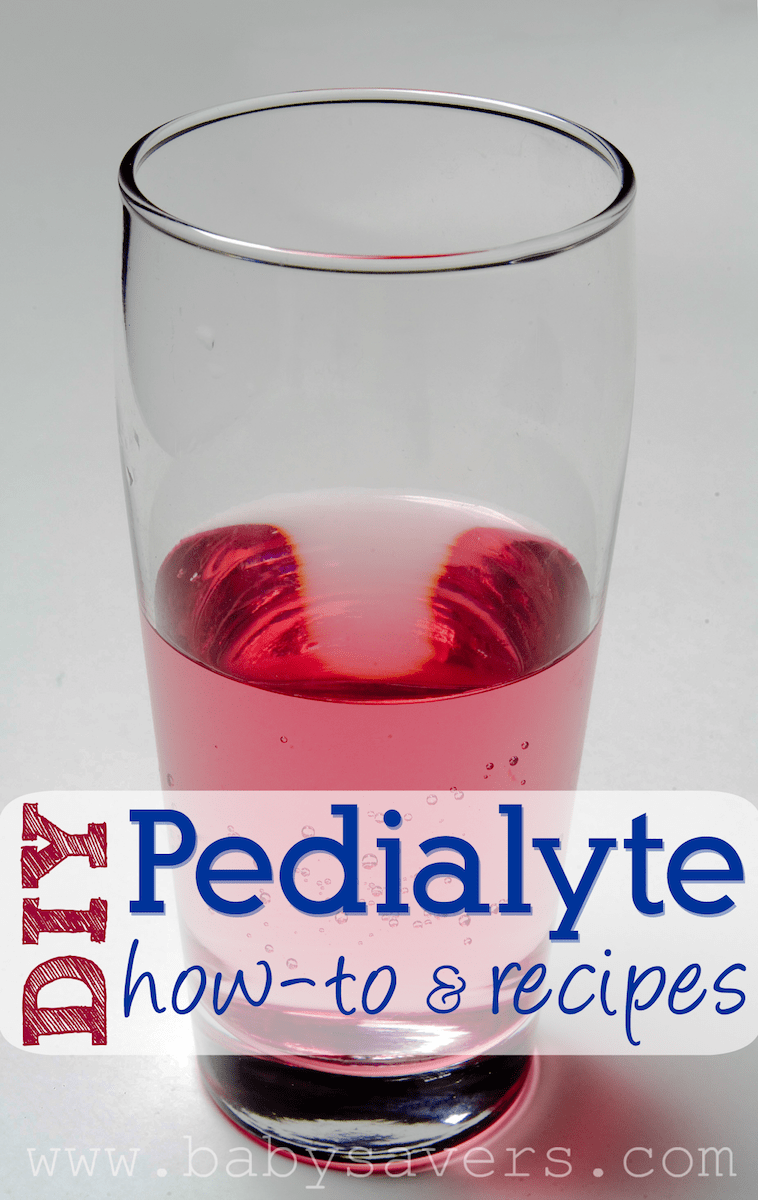 How to make Pedialyte. I had no idea so many of you were wondering how to make Pedialyte at home! Now I've met so many new readers just because my post for Homemade Pedialyte is so popular.
Share this post by pinning it on Pinterest (or repin it), then follow me on Pinterest!
 Since I wrote that post, I've received tons of emails from people sharing their own instructions for
how to make Pedialyte
plus more 
homemade Pedialyte recipes
.
Most of what I received were pretty similar to those that I listed, but there were a few new Pedialyte recipes that I wanted to share. Scroll down to see them 🙂
Before getting to the recipes, I wanted to discuss one point that has come up a few times.
There were a few comments in the other post about real Pedialyte and vitamins. Those same comments stated that my homemade Pedialyte recipes don't have vitamins. According to the corporate website, Pedialyte does not contain vitamins.
Keep in mind that the purpose of Pedialyte and other electrolyte-replacement beverages is to prevent dehydration, rehydrate, and/or replenish vital minerals and nutrients lost during diarrhea and vomiting. It is not to provide vitamins.
Of course, if you have any medical concerns about your little one or yourself, please don't hesitate to seek the advice of a doctor!
Back to learning how to make Pedialyte! When you make homemade Pedialyte you should store it in a pitcher in the refrigerator.
I prefer an airtight glass pitcher: this one for large batches, and this cute little glass pitcher for the Pedialyte recipes that only require 2 cups of water.
Another nice perk of making it in a pitcher: it's easy to pour into ice pop molds if you want to make DIY Pedialyte freezer pops. Any of the Pedialyte recipes below can be used to make popsicles, too!
Need ice pop molds? I'm happy with my Tupperware popsicle molds, and I know a lot of people who love their colorful silicone ice pop molds.
Here are more homemade Pedialyte recipes:
How to Make Pedialyte
Pedialyte recipe #1:
2 cups water
Juice from 1-2 fresh lemons or 3 tablespoons lemon juice
2 tablespoons of sugar (or honey if your child is at least 1 year old)
1/4 teaspoon salt
Pour the hot water, salt and sugar into a pitcher and stir until dissolved. Stir in the cold water and lemon juice. Serve in small amounts. Refrigerate up to 3 days.
Pedialyte recipe #2
2 tablespoons + 2 teaspoons sugar
1/2 teaspoon salt
1 cup juice, any kind
1 liter water (1 liter = just over 1 quart)
Combine all ingredients in a pitcher and stir until the sugar and salt are dissolved. Serve in small amounts. Refrigerate up to 3 days.
Pedialyte recipe #3:
3 cups hot water
1 tablespoon clear light corn syrup
1 teaspoon lemon juice
pinch of baking soda
pinch of salt.
Combine all ingredients and stir until it's thoroughly mixed. Refrigerate up to 3 days.
See the original list of homemade Pedialyte recipes!
Did you already know how to make Pedialyte? Share your recipe in the comments!