The Secret to Better Disney World Pictures at Night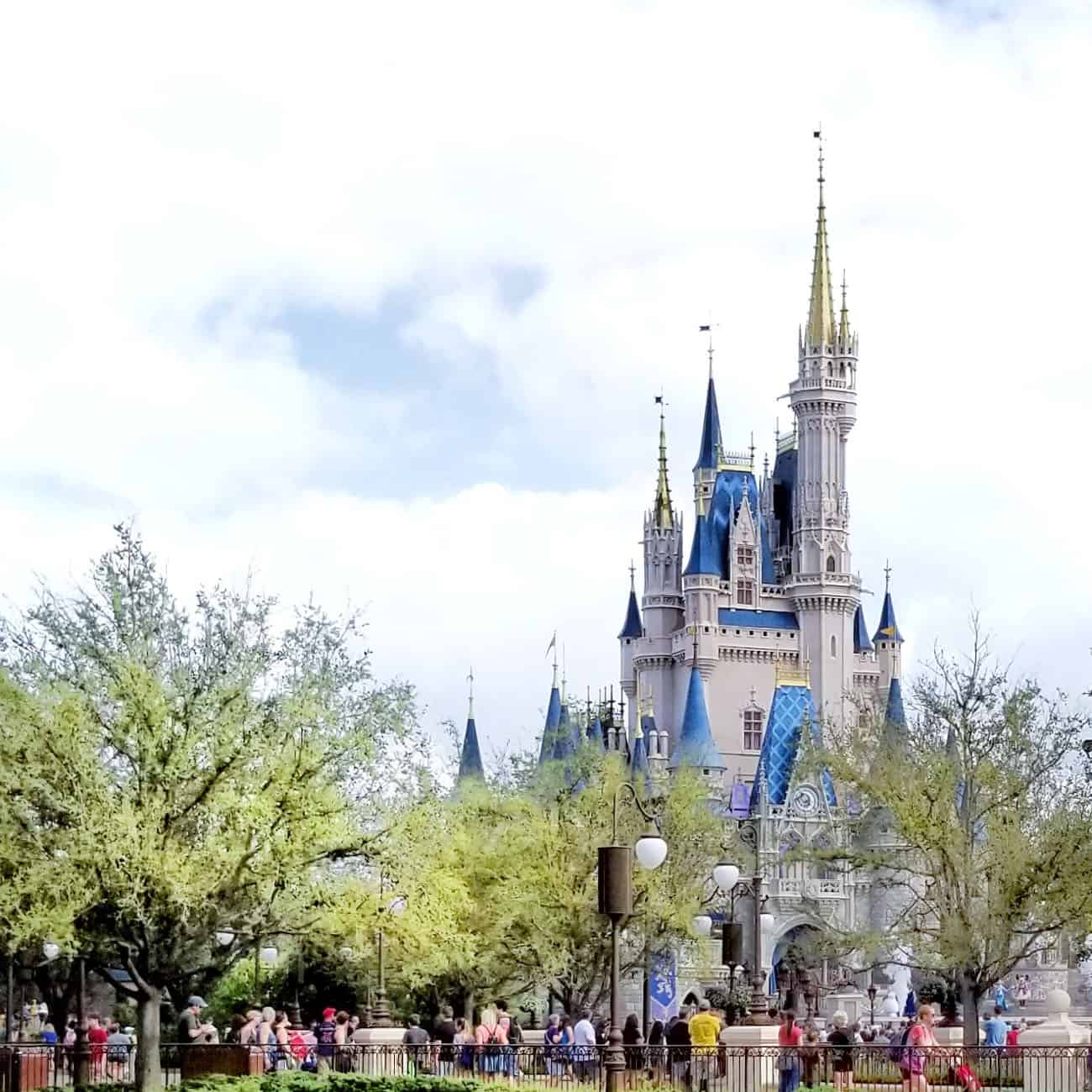 I love Disney World. I've been going nearly every year since I was a kid, and the feelings I get when I visit there haven't changed. Disney World is a special place for many reasons, and there are plenty of reasons to love it.
The biggest reason I love Disney World is because the inside of every park feels magical. Of course, that magic comes and goes throughout the day (you know that magic temporarily evaporates if you've seen a kid drop her ice cream cone on Main Street USA!), but certain experiences bring out that feeling again and again.
Related posts:
Unique Disney Shirts only Die-Hard Disney World Fans Will Understand
55 Magical Disney Elf on the Shelf Ideas  
Disney Painted Pumpkins: 45 No-Carve Disney Pumpkin Ideas

One aspect of Disney World that never fails to give me all the special, magical feelings is the night show at each park. I've attended these shows nearly every year for a very long time, and it's never gone away.
Another thing that's never gone away is my need to capture that feeling by always taking pictures of the shows. The fireworks at the Magic Kingdom. Illuminations at Epcot. Fantasmic at Disney Hollywood Studios and Rivers of Light at Animal Kingdom.
The other thing that always happens is me taking bad pictures of Disney World at night. I'm sure I have hundreds of pictures like this from all of my pictures over the years: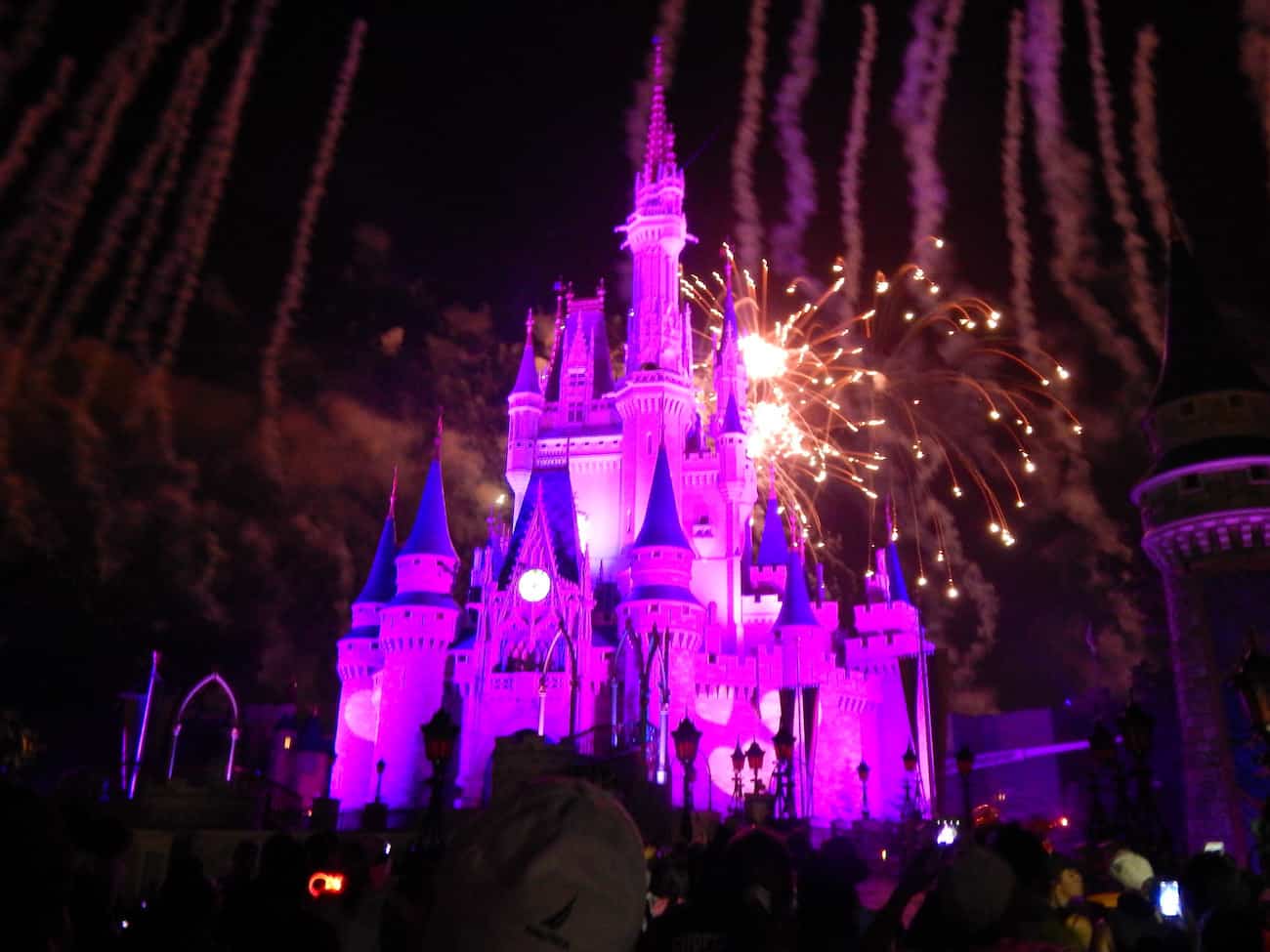 I have so many grainy, out of focus pictures of Cinderella's castle at night, Epcot's Spaceship Earth at night and the rest of Disney World at night! Photos like this one don't do justice to the amazing experiences I was having at the time I snapped it.
But I just returned from a family trip to Disney World and I have to say, I discovered a way (actually just one little action) that seems to be the secret to better Disney World pictures at night!
How did I figure it out? My husband, James, had his DSLR and I had my Samsung Galaxy Note 8 from Verizon. We were sitting with Haiden and Piper at Animal Kingdom, waiting for the Rivers of Light show to start.
When we sat down it was just before twilight, and James and I were snapping pics to compare my Note 8 to his DSLR. (While I don't have his pictures to share, you really don't need to see them to understand what I'm getting at.)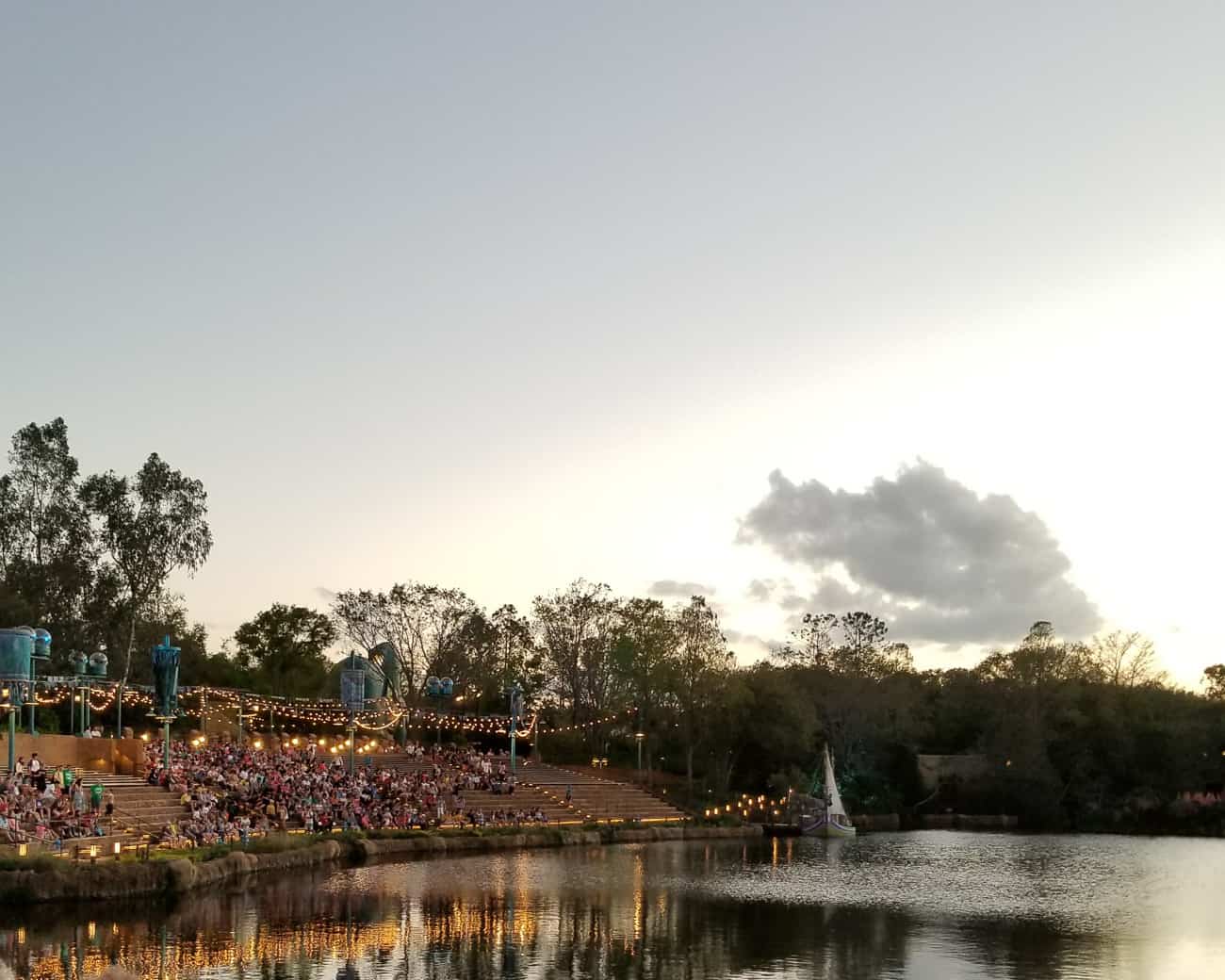 I liked my first picture, across the water of the Rivers of Light viewing area.
I continued to take pictures with my phone as the sun set before the night show started, and I was pretty dang pleased with how clear and crisp they were turning out: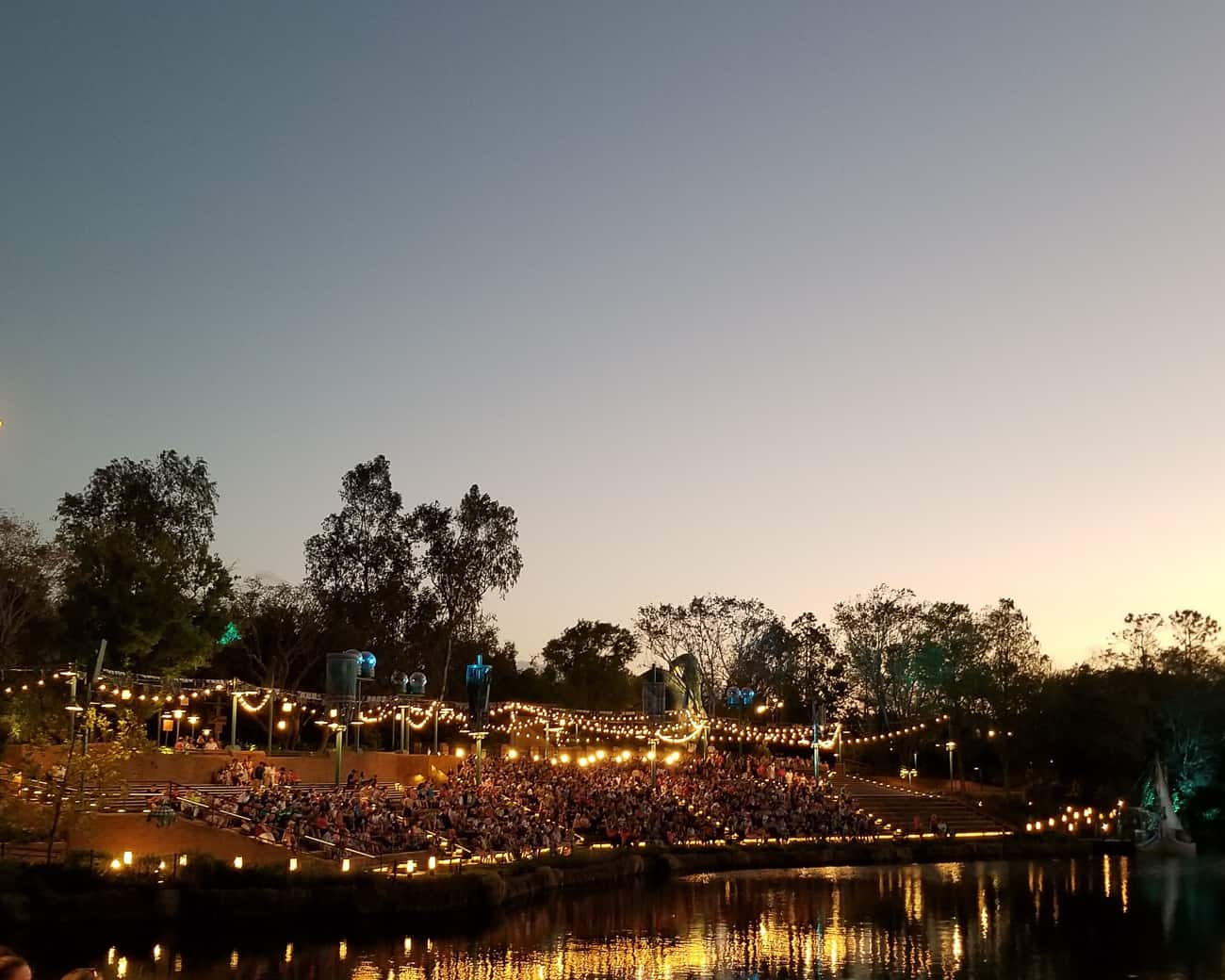 But when it was fully dark outside, I started to struggle: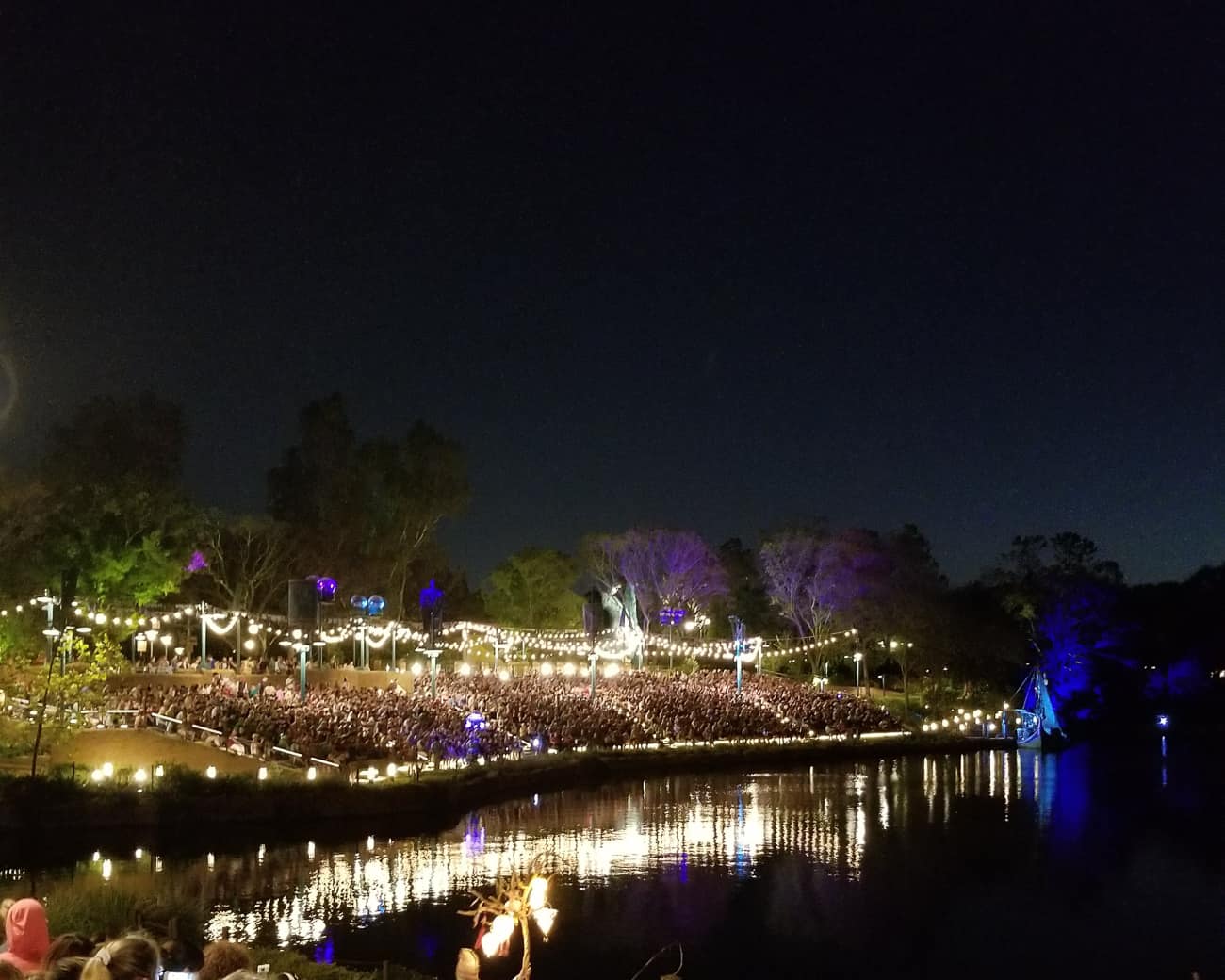 You can see the sky looks a bit grainy and the overall image isn't quite as focused as the ones before.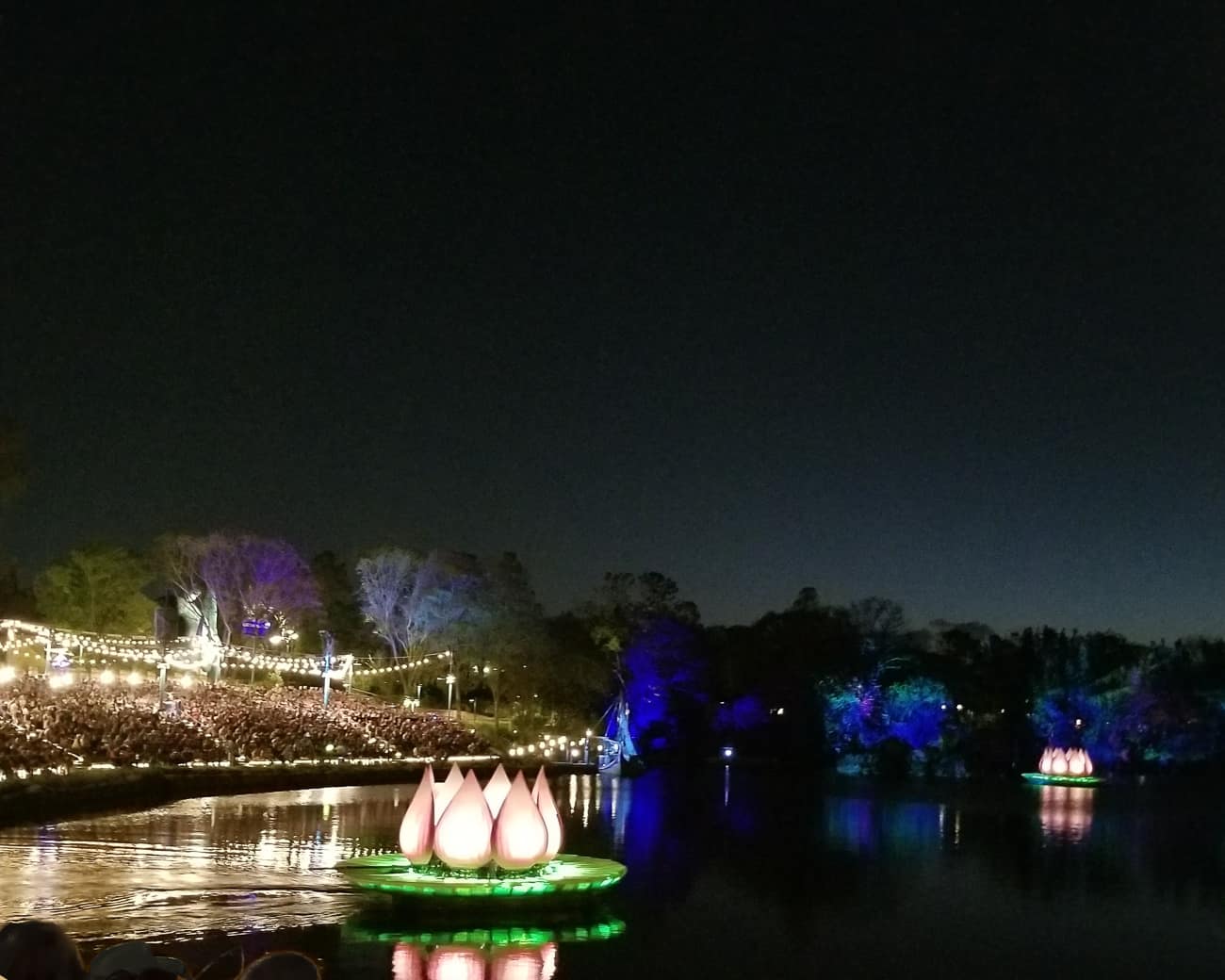 When the Animal Kingdom Rivers of Light pre-show started, I took a few pictures and almost put my phone down because I knew I wouldn't be happy with the quality of the images once I looked at all of them.
But then I thought I should try changing my usual method for taking pictures with my phone, because I'm used to taking most pictures in bright light or daylight.
When I'm taking pictures during the day, I almost alway frame my shot, then tap on the darkest part of my screen – this lets in more light, resulting in a brighter picture. I was trying to do the same thing for my pictures of Disney World at night.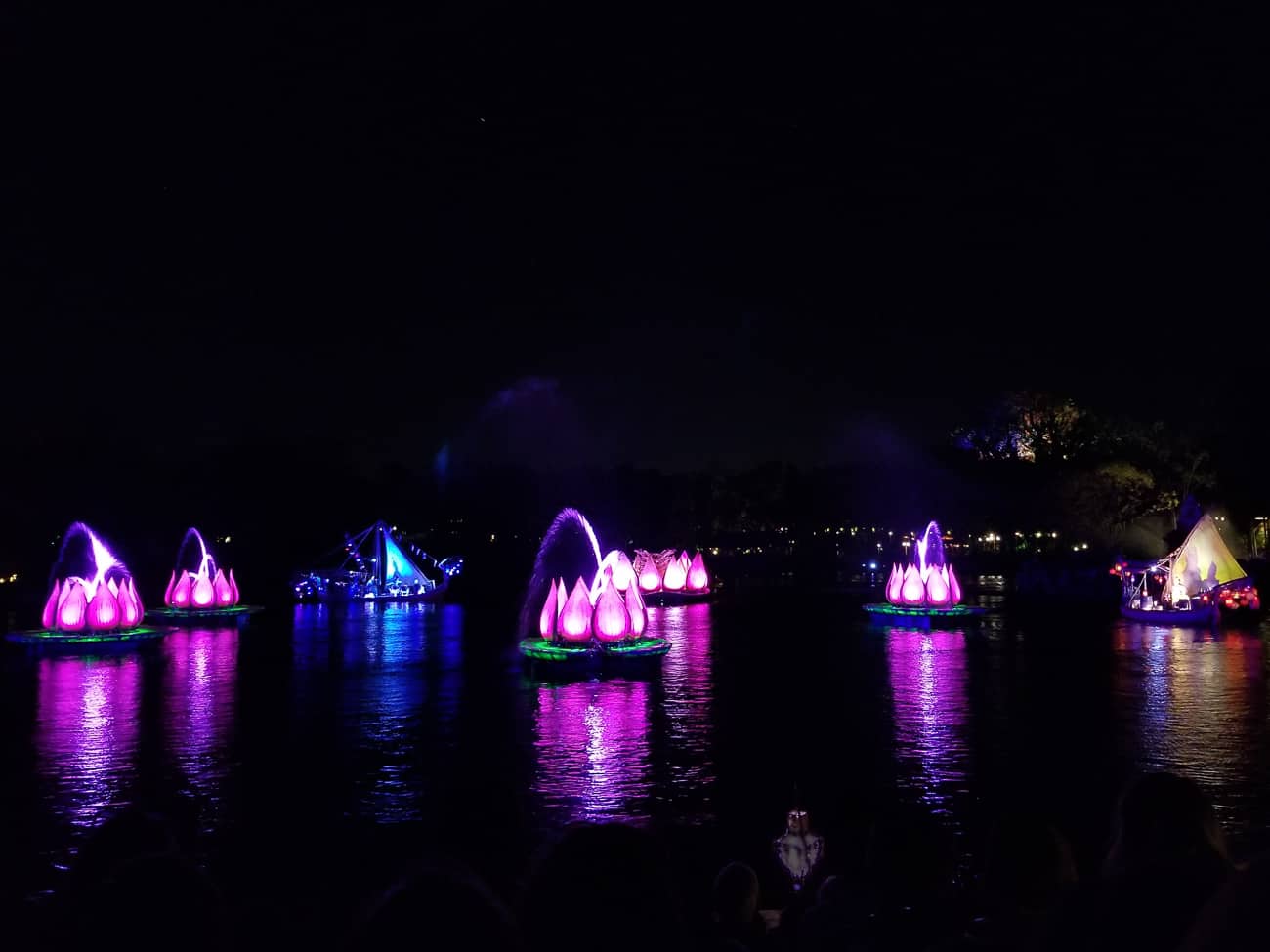 When the Rivers of Light show started, I tried flipping my method and tapping on the brightest part of the photo framed on my phone screen. It made a gigantic difference!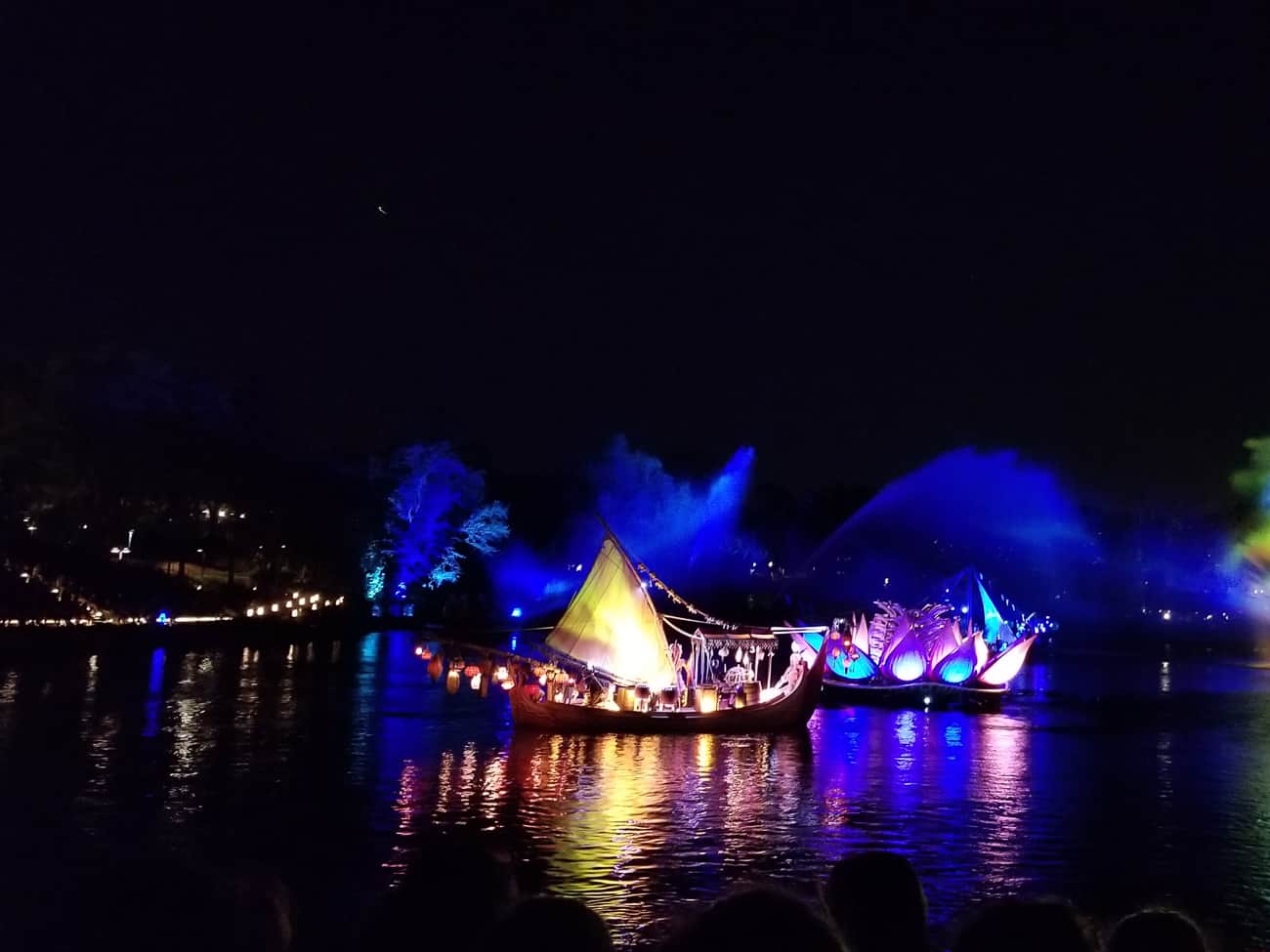 I'm usually lucky if I get one good picture of a Disney World show at night. This time around I took so many!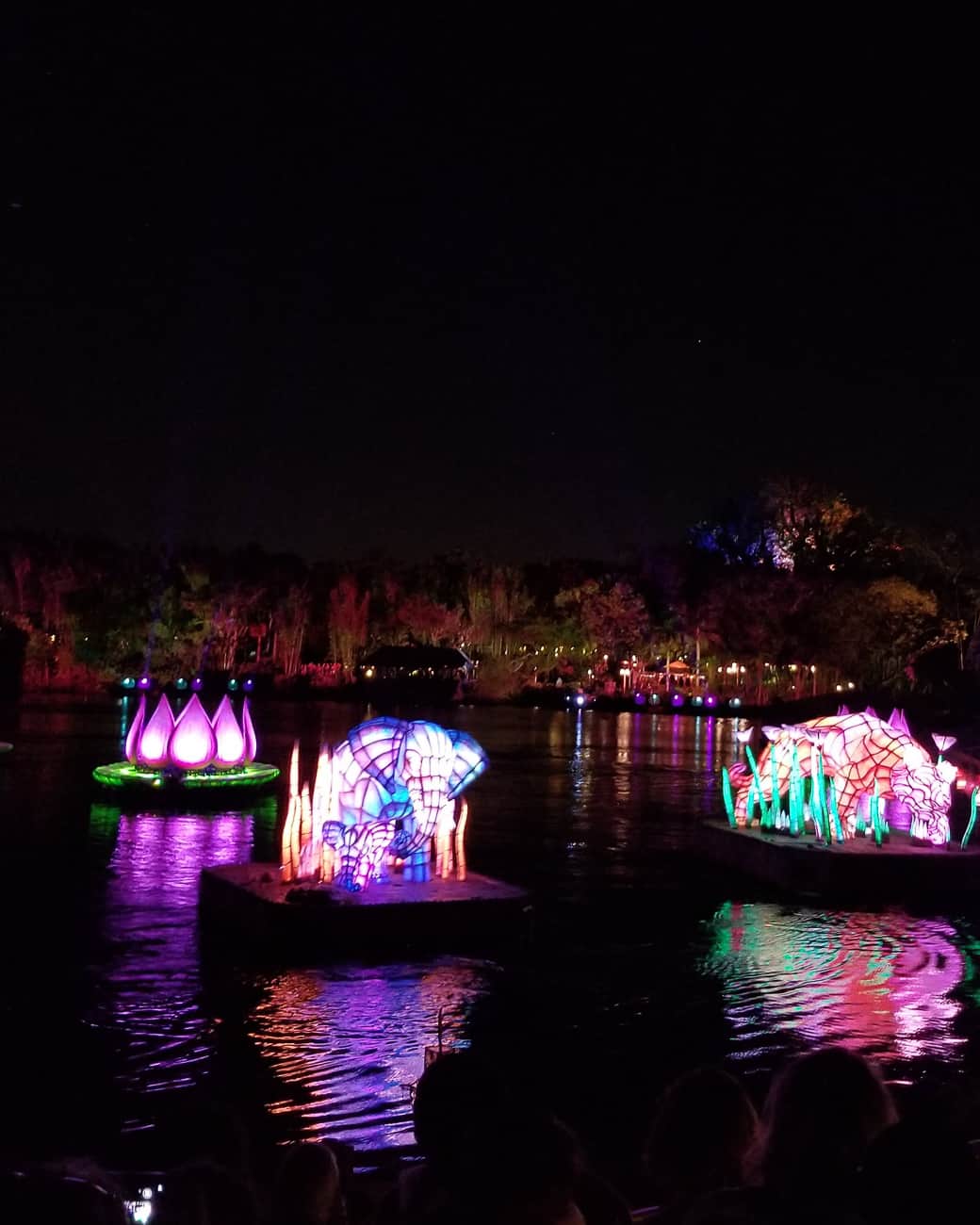 My favorite part of all these pictures is the clarity of the light reflections in the water, especially against the dark sky.
I tried out my new method on my Samsung Galaxy Note 8 at the Magic Kingdom the following night. It was a different setting with quite a bit more action than the Rivers of Light show.
The Rivers of Light night show had platforms floating across a body of water. They were in motion, but there weren't speedboat motors attached to any of them. Apparently this was slow enough for the camera on my phone to adapt to the light after tapping on the screen.
The Magic Kingdom night show featured fireworks over Cinderella's castle. These fireworks obviously moved a lot faster than the platforms and figures in Rivers of Light.  It took me a few tries to figure out how to take better pictures of this show at Disney World at night.
These two are two of my least favorite pictures of fireworks over the castle: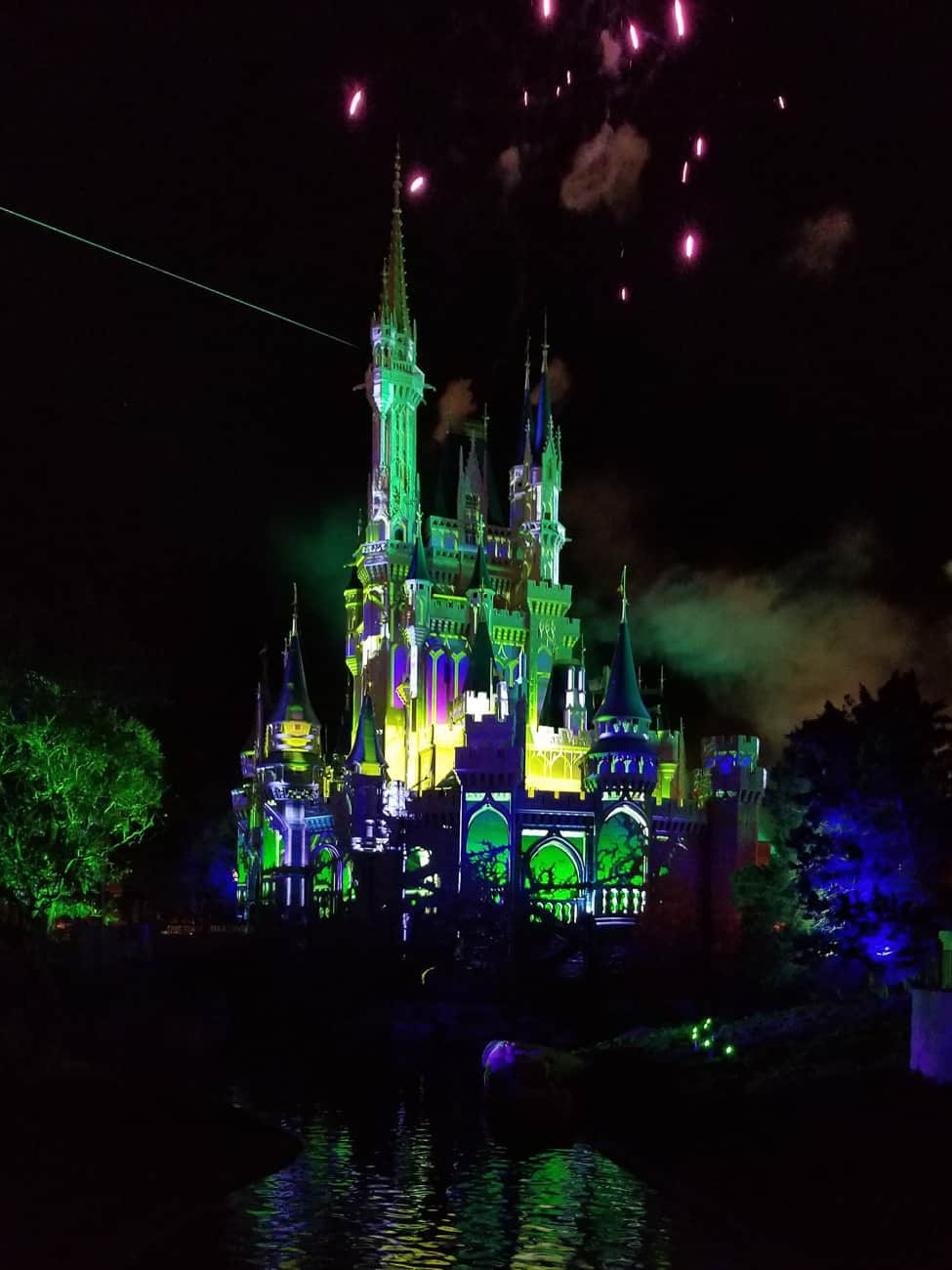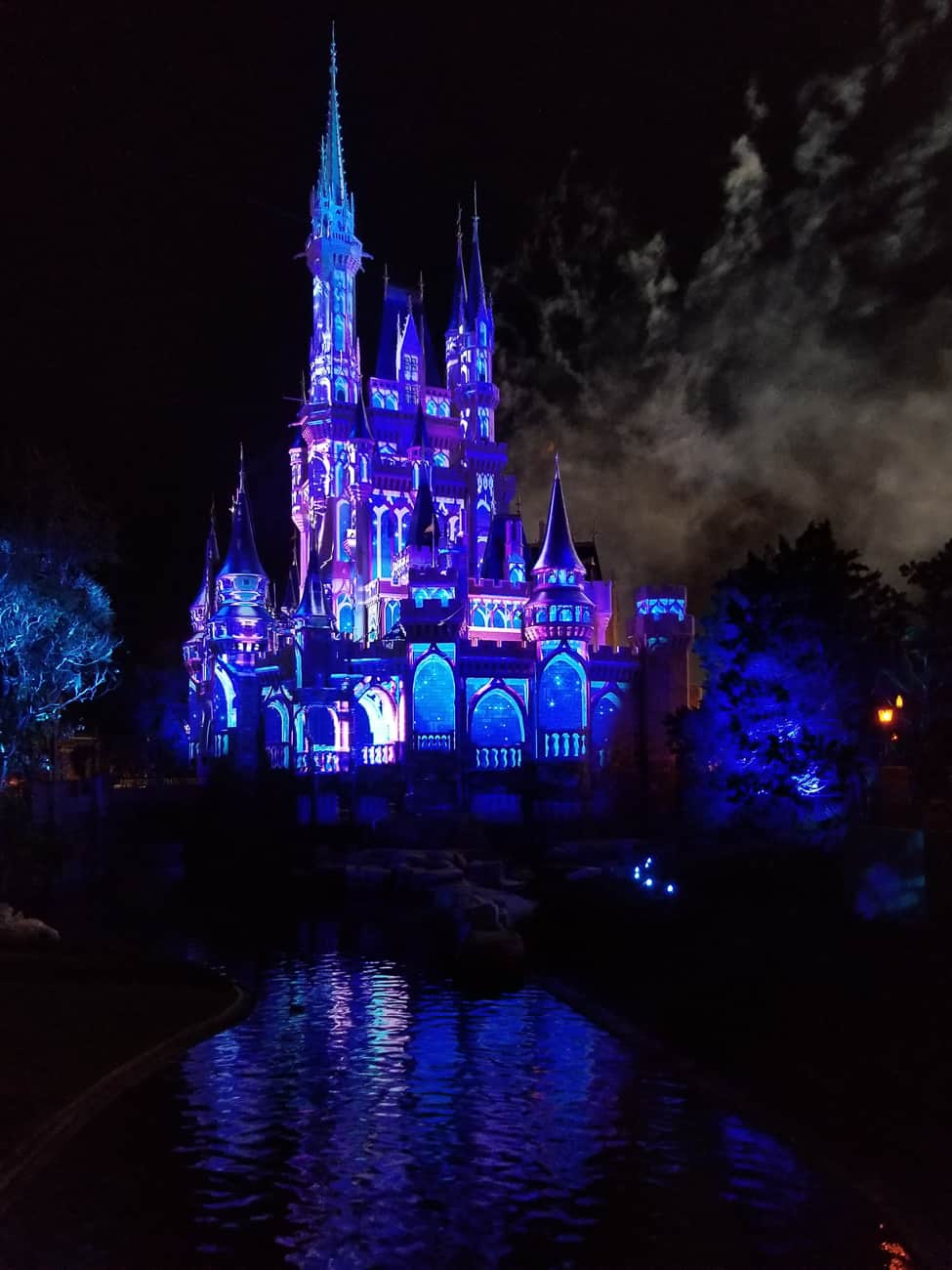 Can you see the problem with them? It's the smoke from the fireworks. It's lighting up the sky and the camera is adding even more light to it. (Honestly, I can't explain why. I can just see that it's happening).
Then I took these pictures, which I love: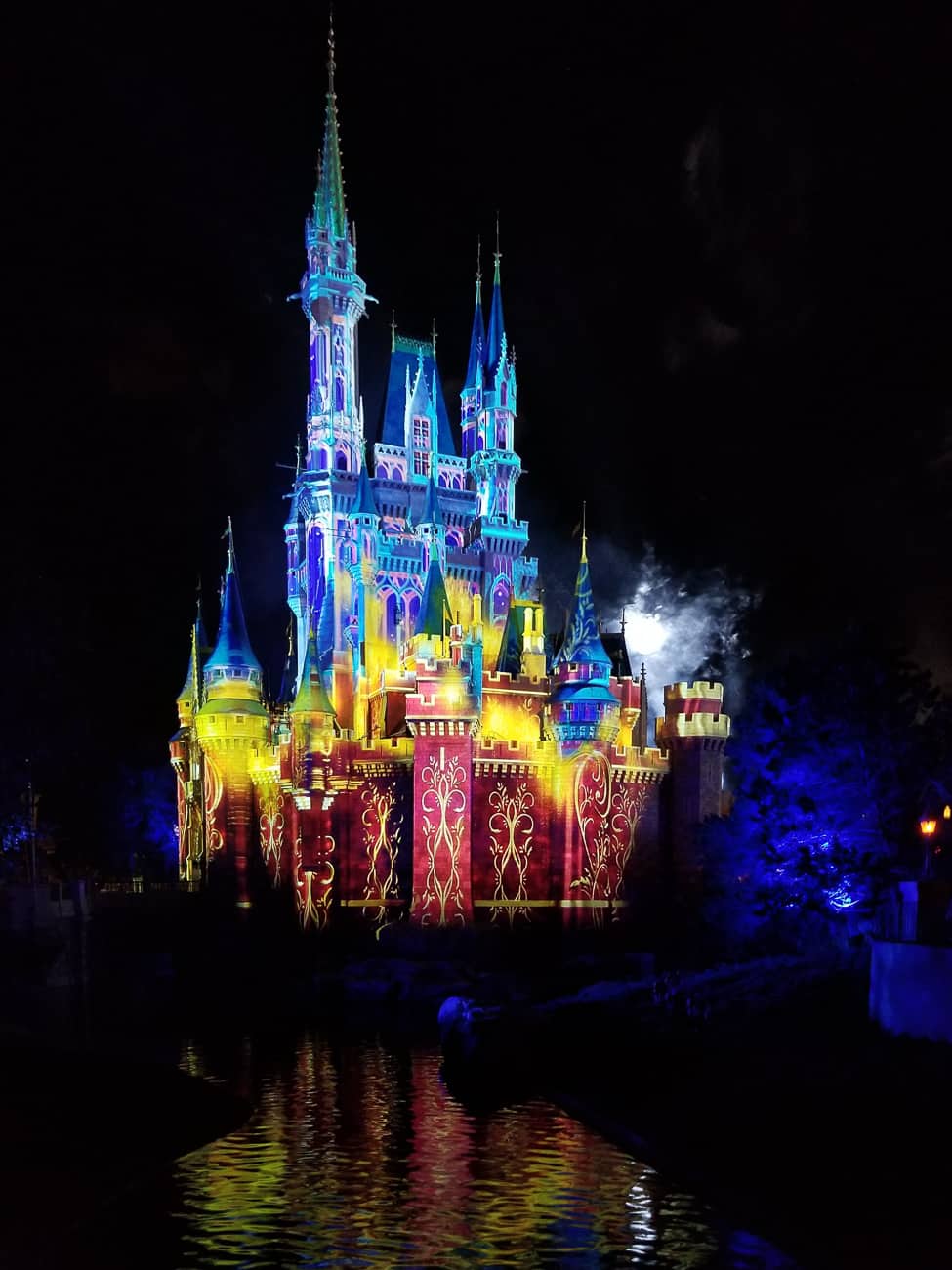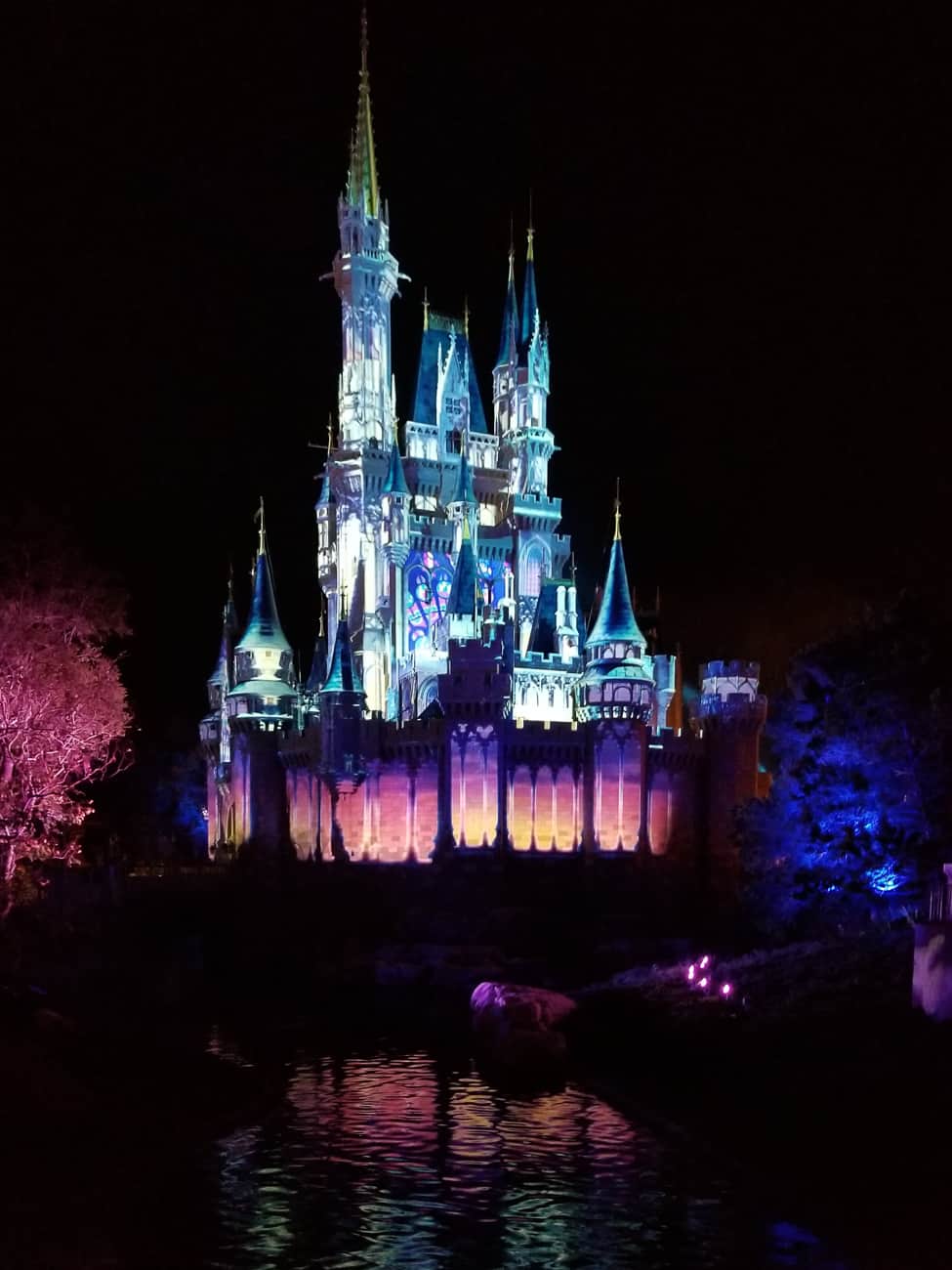 By the end of the night I had even managed to get one decent picture of fireworks (and smoke) behind the castle: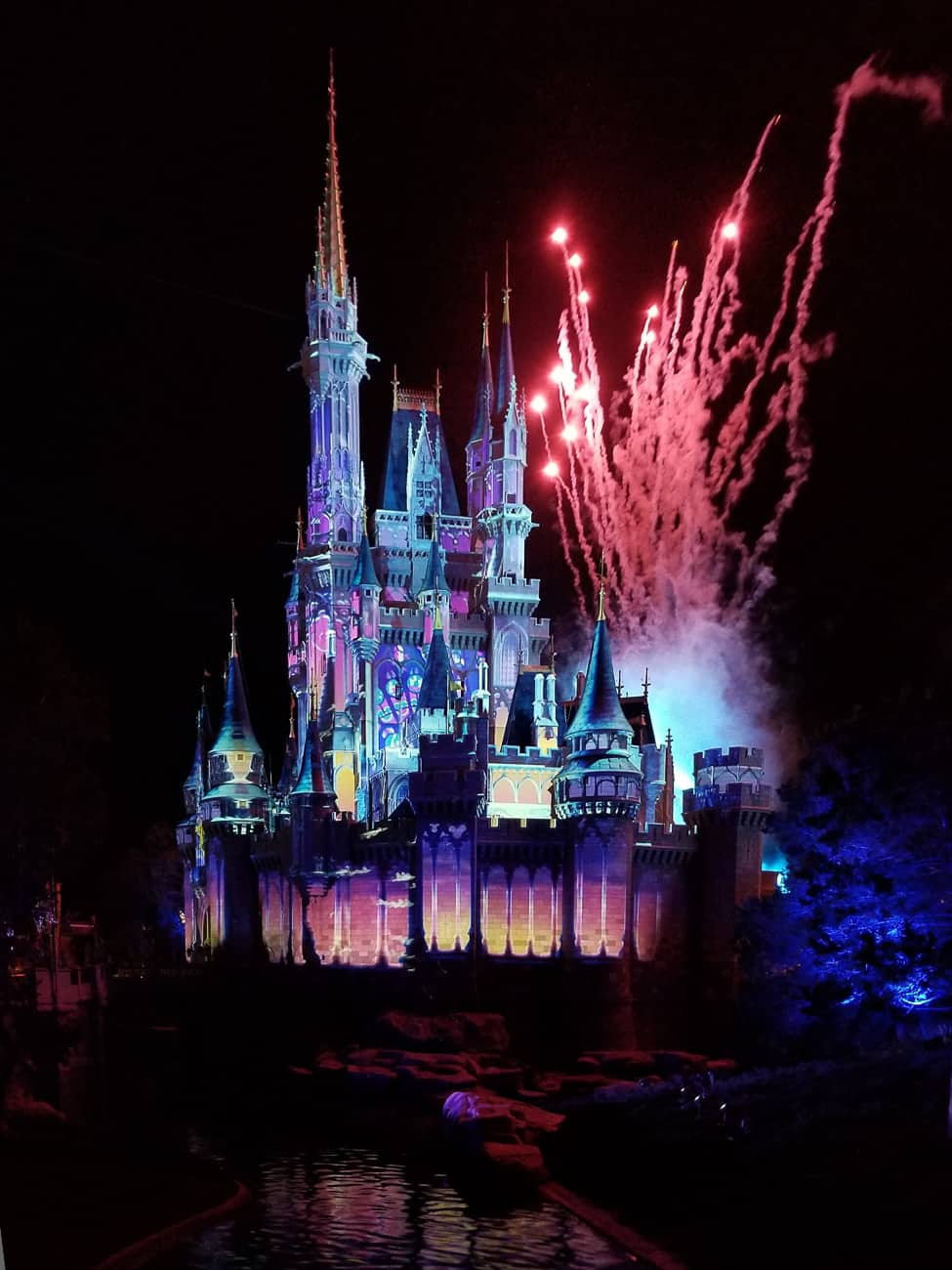 Now I feel like I'm getting the hang of taking better Disney World pictures at night!
I know that was a lot of pictures and explanation to scroll through. If you didn't catch what the real secret is to taking better Disney World pictures at night, don't worry, I have it summarized below.
How to take better Disney World pictures at night
The secret to how to take better Disney World pictures at night with your phone is simple: frame your subject and tap on the lightest part of the screen. this will limit the amount of light the camera lets in, which keeps your pictures from appearing grainy and out of focus.
That's it! Of course, it helps to have a phone with an amazing camera. The Samsung Galaxy Note 8 is well-known for being at the top of the smart phone camera game, so I do have that advantage.
But phone cameras have been amazing for several years, so I have a feeling this technique will work with your phone, too.
Do you have tips for taking better pictures with your phone? I'd love to hear about them in the comments!