Incredibles sippy cups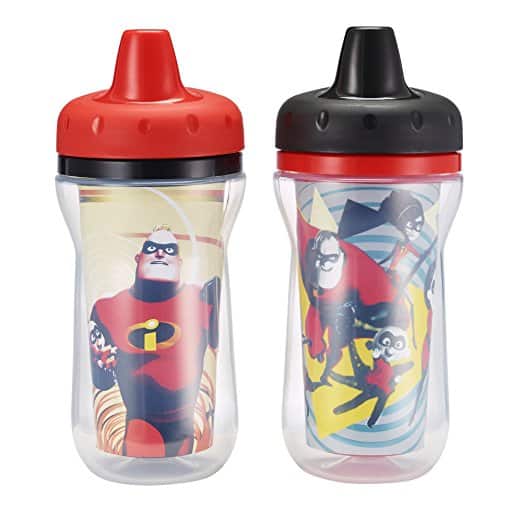 I was shopping a few days ago and I saw a bunch of cute Incredibles sippy cups and Incredibles baby bottles.
Of course, this is all related to the blockbuster release of Incredibles 2; have you seen it? (If you haven't read my Incredibles 2 parent review before you go!).
I can't resist talking about adorable baby products, and I'm sharing the best Incredibles sippy cups with you today!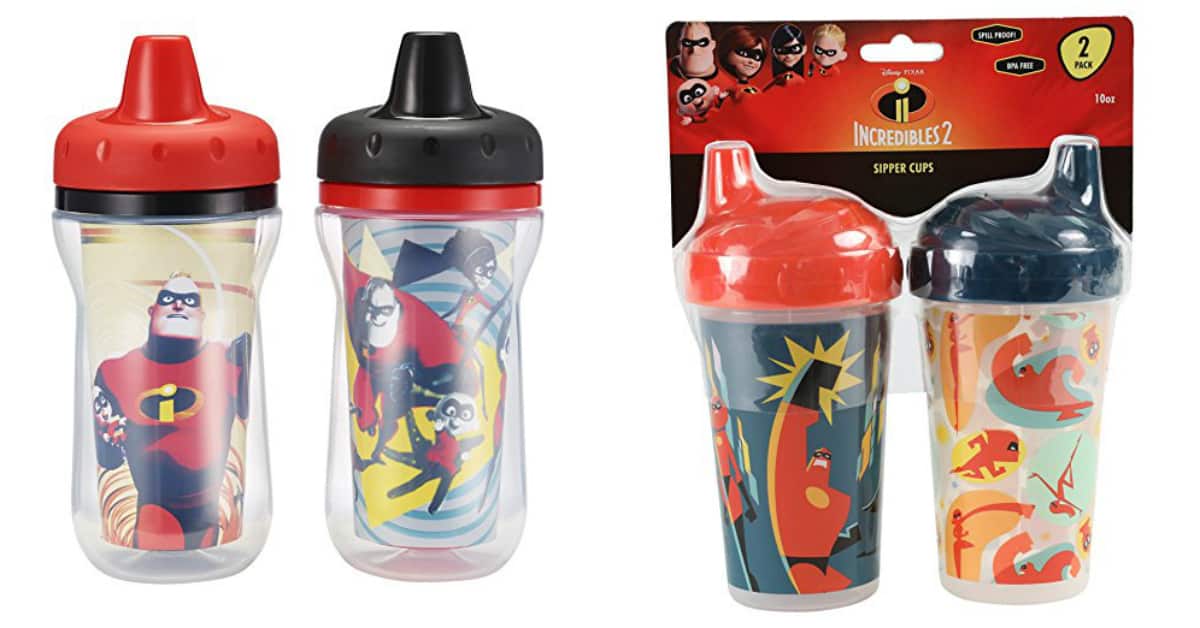 As it turns out, Incredibles sippy cups aren't as easy to find online as I thought they would be. I have a feeling that more products will be released as time goes by, and I promise to add all the Incredibles sippy cups and Incredibles plastic cups that I can find!
Incredibles Sippy Cups: traditional
If you're looking for the most traditional Incredibles sippy cups, this is the section for you. I found sippy cups with different spouts. But the most important thing about all of these is that they're leakproof and they have an Incredibles theme!
The First Years 2 Piece Disney Pixar Incredibles 2 Insulated Sippy Cups

Disney Pixar Incredibles 2 Hard Spout Sippy Cups, Multi, 2 Count

Stretchable Sippy Cup Lid- Fits Most Cups, Leak Resistant, Perfect for Toddlers | 4 Pack

Incredibles 2 Dash and Violet Embossed Plastic Tumbler, 16.5 Ounce

If you don't like the first two selections, check out the 4-pack of stretchable sippy cup lids and consider attaching one to the plastic tumbler. It's a good compromise!
Incredibles Sippy Cups: Straw cups
If you're little one is up for an Incredibles sippy cup with a straw I have a great selection for you!
Take note, not every one of these cups promises to be leakproof. Be sure to check out the product descriptions if that's a big concern.
Disney•Pixar Incredibles 2 Pop Up Straw Sippy Cup, Red, 2 Count

Thermos Funtainer 12 Ounce Bottle, Incredibles 2

Zak Designs INCC-S713 Disney Pixar The Incredibles 2 Dash and Violet Embossed Plastic Tumbler, 16.5 Ounce, Multicolored

Silver Buffalo IN0384 Disney Pixar Mr. Incredible Plastic Cold Cup with Flip Straw, 16-Ounces

Incredibles Cups: Disposable or Reusable
I don't love disposable sippy cups but I do admit that there's definitely a time and a place where parents might need them. These disposable Incredibles cups are cute and the price is right!
Unfortunately, there are are only the straw cups at the moment. But I'll keep searching for more and better products!
Disney Incredibles 2 Reusable Cups, Black/Red, 3 Count

Amscan Disney Incredibles 2 Plastic 16 oz. Party Cup Standard

8 Disney Pixar Incredibles 2 Superhero Birthday Party 9oz Disposable Paper Cups

Incredibles baby bottles
I have to be honest – I've seen Incredibles baby bottles in stores but I haven't found them online yet. I'll update this post when I find some.
That's all the Incredibles sippy cups I could find today. Keep checking back, because I'll be adding more as I find the best products!
Which Incredibles sippy cup is your favorite?