You can set and forget more than your meals when you make one of these delicious Instant Pot desserts! Pressure cooker cheesecake, rice pudding, lava cakes and more can all be made in your favorite kitchen appliance!
Your pressure cooker is about to get even more magical for you when you see all of the beautiful desserts you can make in it!
Today I'm sharing almost 100 of my favorite Instant Pot dessert recipes from across the web. You'll want to make these treats again and again!
Why am I sharing so many recipes? Because sometimes we just want a treat. I know I don't have a bottomless pantry with every possible ingredient. Providing a variety of recipes increases the chances that you'll have everything on hand to make an Instant Pot dessert today!
Which Instant Pot is best for desserts?
The most popular, best selling Instant Pot is the 6-quart Instant Pot Duo. It's the one I have in my own kitchen, and it works perfectly for desserts!
Click the See More Details button below to check it out on Amazon.
Instant Pot IP-DUO60 6 Quart Pressure CookerSee more details
My favorite Desserts from the list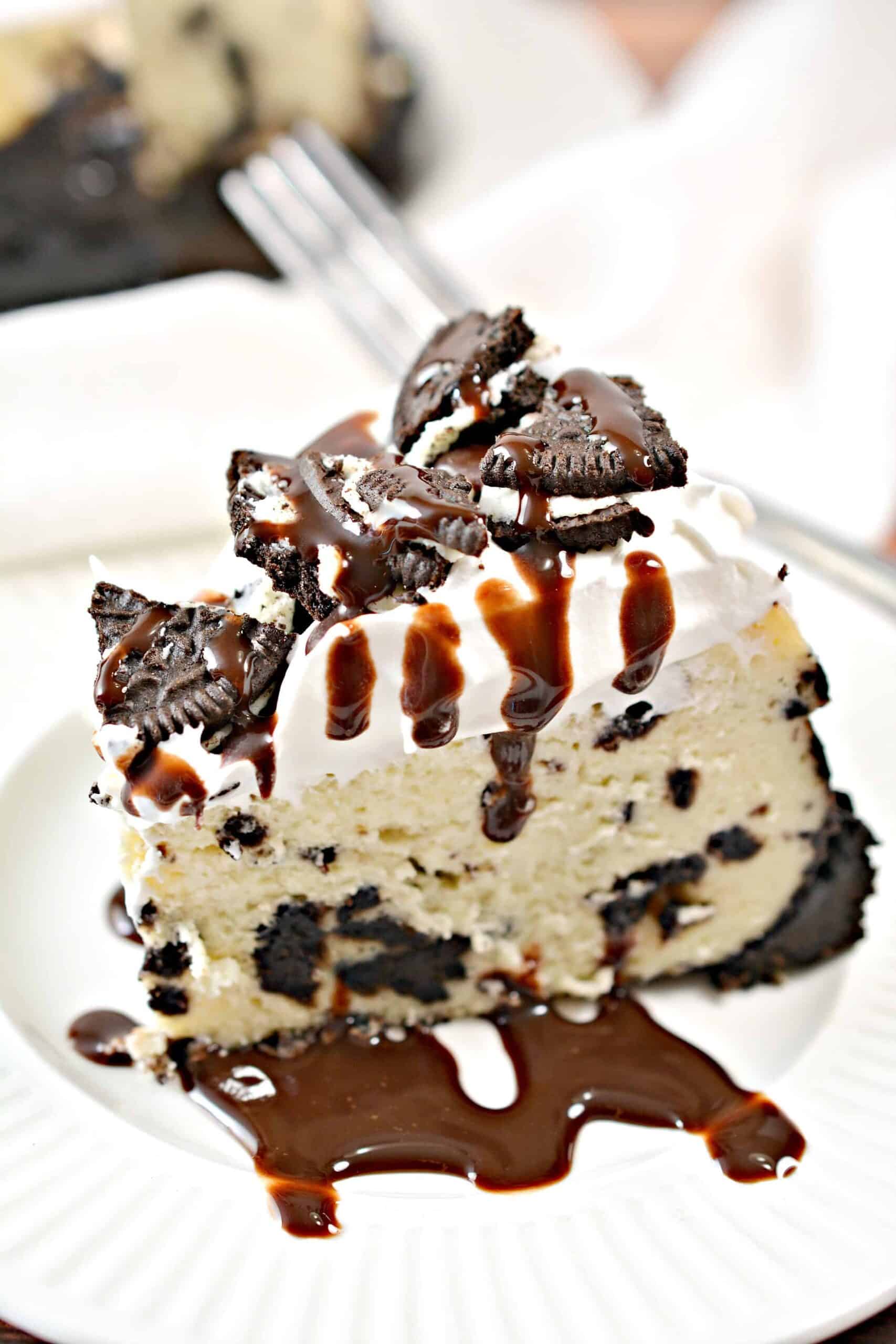 This Easy Oreo Cheesecake looks so decadent, but it's so easy to make. I'm definitely giving it a try ASAP.
It looks like it's topped with chocolate syrup, so you can make my homemade Hershey's syrup in just 5 minutes to serve with it!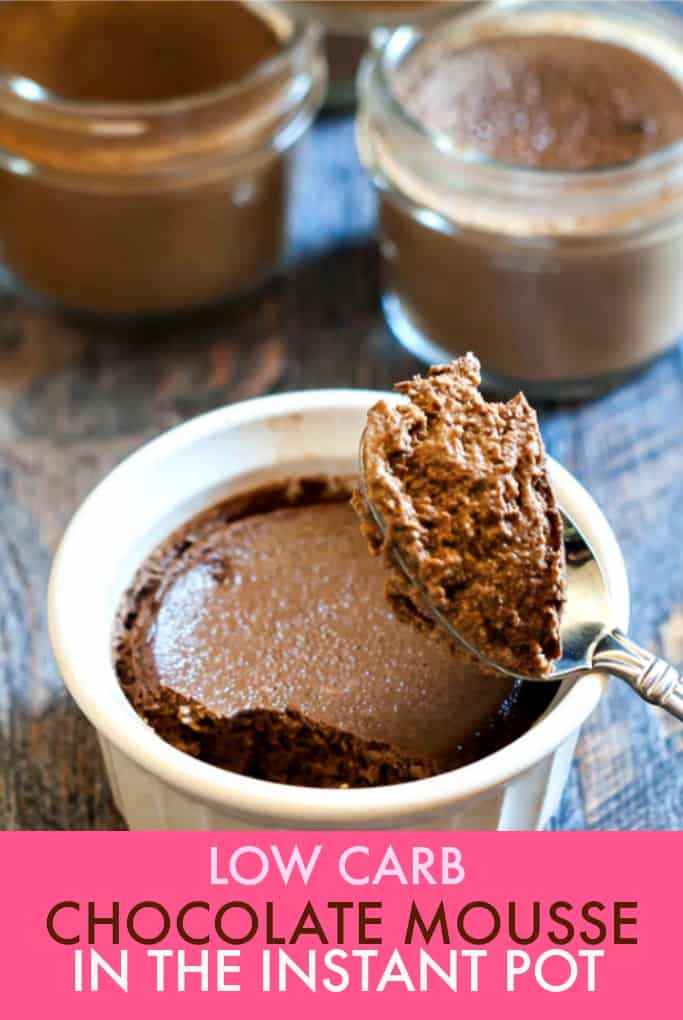 Have you ever started out making one thing, but ended up with something completely different? Something better even? That's what happened here.
During an attempt to make her favorite pots de creme healthier, the blogger a completely different treat. The result is this Low Carb Chocolate Mousse that you don't have to feel guilty eating! It's a great keto Instant Pot dessert.
If you're into keto, be sure to check out my roundup of Keto egg fast recipes and my keto cream cheese scrambled eggs recipe!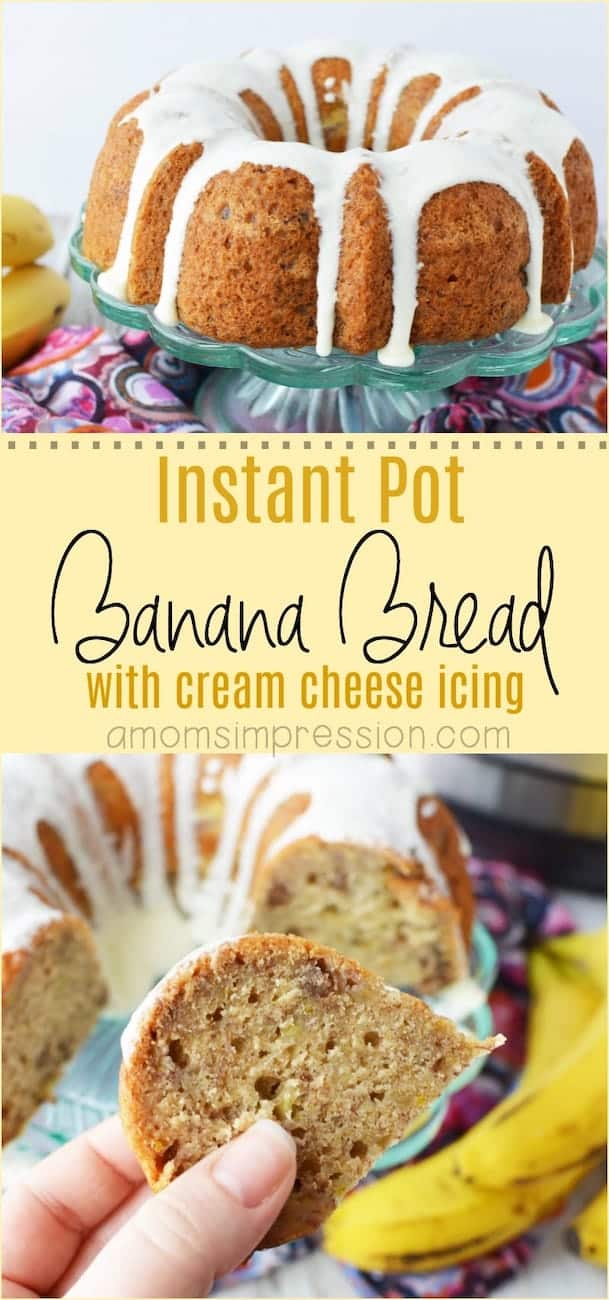 This fan-favorite banana bread recipe was brought to a new level by preparing it in an Instant Pot-sized bundt pan and then topping it with cream cheese icing. Isn't that a great idea?
Instant Pot Banana Bread with Cream Cheese Icing is genius, and banana bread is never going to be the same again!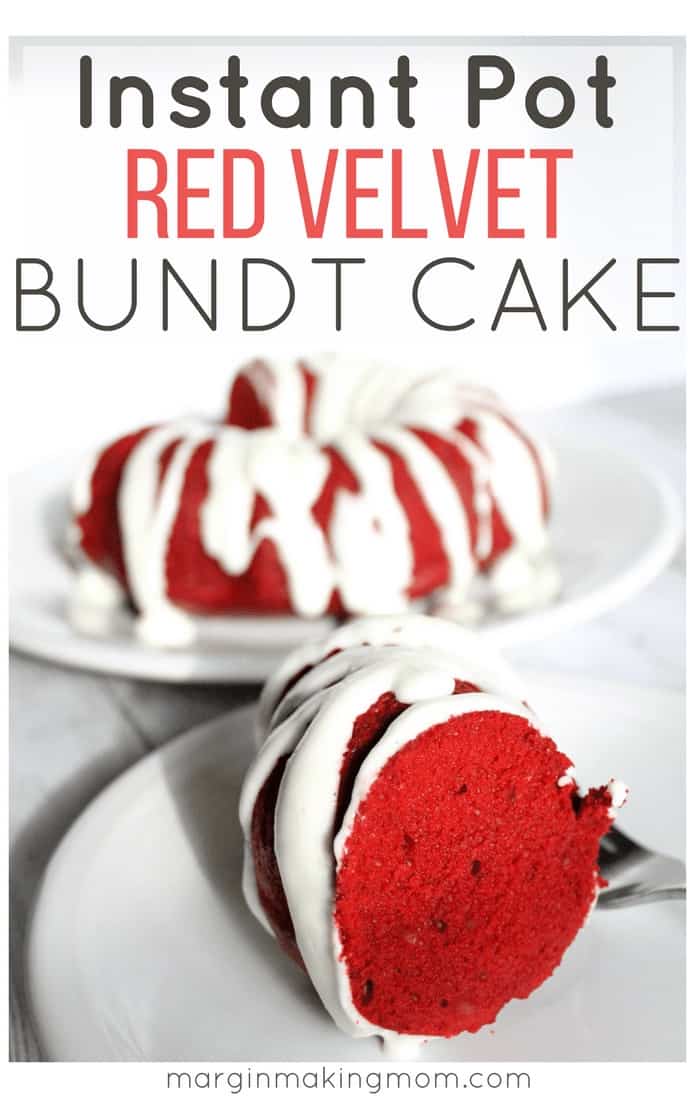 This red velvet bundt cake would be a perfect Valentine's Day dessert!
The best accessories for Instant Pot desserts
If you're ready to start making desserts in your Instant Pot, most of them are going to require a few supplies. Thankfully, they're all super affordable and you'll use them over and over again!
My favorite accessory is by far the silicone egg bites mold. I've used it for egg bites, of course, but also for so many other delicious foods!
These are the accessories featured in many of the Instant Pot desserts below.
Reusable Silicone Cupcake Liners – Nonstick, Dishwasher SafeSee more details
Instant Pot Springform Pan, 7.5-InchSee more details
Nordic Ware 6 Cup Bundt Pan sized for a pressure cookerSee more details
Wide Mouth Half Pint Ball JarsSee more details
2 Pack Silicone Egg Bites Mold for the Pressure CookerSee more details
Pyrex Bakeware Custard Cups, 10-Ounce, Set of 4See more details
Are you ready for Instant Pot dessert inspiration? Click on the links below to grab the recipes!
20 Amazing Pressure Cooker Desserts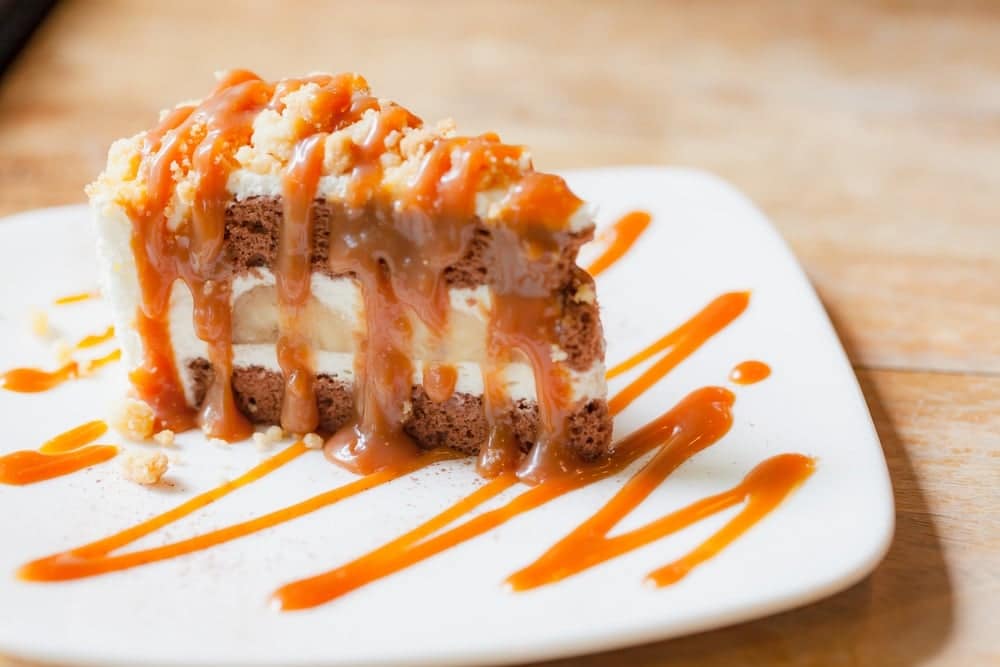 I really want to make this Banoffee Pie today!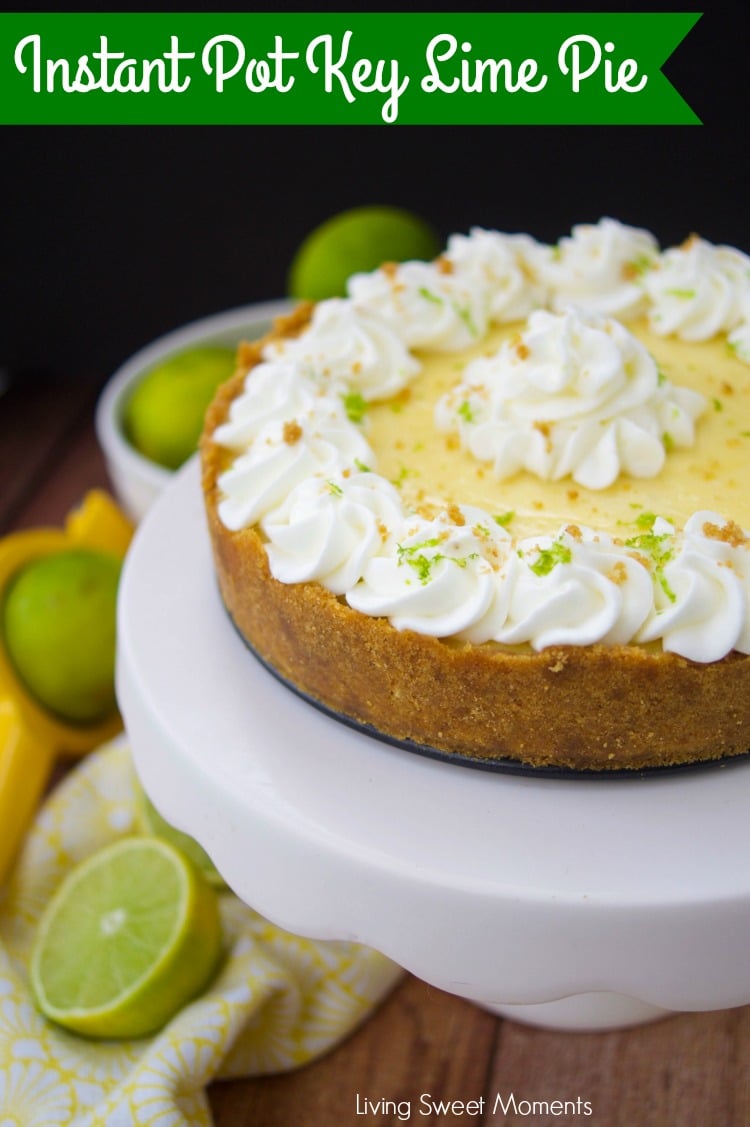 My daughter loves key lime pie, so I'm going to make The Best Ever Key Lime Pie for her!

Yum, pumpkin recipes are so good! (Don't miss my vanilla pumpkin smoothie recipe and my cake mix pumpkin bread) Then make this Pumpkin Cheesecake in the pressure cooker.
These pressure cooker pot de creme treats look incredible!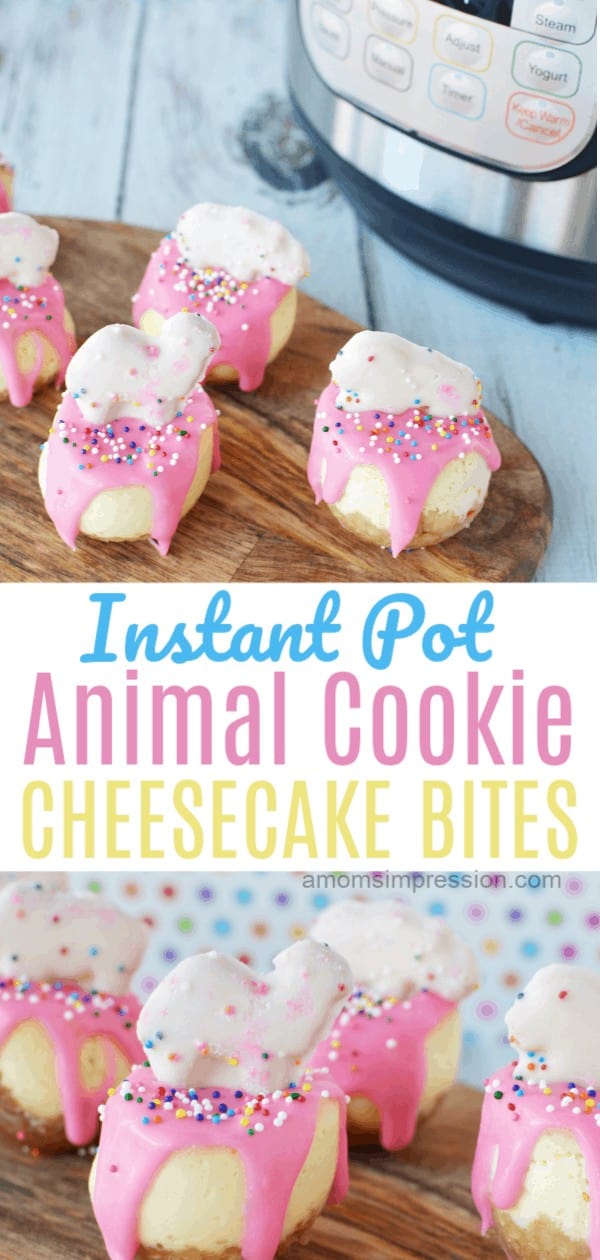 How cute are these pressure cooker animal cookie cheesecake bites?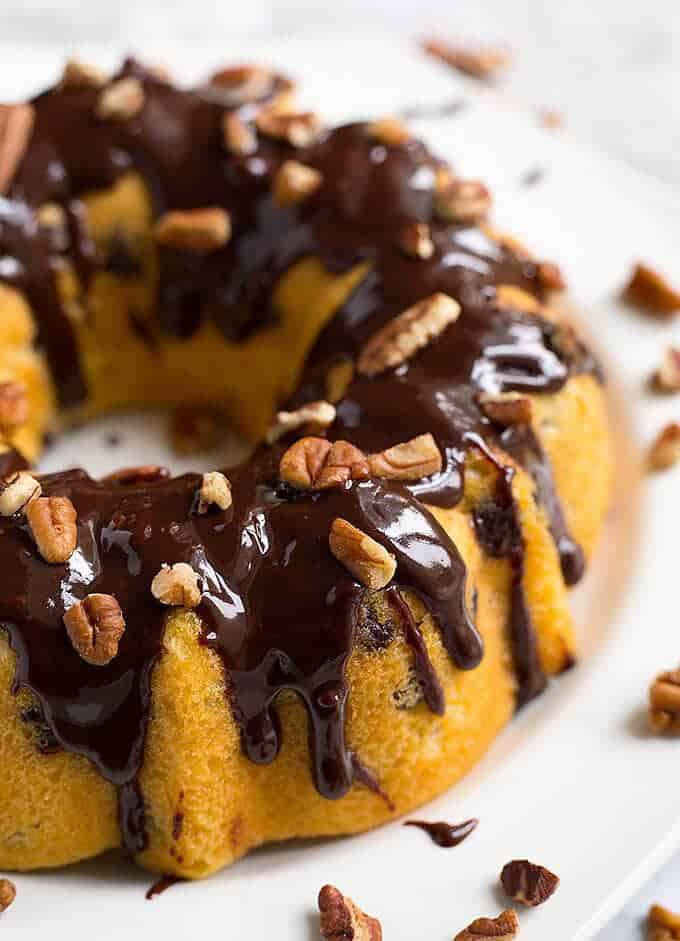 Making a pecan chocolate chip cake in the Instant Pot sounds like something I should do ASAP!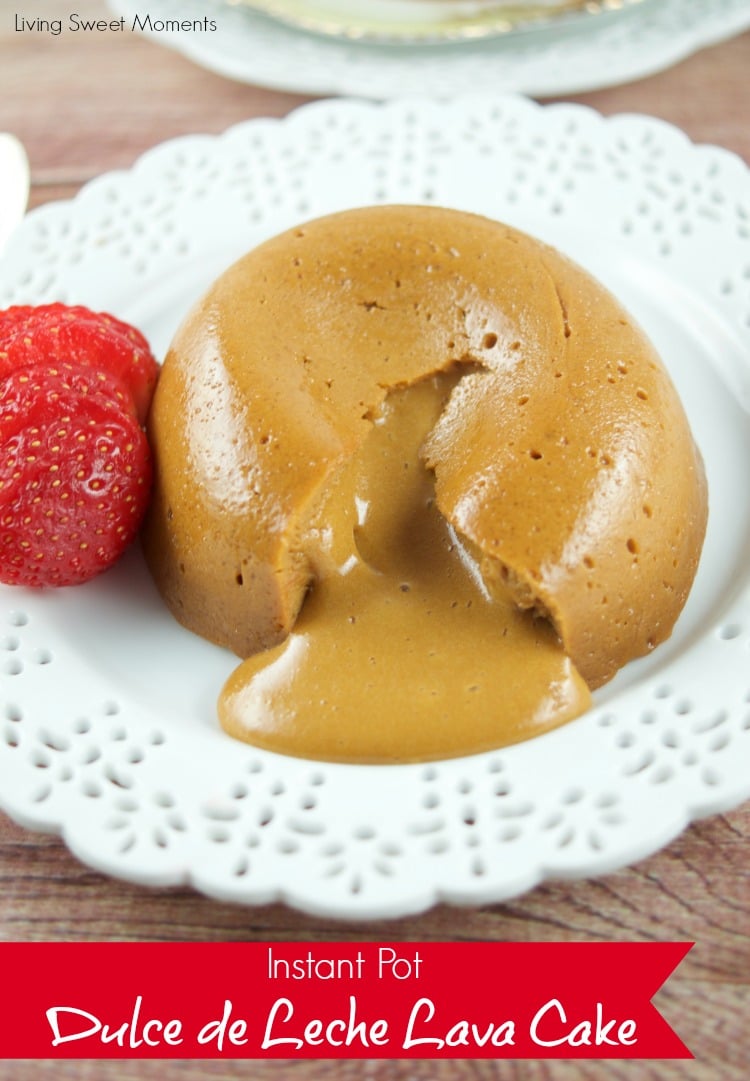 Dulce de leche AND lava cake? I want to try this 3 ingredient Dulce de Leche Lava Cake!

I don't know if I've ever had rice pudding, but this recipe sounds perfect: Rice Pudding Recipe.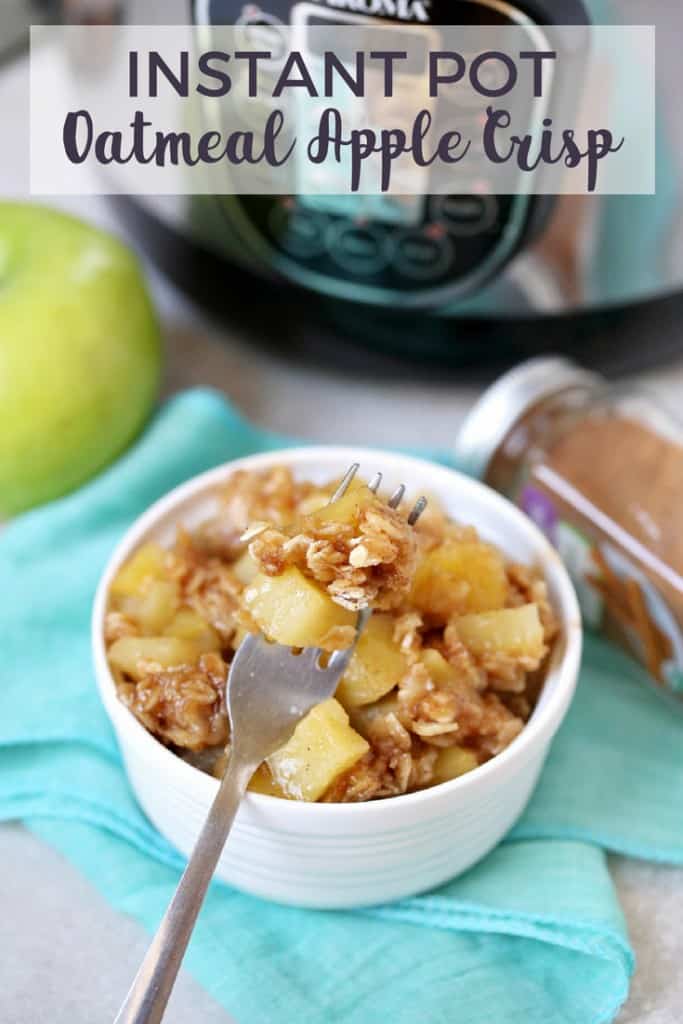 My homemade apple pie filling would be delicious in this Oatmeal Apple Crisp.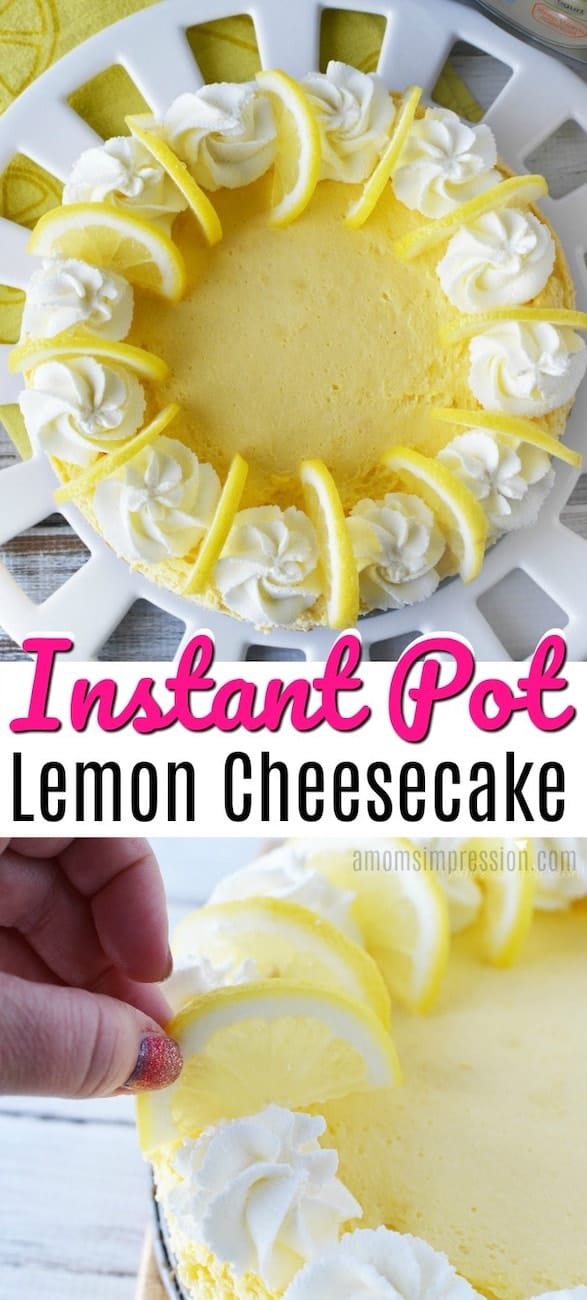 This Lemon Cheesecake looks so pretty. It also looks so easy to make!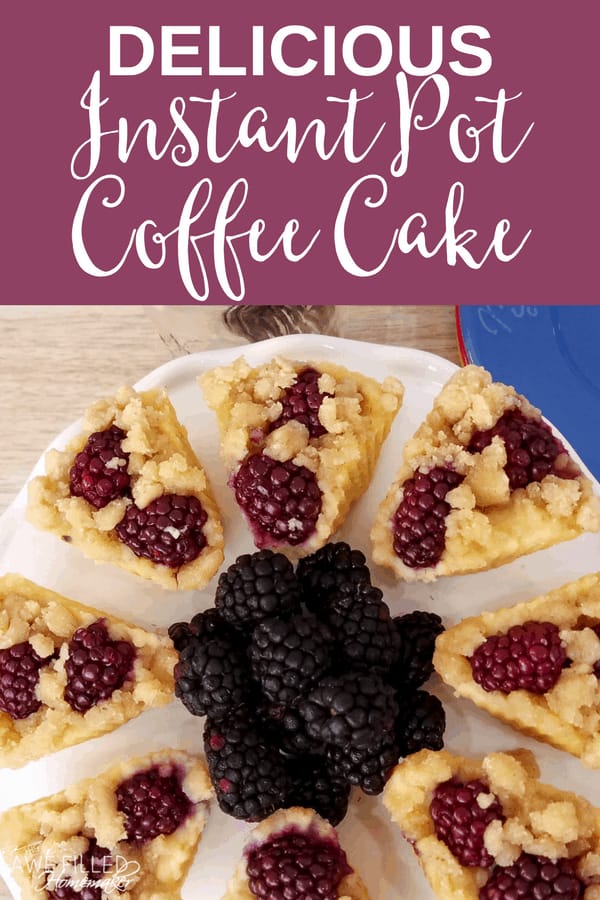 Making this Berry Coffee Cake before friends come over would be a fun way to share a treat!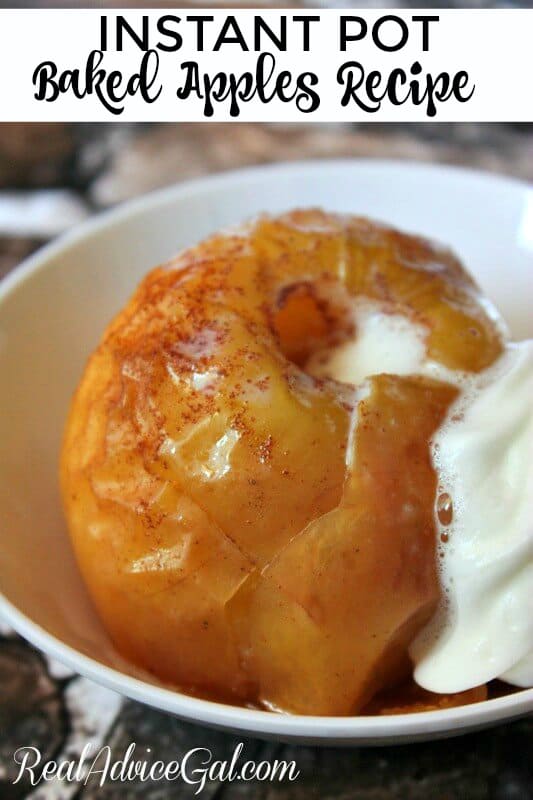 Check out this Baked Apples Recipe.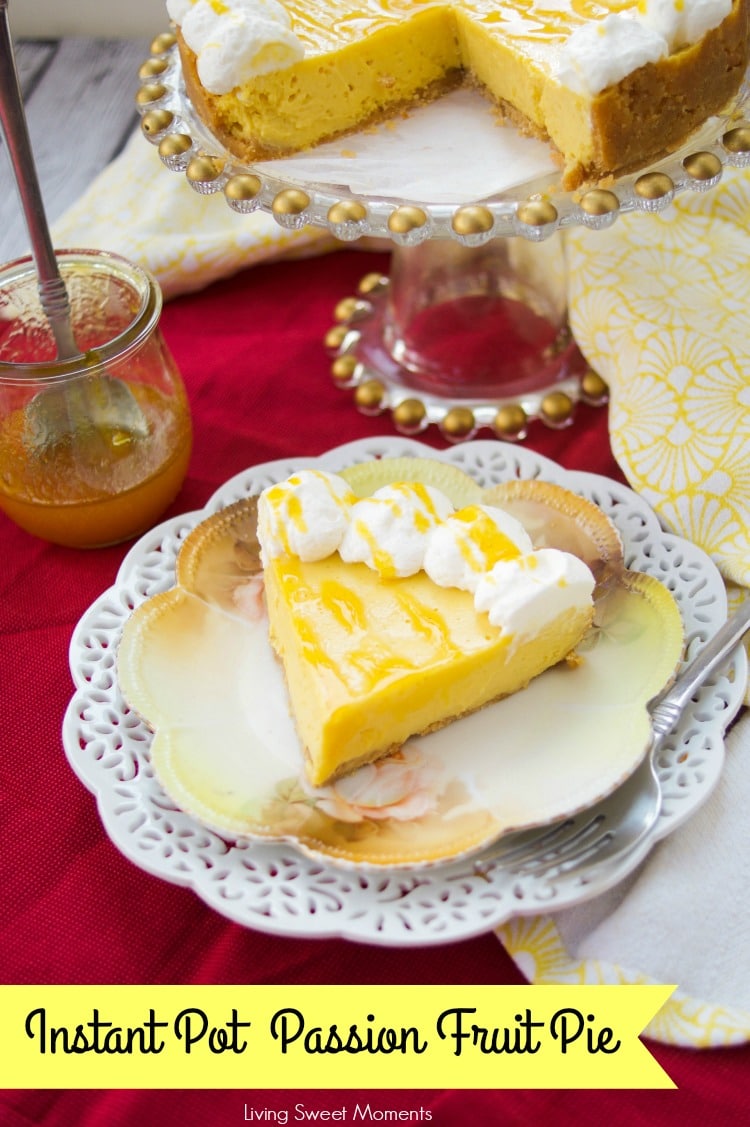 This Passion Fruit Pie sounds amazing!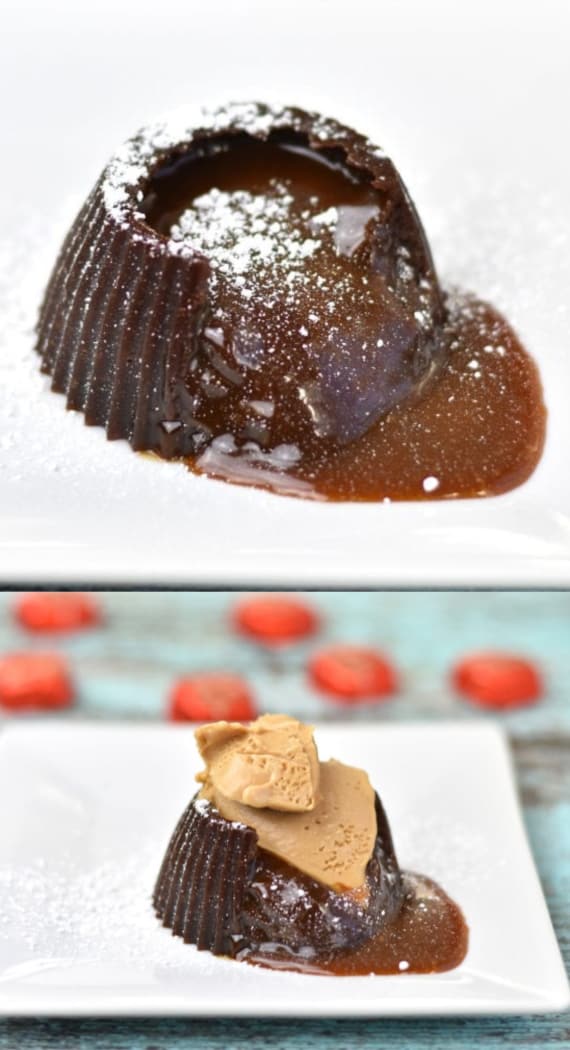 How amazing do these pressure cooker salted caramel lava cakes look?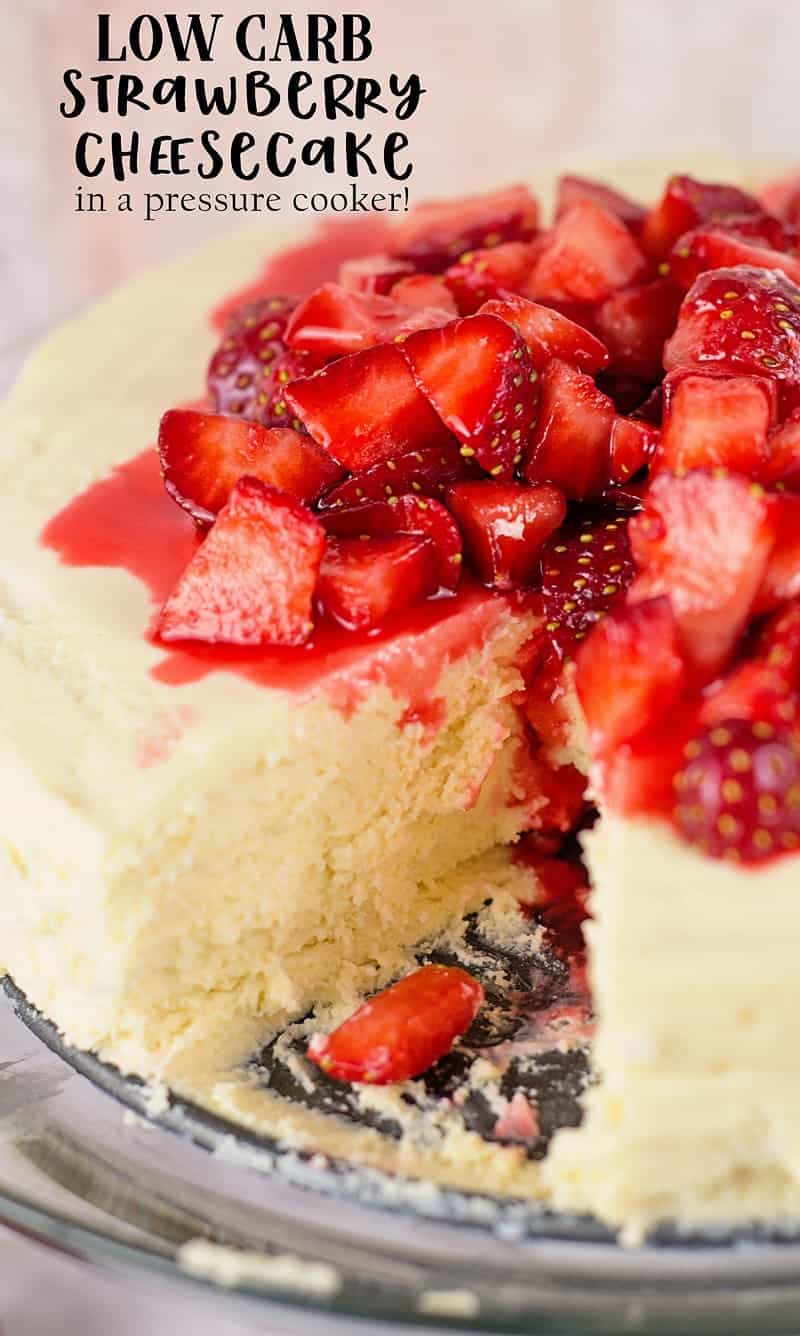 I love a good keto Instant Pot dessert, like this Low Carb and Sugar free Crustless Cheesecake (in the pressure cooker!).
More Instant Pot Dessert Recipes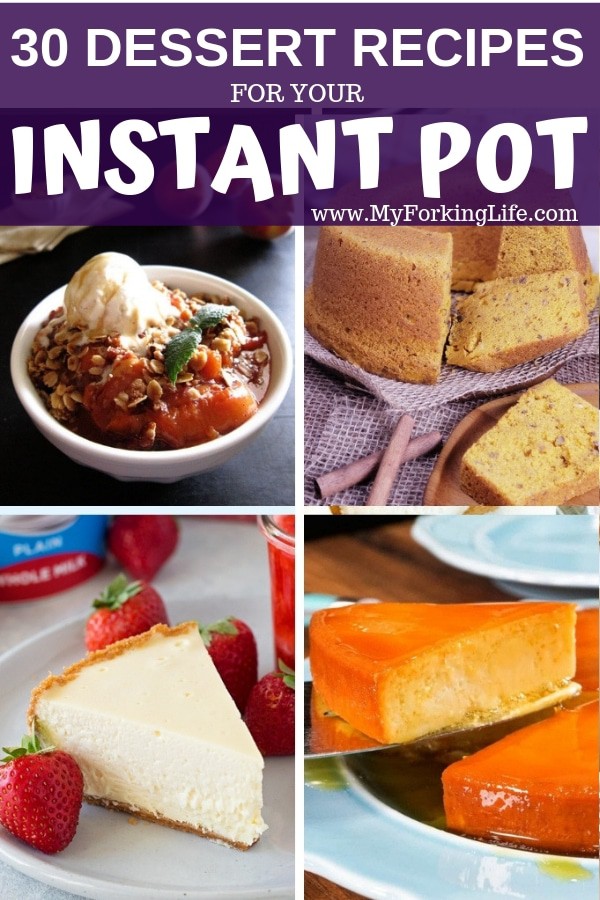 Get 30 more Instant Pot dessert recipes from My Forking Life here!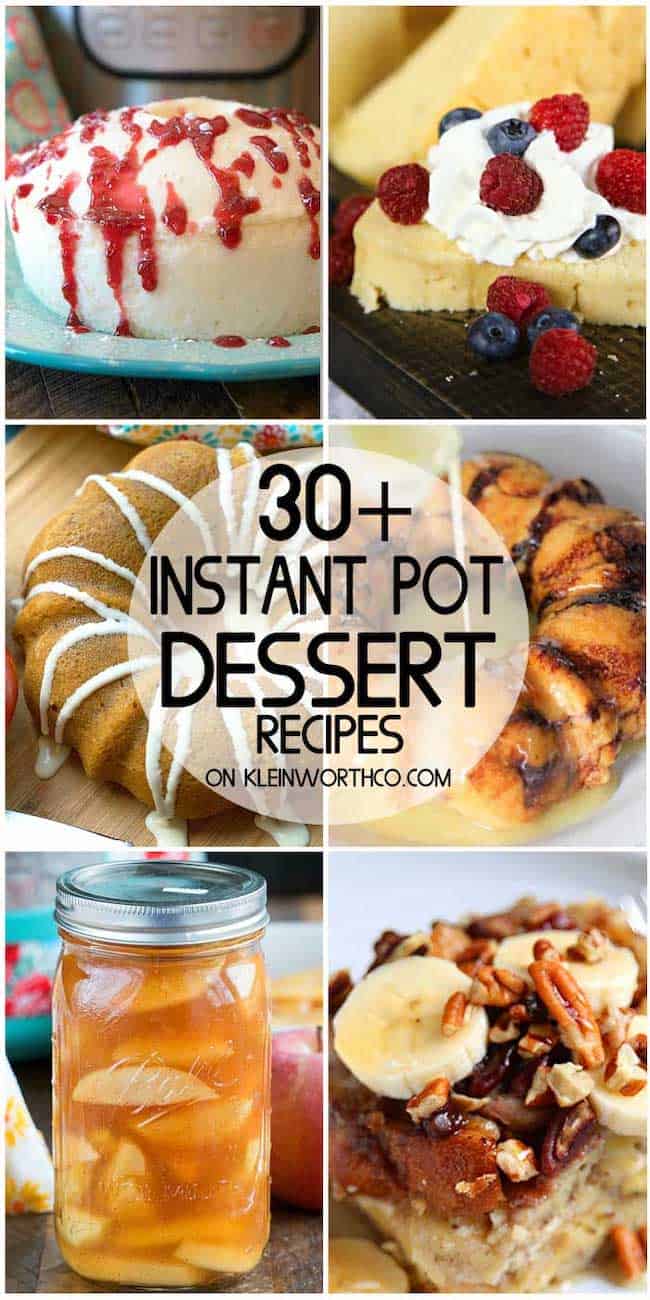 Still looking for that perfect dessert? Find another 30 recipes from Kleinworth & Co here!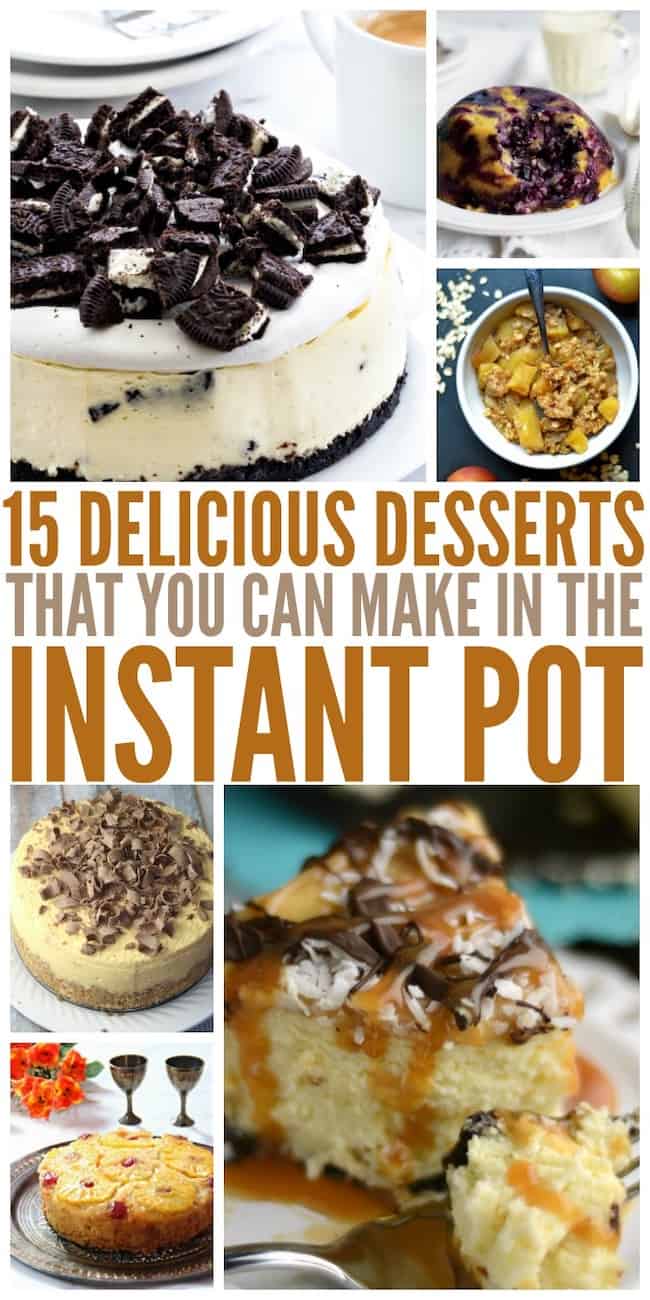 Some of these recipes are too good to pass up! Here are 15 more Instant Pot desserts.