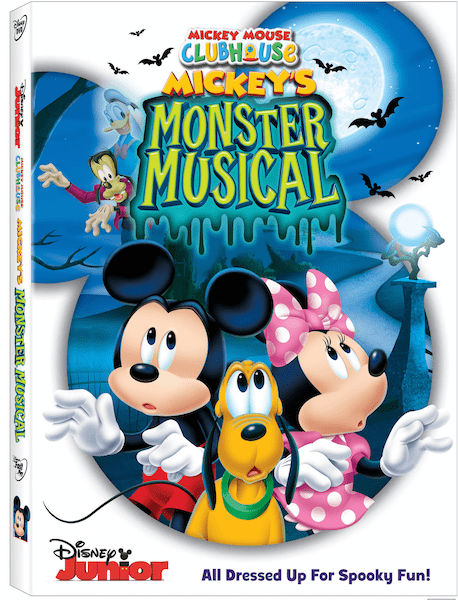 It's no secret that I'm a mom who loves Disney Junior. While we don't actually have a cable subscription, I jump at the chance to have my kiddos choose Disney Junior when the opportunity arises.
Being a longtime Disney fan, I'm always thrilled to see Mickey and the gang at their very cutest. the new Mickey Mouse Clubhouse DVD, Mickey Mouse Clubhouse: Mickey's Monster Musical, definitely exceeds my expectations!
Put on your favorite Halloween costume and get set for a spooktacular full-length adventure.

Visit the creaky castle of kindly "Count Mickula" and help your Clubhouse pals solve a puzzling riddle: Who, or what, is making a curious clanging, banging noise? With the right Monster Mouseketools and help from YOU, this mystery will soon be history!

Then, enjoy two more exciting episodes as you search for pirate treasure with Captain Mickey and don your dungarees for delightful fun down on the farm.

Packed with singing, dancing, laughter and surprises, Mickey's Monster Musical is a high-spirited treat that can't be beat.
Ok, let's just stop and reflect on one phrase from that synopsis: COUNT MICKULA.
How. Cute. Is. That? I can tell you: it's adorable! The episode with Count Mickula has some great original songs that are performed while Mickey and friends solve a cute little mystery.
Count Mickula appears in Mickey's Monster Musical Part 1 & 2, and then there are three more episodes to entertain your little ones. The other three are Mickey's Pirate Adventure Parts 1 & 2, Mickey's Farm Fun Fair, Minnie's Bow-Toons.
As an added bit of fun, every Mickey Mouse Clubhouse: Mickey's Monster Musical DVD includes a FREE mini trick-or-treat tote. Both of my kids already stated that they're going to use the cute bag on Halloween, so I'll have to figure out how they're going to share the bag next month!
Mickey Mouse Clubhouse: Mickey's Monster Musical is available on DVD now! The DVD has an MSRP of $19.99 but it can currently be purchased for just $12.99. It's also eligible for free shipping. That's 40% off the list price!