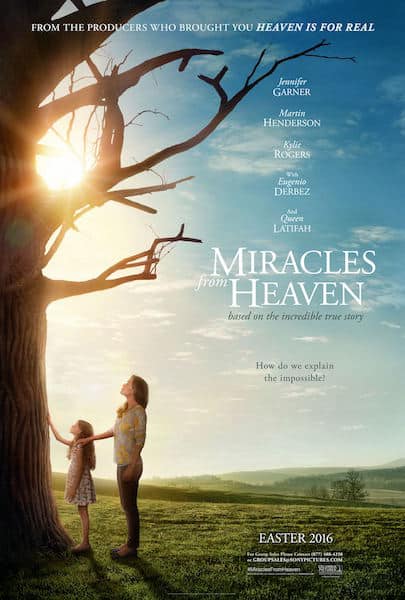 2016 has started with another huge invitation extended to BabySavers.com by Sony Pictures.  We were invited to participate in the Miracles from Heaven press junket in Los Angeles the weekend of March 3rd and 4th!
Unfortunately for Marybeth, she was unable to attend this press junket, but I feel so fortunate that Marybeth was able to send me (Ashley) on her behalf to represent this site at the Miracles from Heaven press junket!
Later this week I'll be sharing lots of details about screening the movie and my overall experience on the trip (my first press trip!), but for now I'm going to give you the scoop on Miracles from Heaven as told to us from the cast themselves!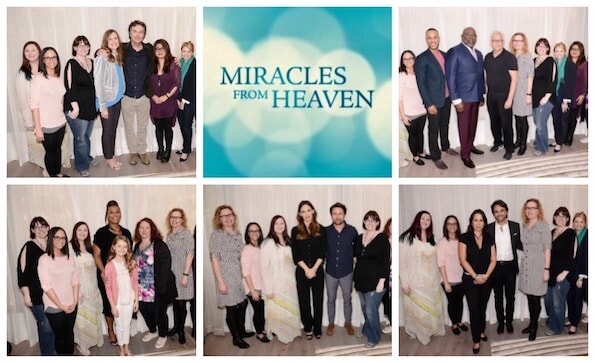 Friday afternoon was full of interviews with talent from the movie.  Five rounds of roundtable interviews to be exact, but the time absolutely flew as we listened to the talented cast (Kylie Rogers, Queen Latifah, Eugenio Derbez, Martin Henderson, and Jennifer Garner), the author of the book that inspired the movie (Christy Beam), the Screenplay Writer (Randy Brown), the producers (Bishop TD Jakes, DeVon Frank, and Joe Roth), and the Director (Patricia Riggen).
Here are some highlights from the Miracles from Heaven Press Junket along with some photos: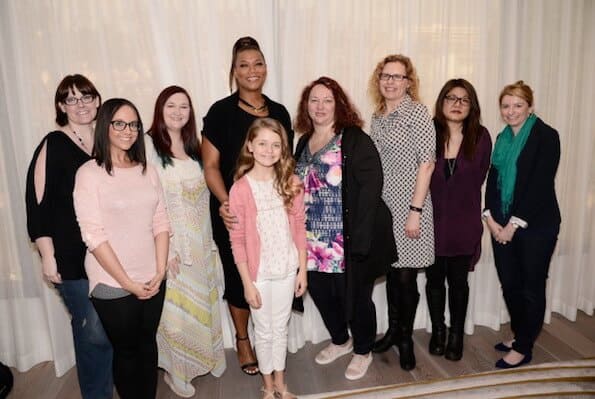 Kylie Rogers and Queen Latifah kicked off our first sessionwith lots of laughs and overall good vibes which is something I think they both just genuinely bring to any room they walk into.
Queen Latifah was beautiful and poised, yet seemed incredibly down to earth.  Kylie Rogers is an adorable twelve year old actress who is already a star and will continue to land large roles.  She was able to beautifully play such an intensely emotional role but it was great to see a lighter side of her in the interviews.
Although she started out quiet, Queen Latifah was able to take the lead on the first few questions and demonstrated a best friend vibe just like her character did to Kylie's character in the film.
When we were told that they would take one more question I knew that I needed to speak up because I had a question I was dying to know the answer to.  Little did I know this question would absolutely crack Kylie up!
Me:  What was it like for you to get used to wearing the prosthetic belly?

Kylie Rogers:  Oooh… (laughs).  It took me a little bit to get used to it… we had the wardrobe one which was for the scenes that you didn't really see it and it was just cloth but then we had the prosthetic one which was the real one.  It was really thick and this rubbery texture and it was SO HOT in Atlanta and when I was climbing the tree I had to wear it and it was kind of hard to get used to.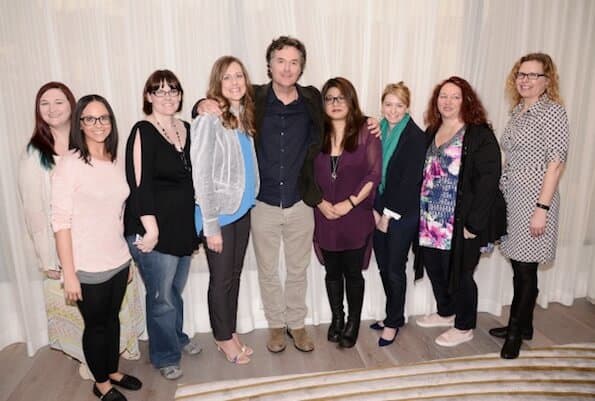 Next up we got to speak with Christy Beam who authored the book Miracles from Heaven.  Jennifer Garner portrays her in the movie which Randy Brown wrote the screenplay for.
It was sort of surreal to be sitting in front of the woman who literally experienced this stuff in real life.  She is a real mom who had a seriously sick little girl and had to really go to bat for her child.  The movie has so many strong messages so I asked Christy what she hopes people take away from the film.
Christy Beam:  I love the message about the miracles are around you and they're happening daily.  I feel like that is something that I want.  

I want people to leave with new lenses in their eyes, they see things differently.  They have a better hope and inspiration and they're encouraged by it, but I want it to be that… when I was going through such darkness and trial and struggle I just kept my head down and put one foot in front of the other to just get through it.  

I look back and I see all those miracles that were happening and I missed them.  And I feel like had I not missed them, those would have been such messages of hope to inspire me and propel me without me just having to do it by the grit of me teeth.  

I want people to walk away recognizing the things that are going on around them that can propel them, that can give them the hope and encouragement that they need.
It was really interesting to hear how the book and the film overlapped yet also had some differences for the sake of cinematic imagery.
For example, in the film, Abby Beam is a huge fan of playing soccer and had dreams of making the all-star team.  We asked Christy if Abby made the team and learned an interested tidbit.  Abby is actually very passionate about theater, not soccer, but it was hard to convey that through the movie since there aren't usually medals or trophies or practices that can easily be shown.  That is why they switched her passion of theater to a passion for soccer in the film.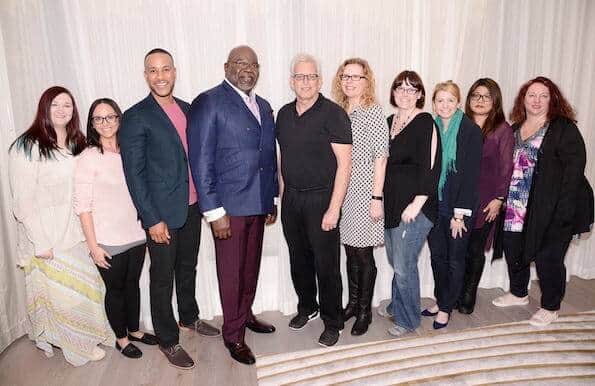 The Producers, DeVon Franklin, TD Jakes, and Joe Roth, were all able to give some great insight about the creation of Miracles from Heaven.
In addition to the strong message of faith that Miracles from Heaven brings to the screen, TD Jakes pointed out that we can learn a lot about being a family and strong parenting from this movie.  He also said that this movie made him broaden his definition of a miracle:
TD Jakes:  The amazing thing is that as a minster we spend most of our lives teaching people about miracles – the big ones – and this movie reflects a big miracle but I think the takeaway for me personally was to slow down and appreciate the little ones.  

The small things that happen everyday that you look over.  You can get so busy doing what you do that you don't notice the extended grace that people give you everyday that none of us would be where we are or accomplishing what we have if somebody hadn't gone out of their way to be nice to us and to include them in the category of miracles as well.  

The movie made me broaden my definition of the miraculous.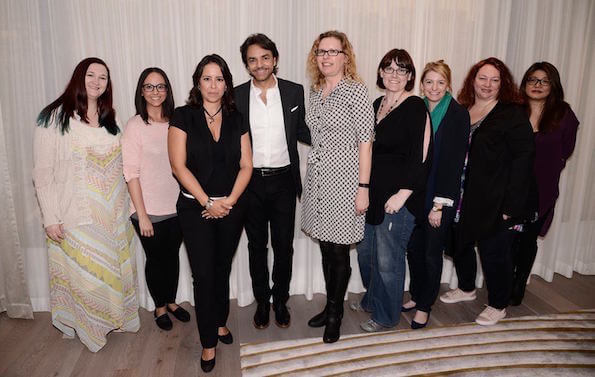 Patricia Riggen and Eugenio Derbez have reunited once again in Miracles from Heaven.  Eugenio plays Doctor Nirko and Patricia Riggen did a fantastic job of directing this film.  She was very hands on in every aspect, even hand picking the songs that were played.
The role of Dr. Nirko was very important to both of them for the entire Latino community.  They acknowledged that so often Latino and Hispanic actors are cast for roles of less than admirable characters such as slum lords, drug dealers, etc.  Having a Latino actor play one of the most renowned children physicians in the country is a huge step for the community as is having a Latino woman direct such a powerful film.
Patricia echoed remarks we had heard earlier in the day from Christy Beam and TD Jakes in regards to recognizing the small miracles all around us:
Patricia Riggen:  I knew that a miracle like this comes rarely.  Very few people are have this gift from God of this happening, so I wanted to make sure that this movie gave everyone something else other than that and that they would find something in it.  

I realized that goodness around us is also part of miracles and what miracles are, and I just wanted to make sure that we brought out that message.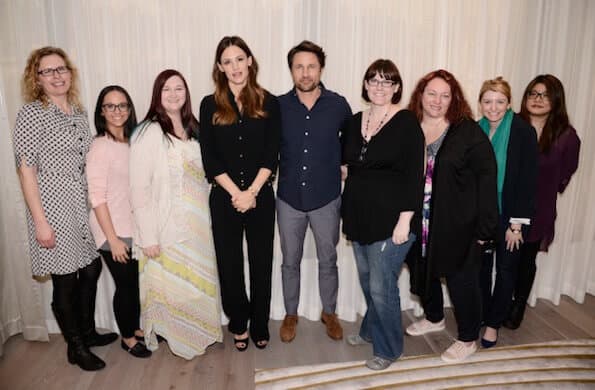 Last but not least it was time to speak with Martin Henderson and Jennifer Garner who portray Kevin and Christy Beam.
It was so interesting to hear how each of them prepared for their roles, especially since they were playing real life people and not fictional characters.  Martin spent a lot of time in Texas observing Kevin in his church, at his work, in his home, and even around his friends.  Jennifer had many lengthy phone calls and text conversations with Christy to really get a sense of who she was from head to toe – from how she fixes her hair to what nicknames she has to her kids and more.
Christy even gave Jen a playlist of her favorite hymns and Christian songs to listen to.  The bond that you see between Martin and Jen and Kylie on screen is such an emotional one and Jen described a little bit of how they kept balance during filming such an emotional movie:
Jennifer Garner:  One of the tricky things was calibrating the emotions… you prepare for it like you prepare for anything else and you prepare as much as you can in great detail so that every moment feels intentional and that there's a clear path that you're going on as this character and then emotional you have to let it rip…

You have to remember we had a little girl on set who had to go through all of this emotional stuff so Kylie and I did everything together.  We played as hard as we worked.  

Kylie was the other part of the emotional heart of the story so you want to protect that little being and I think Martin did that by taking her rock climbing on the weekends or taking her out to a lake house on the weekend and I did that by bringing crafts to set to do with her or reading to her.
Miracles from Heaven brings strong messages of hope, faith, love, family, and fighting for your family.  Interviewing the cast of the film was such an honor and made me fall in love with the film even more!
Be sure to check out the Miracles from Heaven trailer below. A full movie review is coming soon, but I'm sure you'll see why you need to see this movie after watching this preview!
Miracles from Heaven opens in theaters everywhere on March 16, 2016. Get your tickets now! 
Disclosure:  Sony Pictures flew me to Los Angeles to participate in this event, but all opinions are mine.