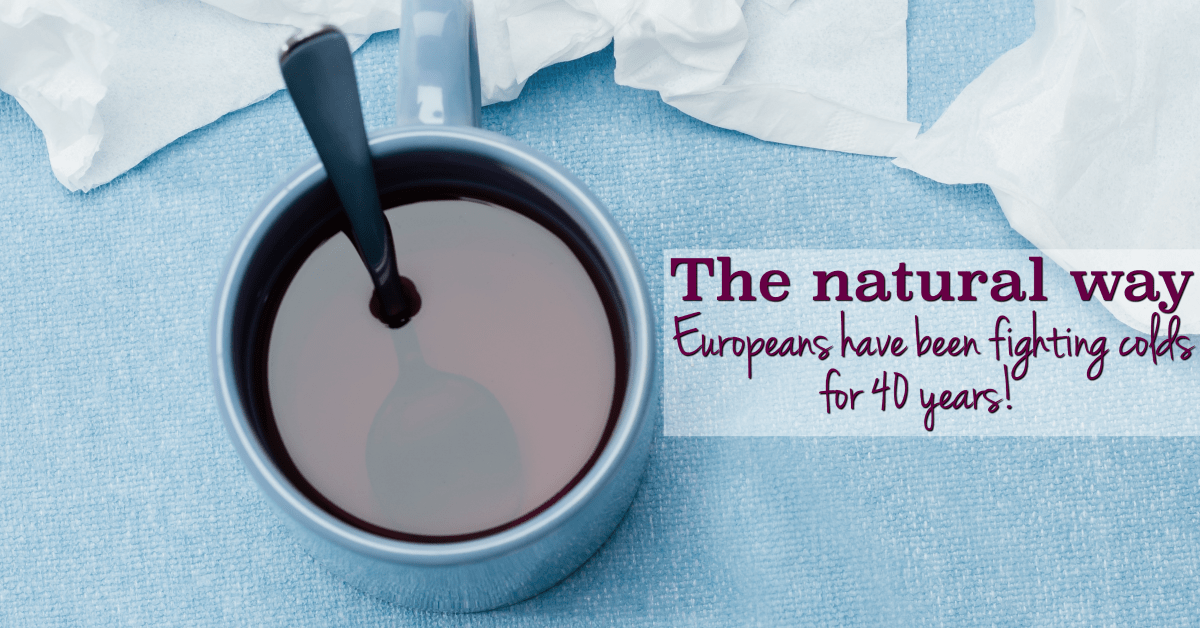 This post has been sponsored by Myrtol. All opinions are my own.
Natural cold remedies are my love language. I recently learned a few things about common ways of getting rid of a cough or cold that bothered me. Now my family almost exclusively uses natural cold remedies instead of OTC products.
What have I learned that made me make the switch? Two things:
 The active ingredient found in almost every over-the-counter decongestant is basically useless.
Honey has been shown to be just as effective as common cough syrups in treating coughs (be sure to check out my recipe for honey and cinnamon for colds).
While I have little faith in traditional cough and cold medication, I still get sick.
That means I still need to have natural cold remedies and cough treatments on hand; especially during the winter months!
Natural Cold Remedies
Natural cold remedies do not automatically mean things like DIY homemade cough syrups. There's even a natural cold remedy that's now available in drugstores across the US. It's called Myrtol 300 and Europeans have been using it as a natural cold remedy for 40 years!
Myrtol 300 is also available on Amazon and you can buy it right now!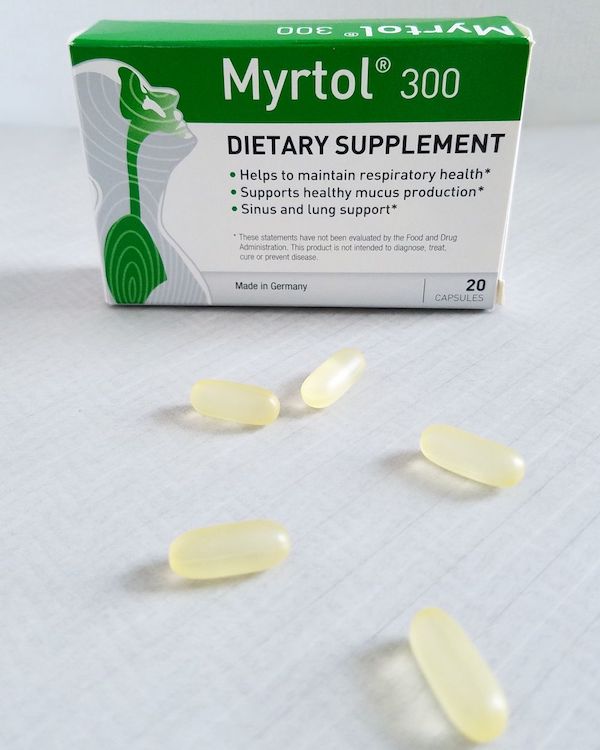 Myrtol 300 is a natural cold remedy that helps fight cough and cold symptoms while supporting a healthy respiratory system.
Widely known as "The German pill" Myrtol 300 has been used for more than 40 years by millions of people in 23 countries. Now it's finally available in the US.
What's in Myrtol 300 that makes it a natural cold remedy?
Myrtol 300 is made from essential oils of eucalyptus, orange, lemon and myrtle. The combination helps to loosen mucus while reducing cough frequency and inflammation.
In addition to being one of the effective natural cold remedies, Myrtol 300 also combats symptoms related to sinusitis, bronchitis and rhinosinusitis.
Where can I buy Myrtol 300 for natural cold remedies?
Until recently, Myrtol 300 could only be purchased in Europe. Now it's available at drugstores in the United States without a prescription!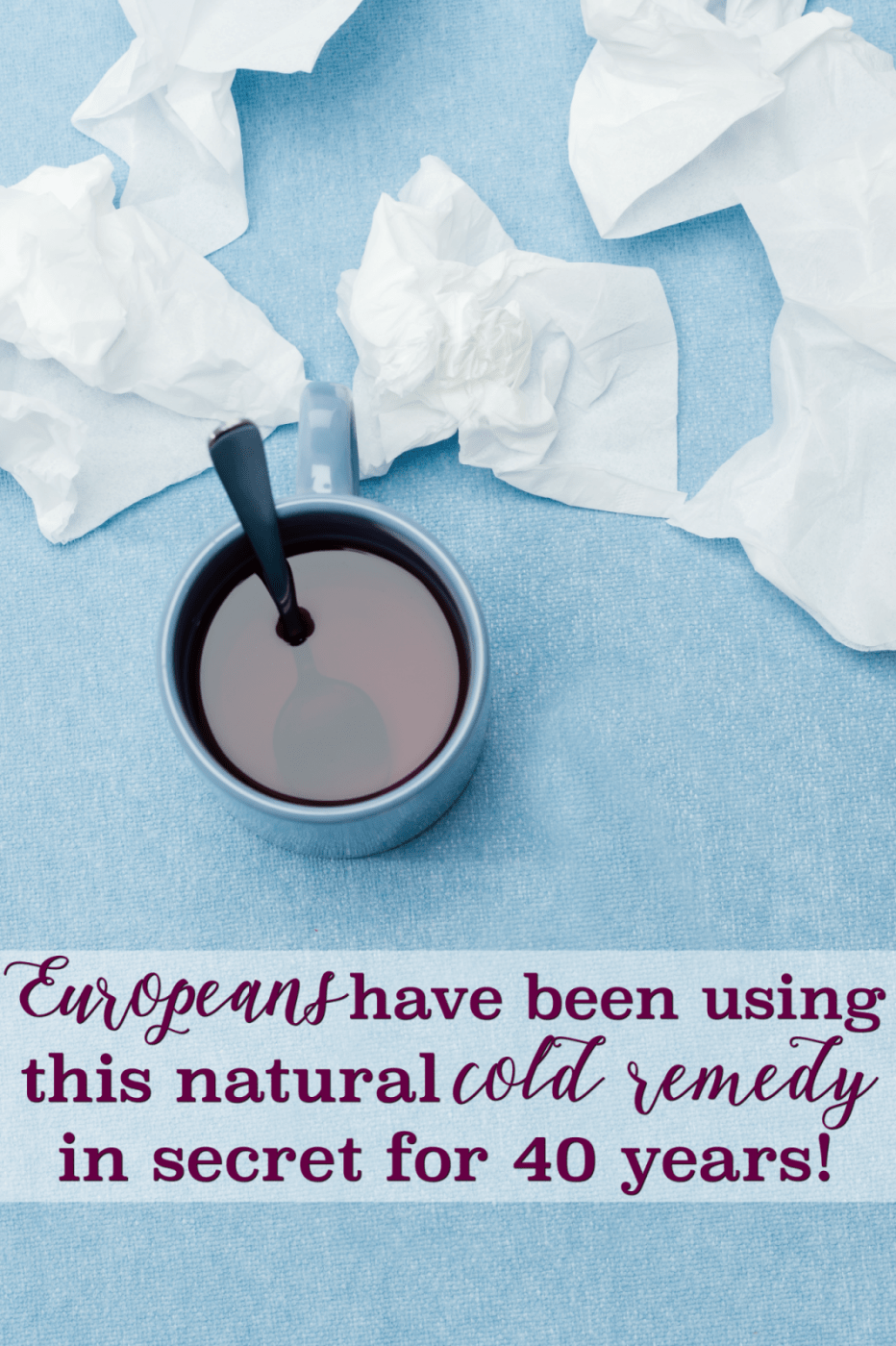 You can also order Myrtol 300 online from Amazon. There aren't a ton of reviews since it's such a new product but I'm loving what's out there so far! Here are two that explain how Myrtol 300 is a great natural cold remedy: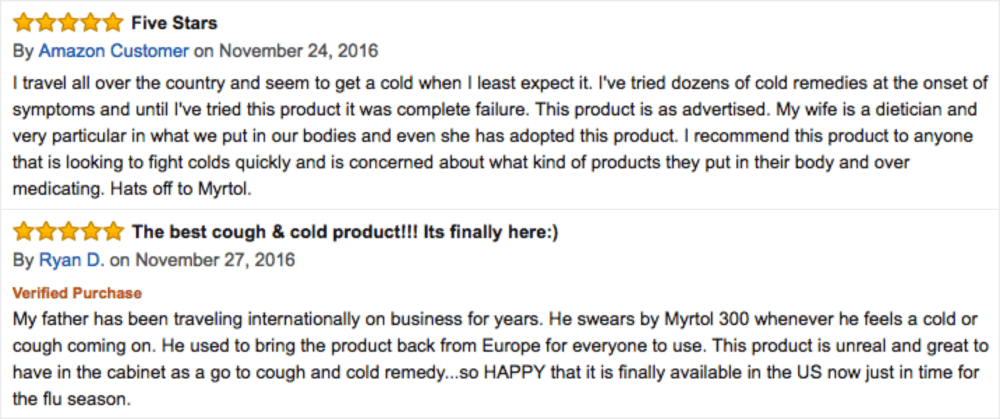 Is Myrtol 300 a safe natural cold remedy?
In short, YES, Myrtol 300 is a safe natural cold remedy.
Myrtol 300 only contains essential oil distillates that are generally recognized as safe. The specific proportion of each essential oil in the blend used in Myrtol 300 is proprietary. It's known as d-EOLM. If you read the Myrtol 300 package you'll see this statement:
d-EOLM is a composition of specific plant-derived essential oils and has been used safely and effectively for over 40 years. 
Can Myrtol 300 be used for allergies?
I've been diagnosed with "seasonal" allergic rhinitis for many, many years. It's a year-round condition caused by various allergies. The rhinitis causes congestion, a constant runny nose and headaches when the congestion lasts too long.
Rhinitis definitely interferes with my respiratory health, so I started taking Myrtol 300 to help my allergies and the effect they have on me.
The big question: Did Myrtol 300 help my allergies? Again, the answer is YES. It takes about an hour to start working and up to 3 days to be fully effective. Even after an hour, my nasal passages feel physically clear. When that happens the fog in my head starts to lighten.
There's really nothing but pain relievers that help my headaches when they're caused by allergic rhinitis. It does seem like Myrtol 300 relieves the congestion that causes the headaches. I haven't had one after taking Myrtol 300, so it's working for me!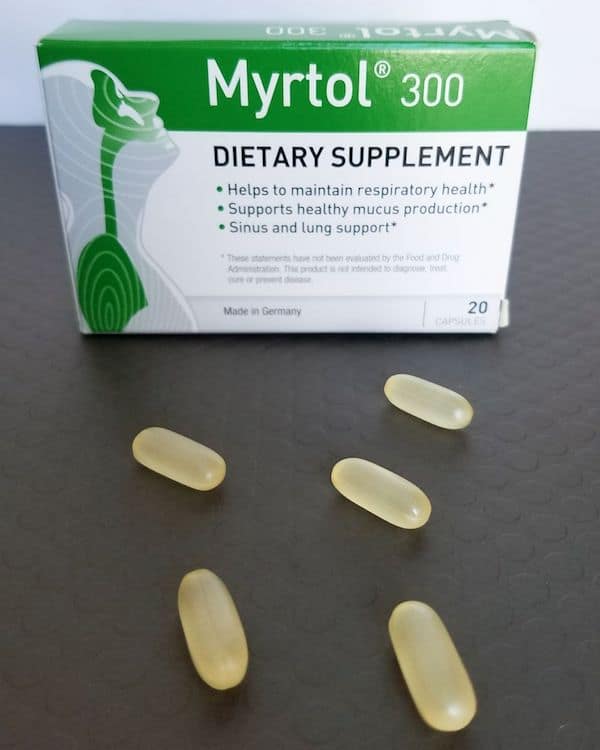 Buy Myrtol 300 online and have it shipped directly to your house or look for it at your local drugstore!