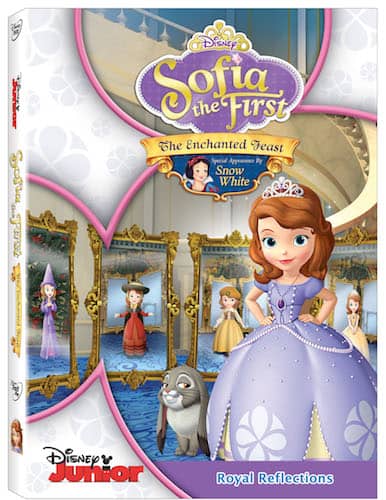 Sofia the First: The Enchanted Feast is the newest Sofia the First film available on DVD!
I received the DVD along with a few products from the Disney Store so my little ones and I could celebrate the movie release with our own Enchanted Feast!
Haiden and Piper were both thrilled to see the fun Sofia items we received:
While Haiden was excited that Piper had some fun accessories to add to the purple princess dress already in her closet, he did seem a tiny bit sad that he didn't have anything new to wear. When I asked him if he wanted to be a pirate, he jumped up and ran to get all of the pirate items he had just brought home from a birthday party a few weeks ago!
Here are Haiden and Piper preparing for our "enchanted feast" of peanut butter and jelly sandwiches, grapes, pretzels and lemonade ☺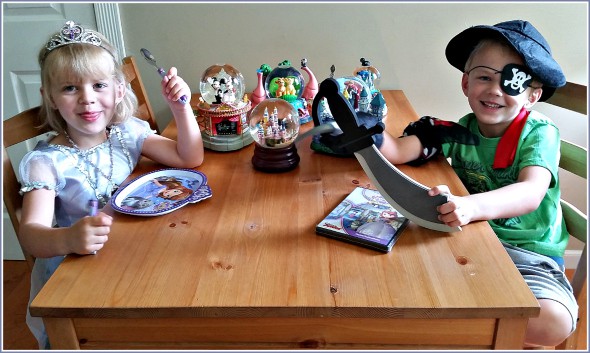 After their feast we settled in to watch Sofia the First: The Enchanted Feast for the first time.
There's more than meets the eye when you join SOFIA THE FIRST for a royally scrumptious adventure!

All the monarchs from Enchancia's neighboring kingdoms have come to watch a dazzling display of magic:

First, Cedric will conjure up a fabulous feast. Next, he'll transform the banquet room into a hall of amazing "morpho-mirrors." But before the fun begins, wicked Miss Nettle (disguised as "Sascha The Sorceress") crashes the party with a scheme to steal Sofia's magical amulet.

Can Sofia foil the bad fairy's plan before it's too late? Perhaps…with help from Snow White, who reminds her it's important to trust your instincts.

Sparkling with music and excitement — plus four more spellbinding episodes — THE ENCHANTED FEAST may be the fairest of them all!
The DVD features an episode with a special appearance by Snow White, plus four additional episodes and a FREE enchanted mirror!
The five episodes of Sofia the First that are on this DVD are:
The Enchanted Feast (featuring Snow White)
The Buttercups
Tea For Too Many
Great Aunt-Venture
Two Princesses And A Baby
I fully admit that I get a little bit excited to have a new look at the special Disney princess featured in every Sofia the First DVD set (you know how much I loved seeing Ariel in Sofia the First: The Floating Palace!). It was heartwarming to see Snow White give Sofia valuable advice about trusting her instincts and telling others if something or someone doesn't seem quite right.
Enter the giveaway!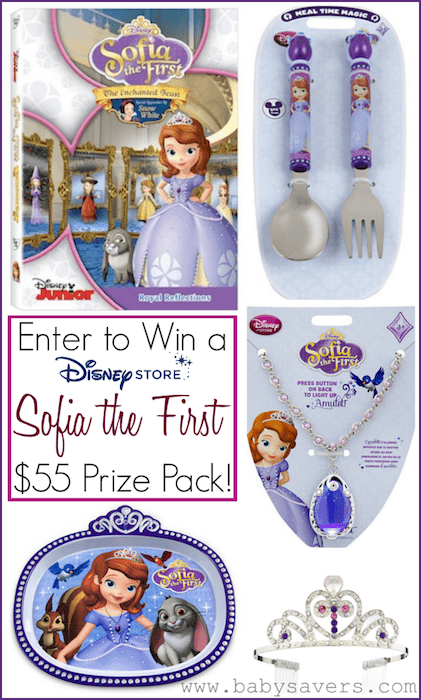 Who wants to win a Sofia the First: The Enchanted Feast gift pack featuring the DVD and items from the Disney Store?
One lucky winner will receive the following items:
To enter the giveaway, please wait for this Rafflecopter widget to load:
Disclosure: The prize pack and items provided to facilitate the review/giveaway were received at no cost to me. All items provided by Disney and/or the associated PR company.