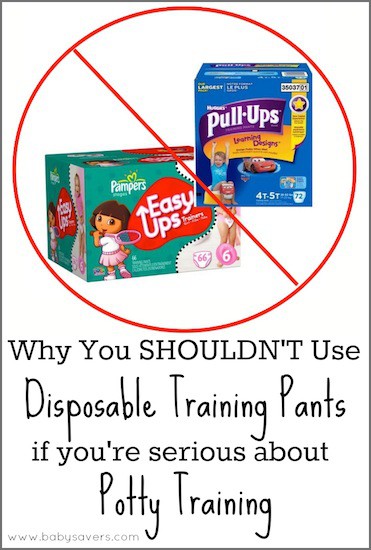 I apologize. I know that's not a very encouraging title! I do think that the information I'm sharing about disposable potty training pants will lead to a more successful potty training experience!
I've potty trained two little ones, and I even successfully started potty training at 18 months with my daughter. With both of my kids, we focused on using the potty training seat all the time during the day first, and kept them in diapers at night.
Since we concentrated only on potty training during the waking hours, I had pretty strong feelings about not using disposable potty training pants like Huggies Pull-Ups or Pampers Easy Ups. Aside from the fact that not buying them are great for potty training on a budget, I wanted to share how I feel about disposable potty training pants.
Why You Shouldn't Use Disposable Potty Training Pants
 I really think that Pull-Ups, Easy Ups and other brands of training pants are simply diapers that little kids can pull on and off. It's my opinion that there's no real difference between disposable potty training pants and diapers.
Why do I think that? Let's look at the products from a child's point-of-view: disposable potty training pants look like diapers. They smell like diapers. They feel like diapers. To your child, this kind of potty training pant is a diaper!
Disposable diapers work so well because manufacturers are constantly perfecting them to keep baby as dry as possible, even with a soaked diaper. The materials within a diaper work to draw moisture away from the part of the diaper closest to baby's bottom, because a dry bottom is the best defense against diaper rash.
Plus, those diapers offering 12 hour protection also present a benefit to parents: less leakage, and less-frequent diaper changes!
When you label those same diapers as "potty training pants" they still works to wick moisture away from the skin. Little ones generally do not feel wet when they urinate in disposable potty training pants.
Let's look at this from a child's perspective again: Wet pants are uncomfortable. Dry pants feel nice. If a child goes in her training pants and can't feel it, where's the motivation to stop doing that and start using the potty?
The best Disposable Training Pants
I do want to share that I'm not for boycotting disposable training pants completely. Both my son and daughter reached a point where they were just done with diapers. They'd take them off at night or cry because they were "too big" for them.
I shouldn't have been surprised; I did nothing but encourage them to wear underwear and ditch the diapers all day long!
When they both reached that point of refusing to wear diapers, we used disposable potty training pants at night for both my son and daughter until they consistently remained dry all night for several nights in a row.
Pull-Ups and Easy-Ups were great products for that transition since they went on like underwear and helped my kiddos avoid the trauma of waking up in a puddle in the middle of the night.
I've used all sorts of disposable training pants while potty training and I can definitely tell you which ones are the best:
Pull-Ups Learning Designs Training Pants for BoysBUY NOW
Pull-Ups Learning Designs Training Pants for GirlsBUY NOW
Pull-Ups Cool & Learn Training Pants for BoysBUY NOW
Pull-Ups Cool & Learn Training Pants for GirlsBUY NOW
&
Why are the Best Disposable Training Pants different for day and night?
 It's not always easy for parents, but potty training should be a great, positive experience for your child. No one wants to be woken up with cold underwear in the middle of the night, even if your child is learning how to control their bladder.
That cold feeling of the Cool and Learn training pants is a good reminder during the day, but it's not suitable for night time use. Believe me, your child will start to hate waking up with a wet bottom, so don't make it worse with cooling disposable training pants at night.
Both of my little ones wore disposable potty training pants starting at bedtime for a few months until they remained dry all night for 3 or more nights in a row. At that point, I knew they had learned to hold it all night and were ready to wear their underwear!
Finally, you may be thinking: If we shouldn't use Pull-Ups, what should we use? Read what to use instead of disposable potty training pants.
Readers: Do you think disposable training pants are beneficial to potty training? Have you used them?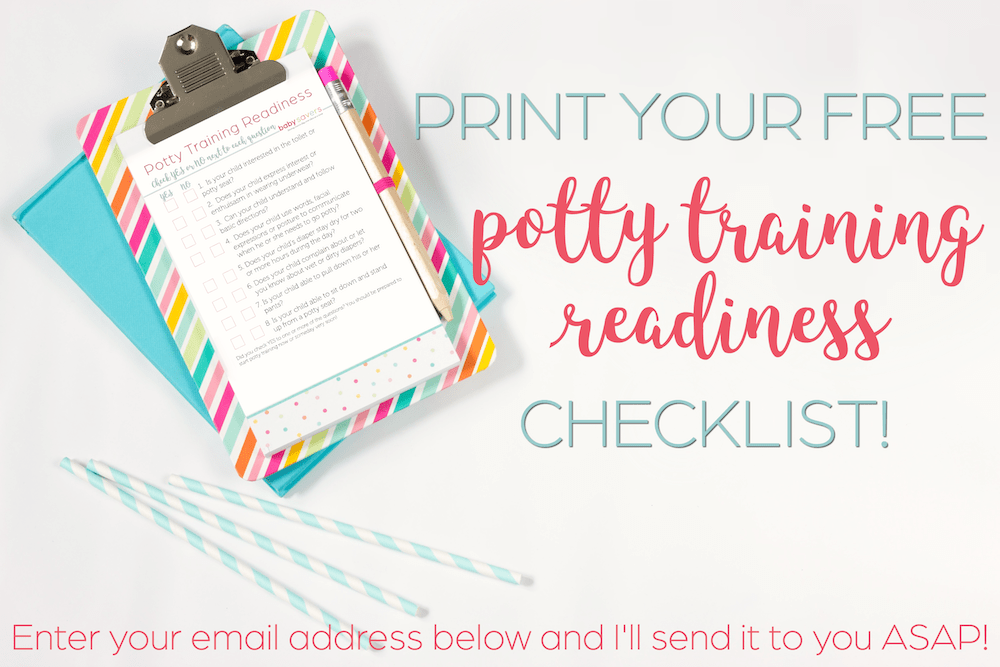 Read more of the Start Potty Training series!