I'm always up for hair advice that will change my life. With naturally curly hair, I swear I've tried everything to just get my hair to be something it's not. I've had great success with my organic hair gel recipe and my homemade detangler for curly hair, but those are both at their best when I'm embracing my curls.
When I want my hair to be smooth and manageable, when I want those curls to be bouncy and shiny, I have to turn to other products. I was recently taken aback when I read about this argan oil:
There was this Argan Oil in the box and I thought, "What could it hurt? I'll just put a little on my hair." So I did.

And my world changed. The straw became soft and luxurious. For real.

I kept looking in the mirror wondering who I'd switched hair with. But nope, it was really mine. And this change happened with just a little dab of a product on my hand and 30 seconds to run it through my hair.

I thought maybe it was just me who noticed the difference…however, multiple people commented and one person even texted me saying, "Your hair looks amazing!"

The next day, my hair looked so good. It was so soft and easy to work with. (source)
I'll be honest, I haven't tried that particular argan oil, but according to many accounts, it's the nectar of the gods. Check out a few other reviews (there are so many!) from the product page:
Having very fine hair, there are few hair products that don't make my hair instantly greasy. So I was surprised how well my hair responded when I began using the NUME argan oil.

I usually have products sit under the bathroom sink for years, unfinished. But I can tell I will be buying another bottle of this argon oil sooner than expected because I can't get enough! – Brooke S.

Also, I LOVE the argan oil that comes with it. It makes my hair super soft and it smells amazing. Great products for a great price. – Lauren G.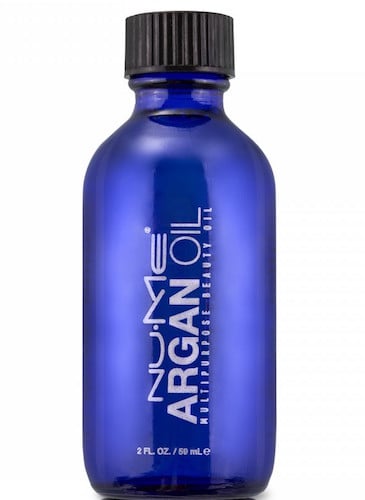 After reading all that, I remembered I had a tiny little sample of argan oil in my medicine cabinet. I used it yesterday and, let me tell you, the reviews are right! I put a few drops in my damp hair and I swear, my hair had never been softer.
But that's not even the best part. Nume sells curling wands, irons and flat irons and is well known for making amazing products. Their bestselling Silhouette ceramic flat iron normally sells for $139.
Sorry, this offer is now expired, but you can still find amazing deals here!  But right now you can get the Silhouette flat iron with FREE argan oil all for just $39 with free shipping! Just use Nume coupon code DUO39 at checkout. Or click the image below and the promo code should appear automatically at checkout.
Be sure to read my Madison Reed hair color reviews for more hair inspiration!
Disclosure: affiliate links are used in this article. All opinions are my own.