The Last Jedi Press Junket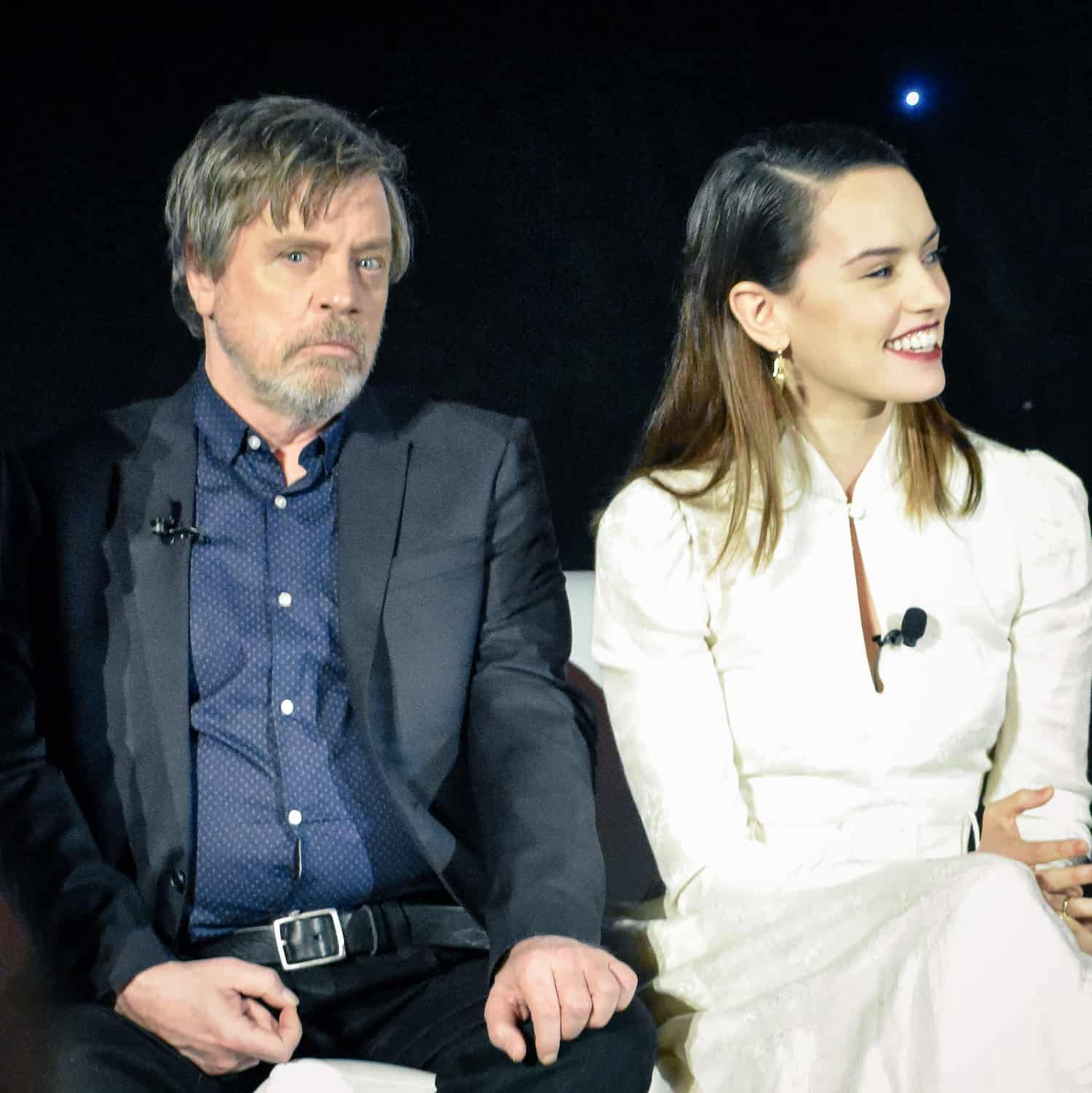 Last week I revealed that I attended the Star Wars: The Last Jedi press junket, and I shared the many Star Wars-themed activities and products I experienced during the  that I did during the Star Wars press junket experience.
All of that was amazing, but it was nothing compared to the actual Star Wars: The Last Jedi press conference that kicked off the day at The Last Jedi press junket!
Related posts: 
Over 45 Star Wars Elf on the Shelf Ideas
200+ Star Wars Party Ideas
Star Wars Rebels coloring pages
The best "May the Fourth" Star Wars printables
There was excitement in the air from the moment we arrived to the hotel floor where the The Last Jedi press conference would occur, and even more excitement when we were allowed into the room. You'd never know we were in a conference room by how it was transformed!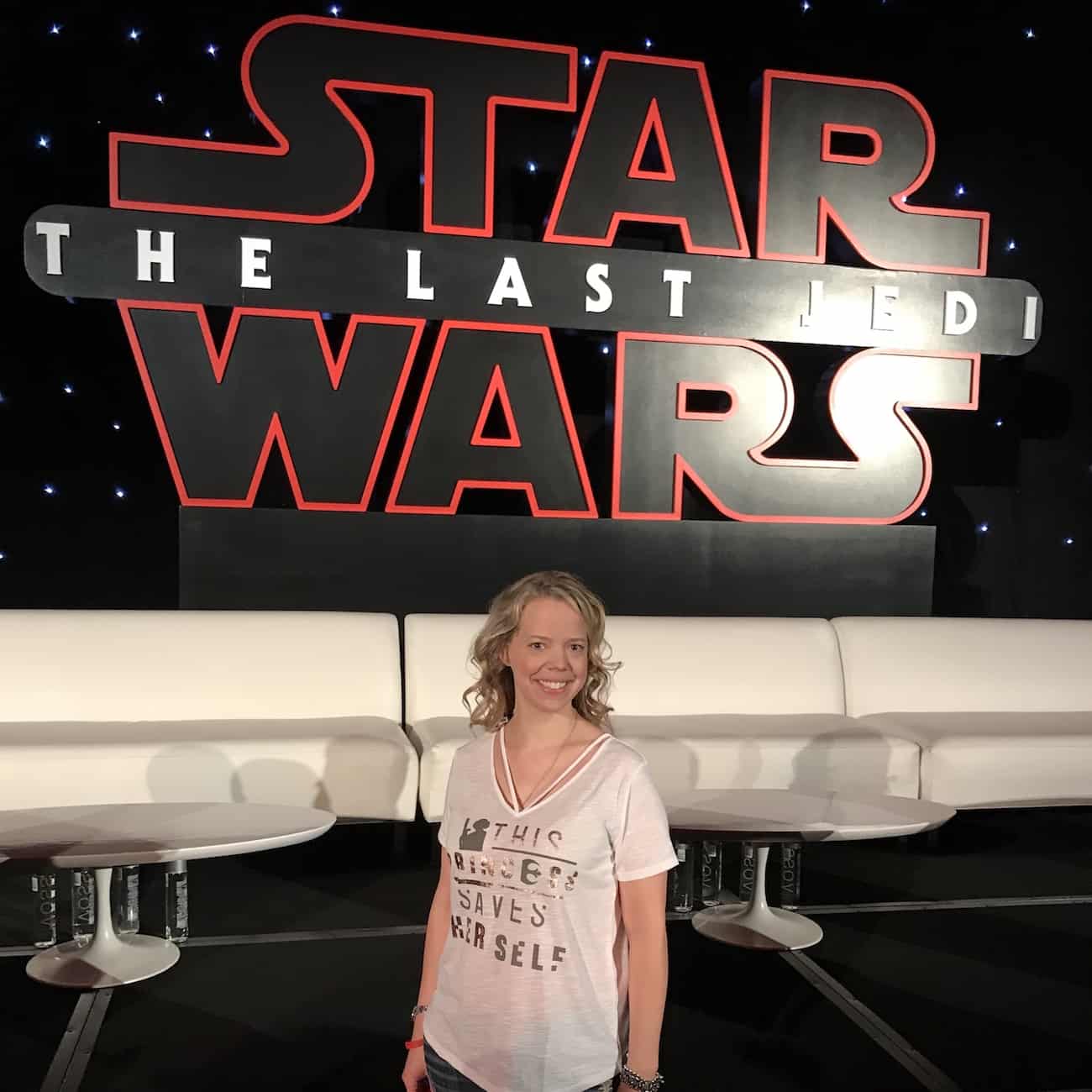 The walls were draped with black fabric and a huge Star Wars logo was behind the stage at the front of the room. We had a few minutes for pictures before The Last Jedi press junket began.
From left to right, here are the talent on stage at The Last Jedi press junket:
Director Rian Johnson
Mark Hamill
Daisy Ridley
Adam Driver
Oscar Isaac
John Boyega
Kelly Marie Tran
Laura Dern (My interview with Laura Dern on playing Vice Admiral Holdo)
Domhnall Gleeson
Gwendoline Christie (read my interview: Captain Phasma Unmasked)
Andy Serkis
This was a unique press junket experience for me because I brought my own camera! It was pretty cool to be able to take my pictures and make sure I got the shots I wanted.
Before I get to the questions and answers from the event, I want to share some of my favorite pictures from The Last Jedi press junket.
The Last Jedi Press Junket Photos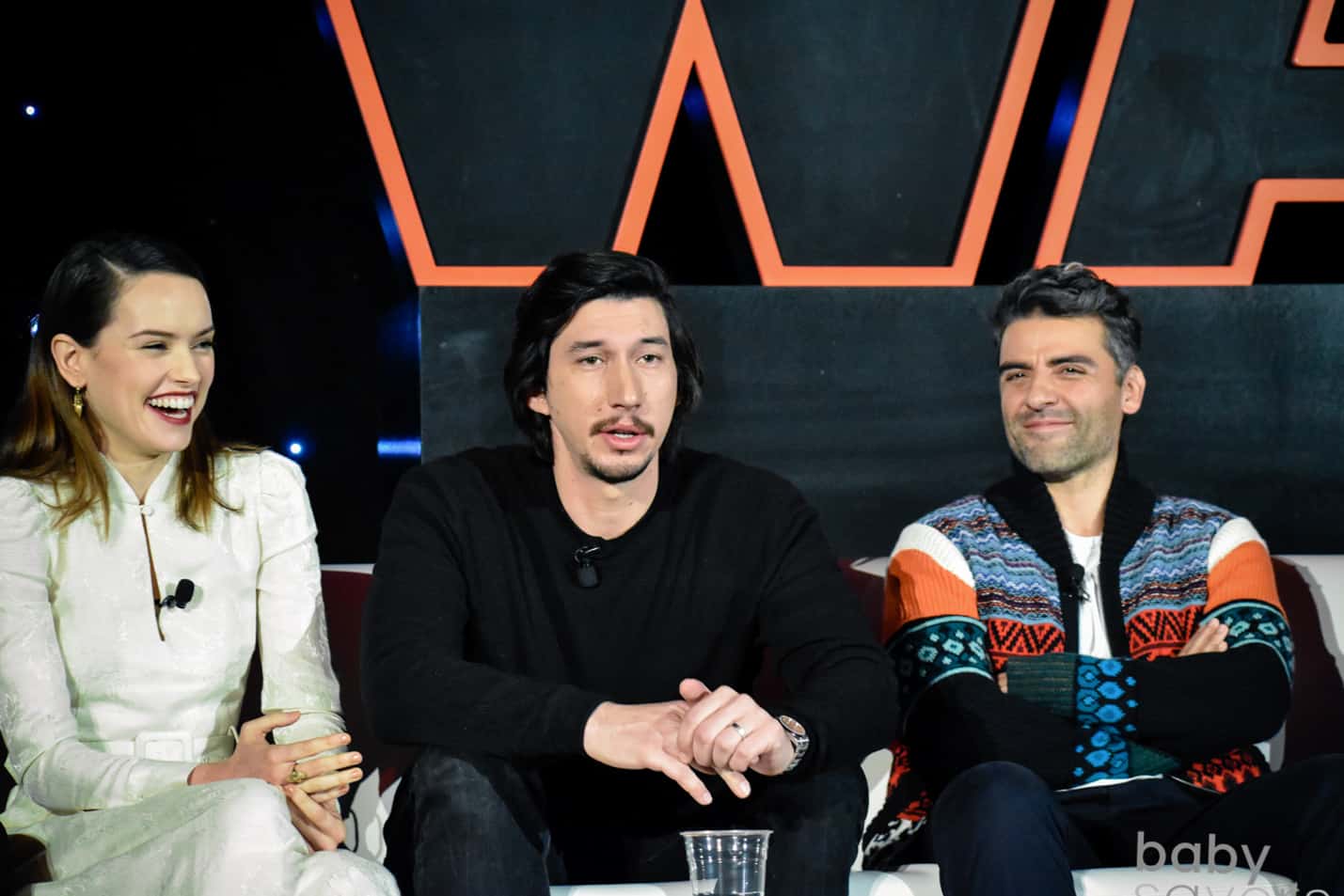 Daisy Ridley (Rey), Adam Driver (Kylo Ren) and Oscar Issac (Poe) at The Last Jedi press junket.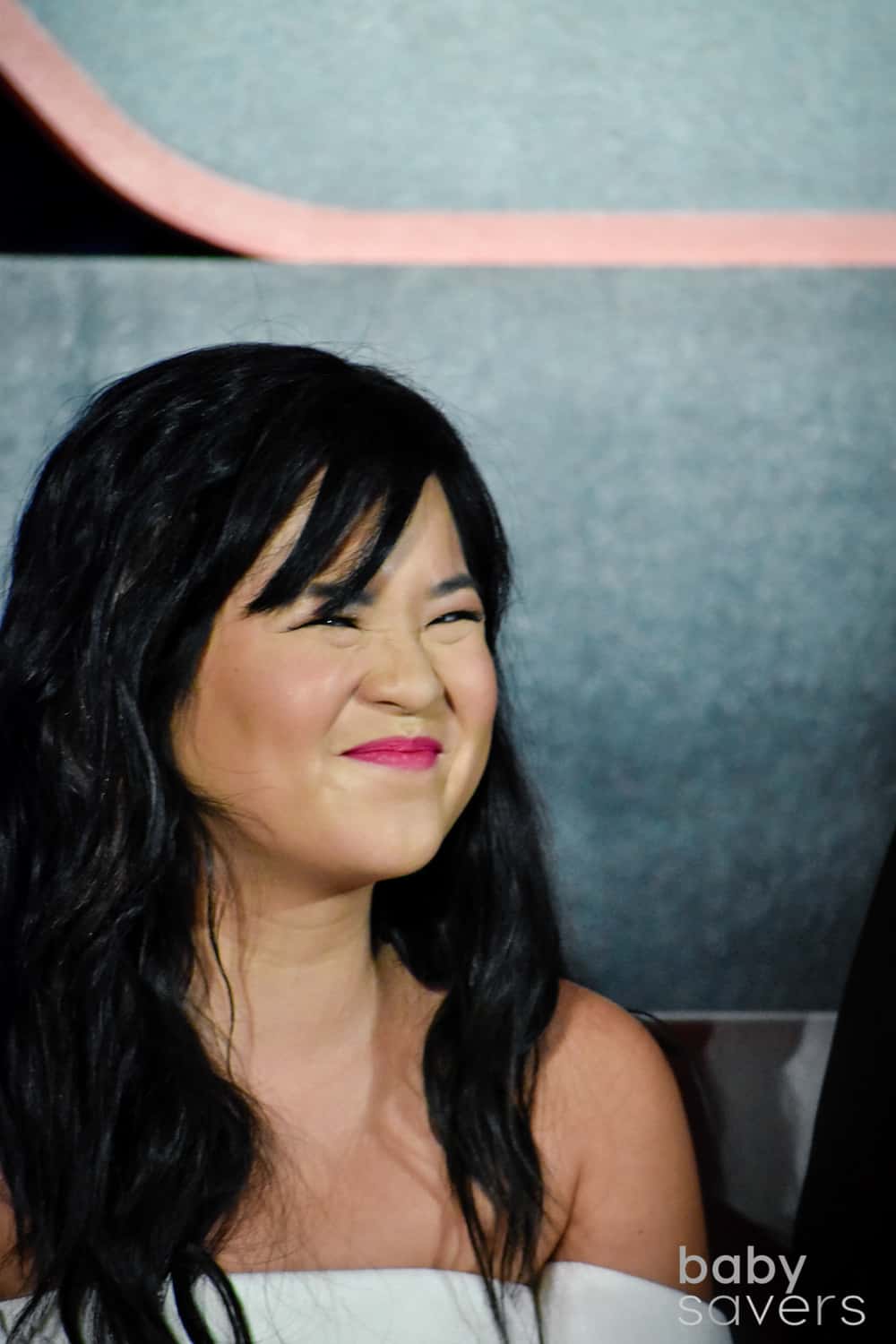 Kelly Marie Tran, who plays Rose in Star Wars: The Last Jedi.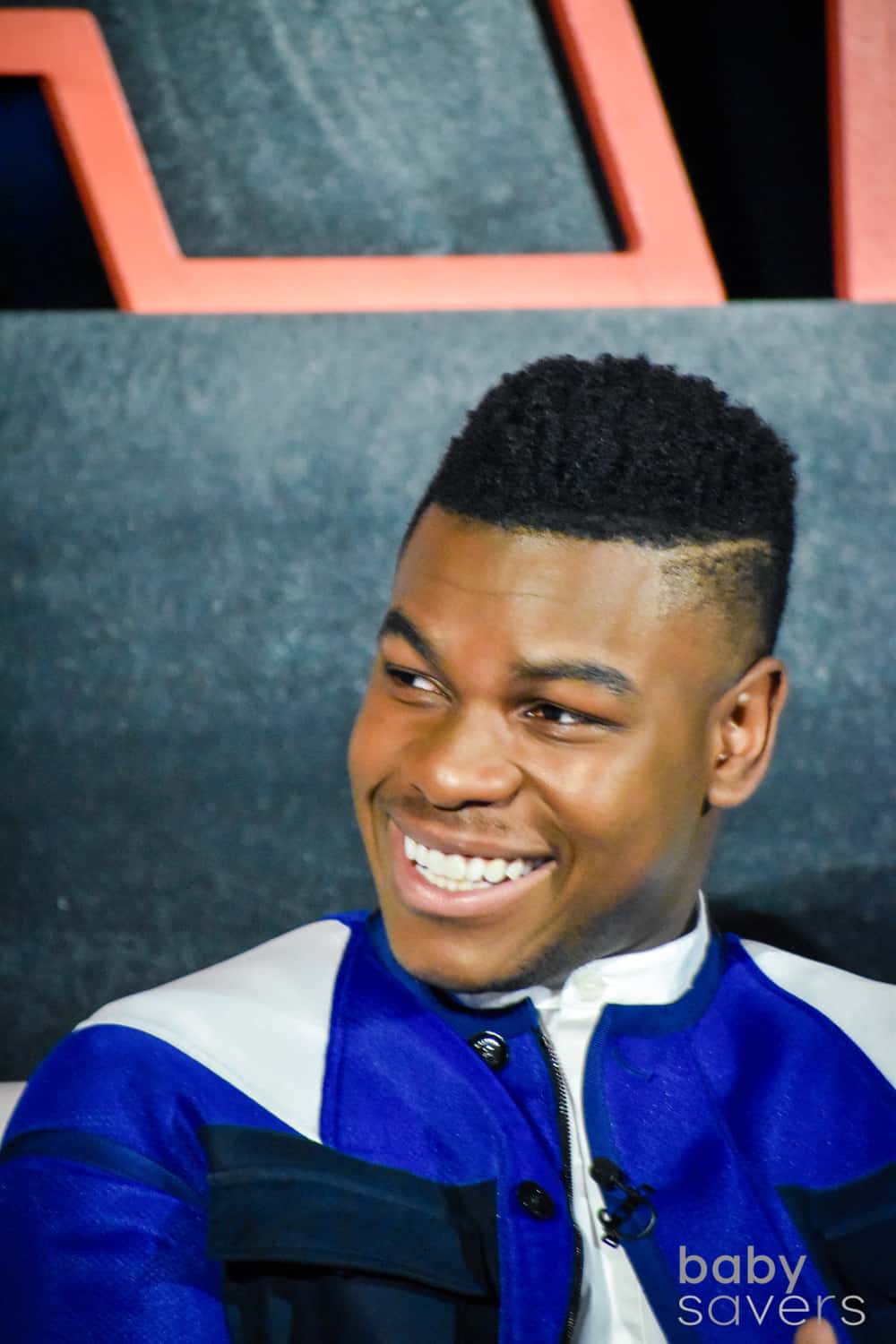 John Boyega: Finn in Star Wars: The Last Jedi.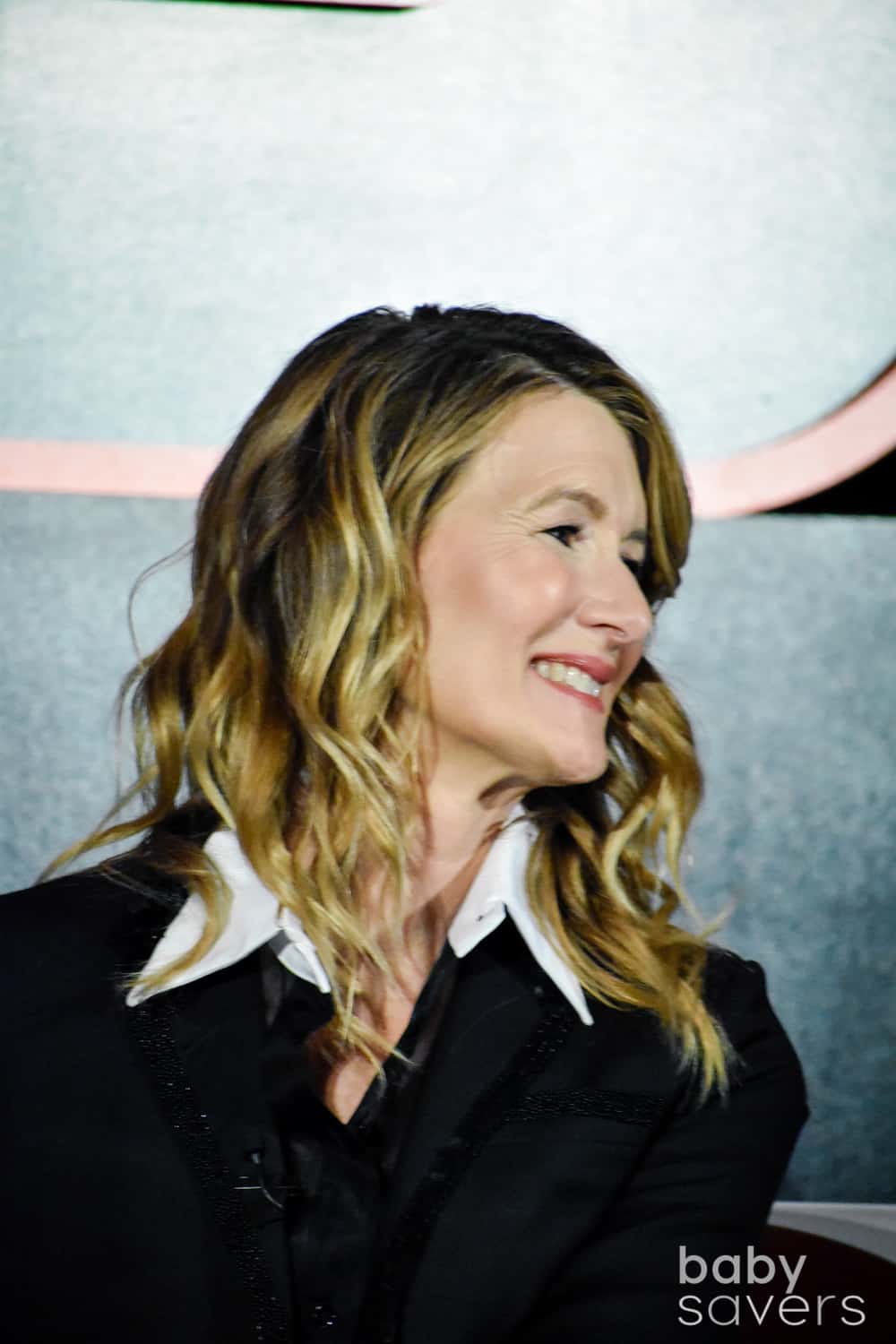 Laura Dern, who plays Vice Admiral Holdo in Star Wars: The Last Jedi.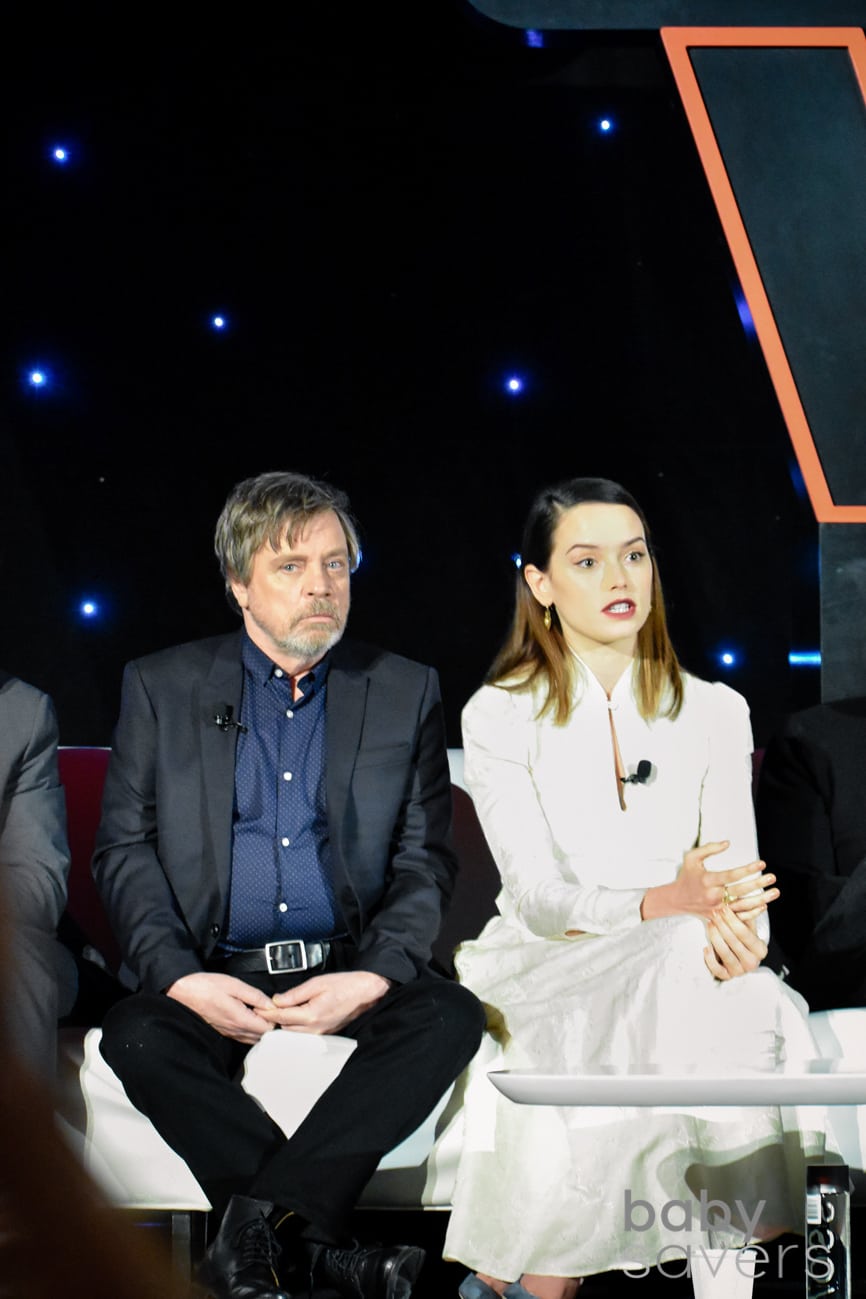 Mark Hamill and Daisy Ridley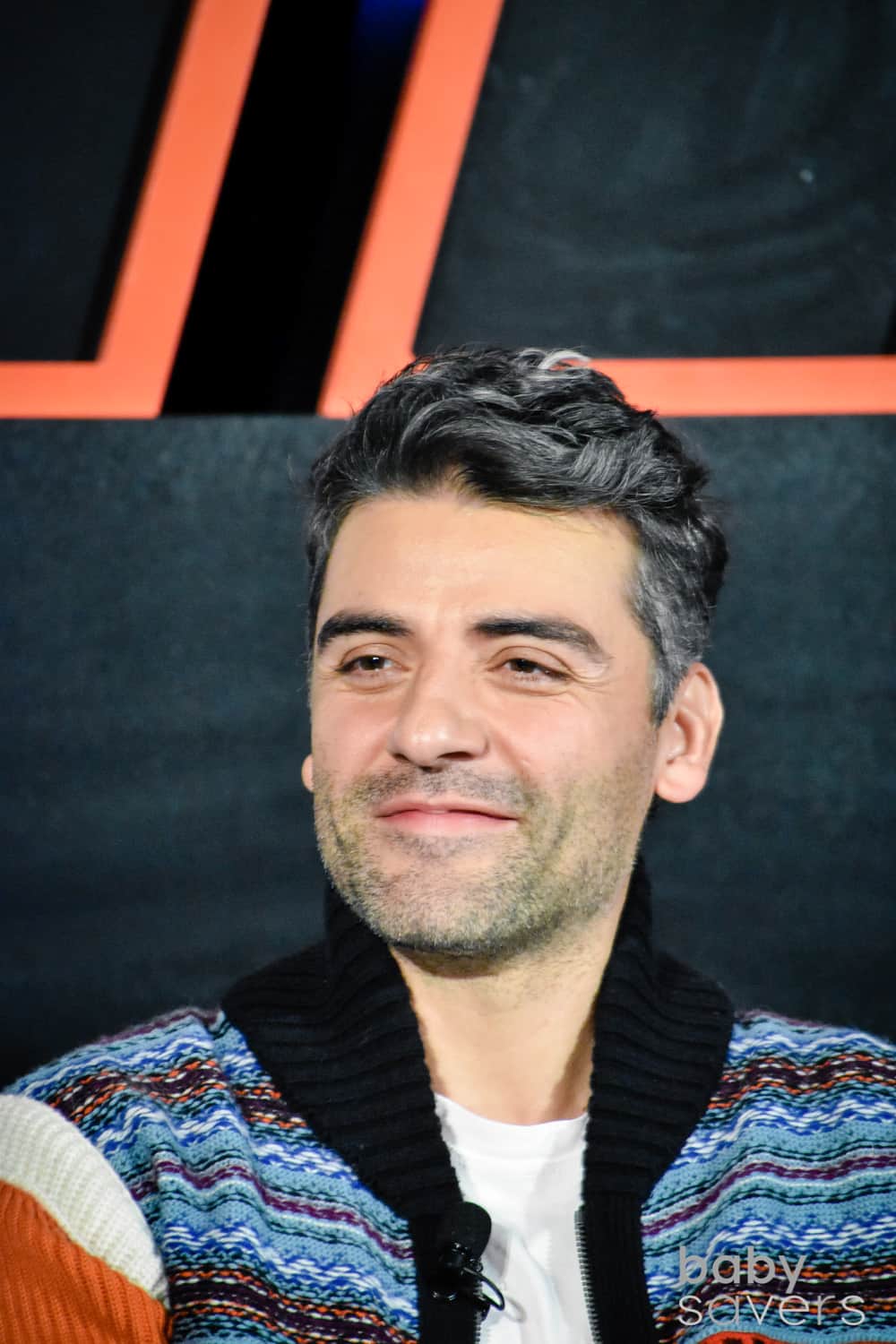 Oscar Issac
My absolute favorite thing about the The Last Jedi press junket was watching Oscar Issac and John Boyega interact on stage. They had such a genuinely good time and they loved it when anyone said anything even remotely funny.
I took this sequence of pictures of the two of them reacting to another person's answer at the junket:

The press conference was moderated, so a lot of questions were asked by a host. The audience got to ask a few questions, too! Here are the highlights of the The Last Jedi press junket.
The Last Jedi Press Junket Q & A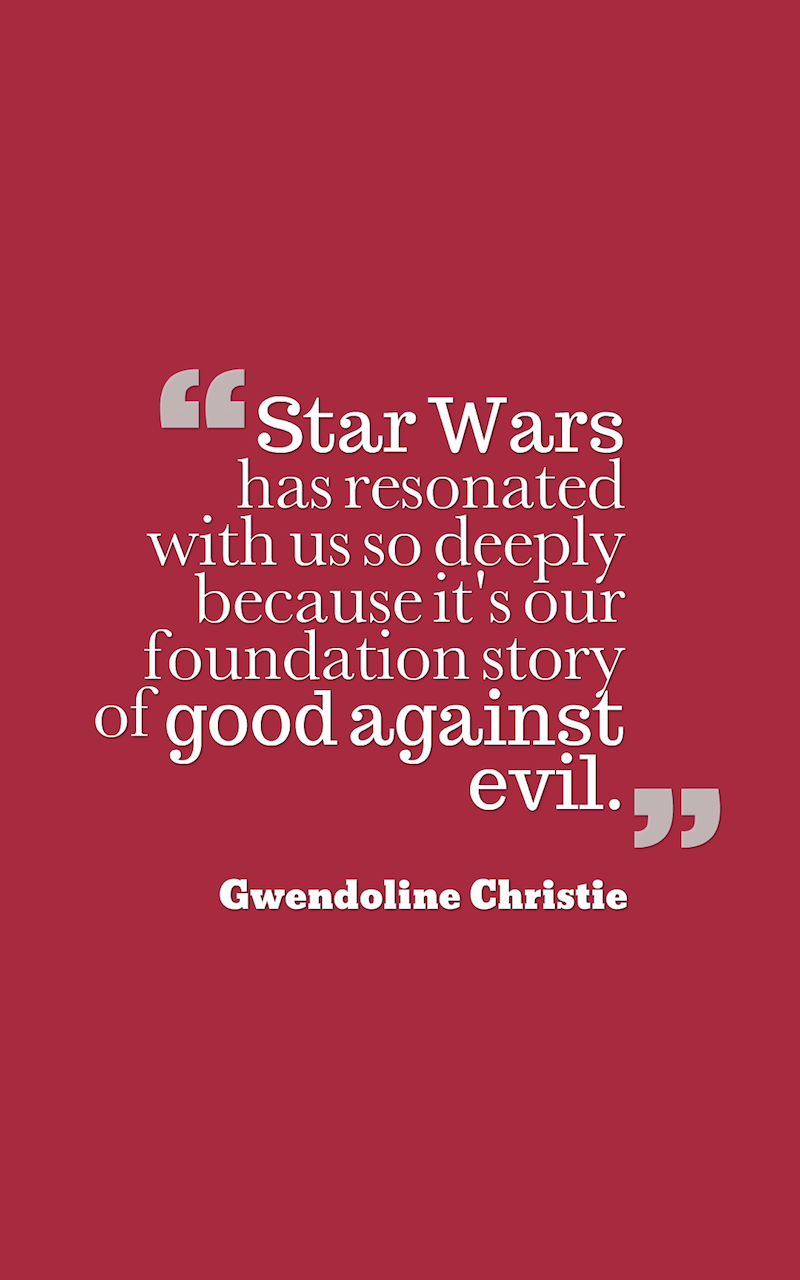 There were plenty of amazing moments in The Last Jedi press junket, but two moments really stood out to me. The first was discussing how Star Wars: The Last Jedi differs from Star Wars: The Force Awakens.
The second topic dives into female characters and diversity, and all the women on stage had something to say about the idea of women being cast in Star Wars.
The third subject was about Star Wars lessons learned, and what the director and cast are hoping people learn from Star Wars: The Last Jedi.
Q: What differentiates Star Wars: The Last Jedi from Star Wars: The Force Awakens?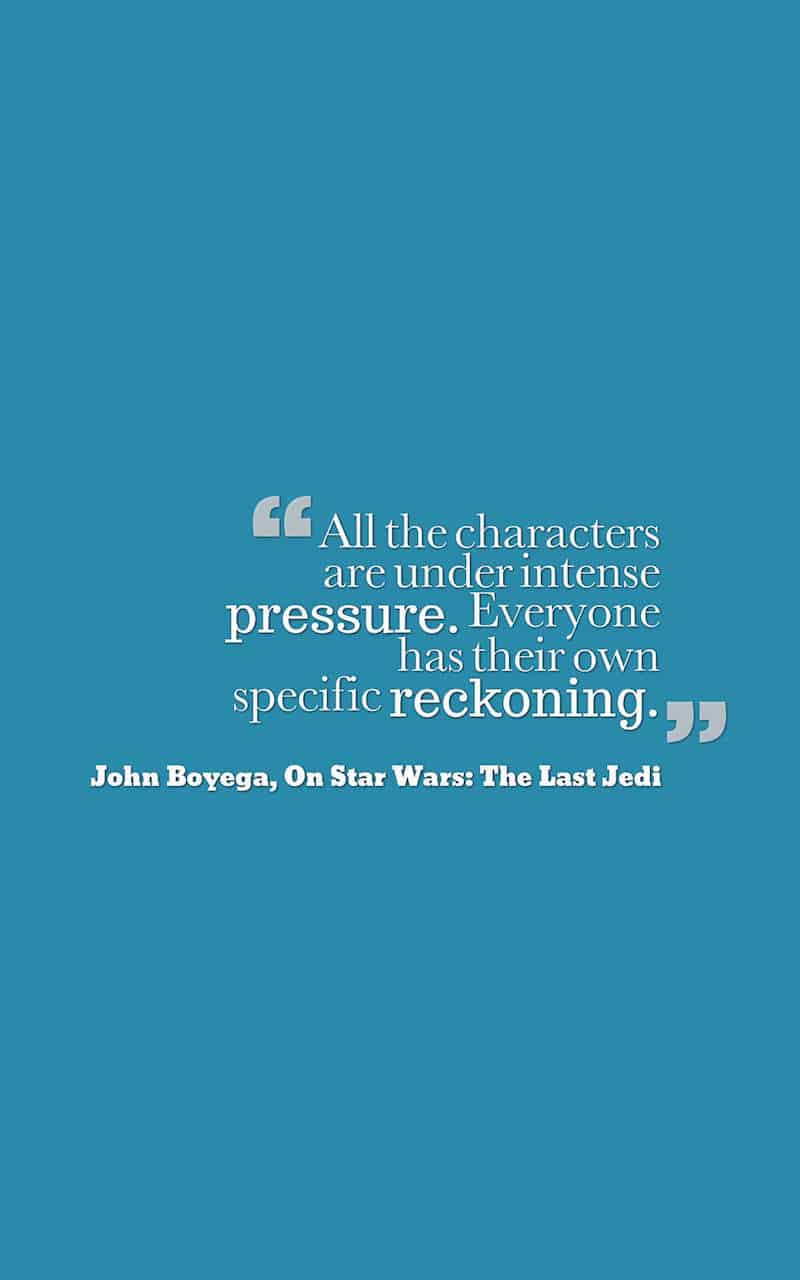 Rian Johnson: It will be a little darker. I loved the tone of the original films and also what J.J. captured in The Force Awakens. Of fun. To me, that's a Star Wars movie. First and foremost we were trying to make it feel like a Star Wars movie.
That means you have the intensity and you have the opera, but it also means that it makes you want to run in your backyard and grab your spaceship toys and make them fly around. That's a key ingredient to it.
So we're going to go to some intense places in the movie, but I also hope that it's fun and funny.
John Boyega: I would just say that the story is moving forward. J.J. had a foundation in The Force Awakens and now it's about challenging the characters. All the characters are under intense pressure. Everyone has their own specific reckoning. 
Oscar Issac: With it being the second chapter of three…the first one sets the tone and the world and the new characters. In the second one you can really delve into the story, into what's happening.
Rian has deeply challenged every single character, including the droids, with the biggest challenges they've ever faced, and that's how you really get to learn about them from light to dark.
Rian has found a way to get to the central point of the character and try to challenge them as best he can. It's really amazing.
Daisy Ridley: People responded really well to John [Boyega] and I being a team in the first one, I was nervous about not being a team in this one. It was a challenge to be indifferent to combinations of people. 
Andy Serkis: I was blown away when I saw the film…because it was really intimate and very emotional. It's very, very powerful and it touches you. What Rian has done incredibly has made this tonal dance between these great, epic moments and hilarious antics. 
Gwendoline Christie: I was delighted by the film. I think that Star Wars has resonated with us so deeply is because it's our foundation story of good against evil and where that balance is. How we see elements of characters we've never seen before. Things become the unexpected.
There's something about Star Wars: The Last Jedi — I think because the world we live in is a changing and evolving place. It retains the simplicity of those elements but it really resonates with what it is to follow your own human dark, narcissistic tendencies, where that will take you. It's done so beautifully, too.
Q: There are way more female characters in Star Wars: The Last Jedi…certainly more than the first three Star Wars movies. What does that mean to all of you?
Daisy Ridley: Growing up in London, I knew there was a disparity in films but I wasn't so aware of it growing up in a liberal household. I was never really made to feel any one way. 
When I got involved with Star Wars, I knew it was a big deal, but the response was so beyond anything I could have imagined. It's not like I ever took it for granted but it was just so monumental.
That's a testament to everyone who created the characters in the beginning. I think what's great about everyone is that it's not like, "she's a girl. This is a guy." It's just great characters that are happily falling into broader categories now. I'm thrilled.
Kelly Marie Tran: It feels like both an honor and a responsibility at the same time. From the beginning when I initially found out I got this role I just felt like I wanted to do the whole thing justice.
I'm so excited — the girls in this movie kick some butt. Every single one is so good and I can't wait for everyone to see it. 
Laura Dern: I just want to pay tribute to Rian for be one of the most brilliantly subversive filmmakers I've ever been able to bear witness to in the case of the look of my character.
I was moved by the fact that he really wanted her strength to first lead with a very deep femininity. To see a powerful female character also be feminine moves aways from a stereotype that's sometimes perceived in strong female characters — they must be like the boys. I thought that was a really interesting choice.
Gwendoline Christie: I wasn't cast in the first Star Wars film yet when I heard about the casting and I was utterly delighted to see there was a more representative selection of actors that were going to be in these incredible films. That has continued.
Everything that my amazing colleagues say is absolutely right. You get to see women that are not being strong just because they're acting like men. They're doing something else and you're seeing a developed or developing character that's showing some complex character traits.
I'm just delighted about that. I'm delighted that something as legendary as Star Wars has decided to be modern and to reflect our society more as it is.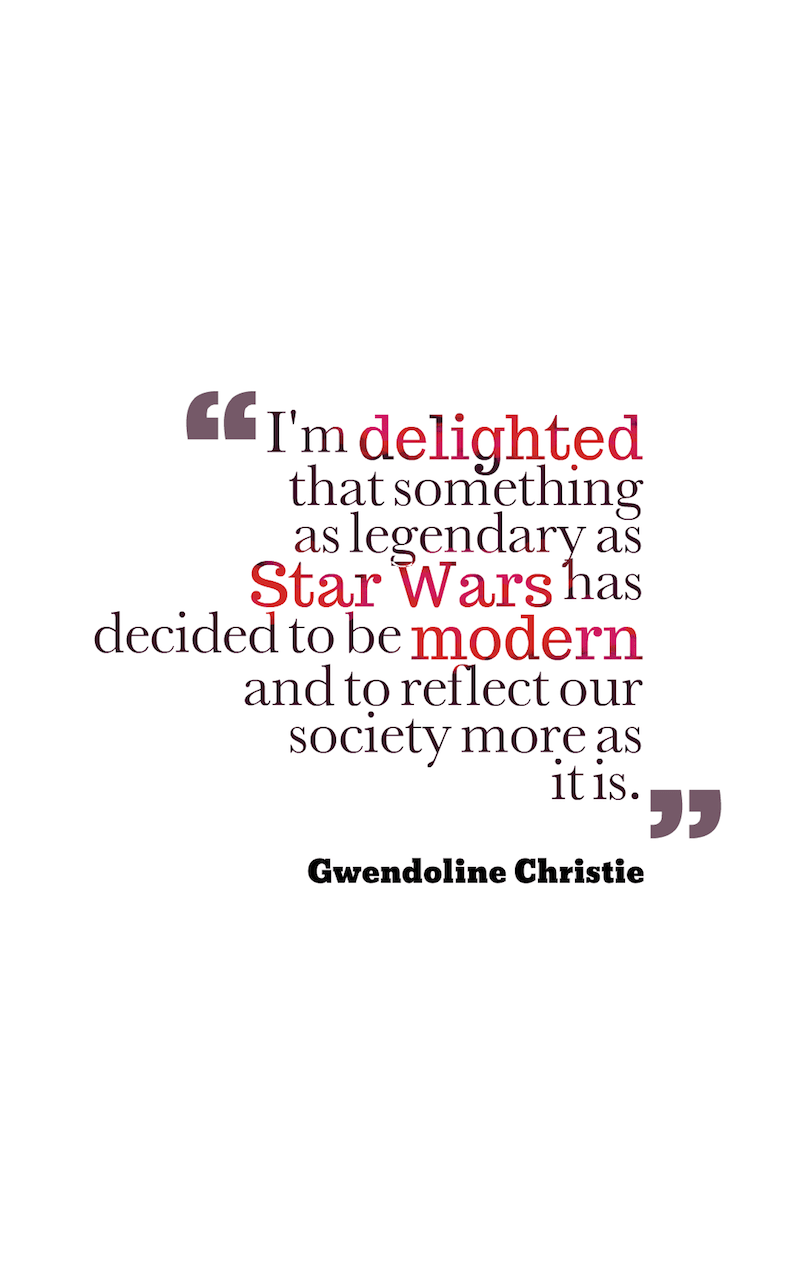 What will the audience learn in Star Wars: The Last Jedi?
Rian Johnson: I think these movies to some extent are…If you look back at George Lucas drawing from the hero's journey that Joseph Campbell wrote about.
The hero's journey is not about becoming a hero. It's not about becoming Hercules. It's about adolescence.
About the transition from childhood into adulthood. Finding your place in the world. You have these new powers new feelings inside yourself for the first time. You don't know what to do with them. You don't' know who you're going to get help from, who's going to be unreliable, who's not.
Navigating those very tricky waters. We all have to navigate them. That's why Star Wars is so universal. Part of that is your relationship to heroes and people you thought were your heroes and people you don't expect to become your heroes. That's definitely something that plays out in this film.
Star Wars: The Last Jedi opens in theaters everywhere on December 15. Get your tickets now!
Related posts: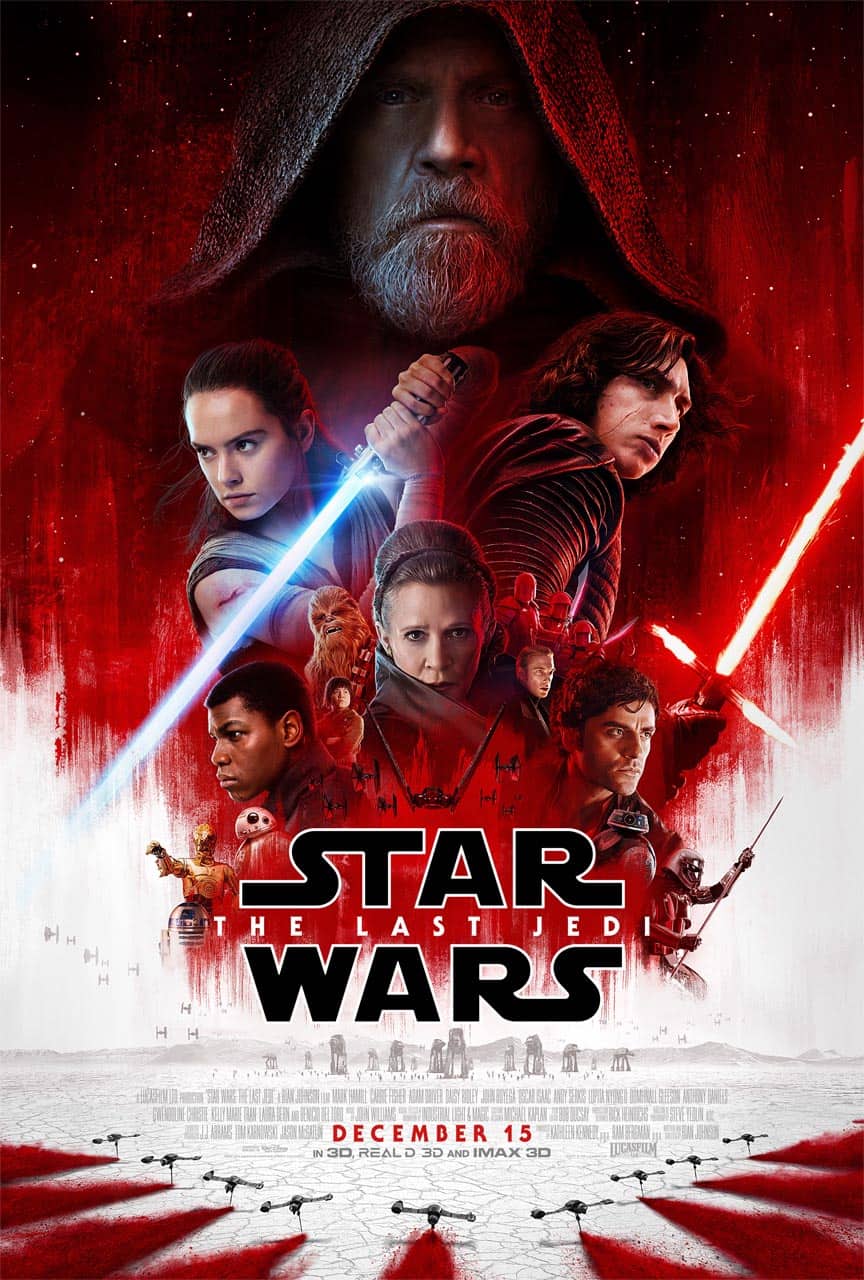 Follow Star Wars: The Last Jedi...
On Facebook, Twitter, Instagram and Youtube. You also must see the Star Wars: The Last Jedi website!
Don't forget to pre-order your Star Wars: The Last Jedi tickets.
Watch the latest Star Wars: The Last Jedi trailer:
Star Wars: The Last Jedi opens in theaters everywhere on December 15. Get your tickets now!