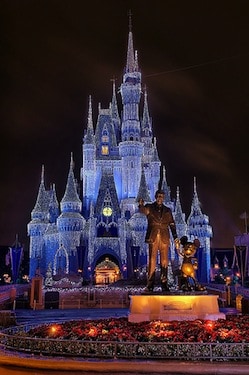 Our Disney World tickets are purchased, dinner reservations for a few special meals are planned, our house sitter is scheduled to arrive on time and Jersey is in the warm and loving hands of my husband's parents. Even though everything is falling into order, I'm having a hard time believing that we'll be starting our Florida vacation this weekend!
I was also a little bit surprised to realize this morning that this is our first "real" family vacation. I can't forget that Haiden and I went to Disney World when I was just a few weeks pregnant with Piper.  And we've been on lots of car trips to visit our families, plus we had one weekend in the Wisconsin Dells last summer, but all of us never been anywhere farther than about 200 miles away from home.
This vacation, however, will mark the first time my husband, Haiden, Piper and I will all board an airplane and travel several states away for a trip of fun and sun!
The vacation will be even more special because my parents will also be with us, along with my sister, brother-in-law and their 4 amazing kids! The kids will be demonstrating exactly how awesome homeschooling is by integrating Disney into their lessons while Haiden and Piper will be taking in all the new sights, sounds and experiences Disney has to offer.
I'm also thrilled to share that my family and my sister's family are sharing a house graciously provided by Global Resort Homes, the same company that hosted a blogging event that I attended in 2010. Global Resort Homes is as amazing as ever, and I can't wait to share more about the home we'll be staying in.
Finally, my ADHD-brain forgot to make any sort of transportation plans outside of our flights up until a week ago. On a whim, I reached out to General Motors to see if they wanted a Minnesota mom blogger and her family to try out one of their vehicles and share feedback on how it fit our family and our lifestyle. I am delighted to say that they agreed, so I'll be driving us around in a sweet GMC Yukon Denali for the duration of our trip!
While the super-hot baby deals might be a big fewer and farther-between for the next few days, this site won't be empty or lacking new posts! I'm leaving this site in the hands of capable friends and family members, so some interesting posts will still be coming your way!