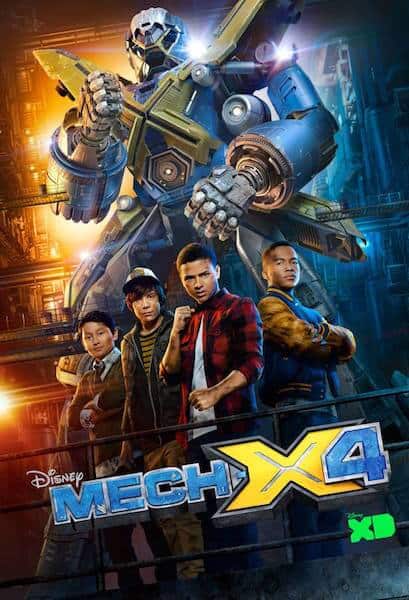 Have you heard about MECH-X4? It's the all-new Disney XD show that's premiering on November 11th!
I was in LA last month for a variety of Marvel, Freeform and Disney events, including the #DoctorStrangeEvent. One other highlight was the #MechX4Event, where I had the opportunity to screen the first episodes of MECH-X4, and sit down with the creators and the cast.
I learned a lot about the show, and I have some great reasons to watch MECH-X4!
5 Reasons to Watch MECH-X4
1. The Story – Here's what you need to know:
About MECH-X4:

When high school student Ryan Walker discovers he has the ability to control technology with his mind, he awakens 150-foot robot MECH-X4 and is able to control every move the android makes.

The situation gets to be too much for Ryan to handle on his own, though, when another monster starts attacking the school. That's when Ryan recruits older brother Mark and friends Harris and Pearce to help operate MECH-X4's defense system while he pilots the robot.

Together, the haphazardly assembled team of heroes must quickly learn to work together in order to save the school — and, ultimately, the world — from being destroyed. That's a lot of pressure to put on some teenagers!
2. The creators – Steve Marmel and Anupam Nigam – I met the MECH-X4 creators before watching the first two episodes of the show, then had the chance to interview them right after.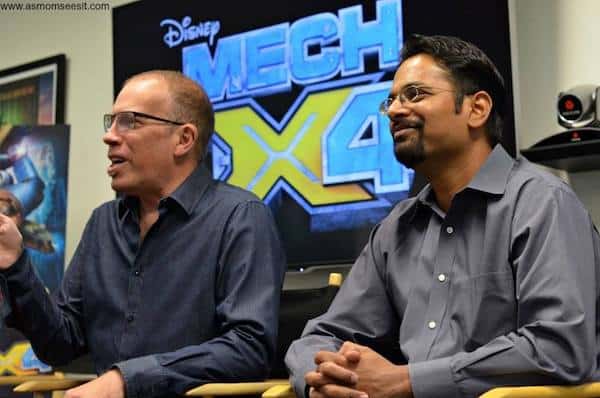 I'm pretty sure these two have some sort of window into a tween boy's brain. Marmel told us that the show is influenced by The Goonies
and E.T., and that they both love giant robots. Nigam added that he loves Transformers
and he "grew up on Omega Supreme".
The discussion of their influences segued into the fact that they're both "comic guys" and they're fans of serialized storytelling and they love applying it to one of Disney's first serialized action shows.
3. The cast – The actors who play the four main characters in MECH-X4 are really talented young men!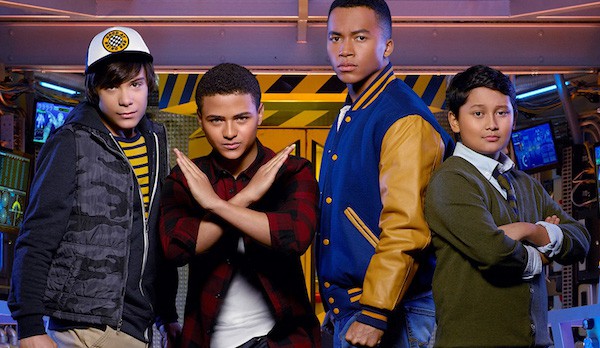 Left to right: Pearce Joza, Nathaniel J. Potvin, Raymond Alexander Cham Jr., Kamran Lucas
Nathaniel J Potvin plays Ryan Walker, the main character on MECH-X4.
Pearce Joza plays Spyder (Spider) on MECH-X4. He's an experienced stage actor and has appeared in Dixney XD's Lab Rats
.
Kamran Lucas plays Harris on MECH-X4. He's been seen in Girl Meets World
and Bella and the Bulldogs
.
Raymond Alexander Cham Jr. plays Mark Walker on MECH-X4. You might recognize him from Teen Beach 2
or Step Up All In
.
4. The Robot – MECH-X4 is a giant, robot-fighting monster that Ryan, Spyder and Harris discovered after Ryan started realizing he had special powers. Eventually they learn that Ryan's superpower physically and mentally connects him to the robot.
It's a fun concept and it's executed in a way that's perfect for kids who love action, science fiction and superhero plots!
5. The relationships – While the show's plot is sold as a kid with powers that control a robot, there are underlying themes of friendship and family that parents will love.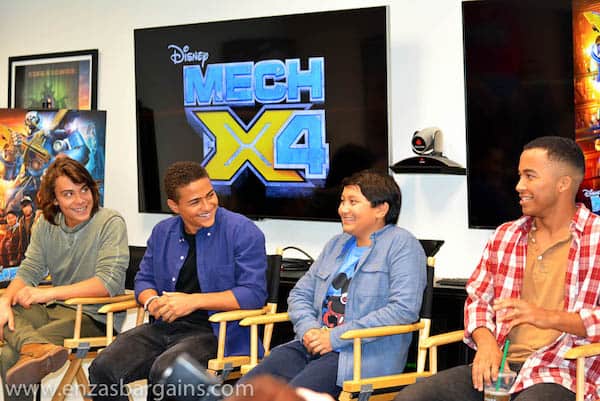 Thanks to EnzasBargains.com for this picture
You may have noticed that the characters of Mark and Ryan have the same last name. It's because Mark is Ryan's older brother.
As the show begins, the two don't have a great relationship. Mark treats Ryan like a little kid, and the two just don't understand each other. When Ryan realizes Mark should have a place in the team needed to control the robot, they begin to have more in common and they begin to bond as brothers.
Then there's the trio of Ryan, Harris and Spyder. The three are best friends first, and they're the kids inside the giant robot second. It's clear that the three have certain roles in their circle. Spyder is the physical one, Harris is the brains and Ryan has the superpower.
Even before they discovered the robot they understood how well they worked together, and working together inside the robot only hones their skills and deepens their friendship. It's really fun to see how well all four of the characters work together and how much chemistry they have when they're together!
MECH-X4 is a great show that families can watch together! You can find it regularly on Disney XD but you'll have tons of opportunities to see it in the near future.
Catch four back-to-back episodes of MECH-X4 on Disney Channel, the Disney Channel app and Disney Channel VOD from Friday, November 11th through Sunday, November 13!
You can also now watch MECH-X4 on Disney Plus!