Making air fryer s'mores is easy and fun! Skip the campfire, follow our step by step instructions below and you'll be enjoying delicious indoor s'mores in minutes.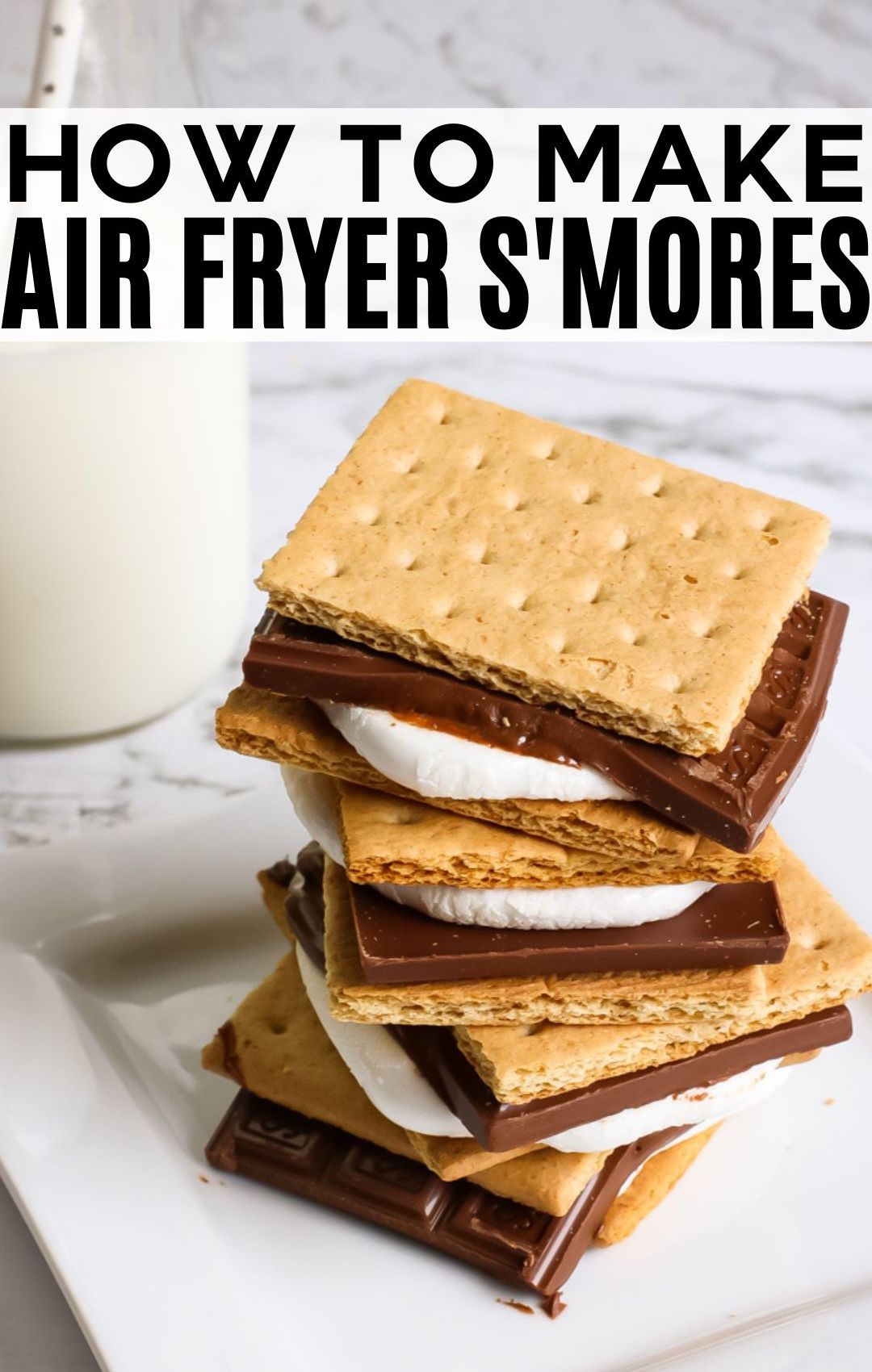 We all love s'mores right? Well, what if you could cook them in an air fryer instead of using a campfire? That's exactly what you'll learn in this recipe!
Air fryers have become extremely popular over the past few years, especially for those who just want to save time preparing meals for their families. It's become the perfect way to make restaurant-quality fried foods without the mess and trouble of a deep fat fryer.
But your air fryer is so much more than a fry daddy substitute! One thing that many people don't know about air fryers is how they great they are for making treats and snacks that aren't supposed to be fried at all.
Which is why I'm sharing this recipe for air fryer smores today. It's the easiest of easy recipes, and an excellent way to start making air fryer desserts!
Plus, is there anything better than s'mores? Check out these related and creative s'mores recipes for more marshmallow, chocolate and graham cracker goodness:
This smores dip is to-die-for delicious!
These s'mores cookies have brown butter and the marshmallows get all toasty. Big pieces of Hershey bar chocolate also make them great to show off your baking skills.
This no-churn s'mores ice cream recipe is a great summer treat!
Why you'll love making s'mores in the air fryer
There are a few great reasons why this air fryer s'mores recipe is such a winner.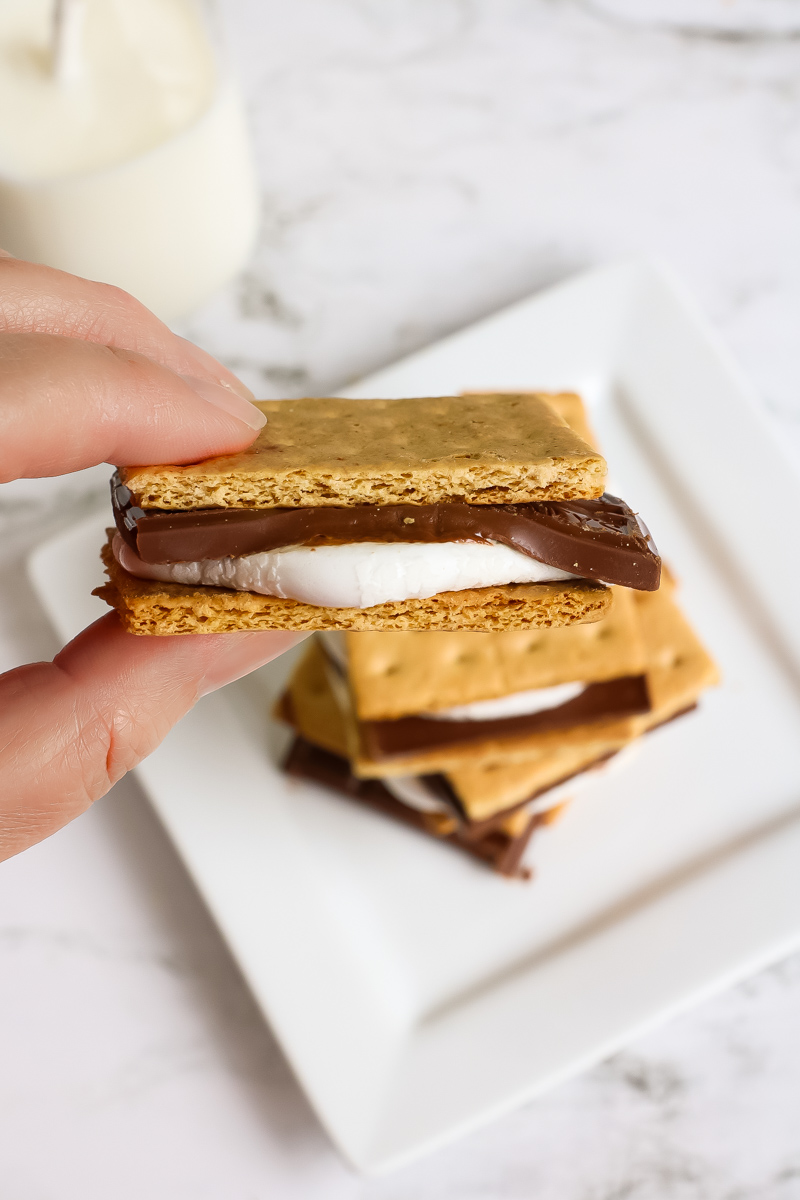 1. No campfire needed.
I know, in my heart of hearts, that going outside is good for you. The fresh air. The sunlight. The nature. I also know that a lot of people love the great outdoors.
If you don't know me…I am not one of those people.
I was born and raised in Minnesota. A place where snow can fall 10 months out of the year (I'm not joking). A place where the mosquito is jokingly called the Minnesota state bird. A location that's a "prime target for lyme disease." I'm actually pretty sure I don't belong here.
I'm not saying I never go outside and I never enjoy a campfire. I've had tons of great experiences sitting around a fire pit with friends and family. I love the singing and telling stories and how those fires turn already-lovely nights into really special memories.
It's just, a nice fire doesn't always outweigh the things I don't like about being outside.
Anyway, as much as I love s'mores, I'll opt for a way to make them inside anytime.
2. It's easy!
This one really doesn't require additional information. Making this air fryer recipe for smores is incredibly easy, AND it has tasty results.
3. It's way better than microwave s'mores
I didn't mention this before, but indoor smores are kind of my thing. I've been making them in the microwave since I was a kid.
Microwave smores are delicious, especially when you don't know another way to make your favorite dessert. But they have their problems.
One time, I set a graham cracker on fire in the microwave when I didn't even leave it in there for a long time.
Even if they don't catch fire, the graham crackers often get scorched. Plus, a marshmallow melts faster than a chocolate bar, so you need to time your microwaving.
If you manage to perfectly melt the middle of your treat, the crackers will be soggy unless you let them sit and cool for a bit.
I'm not saying any of this to put you off the microwave method. It's just…try to air fry your smores instead. You'll be so happy you did!
Which air fryer is the best?
I've had and used a few different air fryers. One basket-style air fryer that was recalled, and one toaster oven air fryer. My sister also has two air fryers that I've used extensively. Here's my take on the different air fryer styles that are available.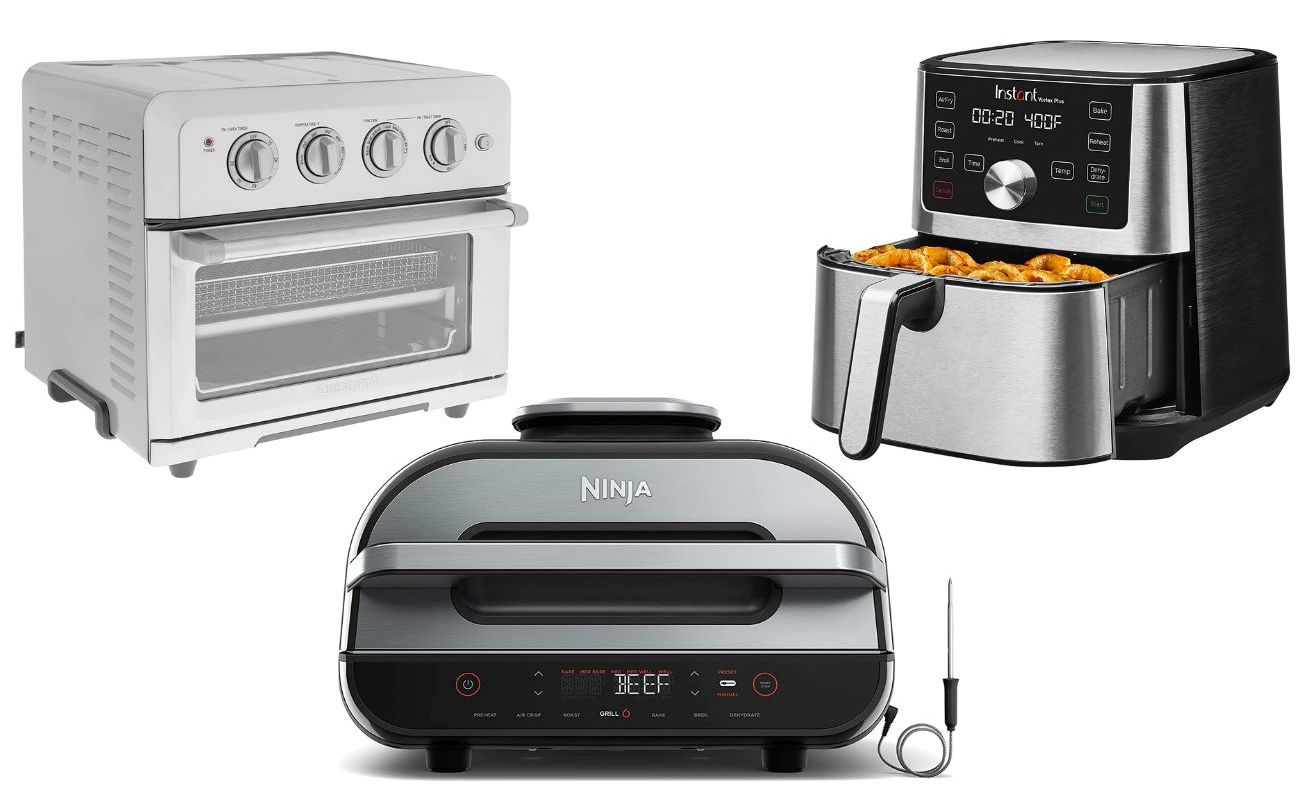 Toaster oven air fryer:
This is the one used for this recipe. It works perfectly for those foods you might usually cook in the oven or deep fry individually. Mini pizzas, hand pies, and air fryer cinnamon rolls are great for this style. You can still use it for things like fries and tots, but it will work best when foods are spread in a single layer.
Basket style air fryer:
Basket style air fryer: This is made to imitate a deep fry basket, which would be submerged in oil in a traditional deep fryer. You can use it for anything you want, and it's made for french fries, tater tots, egg rolls, and items that won't get squished if you want to put a lot in the basket.
All-in-one cookers (like the super popular Ninja Foodi)
If you have a need for an Instant Pot and an air fryer, you can get a machine that does both, and a lot more, like the Ninja Foodi! I don't have experience using one, but I do know that people who own the Foodi absolutely love it (check out the reviews!), so I'd definitely check them out if they interest you.
You can definitely make s'mores in any style of air fryer.
No matter what, you'll need an air fryer with a 6-quart or 8-quart capacity. Using anything smaller will have you adjusting all your recipes down because your basket won't be big enough to cook the full recipe.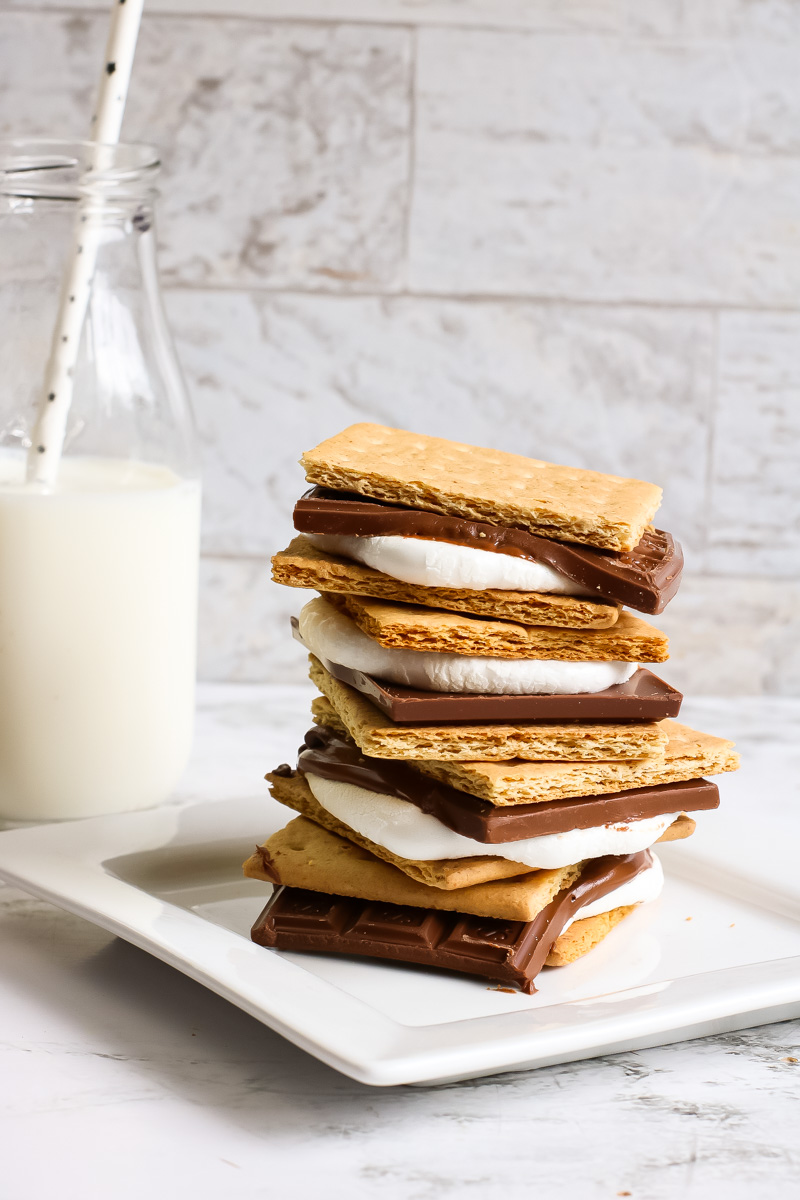 Ingredients for air fryer s'mores recipe
The ingredients for basic s'mores are listed below.
If you want to jazz up your everyday s'mores into something special, check out the s'mores variations section at the end of this post. There are some amazing additions and changes that could forever change your view on s'mores.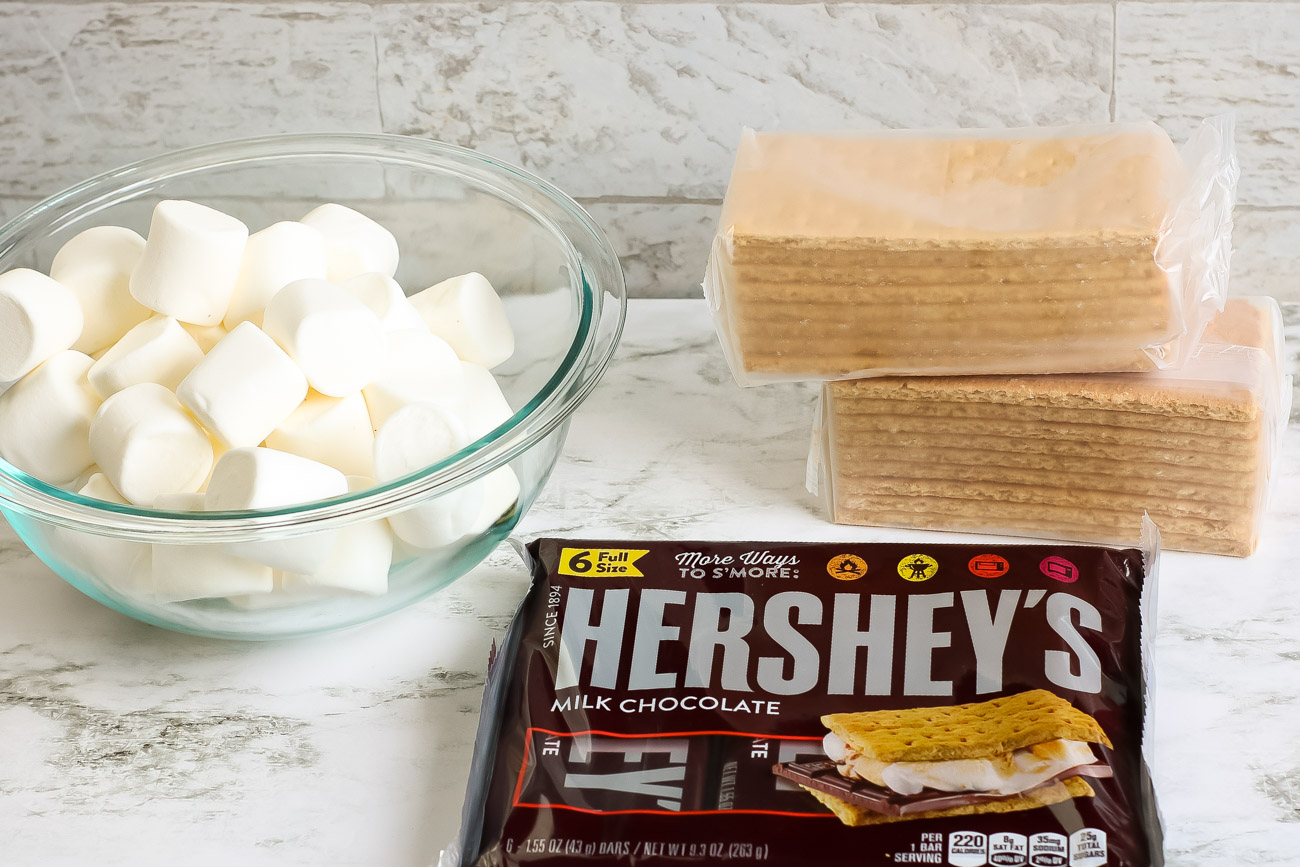 Ingredients you'll need:
Graham crackers
I'll be the first to admit that I'm the opposite of a cracker snob, while I'm also a huge, huge fan of the snack. My very favorite brand is the Aldi store brand of graham crackers. But you're free to use whatever brand you like the most.
Chocolate
The basic instructions call for squares from Hershey bar chocolate candy bars. They're a classic ingredient for a reason!
Marshmallows
I once read that celebrity chef Christina Tosi said that Kraft Jet-Puffed marshmallows are the best.
I trust her judgement, but there's a huge difference between her, a professional pastry chef, making masterpieces of desserts, and me, making s'mores in an air fryer.
In the end, I feel like as long as your marshmallows are fresh and fluffy, you can't go wrong.
The geometry of graham crackers
The heading I just wrote, "the geometry of graham crackers" made me laugh out loud. Doesn't it sounds like a PBS program?
Anyway…Let's start by avoiding confusion when talking about the various pieces graham crackers can be broken into. Here's how I refer to the different shapes:
Graham crackers come out of the package in long rectangles. One rectangle is a single graham cracker sheet.
When you break the sheet in half, where it's scored, you have two graham cracker squares.
If you break those two squares in half where they're scored, you'll have four graham cracker quarters.
How to make air fryer s'mores
The directions for air fryer s'mores are so easy, you'll probably have it memorized in no time!
The purpose of this section is to show you images of the cooking process while walking you through the steps.
Be sure to refer to the printable recipe card at the end of the main content for cooking times and specific instructions.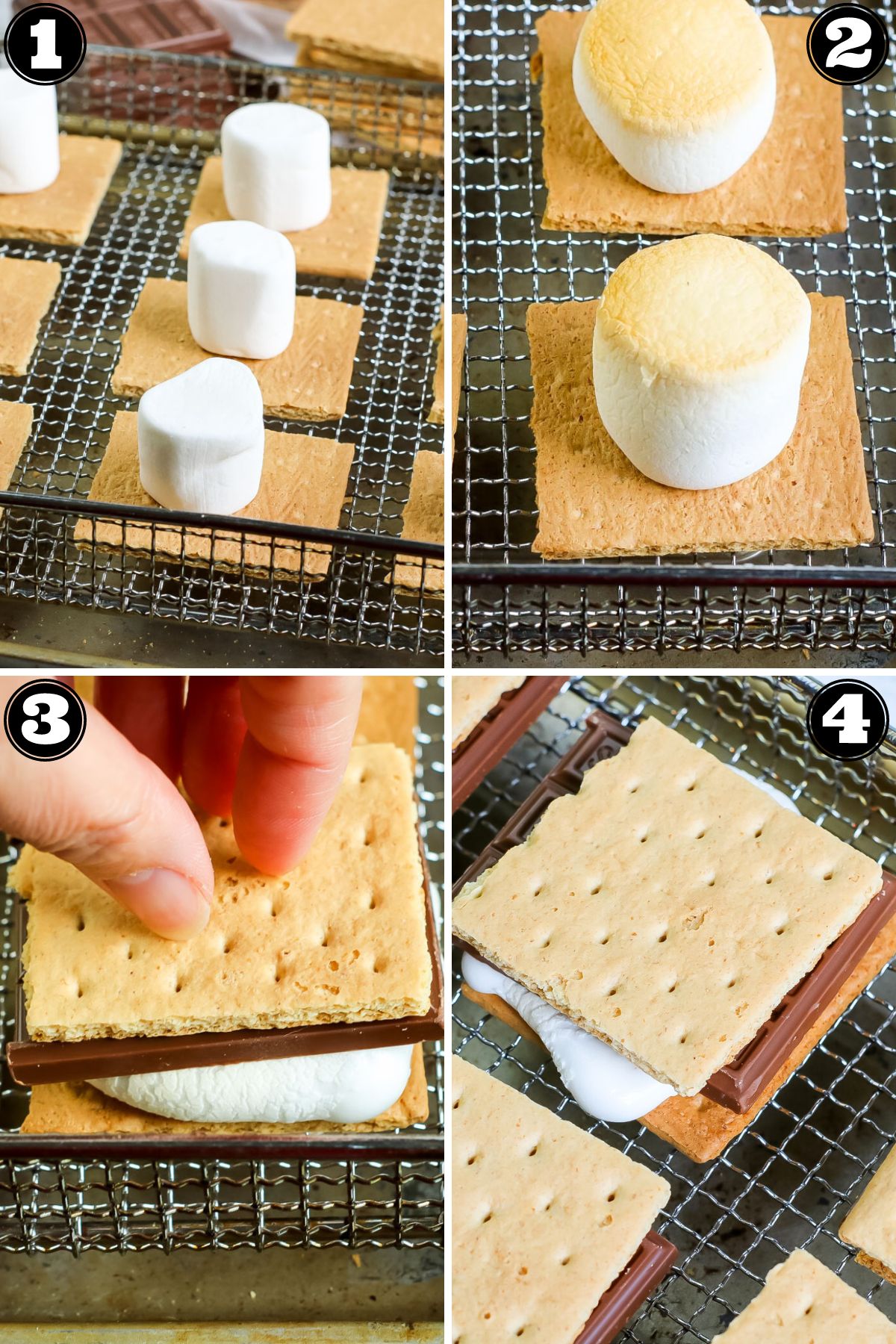 The basic instructions for the recipe are:
heat up a marshmallow on one graham cracker half (square), until the marshmallow is puffed up and golden. If you immediately top that with a chocolate bar, it should melt perfectly and you can cover it with a second cracker to complete the dessert sandwich.
If you have issues with the marshmallow not getting melty or toasty enough, try putting both graham cracker half squares in the air fryer with a marshmallow half on each. Watch carefully because they'll melt faster.
S'mores Variations to try
One way to change up your smores recipe is to change out the chocolate you use. Here are a few chocolate alternatives for s'mores:
Dark chocolate bars
White chocolate bars
Peanut butter cup candies
chocolate chips (semi-sweet or milk chocolate)
A mixture of chocolate and peanut butter chips.
Chopped candy bars (Snickers, Milky Way and 3 Musketeers are all winners)
Then there are the marshmallow alternates. Try spreading a layer of marshmallow fluff (see: how to make homemade marshmallow fluff) or marshmallow creme on the graham cracker, or using mini marshmallows.
Finally, you can try using other flavors of crackers. Cinnamon grahams are easy to find, and chocolate graham crackers are even more cookie-like than the original flavor!
Air Fryer S'mores FAQ
How many s'mores can I make in the air fryer at one time?
That depends on the model of air fryer you have. I can make up to 9 in mine, but yours might fit a different amount.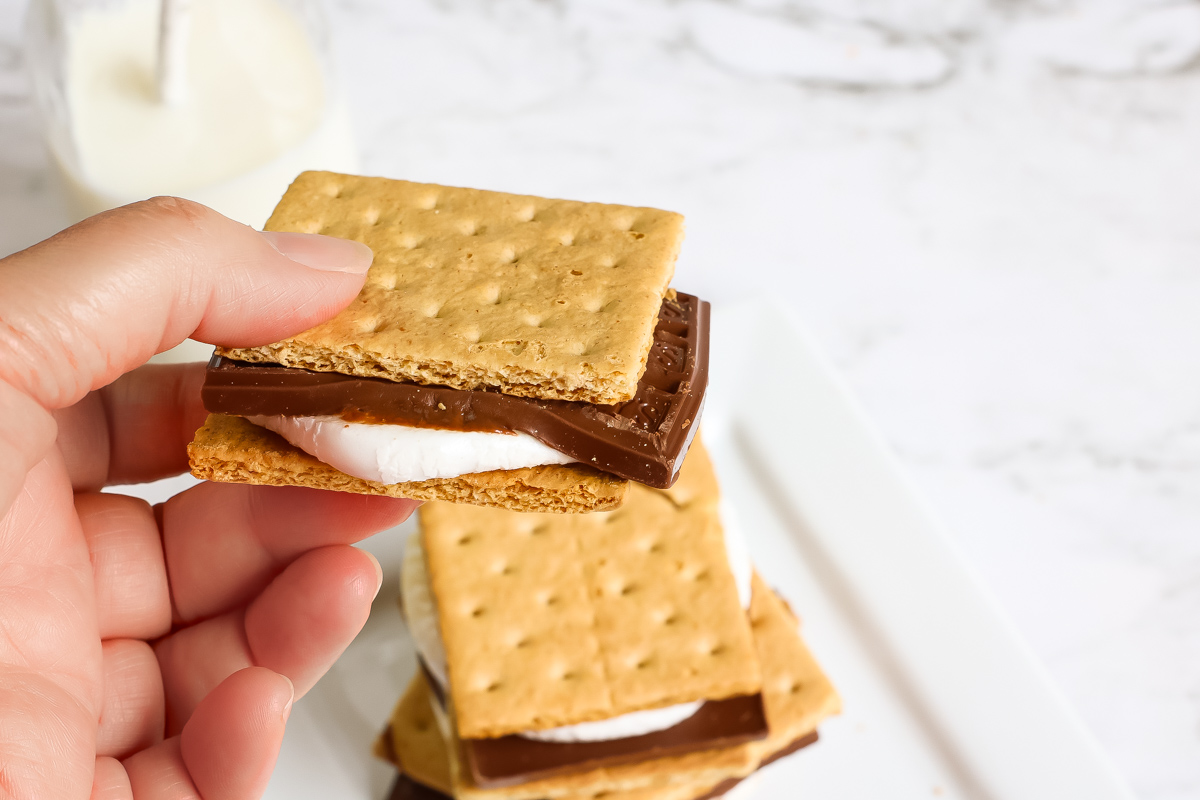 What other ways can I make s'mores?
Aside from a campfire and our new air fryer method of making s'mores treats, here are a few ideas for alternate ways of making them:
Microwave s'mores: Placing a chocolate bar on a graham cracker square, topping with a marshmallow and microwaving for 20 seconds. If your marshmallow isn't melted enough, cook it for 10 more seconds.
Broiler s'mores in the oven: Assemble your smore without the top cracker square, and broil in your oven until the marshmallow is toasted.
Who invented s'mores?
There are a few different stories about the origin of s'mores, but the most commonly cited one is that they were invented by the Girl Scouts. According to this story, s'mores were first made by Girl Scouts during the 1920s as a way to roast marshmallows over a campfire.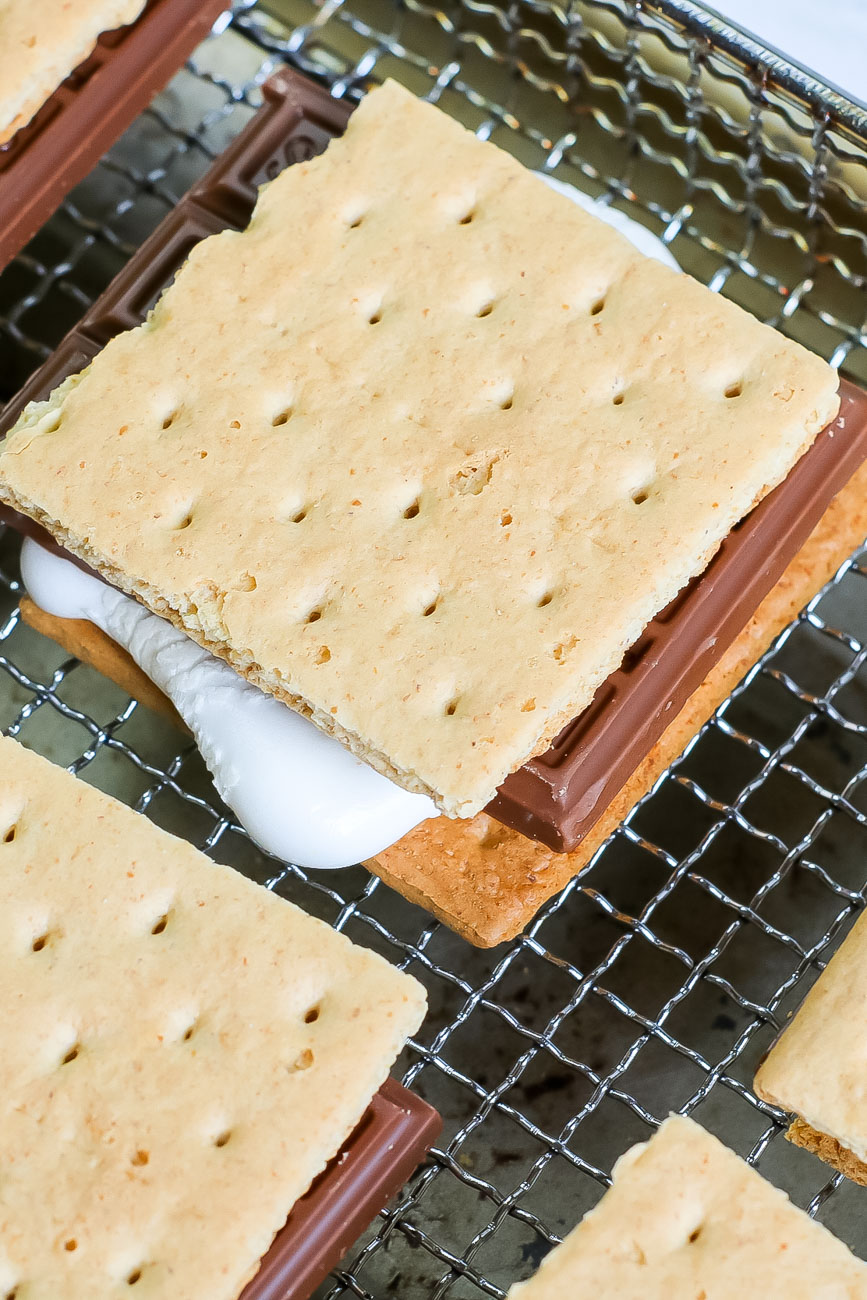 Another legend attributes the invention of s'mores to a man named Lawrence Kreusi, who owned a summer camp in the 1920s. Kreusi is said to have created s'mores as a treat for his campers, using graham crackers, a chocolate bar, and marshmallows.
Yield: 4
Air Fryer S'mores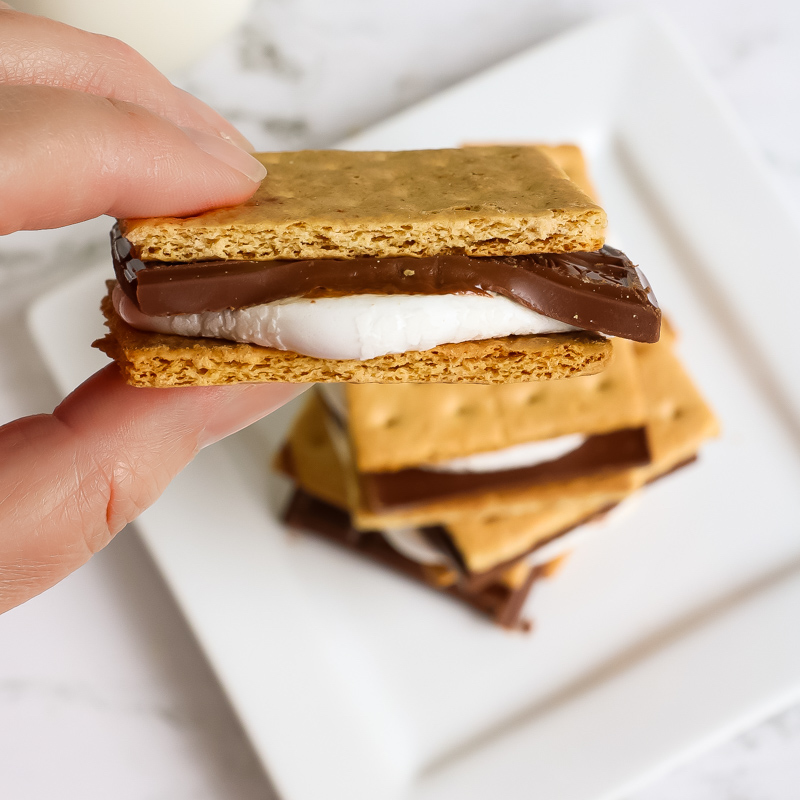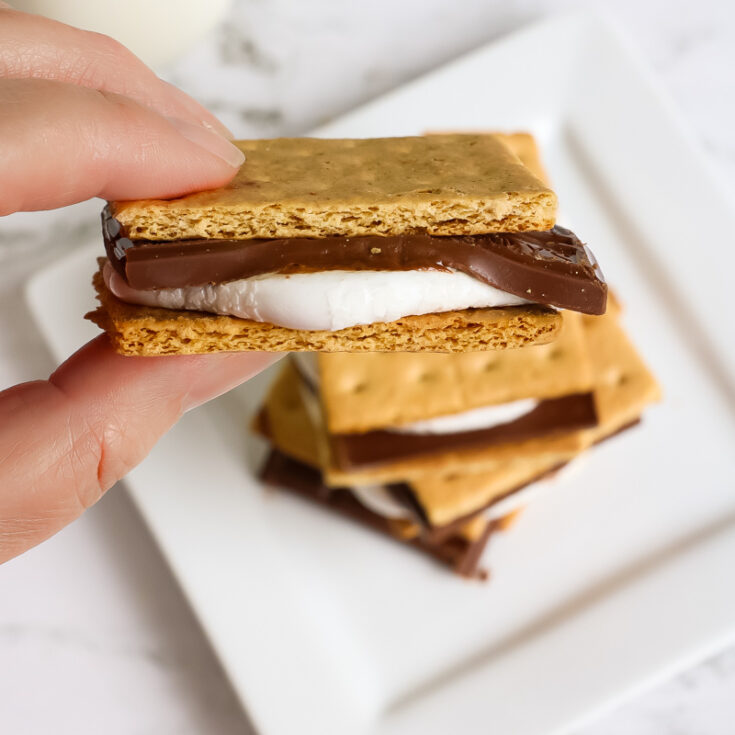 Learn how to make delicious, gooey s'mores in your air fryer with our step-by-step recipe and instructions. Perfect for a quick and easy dessert or a fun indoor camping treat. Give your taste buds a treat with this easy twist on a classic favorite, no campfire needed!
Ingredients
8 graham cracker squares
2 milk chocolate candy bars, divided
4 marshmallows
Instructions
Preheat the air fryer to 350 degrees.
Lay down 4 graham cracker squares in the air fryer basket and place a marshmallow on top of each cracker.
Return the basket to the air fryer and cook for 30 seconds. Check your marshmallows and cook in additional 30 second intervals until the marshmallow is golden brown.
Remove the basket from the air fryer and immediately place a chocolate square on top of each toasted marshmallow. Top each with a graham cracker square and press down gently.
Wait 30-60 seconds for the chocolate to melt before serving.
Nutrition Information:
Yield:
4
Serving Size:
1 S'more
Amount Per Serving:
Calories:

251
Total Fat:

9.3g
Saturated Fat:

4.4g
Cholesterol:

5mgmg
Sodium:

192mgmg
Carbohydrates:

40.3g
Fiber:

1.3g
Sugar:

26g
Protein:

3.7g