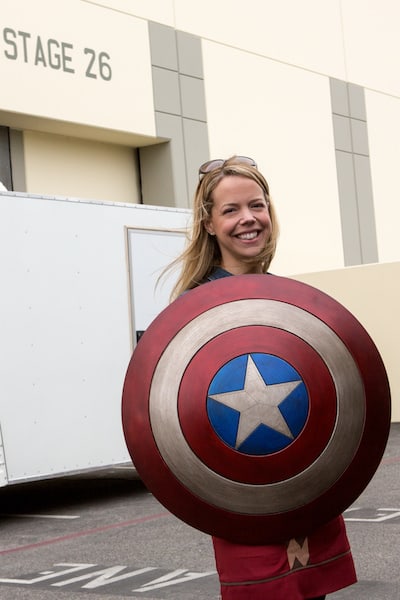 If you've been reading this blog for the past few months you probably won't be surprised to know that I'm a big fan of Marvel's Avengers franchise. If you've seen any of the movies, you know it's not difficult to get excited about those superheroes.
And if you're not familiar with the films (Iron Man, Iron Man 2, Iron Man 3, Captain America, Thor, The Avengers, Thor: The Dark World), this isn't the first time that I'm urging you to check them out!
Of course, attending the Hollywood premier of Iron Man 3 would likely make a fangirl out of anyone, but I can honestly say that I've even surprised myself with how much I absolutely love all of Marvel's Avengers movies.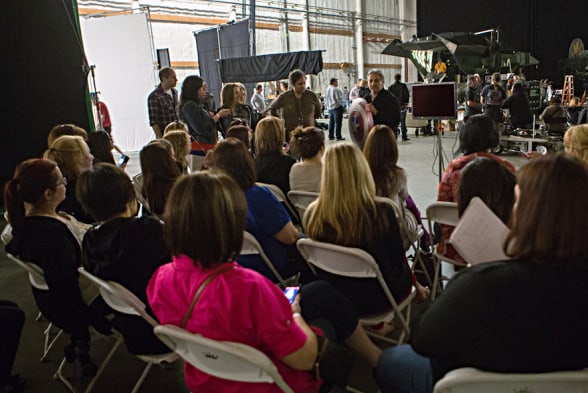 You'd think that a day that included an actual movie premiere would be exciting enough, but we also paid a visit to the Captain America: The Winter Soldier set just hours before the Iron Man 3 premiere.
Visiting the set was amazing, and one of the highlights of the experience was interviewing Russell Bobbitt, the Property Master for Captain America: The Winter Soldier.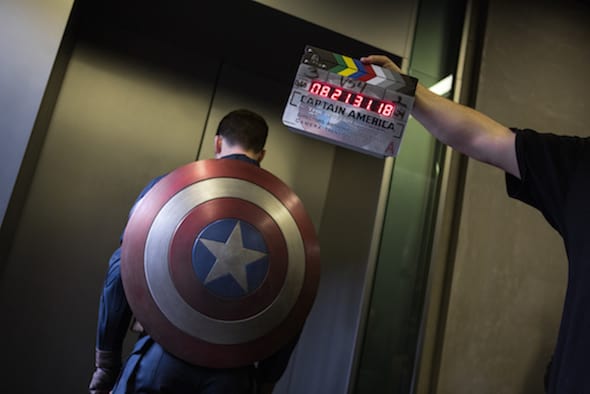 The property master on a film production is responsible for all objects handled by the actors during a scene, which means Russell Bobbitt was responsible for developing the perfect design for Captain America's iconic shield.
Russell had so many interesting details about his job and his role in the film, and I'm so happy I get to share them with all of you!
Talk about [Captain America's] shield. How did you design it?

In our movie [Captain America 2], we have four different looks for the shield because he goes into different scenarios, different missions. And [Captain America] applies different materials that help make the shield stealth in different situations. So we have four different styles…it will appear that there are different shields, but it's only one shield.

I had to make 50 versions of that "one" shield to accommodate all the different situations. I have hard rubber, soft rubber, fiberglass, metal. Metal looks the best.
Why do you need so many shields? 

We need so many because we do different things.

If [Chris Evans, the actor playing Captain America] is walking around and the shield is on his back, I can put a really clean, nice, heavy one on him. When we photograph from behind, the shield looks shiny and new, like metal.

When he takes it off and starts fighting with it, we can't hit each other with metal shields or the boys won't be able to play very long. So I make soft ones to accommodate the physical contact.
I also have to mention that Russell Bobbitt was so incredibly nice to our entire group of 25 bloggers. Both before and after the interview about the shield, he spent a long time chatting with us. He told us about his job as the property master in Iron Man 3 and other movies and general details about the responsibilities of his job. Mr. Bobbitt also shared personal details about the arc of his career and how he worked his way up the ranks into the role of property master for major Marvel films. There's no question that this man is passionate about his job, and I could have listened to him share details and stories for hours!
The entire set visit was an unforgettable experience, and the icing on the cake was the image at the top of this post. That's me, holding Captain America's actual shield that was used in Captain America: The Winter Soldier!
It's pretty fantastic to see that picture and know that I'm holding the same shield that Chris Evans uses in the movie: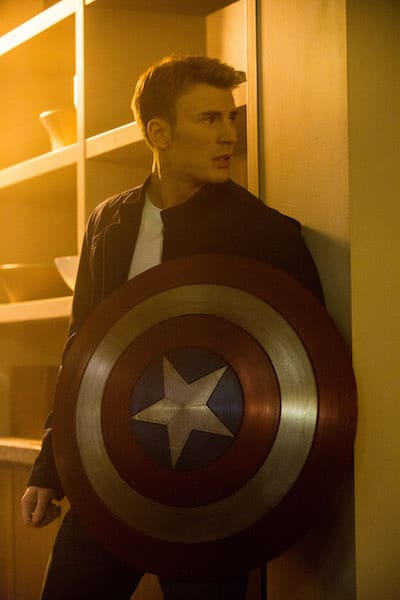 Are you ready to watch Captain America in action? You can currently buy Captain America on DVD or stream it from Amazon, Netflix and Redbox Instant. Then get ready, because Captain America: The Winter Soldier is being released in theaters everywhere on April 4, 2014!
Keep up with all the news about Captain America: The Winter Soldier:
I'll also be bringing you all the Disney and Marvel news as soon as it's available, so you can just keep checking back here for Captain America: The Winter Soldier updates!