Thinking about a Disney cruise with a baby? If you have an infant or a toddler, you might be wondering if it will truly feel like a real vacation with your littlest one in tow.

Let's be real. Travel of any kind can be a little tricky with a baby.
Here's the good news: Disney Cruise Line knows that parents with young children are an important demographic. Providing an amazing vacation experience for families is what Disney does best!
Still, you might understandably be a little worried about the logistics of cruising with a baby. Don't worry, taking a Disney cruise with a baby is easier than you think, especially if you're prepared!
Here are five important things to know to ensure your Disney cruise with a baby is the relaxing vacation of your dreams.
How to take a Disney Cruise With a Baby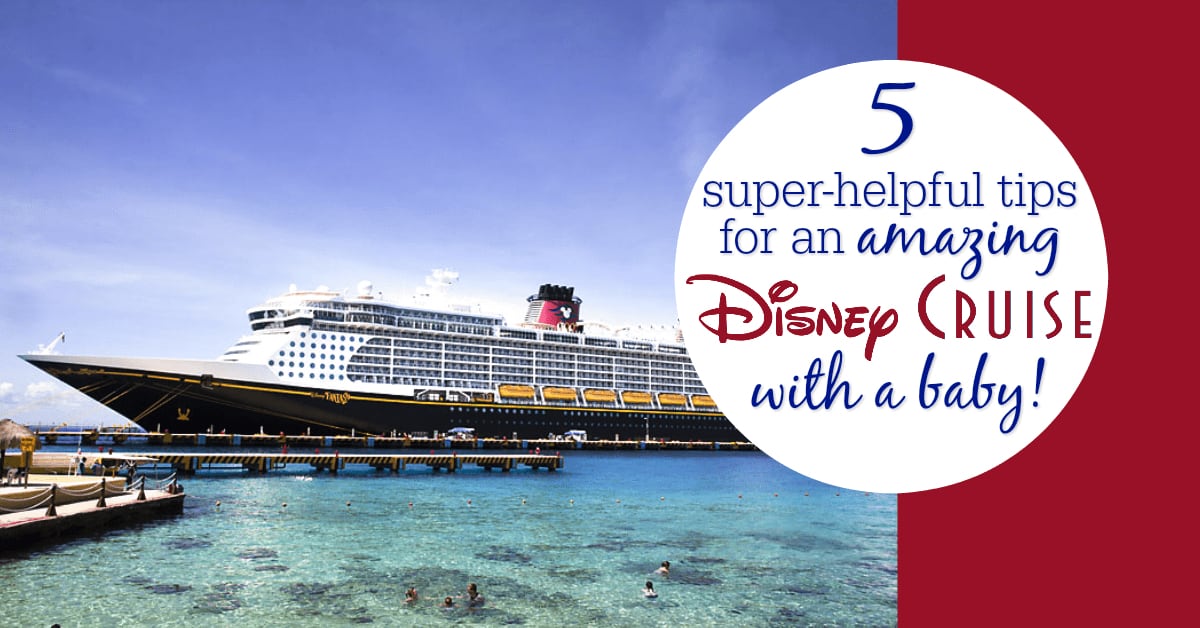 Age Requirements for a Disney cruise with a baby
1. Know the age requirements
The minimum age for infants, babies and children on most Disney Cruises is 6 months or older on the day you set sail. For some longer sailings (Transatlantic and Panama Canal, for example), your child must be a minimum of 1 year old on embarkation day or or the day your cruise starts.
What baby equipment does Disney Cruise Line provide?
2. Your Disney cruise provides a lot of FREE baby equipment
Disney Cruise Lines will provide the following baby items for free for your use while on board your ship:
Crib (or Pack n Play) and bedding
Stroller with a canopy
Diaper genie
Bottle warmer
High chair in dining rooms
Wagons at Castaway Cay, Disney's private island that's visited on Disney cruises in the Bahamas.
How to reserve baby equipment for a Disney cruise
You can reserve all of the baby items listed above after you have paid for your Disney cruise in full. You just need to call Disney Cruise Line guest services at (800)951-3532 and speak to a representative.
If you decide to bring your own stroller, I suggest an umbrella stroller (this one has several reviews stating it was perfect for Disney cruises!) or a compact folding stroller like the gb Pockit. Space in your stateroom is limited so packing as light as possible is a good idea.
Disney Cruise Infant Care and It's a Small World Nursery
3. Take Advantage of the Disney Cruise Nursery
It's your vacation! Plan ahead to have some downtime for you so you can hit the spa, enjoy an audiobook while laying in the sun, or just take a nap.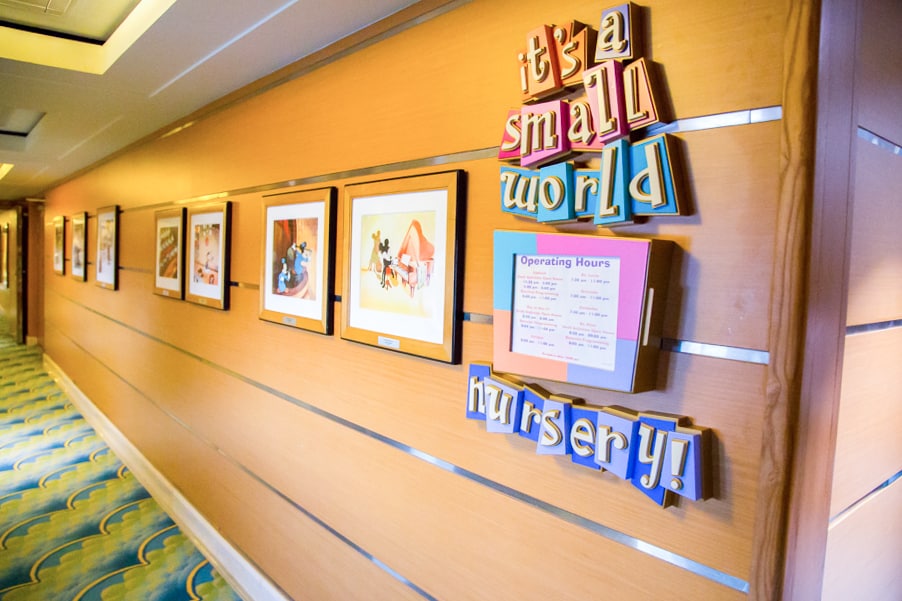 Each of Disney's cruise ships features the It's a Small World Nursery. The staff members that work there are all highly-trained and will take amazing care of your child.
It's a Small World Nursery will watch children ages 6 months to 3 years old. They will feed your child, change diapers, and keep the kids engaged in games, crafts, and activities.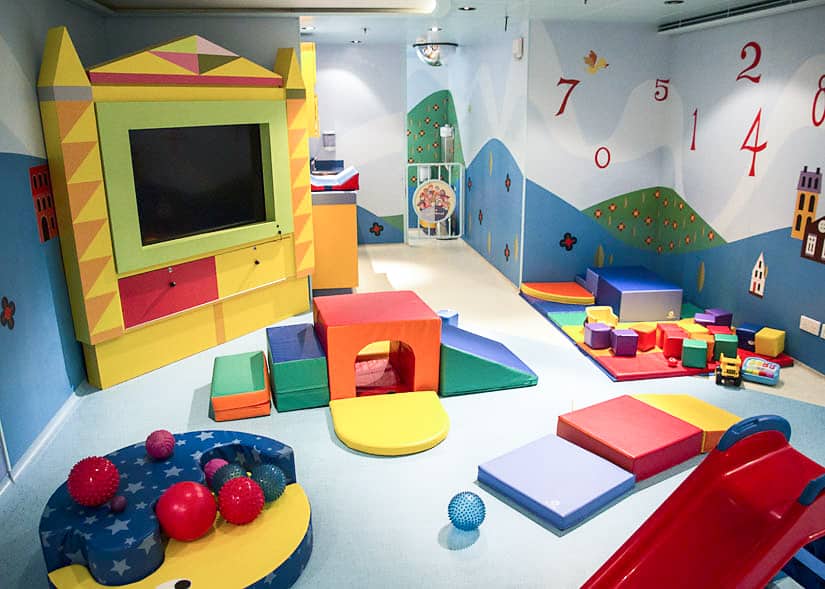 If you want to check in from time to time, there's a window in the main play area where you can peek in without being seen.
Rates are $9 per hour for the first child, $8 per hour for each additional child. You can make reservations before you sail by calling Disney Cruise Lines guest services.
Since you can cancel up to four hours before your reservation without penalty, I suggest reserving more time for yourself than you think you'll use.
Dining on a Disney Cruise with a baby or toddler
4. Toddler Dining: What Will They Eat?
If you have an infant or a toddler who's a picky eater, you might be wondering what there is for your baby or toddler to eat on a Disney cruise.
Remember, Disney has a lot of experience catering to kids, so the cruises have many great menu choices for kids in the dining rooms. Your server will happily cut up food for older children or even puree the food for your infant.
Got a special request? No problem. Tell your waiter about any special food you'd like to have for your child. They will be happy to bring mashed potatoes, avocados, or bananas, just as a few examples.
The most important thing here is to just ask when you have a special request. The dining room staff will bend over backwards to make each meal perfect for you.
What should I pack for a baby on a Disney cruise?
5. Pack These Baby Essentials: They're Expensive on the Ship
Many regular supplies for babies are available on your Disney cruise ship, but don't plan on buying them once you're checked into your stateroom.
These everyday items are expensive when you buy them onboard! A little bit of planning goes a long way in being prepared and saving money.
This is my suggested packing list for what to pack for your baby on your Disney cruise.
Are there activities for babies and toddlers on Disney cruises?
6. Have fun with your baby on your Disney cruise!
There are a few adult-only areas on all Disney cruise ships (nightclubs, lounges, premium restaurants, etc.) but your baby will be able to enjoy every other aspect of the ship right by your side!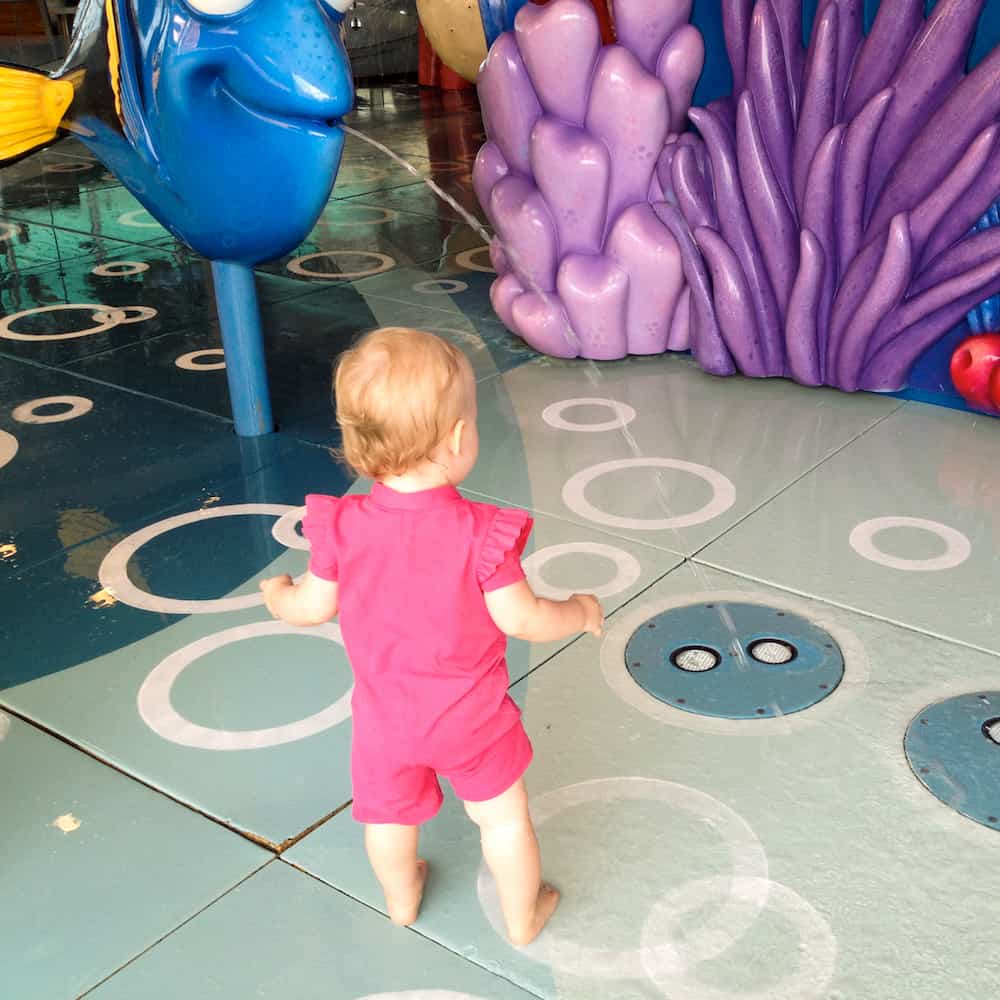 Be sure to pack baby's adorable swimsuit or swim trunks, because there are splash pads and water play areas just for younger kids on each Disney cruise ship.
The AquaLab on the Disney Magic is for toddlers and up, but the Splash Zones and Nemo's Reef are exclusively for little ones ages 3 and under!
Ready for your cruise? See all the Disney Cruise Line destinations and sailing dates!
Before cruising you'll definitely want to check out the most comprehensive list of Disney cruise tips!
Have you ever taken a baby on a Disney cruise? If you have tips please leave a comment!
Image credit for top right photo used in the collage.
Image credit for photo of Nemo's Reef splash pad.
Image credit for It's a Small World nursery photo.