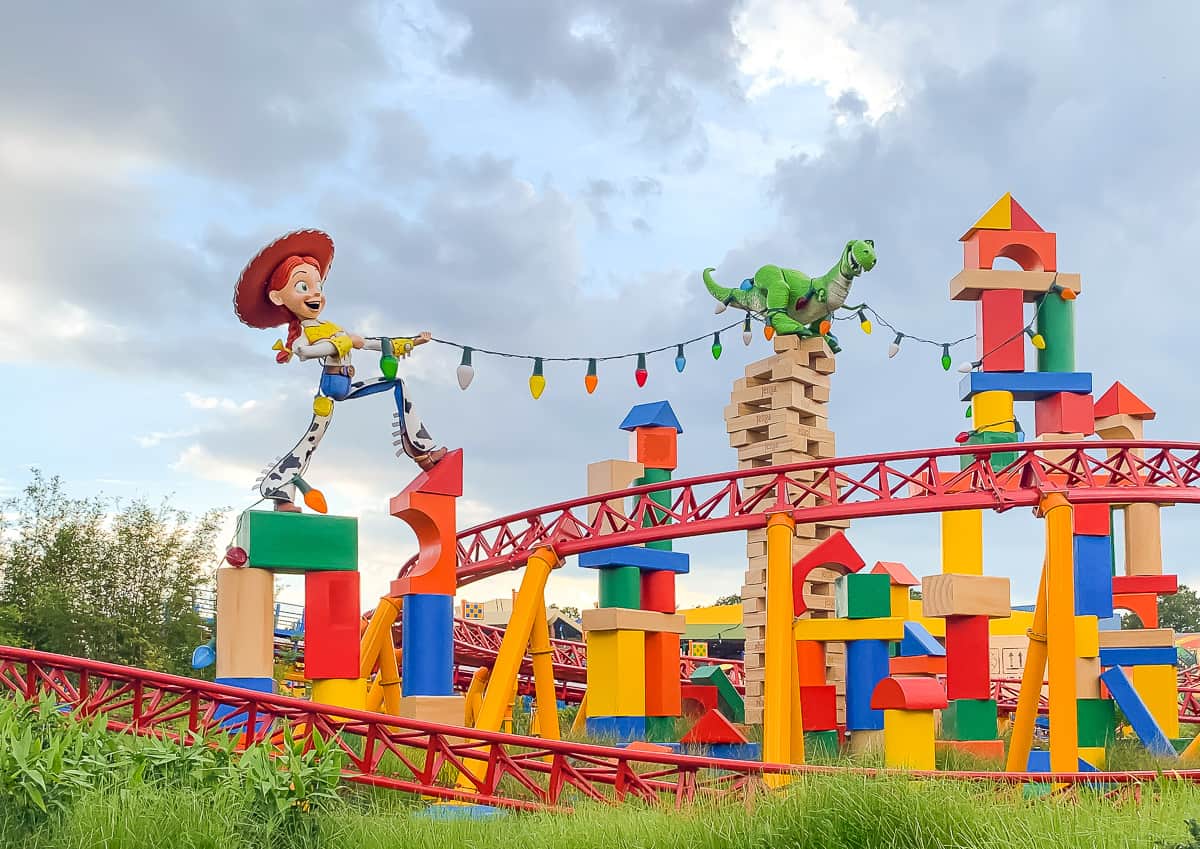 Last week I took advantage of an amazing opportunity: I took my family to Disney World for the Toy Story press event!
We got to screen the all new Toy Story 4 (no spoilers, but it's so, so good! My spoiler free Toy Story 4 parent review is coming soon. Watch the trailer below!) and spend four days park hopping through all of Disney World.
https://www.youtube.com/watch?v=Pl9JS8-gnWQ
As you can probably imagine, we had the best time!
One of the highlights of the entire trip was a private party in Toy Story Land that was held after Disney Hollywood Studios closed. Only the people who were at Disney World for the Toy Story 4 event attended, which meant unlimited rides with no lines!
Given that average wait times for the Slinky Dog Dash roller coaster is about 90 minutes, this was a huge perk!
Not only did we get to go on all the Toy Story Land rides multiple times, we also got to meet the characters of Toy Story and experience some of the in-park entertainment without the usual crowds of people surrounding everything. It was definitely a priceless experience!
Since I had the chance to do everything at Toy Story Land, I can tell you, it's absolutely a must-see, must-do Disney World experience! Here's everything you need to know about Disney Toy Story Land.
About Toy Story Land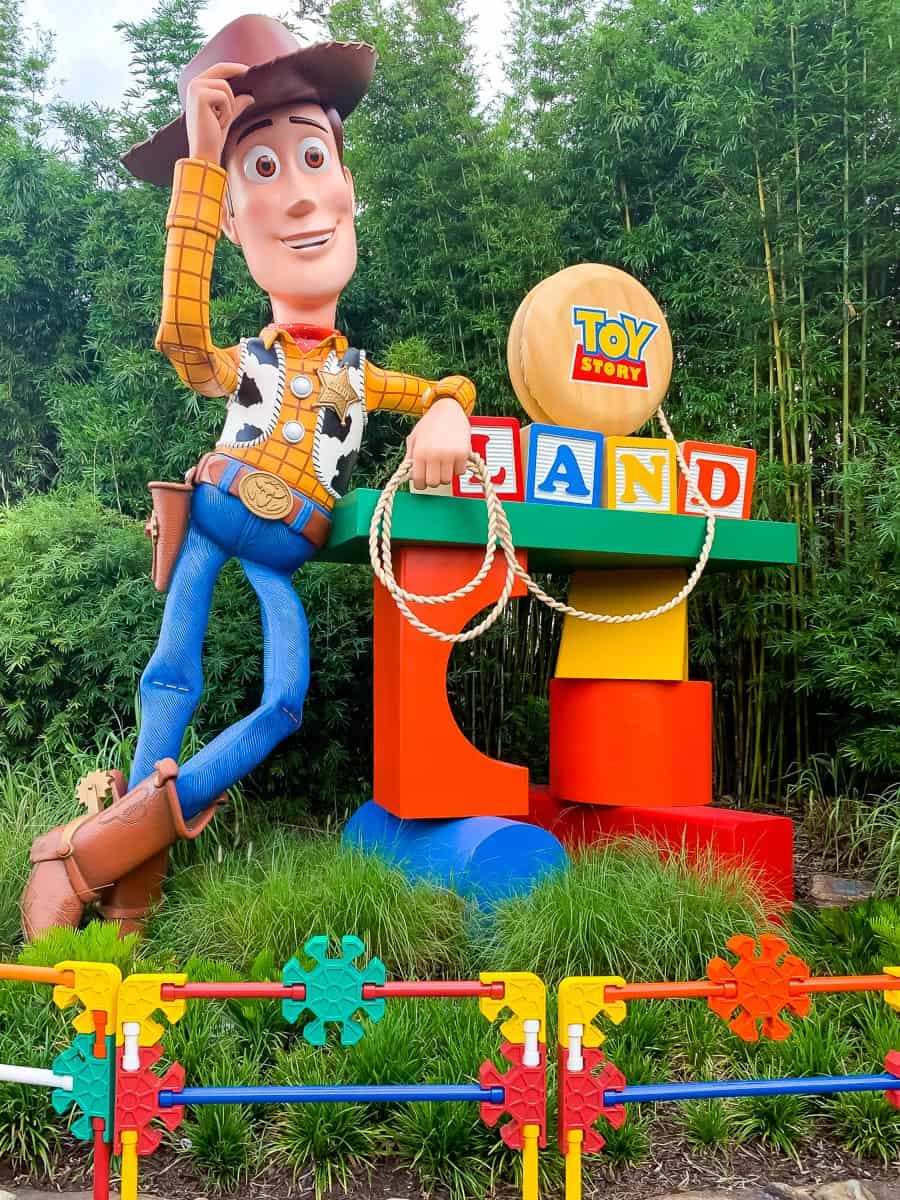 Ready, set, play! Toy Story Land at Disney's Hollywood Studios gives guests the sensation of shrinking to the size of a toy as they explore Andy's backyard and see their favorite Toy Story characters larger than life.
Whether it's an exciting ride on the family-friendly Slinky Dog Dash roller coaster, a spin on the Alien Swirling Saucers or a 4D adventure through carnival midway games at Toy Story Mania, guests are fully immersed in the playful world of toys.
Toy Story Land: The Rides
There are three rides at Toy Story Land, and they are all insanely fun! They're also all pretty different, which means there's something for everyone!
Slinky Dog Dash
Slinky Dog Dash is a family-friendly roller coaster that takes riders past giant toys and springs across Andy's backyard. You ride on Slink, the iconic Slinky dog featured in every Toy Story movie, and there are fun Toy Story highlights throughout the entire ride!
I love that this roller coaster isn't particularly wild. I would put it on the same level as the Seven Dwarfs Mine Train. There aren't loops that take you upside down, and there's a break in the middle to catch your breath.
Above all, the ride is adorable. It's a must for any Toy Story fan!
Alien Swirling Saucers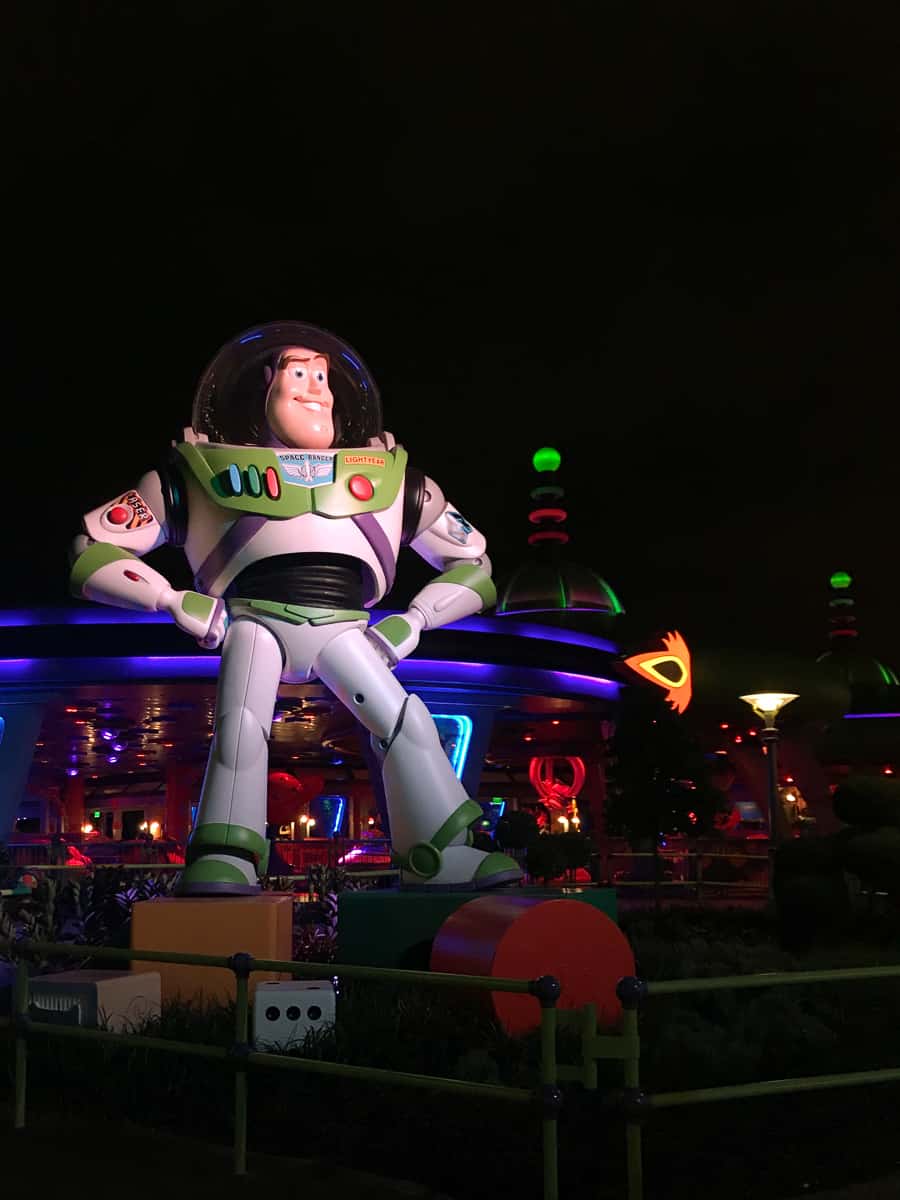 Buzz Lightyear guards the entrance to Alien Swirling Saucers, where riders spin through space on rockets while fun music plays. It's similar to the Mad Tea Party teacups ride, without the ability to control the spinning. The rockets you ride on also swirl across a much bigger space, making it even more fun!
Toy Story Mania
Toy Story Mania has been one of my favorite rides in all of Disney World since it opened. In the past, I've waited over an hour for my chance to ride and play, so I rode it three times when I didn't have to wait in line at all!
Toy Story Mania gives you 3D glasses before taking you on a carnival-themed ride. The ride provides a shooter in your seat and takes you through five different moving target games.
The games are easy enough for kids to play, and challenging enough for adults to get competitive. I've never really cared about my own score, I've just enjoyed everything about game. This ride is a Disney World experience that shouldn't be missed!
Toy Story Land: The Character Meet and Greets
One of the best things about Toy Story Land at Disney Hollywood Studios is the opportunity to meet and interact with all of your favorite Toy Story characters!
When we were at Toy Story Land we met Buzz Lightyear and I had an uncoordinated little dance number with him. He was a much better dancer than I was!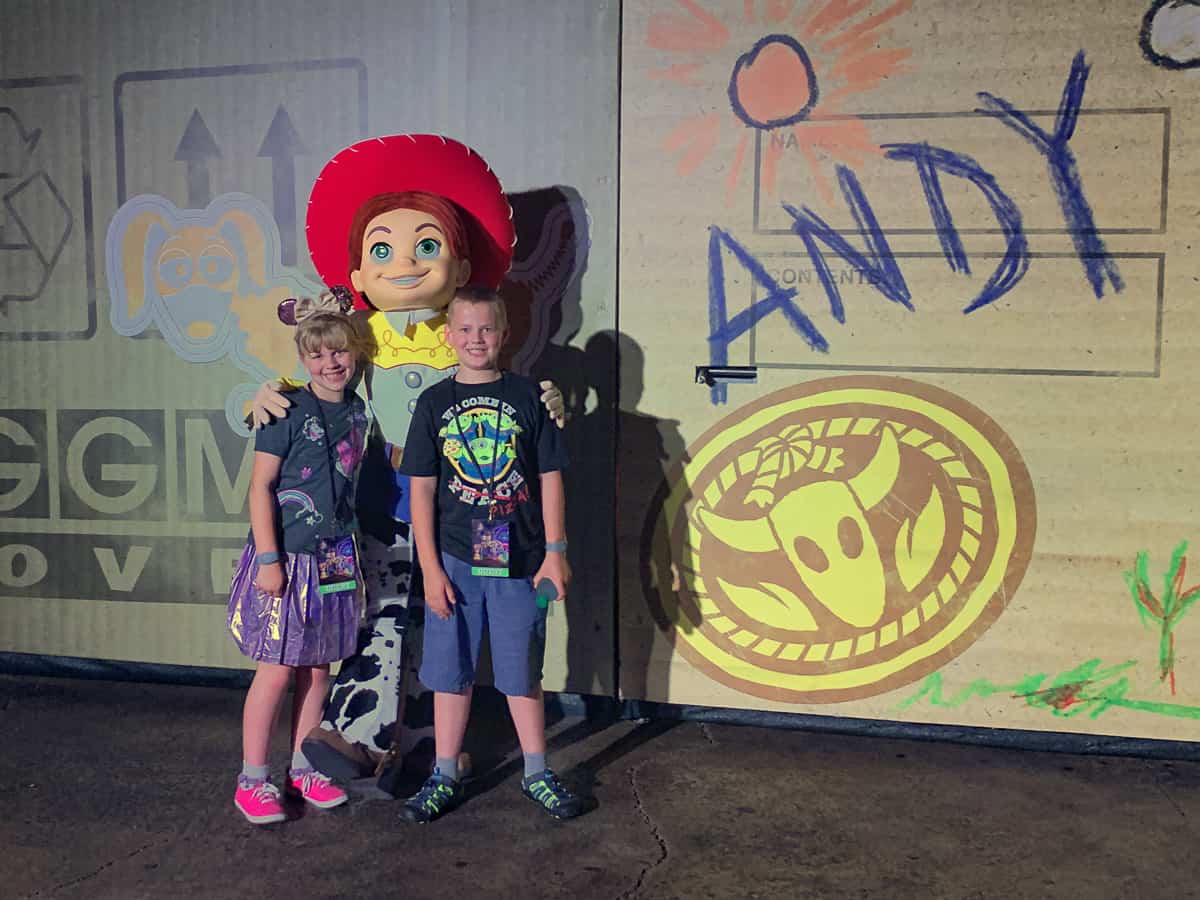 We also met Jessie, who just danced and danced whenever she wasn't posing for a picture.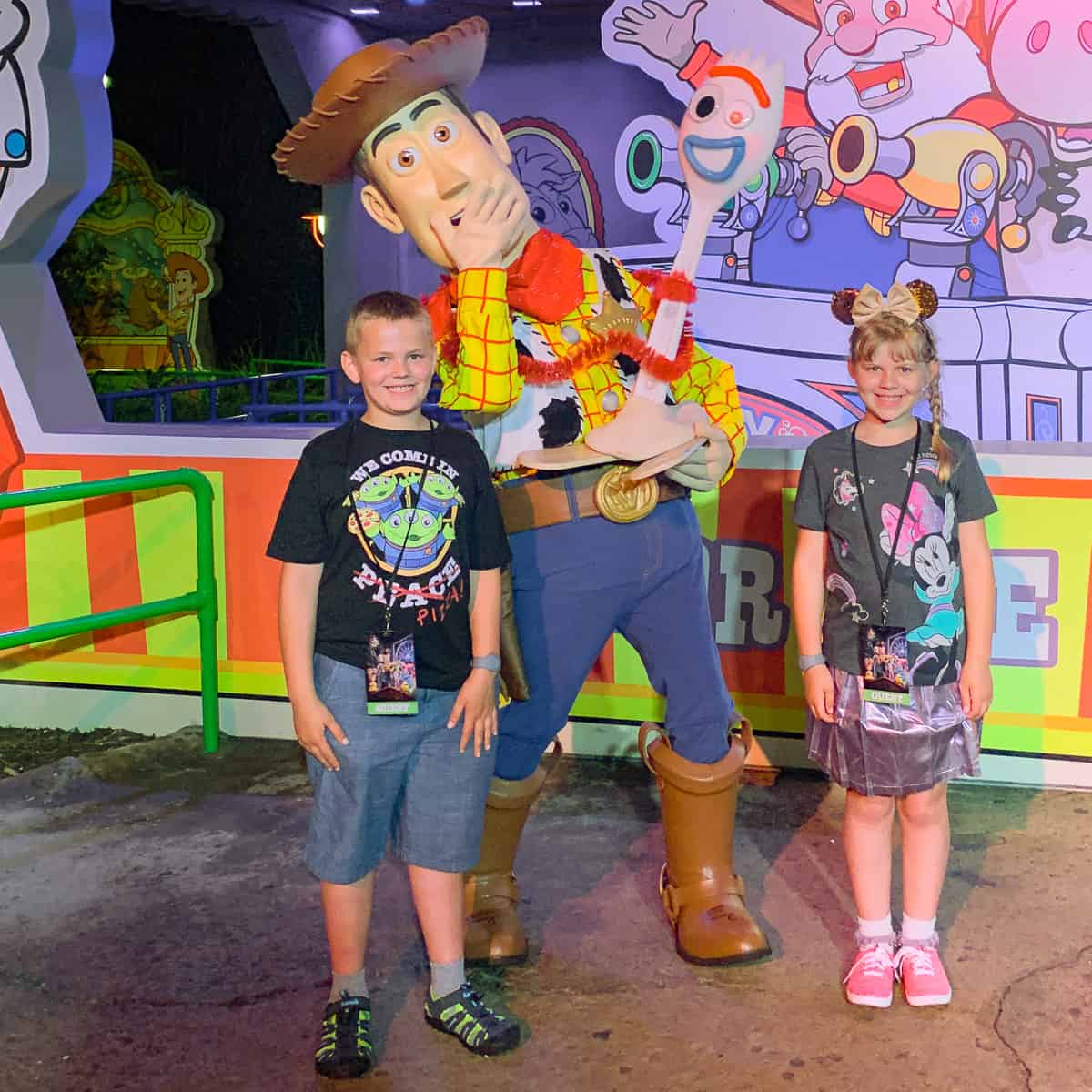 Are you wondering if you can meet Forky at Toy Story Land? The answer is yes! We had a fun photo opp with Woody and Forky, the newest addition to the favorite toys of Toy Story!
The Green Army Men popped up in a few places. They had a drum corps, they played games with guests and they marched in formation!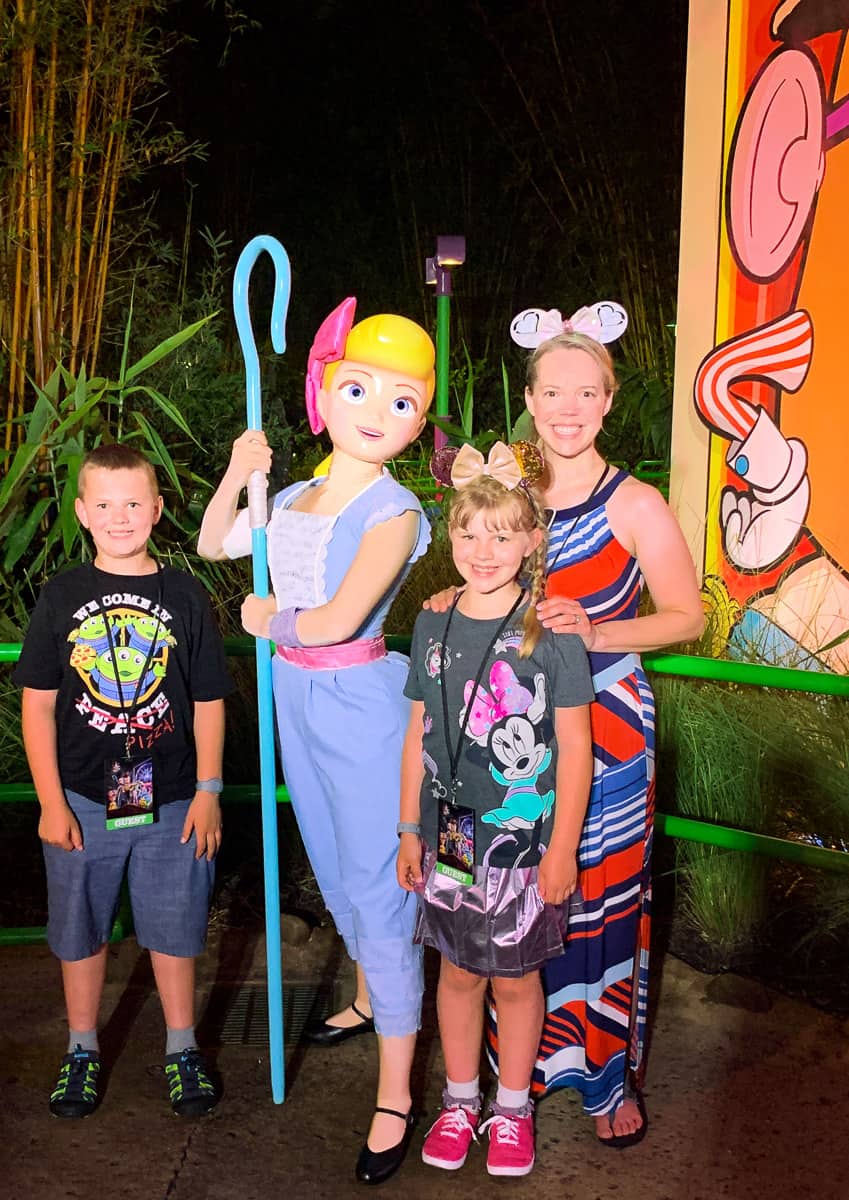 Finally, Bo Peep is at Toy Story Land! We were some of the first to get pictures with her!
Toy Story Land: The Atmosphere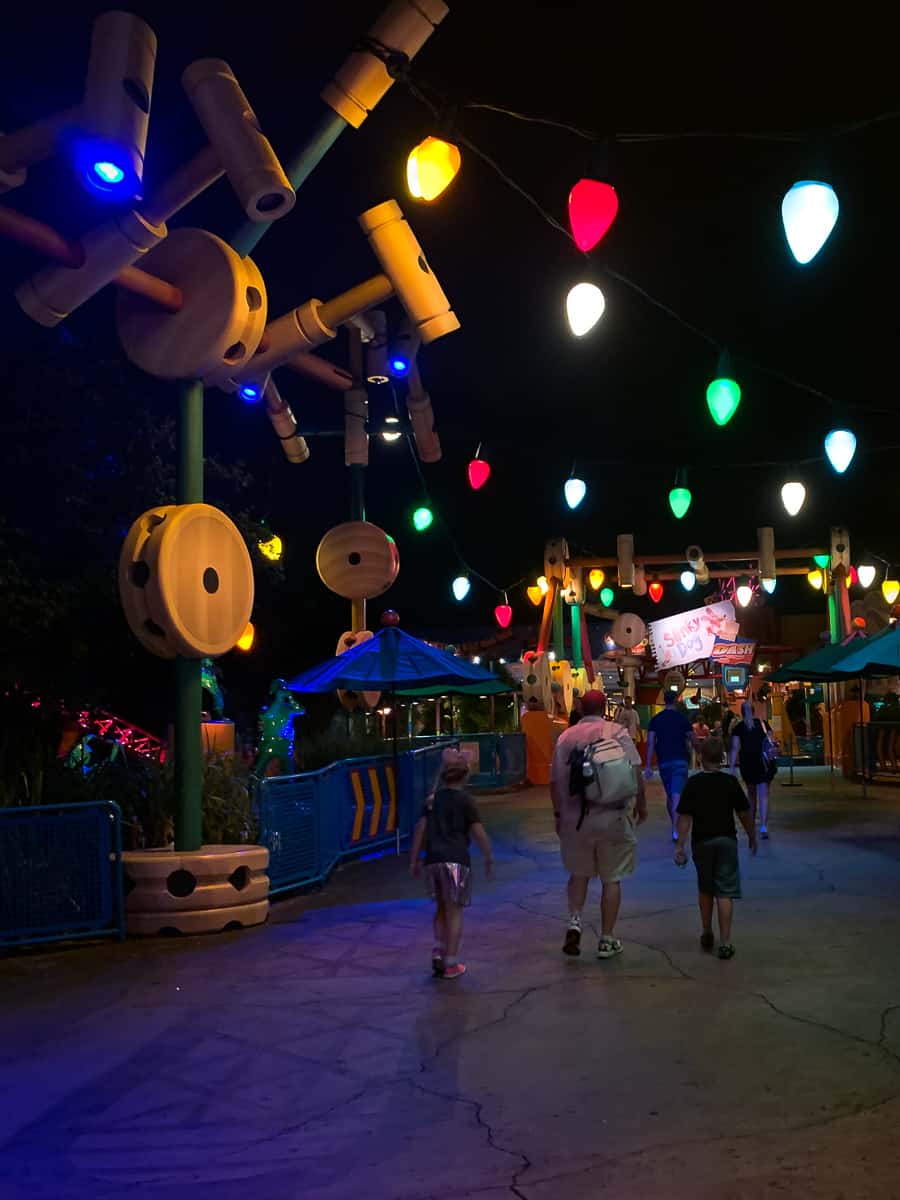 More than the Toy Story Land rides and characters, I think what I love most about Toy Story Land is the general feeling of the place. I've talked about this same feeling at Disneyland, and I feel the same way about the Magic Kingdom. There's just something special about a visit to Toy Story Land.
Maybe it's the giant Woody at the entrance to the park, happily greeting guests and ushering them in.
Maybe it's the games and entertainment of the Green Army Men. Or the huge Christmas light bulbs strung across the park.
It could be the amazingness of being surrounded by all of my favorite Toy Story toys at a gigantic scale. Or the huge toys that actually make up the structure of the area. There are K'nex, building blocks, Tinker Toys, playing cards, dice, dominoes and more everywhere!
In the end, it really doesn't matter what creates that feeling. The important thing is that this feeling is there.
This was a magical way to experience Toy Story Land for the first time, but it's definitely not the last time I'll be there! I loved it, and I'd definitely wait in the lines to see everything again!
Toy Story 4 opens in theaters in the United States on June 21, 2019. See your local showtimes here.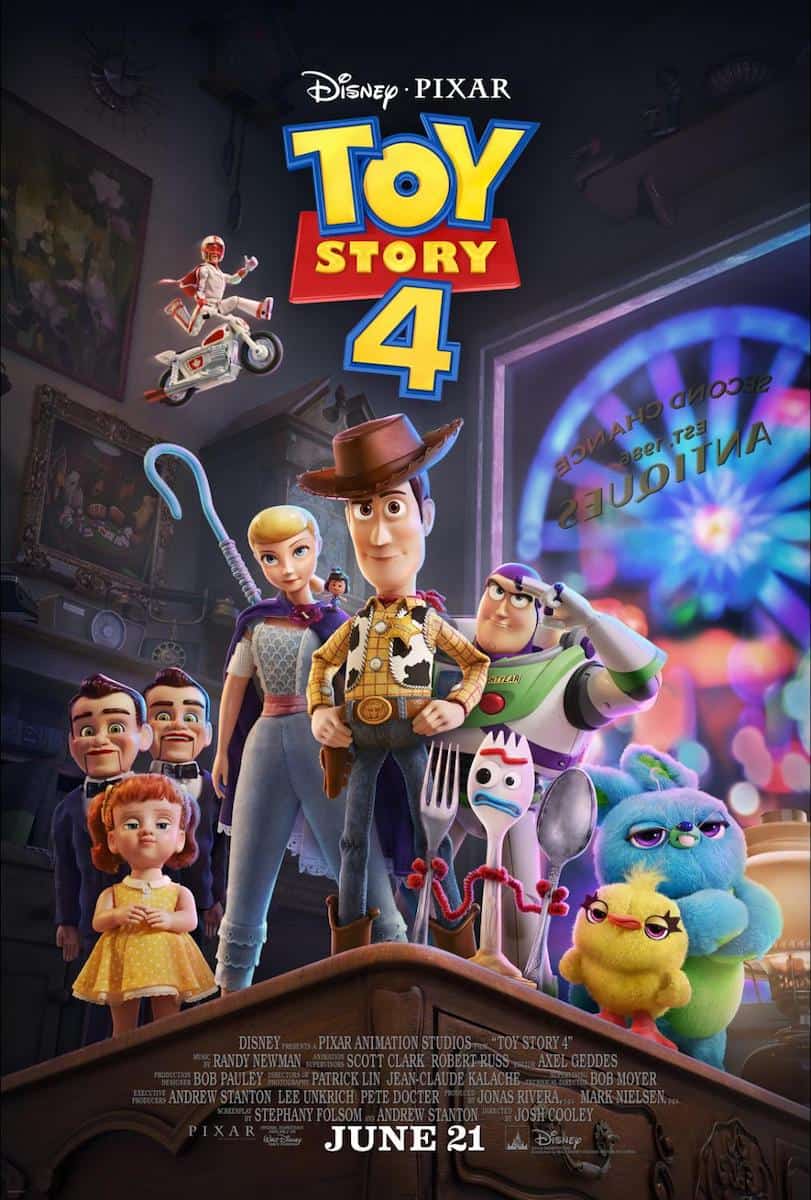 About Toy Story 4:
Woody has always been confident about his place in the world, and that his priority is taking care of his kid, whether that's Andy or Bonnie.
When Bonnie's beloved new craft-project-turned-toy, Forky declares himself as "trash" and not a toy, Woody takes it upon himself to show Forky why he should embrace being a toy. But when Bonnie takes the whole gang on her family's road trip excursion, Woody ends up on an unexpected detour that includes a reunion with his long-lost friend Bo Peep.
After years of being on her own, Bo's adventurous spirit and life on the road belie her delicate porcelain exterior. As Woody and Bo realize they're worlds apart when it comes to life as a toy, they soon come to find that's the least of their worries.