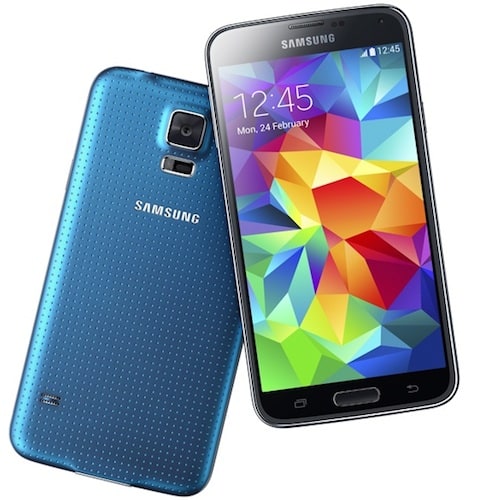 One day last month I was preparing to go to the premiere of Million Dollar Arm. Away from home, sitting in the hotel lobby, another blogger and I started talking smartphones. She had a Samsung Galaxy Note 3, and I was eager to have her feel how light my Samsung Galaxy S5 was in comparison.
I yanked the cover off my phone and handed it to her. She was suitably impressed, but we were told we had to leave now in order to get our day on track.
I hurriedly shoved my phone back in the case, dropped it into my purse and ran to catch up with the group. It wasn't until about 5 minutes later that I picked up my phone and saw just a few command-line like lines at the top of an otherwise blank black screen.
I'm not entirely clueless, and I knew that Androids phones are designed to be easy to modify if you're familiar with coding them. I'm not, but I figured it was a sort of coding screen that I had to wait out – I couldn't do anything to change the screen, anyway.
I was horrified when I glanced at my phone again and saw those familiar new phone setup and sign-in screens. How did it happen? How had I reset my Samsung Galaxy S5?


It turns out that I had put my protective phone cover in upside-down when I was in a hurry to get a move on with the rest of our group. The cover then put pressure on the volume and power buttons. Apparently, with Android phones, you can perform a system reset by holding down buttons simultaneously. Putting a cover on wrong is a good way to do that!
I was supposed to be live tweeting from the Hollywood red carpet in a matter of hours. I wasn't going to have access to a wifi signal for the rest of the day. I had never even figured out how to backup my phone!
And oh, without that backup, I had lost precious photos of me with Jimmy Kimmel, a hilarious selfie with a Stormtrooper and a pic with R2D2 that I had been excited to give to my husband. Plus there were videos of my kids, pictures of my grandma, audio files of a great interview with Jimmy Kimmel's executive producer and tons of unknown data that was just gone.
Regardless, I knew I needed to get my phone back in order to at least be on Twitter and have my camera ready, so I started signing into accounts to get my phone operating again.
Part of the Android setup for this phone is to sign into your Google account.  When I did that, it turned out that my contacts were synced with my Gmail account, so I had all my phone numbers and email addresses back right away. Then, I realized that apps were being recovered to my phone. My phone was synced with my Google Play account, and all my previously-installed apps were automatically showing up!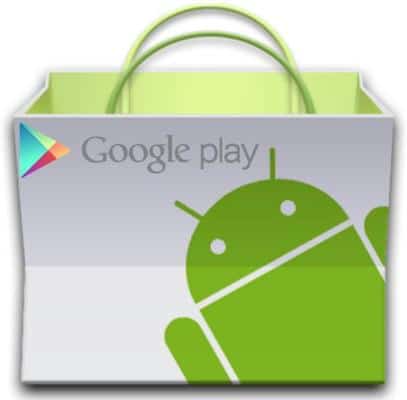 I thought this would take forever, since I was working off a data signal rather than wifi, so I stopped installation on some of my less-important apps in order to prioritize what I needed, especially for social media for that evening. I learned that Verizon's 4G LTE data service is astoundingly fast given how quickly so many apps were back on my phone over the course of an hour.
With my social media accounts back at my fingertips, I started flipping through my phone and seeing what apps I had. I noticed a Cloud app that looked like it was from Verizon, so I opened it up.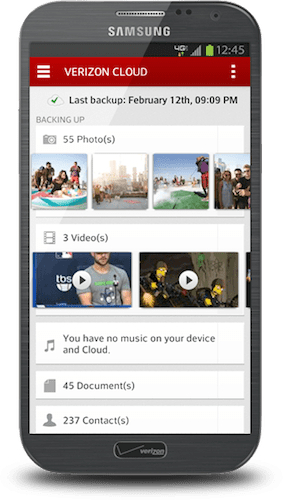 I honestly don't even remember setting up a Verizon Cloud account, so I don't know if it's something that's done for everyone, but I was amazed to see all the pictures and videos I thought I had lost.
I still wanted that media at the ready, so I clicked on Tools, then Content Restore. The app started adding up all the data it had backed up, then calculated how long it would take to restore all the files. 17 hours. Ouch.
I pushed that recovery to the back burner and decided to have my phone work on that overnight on a wifi connection. I was just super-relieved that I hadn't lost any files during my mishap.
I fully admit that I was a dumbdumb when I put the protective case on the wrong way. It was especially unfortunate that I accidentally reset my phone right before I had a serious need for it. Yet I couldn't believe how quickly and effortlessly I had all my virtual property back at my fingertips.
If you have Verizon service, make sure you check the Verizon Cloud app and get your account set up if it isn't already. Even if you don't have Verizon, try to set up a backup plan so you don't end up in a spot where you lose everything without options for recovery.