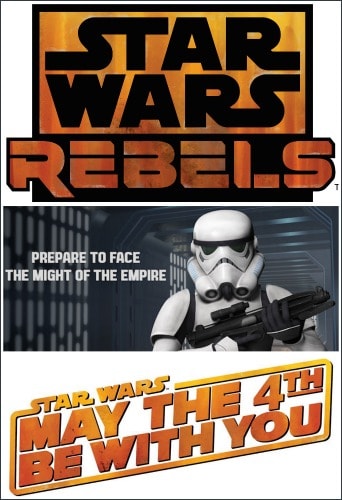 Just a few days ago I shared that I was gearing up to celebrate Star Wars Day with a Star Wars Rebels party hosted by Disney.
Star Wars Rebels is Disney's first animated Star Wars television show, and it's premiering in a 1-hour special telecast on Disney Channel in the fall. After that it will be aired on Disney XD.
Now I'm back to share some super-fun pictures from the party and some exclusive Star Wars Rebels news and information!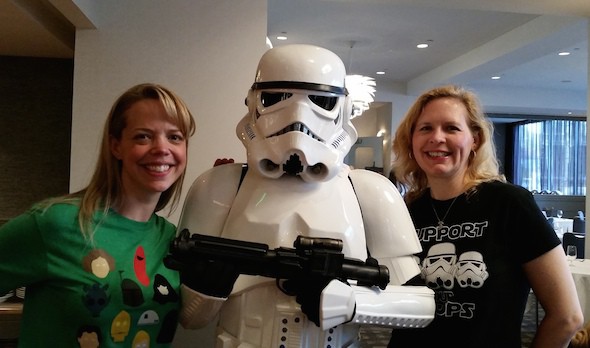 My group of 25 influential mom bloggers headed into the Star Wars Rebels party and we were greeted at the door by two Stormtroopers who were uncharacteristally friendly and enthusiastic about the selfie I wanted to take and post on Instagram: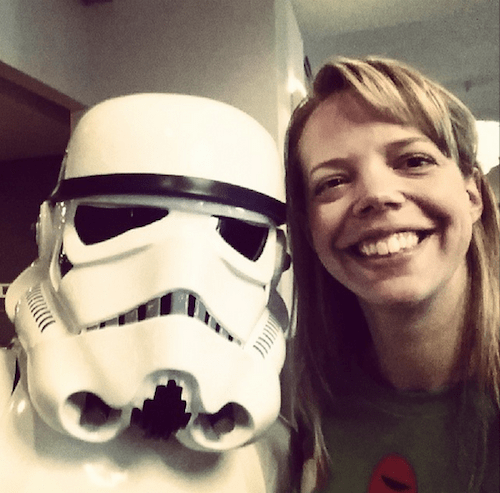 As I was ushered farther into the room I met the new Star Wars Rebels character Chopper and later learned that his design is based on one of the very first artistic renderings of R2-D2: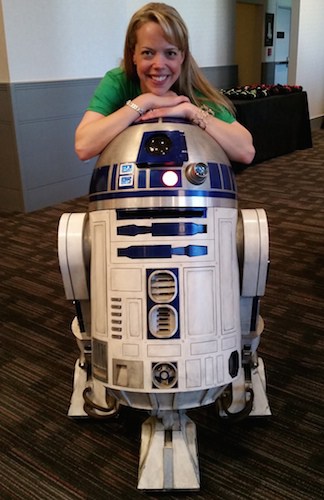 After more photos we were brought into another room and gifted with some amazing Star Wars Rebels and Star Wars products: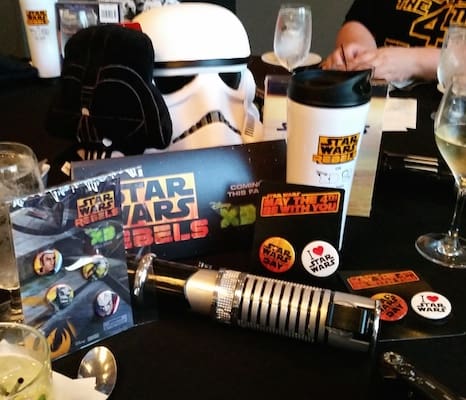 There was plenty of squealing all around our table as we saw all the Star Wars Rebels products: Star Wars dog toys, Star Wars Blu-Ray sets, Star Wars Rebels mugs, Storm Trooper banks and other fun Star Wars Rebels merchandise.
Then we were introduced to the amazing voice actress Vanessa Marshall, who performs the voice of Hera on Star Wars Rebels.
I had seen the Star Wars Rebels trailer but knew only a little bit about the show before the Star Wars Day celebration.
Hearing Vanessa speak, taking in her passion for Star Wars Rebels and everything else related to Star Wars, topped with getting insight on all the main characters really made me excited for the show's premiere!
On a personal note, I thought Vanessa Marshall was an amazing speaker and I felt like she truly connected with all (or nearly all) of the bloggers who were on our trip. She had received a list of all of our websites before the party, and she was really sweet in stating that we, as bloggers, inspired her, the successful voice actress.
Since meeting Vanessa that Sunday night on May the 4th, she's been extremely active on twitter, offering support to various members of our group and genuinely interacting with a lot of us. I'm incredibly impressed with how much she loves and appreciates her own job, and how supportive she's been in amplifying a variety of messages from our group.
Disclosure: Travel and expenses were provided by Disney to participate in this press trip. All opinions are my own, and all experiences were real.