This oyster cracker snack recipe is a sweet and salty snack mix! It tastes like a churro, but it's so much easier to make at home! This easy twist on toffee cracker bars is a treat everyone will love!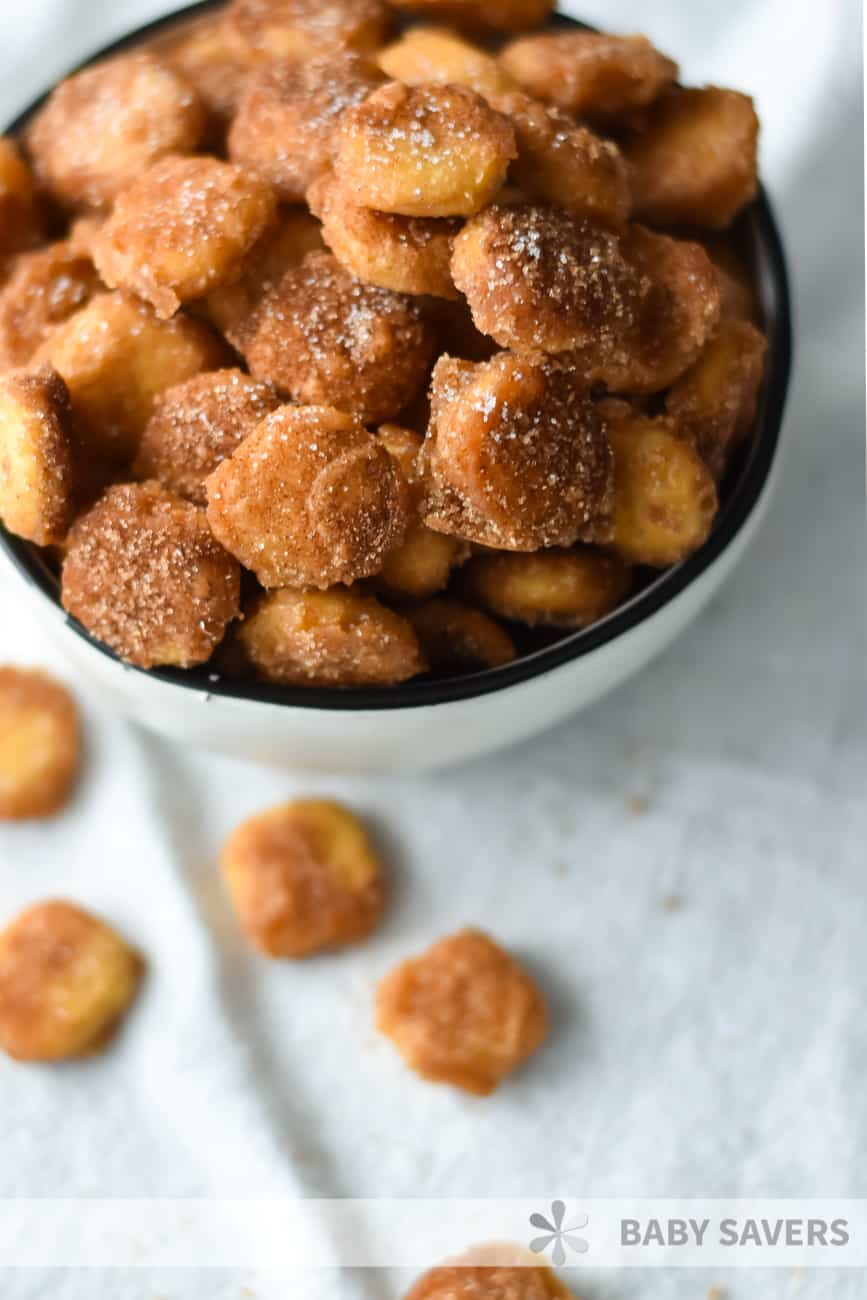 Have you heard of snack crack? Or toffee crack? What about Christmas crack? It's all the same recipe, and I've been craving it lately.
If you're not familiar, "candy crack" is these saltine cracker toffee bars that are covered in chocolate. They're baked in a single layer in a sheet pan and you need to crack and break them apart to get them bite-size pieces.
I've been desperately wanting something like those cracker bars for what feels like months. but I know that making chocolate coated anything in the summer months is asking for messy, messy hands. And I'm not even talking about my kids' hands. Mine. I'm a messy person.
So I've been putting off that craving for a buttery, sweet and salty homemade treat for way too long. It was time to see if I could find a good substitute that didn't involve melty chocolate.
Enter my new idea: oyster cracker snack mix!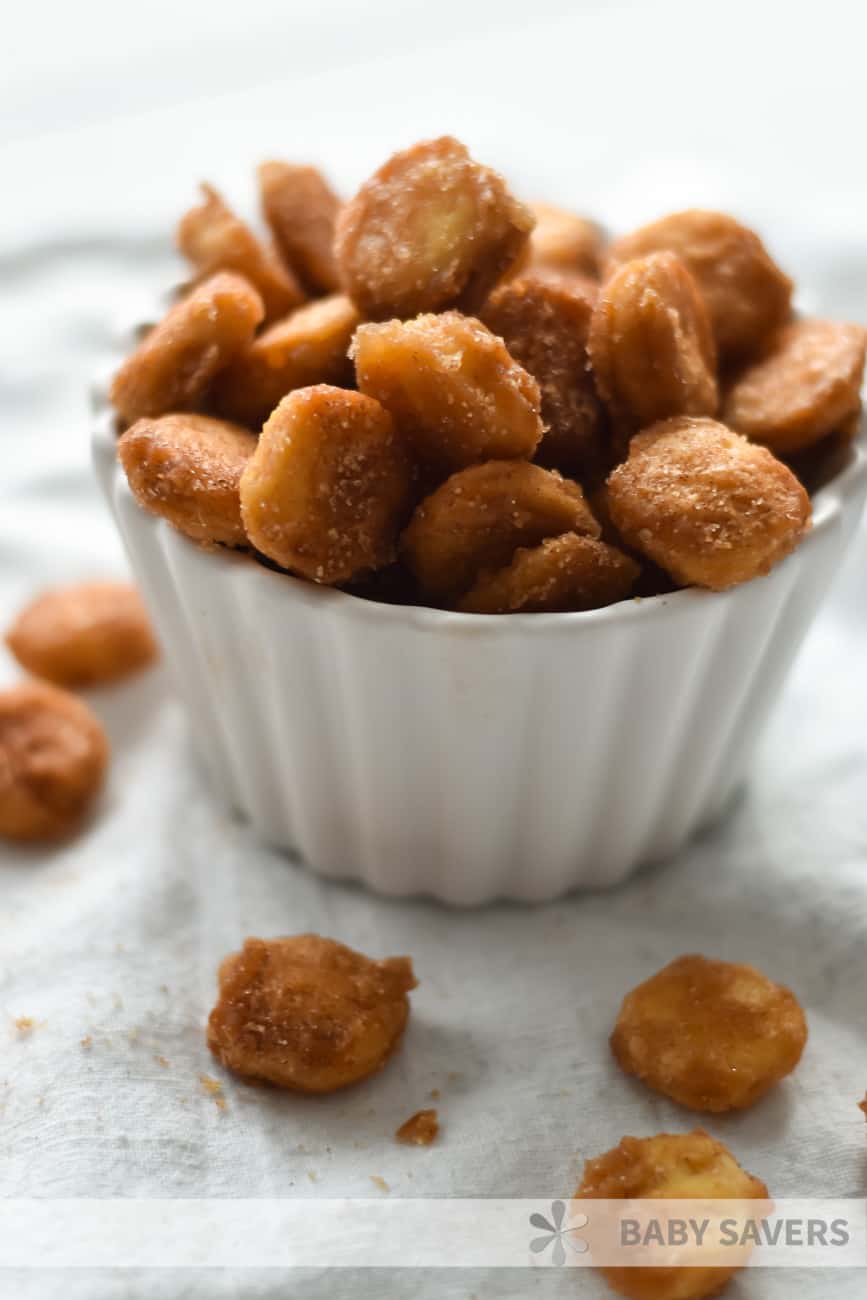 This sweet and salty snack mix definitely did the trick. Cravings = satisfied. Plus, the treats are bite-sized. They're easy to serve, portion and share.
Related posts:
4th of July muddy buddy snack mix and homemade crunchy granola bars also make great snacks. S'mores ice cream and birthday cake ice cream are other excellent summer treats!
Not that you'll really need to portion them. This mix is deliciously addictive. It also takes just a few minutes to put together, then 10 minutes in the oven. It honestly takes longer to cool than it does to make the snack mix!
When it's finally cooled off, you'll have this crispy, crunchy sweet and salty snack that will knock your socks off! Honestly, the taste is so straightforward and so good. Everyone will want more!
Let's just talk about the flavors for a second. The flavors of this snack crack are so good.
I immediately thought "churros" when I tried the first bite of cinnamon sugar coated goodness. I also thought about butter and caramel and sweet and salty. For just a moment, everything was absolutely right in my world.
Oyster Cracker Snack Mix Ingredients
You'll find the full list of ingredients with the right measurements in a printable recipe card at the end of this article.
Use this list to make sure you have everything you need before you get started making your sweet and salty oyster cracker snack mix.
Brown sugar
Cinnamon
Vanilla extract
Granulated sugar
Salt
What are oyster crackers?
I grew up eating oyster crackers as a snack. We would often have them in soup at my grandma's house. I didn't realize they weren't a common household thing until recently.
Oyster crackers are small, salted crackers, usually in a round or rounded geometric shape. I guess they were given their name because they were originally served with oyster stew, but I could totally be wrong about that.
How many oyster crackers are in one package? This recipe is super forgiving, and most oyster crackers come in 8 ounce or 9 ounce packages. There's about 5-6 cups of oyster crackers in one pack.
You really don't need to worry about exact measurements. But if you somehow have a bulk amount of tiny little crackers and you need to measure the right quantity for this recipe, just go with 5 cups.
In short, oyster crackers are mini round saltines. You can buy them at the grocery store near saltine crackers. They're also available from Amazon if you like having food delivered to your door. That's really all you need to know.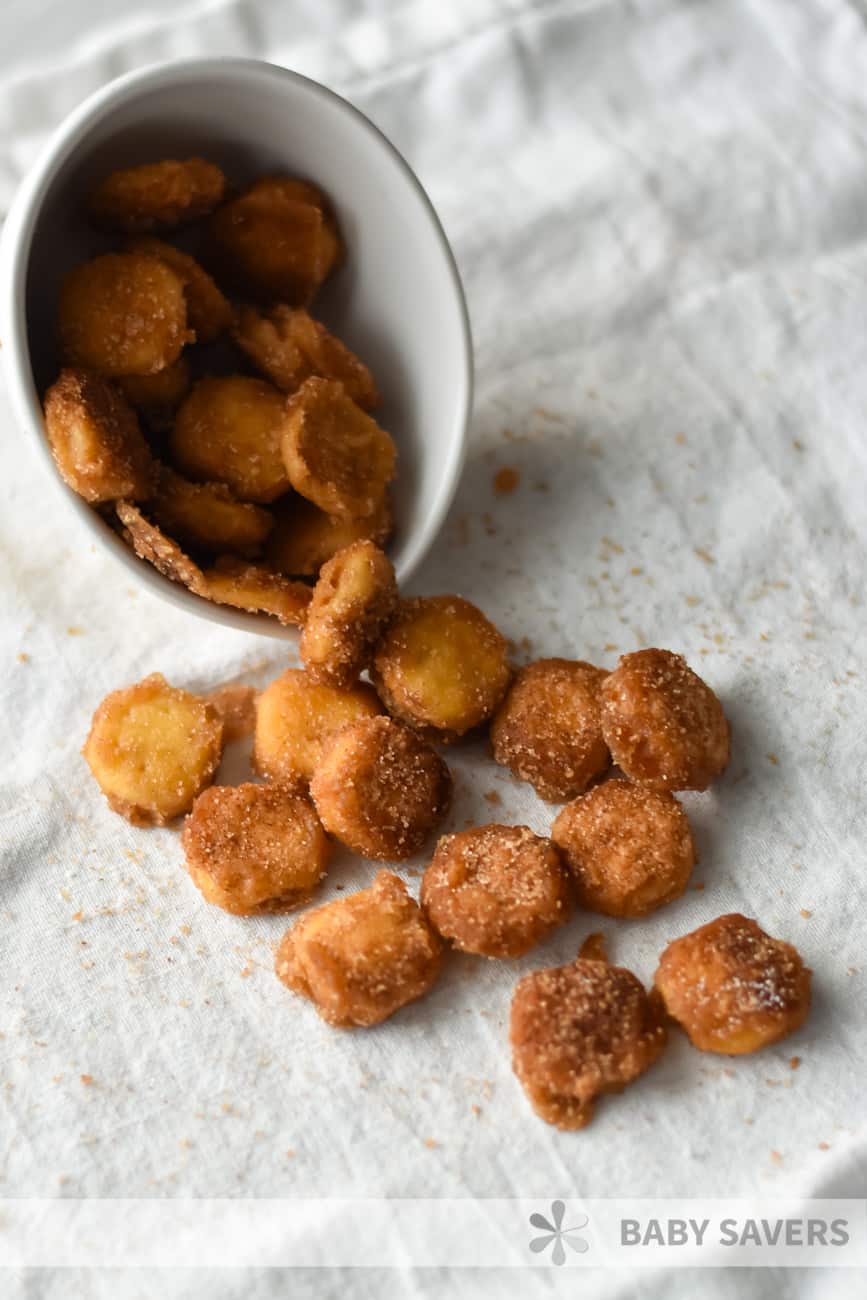 How to make your oyster cracker snack mix
This recipe has a few steps, but there's nothing complicated about it.
While the snack mix will be ready to eat in about 30 minutes, there's some downtime in there. The crackers bake for 10 minutes and then cool for a bit before eating.
Be sure to pay attention to the times in the recipe. They're exactly right for getting your snack mix to a perfect, crispy-crunchy texture.
Also, don't let it burn. Just use a timer and you'll successfully make this delicious churro-flavored snack.
Here's how you make this deliciously addictive snack:
1. Melt butter and brown sugar together in a saucepan and let it boil for 2 full minutes without stirring, then add cinnamon.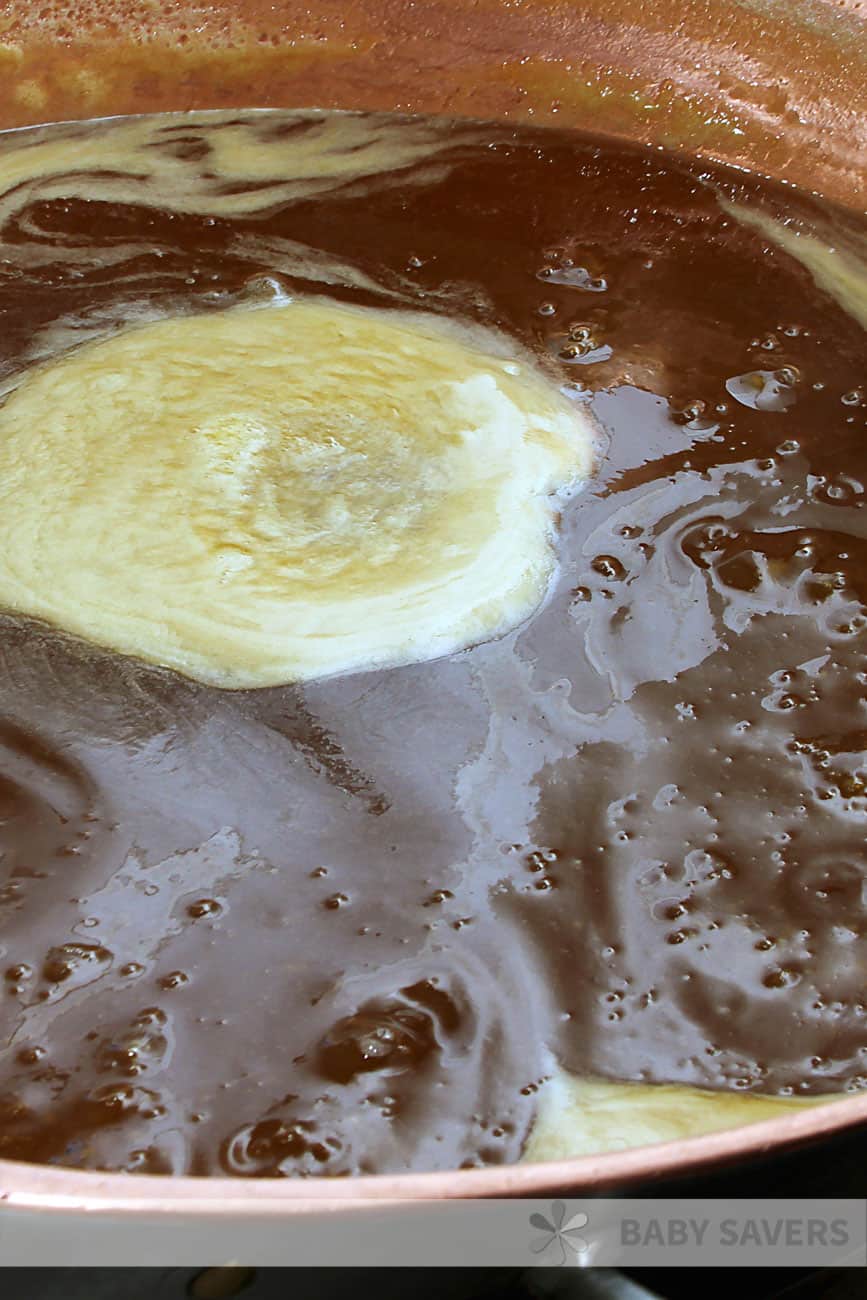 2. Spread a whole package of oyster crackers evenly across a buttered baking sheet. Pour the caramel mixture over the oyster crackers, stirring with a spatula to make sure every cracker is evenly coated.
3. Bake the crackers until they're bubbling with the caramel mix. Spread them apart on the pan as soon as they come out of the oven to break up the clumps before they harden.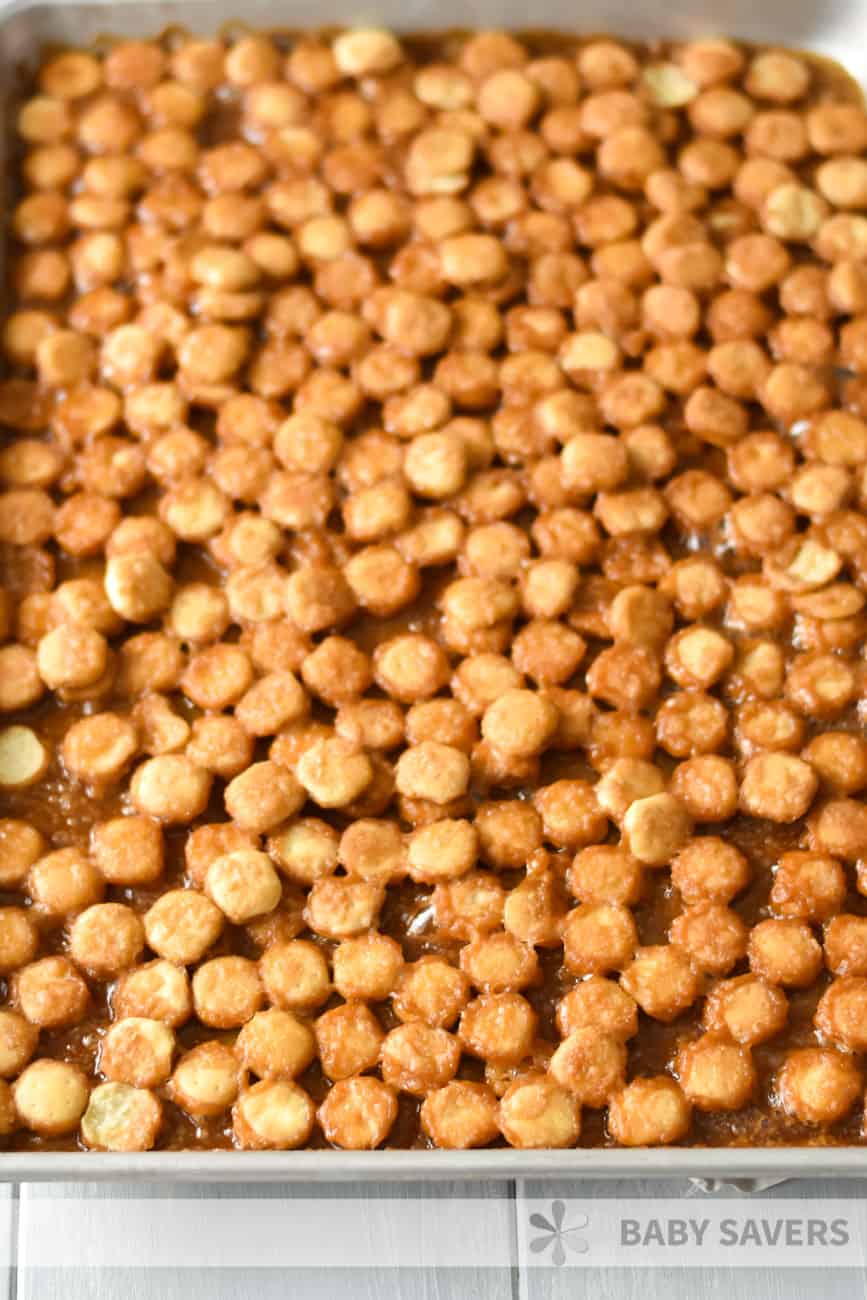 5. Mix up cinnamon and sugar while the crackers are baking.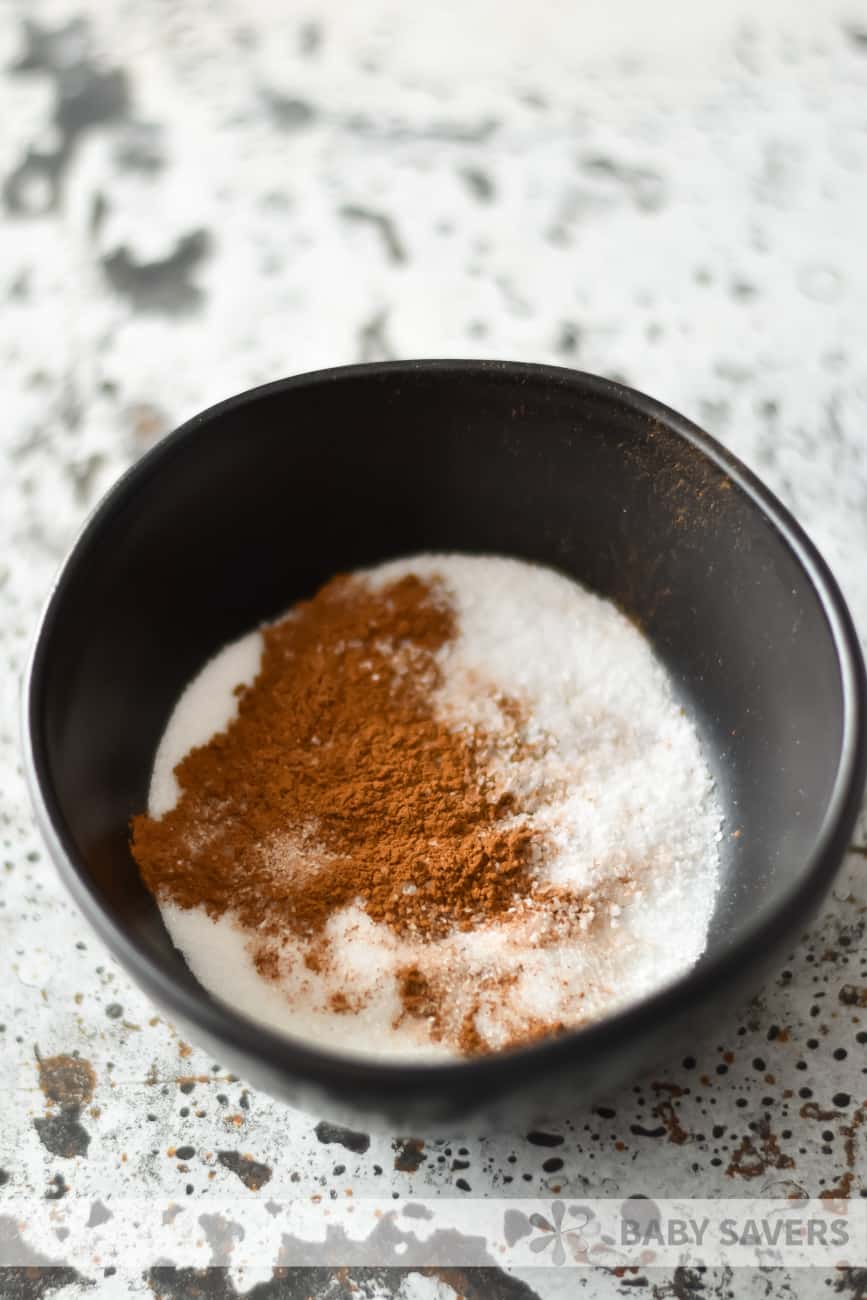 6. Cover the oyster crackers with cinnamon sugar and let them cool.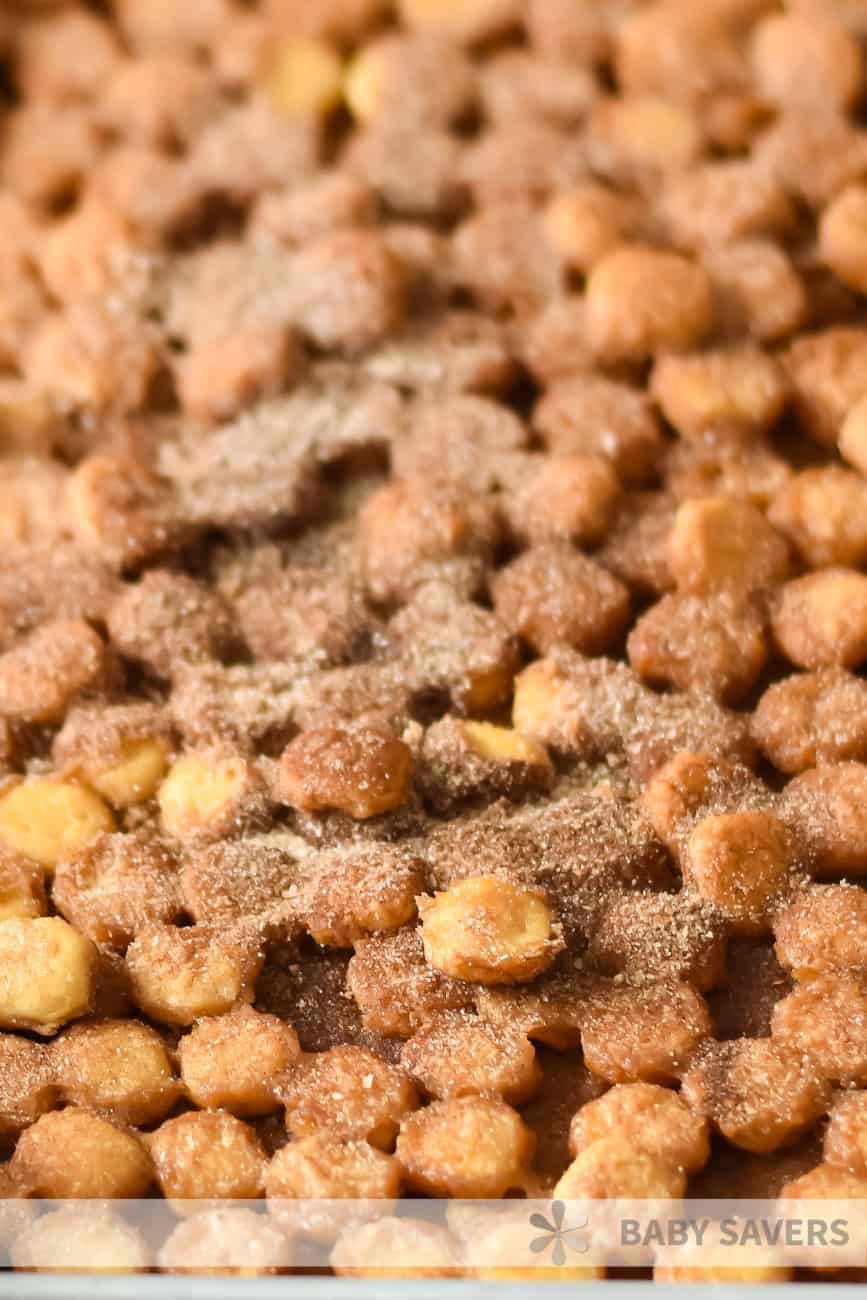 7. Break the bigger pieces into bite-size bits before serving.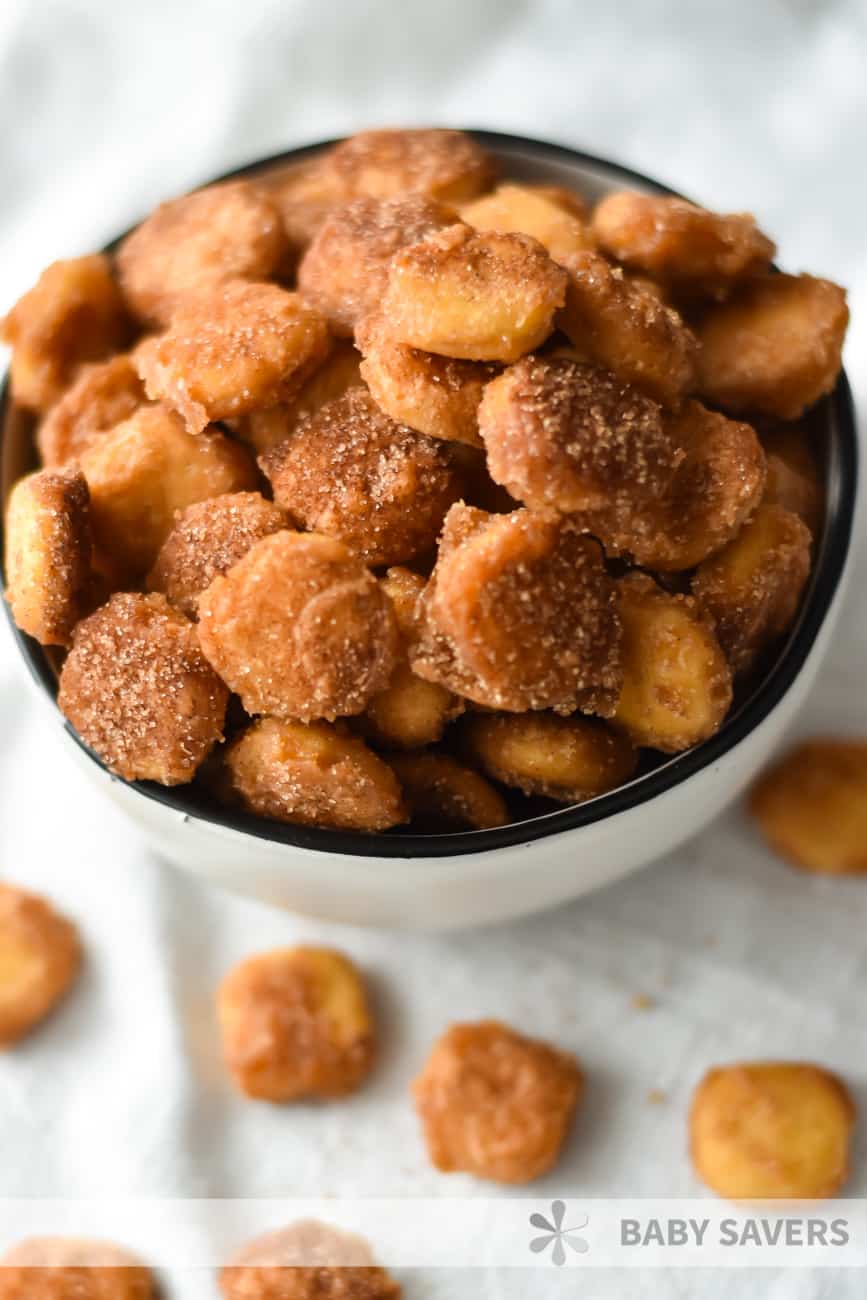 How to store your snack mix
If you don't eat all of it immediately, you can store your snack mix in an airtight container for up to a week. Don't refrigerate it.
If your snack mix gets stale or soggy…
If it gets soggy or stale in the container, you might be able to revive it. spread it on a baking sheet and put it in a 300 degree oven for 5 minutes. Let it cool completely. it will be stickier than it was, but it will also be crispier.
Can you freeze oyster cracker snack mix?
I don't recommend freezing it, but it might freeze and thaw ok if you're extra careful about how you do it.
The problem with freezing this snack mix is how it will be affected by moisture and condensation. Whatever container you store them in before freezing needs to be both airless and airtight.
While I haven't tried freezing this snack mix, here's how I would do it if I were to try. Again, no guarantees on the success of this. My recommendations below are based on how I think things will work.
Portion it the snack mix into small, snack-size ziplock bags. Squeeze out all the air before sealing it.
Store the sealed individual portions in a bigger ziplock freezer bag or a freezer-safe container.
Let each portion thaw before opening and enjoying.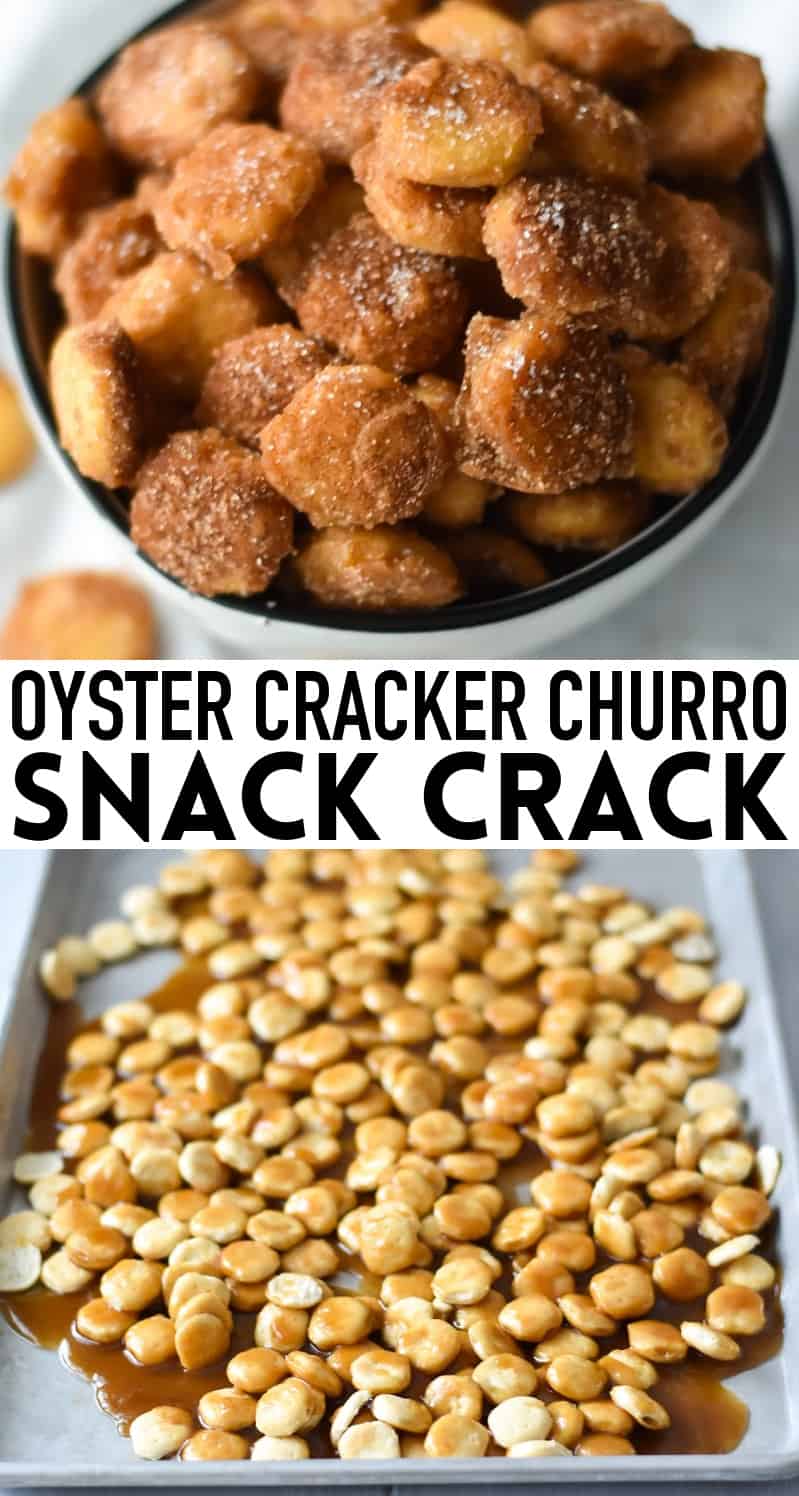 Yield: 18 servings
Oyster Cracker Snack Mix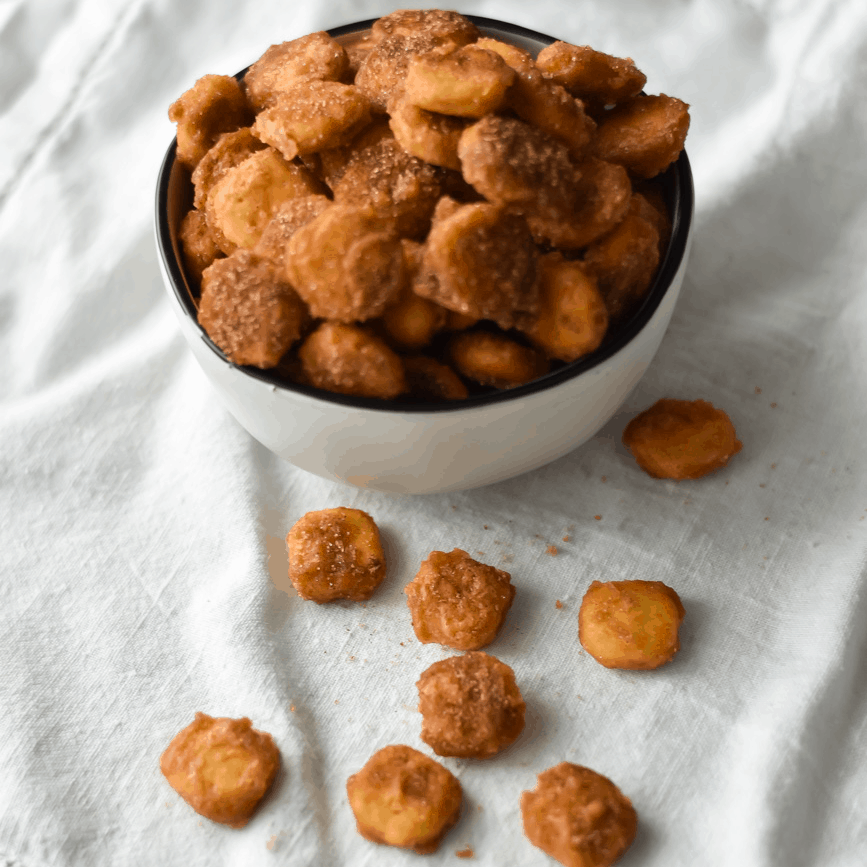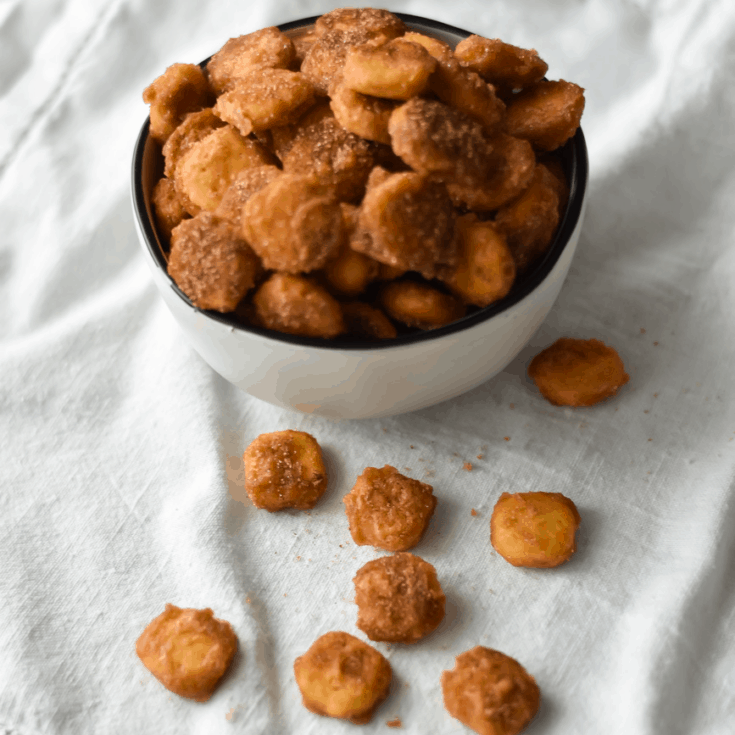 This sweet and salty oyster cracker snack recipe mix tastes like a churro, but it's so much easier to make at home! This easy twist on toffee cracker bars or toffee crack is a treat everyone will love!
Additional Time
10 minutes
Ingredients
1 8oz or 9oz package of oyster crackers
1 cup brown sugar
1 cup butter
2 teaspoons cinnamon, divided
1 teaspoon vanilla extract
2 tablespoons granulated sugar
3/4 teaspoon salt
Instructions
Preheat the oven to 350° F.
Butter a baking sheet or line it with foil then butter it. Arrange the whole package of oyster crackers in a single layer on the sheet. Mix one teaspoon cinnamon with the granulated sugar and salt. Set aside.
Heat the butter and brown sugar over medium heat until boiling. Let it boil for exactly two minutes without stirring it. Remove from heat and stir in the vanilla extract and one teaspoon cinnamon. Pour this over the oyster crackers. Gently mix the caramel into the crackers until they're evenly coated.
Bake the crackers for 10 minutes. The mix will be golden and bubbly. Remove from the oven.
Immediately sprinkle the cinnamon/sugar/salt mixture evenly over the baked crackers and let cool.
Crack and break the oyster cracker snack mix into small pieces before serving.
Notes
This salty and sweet oyster cracker snack mix can be stored in an airtight container for up to one week.
If it gets soggy or stale, spread the mix on a baking sheet and bake at 350 for 3-5 minutes.
Recommended Products
As an Amazon Associate and member of other affiliate programs, I earn from qualifying purchases.
Nutrition Information:
Yield:
18
Serving Size:
1
Amount Per Serving:
Calories:

195
Total Fat:

11g
Saturated Fat:

7g
Trans Fat:

0g
Unsaturated Fat:

4g
Cholesterol:

27mg
Sodium:

306mg
Carbohydrates:

22g
Fiber:

1g
Sugar:

11g
Protein:

1g