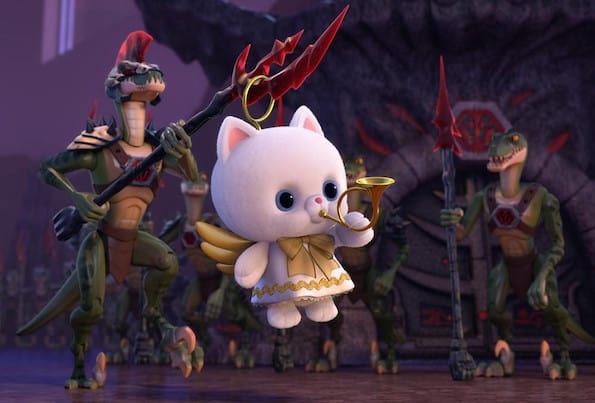 Have you seen Toy Story That Time Forgot? I caught it when it aired on television in 2014, but I sort of forgot about it in the holiday craziness.
Then I visited Pixar Animation Studios last month and came across a stuffed Angel Kitty in the gift shop.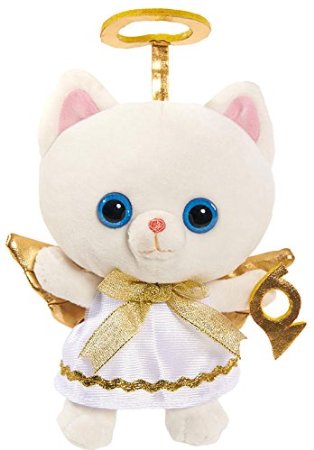 The hilarity of Angel Kitty's character hit me all over again and I had to buy it!
Of course, my kids claimed the little plush toy as soon as I returned home, and I was happy to share the joy of Angel Kitty with my little ones. They've been alternating nights having Angel Kitty in their beds. It's been over a month and they're still sticking to the arrangment!
When I recently watched Toy Story that Time Forgot again I realized it's the combination of her adorableness and her solemn words that makes Angel Kitty so funny. That made me want to put together a little collection of Angel Kitty quotes:
Be grateful for your gifts. They are all around you.
Limitations are the shackles we bind to ourselves.
The joy that you give others is the joy that comes back to you.
Greet the world with an open heart.
I think we all know that Toy Story 4 is in the works. I'm not sure if Angel Kitty will be making an appearance but I'm hoping to see her again and again!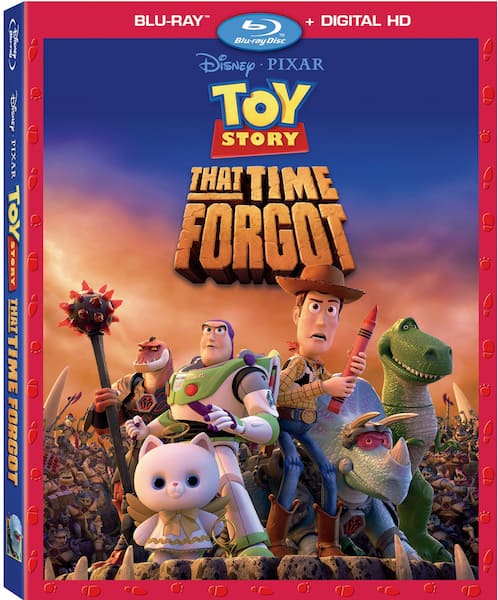 Toy Story that Time Forgot is now available on Blu-ray and Digital HD.
About Toy Story that Time Forgot:

Disney•Pixar proudly presents a hilarious new animated "Toy Story" adventure.

During one of Bonnie's post-Christmas play dates, the "Toy Story" crew find themselves in uncharted territory when the coolest set of action figures ever turn out to be dangerously delusional.

It's all up to Trixie, the triceratops, if the gang hopes to ever return to Bonnie's room. "Toy Story That Time Forgot" is an unforgettable tale packed with family fun and a must-have for every Pixar fan's collection!
There are some great bonus features included in the Blu-ray, Digital HD and Disney Movies Anywhere editions of this movie:
Reptillus! – In this behind-the-scenes look at "Toy Story That Time Forgot," the filmmakers share a peek at the origins of the Battlesaurs world and culture, and explain the character design and development of its greatest hero, Reptillus Maximus.
Commentary – Commentary with "Toy Story that Time Forgot" director, Steve Purcell, and head of story, Derek Thompson, on the process of making "Toy Story That Time Forgot."
Toy Story Goes to Comic-Con – The "Toy Story that Time Forgot" team heads to San Diego to unveil the project to the public, led by their own longtime Comic-Con veterans, director Steve Purcell and head of story Derek Thompson.
My Unexpected Friend – Feel the power – and sing along – as Reptillus Maximus expresses the depth of his feelings for Trixie in this 80's-inspired karaoke video for his soulful ballad, "My Unexpected Friend."
Battlesaurs Animated Opening – A 2D animated opening for the fictional animated TV series, "Battlesaurs."
Toy Story that Time Forgot can be purchased today on Blu-ray, Digital HD and from Disney Movies Anywhere!
Disclosure: Disney and/or its associated PR company provided me with a copy of the film to facilitate this review.