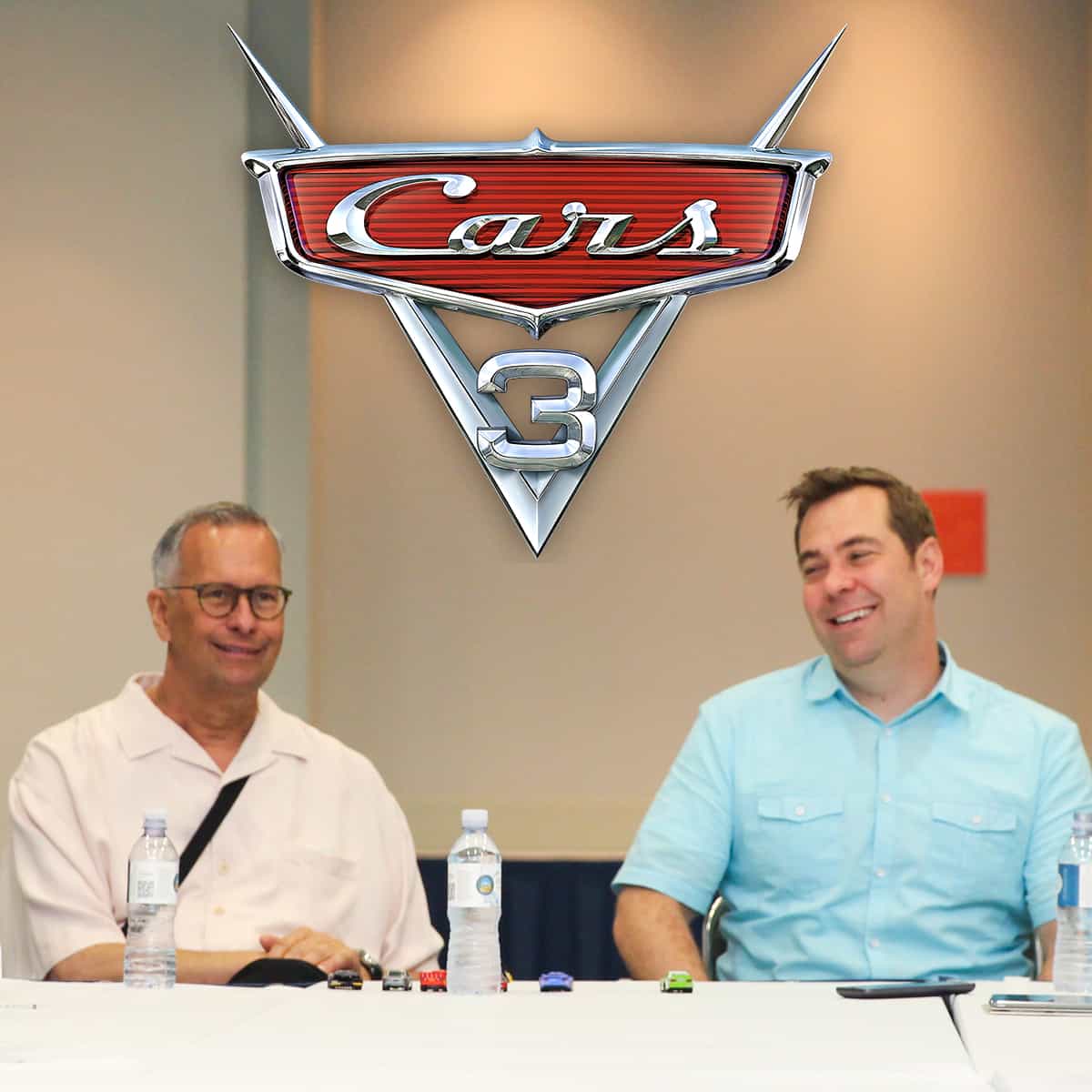 I've been lucky enough to have had quite a few interviews, panels and sessions with talented people from Pixar. I thoroughly enjoy hearing the behind-the-scenes details and I get a big rush out of being in a group of people that are the first to know something.
but I really, really love two vastly different themes that always seem to come up when discussing Pixar projects:
The heart and emotion behind the film or project.
The technology Pixar uses to make that particular project even more special and unique than the ones before it.
You may have noticed that's what I gravitate to when I share information about Disney・Pixar movies, and this interview isn't any different.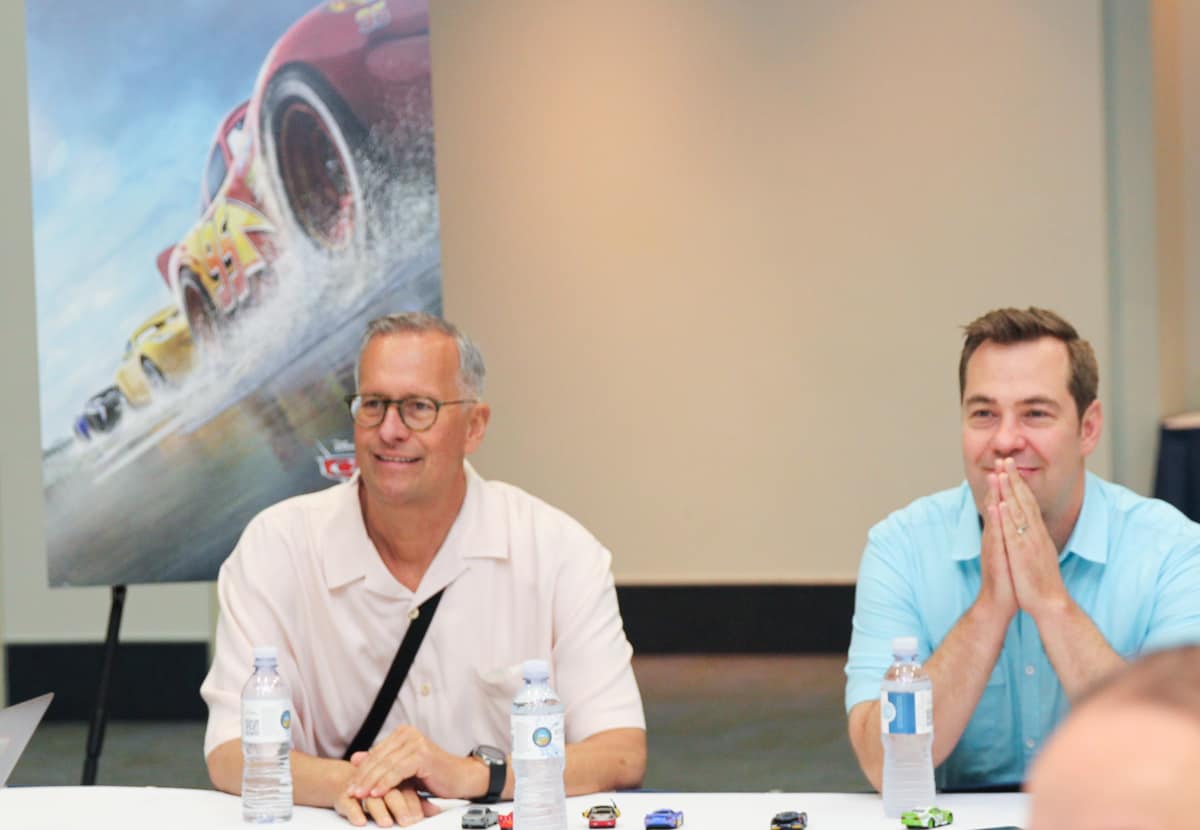 When I sat down with Cars 3 director Brian Fee and producer Kevin Reher, we immediately started talking about their animation technology, and it wasn't long before we moved onto topics of family, emotions, loss and love.
Interviewing Brian Fee and Kevin Reher of Cars 3
Q: In Cars 3, there's a scene where the cars are coming down a hill and reach a road sign. That scene seems so real. It looks like you could touch the grass. Can you talk about that?
Brian Fee (BF): We have a new renderer, which means we can do thing we couldn't do on the first film. We can go wholeheartedly into a sense of realism. We want you to feel like you can smell the air.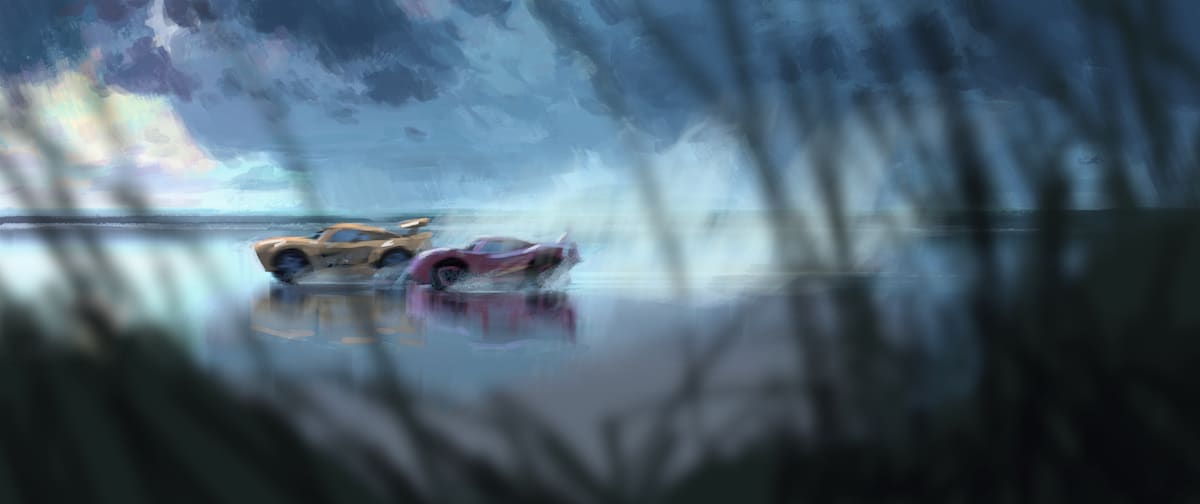 I remember sitting with the production designer and I kept saying, I want to make sure you can smell the air. I know we can't smell anything, but I want to make you feel like you can. 
So we went for a lot of atmosphere. Like, you'll see a lot of fog and things that are a distance are so faded. We just dove into those things, because we can do them.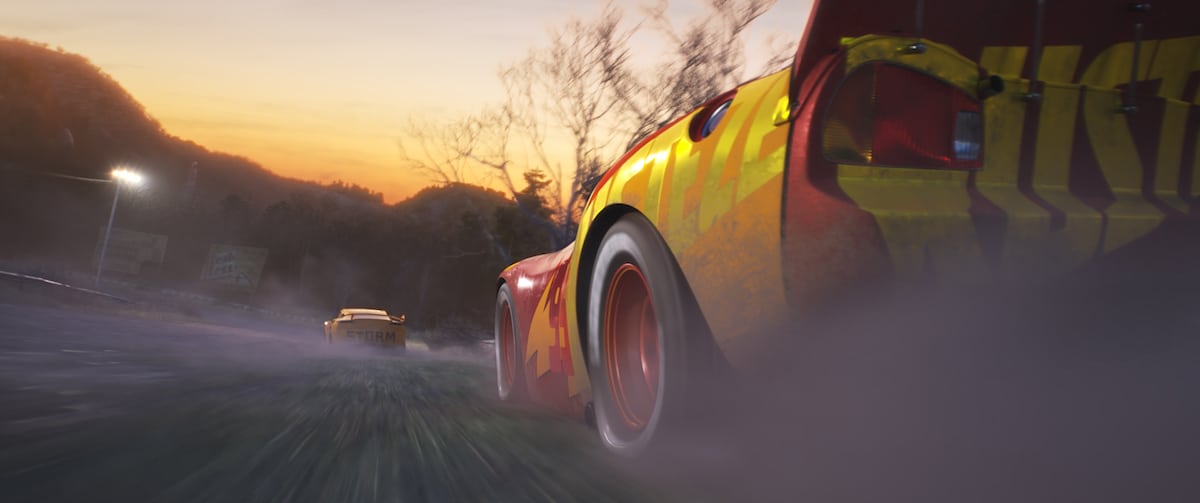 Our movie, being a cars film, maybe more than other Pixar movies, lends itself to that. You have to be careful with other movies, because they're cartoon characters, and we have talking cars that we want to look real. We want the car to look like it's four thousand pounds. Everyone sees cars every day, everyone knows, your brain knows there are reflections on cars.
You don't necessarily look at these things when you're on the road, but you expect to see it, and we wanted to lean into what we could take advantage of.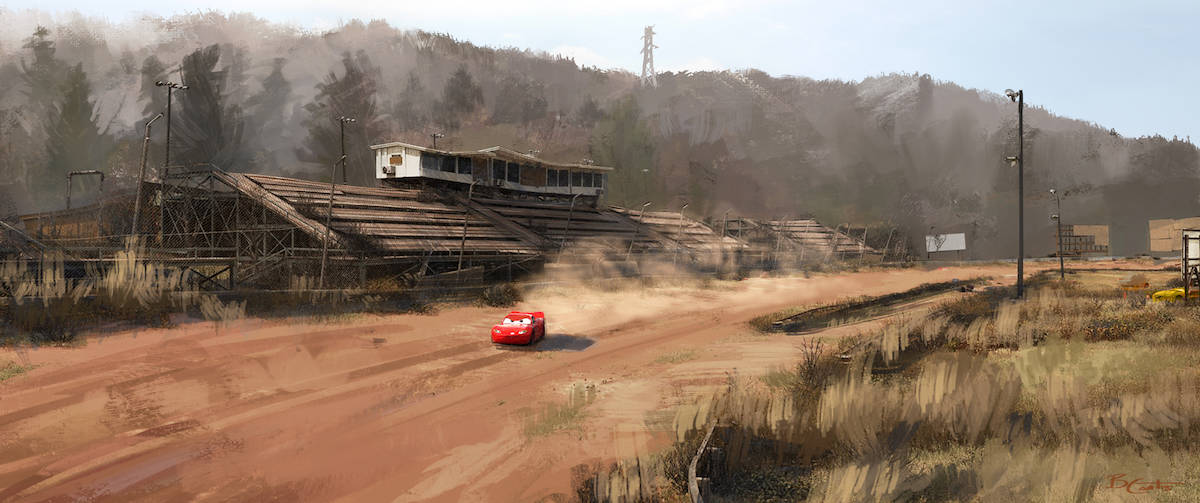 Kevin Reher (KR): We sent two production designers on a wintery week all the way from Daytona up through the Carolinas, so that it wasn't just internet research.
We also went two tracks that were no longer inoperable. Wilkesboro was legendary as the beginnings of stock car racing. We got there and the caretaker said, "I've mowed the track for you." There was so much grass!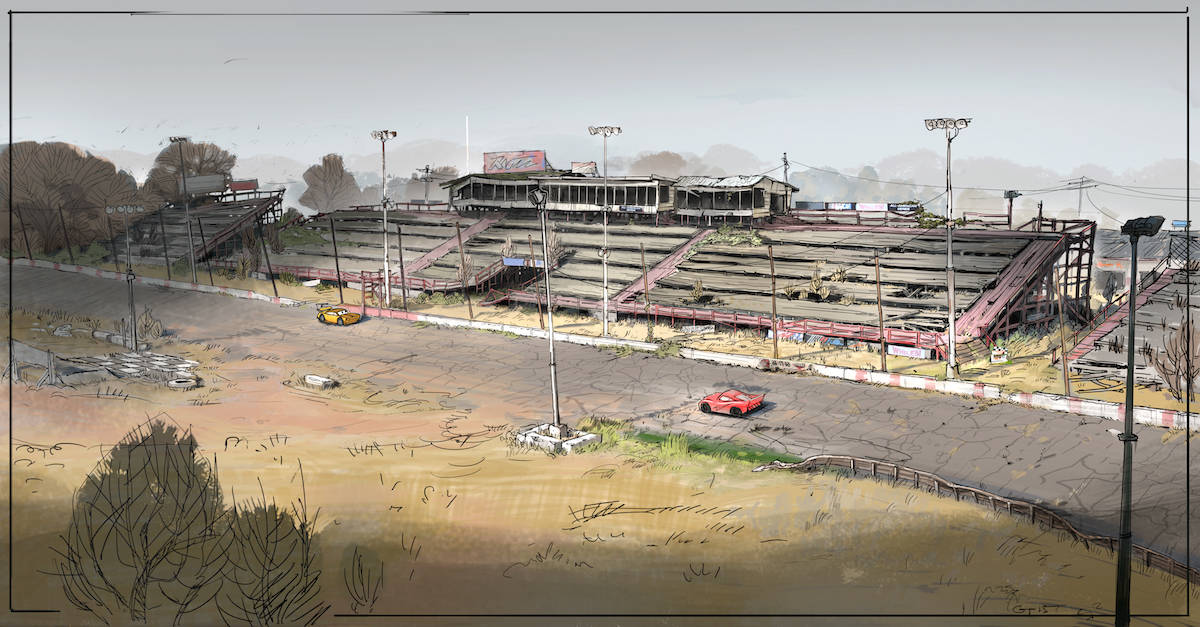 Q: Do you ever have to pull it back? Does it seem too real? 
KR: The animators get a little jumpy. They only have eyes and mouths to animate in terms of getting an emotion across. So sometimes they get a little bouncy on the suspension.
BF: But yeah, we did, because we knew how this was going to look when it was all done. We did go back in at times. If things initially had been over-animated, which wasn't uncommon; you know, the animators were just coming off of a show where they were doing fish, very expressive fish, or emotions that are extremely cartoony characters. With everyone coming onto this show, there's a learning curve to the tone of this movie.
KR: Sort of the rules of Cars animation.
BF: Knowing that these things are going to look real, we need to tone down certain things, because you can't have jumping and…
KR: They are stell, you know. You have to remember the characters are steel and four thousand pounds. They're not rubbery characters that can do all that kind of movement.
BR: And less was always more.
Q: In a few of the scenes in Cars 3, I felt like I was in the Smoky Mountains. Did that part ever get too real where it's distracting to it being an animated movie? 
BF: For me it doesn't, because we were trying to lean into that as much as possible. 
KR: We did back off on some of the lighting because we have a new renderer which is so powerful that at one point this guy had four eyes. Because there's eyes on his hood and eyes in his windshield. We had to dial it back a little bit. 
BF: The reflections that we get…on the first Cars film everything had to be hand-done, faked. In order to get  a reflection on the side of a car you had to project what should be there onto the car.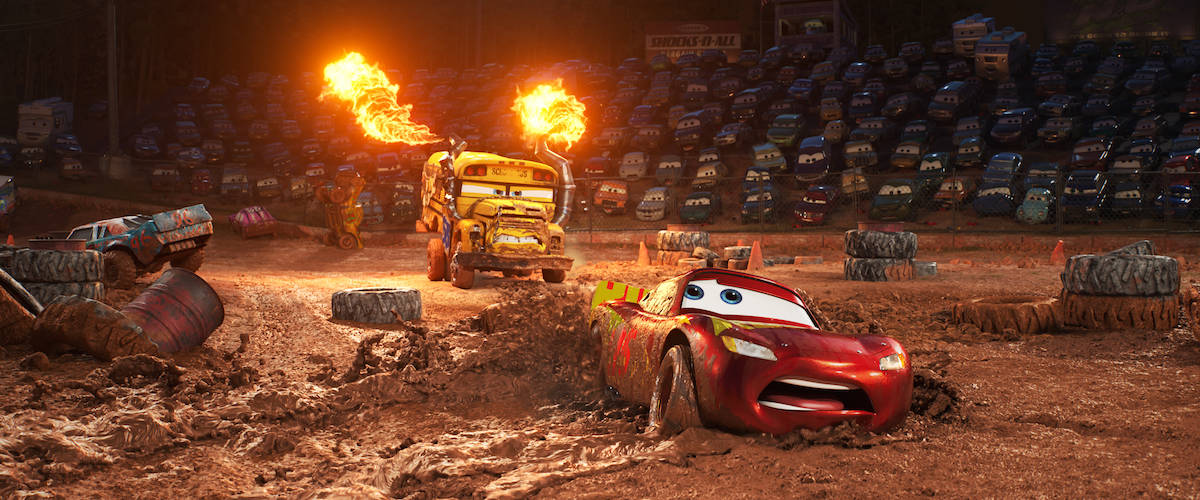 Now we can just have a real reflection generated, which means we have to animate the reflection. So there has to be characters that we never see upstream, but we expect characters are moving [off to the side].
We had to build a set. We wouldn't have built any set that you can't see because that would be a waste of time. But if it's going to be reflected onto the character, we had to extend beyond what the audience will see. But then we had to pull back on our reflections, because they could be so busy that you're staring at the reflections [instead of the action].
If you're not staring at their eyes, at their mouth, you're not seeing them as characters. If anyone is ever lost staring at the reflections, then I worry that we've lost them, because we're trying to tell a story. 
Q: Did you put any Cars 3 Easter eggs in the reflections? 
KR: No. I don't think there are any Easter eggs in the reflections…that I'm aware of.
Q: There are so many messages in this film. What do you want families to walk away with? 
BF: I originally came at this film when my mother passed away. My father is getting older and I looked at Lightning McQueen and Doc's relationship as a father son relationship. Or as a mentor-mentee. 
I had that moment in the middle of my life. My mom's passing away, and I felt that safety net that I've always had, everything kind of dropping.
But then I have two daughters and I realized I'm their safety net. They look up to me. It kind of erased that fear I had of losing my parents. I don't want to see them go, but it gave me new strength and a sense of purpose in life. So I look at Lightning McQueen on that same transition.
You may think you're losing something, but the best thing is still in front of you; it's yet to come. 
I wanted McQueen to feel that – when he spends most of the film trying to do service to his own career, that thing he thinks he's the most passionate about and terrified of losing the one thing that brings him the most joy. I wanted him to see that helping someone else is not only just as powerful, but can be more powerful.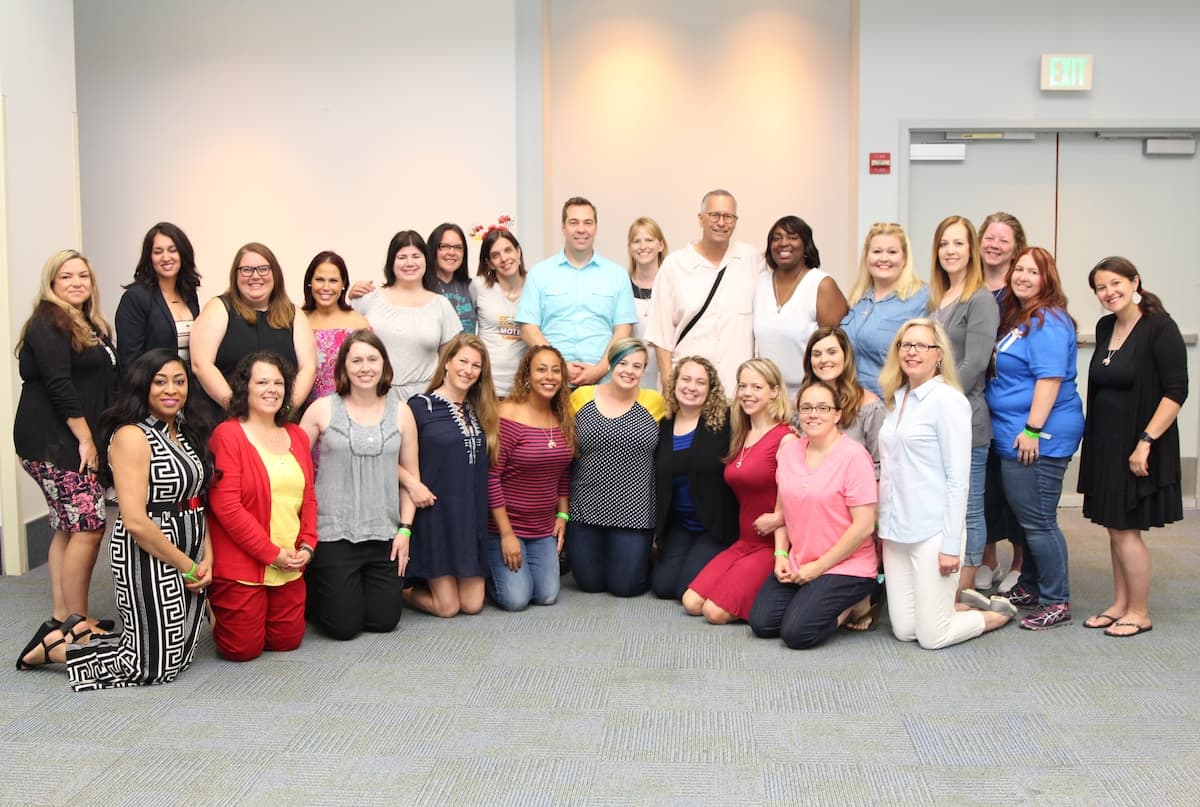 Cars 3 is in theaters everywhere now. See your local showtimes and order your tickets now!
See my other Cars 3 content:
View the newest Cars 3 trailer:
Stay on top of all the Cars 3 news at these links: