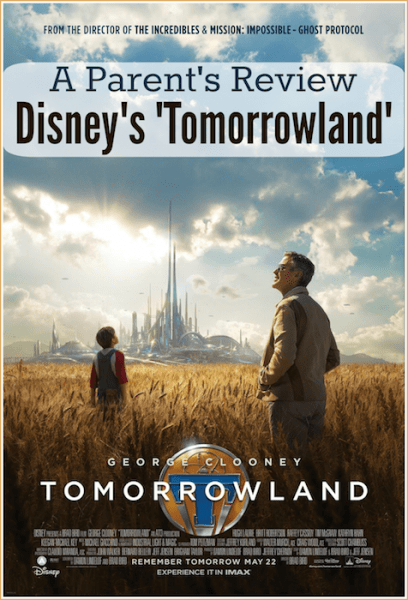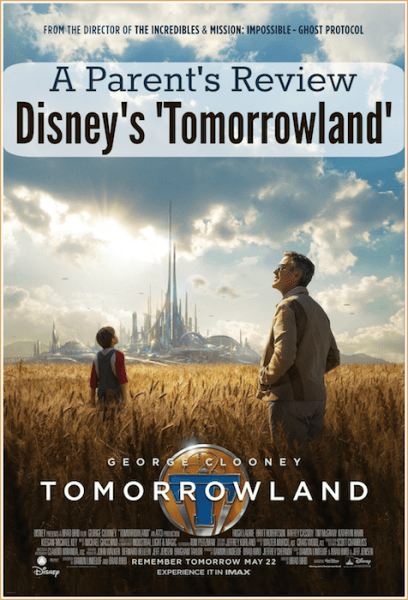 Tomorrowland is Disney's new PG-rated family film. It's open in theaters everywhere TODAY!
Should I take my child to go see Tomorrowland? 
The Hollywood Reporter said:
Walt would have approved, and a sparkling work of speculative fiction (and wishful thinking). 
Digital Spy said:
As Hollywood's biggest movies become ever more reliant on being "dark and gritty" brownie points should go to Brad Bird for countering all that by coming up with something that's buoyantly optimistic. 
Digital Spy also said:
Tomorrowland's breezy and upbeat swing at something original is a refreshing contrast to the onslaught of comic book movies and sequels invading multiplexes…the kind of high-spirited adventure that'll appeal to fans of a new-era 'Doctor Who'. 
The Guardian said:
Brad Bird's new Disney film…is enormous fun as it hurtles through space, time and other dimensions. 
Are you wondering why I shared portions of Tomorrowland reviews from other publications? It's because I'm a mom and I'm a blogger, but I'm not a film critic.
I wanted you to know what the professionals are saying about Disney's Tomorrowland alongside my own Tomorrowland movie review.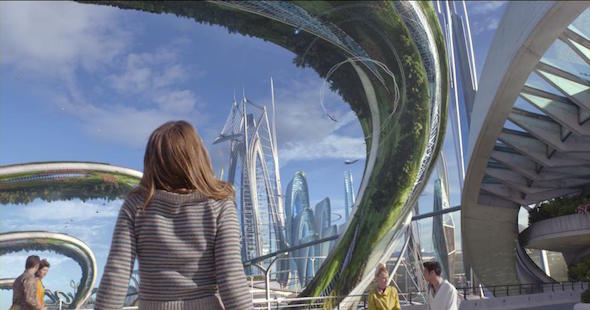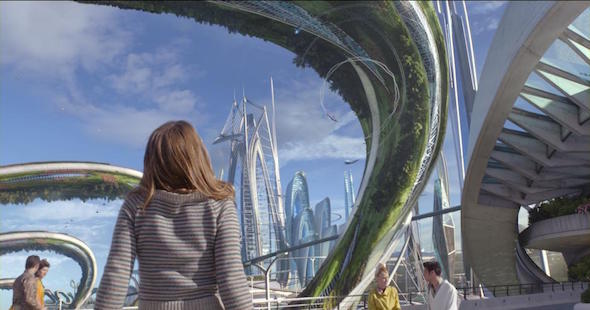 "Tomorrowland" Synopsis:

From Disney comes two-time Oscar® winner Brad Bird's "Tomorrowland," a riveting mystery adventure starring Academy Award® winner George Clooney.

Bound by a shared destiny, former boy-genius Frank (Clooney), jaded by disillusionment, and Casey (Britt Robertson), a bright, optimistic teen bursting with scientific curiosity, embark on a danger-filled mission to unearth the secrets of an enigmatic place somewhere in time and space known only as "Tomorrowland."

What they must do there changes the world—and them—forever.

Featuring a screenplay by "Lost" writer and co-creator Damon Lindelof and Brad Bird, from a story by Lindelof & Bird & Jeff Jensen, "Tomorrowland" promises to take audiences on a thrill ride of nonstop adventures through new dimensions that have only been dreamed of.

The film also stars Hugh Laurie as brilliant scientist David Nix, Raffey Cassidy, Tim McGraw, Kathryn Hahn, Keegan-Michael Key and Thomas Robinson.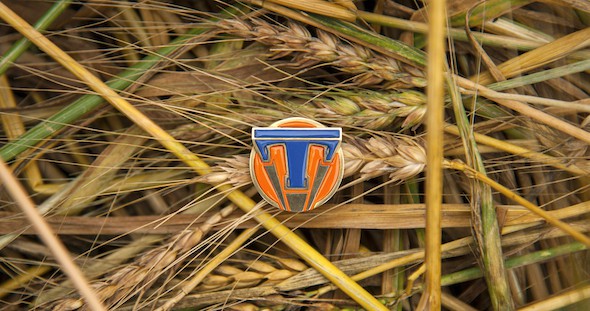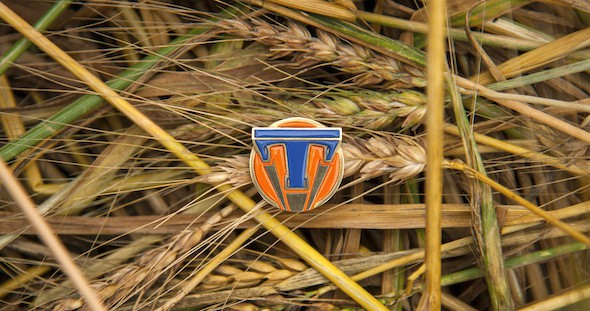 Tomorrowland has been ramping up to be the big blockbuster movie of the summer. After screening the film earlier this month at the Tomorrowland press junket, I can see why!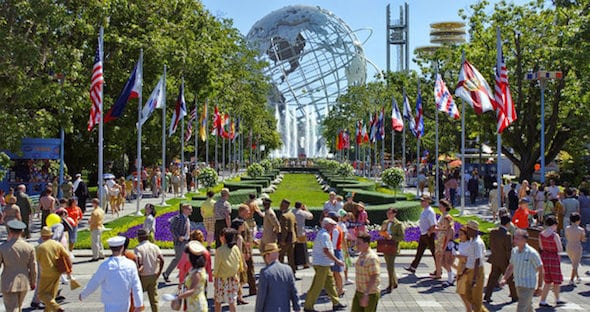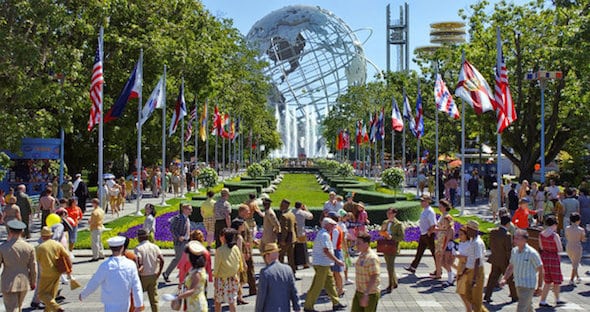 First, the movie opens up and it feels like pure Disney. It's bright. Joyful music plays. A wide-eyed kid is center-stage, and the scene is the bustling, hopeful place that is the 1964 World's Fair.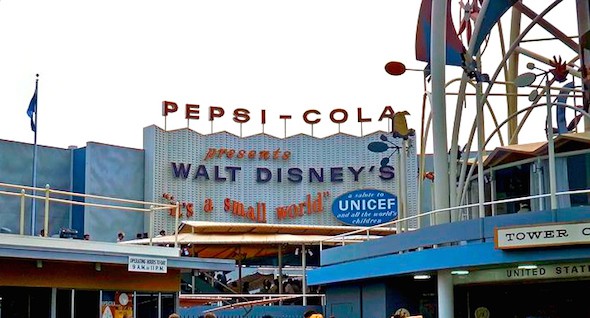 As Tomorrowland progresses, the setting changes to our current time, and it's clear that the world feels the heavy burdens of the future: war, global warming and natural disasters seem to be inevitable.
That's not unlike the world we live in today, right? It's hard to stay positive when bad news is coming at us from every direction at all hours of the day.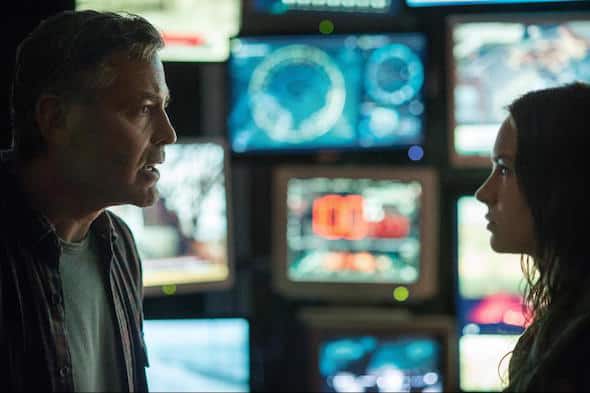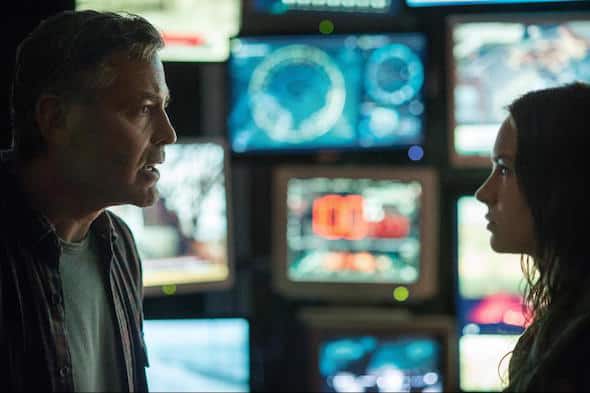 The movie navigates us through that negativity in an adventure of epic proportions. There are jetpacks, teleporting, a rocket hidden in a world-famous monument and plenty of other scenes that might make your jaw drop in amazement.
Which brings us to the question: should I bring child to see Tomorrowland?
Tomorrowland is rated PG, and it's definitely a family movie. However, in addition to those wondrous moments I listed above, there are also some attack and fight scenes, death and talk of the end of the world.
It's heavy stuff, but it's well balanced by the hope-filled message, the dreams of even better days ahead, and two strong kids who fight their absolute hardest to ensure a better future for all.
Tomorrowland starring Britt Robertson, George Clooney and Hugh Laurie opens in theaters everywhere on FRIDAY May 22, 2015.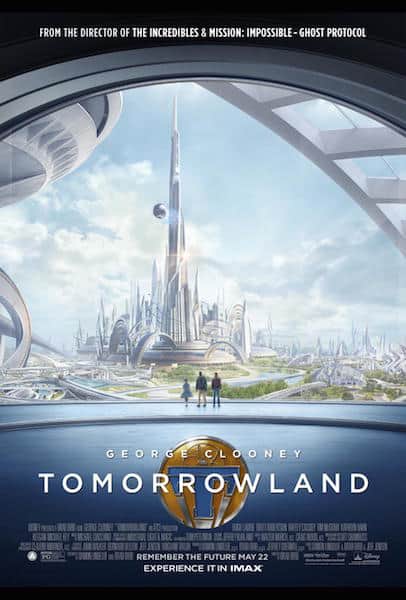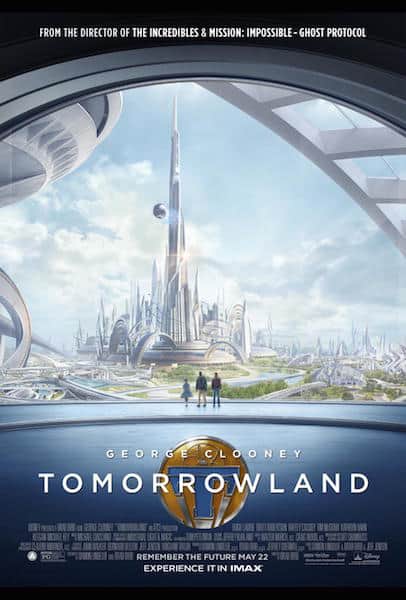 Don't miss my interviews with Tomorrowland talent:
View the official Tomorrowland trailer here:
Visit the official Tomorrowland site, get your Tomorrowland movie tickets and follow the movie news on these social media channels: 
Disclosure: Disney flew me to Los Angeles to participate in this press junket and other events related to the promotion of Tomorrowland. Expressed opinions and all experiences are my own.