If you're asking, Is Rover.com safe? I hope I can convince you that Rover is not safe for pets. The sitter who is responsible for my dog's permanent paralysis is still available and recommended for hire on Rover's website.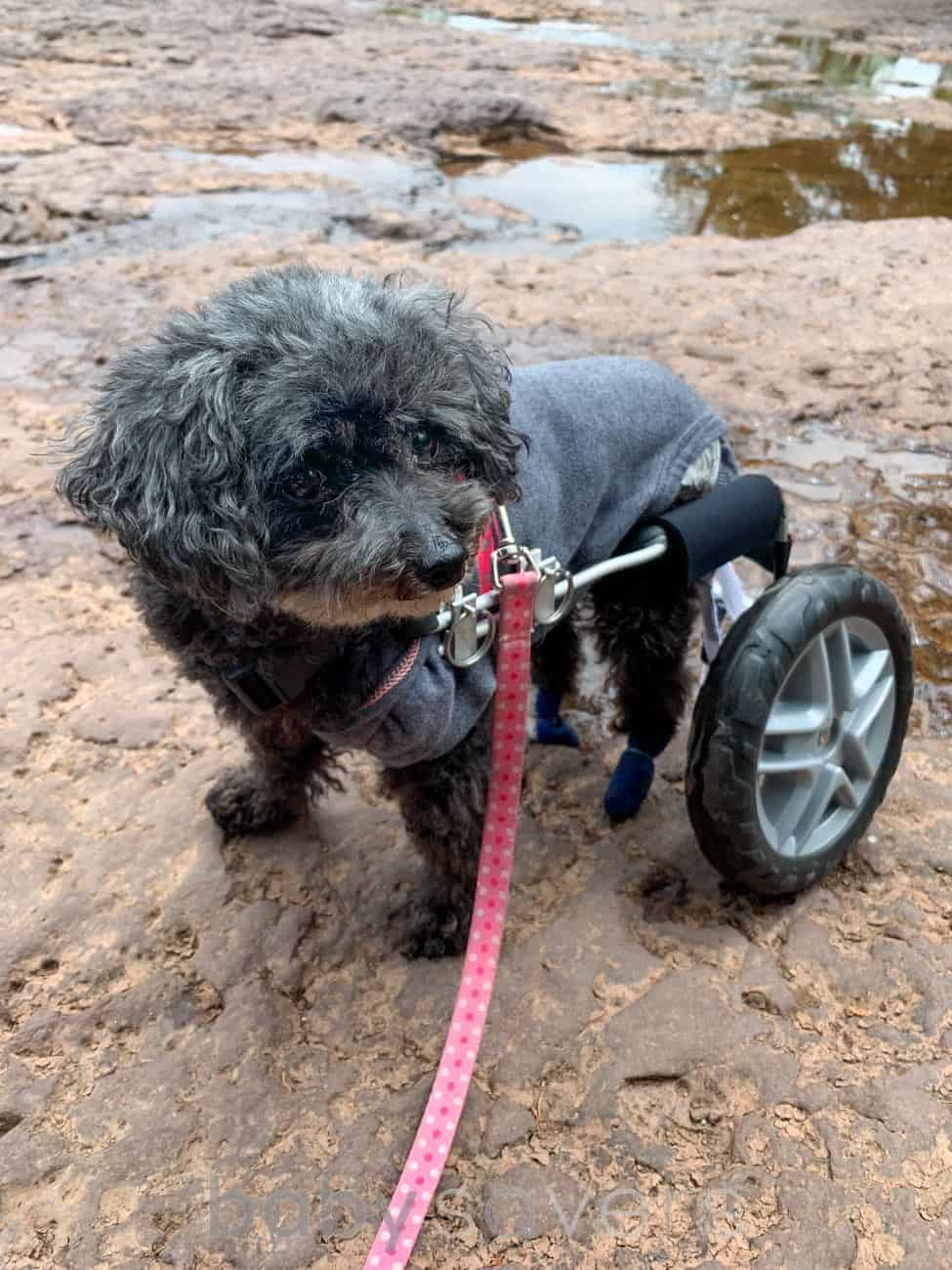 Let me start by offering short answers to the questions bringing readers to this post. While these are my opinions, you'll find plenty of information to support my answers in the rest of the article.
Is Rover safe?
No. The pet sitter responsible for my dog's permanent paralysis is still for hire on Rover.com. Negative reviews are buried among positive ones, making it hard to spot negligence. While they perform basic background checks, Rover has a history of not taking action against sitters responsible for such incidents.
Can people on Rover be trusted?
No. Rover does criminal background checks on potential pet sitters, but they share no information about prior incidents or complaints. I provided documentation and evidence about a sitter who lied and caused my dog to be paralyzed, and Rover still showed her profile with only positive reviews listed first.
It's taken me a long time to work up the courage to write this post. Writing about my dog's paralysis while in the care of a Rover.com sitter means talking about an experience I never, ever want to revisit or think about.
But it's an important story. One that needs to be heard and told and shared. Because our pets are special, and I didn't realize exactly what sort of trust I was laying in front of people who didn't deserve it.
I want everyone to know my honest Rover experience, and also to hear about the long-term consequences of that experience.
Meet my Dog, Jersey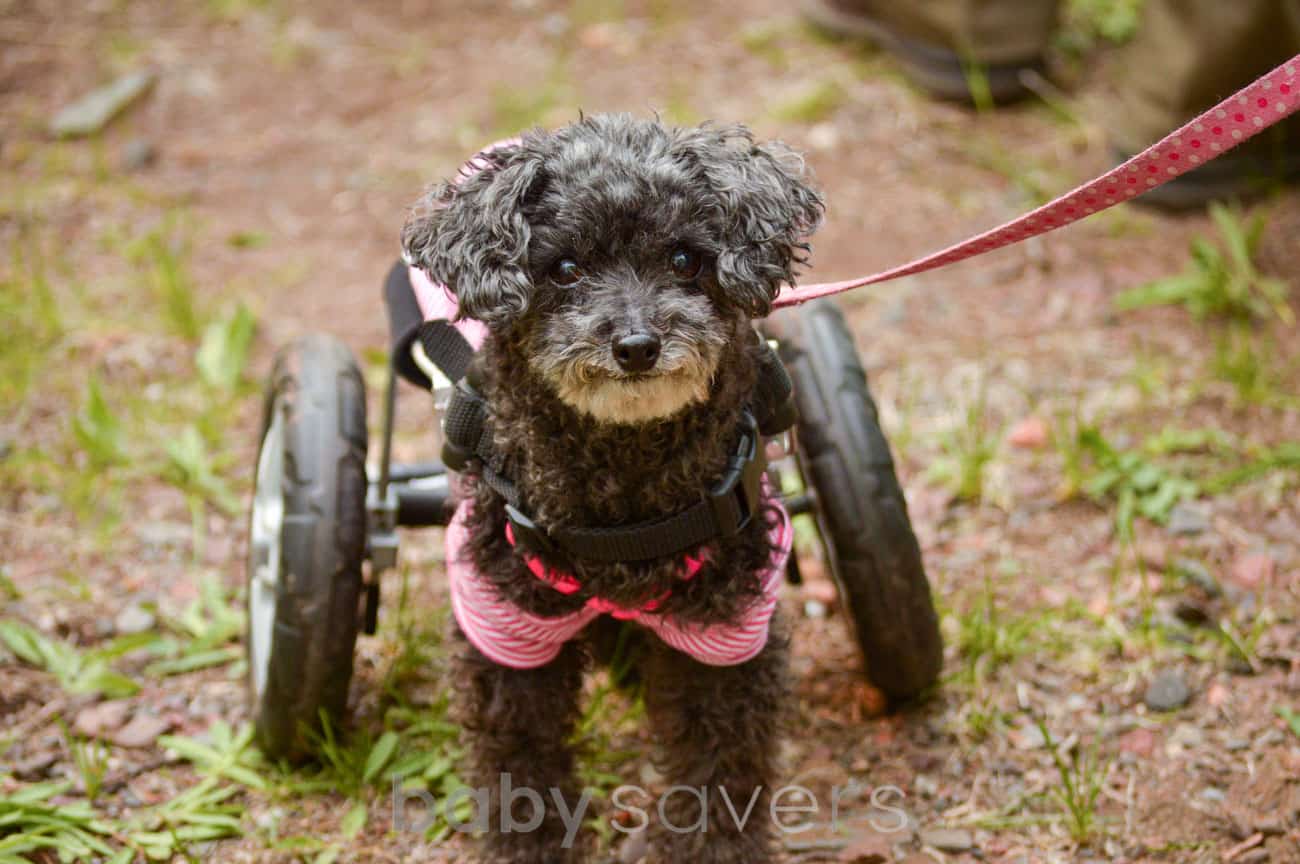 This is Jersey. She's a 6 pound miniature poodle who is now twelve years old. My husband, James, and I adopted her from a shelter when she was a year old, and she's been a part of our family ever since.
Before February, she loved playing fetch more than anything else and she was an amazing retriever. She loved going for walks and following me around the house all day while I worked from home.
Why We Used Rover to Find a Dog Sitter
In February 2019, we took a 4-night Disney Cruise to get away from the Northern Minnesota cold. As I have in the past, I decided to use Rover to find a pet sitter for our dog. This was not our first time using Rover.com. We truly thought that it was the best option for Jersey at that time.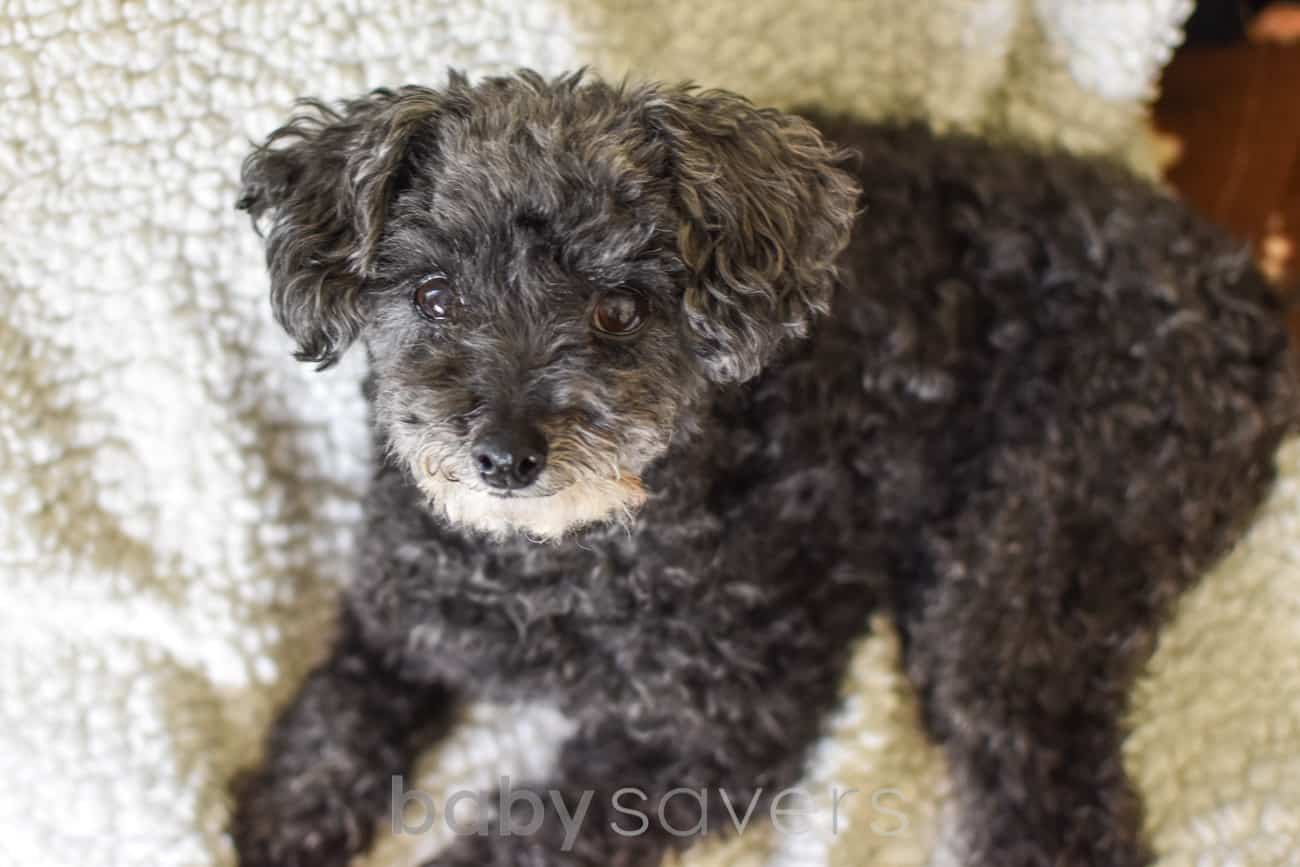 Why did I like to use Rover for Jersey's care in the past? The biggest reason was companionship. She's a genuinely sweet dog that craves human companionship. I liked that she could stay in someone's home and spend a lot of time with a person, instead of staying in a kennel.
The second reason was Rover's own information on their pet sitters. I was reassured by Rover.com's "hiring standards" and background checks. I know better now.
So we found a dog sitter through Rover.com. Annika F. in Duluth, Minnesota. My husband brought Jersey over to her house for a recommended meet and greet. He even realized that Jersey had been watched by one of Annika's roommates in the past.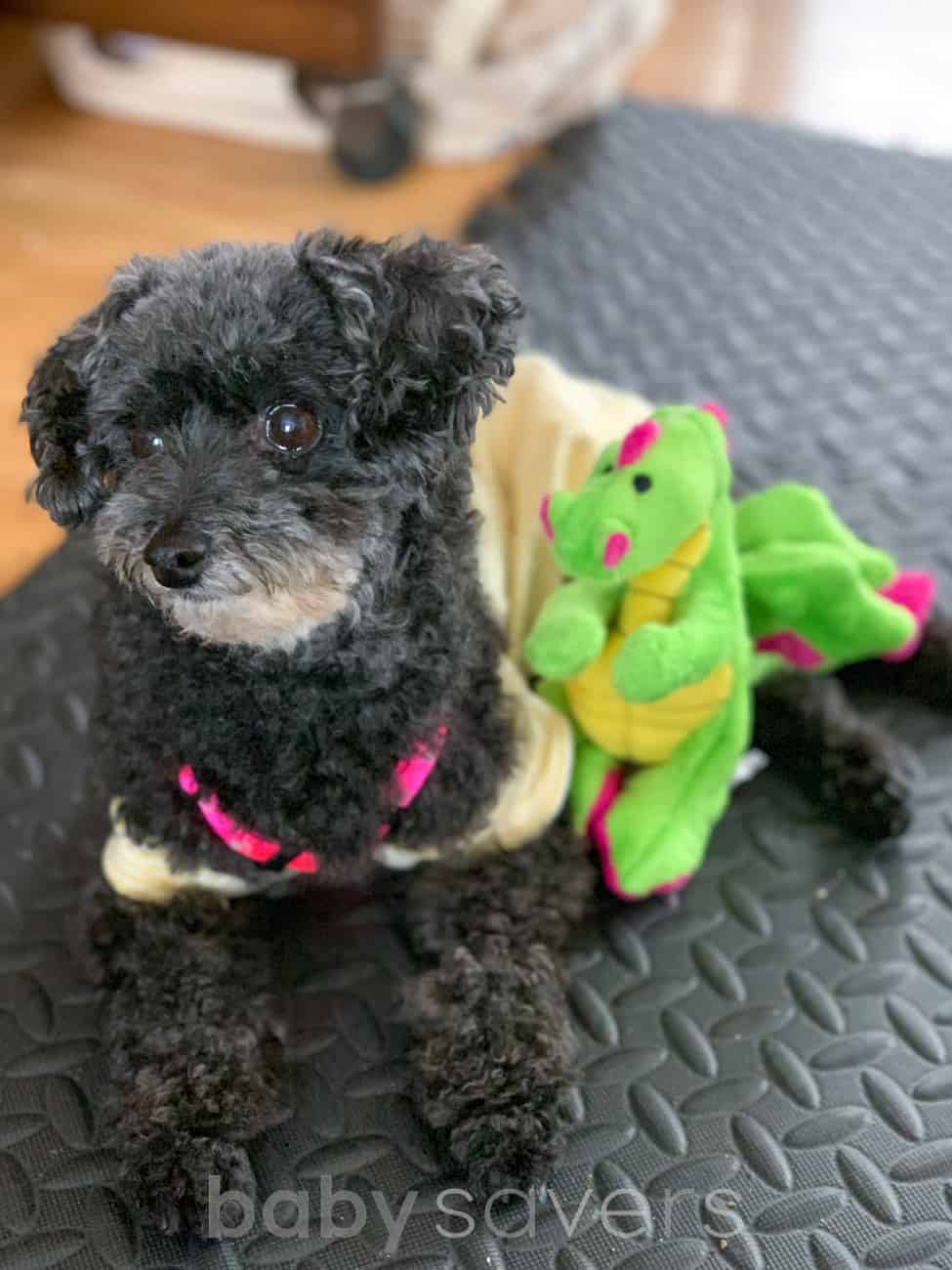 Everyone was comfortable, happy, and excited that the dog sitting arrangement was going to work out.
We dropped Jersey off and went on our cruise. We couldn't be reached on our phones because we didn't have service at sea.
How we Learned About Our Dog's Injury
Four days later, our ship docked. We collected our luggage and I turned on my phone to request a Lyft to the Orlando airport. We would fly from there to Minneapolis, then drive about three hours to get home to Duluth. It was then that I found Rover.com in-app messages, text messages and voicemails from Annika.
Below is the first message I received from Annika, my Rover.com dog sitter. The rest of the messages are at the end of this post.
Note: Various aspects of her messages were revealed to be lies, misstatements and major omissions. More on that later.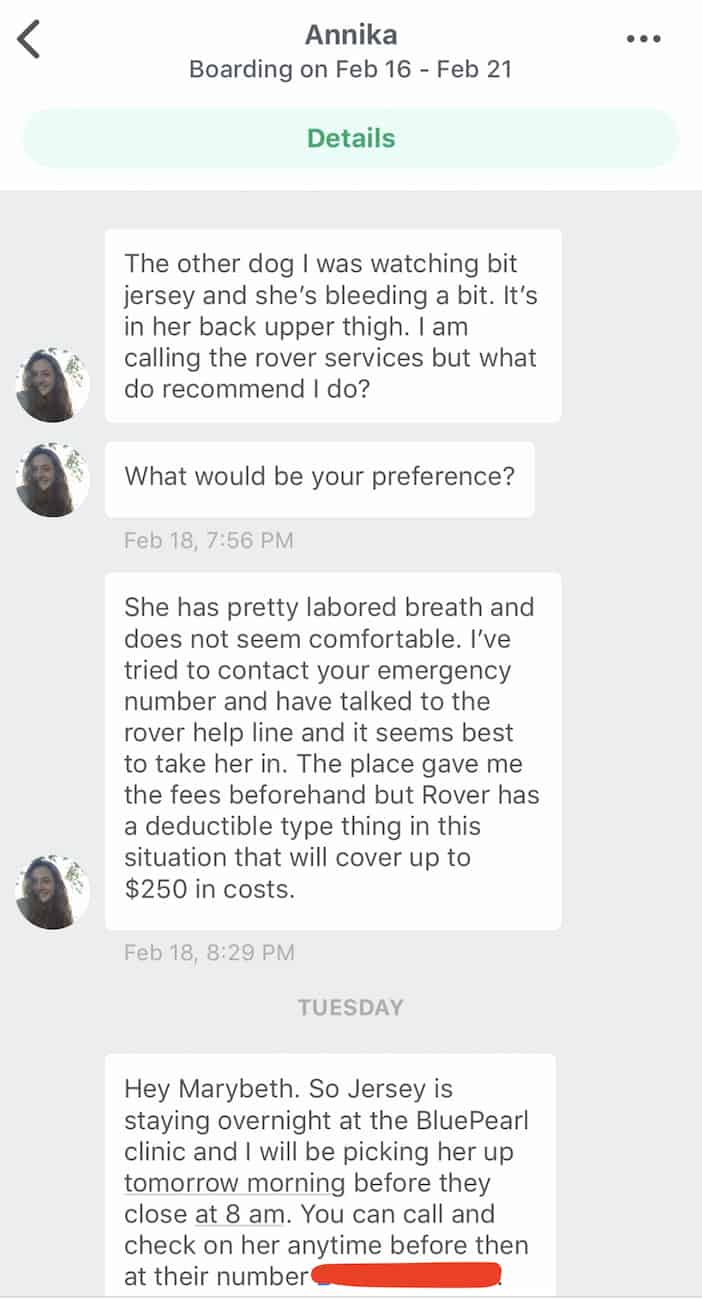 Transcripts of above message:
The other dog I was watching bit jersey and she's bleeding a bit. It's in her back upper thigh. I am calling the rover services but what do recommend I do?
She has pretty labored breath and does not seem comfortable. I've tried to contact your emergency number and have talked to the rover help line and it seems best to take her in. The place gave me the fees beforehand but Rover has a deductible type thing in this situation that will cover up to $250 in costs.
Hey Marybeth. So Jersey is staying overnight at the BluePearl clinic and I will be picking her up tomorrow morning before they close at 8 am. You can call and check on her anytime before then at their number ###-###-####. I'm so sorry this happened. I can call and explain it all in the morning!
My husband and I were in disbelief reading that message. What other dog? Why hadn't she told us about this? Why didn't she say something when arranging the sitting or during the meet and greet?
I tried calling Annika immediately after reading the first message. When she didn't answer, I read the rest of her messages (You can see them below) and called the vet. I learned that Jersey wasn't able to walk. She needed to see a qualified surgeon in Minneapolis – nearly three hours away from home – for a spinal cord injury consult.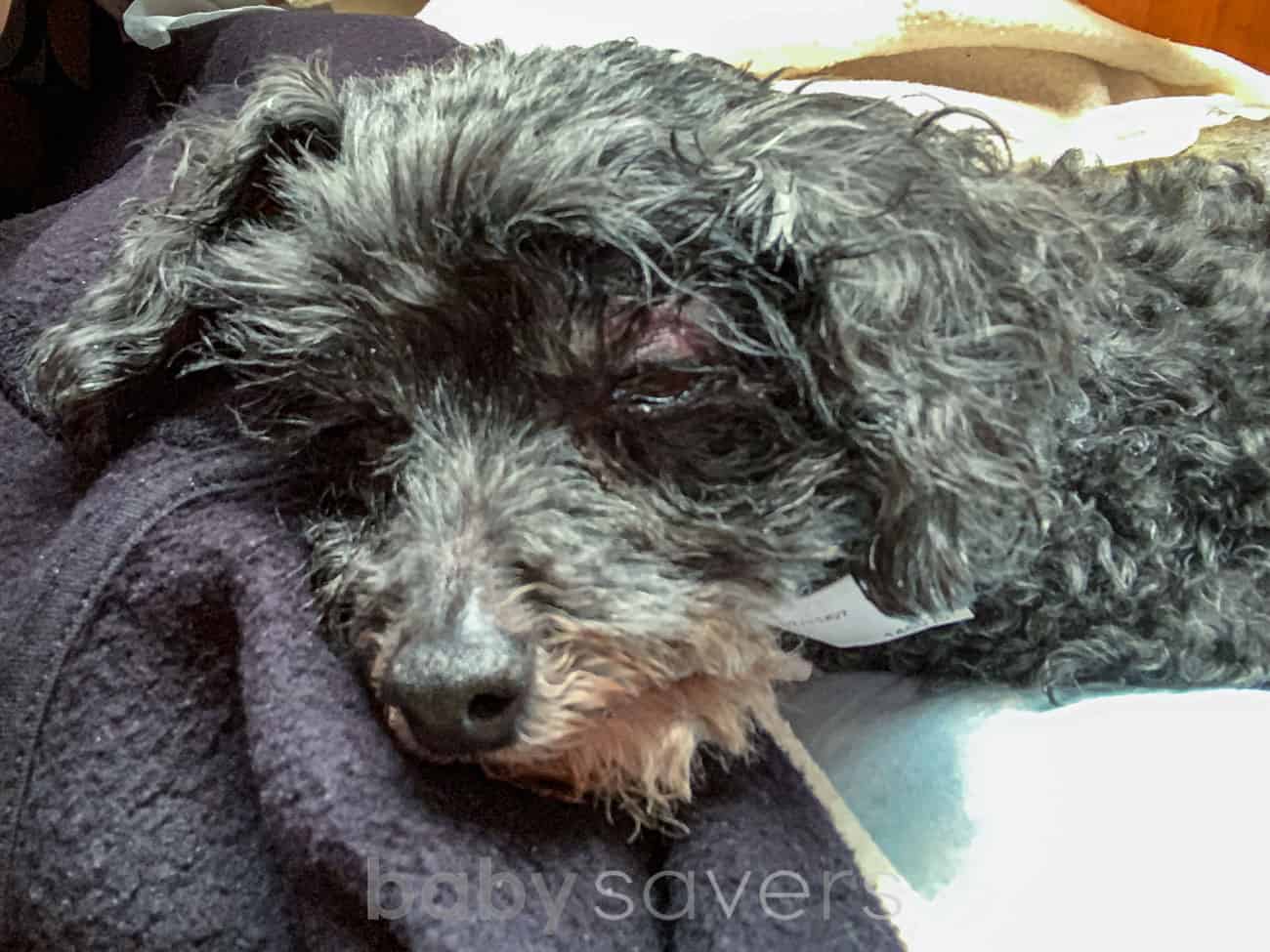 At this point we had arrived at the Orlando airport. I was doing my best to stay calm, but I couldn't hide it. Piper was crying and asking me if Jersey was going to be ok. All I could say was, "I don't know." As we were walking to the gate, I saw Haiden wiping tears from his eyes.
The injuries our dog suffered from while in the Rover sitter's care:
My aunt and uncle picked Jersey up from the vet and drove her the 150 miles to the University of Minnesota Veterinary Medical Center in St. Paul, Minnesota while I flew from Orlando to Minneapolis.
I ran to a car to get to my dog as soon as I got off the plane. I arrived and met Dr. Stephen Garofolo, the veterinary surgeon who would be operating on Jersey.
Thankfully, Dr. Garofolo explained everything in great detail to me, going as far as to draw out whiteboard diagrams and make a list of exactly what he was going to do. He also sat me down and very frankly told me that, if Jersey made it out of surgery:
My dog could be paralyzed for the rest of her life.
My dog would likely be incontinent.
Recovery after surgery would be hard, with at least 30 days of being confined to a crate.
There was a strong chance that Jersey would never walk again.
Canine physical therapy could help us find options for mobility.
The conversation was heartbreaking, but it was necessary to me me wrap my head around how severe this situation was.
Dr. Garofolo told me that spinal cord injuries are always an emergency and that others were prepping Jersey for surgery at that moment.
Even though it was already late afternoon, he would be starting surgery soon. He also told me that I shouldn't stay; surgery would take some time and I wouldn't be able to see my dog until the morning, anyway.
The conversation with the surgeon about my dog's injuries
We left to settle in at a family member's house. I didn't get a call from the surgeon until nearly six hours later. His voice was shaking, and I started to cry as he began to speak.
I don't think I'll ever forget what he told me:
There was a hole through her spinal cord – something had punctured all the way through it, like a tooth. I've never seen anything like it.
We shaved a large section of her body so we could see the damage. The deep bruising and swelling are consistent with the injuries that happen when a small animal is picked up and violently shaken.
…fractured vertebrae, broken ribs, lacerations, bruising…
The doctor's voice broke. I could hear him cry as he told me Jersey was alive and that dogs just want to survive.
The good news was that Jersey had made it through surgery. She was medicated and settled within the ICU. He recommended I see her as soon as visiting hours started in the morning.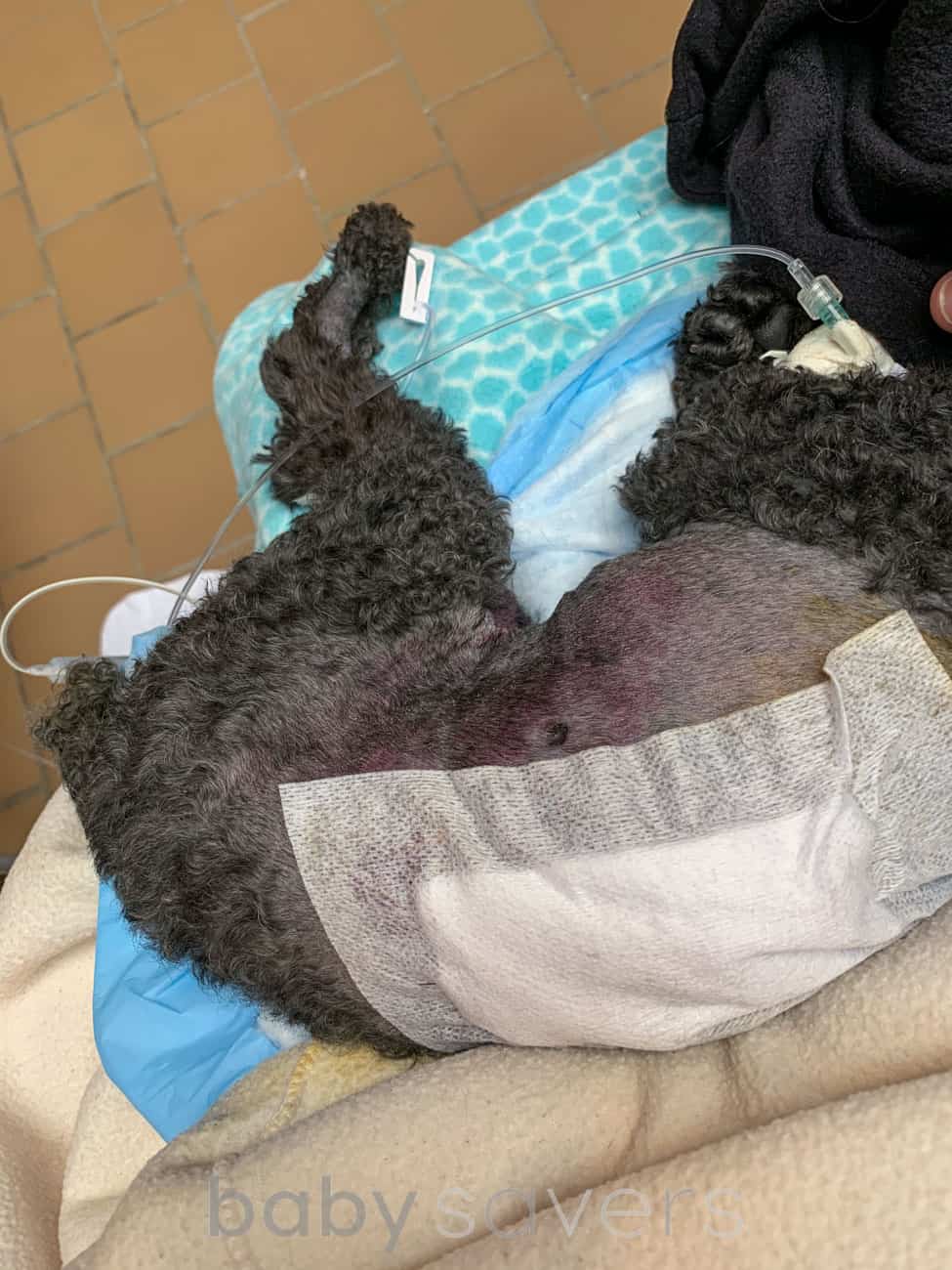 A Week in Veterinary ICU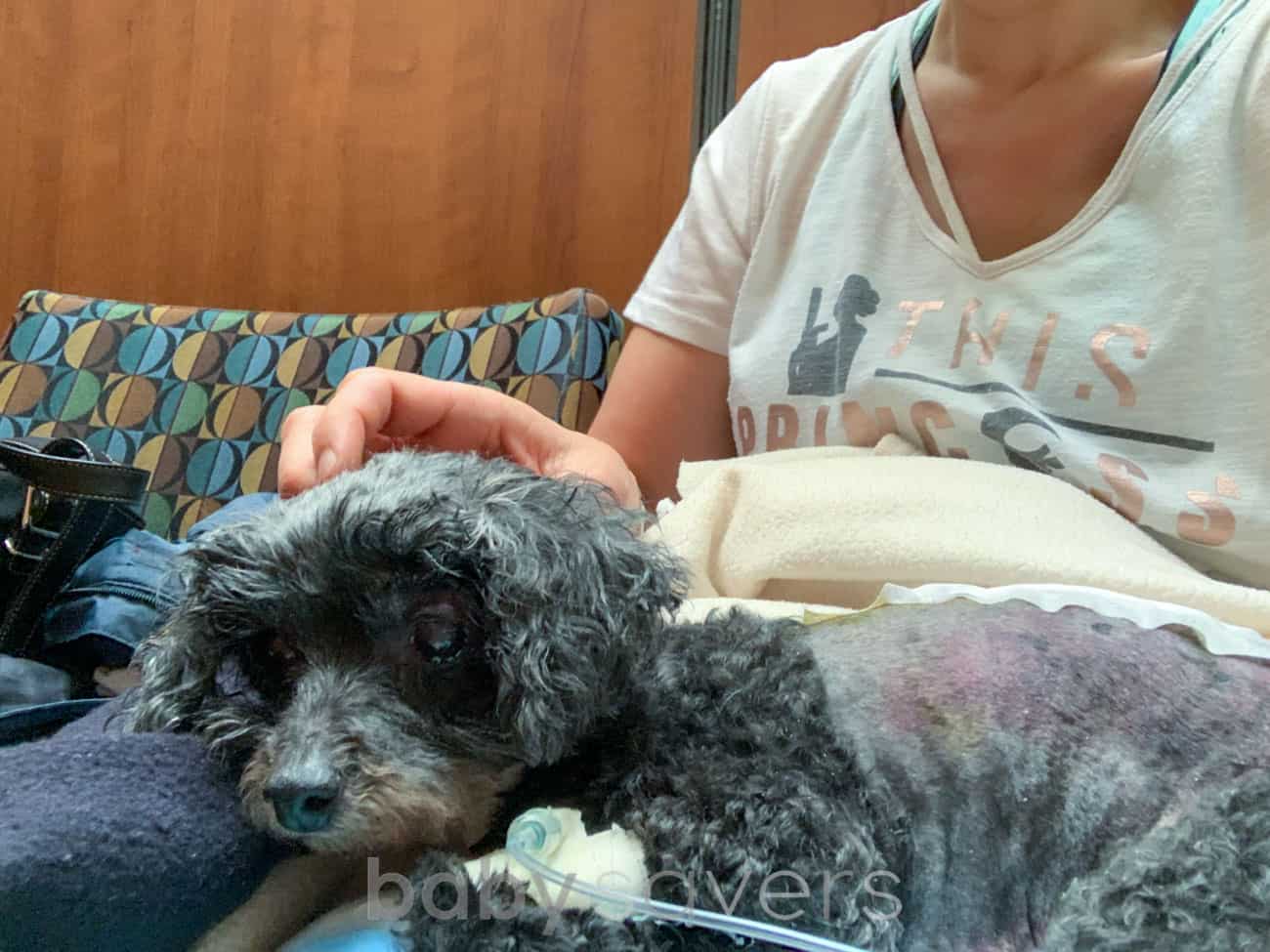 Jersey remained in the ICU at the veterinary center for a full week. I visited her twice a day and stayed for the full visiting hours each time. Two hours in the morning and three hours every evening.
The rest of my family had to get home to go to school and work, but I truly dropped everything else my life to be there for my dog. I bought clothes, rented a car and moved into an amazing friend's guest room. I stopped writing and publishing blog posts. And I worried.
I worried about Jersey's immediate recovery in the ICU. I worried about the recovery she would have at home. I worried that she wouldn't walk again. I worried that she would need diapers. I worried that I would have to carry her all the time. I worried that I wouldn't be able to handle any of it.
I was selfish, too. I selfishly worried about how I would do anything, how I would get things done, be a mom and a homemaker and a business owner while caring for my dog.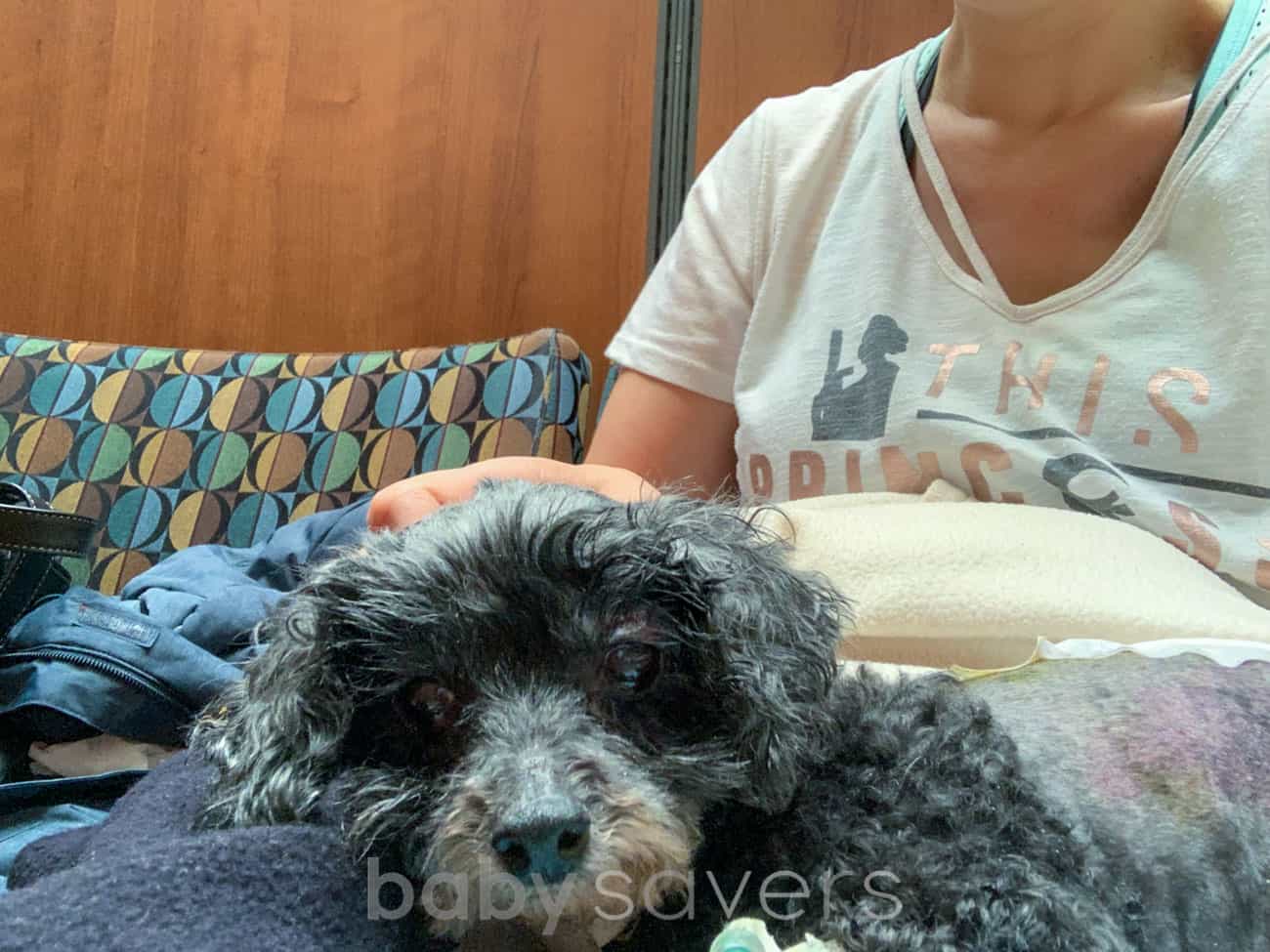 But not caring for Jersey wasn't an option. When someone you love gets hurt, you do everything you can to help them. James and I both apply that sentiment to our pets, too. Jersey was (and is!) such a special dog — she deserved every chance to recover and live a good life.
As the days passed, Dr. Garofolo tested her regularly for deep pain sensation to see if she was regaining any feeling in her hind legs. Every day was negative.
While Jersey's physical recovery was slow, it didn't take long for her happy personality to return. The techs working in the ICU all told me how sweet she was and how much they loved caring for her.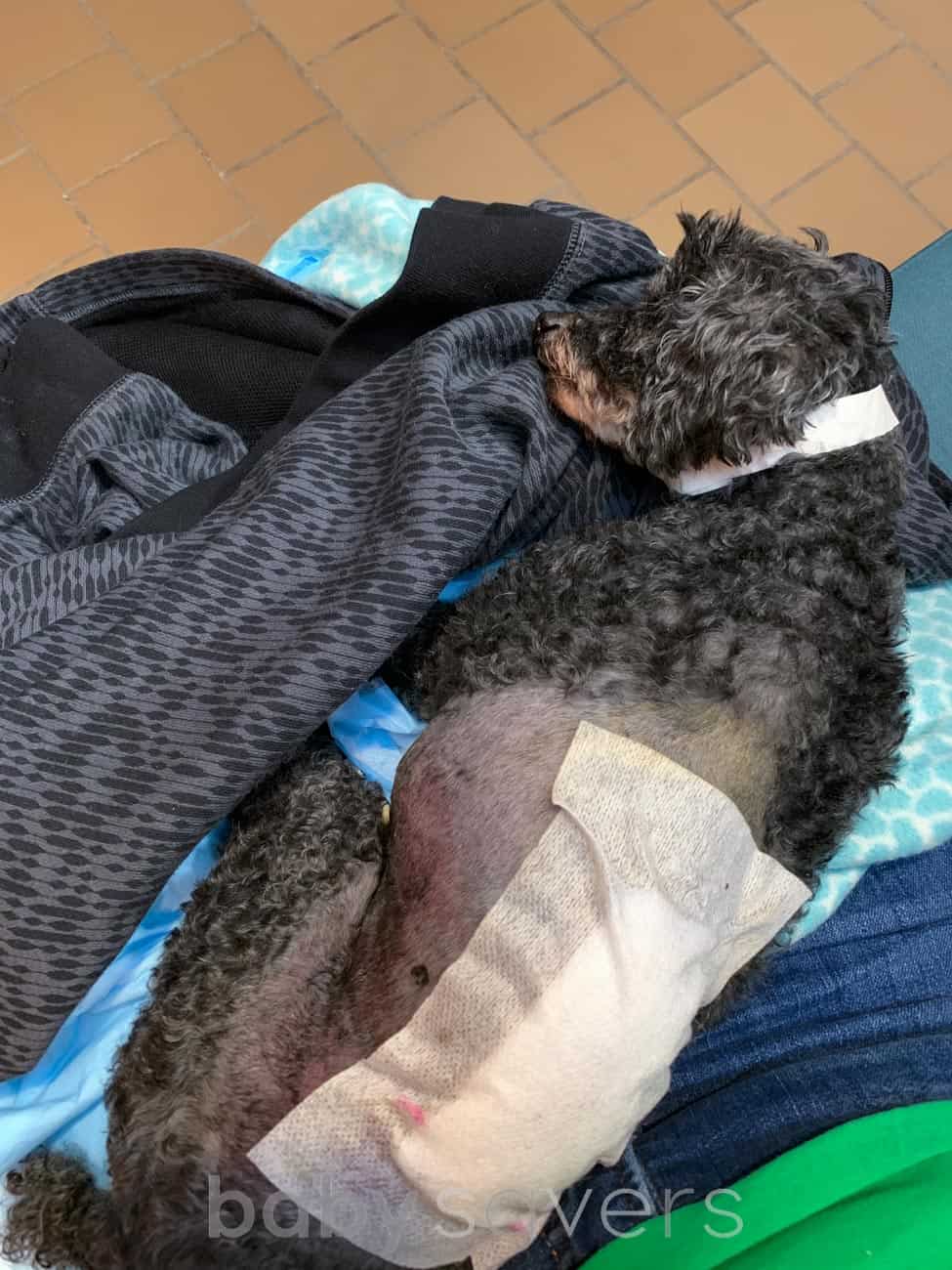 Jersey was so happy to see me every day, and it warmed my heart to see her perk up every time Haiden and Piper came for the last few minutes of visiting hours.
Jersey was discharged a week after surgery. I was terrified. The surgical tech gave me lessons on how to express urine from her bladder. I also learned basic therapy exercises to maintain her muscles and range of motion while she healed.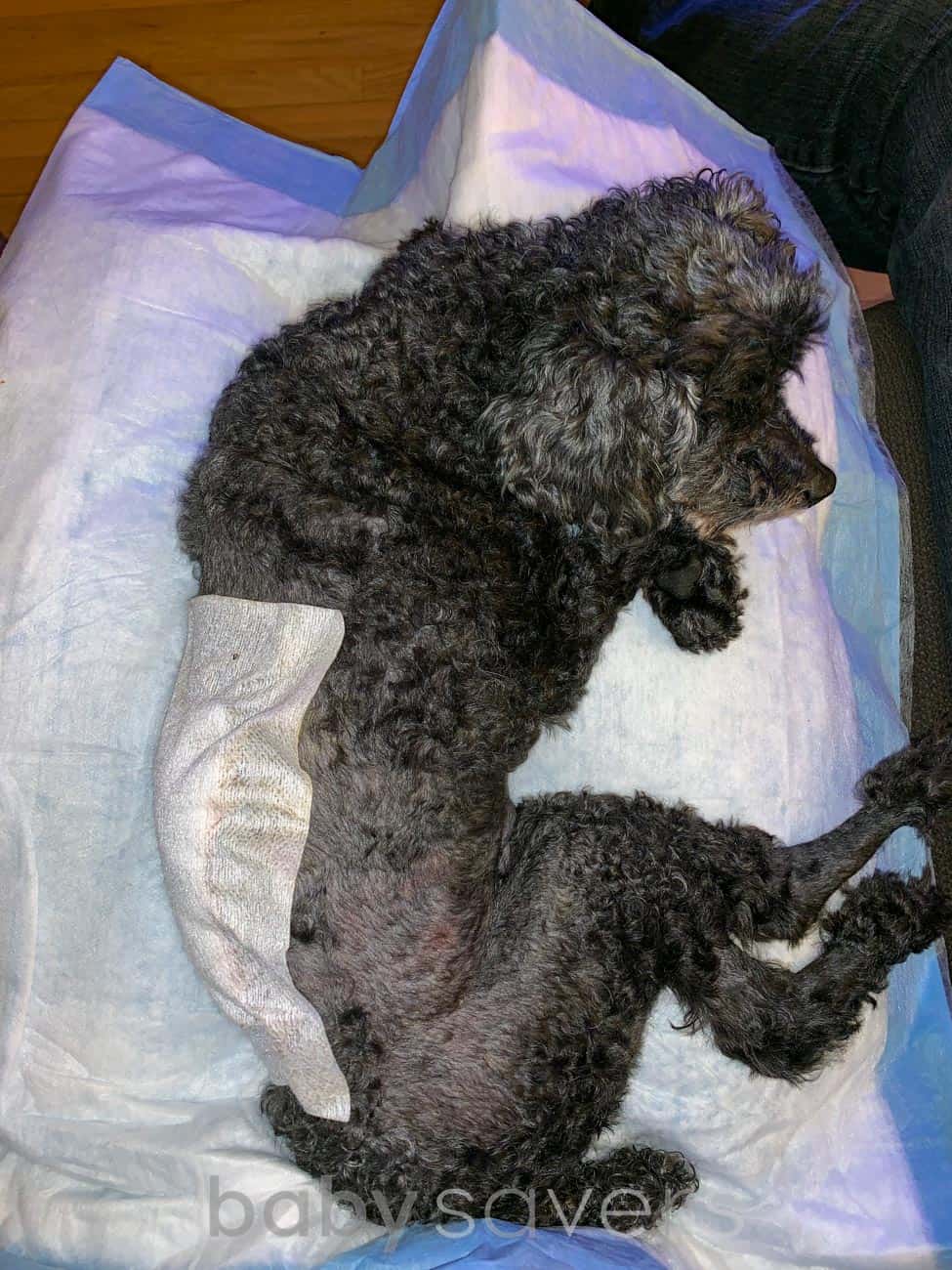 Multiple trips for post-surgical checkups showed that Jersey was recovering, but she wasn't registering any deep pain sensation.
Jersey remained paralyzed, and chances of regaining control of her hind legs went down with every day that passed after surgery.
Paralyzed, For Life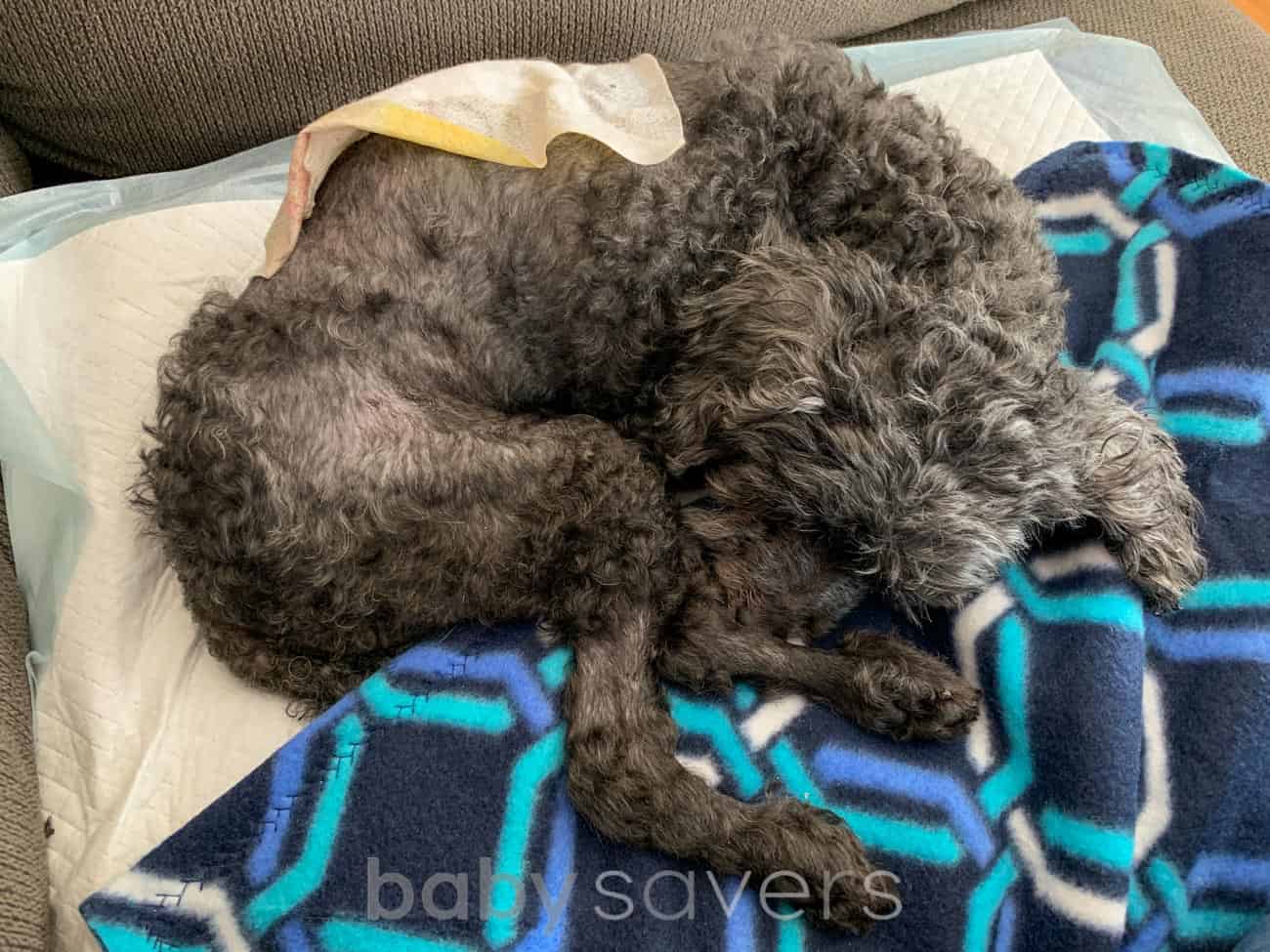 Eight weeks after her surgery, Dr. Garofolo told me that it was very unlikely that Jersey would ever get that deep pain sensation back. He recommended meeting the physical therapist to fit Jersey for a wheelchair. He also thought she could start therapy to strengthen the rest of her body.
Jersey went to therapy for 13 weeks. That was 13 weeks of 300-mile round trip drives. Getting her there and home took nearly a full day, but the sessions were necessary to her overall health. And the results were extraordinary.
Jersey also adapted to getting around the house by scooting pulling herself along by her front legs. She has a wheelchair cart, but it's best for outdoors and open areas. It's not practical for short distances and confined spaces.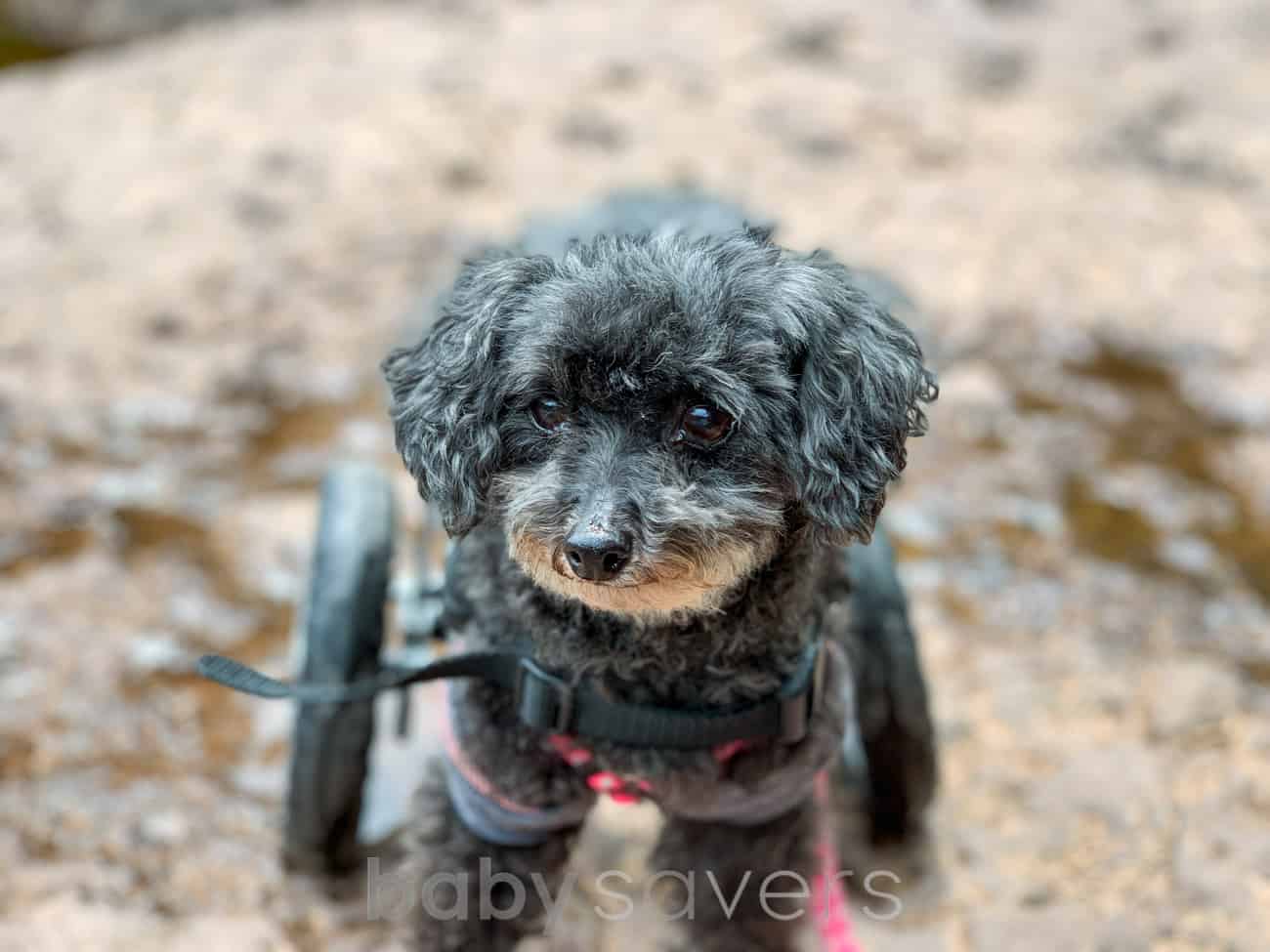 Ten months later, I'm starting to feel fairly adjusted to being a stay at home mom to a handicapped dog. I have a dog that's permanently paralyzed because of a Rover sitter.
Why A Sitter from Rover isn't Trustworthy
The kicker, the reason why I would never, ever recommend Rover to anyone, is because Annika F. is still available for hire on Rover.com.
That's right. The Rover.com pet sitter who:
Didn't disclose that she was watching a large dog in addition to my six pound dog.
Falsely communicated that Jersey was "doing fine" when veterinary records stated that euthanasia was discussed.
Lied and stated that Jersey was "healing" without internal damage when Jersey wasn't able to walk.
Falsely communicated that Jersey was "doing well" when she knew about her spinal cord injury.
Never indicated any sense of urgency or emergency in her messages, after she discussed euthanasia, paralysis and major injury with two different veterinary clinics.
Want evidence? I have receipts to prove it all.
The other messages from Annika, the Rover sitter appear farther down. I have copies of the medical records that detail the severity of Jersey's injuries. Records that note discussions with the sitter about humane euthanasia and extensive trauma.
All from injuries that wouldn't have happened if the pet sitter had told us that she was watching a big dog before we unknowingly put Jersey in a dangerous environment.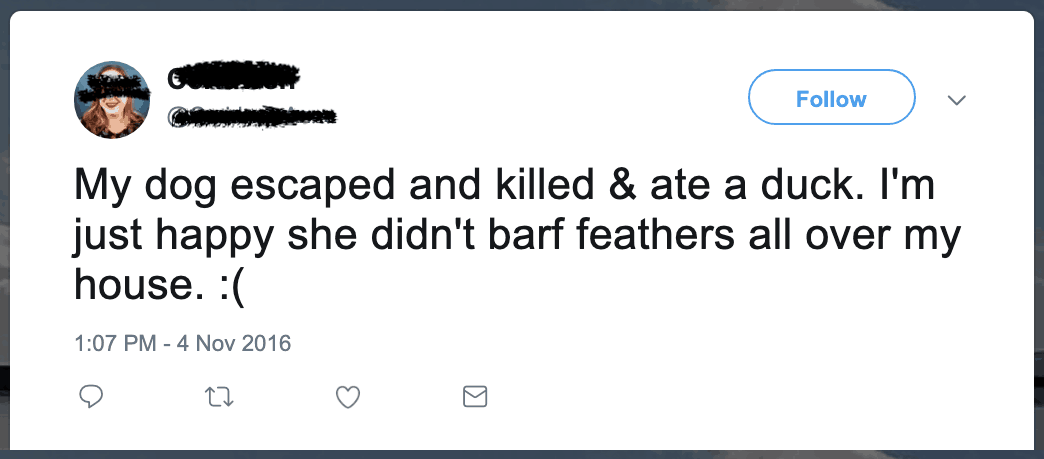 And that other dog? The other dog had a history of violence toward small animals.
That dog's owner had tweeted about "barf[ing] feathers" after her dog had killed and eaten a whole live duck. The owner had also posted a video on Instagram of this dog hunting small animals outside in snow. That dog's owner simply should not have allowed that dog to be around an animal as small as Jersey.
How Rover.com Lost My Confidence in their Guarantee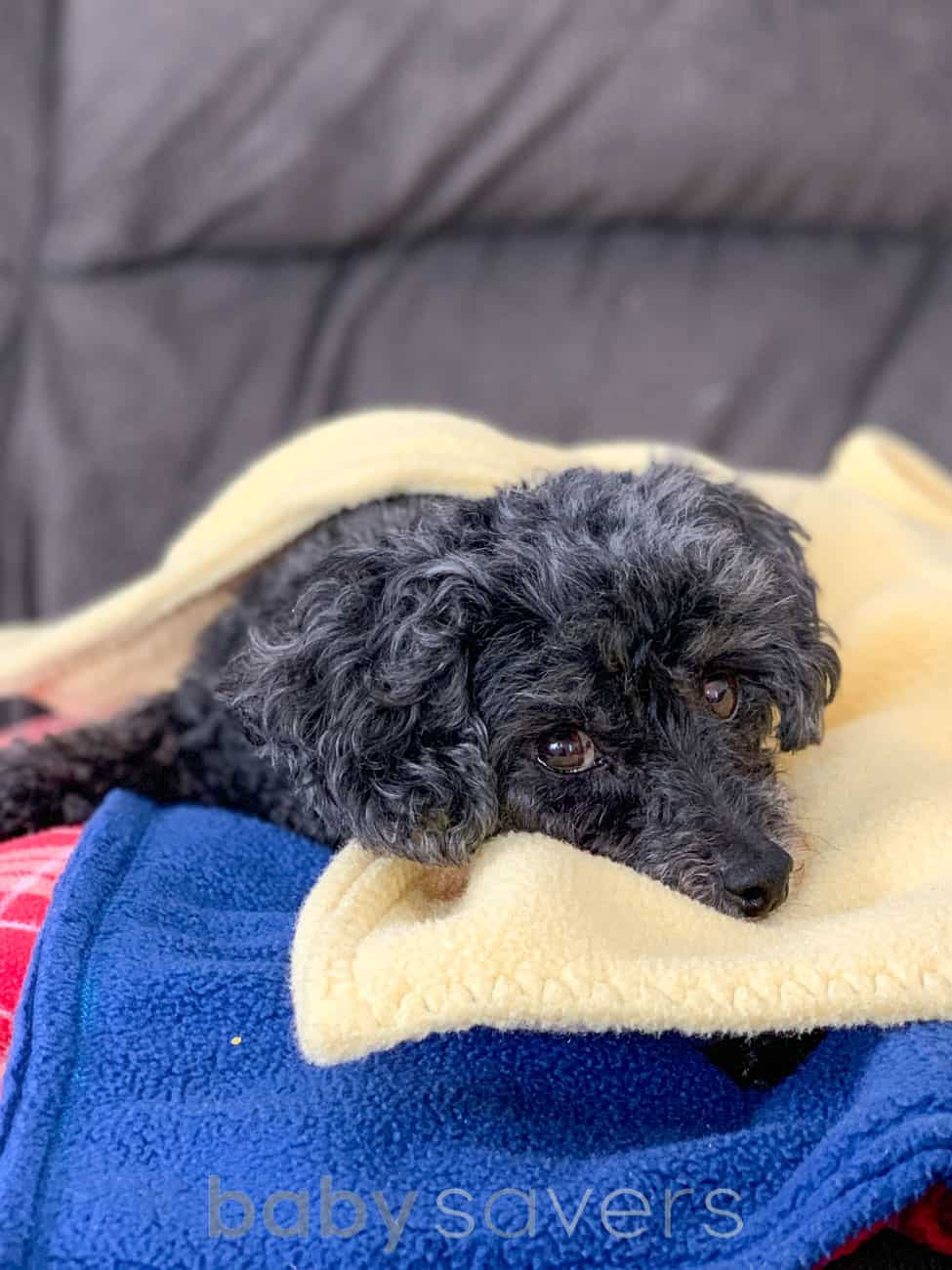 As for Rover – I have problems with how they processed the incident.
Yes, there's a "Rover guarantee" that stated that Rover would pay for 30 days of vet care for injuries to a pet injured while in a sitter's care.
The guarantee covered Jersey's surgery and stay in the University of Minnesota's veterinary ICU. It also covered the care she received prior to surgery.
But it's no surprise that it takes far longer than 30 days for a dog to recover from a violent attack, broken back, severe spinal cord injury, paralysis and more.
Further, that guarantee didn't cover all those non-veterinary expenses. Costs that wouldn't have existed if Jersey hadn't been injured.
Even with my generous friends and family providing places to stay, I obviously had to pay for food, transportation and plenty of other expenses that add up when you're not at home.
Then there are all the things we've bought and will continue to buy to accommodate having a handicapped pet at home.
Rugs, mats and booties to keep her from slipping on the floor. Ramps, a wheelchair and crate liners. Diapers, piddle pads and more cleaning products than I've ever used in my life. The list goes on, and it will continue to go on for as long as we have her.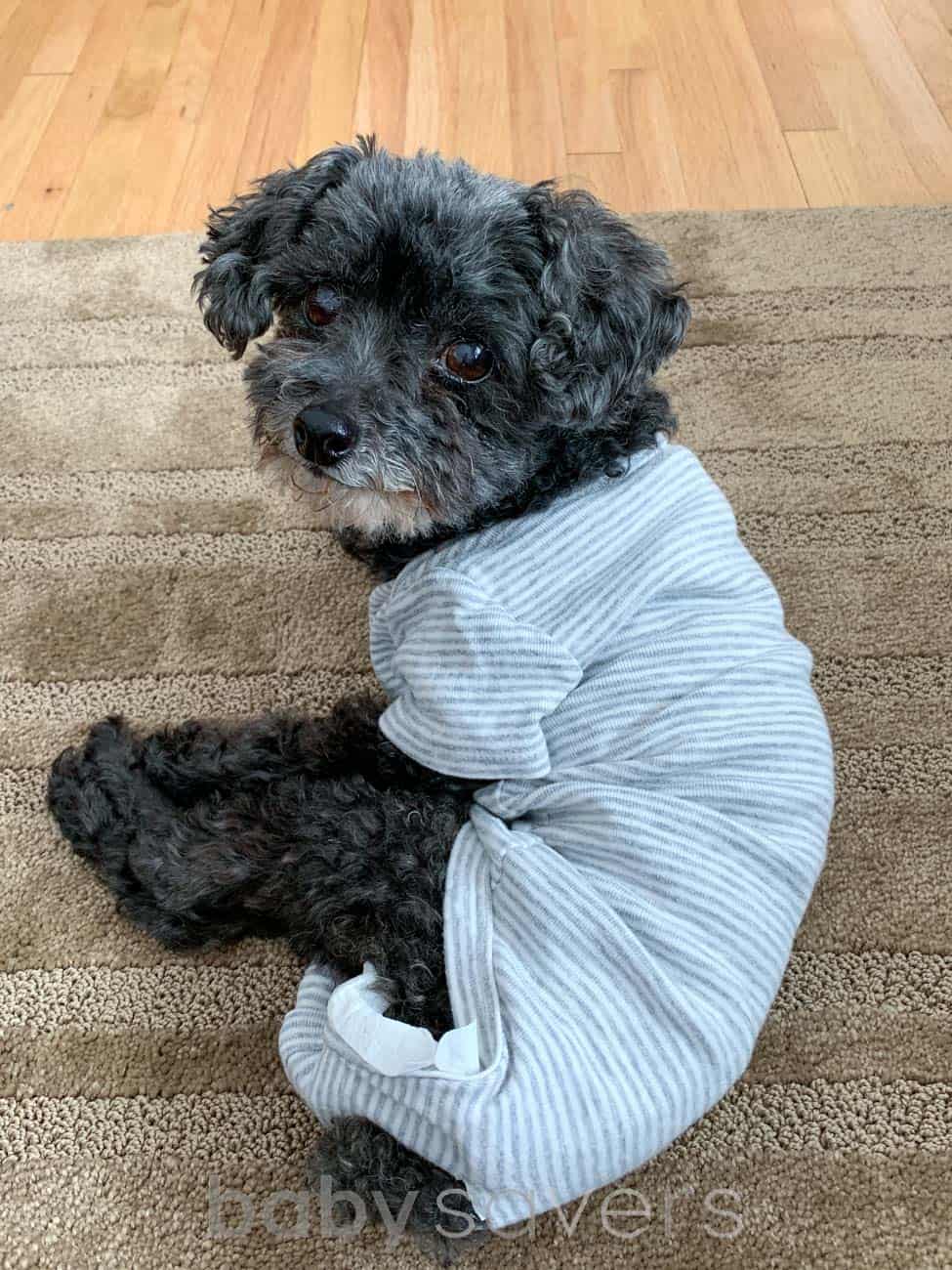 Finally, there was my job. This blog. This website that I created and built from nothing provides me with a full-time income, and it takes a lot of hard work to keep it at that level.
But Jersey's injury and recovery took so much time and effort, I hardly did any work at all for those first few months after the attack.
I recognize that I'm very fortunate that I could devote so much time and energy to my dog. That I had the flexibility to step back from my business. That my husband agreed with my priorities and was able to carry our family's income while mine suffered.
After all that, we're still feeling a huge financial fallout from my not dedicating enough time to work for an extended period of time. Cutting way back for a few months resulted in losing about 50% of my annual income.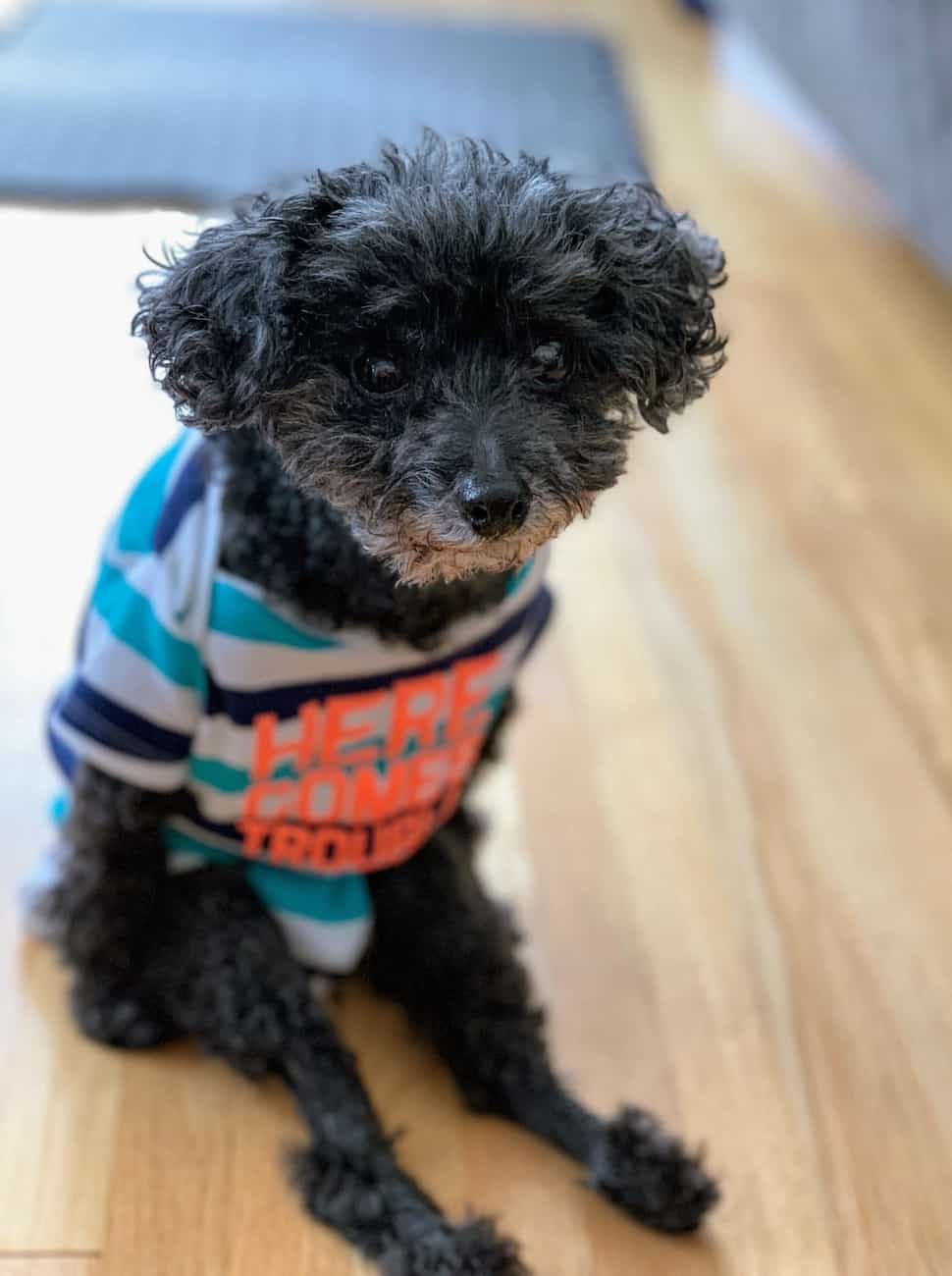 How Rover Lost my Trust in Their Policies
It was upsetting to see that Annika F. was still pet sitting for Rover.com. I sent Rover a message detailing Annika's actions, omissions, lies and poor communication, and that I had no trust in her abilities.
My message ended with the following request:
I wouldn't want any dog and their owner to go through what Jersey and I have gone through. I respectfully request that Rover.com no longer offer Annika [last name]'s services to Rover customers.
The response I received from Rover.com: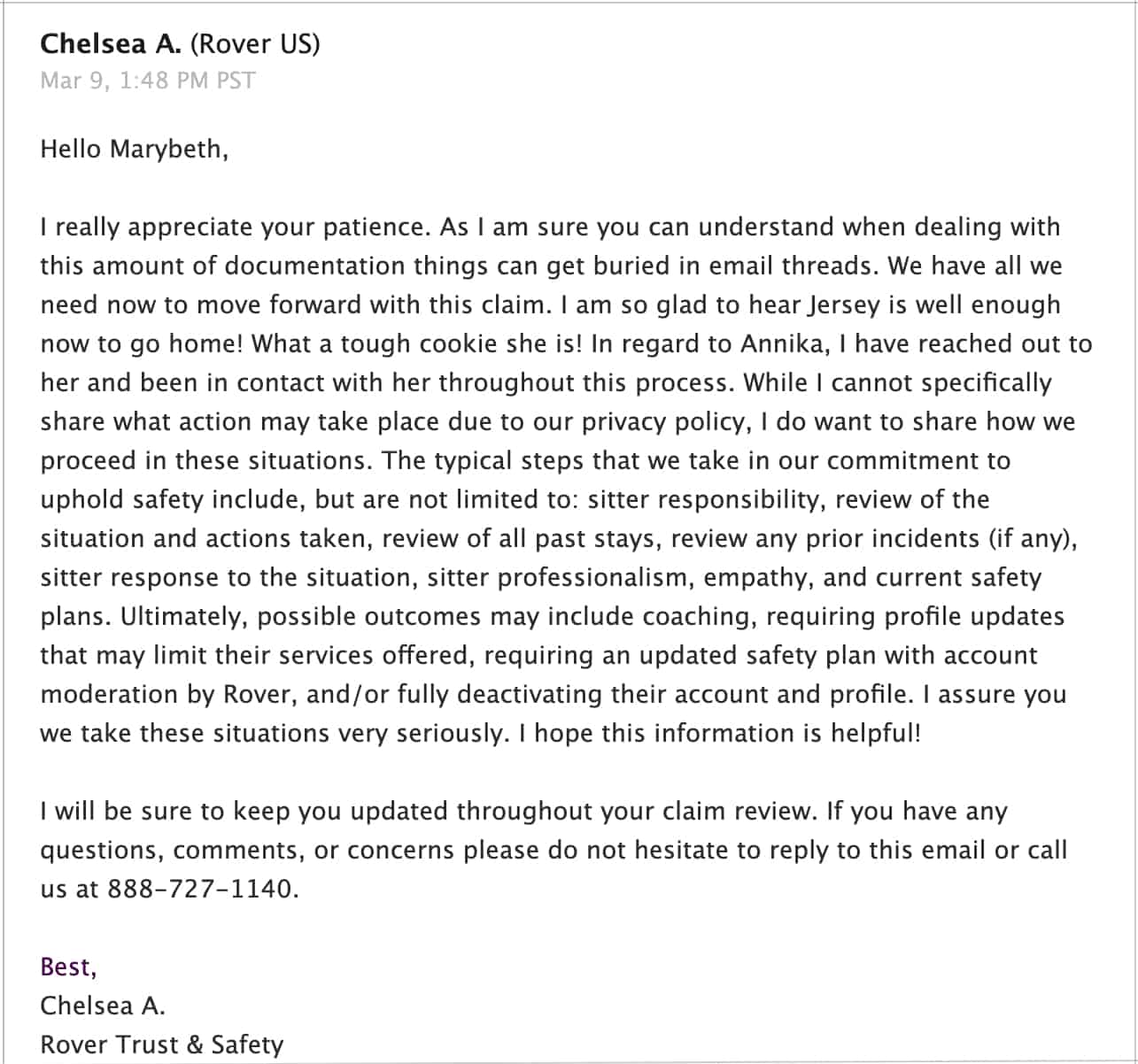 I was shocked when I checked on this and recently found her listing with available dates.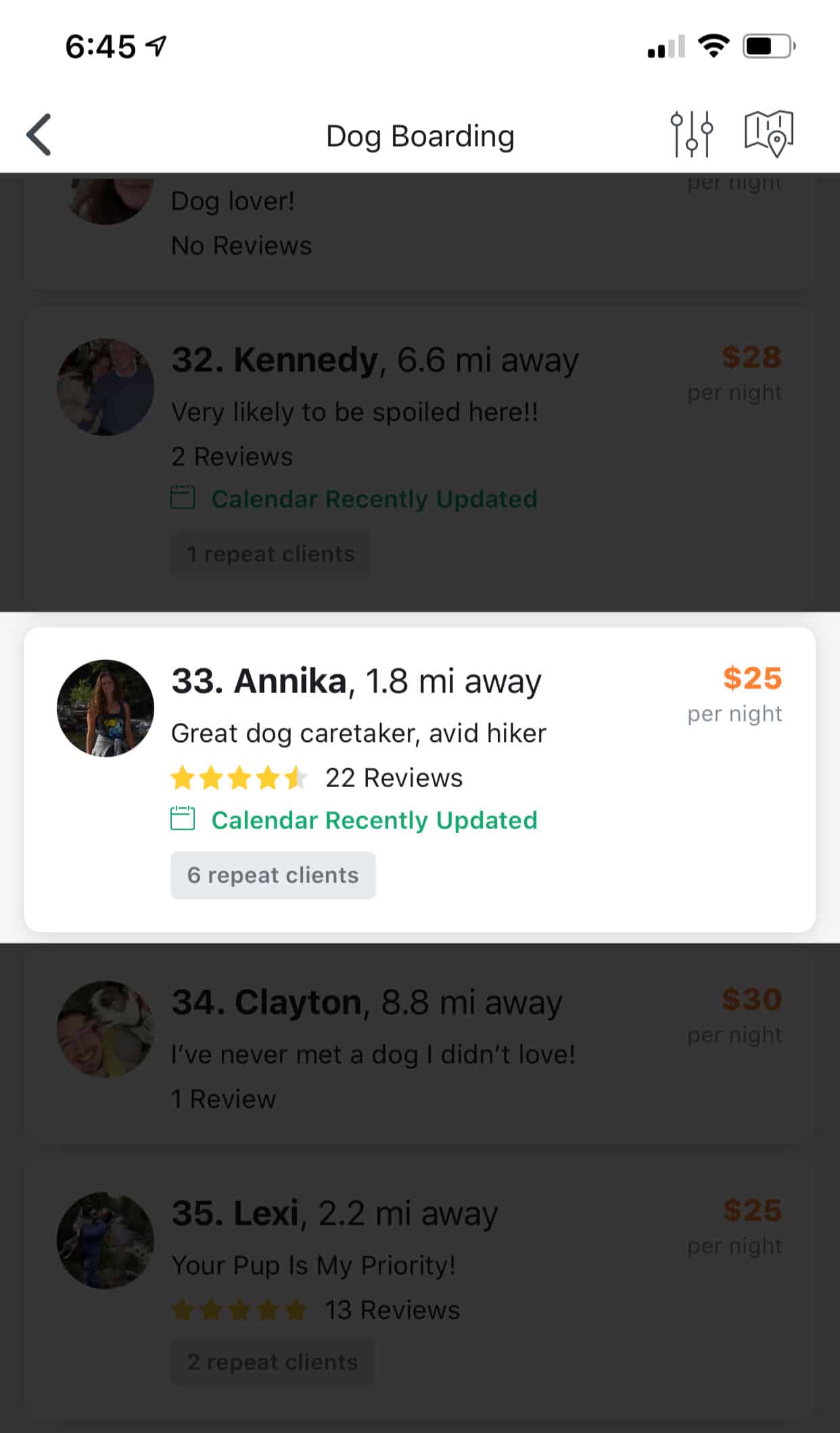 That's her, with 22 ratings with an average of nearly five stars. Rover is not only allowing this person to care for pets, she also appears to be highly recommended.
If Rover.com is allowing the dog sitter responsible for paralyzing my dog to advertise and be hired, I can't trust anyone listed on that site.
We have no idea who else has caused injuries or accidents with other pets, who has put other animals into dangerous situations, because Rover very obviously didn't remove a dangerous sitter from their listings. They didn't remove a dangerous sitter after a fulfilled claim and a clear, honest complaint.
My Feelings toward Rover.com today
In the end, after the claim for the expenses within 30 days of the injury, we lost over $10,000 in actual expenses. That's doesn't include how much income my business lost due to my shift in priorities.
Our lives have changed in ways that never would have crossed my mind a year ago. Now:
My dog wears diapers that we change several times a day.
Jersey has to wear infant onesies to keep the diapers from falling off.
We invested hundreds of dollars in a wheelchair for my dog.
My dog needs a special handmade waterproof dog bed on top of our bed so she doesn't urinate and soil our bedding in her sleep.
I built a six foot long ramp to give Jersey independent access to "her spot" on our sofa. It takes up a lot of space in our small living room.
Our hardwood floor has interlocking rubber mats laid down so the dog doesn't slip.
I have to pay for medical boarding at $90 per night if our family goes out of town. Because I don't expect family or friends to watch an incontinent, diaper wearing dog, and I certainly don't trust anyone else to do it.
I can't leave my dog alone on a bed or most furniture, because she can't get down.
I have to pay for more grooming to keep certain areas of her body clean. She can't scratch and clean her ears, and even a bit of long fur interferes with her diapers.
We're dealing with all that, while our dog sitter can move on, continue to watch other pets and make money doing so.
Am I mad at the sitter? At Rover? At the other dog's owner? Absolutely. I'm mad at everyone. I've cried plenty of tears out of anger and frustration on top of all my tears of sadness.
But I keep going. I snuggle my dog, care for her and choose to be grateful that she's alive.
The messages from our Rover.com Sitter
As promised, here are the rest of the messages from our Rover sitter: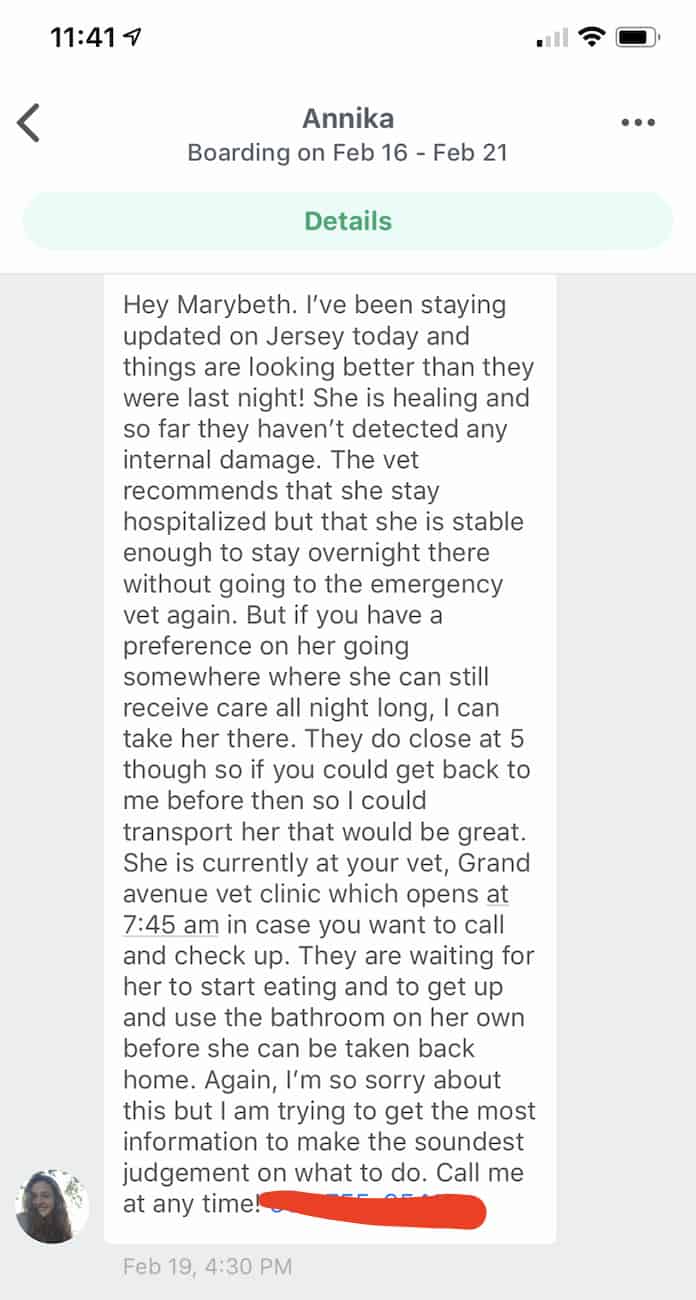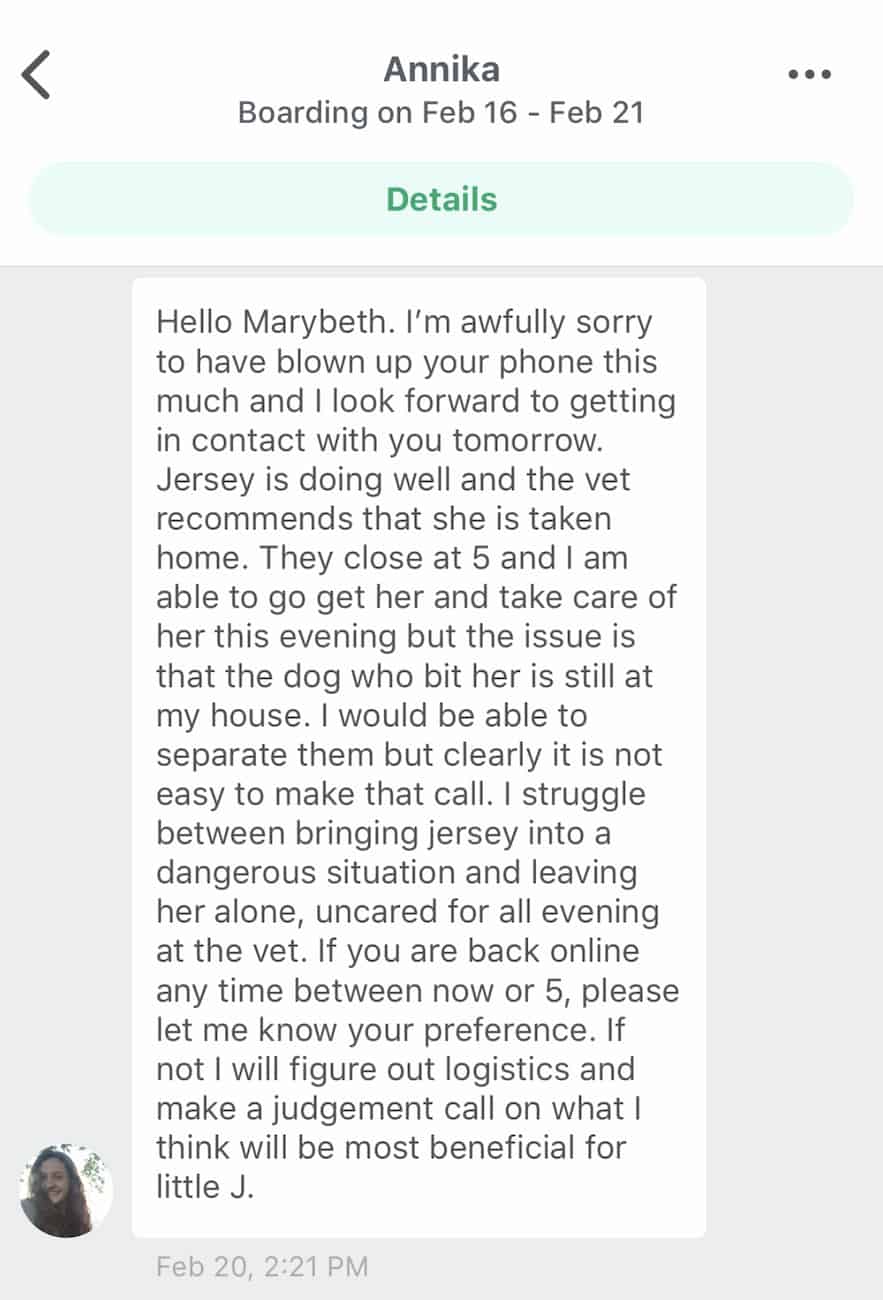 Why I'll never think Rover.com is safe
I said earlier that I used to think that Rover had a high standard of vetting pet sitters. That they did background checks and only allowed a fraction of applicants to offer pet care on their site.
Now I know that Rover's basic background checks only look into high profile criminal activity, like sex offender lists, terrorist watch lists and national criminal databases. It does not search local crime records to find offenses that would be reported at a local level.
A friend also helped me realize that their standard of hiring less than 20% of job applicants means nothing without more data. Because they're not specifying qualified applicants. She said they likely get thousands of applicants, many of whom choose to not pursue the job. Others may be unqualified. We have no idea what that 20% means.
Marybeth's note: I would be happy to answer any questions to provide more information or clarify things that I said. Please leave a comment and I'll respond as soon as I can.
<div id="mediavine-settings" data-blocklist-content-desktop="1" data-blocklist-content-mobile="1" data-blocklist-auto-insert-sticky="1" ></div>