Mary Poppins Returns Parents Guide


I've had the opportunity to see Mary Poppins Returns twice, and I'm beyond ready to to share this Mary Poppins Returns parents guide to help answer some questions parents have about the movie.
Here are some of the questions I've been asked so far:
Should I take my child to see Mary Poppins Returns?
Is Mary Poppins Returns scary?
Is Mary Poppins Returns sad?
Is Mary Poppins Returns age appropriate or suitable for age 3, age 4, age 5 (and so on…)?
It's not always easy to answer these questions in my parents guide to movies, but I promise to be honest with you, like I was in my Toy Story 4 parent review.
Example: I had no problem telling parents that kids might be overwhelmed in my Jumanji parents guide. I was very up front about the humor and things parents should pay attention to in my Hotel Transylvania 3 parents guide.
I'm also totally honest and encouraging in my parents reviews and guides when the movies offer high-quality entertainment for kids. The Peter Rabbit parent review and the Incredibles 2 parents guide were easy to write. They're both great family movies with a good balance of storytelling, comedy and drama.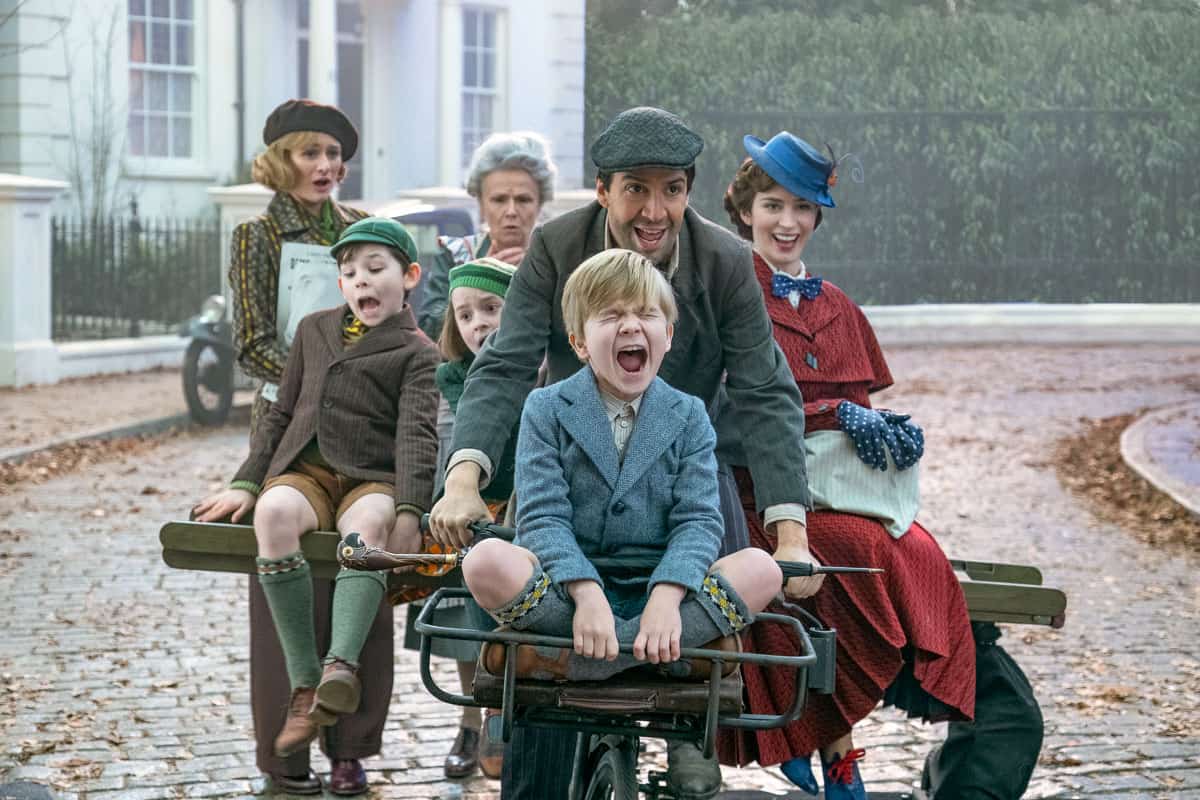 In this Mary Poppins Returns parents guide, I can help you with your questions. Here's a quick summary of the most important things you might want to know:
Mary Poppins Returns is not too scary for kids.
Mary Poppins Returns is age appropriate for young kids. It's also perfect for every other age!
Yes, you should take your child to see Mary Poppins Returns.
Related posts:
"The Fruit of the Harvest" Lin-Manuel Miranda in Mary Poppins Returns
The Best Moments and Photos of the Mary Poppins Returns premiere
Interviewing Emily Blunt on Mary Poppins Returns, Motherhood, and More

About Mary Poppins Returns
In Disney's "Mary Poppins Returns," an all new original musical, Mary Poppins is back to help the next generation of the Banks family find the joy and wonder missing in their lives following a personal loss.

Michael Banks was just a child when the practically-perfect nanny Mary Poppins first visited the Banks home, and now he's an adult with kids of his own. A struggling artist temporally employed by Fidelity Fiduciary Bank, Michael lives at 17 Cherry Tree Lane with his three children.

The family is struggling to cope with the death of the children's mother. The children take on additional responsibilities around the house and also growing up far too fast in the process.

Michael's sister Jane has inherited her mother's enthusiasm for good causes, and she finds time to help Michael and her family every chance she gets.

Fortunately, the winds begin to shift and Mary Poppins, whose unique magical skills turn ordinary tasks into fantastic adventures, enters the lives of the Banks family once again.

Partnering with an old friend Jack, a charming and optimistic lamplighter, they take the Banks children on whimsical adventures to bring life love and laughter back into 17 Cherry Tree Lane.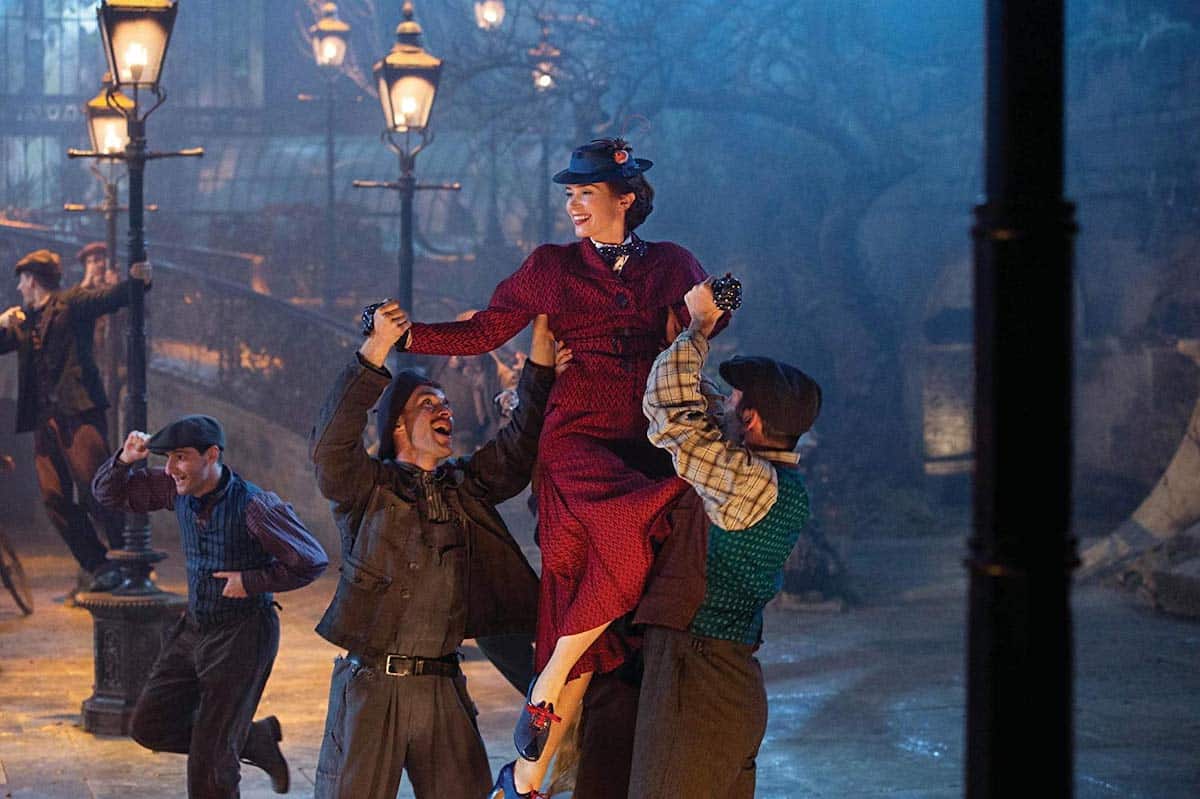 Mary Poppins Returns Parents Guide
You already know I'm a mom to two kids, ages 9 and 10. I also have a niece who's three to help me form my opinions about age appropriateness.
While both my husband and I love movies and pop culture, we've always been somewhat strict in what we allow our kids to watch.
Why? I just believe there's never been a shortage of wonderful movies and shows that are entirely age appropriate for their age group. There's so many, and the movies they might not be ready for aren't going anywhere. They'll still be there when the kids get older.
Why is Mary Poppins Returns Rated PG?
Mary Poppins Returns is rated PG for some mild thematic elements and brief action.
To be honest, I feel like Mary Poppins Returns is as close to a G rating as I've seen in a long time, which I love! There's no swearing or bad language. There are parts where harsh words are spoken, but they're not hurtful and they're not damaging.
What is Mary Poppins Returns Age Rating?
Keep in mind that this recommendation for the Mary Poppins Returns age rating is coming from a mom who's pretty conservative about the ages kids see movies at.
That being said, I think Mary Poppins Returns age rating is absolutely for all ages. 3 year olds, 4 year olds, 5 year olds and up…I'm confident they'll all love Mary Poppins Returns!
Is Mary Poppins Returns Scary?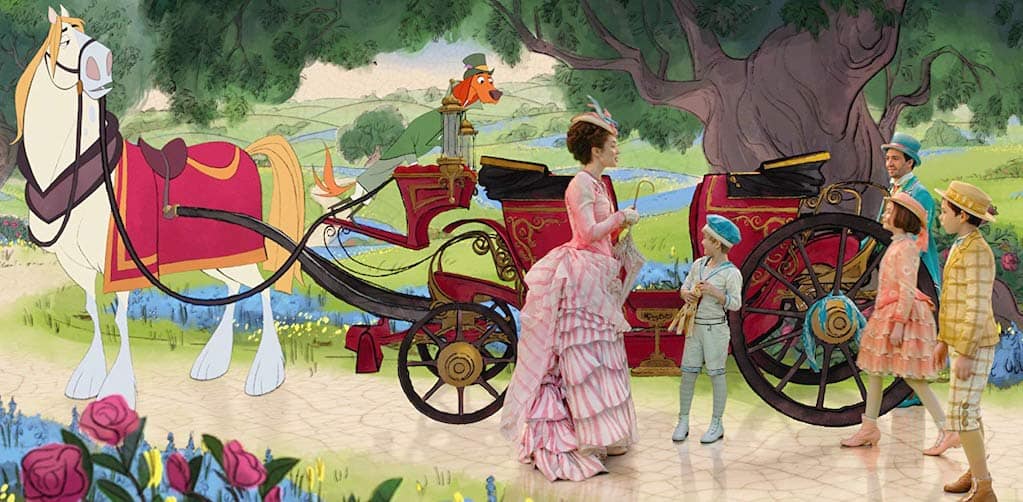 In general, Mary Poppins Returns is not scary. Fear is not a theme in this movie, and feeling scared is absolutely not an underlying tone throughout the film.
There's one single scene that I thought some kids might be bothered by. It's the scene when they're in the Royal Doulton Bowl, when the kids are surrounded by hand-drawn animation. That part of the movie is full of joy, wonder and fun, but the last few minutes of the scene are tense and a bit scary.
It helps that the short scary scene is surrounded by animated characters and scenery. It adds a layer of fantasy to the feeling. I can't imagine that it would affect children considering all the happiness and joy that wraps around Mary Poppins returns.
Is Mary Poppins Returns Sad?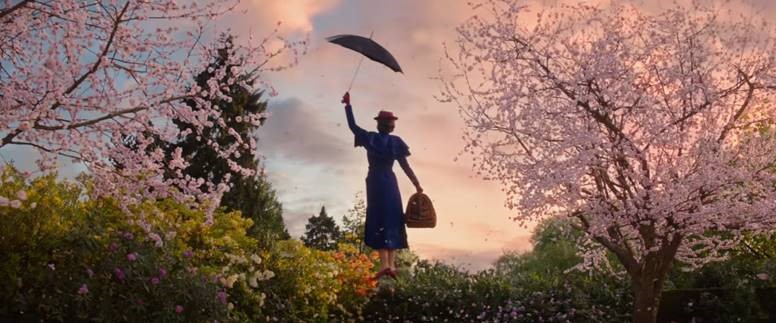 Let me start out by saying, the plot of the movie is sad. It's set in the "Great Slump", which is Depression-era London in the 1930s. Michael Banks is a grown man who:
Gave up his job as an artist and took a part-time job as a bank teller to support his family.
Is losing his house after mortgaging it for cash to support his family.
Lost his wife and is raising his children alone, with the help of his housekeeper and his sister, Jane.
Michael Banks has three children whose mother recently died. If you're asking if Mary Poppins Returns is sad, the answer is: It has sad moments.
But the overall movie? Mary Poppins Returns is filled with joy and hope and wonder. Mary Poppins actually returns to show that joy and hope and wonder to both Michael's children and to Michael himself.
I learned in Inside Out that you can't have Joy without Sadness, and that principle is perfectly displayed in Mary Poppins Returns. If you see a bit of sadness and despair, the happiness that follows is so much more appreciated and just felt so much more.
So yes, Mary Poppins Returns has sad moments, but they're so worth it.
Mary Poppins Returns Parent Review
What this mom liked about Mary Poppins Returns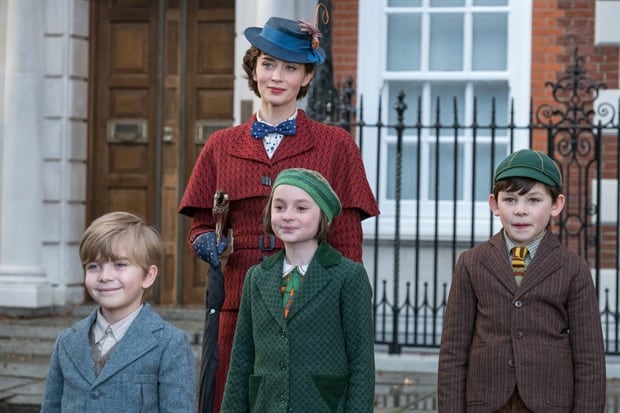 Mary Poppins Returns opens with Lin-Manuel Miranda singing a joyful song, The Lovely London Sky. From the first glimpse of the lamplighter's face and the first notes of the song, I knew this movie would be a treat.
I think this movie is inspirational, and it teaches everyone to be positive, that hope is valuable and that there's wonder in everyday things.
The reintroduction of Michael Banks with children of his own shows how easily the magic of childhood slips away, and it also shows that it can be brought back. With the right people, the right attitude and the right circumstances.
The actors in Mary Poppins Returns are beyond talented. Lin-Manuel Miranda is in it. By now, most of the world knows his talent for live performances, and I couldn't wait to see how he handled a starring role in a feature-length film.
It's no secret that the guy is a perfectionist, and I wasn't surprised in the least to see how he became Jack the lamplighter leery in Mary Poppins Returns. His performance is joyous and nearly flawless, and I loved seeing Lin-Manuel Miranda on the big screen.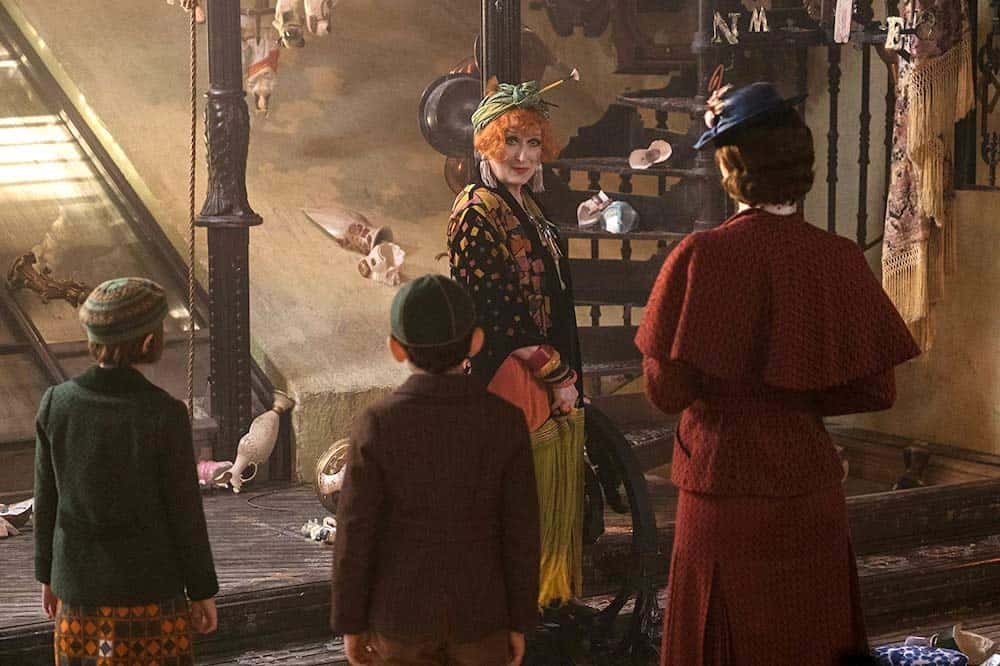 Meryl Streep – Meryl Streep plays a quirky character performing a quirky song on what might be the quirkiest set I've ever seen. This scene, the scene at Topsy's shop, is the one that kids will remember well into adulthood.
We can't forget that Dick Van Dyke makes an appearance in the movie. Let me tell you, both times I watched the movie the audience applauded when Dick Van Dyke entered the scene. Applauded. At a movie screen. And I clapped right along with them!
Watching Dick Van Dyke in Mary Poppins Returns brought a smile to my face and a tear to my eye at the same time. Seeing him in that setting, carrying the history of that story, brings this movie to another level. It's truly the Disney magic that I'm so magnetically attracted to, and it's so fun to be able to pinpoint a moment when it actually happens.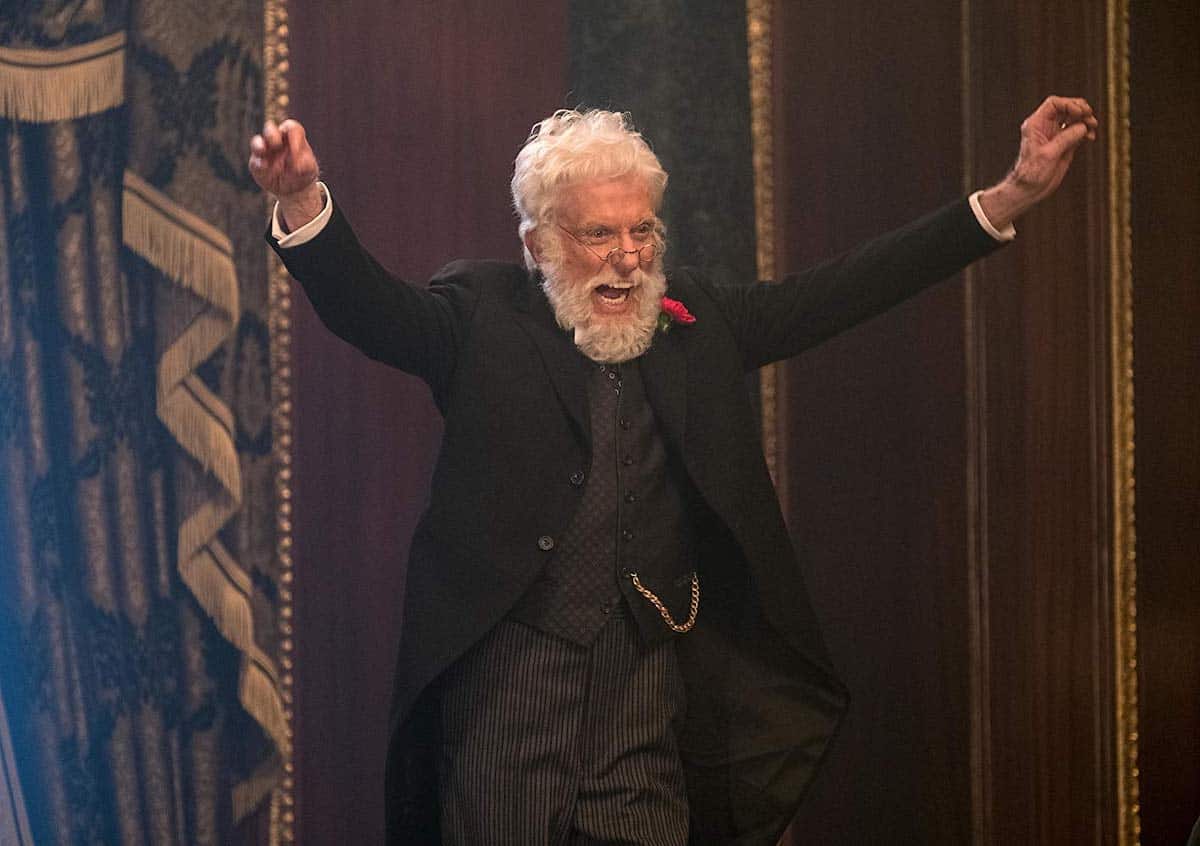 Emily Blunt plays the part of Mary Poppins Returns so perfectly without taking anything away from the original Mary Poppins.
This is a huge relief on a personal level for me — Mary Poppins is my all-time favorite movie and I was enormously relieved when I realized that Emily Blunt's Mary Poppins wasn't an imitation of Julie Andrews' Mary Poppins.
On that note, another question that people are asking me:
Is Mary Poppins Returns a remake of Mary Poppins?
The answer? Absolutely not. Mary Poppins Returns is not a remake of Mary Poppins. Rob Marshall has emphasized over and over again that Mary Poppins Returns is a sequel, set several decades after Mary Poppins ended. It has new characters, a new plot, new music and new themes.
I've been saying for the past few years that Disney wouldn't be making Mary Poppins Returns unless they were going to knock it out of the park. A historic piece of work like Mary Poppins is too precious, too revered to take lightly.
I'm so very, very thrilled to report that Mary Poppins Returns is so much more than I ever allowed myself to hope it could be. It's special, it's magical and it's the perfect way to bring Mary Poppins back.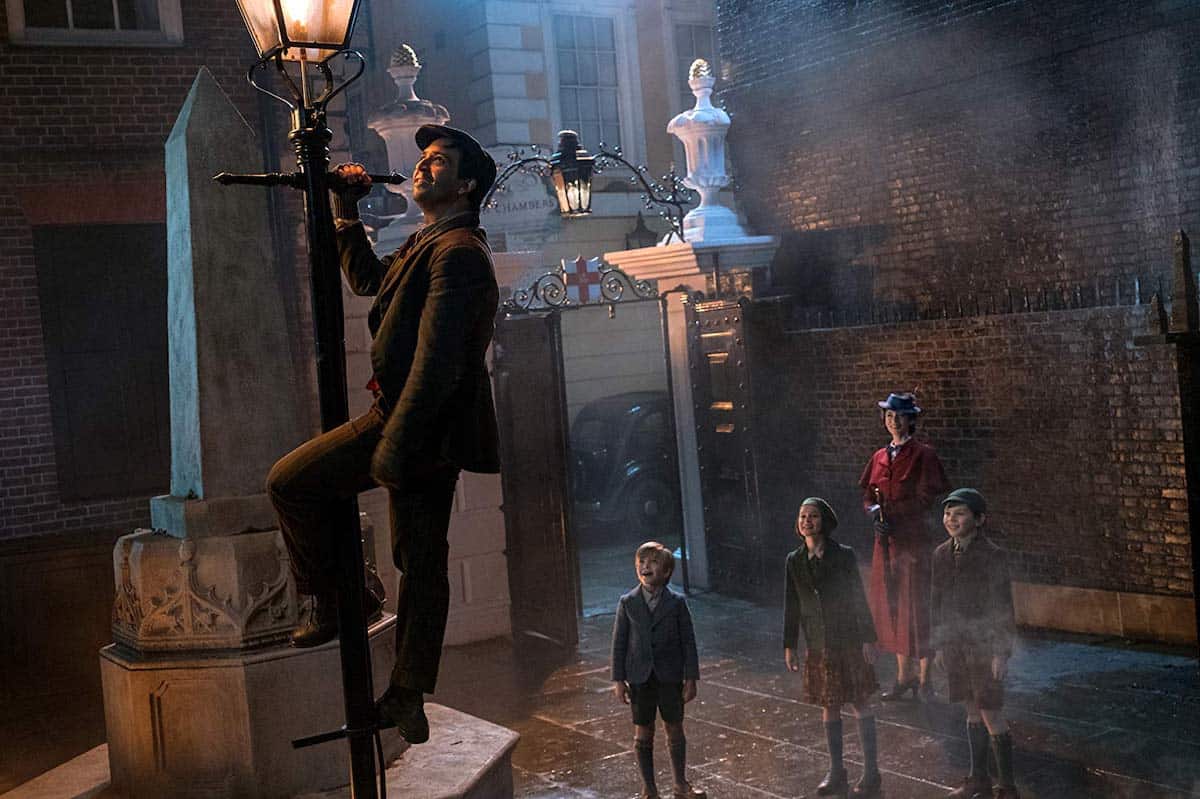 Mary Poppins Returns Parents Guide: Conclusion
At this point it might go without saying, but I still have to announced it: I loved Mary Poppins Returns. I've now screened Mary Poppins Returns twice and I want to watch it over and over again. I'll be taking my family to see it opening weekend, and I absolutely can't wait for the world to see this movie.
I think Mary Poppins Returns is appropriate for everyone, and everyone should see it. It's full of joy and wonder and happiness – who couldn't use a little more that in their lives?
Mary Poppins Returns opens on December 19, 2018. Get your tickets and see local showtimes now!
follow these social media accounts to stay on top of everything Mary Poppins Returns:
Like Mary Poppins Returns on Facebook
Follow Walt Disney Studios on Twitter and search for #MaryPoppinsReturns
Follow Mary PoppinsReturns on Instagram
Watch the newest Mary Poppins Returns trailer:
Mary Poppins Returns arrives in theaters everywhere on December 19, 2018. See more details and information about your local showtimes here!