Quotes from the Toy Story 4 Press Conference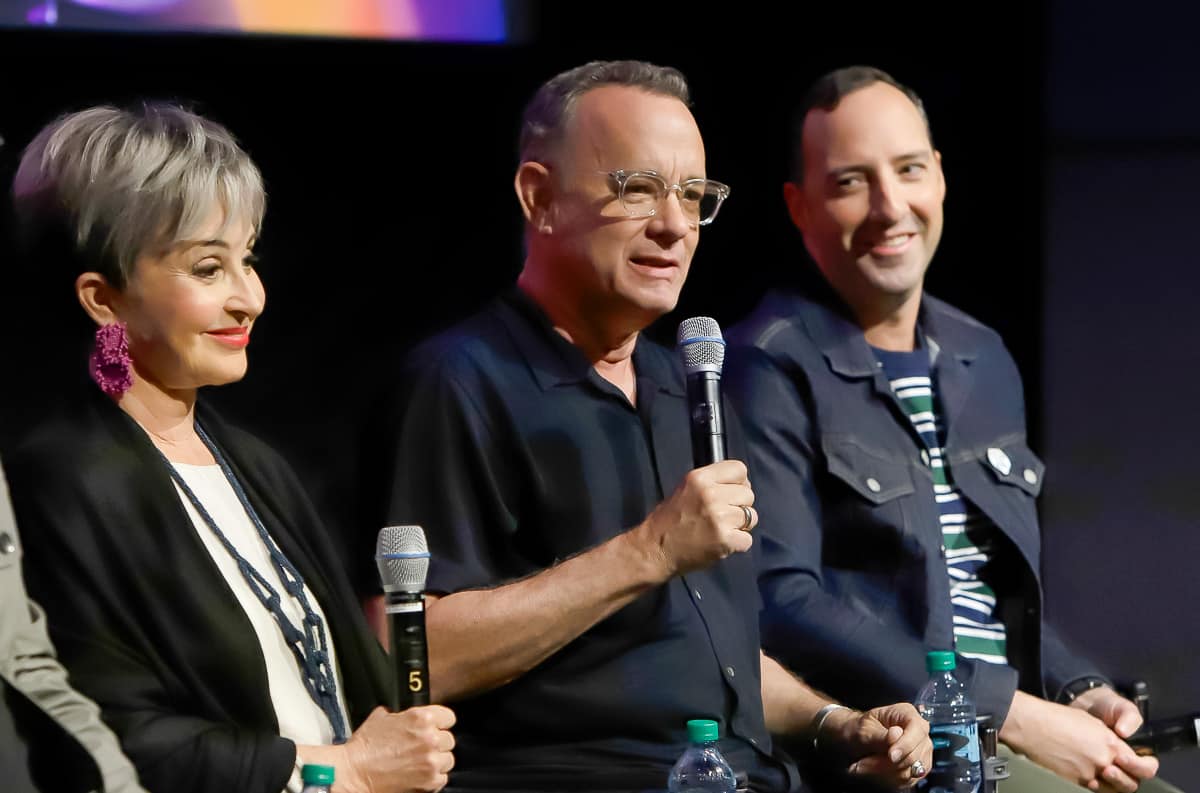 It's not every day I get invited to a Disney・Pixar event at Disney World where I can bring my husband and kids along. It's also not every day that I can send my husband and kids off to play at Disney World while I attended two press conferences to with the amazing talent behind Toy Story 4.
But just a few weeks ago my family was making their way through Epcot and Disney's Animal Kingdom while I went to Disney Hollywood Studios for the press event!
The press conferences were in a small movie theater backstage at Disney's Hollywood Studios. There were two conferences set up back to back.
Today I'm going to share the top 10 best quotes from the Toy Story 4 press conference with Tom Hanks, Tony Hale, Annie Potts and others!
Who attended the Toy Story 4 press conference?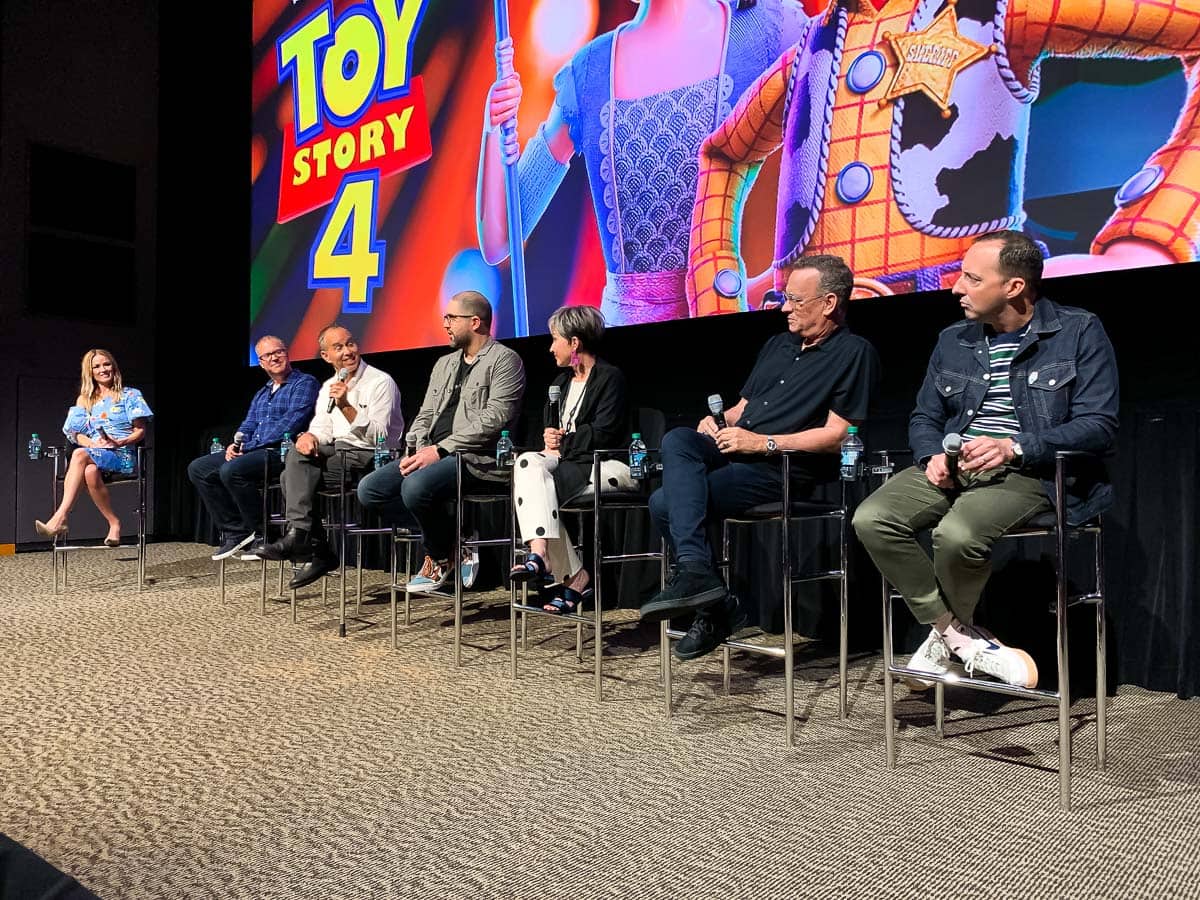 The voice actors of Toy Story 4 were split into two different press conferences, while the producers and director attended both. (Note: my press conference post with Keanu Reeves, Tim Allen and Christina Hendricks is coming in just a few days!).
The talent at this press conference included:
Tom Hanks – voice of Woody
Tony Hale – Voice of Forky
Annie Potts – Voice of Bo Peep
Josh Cooley – Director of Toy Story 4
Mark Nielsen – Producer of Toy Story 4
Jonas Rivera – Producer of Toy Story 4
The 10 Best Quotes from the Toy Story 4 Press Conference
Press conferences are usually pretty quick, so I actually thought there was a typo when I saw this Toy Story 4 event was going to last for 45 minutes.
When I learned we were actually going to get all that time with the voices and talent from the movie, I was so excited to get as much information as I could about the Toy Story 4 characters, story, and behind-the-scenes details!
Related articles:
Is Toy Story 4 Kid Friendly? Read my Toy Story 4 parent review now!
Disney's Toy Story Land: Everything You Need to Know.
1. Tony Hale on Bringing Forky into the Toy Story family.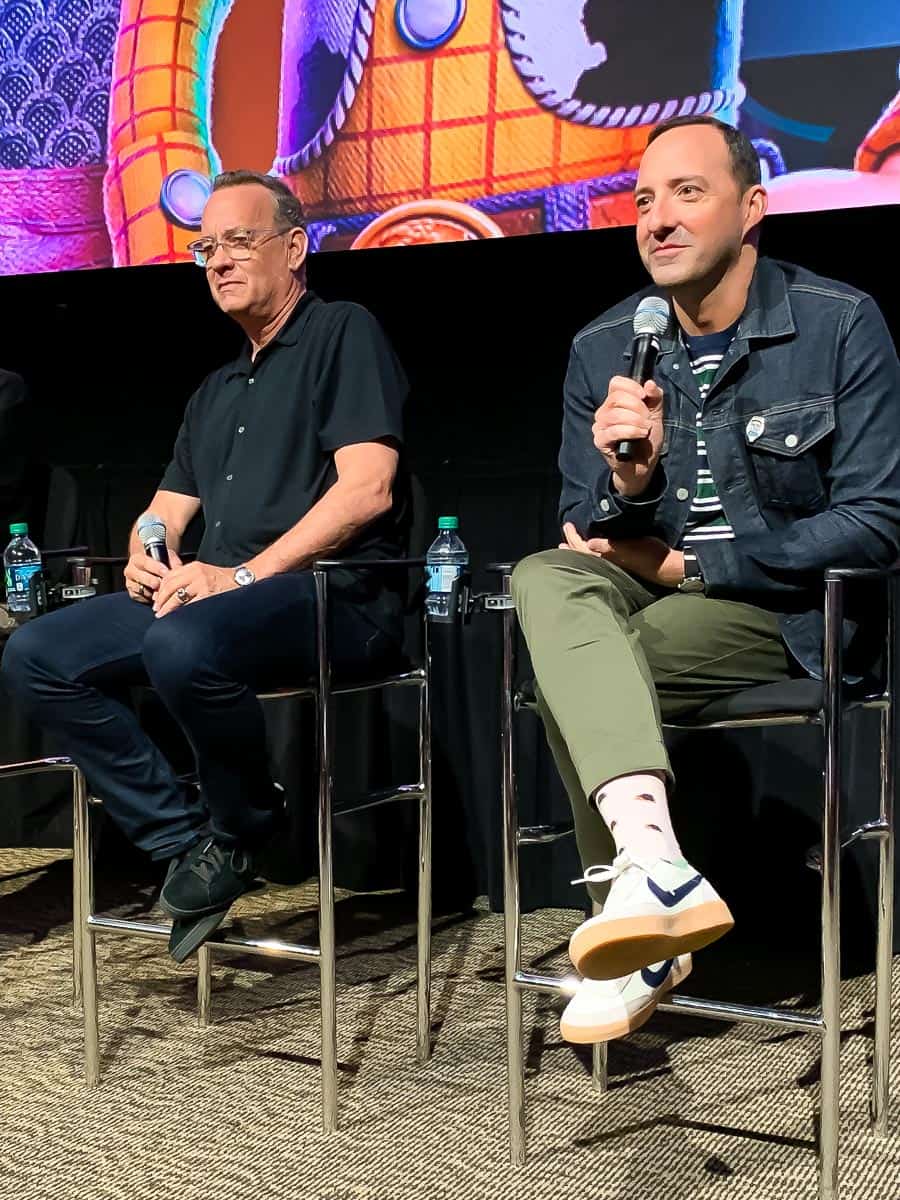 It's overwhelming, which helps because Forky is very overwhelmed. When they brought me to Pixar they described him as:
'He's kind of nervous' – check!
'He asks a lot of questions' – check!
'He's kind of gullible to a fault' – bingo! I'm in!
I just love that Forky sees everything as new, and mainly I love that he's a character who's home place is trash. All he knows is to help people eat soup. Then Woody comes along and shares that he has a greater purpose.
I think that in life, anybody who might see themselves that way, and they have worth. They have purpose. That's just a beautiful message that Toy Story is giving us.
2. Tom Hanks after being asked his thoughts after reading the Toy Story 4 script.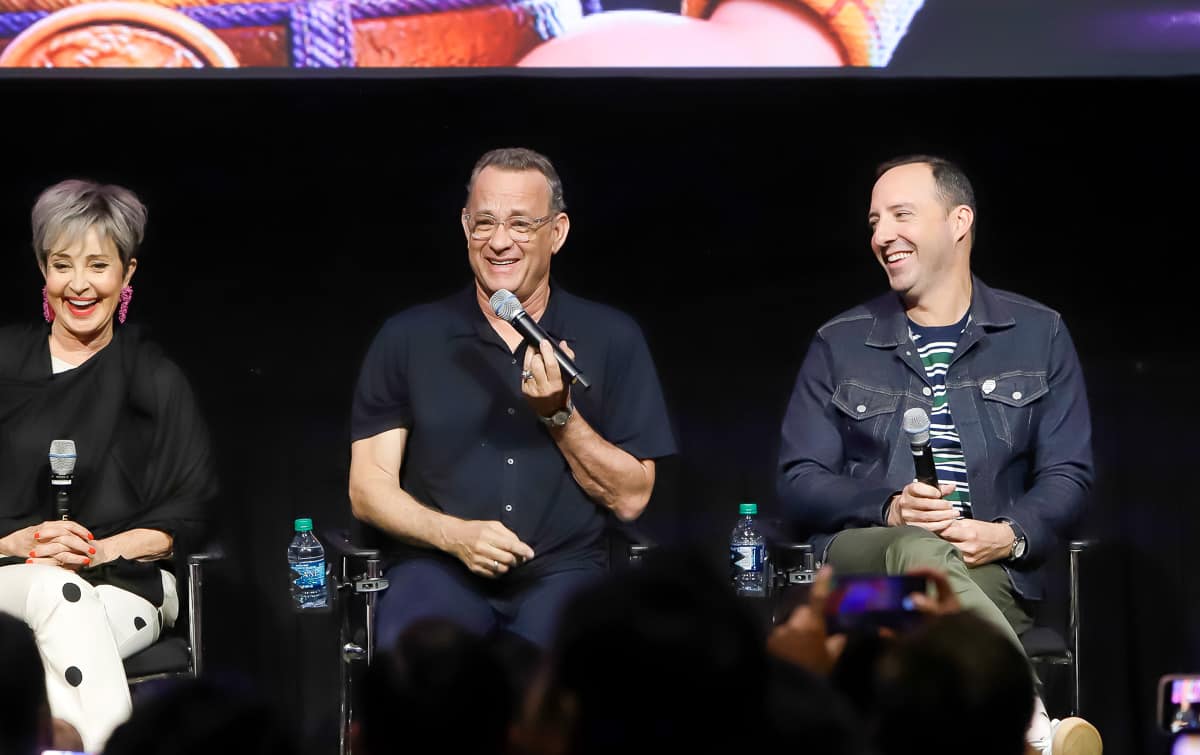 Reading the script. That's hilarious. The first one, 24 years ago, we actually did read a script. There was a screenplay. You read that and you saw a storyboard of the entire film.
Toy Story 2 there was a script, but when we had the understanding of it, we realized there's no real way you can appreciate on paper the weaving of imagery and character that Pixar did. So we really did wait to see the sequences put together.
With Toy Story 3, they didn't even bother doing anything other than showing us the movie in animatic form before we began recording.
On this one, Toy Story 4, I never read a complete script. I don't think anybody did. We read the sequences we were in, and it had a continuous running dialog of what was happening.
Every time we would show up to work there would be some new iteration of this idea that had been presented to us at the beginning. We always knew what territory we were going into, but never the specific route.
3. Tom Hanks on what Woody means to him.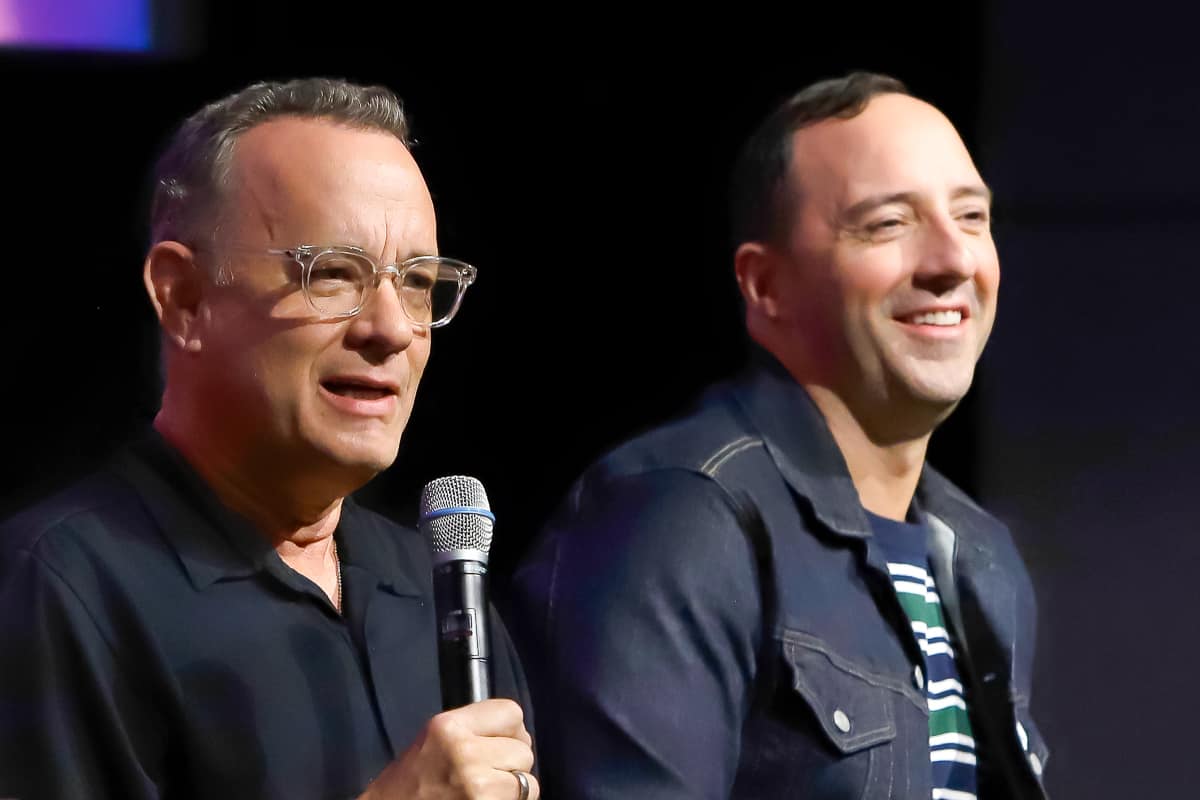 Woody has been the great gift that I've seen play out again and again in my own family as well as around the world.
What I truly appreciate is that, no matter how old you are now, when you see one of the Toy Story movies you're the same age as when you saw the first one. There's not a bump. There's no nostalgia, Nothing ages poorly. It's exactly as it was and what it always will be.
There's a cohesiveness and an eternal quality to not just the stories and characters, but the emotional bonds that we all have with each of them.
I have always been dazzled when Pixar has come back and said, 'We're going to try another one.' The question is always, Really? You think you can match that last one we did? Good luck.
Then, as soon as they start talking about Gabby gabby or Duke Caboom or Forky. Look at Forky. He is a bunch of stuff that has been empowered by the imagination of his creator. That's what being a toy is. That's the great power of what a toy has.
So they did it. These crackpot geniuses up there at Pixar did it.
4. Tony Hale on what it's like to have a character, Forky, that's already a favorite to so many people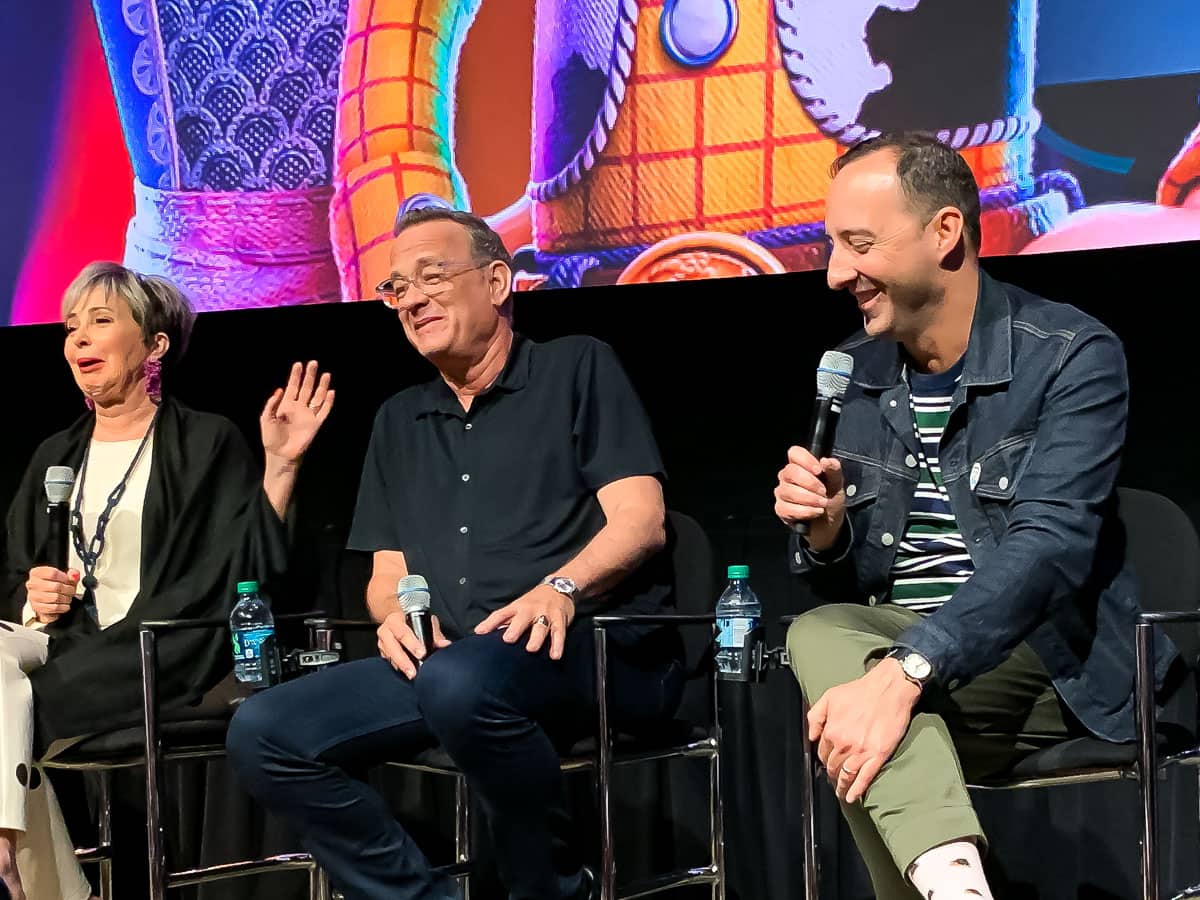 It's hard to even digest. This has been such an iconic franchise that I never thought I would be a part of. But to what Woody – I just called him Woody! – he's always Woody to me!
But to what Tom was saying, there's a simplicity to Forky that I just absolutely fell in love with. He brings Bonnie so much joy. He's brought into the world. He doesn't understand the rules of the universe. He's just kind of always wide eyed.
It's been a huge honor to voice Forky. We're so grateful to be here and to be these voices, but we are such a small piece of the pie of what is involved in Toy Story.
The amount of artistry and creatives and tremendous labor that has gone into this movie outside of us. Toy Story 4 is eye candy. It's just such a visual masterpiece.
5. Josh Cooley on the main message in Toy Story 4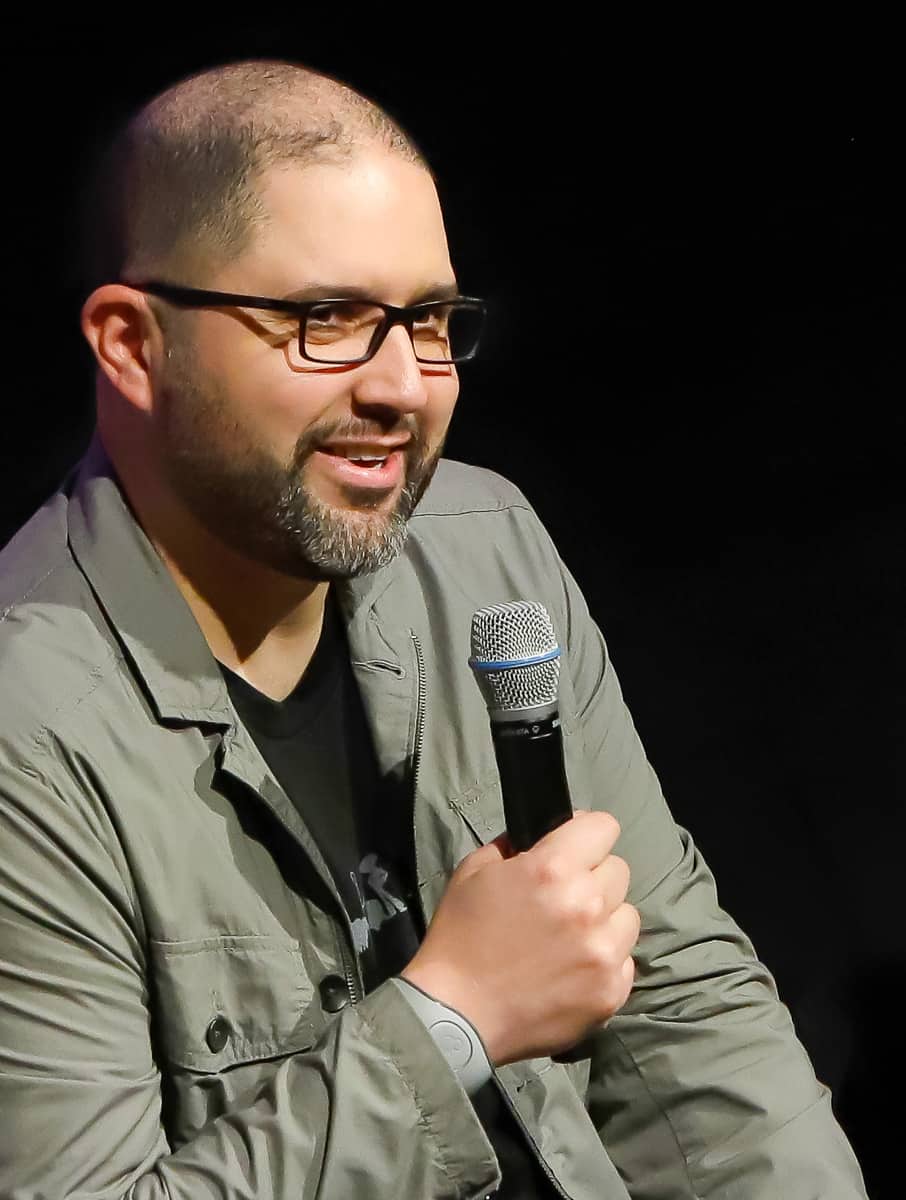 If I were to sum up Toy Story 4 in just one word it would be 'Transition.' Every character in this movie has gone through a transition or is struggling with going through one or has not gone through one.
We learn about Bo Peep's transition in Toy Story 4.
Woody has moved from Andy's room to Bonnie's room.
Forky doesn't want to transition at all.
Gabby Gabby is stuck.
Duke Caboom is haunted by his past.
All of these characters have the same theme that way.
6. Tom Hanks, Annie Potts and Tony Hale on other Toy Story characters they'd want to play.
Tom Hanks: I'd go with Duke Caboom. I would go there.
Annie Potts: I'm so happy with what I play, I never have thought about that. It's like asking who else you would be in life.
Tony Hale: I would bring Beaker from The Muppet Show in to the universe. Because he's my fave.
7. The Details of the Easter Eggs in Toy Story 4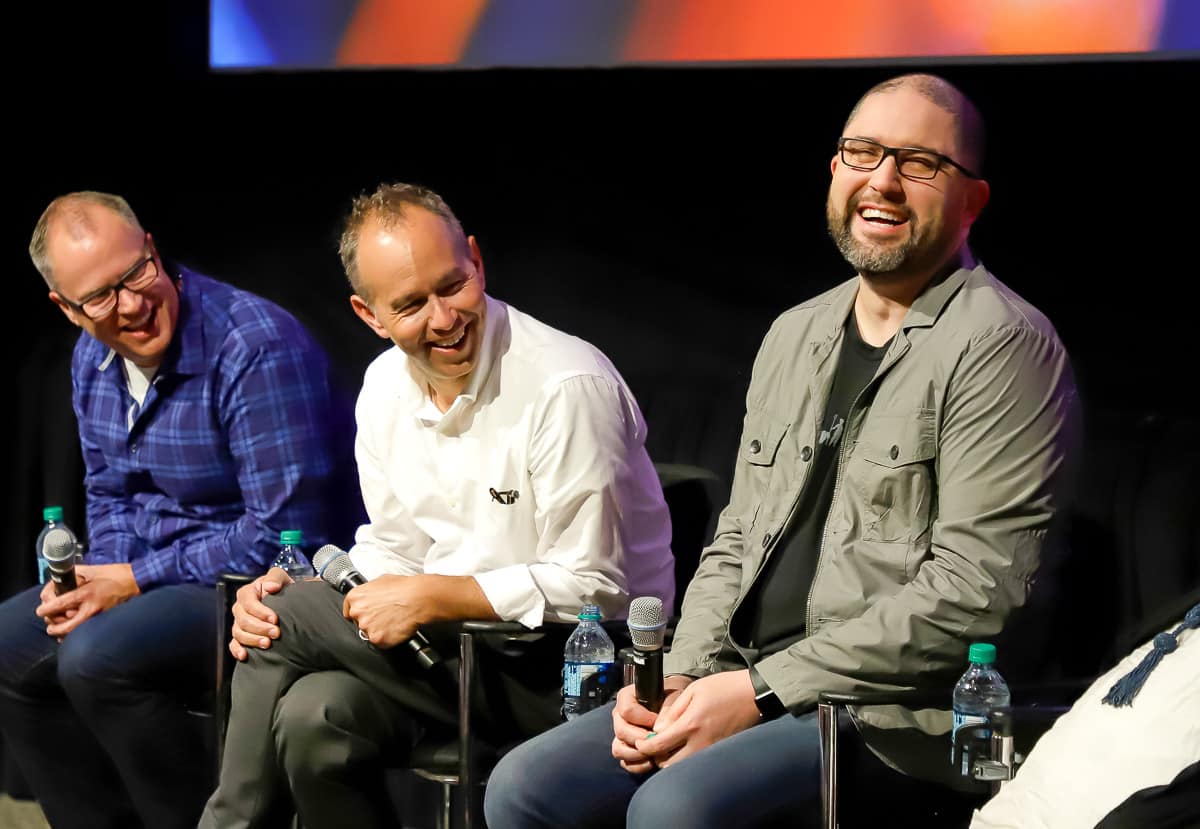 Josh Cooley: The technical challenge in Toy Story 4 was the antique store. There's ten thousand items in an antique store. It all had to be shaded and built and set dressed. . There are a lot of Easter eggs in Toy Story 4 because we just got lazy. If you pause any frame when they're in the antique store you'll see something in the background.
Mark Nielsen: You'll see something in the antique store from every movie Pixar has ever done.
Jonas Rivera: Some we didn't even know. I just noticed that Carl and Ellie's house from up was shrunk down on the shelf.
Josh Cooley: Bing Bong's rocket is in there.
8. On Toy Story 4 and if Toy Story's world will bee seen on the Disney Plus streaming service.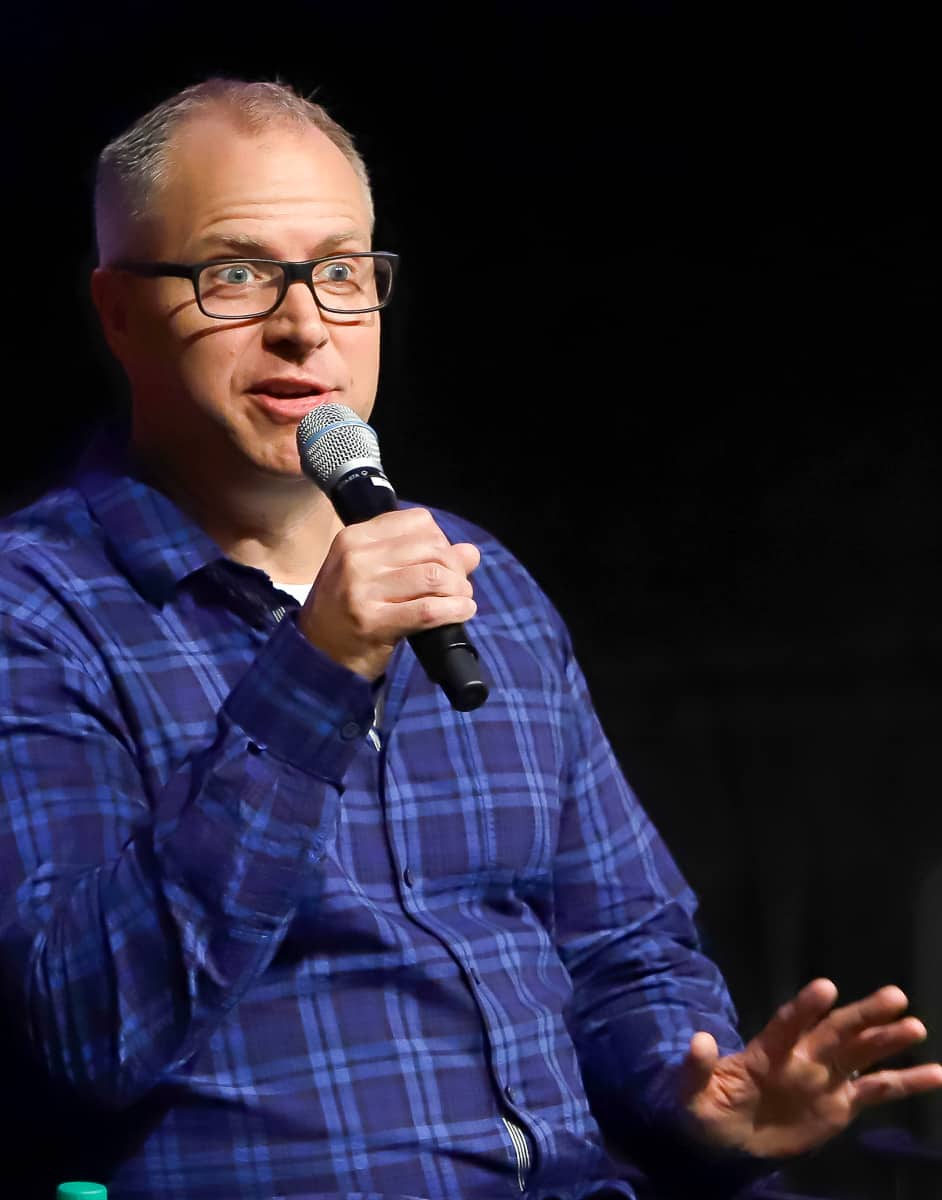 Mark Nielsen: I'm producing a series of short films for Disney+ which star Forky, voiced by Tony Hale. It's called 'Forky Asks a Question.' There are ten episodes that will be on Disney + when it goes live in November.
Josh Cooley: I'm not working on them but they are hilarious.
Tony Hale: I love it. These are questions that people are maybe embarrassed to ask. But they really don't know the answers. I learned so much from all these simple questions.
9. Tom Hanks on what he loved about working with Annie Potts in the same recording booth.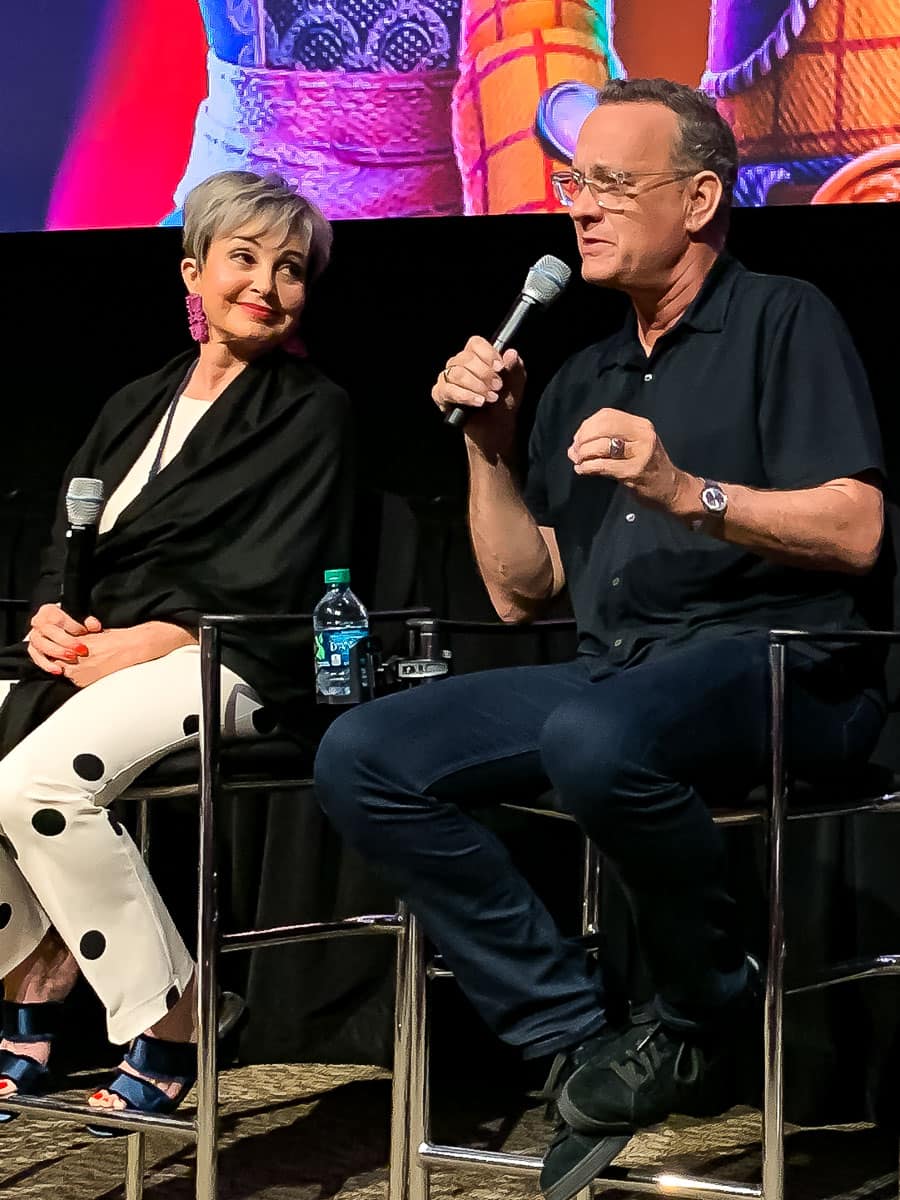 Even separated by two microphones and two stands, the way Annie Potts will look at you with her eyes kind of up. When she says the words that she might have said more than any other two, 'Oh, Woody.' It gets you every time. You become a little jar of pudding when that happens.
10. Tom Hanks on if Bo Peep and Woody would get married.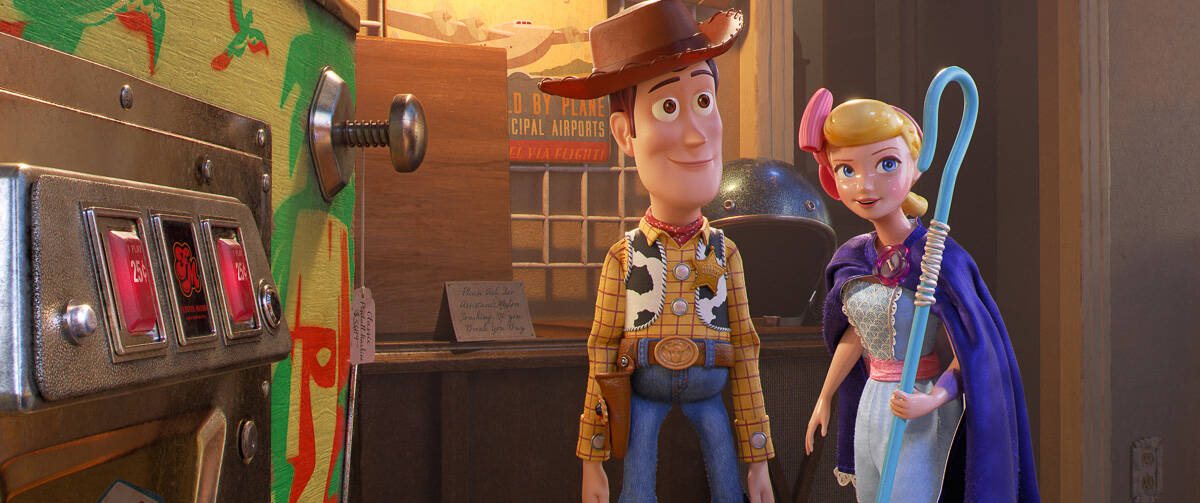 Toy Story 4 reunites Woody and his long lost friend Bo Peep who has become an adventure-seeking free spirit. They discover that they are worlds apart when it comes to life has a toy, and yet they know that fate is an odd thing. And there's no substitution for love in this crazy, kooky, confusing world.
Toy Story 4 opens in theaters in the United States on June 21, 2019. See your local showtimes here.
About Toy Story 4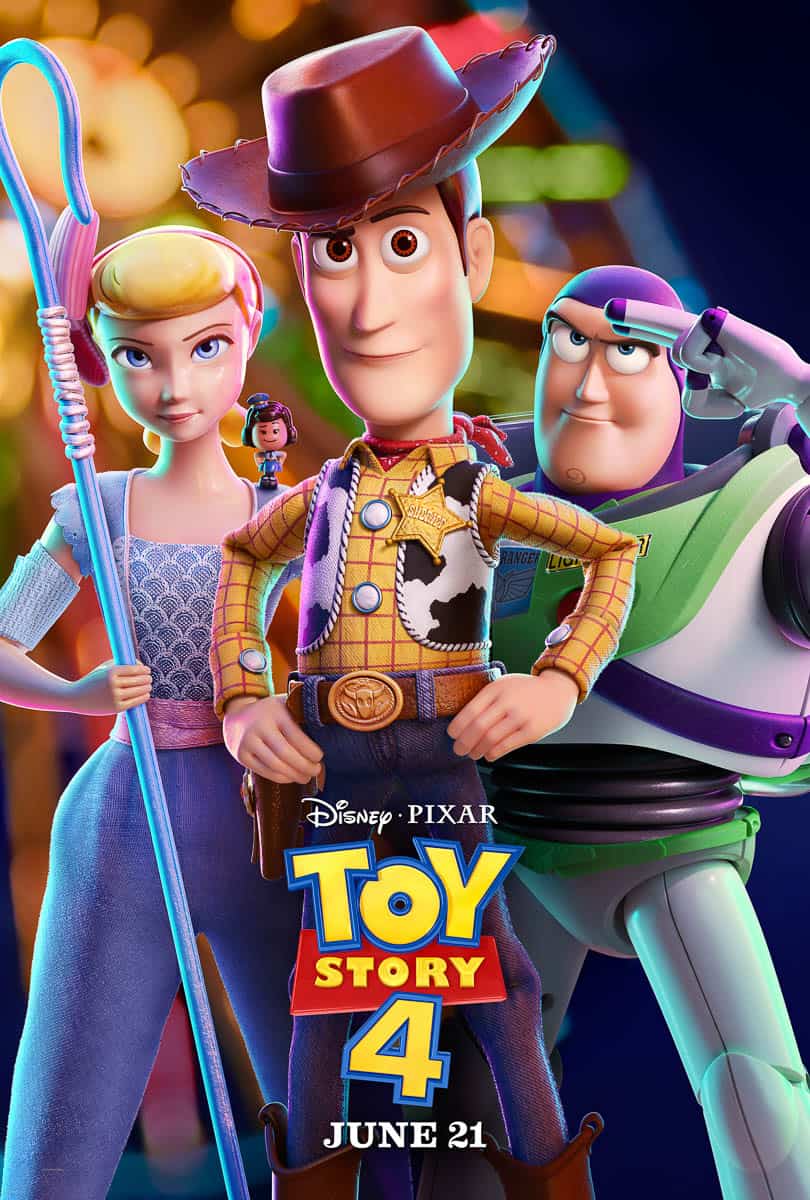 The toys are back on the big screen with an all-new adventure in Toy Story 4. Woody, Buzz and the whole gang find themselves far from home, discovering new friends—and old ones—on an eye-opening road trip that takes them to unexpected places.
Woody has always been confident about his place in the world, and that his priority is taking care of his kid, whether that's Andy or Bonnie.
When Bonnie's beloved new craft-project-turned-toy, Forky declares himself as "trash" and not a toy, Woody takes it upon himself to show Forky why he should embrace being a toy. But when Bonnie takes the whole gang on her family's road trip excursion, Woody ends up on an unexpected detour that includes a reunion with his long-lost friend Bo Peep.
After years of being on her own, Bo's adventurous spirit and life on the road belie her delicate porcelain exterior. Woody and Bo realize they're worlds apart when it comes to life as a toy, but they soon find that's the least of their worries.
Need more? Watch the Toy Story 4 trailer here: