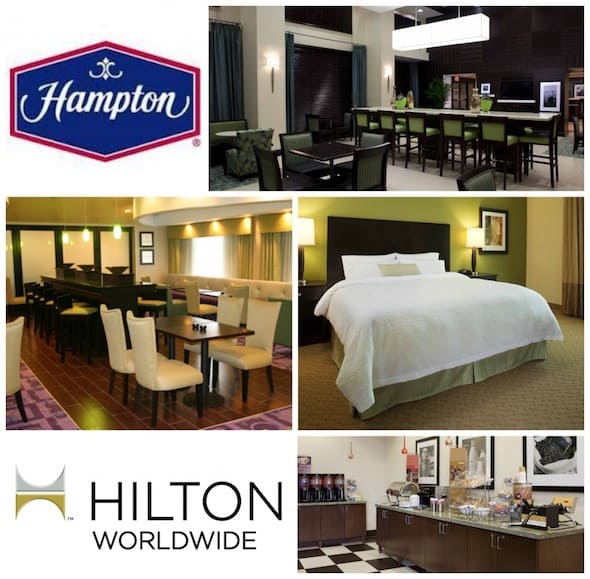 This post and giveaway is provided by Hampton Hotels.
This year, Christmas of 2013 is a historic one for our family: it's the first year we've ever stayed home for Christmas! It's actually the first time I'll actually be in the city I've lived in for nearly 11 years on Christmas Eve and Christmas day.
Because our extended families don't celebrate close enough for a day trip, we've always packed up and headed out of town to enjoy Christmas Eve, Christmas Day and usually a few more days at in either my husband's or my hometown.
This year, my husband has a funky work schedule that's keeping us home for Christmas. I'll definitely miss seeing family on Christmas Eve and Christmas Day, but I'm excited to put out our milk and cookies for Santa and see my kids come downstairs from their bedroom on Christmas morning!
Keep reading for your chance to win a FREE one night stay at a U.S. Hampton Hotel!
I don't foresee us having guests from out of town over Christmas for many years (if ever!), but if I did, our home would certainly be open to whoever wanted to stay there. If they couldn't or didn't care to be a houseguest, I'd hope that they'd want to make themselves comfortable at a nearby hotel.
With over 1,900 properties totaling more than 186,000 rooms in 14 countries and territories, Hampton Hotels (part of Hilton World Wide) is an award-winning leader in mid-priced hotels.
The Hampton brand includes Hampton Inn, Hampton Inn & Suites and Hampton by Hilton, and they offer comfortable surroundings with a friendly "Hamptonality". That is, Hampton Hotels is all all about celebrating the little moments that make a big difference!

The Hampton Holiday program aims to help hosts maximize their own hospitality during the holidays with my favorite happier holiday tips inspired by Hamptonality:
Be the best off-site host ever: If you simply don't have enough room to host all your holiday guests or if you think at least some of your guests would be happier in their own space, consider booking them at your local Hampton or another hotel.
Surprise your guests with welcome treats: As a frequent traveler for both business and leisure, I have to say nothing makes me happier than a little snack or something sweet to much on when I arrive. It's unexpected and, well, food speaks to me, so I appreciate it 🙂 If your guests are staying off-site you can almost always partner with the hotel to offer a small gift bag to surprise your guests at check in!
Post the plan: I have a friend who's in-laws expect an itinerary when they come to visit. While they're more than happy to pay their own way (and usually pay for the entire party), they want to have activities, meals, and dinner reservations detailed out and ready for their enjoyment. While it's not necessary to be that extreme when guests stay with you, it's nice to give them a printed list of key gathering times, mealtimes and ideas for local activities and places guests can explore on their own.
Stock up on extras: Make sure you have extra personal essential items like shampoo, soap, toothbrushes, toothpaste and other toiletries that are easy to forget! Take a cue from Hampton and put out a basket full of those products right on the guest bathroom counter.
Make your home "Help Yourself" friendly:  I know the feeling; houseguests can often feel like they're in the way. Ensure your home is guest-friendly before they arrive. Set up a small refreshment center that's available daily. Put the coffee next to the coffeepot with directions on how to operate it. Print out your wifi password so you don't have to keep repeating it (and spelling it!). Put out baskets of snacks so guests don't feel like they need to rummage through your cabinets.
Ask guests for help: Help your guests feel useful by asking them to help with cooking, decorating or cleaning! Try to figure out what guests enjoy and keep the tasks clean so guests can jump in when they can or want to.
Sorry, this giveaway has ended.
 To help in your travel plans I'm giving away a free night's stay at Hampton Hotels! 
Ready to Win?
One lucky winner will receive a Hampton Hotels "Be My Guest" Card which entitles the bearer to one free night stay at a US Hampton Hotel location. Hampton Hotels will mail the "Be My Guest" Card directly to the winner.
Please wait for the Giveaway Tools entry form to load below.  If you have any trouble accessing the entry form please contact me. 
Disclaimer: Compensation was provided by Hampton Hotel via MomTrends.  The opinions expressed herein are those of the author and are not indicative of the opinions of Hampton or Momtrends.