Yum
Share this post by pinning it on Pinterest, then follow me on Pinterest!
Have you seen the price of Hershey's Chocolate Syrup lately? At my two favorite grocery stores, the price was nearly $5 for a 24-ounce bottle! Time to learn how to make homemade Hershey's chocolate syrup!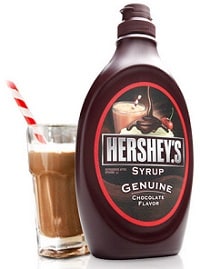 While I was trying to decide if I really needed to add the Hershey's Syrup to my cart, I took a minute to flip over the bottle and read the ingredients: high fructose corn syrup, salt,  monoglycerides, diglycerides, polysorbate 60, artificial flavors… Yes, cocoa and water were also included, but I decided I wasn't going to spend $5 to buy all those chemicals.
Haiden and Piper like to have chocolate milk with their vitamins at breakfast, and I wanted an easy way to keep giving it to them. Plus my husband enjoys a little chocolate syrup on his ice cream, and it's an easy way to dress up a dessert.
If you like this article please check out how to make homemade Pedialyte! 
So, I wanted to share my new recipe for how to make homemade Hershey's Chocolate Syrup. You're not going to believe how easy and delicious it is!
Homemade Hershey's Chocolate Syrup Recipe
Makes about 16 ounces (2 cups)
Ingredients:
Directions:
Use a big saucepan – at least 2 quarts. This will expand when boiling, and overflows will make a big mess on your stovetop! (I use this 3-quart saucepan that was part of a bigger set I received as a gift. It's my favorite for making anything sweet because the heavy bottom keeps it from heating up too fast.)
Combine the cocoa powder, water, sugar and salt in a saucepan over medium heat. Mix with a whisk until smooth.
Stir constantly with a whisk or a wooden spoon until it boils.
Allow it to boil for 1-2 minutes.
Remove from heat.
Add vanilla.
Syrup will be very thin/watery. Allow to cool completely and it will thicken to about the same consistency as Hershey's syrup.
Store the syrup in a mason jar or any other container. It will keep for several weeks in the fridge. If you want to be really sneaky, pour the cooled syrup into an empty or almost-empty Hershey's syrup container and see if anyone notices the difference!
Note: I only use about 1/2 – 1 teaspoon of the homemade chocolate syrup in a cup of milk to make chocolate milk for Haiden and Piper (Their milk just has to have a hint of brown for them to consider it "chocolate milk").  My husband likes to add closer to a tablespoon per cup of milk to make himself chocolate milk. As with the brand-name chocolate syrup, you can experiment with the proportions to get the taste you're looking for.
[amd-yrecipe-recipe:8]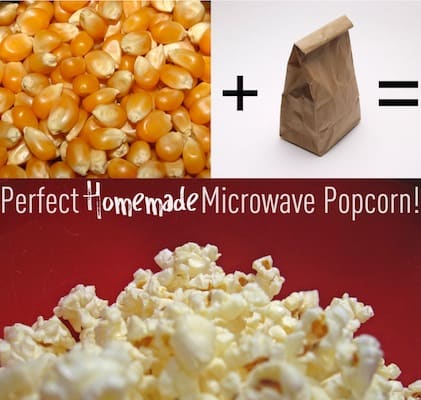 Don't miss the absolute easiest way to make homemade microwave popcorn!