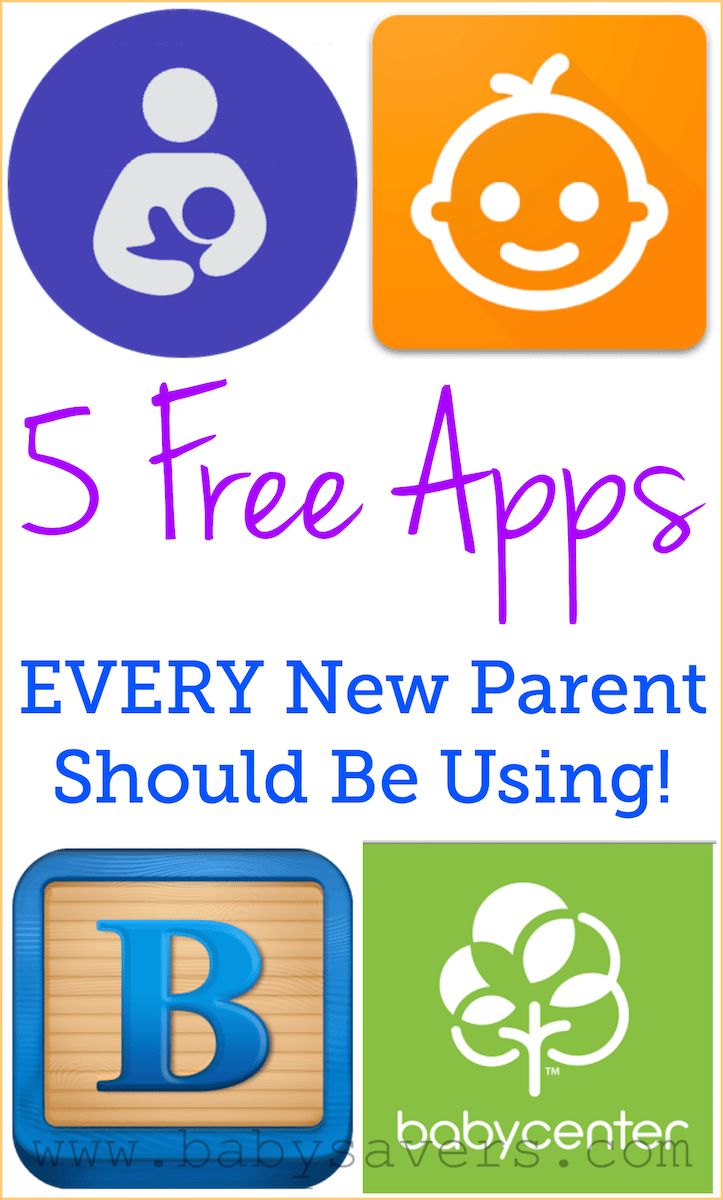 I love that there's an app for everything. I started this series with the best ovulation apps for fertility and period tracking. Last month I wrote about the best free pregnancy apps designed to help expecting parents. This month I'm talking about the next step: the best apps for new parents with newborn babies!
Like most free apps, it takes a little bit of work to sort out the really good free apps from the spammy and worthless ones. That's what I'm here for!
I spent sometime researching the best free apps for parents of newborns so you don't have to.
The Best Free Apps for New Parents
1. WebMD Baby
WebMD is the go-to site for information on all thing medical, so I'm not surprised to see they have a baby app to help new parents!
Over 1.5 million parents have downloaded the WebMD Baby app to track their baby's development and get trusted, physician-approved advice. In this single, free app, you'll have the right resources to raise your newborn.


Five comprehensive tools to keep track of important needs and stay on schedule plus,

WebMD is like a pediatrician in your pocket with an extensive library of medically-approved content. 
Download WebMD Baby for Android
Download WebMD Baby for Apple iOS
2. Peekaboo Moments Baby Journal

Sharing pictures and documenting milestones becomes so much more important once you have a baby to photograph! Check out Peekaboo Moments, which makes privately sharing photos easy:
Peekaboo Moments is much more than a baby scrapbook. It is the security and privacy of a physical scrapbook, combined with Facebook's ease of sharing, and the portability of the world's best mobile apps, all in one!

On your mobile devices, Peekaboo Moments will go everywhere you go. You can add your photos and tender thoughts as they happen, so nothing is missed or forgotten.

You can also add directly from the Facebook app. Peekaboo Moments will automatically organize and present the entries in a beautiful designer timeline.
Download Peekaboo Moments for Apple iOS
Download Peekaboo Moments for Android
BabyCenter has been a trusted resource on all things baby for years, and their app definitely holds up BabyCenter's reputation!
What does every new parent need? Support. Advice. Reminders. Reasons to laugh!

My Baby Today is packed with tools and information to help you be the best parent possible in your baby's first year. It's brought to you by BabyCenter, the world's most trusted parenting resource, supporting more than 300 million moms around the globe – and rated one of the top three Children's Health apps by the doctors at HealthTap.
Download My Baby Today for Android
Download My Baby Today for Apple iOS
4. Breastfeeding Baby Tracker
Record and analyze breastfeeding times, complementary feedings, sleeps, cryings, weight, length/height and head circumference of your baby as well as your pumping times.
Keep track of everything breastfeeding with the following features:

Record simply and intuitively when and on which side the baby is nursed.
Breastfeedings can be joined into one meal.
Graphical analysis of the daily breastfeedings and meals.
Displays your typical breastfeeding times: When does your baby typically get hungry?
Overview of all breastfeeding times on record
Export the recorded data to csv
Import existing data from a csv file
Widget including start, pause and stop buttons
Download Breastfeeding Baby Tracker for Android
Download Breastfeeding Baby Tracker for Apple iOS
5. Similac Baby Journal
I'm wondering if anyone loves the graphics on this app as much as I do!
Track your baby's feeding, sleeping, diaper changes and growth in this convenient application.

See tips and advice from the makers of Similac and other Moms and Dads like you.

View graphs that show your baby's development over time and easily share this information with your family and Pediatrician via email.
Download Similac Baby Journal for Apple iOS
Download Similac Baby Journal for Android
Do you use any free newborn apps to help make life a little easier for new parents? What apps do you recommend?