Take a look at these fun Cricut shirt ideas, then use our step-by-step directions for how to make your own DIY t-shirt with iron on vinyl and your Cricut cutting machine.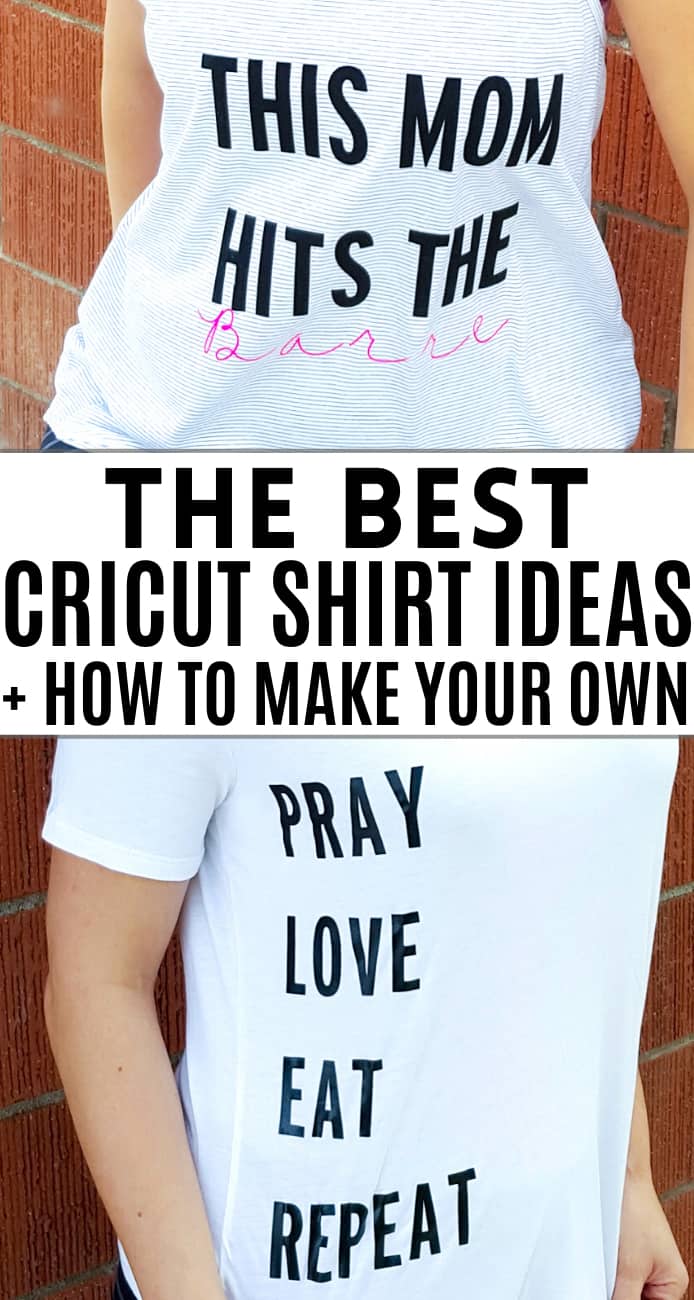 Athleisure. Lounge wear. Comfort clothes. If there was a style that has defined my look for the last year, it would definitely be something that encompasses everything comfortable.
Side note: OMG. I've been wearing leggings and yoga pants just about every day for a whole year. OMG.
At the same time, I still love clothes. I don't want to wear the same thing every day, and I want to wear things that make me happy.
Don't get me wrong. I haven't been getting dressed up to stay at home. At this point, even pairing jeans with a nice top feels fancy.
So graphic tees and leggings have really become my go-to look. But I had been wearing the same ones so often I really wanted to refresh my wardrobe.
So I decided to think up some custom shirt ideas that I could DIY with my Cricut.
If you're new to this crafty topic you absolutely need to read What is a Cricut Machine? to learn more about them. Then jump over and read my Cricut Explore Air 2 review and Cricut Joy review posts to figure out which machine is best for you!
About these DIY shirts
I've included step by step instructions for how to make your own customized tee. I created each shirt design in Cricut Design Space, then I cut the phrases out of heat transfer vinyl with my Cricut Explore Air 2.
The Cricut iron on vinyl was then transferred and permanently fixed to the fabric using the EasyPress 2 heat press with the EasyPress mat.
All three of these Cricut shirt ideas are so easy, you can definitely make your own! If you don't want to even think about being a designer, feel free to copy any idea I've shared below.
Cricut shirts FAQ
Check out these common questions and answers others have asked about this topic:
What Cricut do I need to make shirts?
You can use any cutting machine available today to make your new tee. We love the Cricut Explore Air 2, the Cricut Joy and the Cricut Maker, and all are great for cutting the material exactly the way you need for this project.
What vinyl do I use for shirts?
You need to use heat transfer vinyl (HTV), which is also called iron on vinyl. This specific type of material fuses to fabric when it's applied with heat.
Do not use permanent or adhesive vinyl or for this craft. They won't stick and hold properly to fabric.
You don't. But I'm not going to lie; an EasyPress machine makes all your HTV projects much easier. But you can absolutely achieve the same results with a regular iron.
Yes, and here are a few tips to ensure they last:
You should wash all fabric before you start your project, even if it's brand new.
After the heat transfer, let the fabric and material cool completely before touching it. Wait at least 24 hours after transferring the HTV before you wash it.
No, ink isn't required. These are all made by cutting words or shapes from HTV and using heat to adhere them to the fabric.
Infusible ink with a transfer sheet is a different method of Cricut crafting. We'll cover that in a different post.
What other items can I make using this method?
Really, you can decorate, transform or customize just about any fabric item using the same directions below.
Consider making a tote bag or creating items for holidays, like Christmas and Halloween. There are quotes, sayings and free cut files available for every imaginable occasion!
How to make a shirt with your Cricut: step by step instructions
You'll need some materials and supplies to make a graphic tee as a DIY Cricut project.
Materials and supplies needed
A shirt
Iron on vinyl
A Cricut machine
Weeding tool
Household iron or Easypress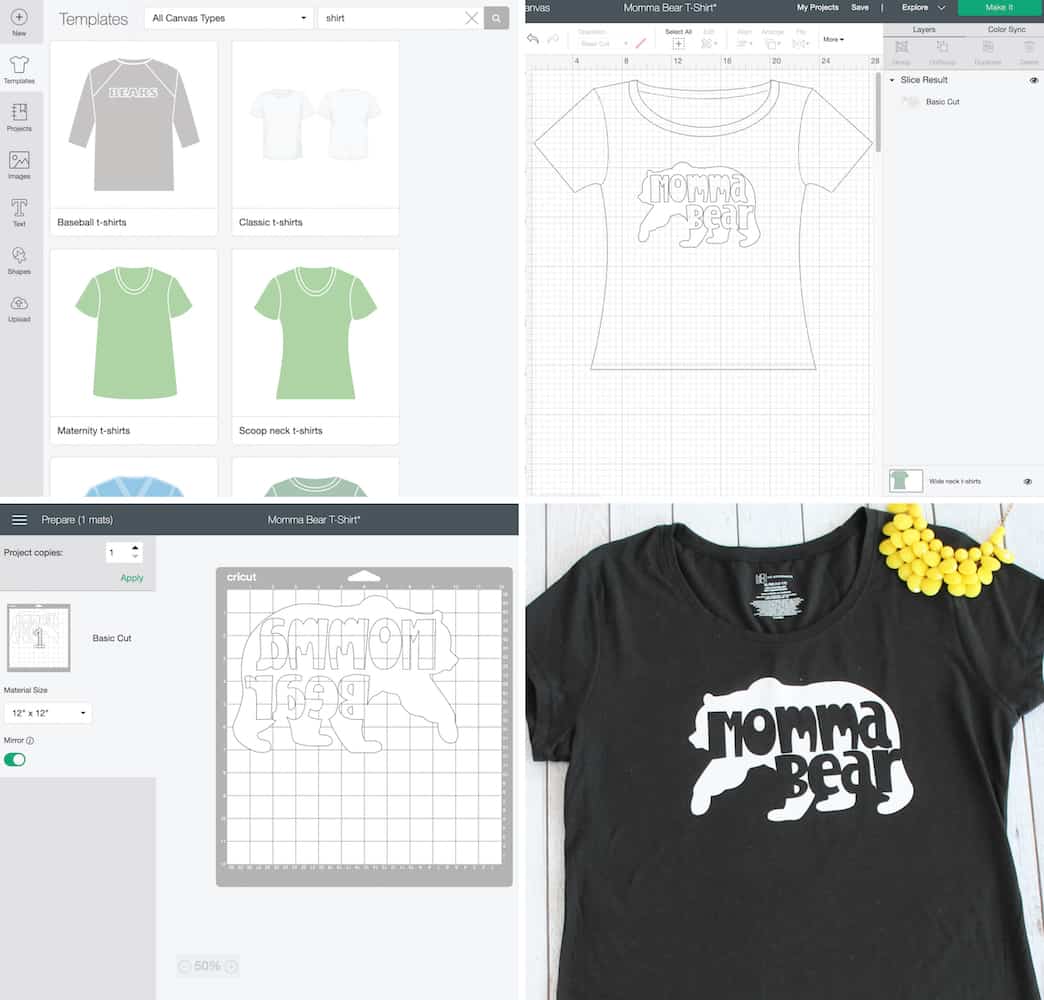 Directions
1. Open up Cricut Design Space on your computer or open the app on your device.
2. Click on New Project, then click Upload on the right side of your project grid to upload your own SVG file. OR click Projects to select one of the ready-made designs.
3. Click Templates in Design Space and search for Shirt. This will aid in your the size and placement of your creative. Resize your design over the template, then click the Make It button on the screen.
Note: The outline template shape on your design grid is not part of your final design. It won't be cut out.
4. Toggle on the Mirror option. It should be green on your screen. Your machine cuts the design from the back, so this will cut out a mirror image of your creation. Click Continue and follow design space prompts to send to your machine.
5. Press the shiny/glossy side of your heat transfer vinyl onto a Standard Grip or Light Grip mat. Load it into your Cricut and cut the design out.
6. Leaving the layer of clear vinyl stuck to the mat, use your weeding tool to remove everything that's not part of the design.
7. Peel the clear plastic backing off the mat, flip it over and carefully position it on your fabric.
8. Use your household iron or EasyPress to transfer the iron-on to the material.
I easiily turned my own ideas into actual graphic tees following the exact same instructions that I listed above. I'm so happy with how they came out!
My Cricut shirt ideas
BASEBALL MAMA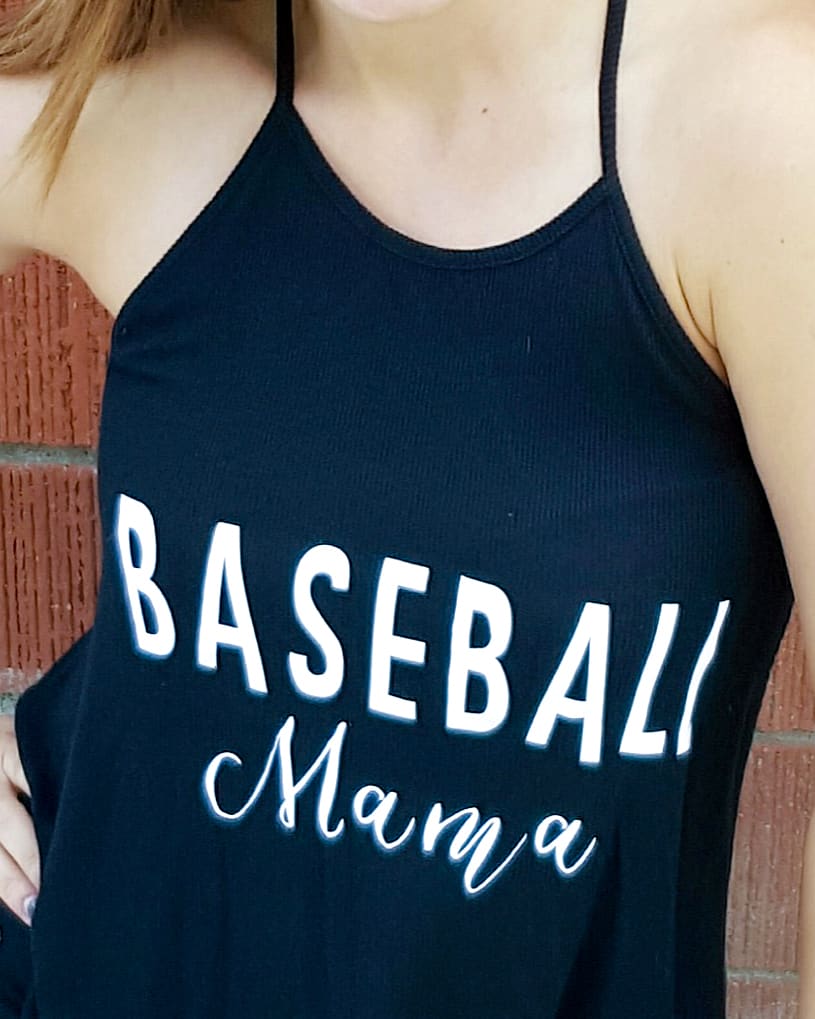 The phrase on my newest t-shirt design has described me for the last 9 years with my oldest son. It's already been longer than I thought he'd stick with anything!
My youngest also plays baseball. At just 8 years old he's showing no signs of stopping his love of the game. It seems pretty likely that I'll be a sports mom for years to come. I'm a proud Baseball Mama!
Design Space fonts:
Baseball: Boys Will Be Boys block
Mama: Pen & Ink
THIS MOM HITS THE BARRE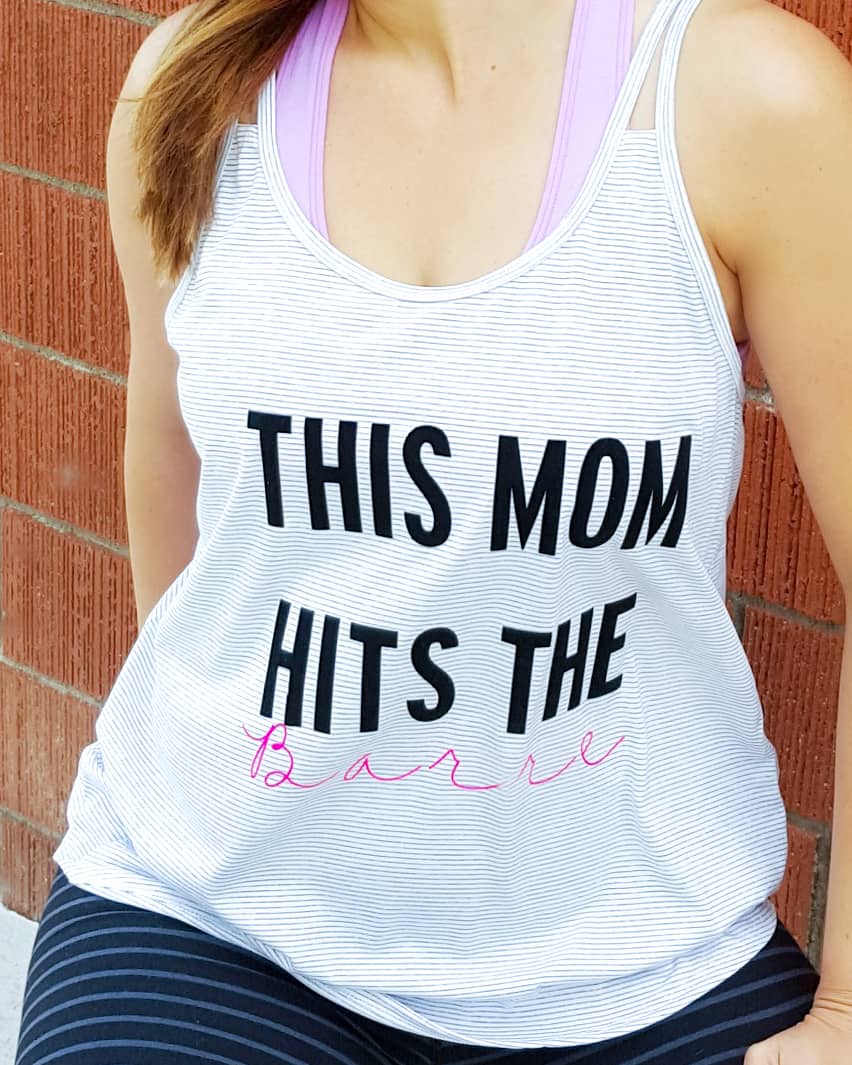 Barre exercise class is my favorite way to work out. Mostly because I feel like a graceful ballerina while I'm there, even though I know I look much more like a waddling, squatting duck!
For my fitness addiction, the ballet barre class, I made up a fun phrase that I think the other moms I see at the gym can relate to.
This Mom Hits the Barre is a silly play on words that will make me laugh when I can finally get back to the studio. If my favorite instructor likes I'm totally making one for her, too.
Fonts from Design Space:
This Mom Hits the: Street Sign
Barre: Yours Truly
PRAY, LOVE, EAT, REPEAT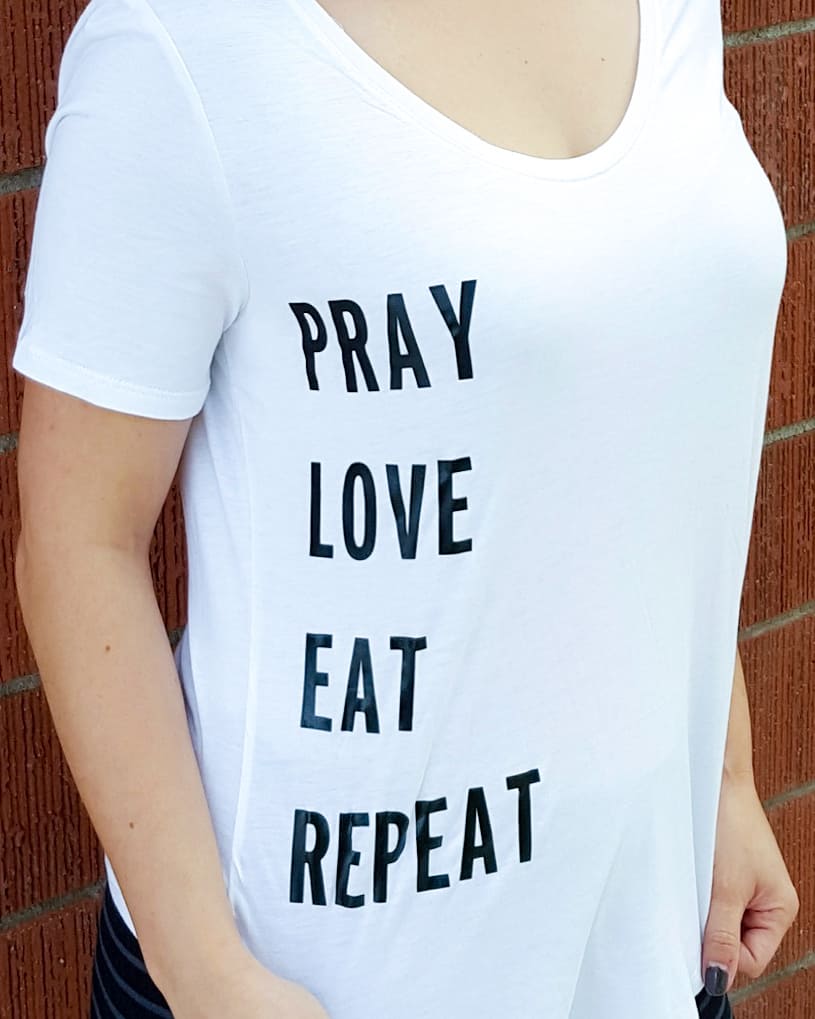 This last design is my fave! Why? It's because, if I'm wearing it, it means that I'm probably lying on a couch or hammock somewhere getting some much needed rest!
I changed up the popular "Eat Pray Love" phrase that's on everything these days. I did a little rearranging, then added the word "repeat" to show what's most important to me!
Cricut font used:
Pray, Love, Eat, Repeat: Street Sign
These tees took about 45 minutes to make. I was truly surprised when I was able to get all of them done in that amount of time. That's 45 minutes for all three customized pieces!
I'm used to doing a single project with my machine, then packing everything up – including the machine and materials – until inspiration strikes again.
Making three similar items at once was new to me, and it's making me consider how slow I've been doing these kinds of crafts in the past.
I'm starting to think that doing craft projects in batches is the key to speeding up my overall process…For a few different reasons!
First, I need to get into a Design Space zone to start creating the right way. I'm positive that creating one file after another would be more efficient than having to get into that mindset three separate times.
The same goes for weeding. I find weeding to be a satisfying task, and seeing the lines gets easier as I work my way through the material. Weeding three designs a row might make me cross-eyed, but it also might get done a lot faster.
Finally, there's the ironing or heat transfer process. Why get out my EasyPress or iron three different times when I can get it out once and do three HTV projects at the same time?
I love my new tees! I'll be wearing them daily as I continue to rock my relaxed athleisure wardrobe. Now that I've fallen into this style, I don't know why I'd ever go back!
I have plenty of other crafting ideas to show off in the future. More crafty fun will be coming your way soon!
What trendy homemade clothing ideas can you dream up?
More projects for you to check out:
Learn how to make a DIY chalkboard sign.
How to make Rae Dunn inspired Christmas ornaments.
See how to make paper flowers with free templates.