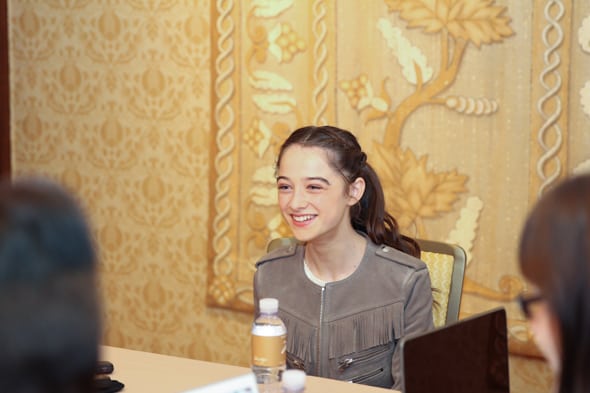 Photo credit: Louise Bishop, Momstart.com
There are times in my life when I realize how shallow I am.
Example: when Raffey Cassidy (who plays Athena in Disney's Tomorrowland) walked into our Tomorrowland interview with a huge smile on her face, I should have been thinking, Wow! This girl is so young and so talented! I can't wait to hear what she has to say.
Instead, Shallow Marybeth was thinking, Heavens this girl is adorable! How is her hair done? I want to do my hair like that! and I love her jacket. I'd kill for that jacket!
Thankfully, Raffey Cassidy is the whole package: intelligent, witty, talented, cute and personable. I actually couldn't dwell on her hair or her clothes because I was fully immersed in what she was saying.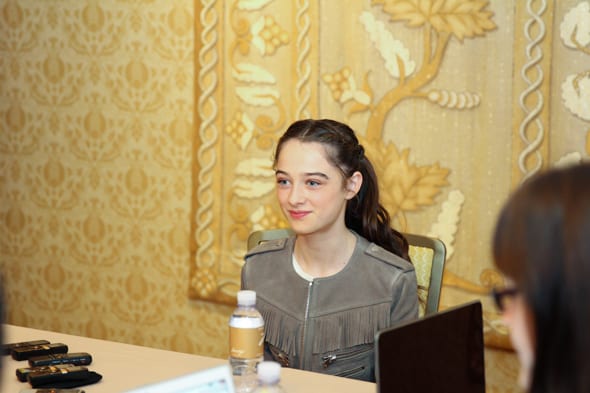 Photo credit: Louise Bishop, Momstart.com
And believe me, Raffey Cassidy said a lot! She was so quick to answer our questions with thorough, articulate responses that I started to feel a bit concerned for her.
Our question-asking pace increased to a point where I felt like we were firing questions at her, but the girl was a pro! She didn't get flustered, she stayed on point and she glowed throughout my time with her.
Be sure to check out my parent's review of Tomorrowland and the rest of my interviews and articles to get all the details on my Tomorrowland press trip:
My interview with Raffey Cassidy of Disney's Tomorrowland
What got you into acting at such a young age and how did you get involved in Tomorrowland?
My brother went for an audition and they asked me if I wanted to have a go at it. I did and it started from there.
[On Tomorrowland] I did a self-tape audition at home. Then I went to London to do another screen test. After that I went to America to do another screen test. After that I found out that I got the part [of Athena].
What was the most challenging part of filming Tomorrowland? What traits of Athena do you see in yourself?
I had to create a background for Athena, because she didn't really have one. That was fun. I love how wise she is; she's like an old soul inside of a young body.
If I had to choose [one of Athena's traits] it would probably be optimism. I feel that I'm quite optimistic and always look on the bright side of a bad situation…
Everybody should be very optimistic and feel that there's a way around if they're in a bad situation. There's always a bright side.
How did you feel about your costumes in the movie?
I loved them! The blue dress…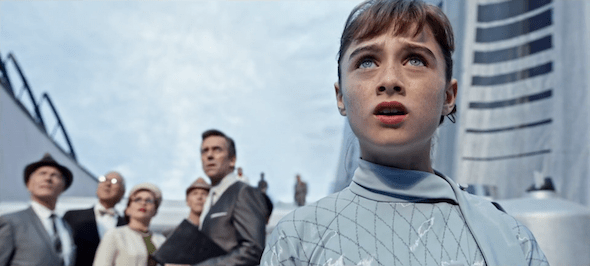 If you look closely at the blue dress, there were actually algorithms on it. And algebra.
You had a lot of action scenes where you had to do martial arts. Did you have to train for that?
I trained for two months in gymnastics and martial arts. Then I went to Canada and did another month of martial arts and a bit of gymnastics.
Then I did training throughout the six months of filming; a could of days every week or so.
You do such a great job playing Athena. How did you prepare for that?
Athena has so many different qualities. She's optimistic. She's intelligent. She's wise. I just put all of those together.
I found her to be stern and always concentrating. I wanted to make her seem like she was always alert.
And I always had an image in my head for a scene. It was never just going in cold and trying to create one. I always had an image that would just help me and I'd be able to think of to get me through it.
How was it almost having to be the adult in the film?
Athena is kind of the mom of the whole gang. She looks after Casey and Frank, trying to bring them together to help them save the world. Through their adventure, they become like family.
Were there moments where you had to play your mom role off camera?
Definitely! George [Clooney] played some funny jokes.
There was this one time, when we shooting a scene in a monorail. The doors would open and the camera would be there watching us.
George thought it would be funny if we all ran to the side of the monorail so the doors would open and nobody would be there. We did it, and everyone went "Wait. Where did they all go?"
Who are your role models? Who do you look up to, and who inspired your acting career?
I think Britt Robertson is somebody to look up to and admire because she's done so much and she's so kind. I just really, really like her.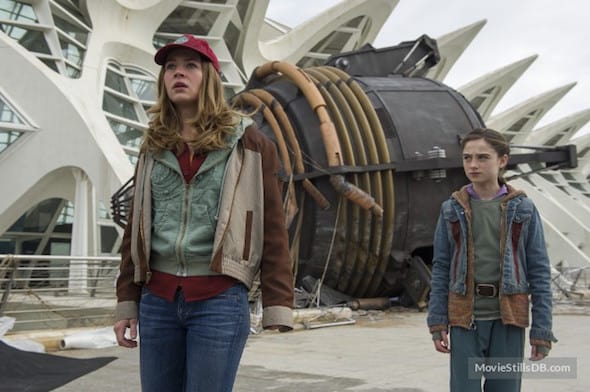 What's the message you would tell girls your age about the future? Do you feel like the movie changed your view of the world now and the future?
I hope I'm a dreamer!
I'd say that the future isn't a place we're going. It's something we're making, so it can be anything that they want it to be.
Even talking about optimism and the world now, it makes me think about the future and how optimistic we all can be. How we can make it what we want.
[Acting in 'Tomorrowland'] definitely made me think, "maybe I can make a difference in the world."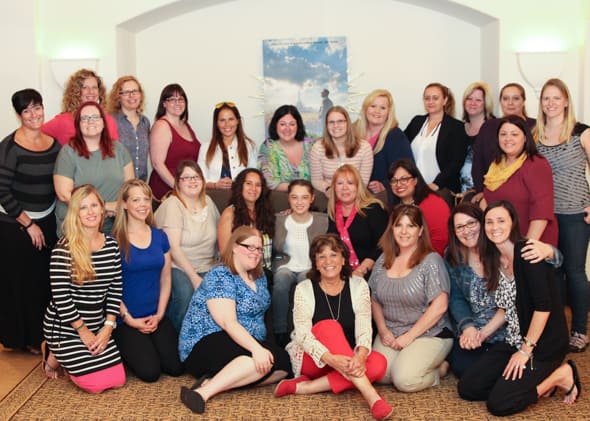 Disney's Tomorrowland starring George Clooney, Britt Robertson, Hugh Laurie and Raffey Cassidy is in theaters everywhere!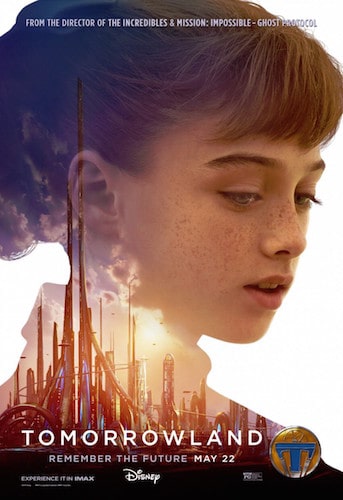 Check out the Tomorrowland trailer here:
Visit the official Tomorrowland site, get your watch Tomorrowland and follow the movie news on these social media channels: 
Disclosure: Disney flew me to Los Angeles to participate in this press junket and other events related to the promotion of Tomorrowland.