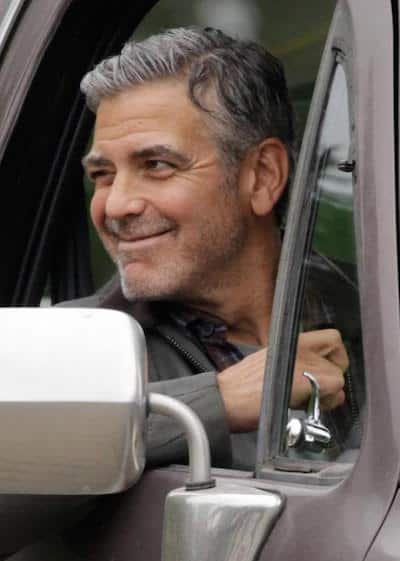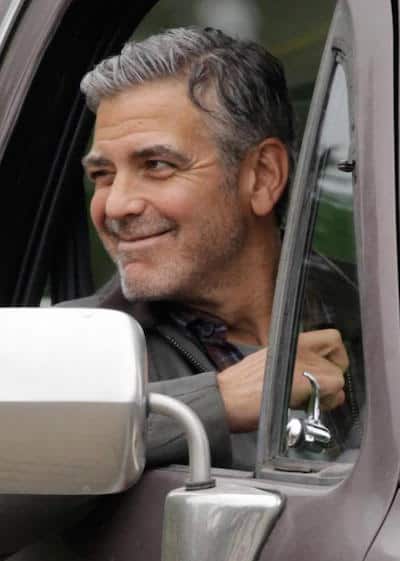 Photo credit: Getty Images
Surprise! Since I didn't want to include any Tomorrowland spoilers in my George Clooney interview that was published before the movie was released, I couldn't share everything I wanted to in my first post.  Now that Tomorrowland is in theaters, all bets are off 🙂
To be fair, the only real Tomorrowland spoiler is in the last part of this article, and I've provided a very obvious warning before it. That way, you can still get lots of George Clooney goodness before you stop reading.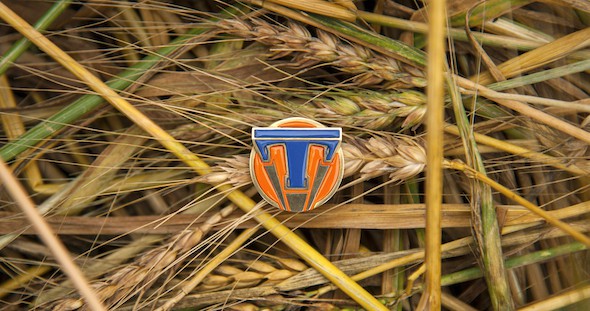 Be sure to check out my parent's review of Tomorrowland and the rest of my interviews and articles to get all the details on my Tomorrowland press trip:
George Clooney Interview Part 2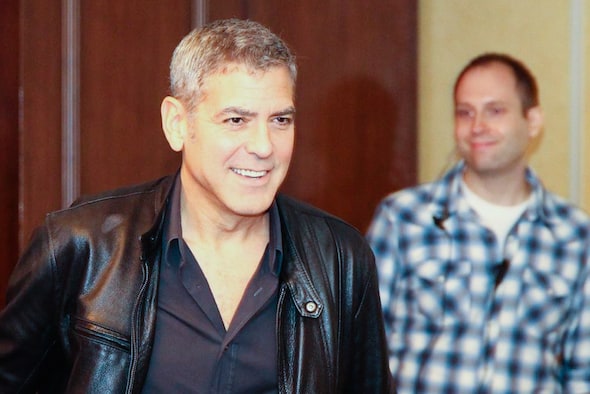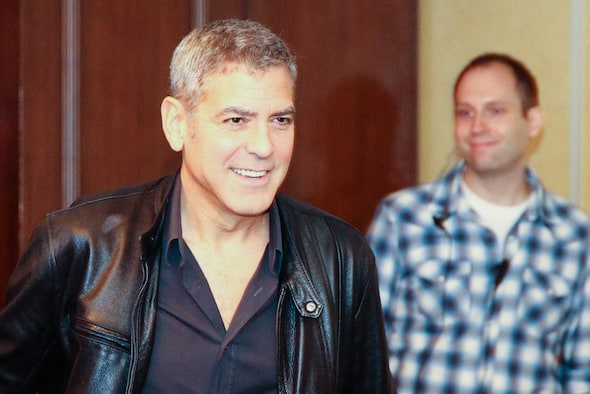 Image credit: Louise Bishop, momstart.com
I really loved how your character interacted with  Raffey Cassidy and Britt Robertson. I just thought everything was so sweet between all three of you. What was it like working with such young and talented actors? 
I didn't like them. I'll say that much. [Laughing] We can say nice things now, but the truth is I don't care for them. [More laughing]
First of all, Britt is fantastic. Her career is at the very beginning and it's going t obe really fun.
Raffey is spectacular and she was just 12 at the time. She's way too talented for her age, and sweet and funny.
[Frank Walker, Clooney's character in "Tomorrowland"] is a fun part for me because, if you'd seen me speaking to a 12 year old the way I speak to [Raffey Cassidy's character]  at the grocery store, you'd call child services.
I'm like, "Who gets to yell at a 12 year old?" In the movies it's so fun because they're set up in a way that we're a little family of three. [Athena] is the adult and Britt and I are the two kids, arguing and bickering all the time.
They were fantastic and I think they're having a really fun time with this. That's how it's supposed to be. 
When I work with younger actors, I always have to try to remind them that this is the fun kind of job that most people don't get to do.
If you get to be an actor and work, and somebody pays you for it, you've caught the brass ring, and it's just fun. 
The thing is [Britt Robertson and Raffey Cassidy] really do dig acting and they're having fun, which is really a good time. 
What was your favorite fun memory when filming Tomorrowland?
I don't remember much of it. I was drunk most of the time!  [Laughing]
There were a lot of moments because it wasn't all done to green screen. They were nice enough to build a lot of these sets where I actually got to play in them. 
The most fun we had were the driving sequences. We were being towed but Raffey is driving and I keep having to teach her to keep looking at the road. [laughs]
It was fun because there was no technology. There was nothing. It was just old fashioned. Three people sitting in a truck for five days. Arguing and doing fun stuff. That's really fun for actors because you don't have to do any make believe. It's all right there. 
It was also fun doing the stuff like shoving all those packs of powder down [Britt's] throat. We must have done 30 takes. Every time, she'd be like, "Not the whole pack!" and I was like, "Yeah! So much sugar in it!"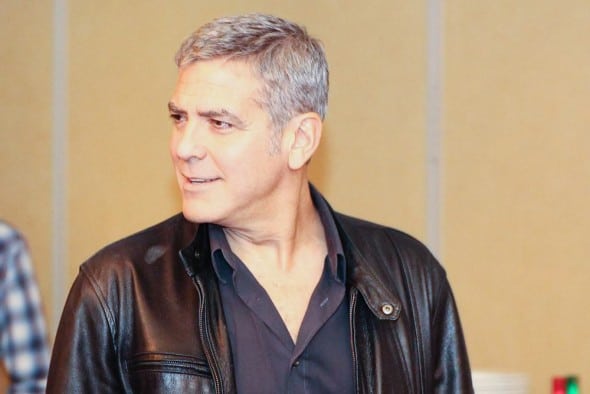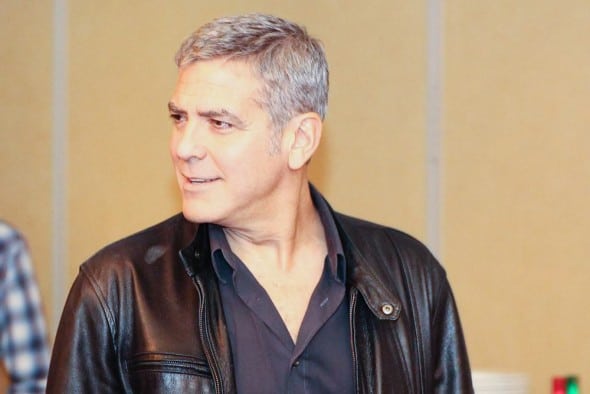 Image credit: Louise Bishop, momstart.com
Did Britt really drink all those bottles of Coke?
Yeah. In fairness, Brad [Bird] was kind enough to only do it three times. 
But Britt downs two Cokes in the Take. I was just sitting there going, "She's going to explode." But she did it. 
I remember when I was doing The Descendants and we had this little girl, she played my youngest daughter in the film. We did a scene where she gets to eat ice cream. She had never acted in a movie before and she just starts pounding the ice cream. 
They're just sitting there watching her. By Take 9, she literally was like, "uuugh…"
TOMORROWLAND SPOILER BELOW!!
Were there any scenes that were emotionally hard for you to film? 
Emotionally hard, no. Because I find movies in general…it's not really something honestly terrible has happened. It's still make believe. 
There's a moment where I have to let Raffey's character go. I did find that it was a tricky scene. 
We'd shot it once and she kind of clicks out, but her eyes are still open and I drop her. It literally feels like I'm murdering her. It really does. It was odd. Watching it, it was so disturbing. It was really awful. 
We went back and re-did it where she completely goes out, because otherwise it really felt horrible. 
There's all kinds of weird balances in Tomorrowland. My relationship with Athena…we're walking a very thin line there. It's a constant thing, like, let's walk very carefully through these things. 
Thankfully, Brad [Bird] is Brad and he's really good at what he does. He made it much simpler. 
Disney's Tomorrowland starring George Clooney, Britt Robertson, Hugh Laurie and Raffey Cassidy is in theaters everywhere!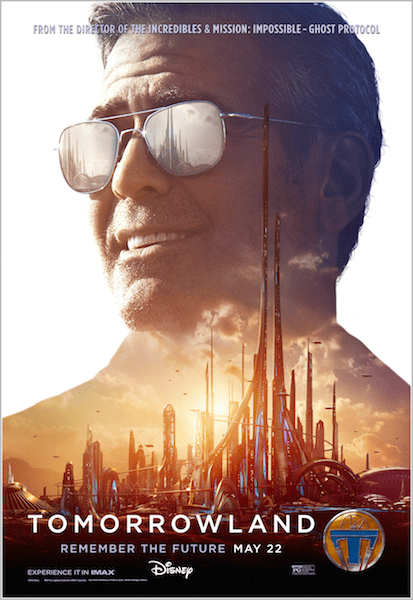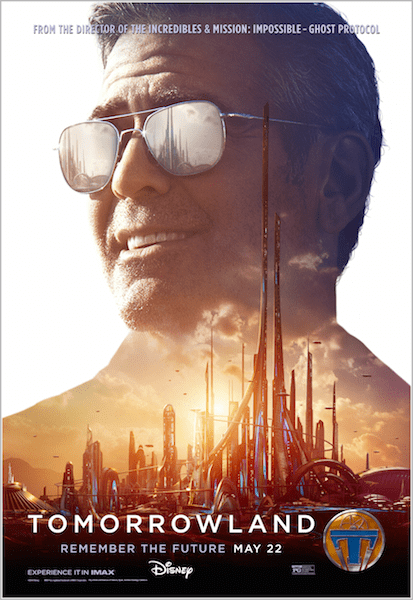 Check out the Tomorrowland trailer here:
Visit the official Tomorrowland site, get your tickets to see Tomorrowland in theaters and follow the movie news on these social media channels: 
Disclosure: Disney flew me to Los Angeles to participate in this press junket and other events related to the promotion of Tomorrowland.