Learn how to make a mason jar aquarium! This fun kids activity is perfect for a rainy day or when you're stuck inside and looking for something new and different to do.
We're all about the fun kids activities right now. We kind of need to be, right? We're all stuck together, mostly indoors, with little variety in our day-to-day lives.
If I don't put together interesting things for my kids to do, no one else will do it for me.
And if my kids don't have anything to keep them busy, I think we'll all just lose it. Honestly.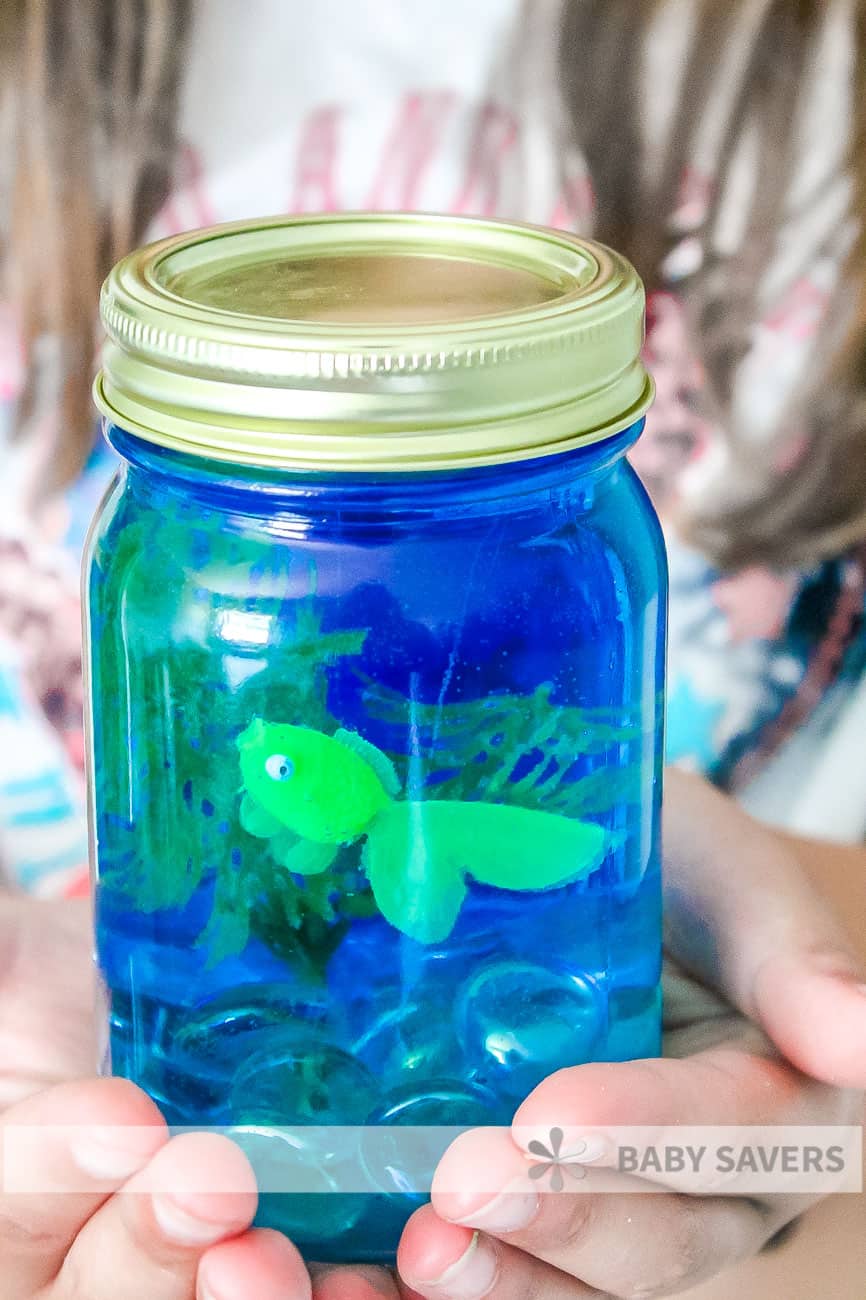 Screens are so easy, I'm well aware I need to make an honest effort to come up with fun indoor kids activities that can be done far away from tablets, computers, televisions and phones.
We need DIY projects, crafts, art ideas and anything else that takes up time and helps them be creative.
We're doing our best to keep screen time to a minimum, but those limits only apply to recreational games.
Haiden and Piper are trying out a few different online educational portals, like Khan Academy, Dance Pad and Adventure Academy, which means they're sitting in front of computers more often than I ever thought I'd be ok with.
I could go on about uncharted territory. Desperate times and desperate measures. Grace and "doing the best we can." Because, the truth is, I've told myself all of it.
We're all just trying to make it through this period without getting sick and staying safe. So this mom refuses to feel any sort of guilt over screen time.
But that doesn't mean I want my kids to spend all day, every day in front of a computer. Far from it.
We've made DIY kinetic sand and a variety of different slimes. Glitter slime, glow in the dark slime, and ocean slime are just the beginning of our slime recipes to try!
We've also made homemade playdough and homemade bubbles that are safe for indoor use.
I've been making a few things on my own, too! DIY hand sanitizer and hand sanitizing wipes are the most important things I've made for our family, but I've also enjoyed making paper flowers and crafting with my Cricut to brighten my day.
But we're needing more and different kids activities, especially now, when we need to fill up days. So it's time to make a mason jar aquarium!
This easy kids activity appealed to my kids for a few different reasons.
Pets – even pretend pets – are fun.
They got to use the hot glue gun.
Food coloring.
When it's all done, the kids get a craft that's easy to display and fun to look at!
How to make a mason jar aquarium
Be sure to make sure you have all the materials and understand the instructions before you get started making your project with your kids. It's not complicated, but sometimes I want to to jump right in.
I have firsthand knowledge of how disappointed kids get when crafts and projects can't be finished!
Mason jar aquarium materials
These are the items you need for your homemade mason jar aquarium:
Mason jar with a lid. The kind with the ring and flat top work just fine.
Blue food coloring
Water
Here's a guide to everything you need to complete this kids activity:
Regular Mouth Mason JarsSee more details
Plastic Aquarium PlantsSee more details
Outdoor Fishing LineSee more details
Novelty Pack Vinyl GoldfishSee more details
Glass Marbles for AquariumSee more details
Amazonite Fish Tank RocksSee more details
Mini Hot Glue Gun Combo PackSee more details
Multi Temp Glue SticksSee more details
Mason Jar Aquarium Instructions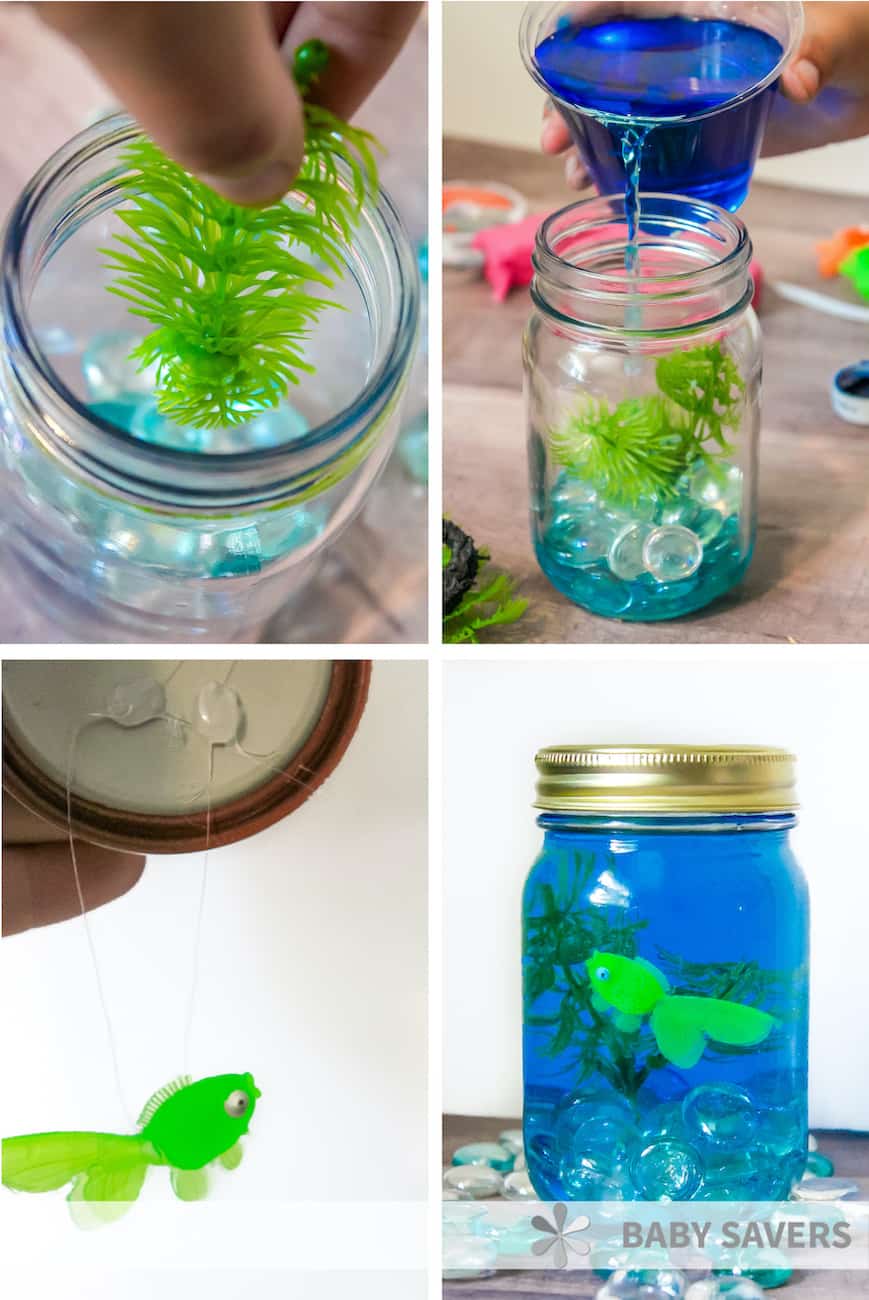 Drop a small handful of aquarium rocks or aquarium marbles into the mason jar. Put an aquarium plant among the rocks. If it won't stand up straight you can add a dot of hot glue and secure it to rocks or the jar.
Add blue food coloring to 2 cups water and pour it into the jar.
Tie two pieces of fishing line to a plastic fish. One in the front and one around the tail. Attach the fishing line to the inside of the mason jar lid with a dot of hot glue.
Put the lid on the mason jar and tighten. If you're satisfied with the positions of everything inside the jar, you can add hot glue to the lid ring and quickly screw it on the jar to keep it securely closed.