Pixar Rules of Storytelling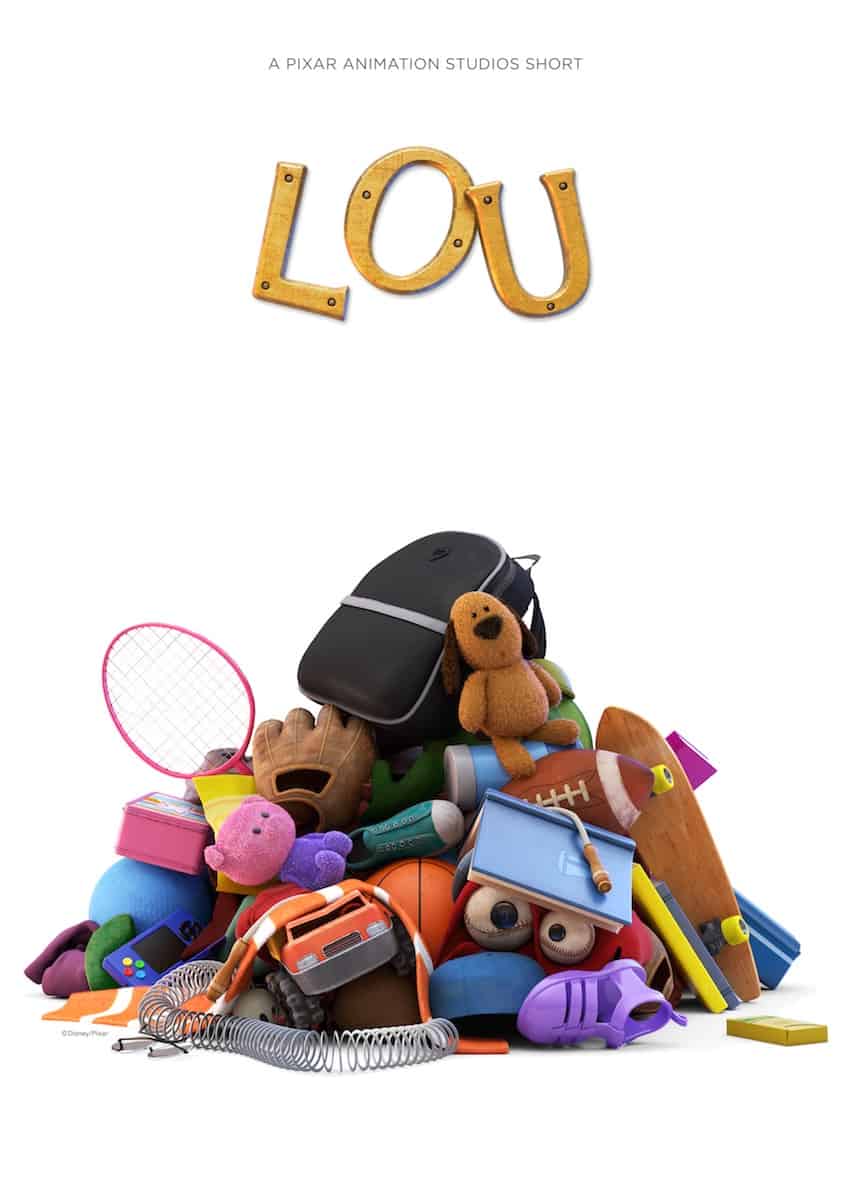 It's no secret that Disney and Pixar make magical movies. I've loved every single one since seeing Toy Story for the first time so many years ago.
Until a few years ago, I was happy just loving Pixar films. They thoroughly entertained me, and it was enough. I'm not sure when it happened (probably when I got my first taste of the behind-the-scenes details at the Brave premiere back in 2012), but I slowly started wanting to know the why behind my love for the movies.
Why did I find them to be so wonderful? Why did everyone seem to love them? What sort of magic does Pixar do? It turns out it's all because of Pixar and the rules of storytelling.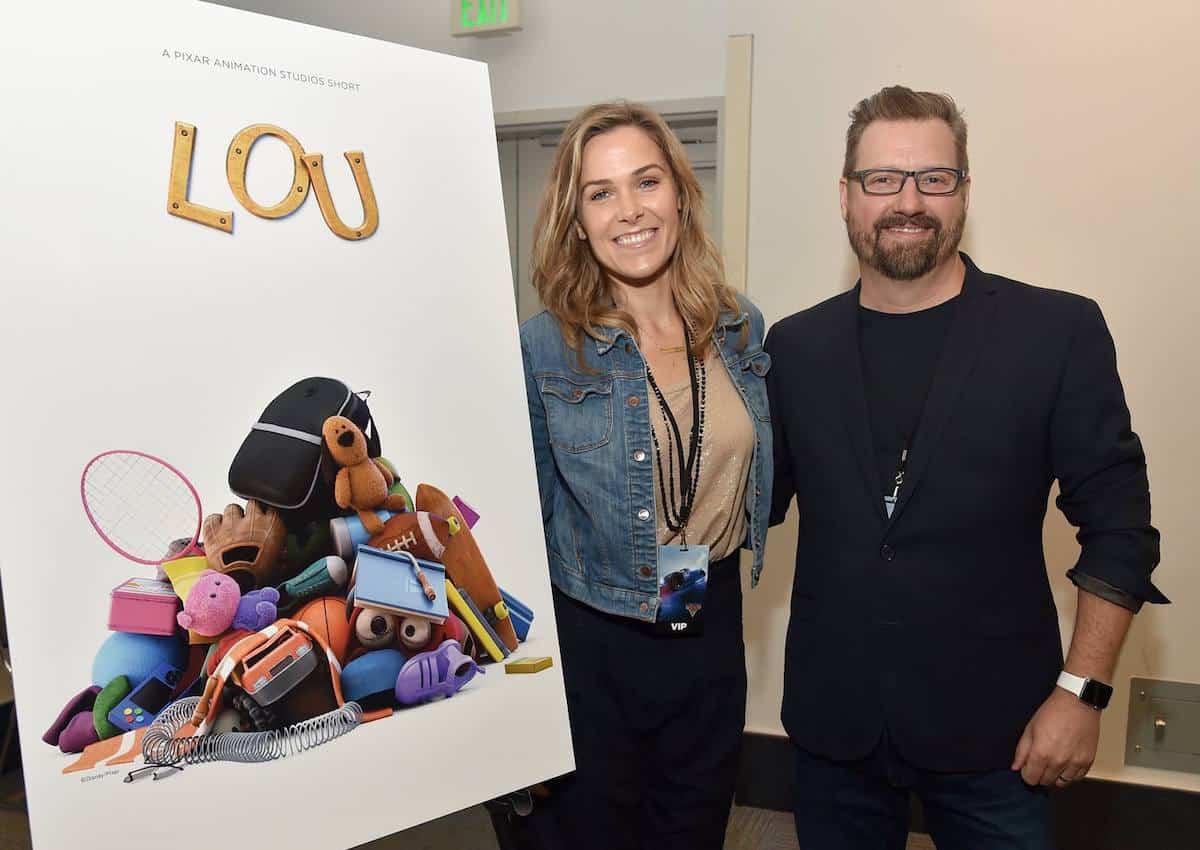 Last weekend I attended a presentation with Dave Mullins and Dana Murray, the director and producer of Pixar's newest animated short, Lou. It was there that Mullins explained the basic Pixar rules of storytelling.
The Pixar rules of storytelling go a long way in explaining what any story idea (including those 5-minute shorts) has to have in order for it to even be considered as a potential project.
The Pixar Rules of Storytelling: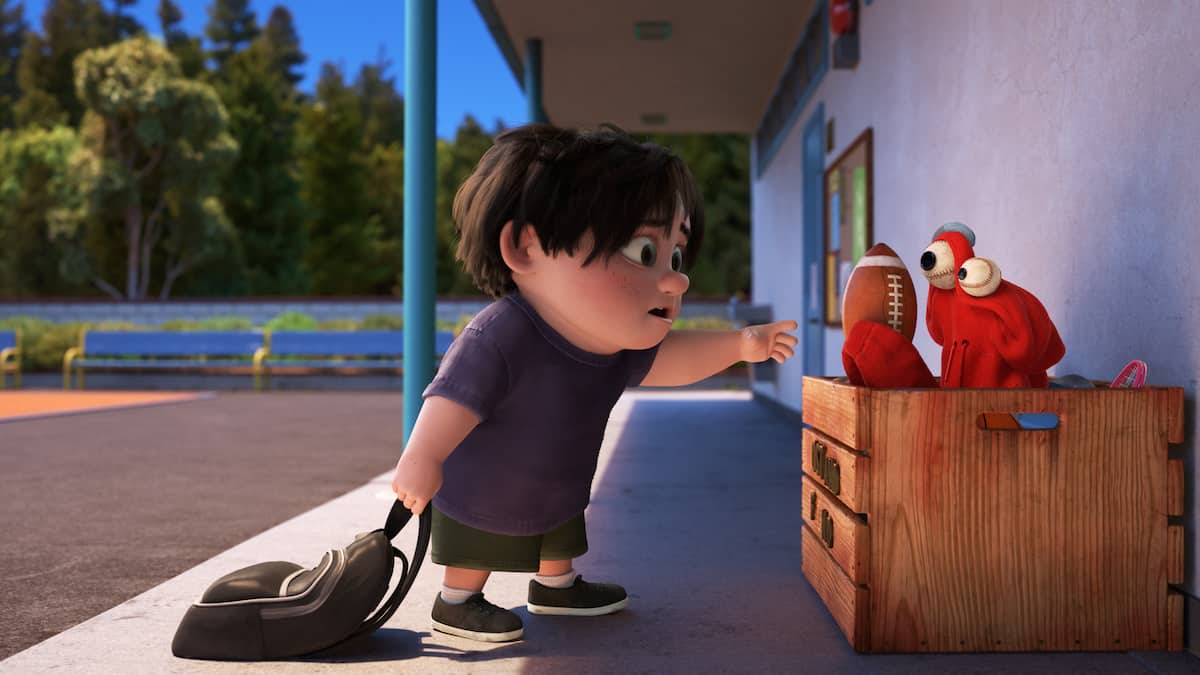 Heart. Pixar films create an emotional connection. The main character is flawed and he or she experiences personal growth.
Entertainment: The story has to be unpredictable and funny.
Setting: Pixar movies must be able to transport the audience to a place that is exciting and new.
Animation: The Pixar movie must be animated. It must use animation's full potential.
Hearing this list of guidelines was an aha moment for me. Up till that point, I didn't understand that the requirements of a Pixar story were so simple to identify.
It makes sense that Pixar uses structure and priorities within their creative process to create only the best films, and that there are common threads throughout every single project.
Lou has all of Pixar's storytelling elements. I've seen the short film three times, and I have to say, the story of Lou is fantastic!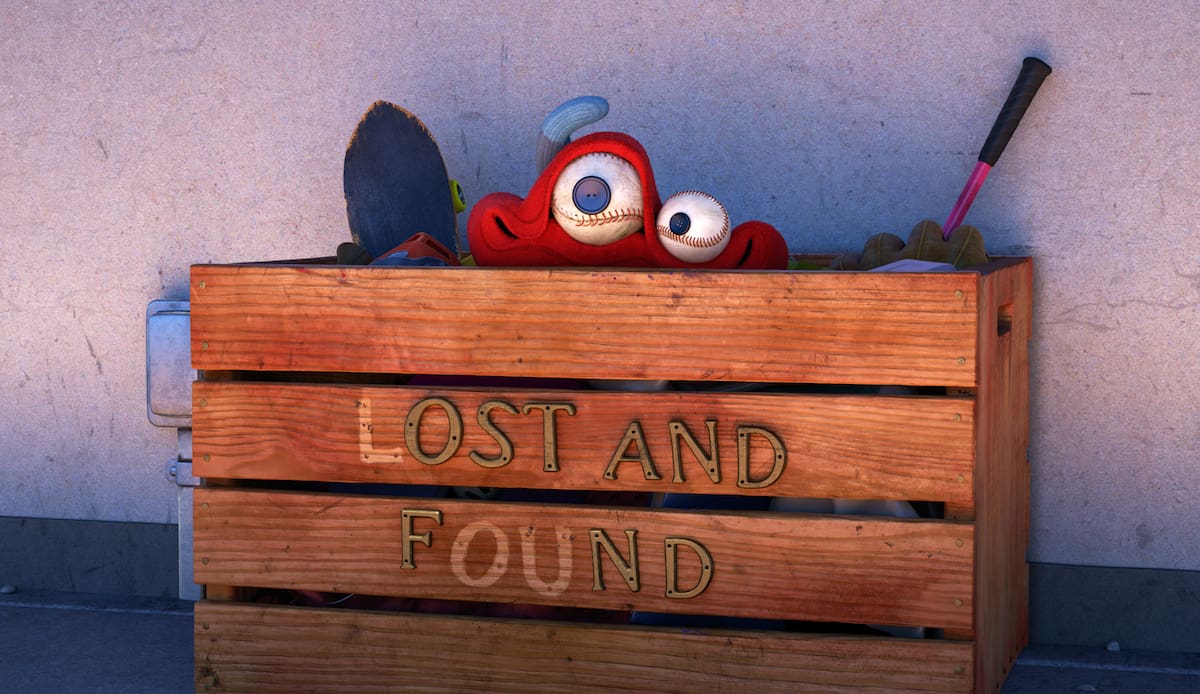 About Pixar's Lou:

Lou is about a lost-and-found box and the unseen creature within. when a toy-stealing bully ruins recess for kids on a playground, only one thing stands in his way: the Lost and Found box.
I don't want to give away any spoilers, so I'm keeping a lot of specific details about Lou to myself. I'm happy to say that Mullins and Murray shared a lot of non-spoiler details about their process of making this short film!
On the challenge of bringing a lost and found creature to life:
Mullins noted that John Lasseter has a rule about bringing inanimate objects to life through animation: you have to think about its purpose in the world. A lost and found box is intended to collect lost items and return them to their owners, which gave Lou a built-in purpose.
On giving Lou conflict: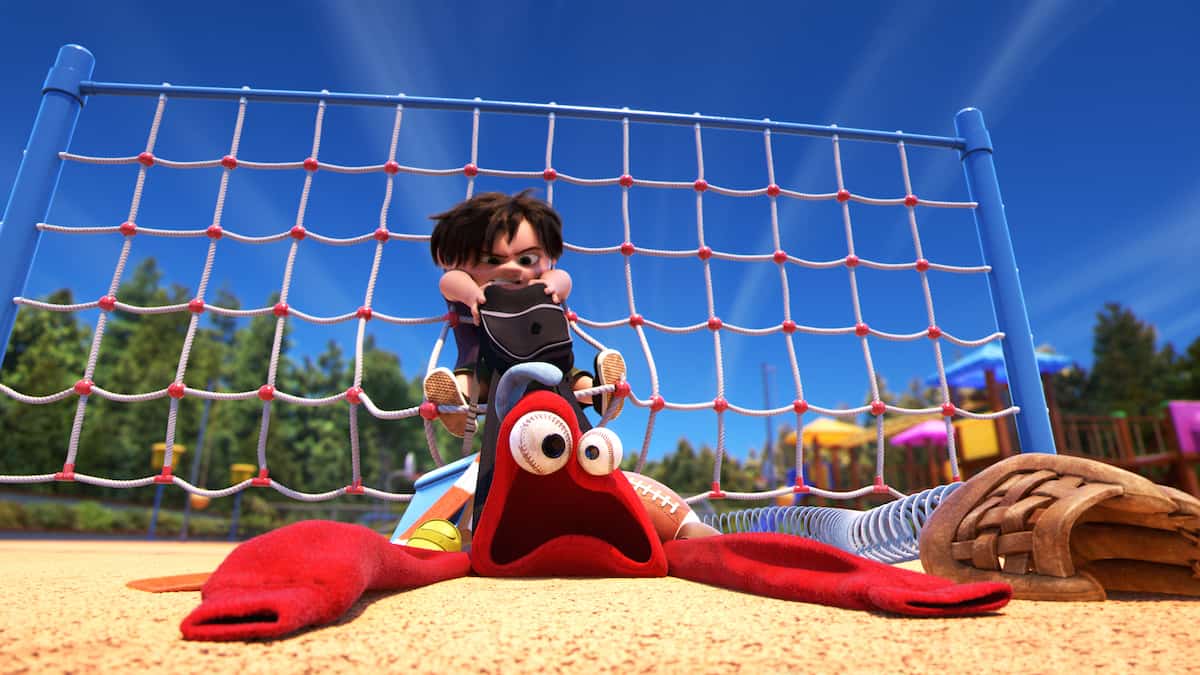 Mullins dreamed up JJ, a playground bully, who stole toys from other kids. Lou's purpose expanded to get JJ to return the items he had stolen to the original owners. JJ's desire to keep the toys is the primary conflict of the short.
On how to make an audience care about JJ:
Remember that heart is one of Pixar's rules of storytelling. Mullins and Murray had to create an emotional connection. They had to show that the main character is flawed, and they had to have the character go on a personal journey.
To the director and producer, part of this had them asking the question: How will the audience care about a bully? and, How do we make a bully funny? From there, they asked themselves what motivates a bully. Bullies act out because they want attention.
I'm sure it's not a surprise or a spoiler that you'll see JJ transform over the course of the short film. While much of this transformation is explicit in his actions, a bit of it happens in the actual design of the movie.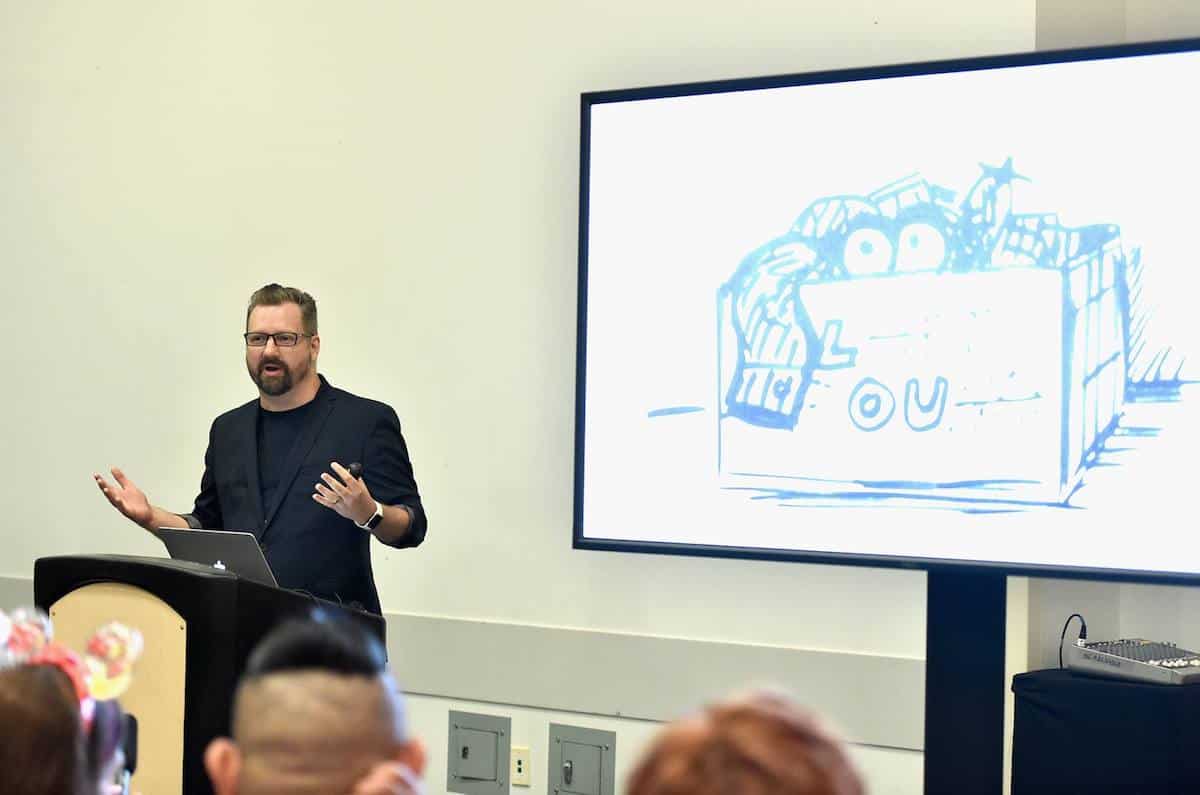 Murray and Mullins made a color script to go alongside the timeline of the story, which reflected how the emotional tone changes the actual tones of color as the film progresses. Lou starts a bit drab with a cooler palette, but it ends with warmth and rich color.
Seeing examples of this at the beginning and end of the short really helped me see how nuanced the connections between the audience and the movie can be!
I learned so much about Pixar and storytelling when I learned about Lou. I absolutely loved the newest Disney・Pixar short film, and you will, too!
Lou is showing ahead of Cars 3 in theaters nationwide. See your local showtimes and order your tickets now!
See my other Cars 3 content:
View the newest Cars 3 trailer:
Stay on top of all the Cars 3 news at these links: