Celebrate Halloween with your pup when you make this DIY dog construction costume! With simple materials and easy instructions, you'll have a homemade dog costume in under an hour.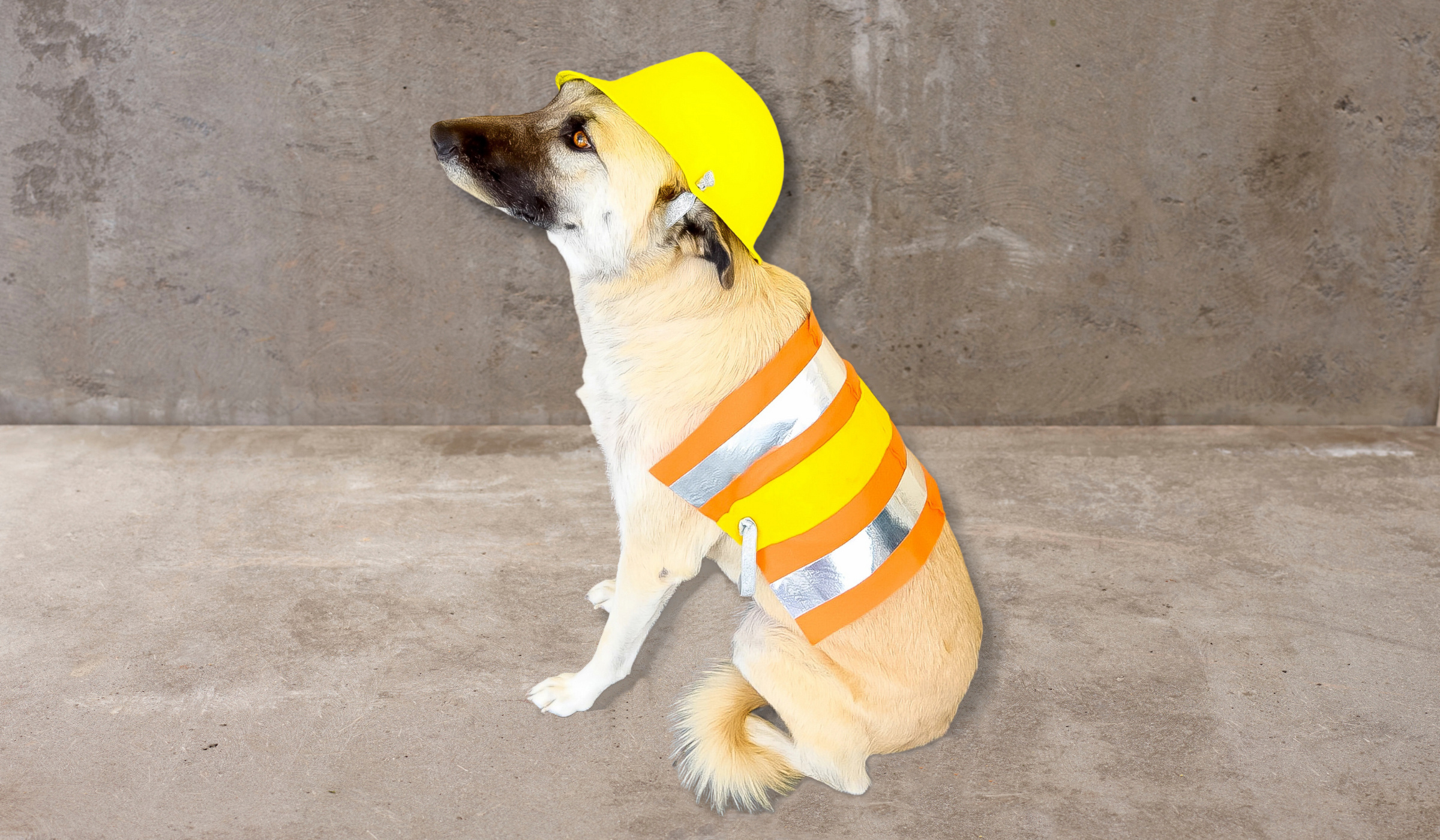 Last year, a week before Halloween, I was busy making the cutest DIY shark costume for my little guy.
It was a pretty simple concept and I put it together in just a couple of hours. So I was confidently planning on making another homemade costume this year.
Because you know I love Halloween. I have the best list of free printable pumpkin carving stencils (over 700!) and I've written about amazing Halloween hairstyles. I have some great Halloween party ideas with a list of DIY Halloween decorations to go with it.
But, back to my son's costume needs. I was just starting to gather ideas for what sort of DIY costume I could make for my son when he broke the news:
He didn't want a homemade costume this year. He wanted to be a Teenage Mutant Ninja Turtle. He also absolutely had to be exactly the one that he saw in the store. End of story.
If you're wondering, I quickly learned that he had to be Leonardo, the Ninja Turtle with the blue mask. No exceptions. No substitutions. No other Ninja Turtle costume would do.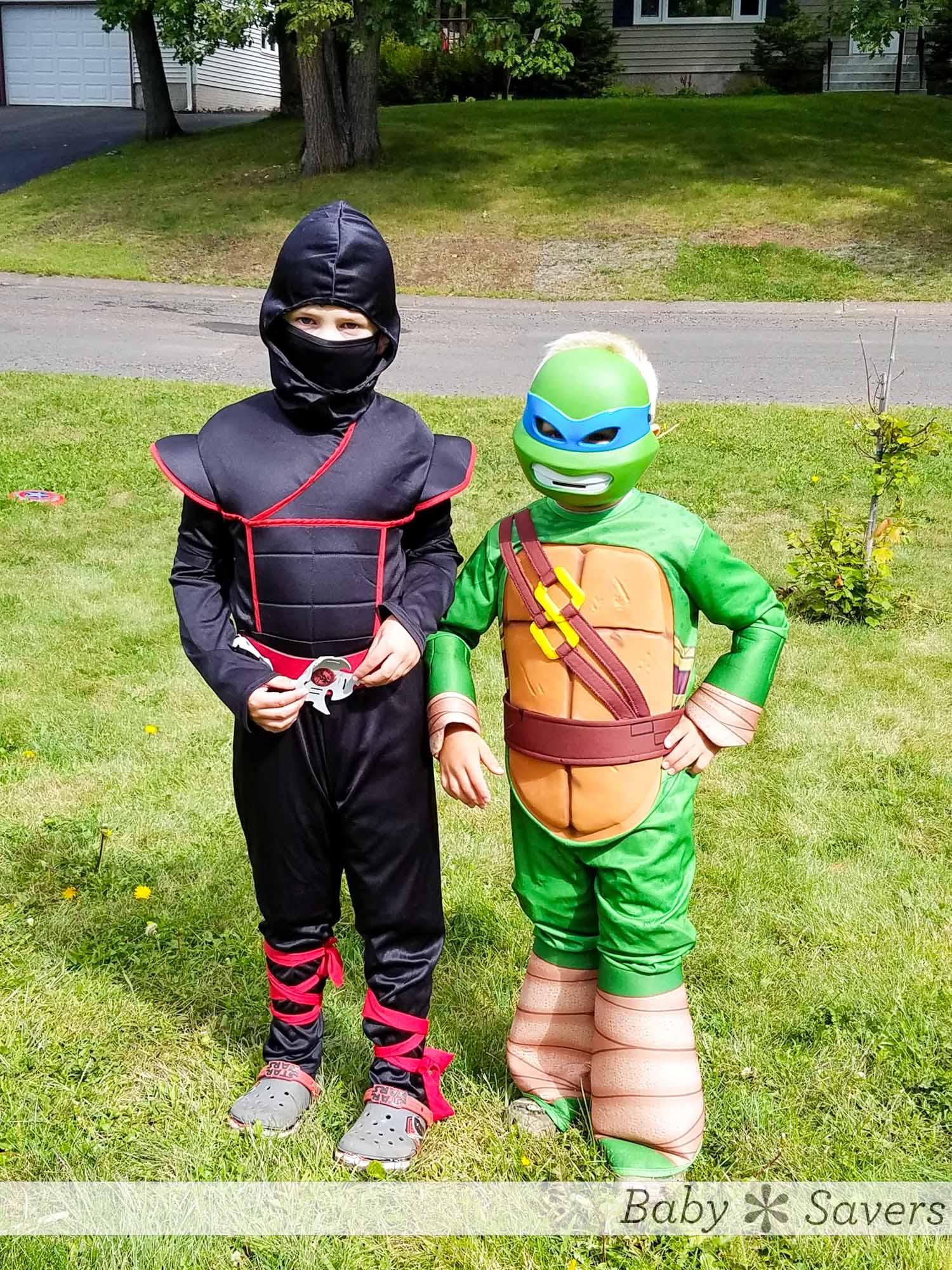 First of all, ouch! My feelings and my mom heart took a little bit of a beating there. My homemade Halloween plans went out the window at the same time.
But I got over it pretty much immediately. The kid goes to school and he's making all sorts of friends. His friends are all going to be dressing up as characters from recent shows and movies.
He wants to be someone he sees on TV and in films, complete with wearing all of that character's trademarked cool stuff.
Well, ok then. I can pivot with the best of them. I had to find someone else who would appreciate my creativity and never outgrow it. My dog was the perfect solution!
After all, this pup is a part of the family. She's a great model and she wants to do all the things to make me happy.
So I made my dog an easy homemade Halloween costume. A DIY construction worker dog costume made with materials that can be easily found online or in stores. And I couldn't be happier with the results!
This costume took all of about an hour to make! Follow along with my super easy instructions and make your puppy a cute costume too!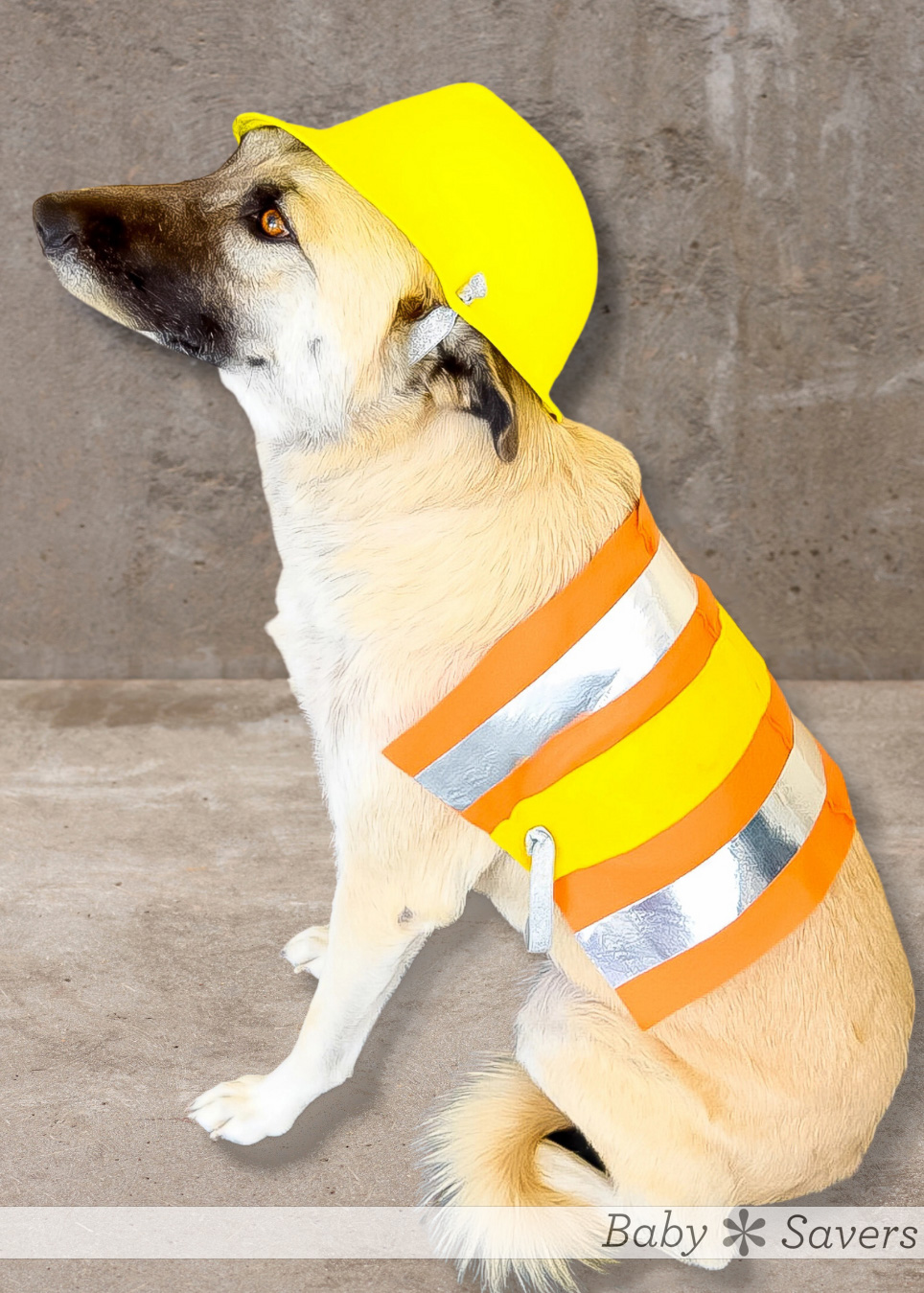 Materials for your DIY dog construction costume
I'll start with some important information about the supplies you'll need for the project, then I'll move on to the specifics.
Tip: You can buy your thread and needle in this little set that includes needles, thread and a few little gadgets!
Notes on materials:
Felt: I used sheets of 9″ x 12″ orange and yellow felt. Use more or less of it depending on the size of your own dog. I linked to Michaels for the felt – it's exactly what I used and it's easiest to buy it in single pieces there.
Reflective tape: The tape I used in the pictures is Duck brand chrome tape. It's much shinier than everyday duct tape. If you can't find that particular brand and color, you can look for mirror crafting tape or foil tape.
Thread: The biggest reason you'll want to use a heavy duty thread is because felt is difficult to sew through. Using a strong thread will ensure it won't get caught while stitching. It will just make the whole job easier.
Upholstery thread or a thread made for outdoor use is recommended.
Needle: Look for a needle for sewing upholstery or canvas. Those will be sturdy enough to go through two layers of felt without struggling or breaking.
Fabric glue: If you're in a hurry use Aleene's Quick Dry Fabric Fusion, otherwise, the regular Fabric Fusion will work just fine. I really like this fabric glue dual ended pen for projects like this.
Materials list
These are the supplies I used for my medium to large size DIY dog costume.
How to make a dog construction worker costume
Sew the orange felt together:


Thread the tapestry needle with the orange tapestry thread, then sew the long edges of the two orange pieces of felt together.


Attach the yellow felt:

Cut two even strips of the yellow felt about 4-6″ wide. Glue them end to end onto the center of the long orange felt that you just stitched together.


Add silver tape:

Place a long strip of metallic silver duct tape about two inches in from the long edge of the orange felt. Repeat on the other end so there's a strip of shiny tape above and below the yellow section.


Attach elastic:

Cut two small slits through the yellow felt near the edge of the felt. Measure how much elastic you'll need to comfortably go around your dog's belly, then feed it through each slit and tie a knot onto one end so it stays in place. Wait to tie the other end until you're ready to dress up your dog.


Use the rest of the elastic to make a chin strap for the construction helmet.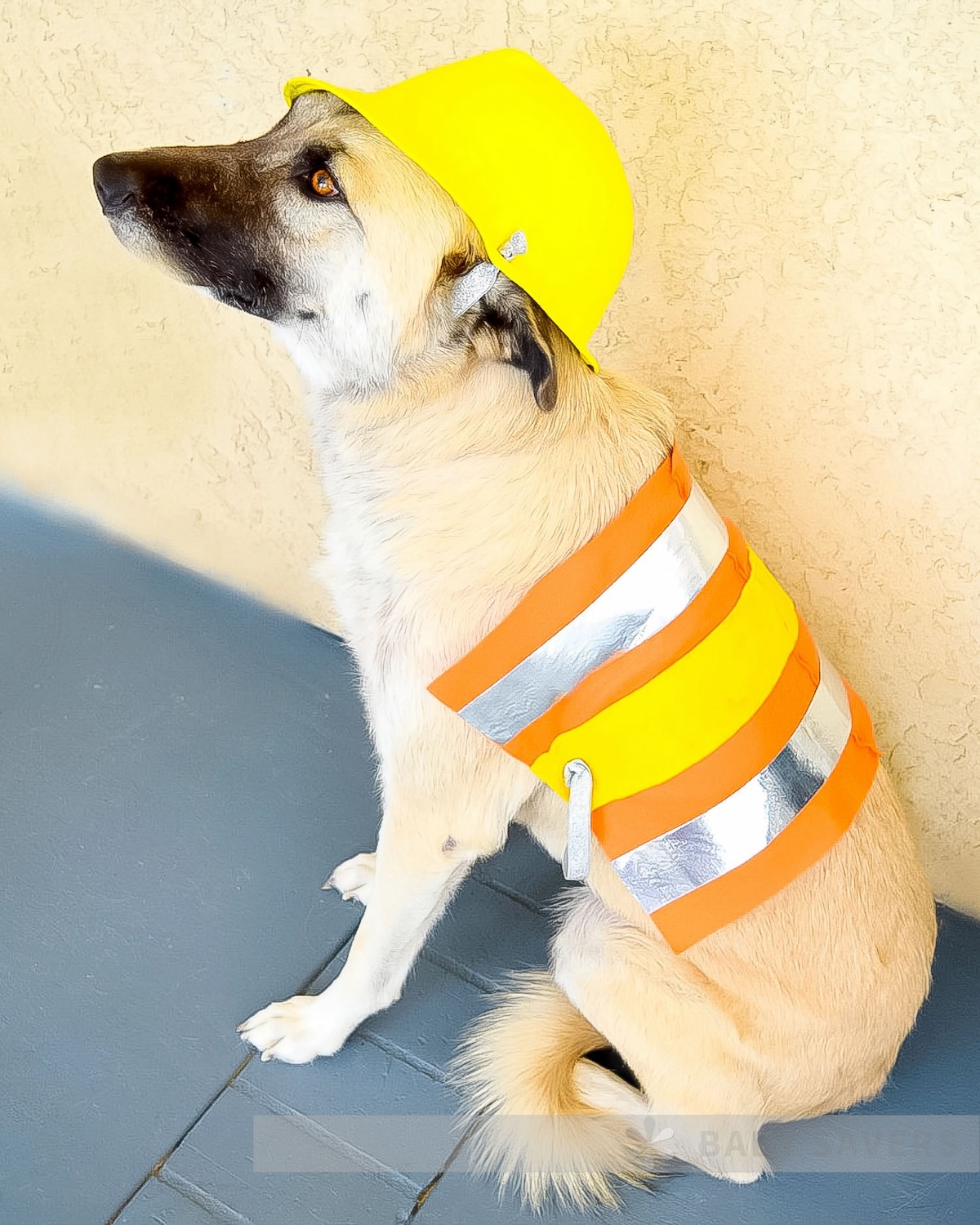 Now dogs everywhere can have the cutest DIY costume in no time at all. It's a comfortable Halloween outfit for her to wear, and it's also extra safe for dogs at night because of the reflective strips!
This Halloween our family of trick or treaters will include my husband, myself, our Ninja turtle and our adorable canine construction worker. We'll be an eclectic mix but we'll have a blast while we're out there.