Looking for free pumpkin carving stencils? You're in the right place! In addition to tips on how to carve the best Halloween jack o lantern, you'll find over 700 free printable pumpkin carving templates for you to download and use today!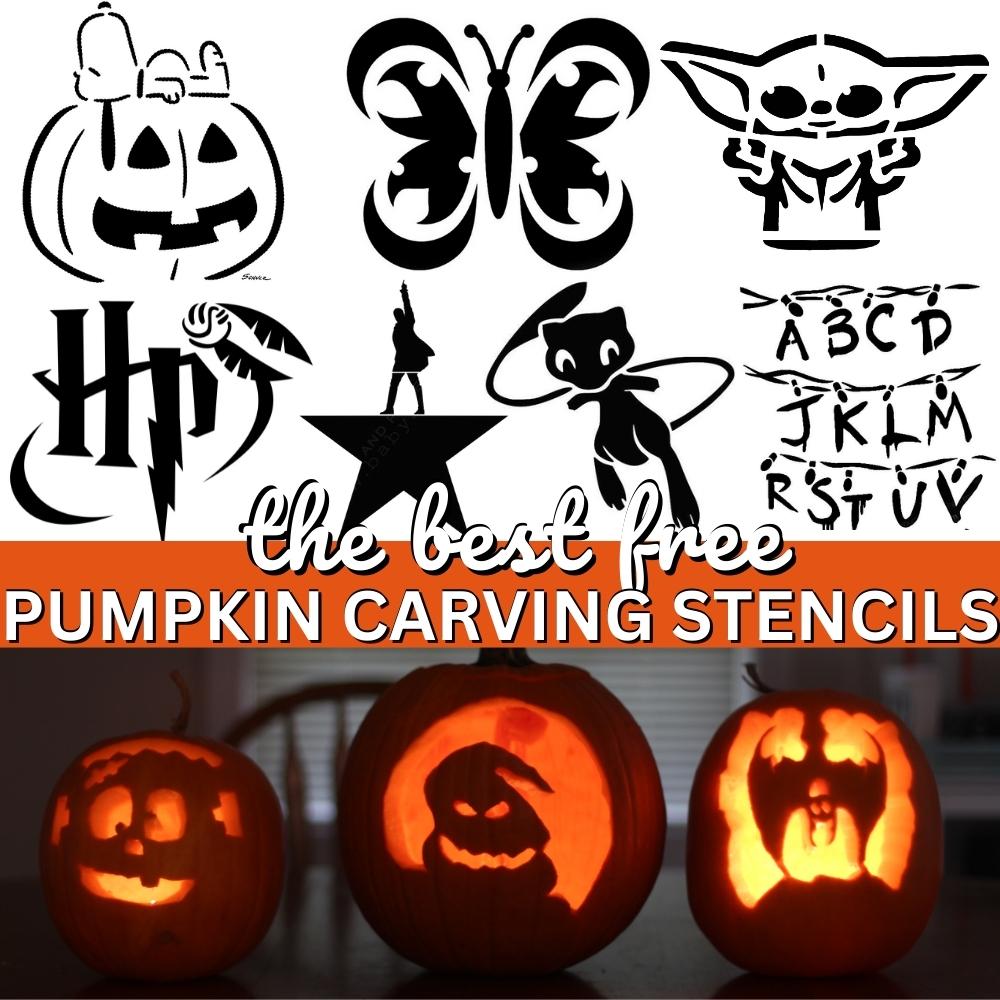 Last year I had a bunch of readers looking for free pumpkin carving patterns. There's no reason to pay for templates when there are so many free pumpkin carving patterns and printable Halloween pumpkin templates available online!
Most experienced pumpkin carvers will tell you that you'll need a pumpkin carving kit to successfully use a Halloween pumpkin template. Martha Stewart Magazine even recommends using a linoleum cutter!
I worked with a real master pumpkin carver and learned from a professional. He shared how to carve a pumpkin and gave some amazing tips. While you can read all about it in the article (including a genius way to scoop out pumpkin seeds), the pro said that graphite transfer paper is the best for tracing your pumpkin stencil onto your pumpkin.
He also said that a linoleum cutter is an amazing pumpkin carving tool, and a quality serrated kitchen knife is the best tool in your pumpkin carving kit for creating your jack-o-lantern!
These pumpkin carving tools would work great for your pumpkin stencils:
Speedball Linoleum Cutter Assortment
J.A Henckels International 5-Inch Fine Edge Pro Serrated Knife
Pumpkin Masters Pumpkin Carving Kit
Halloween Sculpting Kit (21 Tool Set) for Jack-O-Lanterns
You're also going to need safe lighting after you're done carving your pumpkin! The master pumpkin carver recommended a light bulb on a cord for the brightest illumination from within the pumpkin. This one is only $3.99 and it should last for several years!
If you don't have a nearby outlet or if you'd rather use a battery-operated light bulb, here are more options for lighting your pumpkin:
Set of 2 LED Pumpkin Lights with Remote and Timer
WisHome Waterproof, Multicolor LED Lights with Remote Control
LIGHT IT by Fulcrum 3 LED Wireless Stick-On Tap Light
12 LED Battery-Operated Tea light Candles: Flameless & Heatless

Let's get ready for Halloween! This year, I've put together a list of links to over 700 FREE pumpkin carving patterns. With skill levels from easy to expert, there's a Halloween stencil that will be a good fit for anyone!
Scroll down for the huge variety of free pumpkin carving stencils — everything from Pokemon to Harry Potter pumpkin carving templates.
Tip: Be sure to keep your chosen printable Halloween pumpkin carving stencils in mind when you head to the pumpkin patch! You'll want to make sure you choose one from the pumpkin pile that fits your template.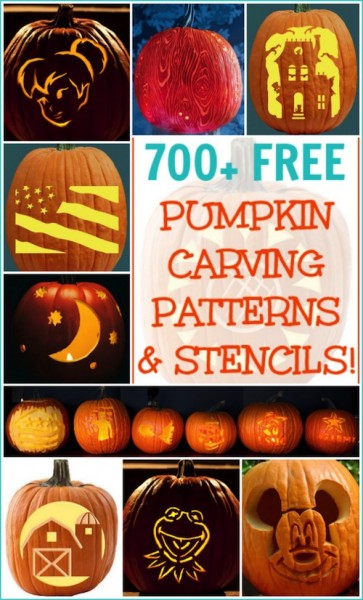 Need more Halloween ideas? Check out these related articles:
Free Pumpkin Carving Patterns
Start here and print over 130 different Disney pumpkin stencils Carve your favorite character, including printables to make a Star Wars or Avengers pumpkin!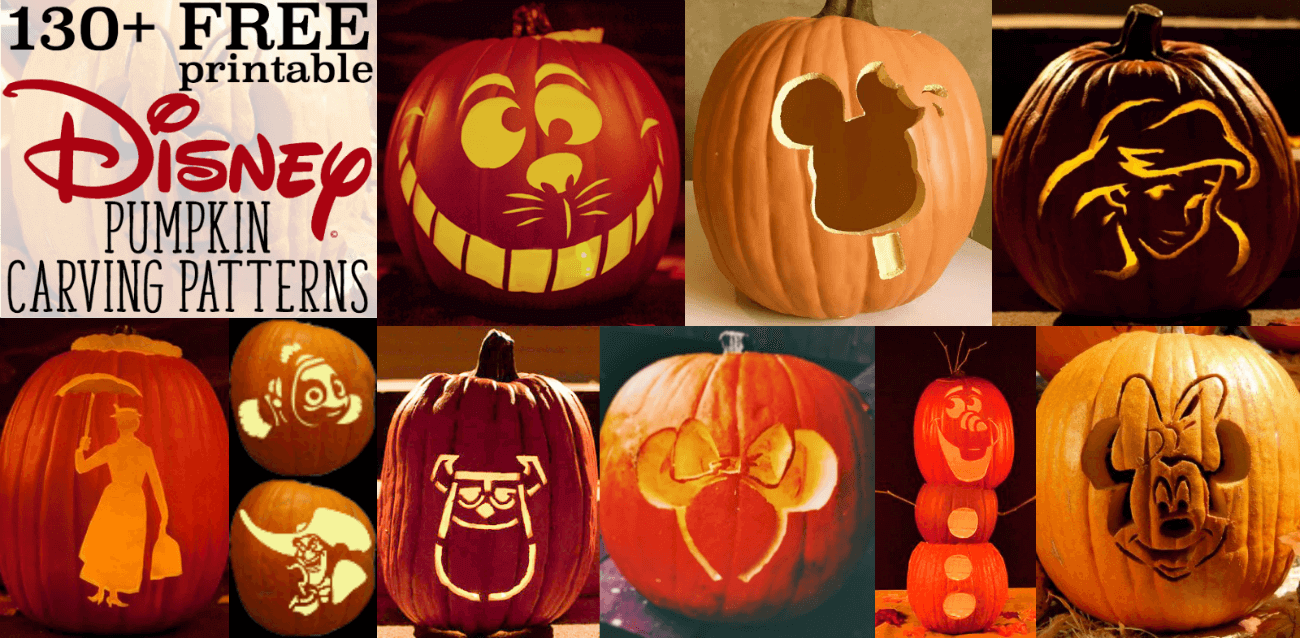 87 free cat pumpkin stencils  :: Looking for everything from basic and easy pumpkin carving templates to creative and complicated? There's a kitty cat jack-o-lantern for everyone here, making it extra-easy to find those Halloween pumpkin templates for beginners.
Choose your favorite from these 22 Minion pumpkin stencils.
You need at least one of these seven free printable Squid Game pumpkin carving stencils!
13 Hamilton pumpkin stencils :: 13 printable patterns and pumpkin carving ideas from Broadway's Hamilton musical. I love the idea of carving each lead character into its own mini pumpkin. It would make an amazing pumpkin display!
Printable Baby Yoda pumpkin stencils :: Get 13 free templates featuring our favorite little guy from The Mandalorian!
Marvel fans can get 10 free printable Venom pumpkin carving stencils!
You'll find 30 free printable stencil templates for Disney Villain pumpkin templates here. Disney loving pumpkin carvers will love the Cruella de Vil printable pumpkin stencil.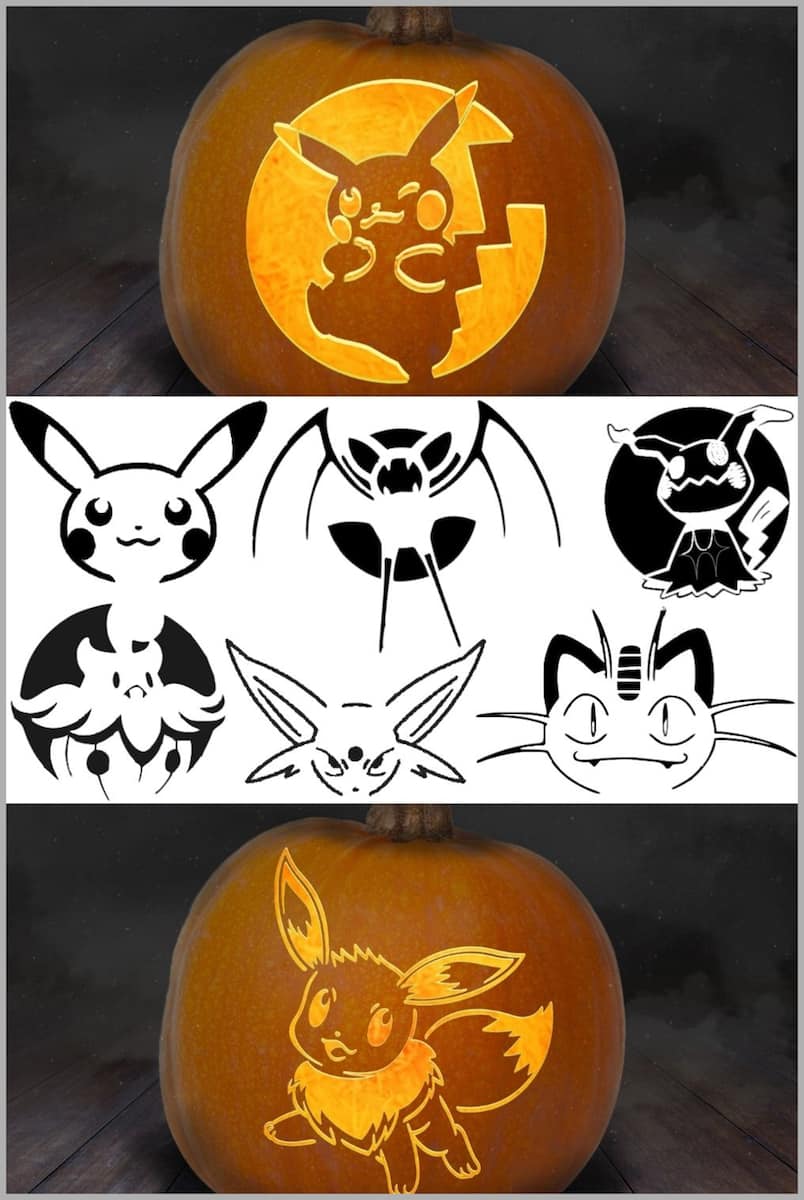 Here's a huge selection of over 100 Pokemon pumpkin carving stencils. There's an awesome pumpkin carving pattern of Pikachu, plus printables for Gastly, Crobat and more. You'll definitely find the Pokemon you're looking for this Halloween!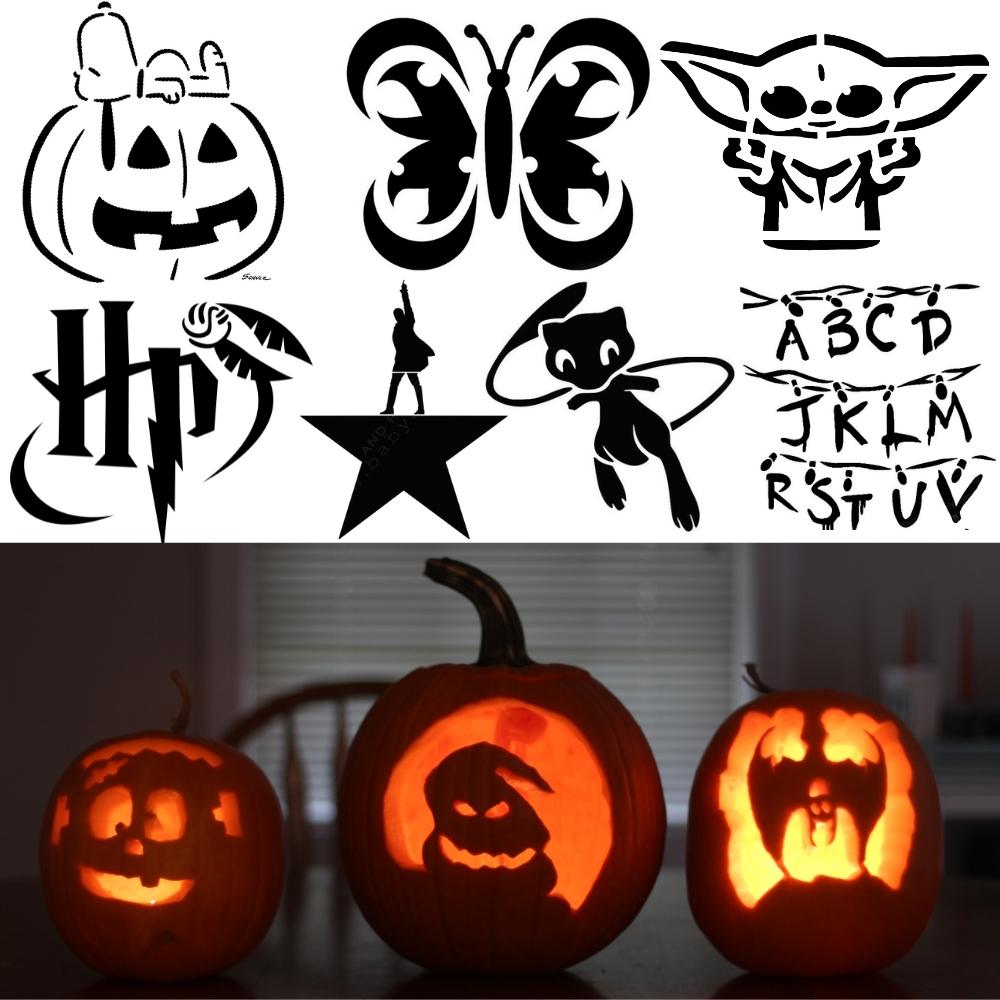 Pop Culture Pumpkin Stencils ::  Find free pumpkin carving patterns for Justin Beiber, Kate Middleton and more! There's even a Lady Gaga free pumpkin stencil.
46 Intricate Pumpkin Stencils :: Experts and experienced pumpkin carvers will find a brand new printable pumpkin stencil in these templates.
90 Traditional Stencils :: There are some very basic and easy pumpkin carving patterns to be found in this great selection! The ghost is a simple pumpkin pattern that would be perfect for beginners. These are a few of my favorites:
Haunted house pumpkin pattern
Zombie pumpkin carving template
Witch pumpkin carving stencil
Jack O Lantern pumpkin face
110 Geeky Pumpkin Templates :: Find themed patterns inspired by classic movie characters from Star Wars, Dr. Who, Star Trek, Angry Birds and Pokemon, plus cartoon characters like Hello Kitty, Mario and Luigi, pop culture icons like Gangnam Style and more!
20 Obscure Halloween Pumpkin Templates :: Who knew you could find a free pumpkin carving pattern for Gary Coleman, KFC and Lionel Ritchie, among others? Surprise others with your unique carved pumpkin!
Harry Potter Pumpkin Stencils
Get 60 free printable Harry Potter pumpkin stencils. You'll find all sorts of characters, symbols, quotes and more. I think so many of these would look amazing with a white pumpkin.
Favorite pumpkin carving templates
47 More Geek-Inspired Pumpkin Carving Patterns :: Among the many templates you'll find Marvel Comics, Dr. Who, Ghostbusters, Walking Dead, Hunger Games, True Blood, Harry Potter, Twilight and more!
13 Pumpkin Carving Patterns in Face Styles :: Find Halloween Pumpkin Templates in face patterns like clowns, a pumpkin lady face, a friendly monster and more traditional jack o'lanterns.
100 Pop Culture Stencils :: Looking for a free pumpkin carving pattern in the style of Bettie Page, The Mona Lisa, Lady Gaga, Ghost Busters, Disney, Little Einsteins or many other iconic personalities.
59 Halloween Pumpkin Templates Ranging from traditional Halloween designs to Nintendo, Mario kart, Thomas the Tank Engine and The Smurfs!
8 Simple Pumpkin Carving Patterns :: These basic pumpkin patterns will likely be most appealing to beginning carvers or small children.
5 Random Halloween Pumpkin Templates :: Provided by Spookmasters, you'll find a small selection of free pumpkin carving patterns in addition to the multiple stencils to purchase. This is where to find your classic Halloween jack o lanterns pattern. Here's what's available:
Sharpie – a classic pumpkin face
Going Batty – a bat silhouette (simple design pattern for pumpkins)
Damsel in Distress – a princess
Night Watchman – a gargoyle that's a more challenging pumpkin template
Bewitching pumpkin stencil – a witch on a broom in front of a full moon
56 Expert-Level Halloween Stencils :: Experienced pumpkin carvers will love the designs ranging from Angry Birds, to fantasy creatures like dragons and unicorns.
25 Stencils – Free pumpkin carving template ideas ranging from pretty and frilly to spooky and scary.
16 Halloween-Themed Stencils – There's a pumpkin pattern for every skill level here.
12 Themed Stencils – Patriotic, awareness ribbons, and some traditional halloween themes.
Star Wars pumpkin carving stencils
11 Star Wars Halloween Pumpkin Stencils, including:
A creepy Star Wars logo
A Mandalorian helmet printable template
A happy porg
A chill porg
An angry porg
A sleepy porg
Chewbacca
Thrawn
Kylo Ren
Stormtrooper pumpkin pattern
Darth Vader
TIE fighter
X-wing
Darth Maul
BB-8 pumpkin idea
100 'Un-Halloween' Pumpkin Stencils – Find unexpected Halloween pumpkin templates like animals, celebrities, fantasy, patriotic designs, Christian designs and more!
8 Halloween Stencils – From faces to whole, "omni" pumpkin decorations.
Cat pumpkin carving stencils
28 Cat Stencils – Make a cute cat pumpkin carving, an awesome black cat pumpkin and plenty of other cat pumpkin ideas!
8 different Military -Themed Pumpkin Stencils
14 Pop Culture Stencils – Find free pumpkin carving patterns with themes from Assassin's Creed, Facebook, Glee, Winnie the Pooh and more.
12 Midwest Pumpkin Stencils – Looking for free printable pumpkin patterns with a country theme? Find Halloween pumpkin templates like Corn, barns, wheat and other classics.
Do you like to use pumpkin carving stencils for your own Halloween jack o'lantern, or do you stick to the basics?